There are a great many fantastic things about China. But its government's attitude to internet censorship is not one of them. An oligarchic elite that looks ever more awkward posing under the title of "Communist Party," the Chinese government does its level best to censor content it considers politically, culturally or morally undesirable.
In pursuit of this, China has developed the most extensive and sophisticated internet censorship system in the world. This is formally named the "Golden Shield" project, but is better known to almost everybody as the Great Firewall of China (GFW).
The good news for anyone living in or visiting mainland China, however, is that although formidable, the GFW is a long way from perfect. Indeed, it can usually be evaded by the simple measure of using a VPN…
What is The best VPN for China?
If you're after a quick answer, the VPNs listed below all have a strong track record of working in China. They are routinely recommended to us by our on-the-ground contacts who rely on VPNs to access the internet uncensored in China.
Get 75% off NordVPN and 79% off Cyberghost
For more information on the VPNs featured above, scroll down.
5 Best VPN services for China: In-depth analysis
With the in-depth list below, you can see exactly why these VPNs for China are up to the job:
Consistently fast servers around the globe
Pricing

From $6.67 - $12.95

Available on

Android
iOS
Windows
MacOS
Linux

Works with

Netflix
iPlayer
Amazon Prime
Hulu
ExpressVPN is a popular choice for VPN users in China has a lot to do with not only their excellent customer-centric approach but also the reliability of their network and the servers they have deployed specifically to circumvent the Great Firewall. ExpressVPN offers 24/7 customer support via live chat, email, and a ticketing system. They also provide a substantial troubleshooting section that covers virtually any issue you may encounter with the service. Their robust approach to customer care and technical troubleshooting is especially helpful should you run into any issues using the service in China. Furthermore, ExpressVPN boasts a healthy network of servers in 94 locations around the globe, with many servers near China to ensure top-notch speeds and reliability. Technical features include DNS leak protection, a firewall-based kill switch, and military-grade OpenVPN encryption. They also operate a network of "stealth" servers in Hong Kong with the explicit purpose of bypassing the Great Firewall. To top it off, ExpressVPN offers a 30-day money back guarantee, so you can try it completely risk-free!

A highly secure VPN service with an affordable price
Pricing

From $3.49 - $11.95

Available on

Android
iOS
Windows
MacOS

Works with

Netflix
iPlayer
Amazon Prime
Hulu
NordVPN has cemented itself as one of the most staunch advocates for the more privacy-conscious VPN users out there. Based in Panama, NordVPN is firmly out of the reach of the NSA and copyright holders. This is especially great news for VPN users in China who intend on torrenting. NordVPN keeps no logs, boasts military-grade AES 256-bit encryption, offers CyberSec protection which automatically blocks suspicious websites, and encrypts your internet traffic not once but twice with their Double VPN technology. Like the others, NordVPN also provides obfuscated servers designed to outwit the Great Firewall. They offer a vast network of 5,146 servers in 62 locations, with 462 servers spread across 12 locations in the Asia Pacific region. Other features and benefits include an automatic kill switch, DNS leak protection, Onion over VPN, 24/7 customer service, 6 simultaneous connections, and apps for all devices. All of this is backed by a 30-day money back guarantee.

Great VPN that's been around for a long time
Pricing

From $3.33 - $11.95

Available on

Windows
MacOS
Android
Linux
iOS

Works with
PrivateInternetAccess has long been a firm favorite with members of Reddit's privacy forums. We do not consider the United States to be an ideal location for a VPN provider to be based, but it has no mandatory data retention laws, allowing PIA to be no-logs VPN service.

The encryption used by PrivateInternetAccess is first-rate, and we have never detected any IP leaks when testing the service. P2P is allowed on all servers, and torrent enthusiasts will appreciate the fact that PIA supports port forwarding through its NAT firewall.

A 30-day money-back guarantee provides peace of mind, while an allowed five simultaneous connections should be enough for even demanding users. Oh, and it's very pocket-friendly too.

An easy to use service with all the security features you need
Pricing

From $2.75 - $12.99

Available on

Android
iOS
Windows
MacOS
Linux

Works with
CyberGhost is another VPN provider with a heavy focus on privacy and advocates for a free and uncensored internet. CyberGhost boasts a strict no-logs policy and offers excellent encryption via AES 256-bit technology -- two features critical for VPN users in China. Additionally, they offer over 3,000 servers in more than 60 locations around the world, including a network of wholly-owned "No Spy" servers which provide enhanced security and faster speeds. Currently, CyberGhost offers 10 server locations in Asia, so you can easily access fast and reliable servers to un-censor the internet from within China. On top of providing great security and excellent speeds, CyberGhost is an exceptional VPN for unblocking Netflix, BBC iPlayer, Amazon Prime and Hulu from China. CyberGhost also offers DNS and IP leak protection, 7 simultaneous connections, and unlimited bandwidth; all with a generous 45-day money back guarantee to boot.
Pricing

From $2.71 - $12.95

Available on

Windows
Android
Linux
iOS
MacOS

Works with

Netflix
iPlayer
Amazon Prime
Hulu
VyprVPN is a popular choice among VPN users in China. VyprVPN is relatively unique in that they fully own and maintain their entire network of servers, ensuring superior speeds and reliability for their customers. One of the more advantageous features offered is their proprietary "Chameleon" technology, which effectively works to hide your data from deep packet inspection as a way to circumvent the Great Firewall. Important to note, however, is that Chameleon is not available for iOS devices at this time. VyprVPN owns a network of over 70 server locations around the world, including 14 locations in Asia. Other features include SmartDNS, NAT firewall, 24/7 customer support via live chat and email ticketing, unlimited bandwidth, and a slick app that works on any device. VyprVPN offers a 30-day money back guarantee for customers who sign up via PayPal, otherwise, they offer a 3-day free trial. One hitch in their service is that they do not allow for torrenting, which is, of course, a dealbreaker for some. Otherwise, it is a superb VPN to use in China.
To find out more about a China VPN service, please check our VPN reviews.
5 Best China VPN services: Speed analysis
VPN technologies will have an impact on your internet speeds. This is because your data needs to be encrypted, decrypted and routed via a VPN server - all of which adds additional time to your data packets travelling from point A to point B. You can, however, minimise the impact that a VPN has on the speeds you experience by using a quality service.
The tests in the graph below are conducted in lab conditions using a dedicated gigabit line. You shouldn't expect similar speeds but it provides a strong indication of which VPNs are performing well.
What makes a VPN good for China?
Obviously, the ability to bypass the Great Firewall of China is the main requirement here. But other critical features should be offered include (all of which our recommendations include):
Access to blocked websites
Well placed server locations
Fast speeds
24/7 customer service
Unlimited bandwidth
Obfuscation
Why do I need a VPN for China?
The Chinese government prevents its citizens from accessing many areas of the global internet using a range of technologies. These include simple IP blocks on website addresses, DNS filtering, URL filtering, and packet filtering.
In addition to blocking content it deems undesirable, the GFW also tries to block websites and technologies designed to bypass its filters. This includes VPNs. It does this using IP filters plus a variety of Deep Packet Inspection (DPI) techniques.
A China VPN service will unblock websites such as Google, Facebook, YouTube, and Twitter. It's important to note that you will need a fast VPN service if you want to unblock Youtube.
A VPN that works in China will not only help you bypass the GFW, but it will also help you hide your online activity from Chinese government surveillance and hackers as they fully encrypt all of your online communications.
If you're new to the world of VPNs we recommend getting up to speed with the guides below:
How to beat China's Great Firewall
A VPN for China can defeat the GFW because the VPN server acts as proxy sitting outside the Firewall. Assuming the VPN server itself is not blocked, then you can access censored internet content via the VPN server.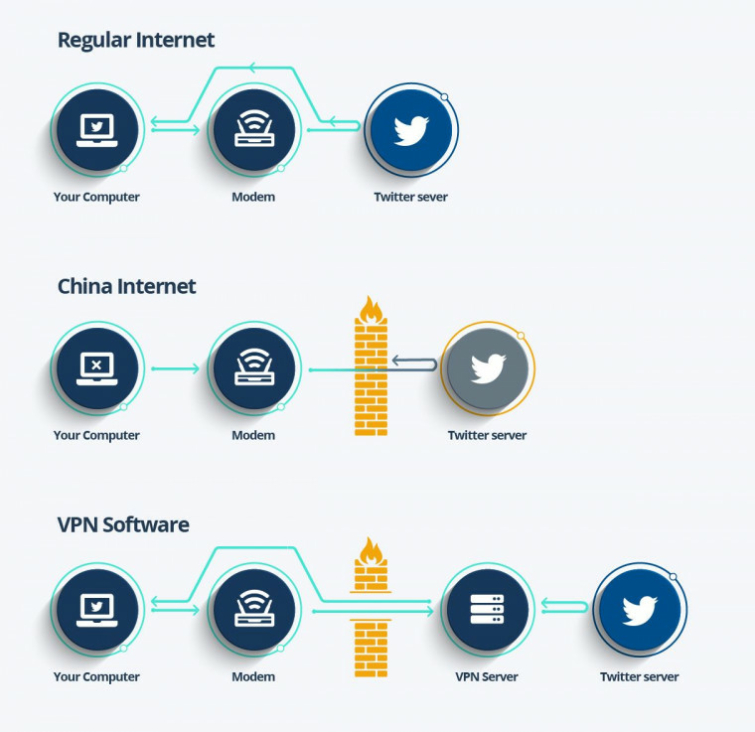 As the Chinese government blacklists IP addresses known to belong to VPN companies all the VPNs that work in China offer some combination of "stealth servers" and obfuscation to bypass the IP blocks.
Please see How to Bypass VPN Blocks for more details.
Are VPNs in China illegal?
In January this year, a Chinese man in the Guangdong province was fined 1,000 Yuan (approx. $145) for accessing foreign websites using the Lantern VPN app.
Although widely hailed as a new crackdown on VPN use in China, this is the only known case of an individual getting into trouble simply for using a VPN in China. The municipality of Chongqing city has also announced fines for VPN users, but as far as we know no-one has ever fallen foul of this.
This is quite amazing when you consider that China boasts the largest number of VPN users in the world! Freedom House estimates that in 2018 between 20 and 30 million people in China used a VPN to evade the GFW out of a population of 1.5 billion (around half of which uses the internet).
So we'd say the odds against getting to trouble for using a China VPN are pretty good.
Also widely reported was the sentencing of a Guangdong man to nine months in jail. But again, this is a unique case and the unfortunate individual was selling rather than simply using VPN services.
China VPN Ban
There is no doubt that China is trying to suppress VPN use designed to evade its censorship measures.
What has made a much bigger impact is China's demand that Apple removes VPN apps from the China App Store. Disappointingly, Apple agreed. Google, of course, has long been banned in China. And this includes access to VPN apps in the Google Play Store. This is not to say accessing Google PlayStore in China is impossible though. Click the link for more information on this.
Visitors to China can make their lives much easier by downloading and installing VPN apps before they set foot on the mainland. After that, finding a VPN for iPhone users becomes more difficult.
On the other hand, Android users can obtain VPN apps with relative ease. If you read Chinese, then you can get them from one of China's many "unofficial" Android app stores. Alternatively, many VPN services are happy to email customers in China direct links to their VPN apps. Just ask.
If you plan on using a VPN in China on your mobile, then take a look at our iPhone VPN and Android VPN guides for more information.
Can I get a free VPN for China?
While there is little harm in trying one of the services listed on our Best free VPNs guide, no free VPN service (that we know of) offers the obfuscation tech necessary to work in China.
Remember: By the time you get there it may be too late sign-up for a premium VPN service. The best advice is to buy before you fly.
What can I unblock with a China VPN?
Facebook, all Google services, Twitter, YouTube, and WhatsApp are all blocked in China.
| Website | When was it Blocked | Block status |
| --- | --- | --- |
| Google services | 2014 | All services are blocked |
| DuckDuckGO | 2014 | Blocked |
| Youtube | 2009 | Only Available in cities Haikou and Sanya |
| Facebook | 2009 | Only Available in cities Haikou and Sanya |
| Twitter | 2009 | Only Available in cities Haikou and Sanya |
| Instagram | 2014 | Blocked |
| Pinterest | 2017 | Blocked |
| Tumblr | 2016 | Blocked |
| Flickr | 2014 | Blocked |
| Whatsapp | 2017 | Blocked |
| Pornhub | 2012 | Blocked |
| Xvideos | 2011 | Blocked |
| Xhamster | 2011 | Blocked |
| BBC | 2014 | Blocked |
| HBO | 2020 | Blocked |
| Line | 2013 | Blocked |
| BestVPN | 2017 | Blocked |
If you want to unblock streaming services when in China, take a look at the guides below:
FAQs
Below, we've listed a few frequently asked questions regarding VPN usage in China that we've curated using questions from Reddit.