China has developed the most extensive and sophisticated internet censorship system in the world. The good news for anyone living in or visiting mainland China is that although formidable, the Great Firewall (GFW) can usually be evaded by the simple measure of using a VPN.
In this guide, we'll show you which VPNs are up to the task and how to use them for the best chances of success.
The best VPNs that work in China at a glance
Take a sneak peek at the top 5 VPNs our experts recommend for using in China below. For more information on these services or for some other alternatives, click here.
Get ExpressVPN the #1 VPN for China
The authoritative internet censorship effort established by the Chinese government is formally named the "Golden Shield" project, but is better known colloquially as the Great Firewall of China.
Obviously, the ability to bypass the Great Firewall of China is the main requirement of a VPN listed in this article. But, once you gain access to the internet, it's imperative that you remain secure and your browsing goes unnoticed. We look for the following requirements from any VPN service we recommend for use in China:
Access to blocked websites
Fast speeds
Unlimited bandwidth
Mobile app
Obfuscation (stealth) technology
With the above requirements in mind, let's take a look at which VPNs are the best to use for unrestricted internet access in China.
What is the Best VPN for China?
The VPNs listed below all have a strong track record of working in China. On top of that, they are also routinely recommended to us by our on-the-ground contacts who rely on VPNs to access the internet in China uncensored.
To find out even more about any China VPN services listed in this guide, please check our detailed VPN reviews.
What are the fastest VPNs for China?
Whenever you use a VPN you'll find that it impacts your speeds slightly. This is due to the nature of a VPN, as it needs to encrypt, decrypt, and route your data via a VPN server in a remote location. This process increases the amount of time it takes for your data packets to get from point A to point B, and results in slightly reduced connection speeds. Unfortunately, this does mean that the loss is unavoidable, but with a fast VPN you'll hardly notice the difference.
We conduct daily speed tests to find the fastest VPNs to use in China, utilizing a dedicated gigabit line. You shouldn't necessarily expect the same speeds, but our speed test chart provides a strong indication of which VPNs are performing well at the moment in terms of connection speeds.
Why do I need a VPN for China?
The Chinese government prevents its citizens from accessing many areas of the global internet using a range of technologies. These include simple IP blocks on website addresses, DNS filtering, URL filtering, and packet filtering.
Besides blocking content the government deems undesirable, the GFW also tries to block websites and technologies designed to bypass its filters. This includes tools like VPNs. It does this using IP filters plus a variety of Deep Packet Inspection (DPI) techniques.
A VPN service that works in China will allow users to unblock websites such as Google, Facebook, YouTube, Twitter, and more. It's important to note that you will need a fast VPN service if you want to unblock YouTube, or any other streaming website, since your speeds will need to be fast enough to stream content without buffering.
If you're new to the world of VPNs, we recommend getting up to speed with the guides below:
How does a VPN beat China's Great Firewall?
The VPN server acts as a proxy sitting outside of the Firewall – and this is how a VPN for China can bypass the GFW. You'll be able to access censored internet content via the VPN server so long as the server itself has not been blocked.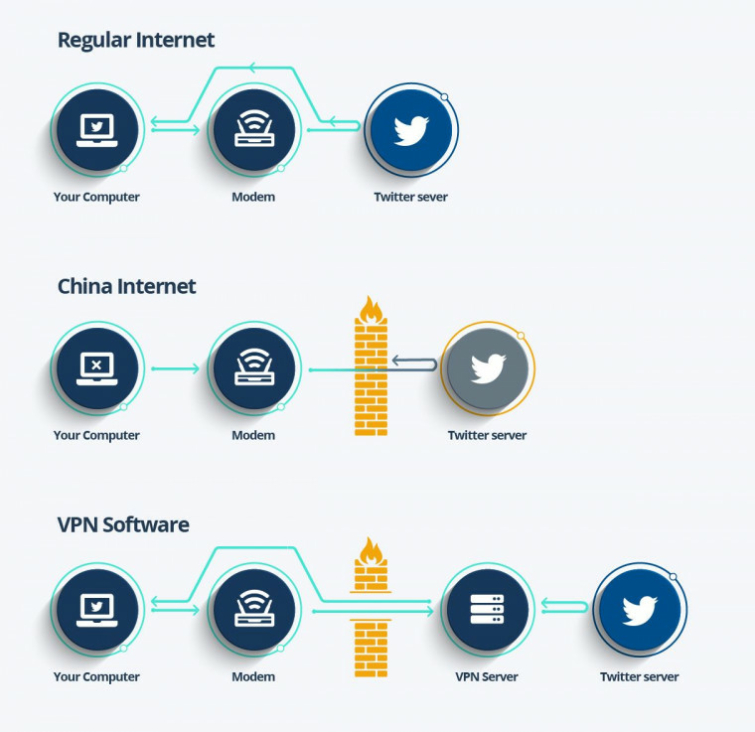 Obfuscation is important
As you can see from the image above, your ability to beat the GFW relies on the VPN server you're connecting through. If this server is discovered and blocked in China, you're going to run into issues and not be able to access the sites you want. The Chinese government often blacklists IP addresses that are known to belong to VPN companies. However, all the VPNs that work in China offer some combination of "stealth servers" and obfuscation technology to bypass the IP blocks enacted by the government.
This "stealth" technology helps to disguise your VPN traffic as regular internet traffic, preventing detection. Even the sophisticated deep packet inspection employed by the Chinese government can be fooled using XOR obfuscation.
To learn more about "stealth" technology and how it works, check out our guide to VPN obfuscation and How to Bypass VPN Blocks for more details.
Are VPNs in China illegal?
Technically, yes. Recently, a citizen of the Guangdong province was fined 1,000 Yuan (approx. $145) for accessing foreign websites using the Lantern VPN app.
Although the incident was widely hailed as a new crackdown on VPN use in China, this is the only known case of an individual getting into trouble simply for using a VPN in China. The municipality of Chongqing city has also announced fines for VPN users, but as far as we know no-one has ever fallen foul of this.
This is quite amazing when you consider that China boasts the largest number of VPN users in the world! Freedom House estimates that in 2018 between 20 and 30 million people in China used a VPN to evade the GFW out of a population of 1.5 billion (around half of which uses the internet).
Based on this, we'd say that the odds of getting into trouble for using a VPN in China are relatively slim.
While the sentencing of a Guangdong man to nine months in jail was widely reported, it was a unique case where the unfortunate individual was selling rather than simply using VPN services.
The China VPN Ban
There is no doubt that China is trying hard to suppress VPN use designed to evade its authoritarian censorship measures.
What has made a considerable impact was China's demand that Apple removes VPN apps from the China App Store. Disappointingly, Apple agreed to these demands. Google, of course, has long been banned in China. And this includes access to VPN apps in the Google Play Store. This is not to say accessing Google Play Store in China is impossible, though. Click the link for more information on this.
Visitors to China can make their lives much easier by downloading and installing VPN apps before they set foot on the mainland. If, however, visitors wait until they are already in China to install an app, finding a VPN for iPhone users becomes much more difficult.
On the other hand, Android users can get custom Android VPN apps with relative ease. If you read Chinese, then you can get them from one of China's many "unofficial" Android app stores. Alternatively, many VPN services are happy to email customers in China direct links to their VPN apps. Just ask.
If you plan on using a VPN in China on your mobile, then take a look at our iPhone VPN and Android VPN guides for more information.
Which VPNs don't work in China?
You might notice that a few of the bigger names and industry leaders are missing from our list of best VPNs for China - like IPVanish and CyberGhost, two top-notch providers. These services did previously work in China but, unfortunately, no longer do. The cat-and-mouse nature of bypassing the GFW is incredibly fluid, as providers try their best to stay one step ahead of the Chinese government. The grim reality is that plenty of VPN services simply can't keep ahead of the government restrictions and stop working in China entirely.
Online gaming in China
China is set to introduce new laws banning online gaming, aimed at preventing its citizens from interacting with foreigners located outside the GFW.
The move follows news that Hong Kong activists have been posting pro-democracy messages in the massively popular online multiplayer game Animal Crossing: New Horizons. The government has also banned the sale of this game in online stores.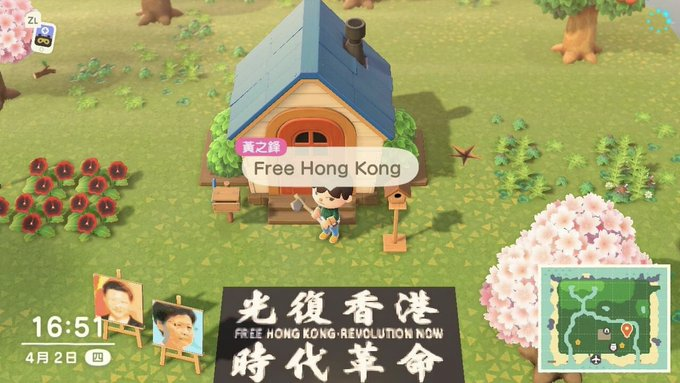 Although undoubtedly a blow to gamers' freedoms in China, this ban can be easily overcome using a VPN that works in China. Mobile players should check out our guides to setting up a VPN on Android and on an iPhone.
We also have guides for setting up a VPN on your Xbox (One or 360), PS4, or Nintendo Switch. If you have an older Nintendo console, you can still use a VPN with it. The bottom line is that any game console can share a VPN connection using one of the methods detailed in our how to share your VPN connection guide.
Check out our VPN for Hong Kong page if you'd like to get a Hong Kong IP server or if you want more information about using a VPN there.
Can I get a free VPN for China?
We make a few recommendations for those looking for a free VPN to use in China in the list above. But, be warned, free plans can often be restrictive. While there is little harm in trying one of the services, you will only really be able to browse the internet if you don't upgrade to a premium plan. So if you're a streamer or a gamer, we suggest not wasting your time with a free VPN.
What can I unblock with a China VPN?
Facebook, all Google services, Twitter, YouTube, and WhatsApp are all blocked in China. In the table below, you can find which popular services are currently inaccessible from behind the GFW. If a website or service you're interested in isn't listed below, you can use our Blocked in China tool to find out if any website has been blocked by the GFW.
| Website | When was it Blocked | Block status |
| --- | --- | --- |
| Google services | 2014 | All services are blocked |
| DuckDuckGO | 2014 | Blocked |
| Youtube | 2009 | Only Available in cities Haikou and Sanya |
| Facebook | 2009 | Only Available in cities Haikou and Sanya |
| Twitter | 2009 | Only Available in cities Haikou and Sanya |
| Instagram | 2014 | Blocked |
| Pinterest | 2017 | Blocked |
| Tumblr | 2016 | Blocked |
| Flickr | 2014 | Blocked |
| Whatsapp | 2017 | Blocked |
| Pornhub | 2012 | Blocked |
| Xvideos | 2011 | Blocked |
| Xhamster | 2011 | Blocked |
| BBC | 2014 | Blocked |
| HBO | 2022 | Blocked |
| Line | 2013 | Blocked |
| ProPrivacy | 2017 | Blocked |
If you want to unblock streaming services when in China, take a look at the guides below:
FAQs
Below, we've listed a few frequently asked questions regarding VPN usage in China that we've curated using questions from Reddit.
Conclusion
Now we have covered which VPNs are the best to use in China and why, let's review our top picks: