These are the best VPNs for torrenting
Torrenting can cause all kinds of headaches depending on the content you're downloading, from your internet service provider cutting off your plan to lengthy legal battles that can result in a fine or jail time. By simply connecting to a virtual private network (VPN), you can avoid all these risks and then some, but not all services support file sharing.

To make things easy for you, ProPrivacy has outlined the best VPNs for torrenting, prioritizing speed and security above all else.
Why do I need a VPN for torrenting?
Nearly all internet users can benefit from using a Virtual Private Network (VPN), but torrent downloaders should consider them absolutely essential.
There is, of course, nothing illegal about torrenting, per se. It's just a protocol, and one used for perfectly legitimate reasons, such as downloading Linux distros. But anyone that reads this article knows what torrenting is usually used for, and copyright holders don't like it one bit.
Using a VPN protects you when torrenting in two key ways:
You connect to a server that sits between you and the internet. This means anyone on the internet, including other BitTorrent peers, see the internet (IP) address of the server instead of your real IP address.
The connection between your device and the server is encrypted. This prevents your internet provider (ISP) from seeing what you download.
In addition to these protections, they are also very useful for torrenters because:
It unblocks torrent sites. It is common practice in many parts of the world for ISPs to block access to torrent websites. But just as VPN tech prevents anyone on the internet from seeing your real IP address, it also works the other way round and prevents your ISP from seeing what you get up to on the internet.
And what it can't see, it can't block. So accessing blocked torrent sites is as easy as connecting to a server located somewhere that doesn't block them.
This is just a very brief overview of VPN technology - for a more detailed look, check out our what is a VPN? Non-technical beginner's guide.
What is important in a VPN for torrenting?
When choosing which service to use when torrenting, there are a few questions you should ask yourself before commiting.
Does the VPN allow file sharing?
The most important thing is that a provider actually allows torrenting! Most do these days, but by no means all.
A VPN that allows torrenting endeavors to protect you when it receives DMCA letters, but if you torrent on a service that doesn't allow P2P, then you can expect no such protection. All you need to do is make sure that you are subscribing to a good no logs VPN, as this makes it impossible for a provider to hand over information it simply doesn't have.
Does the VPN offer a kill switch?
The most important feature to have when torrenting is a kill switch. This ensures you can't torrent without the VPN connected. Do make sure that the provider's apps feature a kill switch for the platform you torrent on (although Android 7+ itself has one built-in).
One more thing to consider is Port forwarding. This is a controversial feature, as it improves P2P download speeds but can introduce security risks.
How we test our VPNs for torrenting
Before recommending a service for torrenting we always:
Ensure that the VPN permits torrenting.

Check that the VPN works correctly.

Torrenters don't really need to worry about WebRTC and DNS leaks as these are browser issues, but we check for them, anyway. We also check for IPv6 leaks, although to have one of these you would need both an IPv6 internet connection and to have manually enabled IPv6 in your BitTorrent client. Feel free to see if your VPN leaks using our leak test tool.

Test any kill switches and other features to ensure they work as advertised.
The 5 Best VPNs for Torrenting
ExpressVPN allows torrenting on all its servers.
Pricing

From $6.67 - $12.95

Available on

Android
iOS
Windows
MacOS
Linux

Works with

Netflix
iPlayer
Amazon Prime
Hulu
ExpressVPN is one of the most respected names in the VPN industry. It allows torrenting on all its 160 server locations in 94 countries around the world, although it does prefer (quite understandably) to keep low-key about this.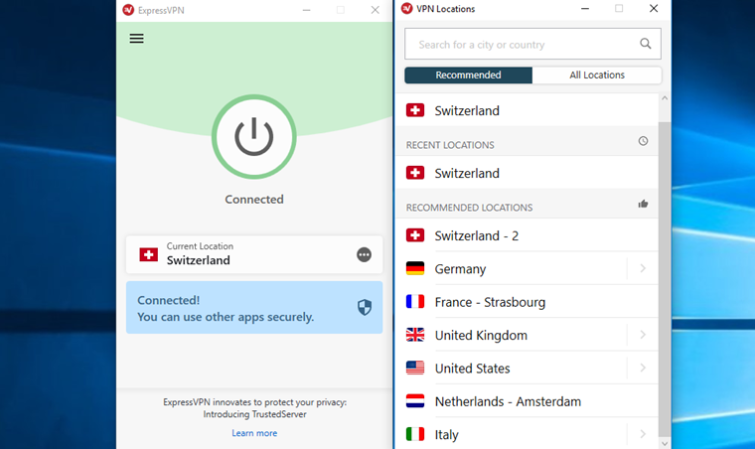 Torrenters will also appreciate the fact that ExpressVPN's Windows and Mac apps have good kill switches. And being based in the British Virgin Islands allows ExpressVPN to implement a robust no-logs policy, ensuring that it keeps no records to be handed over to copyright enforcers.

If you encounter any problems, then ExpresVPN's 24/7 live chat support team is friendly and highly knowledgeable. A 30-day "no-quibbles" money-back guarantee also helps to ensure peace of mind.

CyberGhost is cheap and very torrent-friendly
Pricing

From $2.75 - $12.99

Available on

Android
iOS
Windows
MacOS
Linux

Works with
CyberGhost permits torrenting on most of its servers, although not in the United States or Canada due to very hostile copyright environments in both. North Americans can still download P2P using European servers, however. In addition to this, it runs special P2P-optimized servers in 90 countries throughout the world.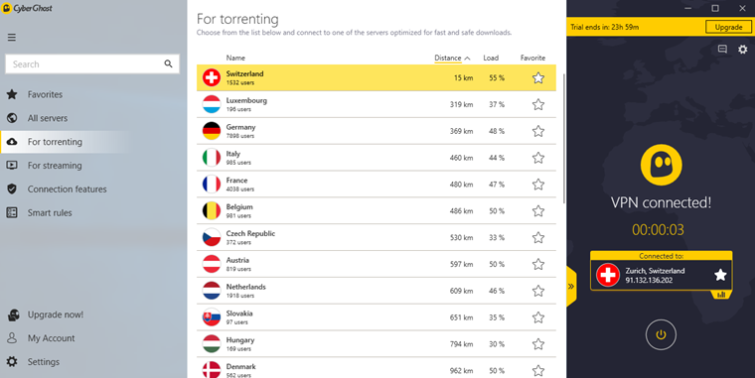 A feature that may be of particular interest to torrenters is "App Protection," which allows you to specify that only certain apps are protected by the VPN. Such as your BitTorrent app! This is also known as split-tunneling.

Torrenters will also appreciate kill switches baked into (and enabled by default) both CyberGhost's Windows and macOS apps. CyberGhost offers 24/7 live chat support if you need it, plus it has a very generous 45-day money-back guarantee. You can even try the service out gratis for 24-hours before needing to supply any payment details, which is plenty of time to download some test torrents!

The final thing for torrenters to note is that this Romanian company keeps no logs that can be handed over to rights holders, no matter how much pressure they apply.

NordVPN keeps no logs & has dedicated P2P servers, making it a great VPN for torrenting
Pricing

From $3.49 - $11.95

Available on

Android
iOS
Windows
MacOS

Works with

Netflix
iPlayer
Amazon Prime
Hulu
NordVPN allows torrenting on all its servers, although it also runs special torrent servers in 43 countries around the globe.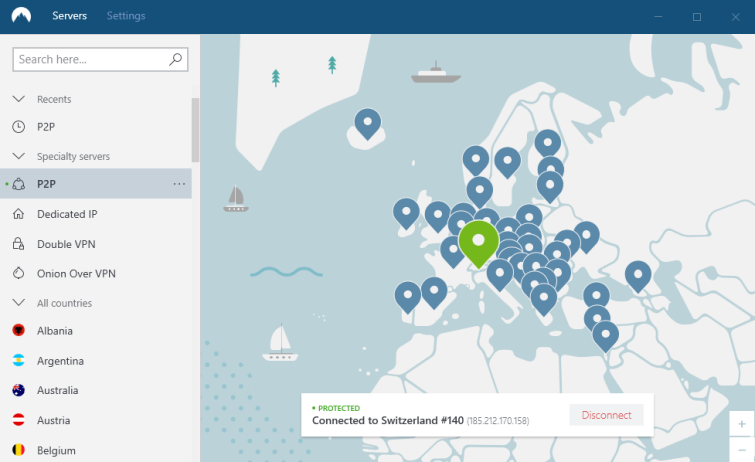 Its Windows and Mac apps feature both a system kill switch and a per-app kill switch. This means you can have double-protection against VPN dropouts on your BitTorrent client (not that you should need it) or can opt to only protect your torrent client. It's up to you!

One of NordVPN's many strengths is that it is based in Panama. Not only does this allow it to keep no logs that might compromise your privacy, but Panama has a very loose attitude to copyright infringement anyway.

NordVPN offers great 24/7 support and a 30-day money-back guarantee.

PIA is the only service on this list to have proven its no logs claim in court
Pricing

From $3.33 - $11.95

Available on

Windows
MacOS
Android
Linux
iOS

Works with
Unlike many US-based companies, Private Internet Access (PIA) fully allows torrenting on all its 3,295 servers in 29 countries. And torrenters can take heart in the fact that PIA is almost unique among VPN providers in having its no logs claims proven in court!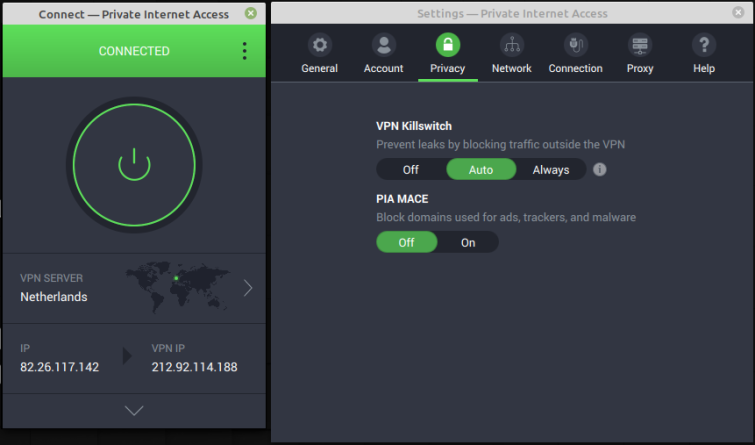 Linux users will be chuffed to note that PIA offers a full Linux GUI client offering all the functionality users on other platforms enjoy - including a kill switch. Indeed, the fact that PIA offers kill switches in all its custom VPN apps (Windows, Mac, Android, Linux, and iOS) is dandy for torrenters, as is its support for port forwarding through its NAT firewall, which can improve download times.

Torrenters might also appreciate the SOCKS5 proxy offered by PIA which can provide "double-protection" for your BitTorrent downloads, or can be used to protect only BitTorrent app (similar to split tunneling).

Customer support is not quite as 24/7 as advertised, but PIA does offer a robust 7-day money guarantee.

Ivacy is a fast service with lots of torrent-friendly features
Pricing

From $1.50 - $7.50

Available on

iOS
Windows
Android
Linux
MacOS

Works with

Amazon Prime
Hulu
Netflix
iPlayer
This no logs Singapore-based VPN service allows torrenting on all its 1000+ servers in 100+ locations in 50 countries around the world.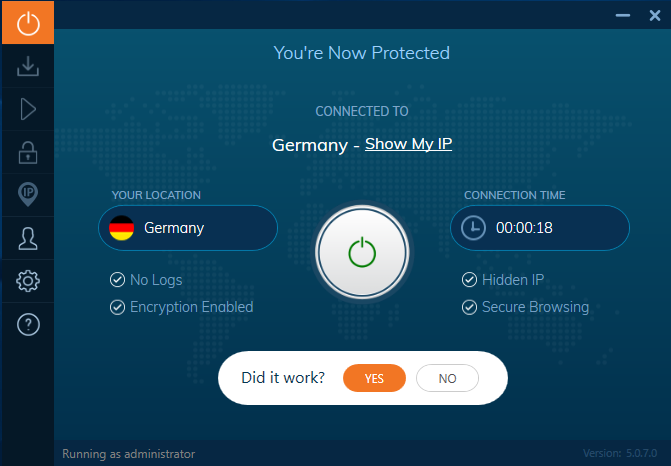 Unlike many VPN services, Ivacy does not use a NAT firewall by default, making port forwarding unnecessary for torrenters. Alternatively, it is possible to purchase NAT firewall protection as a bolt-on extra, which automatically comes with port forwarding included.

So either way, torrents will download at full speed when using Ivacy. And given Ivacy's low initial buy-in cost, we appreciate the flexibility this approach provides.

Also of interest to Windows torrenters is Ivacy's split tunneling feature that lets you choose which programs use the VPN tunnel (for example just your BitTorrent client), and to exclude the rest.

Support is 24/7 in case you need help, and you can always take advantage of the 30-day money-back guarantee.
Other VPNs that allow file sharing
This short list does not cover all VPNs which allow torrenting. In fact, most (but certainly not all - see below) reputable paid-for services allow torrenting these days. These include:
VPNs to avoid if you want to file shre (P2P)
The providers below are known to either not allow torrenting, or are not recommended to use when torrenting. Please note that this list is not in any way exhaustive.
Opera VPN - Despite its name, this is a proxy that only affects the Opera browser, not a service. You can't use it to protect your torrenting sessions.
Hola - This P2P service uses other Hola users' devices as VPN exit nodes. It is unclear if torrenting is actually banned on Hola, but doing so could get other users into deep trouble (and their torrenting could land you in hot water).
VPNGate - Whether torrenting is permissible on this volunteer-run network seems something of a gray area. The system allows it, but tech-savvy node operators can block P2P using third party software. Torrenting using servers where P2P downloading is illegal could get the volunteers in trouble and, therefore, seems very rude.
TurboVPN - Torrenting is explicitly banned, under threat of having your account blocked.
BitDefender - Even though it leverages the Hotspot Shield VPN server network (HSS permits torrenting), BitDefender prohibits torrenting on its service.
ProtonVPN Free - Paying customers can torrent to their heart's content on dedicated torrent servers, but the BitTorrent protocol is blocked on ProtonVPN's free servers.
What about free VPNs for torrenting?
Running a VPN service is a major operation. And an expensive one. No-one, and we mean no-one, will do this for free.
There are free services around, but the more reputable of these offer free plans that are severely limited in various ways - such as restricted speeds or strict download limits. They then hope these free plans will entice you into paying for a premium subscription.
These, at least, are transparent about how they monetize their free services. Less reputable providers have been known to spy on users' information and sell it to the highest bidder or to steal and sell your bandwidth.
And almost no free VPN services permit P2P, anyway! Dealing with the hassle of DMCA notices and the like simply isn't worth it for non-paying customers!
Can I torrent a VPN?
If you pirate everything else, you might be wondering whether you can torrent a VPN?
There is an increasing number of VPN apps appearing on torrent sites, complete with cracks, but downloading one is a terrible idea for several reasons:
All reputable services work on a subscription model. Functionality is, therefore, tied to your account, not whether you are using "activated" software or suchlike. So "cracking" the software is pointless.
This means the so-called "cracks" bundled with apps on torrent sites are invariably malware. Make sure to avoid, avoid, avoid.
It is also possible to torrent "free" VPN apps. Apart from the fact that these are readily available anyway, most of them are scams that monetize their service by stealing your browser history and/or bandwidth (see the section above).
FAQs