There are no ifs or buts about it: if you torrent then you need to use a VPN. Even if you (wrongly) perceive torrenting to be consequence-free at the present time, it is highly possible that your IP address is being recorded for future action against you. Using a VPN with a kill switch prevents peers (and copyright enforcers) from knowing who you are. In this article we look at the best VPNs for torrenting, and discuss in details various issues that every P2P downloader should be aware of.
Learn more about staying secure whilst torrenting
What are the Best VPN for Torrents?
If you want a quick answer here are the best VPNs for torrenting. Click here or scroll down for more detailed summaries or check out our full VPN reviews.
The best VPNs for torrenting: Detailed Analysis
The list below takes a deeper look at our favorite VPNs for torrenting, so you can get an idea of what to expect with each service. If you want to learn more about these services then take a look at our in-depth VPN reviews.
The best VPNs for torrenting: Speed Analysis
When torrenting your first concern should be your privacy. However, we understand that long download times can easily become a source of frustration. That's why all our recommended VPNs offer top of the line speeds.
Check out the graph below to see what speeds you can expect from each of our recommendations.
A VPN will not improve download speeds
A common misconception that we often hear is that VPN will help improve slow internet speeds. In fact, the opposite is true. The speeds listed above are taken from tests we run on our global speed test servers. This is provided to give you an idea of the impact that a VPN will have on your own download speeds - the better the speeds, the smaller the impact.
For more information on how we collect this data, check out our VPN speed test guide.
What makes the best VPNs for torrenting?
The most important thing is that a VPN provider actually allows torrenting! Most do, these days, but by no means all.
A VPN that allows torrenting undertakes to protect you when it receives a DMCA letters and the like, but if you torrent on a service which doesn't allow P2P then you can expect no such protection. But, just to be sure, we recommend using a good no logs VPN makes it impossible to hand over information it simply doesn't have!
After that, the most important thing is having a good kill switch. This ensures you can't torrent without the VPN connected. Do make sure that the provider's apps feature a kill switch for the platform you torrent on (although Android v7+ itself has one built-in).
Port forwarding is a controversial feature as it improves P2P download speeds but can introduce security risks. We discuss port forwarding later in this article, or you can find a detailed look at the topic in our ultimate guide to port forwarding.
New to VPNS or torrenting? Our handy guides will help you get up to speed:
Should I use a VPN when torrenting?
Yes.
Torrenting is also called P2P (person-to-person) and filesharing, which should give you a clue as to why using a VPN is so important when torrenting.
One of the greatest strengths of the BitTorrent protocol is that it is decentralized. Instead of downloading files from a centralized server which can be shut down, you share files with other torrent users (called peers).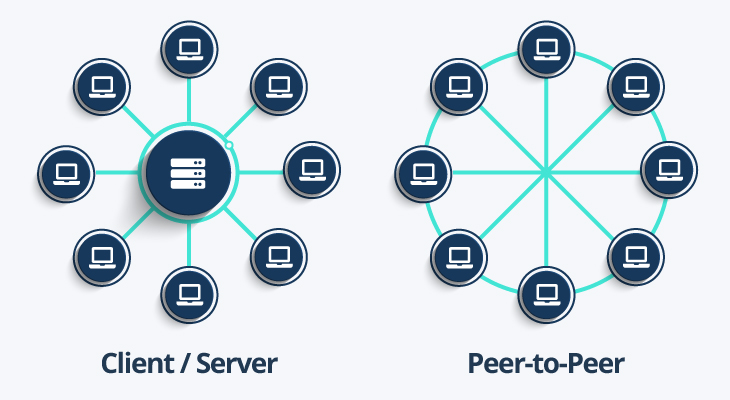 In order for this to work, your peers need to know who you are (or more specifically, know your unique internet (IP) address which can be traced straight back to you).

And here is where the problem lies, as peers are not necessarily fellow download enthusiasts. They can be copyright enforcers who monitoring the IPs of people who download their intellectual property without permission and who then take action against them. Using a VPN protects you against this.
Is it safe to download a torrent with a VPN?
Again, short answer: yes.
Long answer: when using a VPN your device connects to the internet via a VPN server run by a VPN service. Most VPN services operate VPN servers located in various countries around the world (including countries with relaxed views on copyright infringement). The connection between your device and the VPN server is encrypted. So…
Peers cannot see your real IP address, as it is hidden by the VPN server. They see the IP address of the VPN server instead. This is the most important protection a VPN provides to torrenters.
Your ISP cannot see that you have visited torrent sites because everything you do on the internet beyond connecting to the VPN server is blocked to it. And what it cannot see, it cannot block. If ISPs in your country block torrent sites then connecting to a VPN server somewhere they are not blocked unblocks them.
Your ISP cannot see your data (such as files you have torrented) because all data between your device and the VPN server is encrypted.

Using a VPN, therefore, makes very torrenting very safe (as long as the VPN service allows it). However, even the best VPN connection can fail occasionally, which is why using a kill switch is so important.
What happens if I torrent without a VPN?
Copyright holders' first response when they detect that your IP address has been involved in downloading their content is usually to send a DMCA notice to your ISP.
This is basically a cease and desist letter. A true DMCA letter is only legally valid in the US, but they are widely respected by ISPs everywhere. Most countries also have similar legally-binding instruments, which are commonly (if inaccurately) referred to simply as DMCA notices.
What happens next depends very much on your ISP, who can easily map the IP address and the time it was used to your customer account. A typical first response (maybe after receiving two or more notices linked to your IP address) is to send you a warning letter.
Depending on your ISP this may be "educational" in tone or quite aggressive.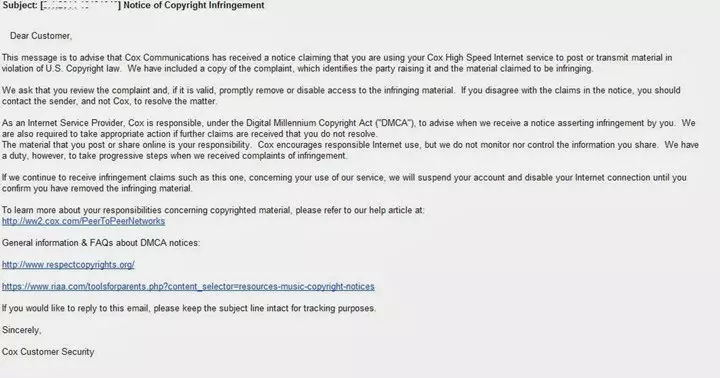 If its warnings are ignored or your ISP is a strong supporter of copyright enforcement from the get-go, it could simply hand over your account details to the copyright holder.
Copyright holders can (and sometimes do) take offenders direct to court, demanding, often huge sums of money in compensation. Even if they don't win, the court costs alone can be crippling to defendants.
More often, though, copyright holders employ legal firms popularly known as "copyright trolls" to exptort smaller amounts of money from offenders for them. In a dubious tactic known as "speculative invoicing," victims typically receive a letter demanding a cash settlement out of court if they wish to avoid a potentially ruinous full-court summons.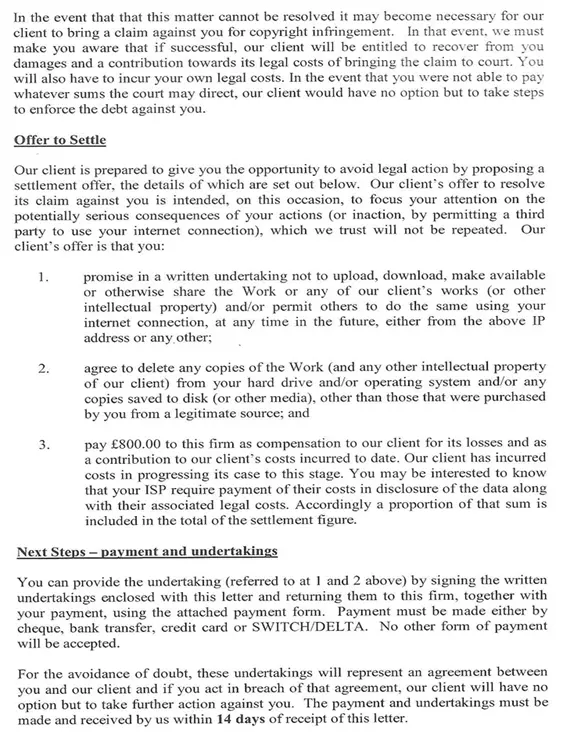 The best advice on what to do if you receive such a letter is (a little surprisingly!) from the UK government, but which is also useful in most North American and European countries.
Don't ignore the letter. Even if you believe that you or anyone with access to your internet connection hasn't downloaded the copyright protected material... If you didn't know anything about the alleged copyright infringement check the letter is genuine. There are scams operating where letters are sent to try and gain compensation from you when you might not have to pay... It is the responsibility of the copyright owner to prove who has committed the infringement. This may not be the internet account holder.
But if you use a VPN, this nightmare situation should never happen to you…
More information: Official guidance on Letters alleging online copyright infringement
How do I torrent with a VPN?
Torrenting with a VPN is easy, simply:
Run your VPN app and connect to an allowed server.
Ensure a kill switch is enabled.
Start torrenting as usual.
Some VPN services only allow torrenting on selected servers located in countries with relaxed copyright laws, while others allow you to torrent on any of their servers.
What is a Kill switch? Why do I need one?
A "kill switch" prevents internet connections when the VPN is not running, thus ensuring against accidental exposure of your IP when torrenting in the event of a VPN drop-out, software crash, when switching between networks. It is, therefore, a vital tool for torrent users.
Do make sure that your chosen VPN service offers a kill switch for the platforms you torrent on. Most providers support kill switches in Windows these days, but not necessarily in macOS, and even less so in mobile apps.
Android v7+ users are in luck, however, as the OS now includes a VPN kill switch which works with any installed VPN app. Users of older Android devices can use the third-party OpenVPN for Android app instead of their provider's custom app, as it can be configured to work as a kill switch. Tunnelblick for macOS also includes a kill switch.
Port forwarding
Many (but not all) VPN services use a NAT firewall to protect their users from unsolicited incoming connections. Unfortunately, this impedes your ability to seed files to each other, which has a negative impact on your download speeds.
VPN port forwarding solves this problem by letting incoming connections through the NAT firewall so that you can seed as normal. Done properly, port forwarding poses minimal risk to users, but many VPN services quite understandably do not support it because of concerns over security.
So, just to stress: port forwarding is not required to torrent when using a VPN (assuming a NAT firewall is used in the first place). But it does make torrenting faster. Please check out our Ultimate Guide to VPN Port Forwarding for a detailed look at this subject.
How to test your torrent VPN is working?
To test your VPN is ready to use for torrenting:
Go to ipleak.netwithout your VPN running and make a note of all IPv4 and IPv6 addresses you see. Turn on your VPN and visit ipleak.net again, but this time on Private /Incognito mode to prevent caching issues from polluting the result. If you see your real IPv4 or IPv6 address that you noted above, then the VPN will not protect you when torrenting.


Simply checking that you have no IP leaks using ipleak.net as described above is sufficient to show that your VPN is working properly. If you are of a more paranoid disposition, however then you can double-check specifically for torrenting using the ipMagnettool.

Open the Magnet tracker link in your BitTorrent client. A few seconds later you should see the IP address trying to download the dummy torrent file on the ipMagnet web page. This IP should belong to your VPN service and not be your real IP address!
Does a VPN slow down/speed up torrenting?
The VPN server acts as an extra leg to the journey that data must travel, and encrypting and decrypting data requires processor cycles. So in theory, a VPN slows down any VPN connection to some extent.
When it comes to torrenting, though, NAT firewall/port forwarding issues aside, we can't say the difference has ever been noticeable to us.
Many ISPs, notably in the United States, discriminate against torrent traffic. Called "traffic management" or "traffic shaping" by ISPs, this is more commonly referred to as "throttling".
ISPs do this because they consider torrent traffic to be a nuisance which uses up bandwidth and/or they believe in supporting the rights of copyright holders.
If your ISP does this, then using a VPN will indeed speed up your torrenting. The VPN encryption prevents your ISP from seeing that your data includes P2P traffic, and what it can't see it can't block.
Is torrenting illegal?
People who run torrent sites are often breaking the law and can get into big trouble when caught. With some exceptions (noted below), however, simply downloading torrents is considered a civil, rather than a criminal offense. So you might get sued to hell and back, but you (probably) won't go to jail.
FAQs