On the internet, you run the risk of exposure to malware, viruses, spyware, ransomware, and Trojans. This malicious software allows hackers to take control of your device, to steal your data and snoop on you for the purposes of identity theft – or to steal your bank details and login credentials.
Downloading and installing effective antivirus software will protect you against attackers, but with so many options available it can be hard to pick. Whether you are on a tight budget or you want a premium security suite, we have singled out the best antivirus programs below.
What are the best antivirus programs to use?
The internet is full of nasty surprises, and exploits exist for every platform and device. It really makes no difference whether you use the internet on a smartphone, a Windows PC, or a MacBook - if you are not careful, you could end up with an infection or cybercriminals trying to access your computer, tablet, or phone.
As a result, it is vital to protect your internet-connected devices using a reliable antivirus program with real-time scanning. You don't need to pay through the nose to get reliable protection, because all of our recommendations charge fairly – and some even have a basic plan available for free.
The best Antivirus Software 2023: In-depth analysis
Below, you can take an in-depth look at the best antivirus software as picked by our resident experts. Our summaries will help you pick the right service for your needs.
1. Norton 360
Editor's Choice | September 2023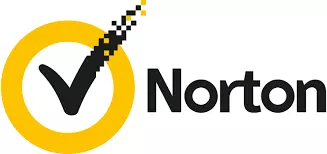 Norton is excellent at handling various threats, including viruses, trojans, ransomware, and malware.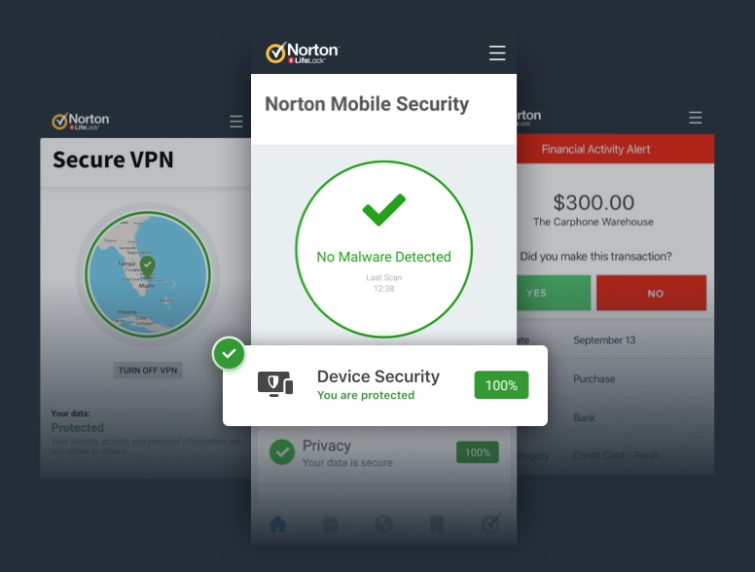 Norton is a superb antivirus that consumers can either purchase as a stand-alone application for $19.99 – or as part of a more comprehensive security suite called Norton 360. The antivirus is extremely effective, and in recent tests, it was found to detect and remove 100% of the threats it was tested with. This includes zero-day malware attacks, including both web and email exploits. In addition, it stopped 100% of widespread and prevalent malware that was discovered in the previous 4 weeks, making it highly effective.

Where performance is concerned, Norton scores full points with AVTests.org because it does not appreciably affect web page loading times, download speeds, or device performance. The antivirus can tackle everything from spyware to malware, ransomware, viruses, and trojans. It also protects users against phishing emails and websites.

Norton antivirus provides online safety by blocking malicious domains. Even on the basic plan users get 2GB of secure storage and a smart firewall that monitors outgoing and incoming traffic. This is an excellent feature that will detect if a trojan is attempting to communicate with a CnC server. It's an excellent service whether you get the simple plan or one of the more comprehensive suites.

Besides all of this, Norton offers these fantastic features:


Won't slow down your PC


Doesn't drain your mobile battery


Comes with a lot of extra features


The most complete security suite on the market


Catches 100% of exploits


An impressive and feature-rich antivirus with apps for all popular platforms.
Free option

Yes

Pricing

Antivirus Plus (1PC): $2.48/mth
Antivirus Plus (3 PCs): $3.19/mth
Antivirus Plus (5 PCs): $3.9/mth
Antivirus Plus (10 PCs): $5/mth
Advanced Security (1 PC or Mac): $3.67/mth
Advanced Security (3 PCs or Macs): $4.33/mth
Advanced Security (5 PCs or Macs): $5/mth
Advanced Security (10 PCs or Macs): $6.67/mth
Ultimate Security (5 devices: Windows, macOS, Android, iOS): $5.83/mth
Ultimate Security (10 devices: Windows, macOS, Android, iOS): $7.92/mth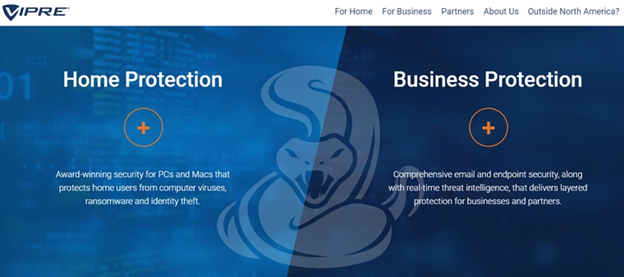 VIPRE is an internet security product developed by a company called ThreatTrack Security Inc. It is a US-based firm that has been around for 20+ years. The company provides an excellent antivirus product that is extremely good at detecting and removing threats both with on-demand scans and active, real-time protection.

Overall, we find this antivirus to be solid and feature-rich. It can be purchased in a number of different plans, depending on the number of devices you own, the level of protection you require, and what you can afford. It is a service that costs a similar amount to its close competitors. However, unlike some antivirus brands, it has no basic free plan.

Despite this, it is a well-rounded service that can provide efficient protection against all kinds of threats, including ransomware, on any platform. Plus, VIPRE has a superb firewall that will protect outgoing as well as incoming transmissions (to protect against Trojans that communicate with a C&C server).

VIPRE customers can benefit from:


A wide range of features


Apps for all popular platforms


Excellent protection against all known exploits


Automatic updates


Real-time and on-demand scanning


A smart firewall with protection against both incoming and outgoing transmissions


An impressive antivirus program for both Mac and Windows users.
Free option

Yes

Pricing

Intego Antivirus Personal Plan (1 PC): $2.5/mth
Intego Antivirus Family Plan (3 PCs): $3.33/mth
Intego Antivirus Extended Plan (5 PCs): $6.67/mth
Mac Premium Bundle X9 (1 Mac for 1 year): $5.83/mth
Mac Premium Bundle X9 (1 Mac for 2 years): $5.42/mth
Mac Premium Bundle X9 (3 Macs for 1 year): $7.92/mth
Mac Premium Bundle X9 (3 Macs for 2 years): $7.29/mth
Mac Premium Bundle X9 (5 Macs for 1 year): $10/mth
Mac Premium Bundle X9 (5 Macs for 2 years): $9.17/mth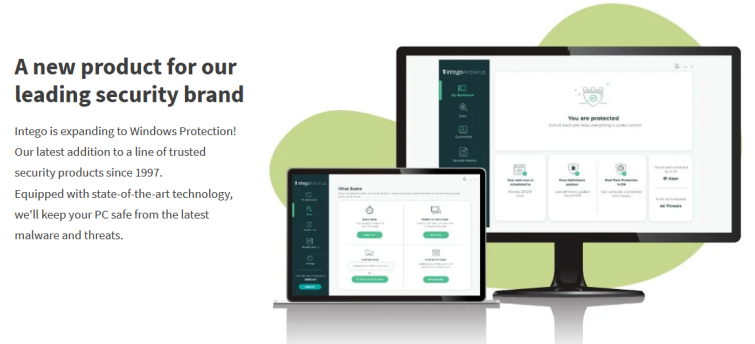 Intego is a computer security company based in Seattle, founded in 1997. The US-based antivirus company is a subsidiary of Kape Technologies – the internet privacy firm behind the highly trusted VPN services CyberGhost and Private Internet Access.

Intego antivirus is slightly unique, in that it is primarily marketed at macOS users. Despite this, the consumer-facing antivirus application is now available for Windows PCs – and we found both versions of the antivirus to offer truly outstanding protection.

The service lives up to its excellent (award-winning) reputation. It will easily protect your devices, it has an excellent range of advanced security features, and it is easy to use even for those consumers who are not particularly techy.

Admittedly, the Windows version is stripped back when compared to the fully-featured macOS bundle. However, if you are looking for an antivirus that is priced fairly and can prevent infections of all kinds, this is a service well worth considering. Good value for money.

Intego offers users:


A simple subscription model that gives the customer plenty of choice


Strong protection for Windows, Mac, and iOS


Smart firewall with incoming and outgoing protection


Great value for money


Good customer care


F-Secure is the winner of AV-TEST best protection award in 2018.
Free option

Yes

Pricing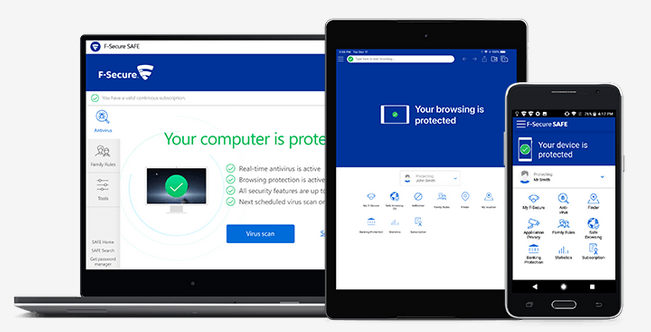 This popular antivirus is known to provide excellent protection, performance, and usability, albeit at a premium price. The software is available for both Mac and Windows. In tests, F-Secure Antivirus performs excellently; consistently blocking 100% of malware. In fact, F-Secure won the AV-TEST best protection award in 2018.

The software might not be as feature-rich as some other antivirus programs on the market. However, it is worth noting that a lot of those extra functions aren't always strictly necessary from an anti-virus point of view (though they are sometimes useful extras).

F-Secure has reorganized its plans, dropping its monthly cost in favor of annual billing and rebranding its home packages with F-Secure SAFE branding. Starting at $69.99, you will be able to install the software on 3 different devices for 1 year. You'll have to spend more than that if you want to use it on 5, 7, or more devices.

Despite the lack of a monthly payment option, F-Secure SAFE can be considered a superb deal that comes with the following features:


Real-time monitoring


Download and phishing protection


Browser extension


Banking mode disconnects all untrusted connections from the internet and blocks them from reconnecting while a transaction is taking place


Support for Mac, Windows, Android, and iOS


Firewall


Great support with live chat


While some antivirus programs may slow your computer down a little - this antivirus software is not hungry for processing power. It is also extremely easy to use, keeping the layout of the functions down to the bare minimum. This makes it a good option for non-techy users.

The quick scan function comes set as a default, and it is extremely fast – completing a scan in just a few minutes. Delving into the settings gives users the option to perform a full system scan. However, if you are used to having the ability to scan removable drives, or to perform custom scans, this software might disappoint you.

Perhaps the only real drawback with F-Secure is that it is so sensitive that it does tend to flag up some false positives. However, this is better than an antivirus that misses actual exploits. On the other hand, we would have to stick recommending F-Secure only on its SAFE plan – which is much better value for money and has a much better range of features than the standalone antivirus plan.

Overall, this is a robust antivirus that gets the job done. Perfectly suited to non-techy users who want something that protects against 100% of viruses.

AVG offers awesome features for a truly affordable price.
Free option

Yes

Pricing

Free: $0/mth
Premium – 1 Device: $3.33/mth
Premium – 10 Devices: $4.17/mth
Ultimate – 10 Devices: $6.49/mth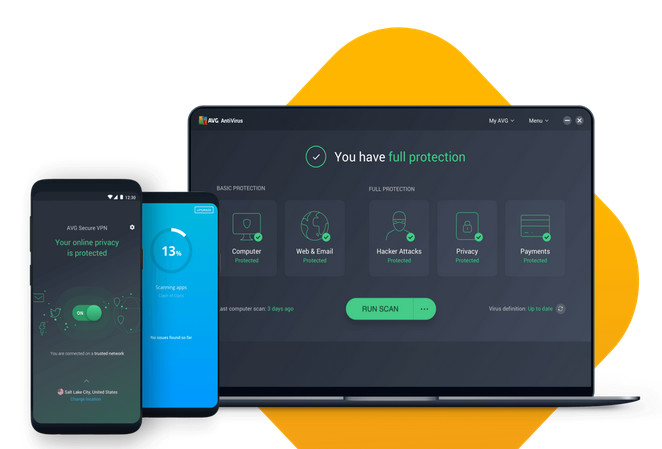 AVG is an antivirus application available for Windows, macOS, and Android. It is an effective solution that can protect devices against all known threats, including malware, spyware, viruses, worms, trojans, and ransomware. For free users get a basic antivirus that provides real-time security updates, and real-time scanning that catches malicious downloads before they reach your PC. That is a hefty amount of protection, free of charge.

For those who want more, users can upgrade to the AVG Internet Security plan which adds ransomware folder security, webcam security, an enhanced firewall, safe browsing features, and Android protection for $39.99. That is a reasonable price considering that AVG was found to score 6/6 for protection and usability by AVTest.org. Performance-wise, you may notice that AVG can have somewhat of an impact on your internet speeds if you have it running on a slower machine or if you have a very slow internet connection. Despite this, it is generally a fast antivirus that is exceptionally good considering it can be used for free.


Free plan available for those who only want antivirus/anti-malware protection


Paid plans are fully featured with ransomware protection


Enhanced Firewall


Safe browsing to prevent you from visiting malicious domains


Cross compatible with all popular platforms


Can I get a free antivirus that works?
If you are running low on cash, you don't need to stress. Everybody needs protection, and, luckily, there are free options available on the market that will offer you strong protection even if you are skint. Below, we have listed our three favorite free antivirus options:
Avast - An excellent antivirus with a free plan that will help you prevent ransomware, trojans, viruses, and other malware.
Malwarebytes - Offers a free plan that you can use to scan your devices for exploits whenever you want. However, it has no real-time protection on the free plan.
Sophos Home Free - A superb free antivirus that comes with parental control features. A great free option - but not as good at spotting exploits as our recommended paid providers.
Why do I need Antivirus software?
The internet is a dangerous place. From scrolling through social media to browsing online stores, hackers and cybercriminals are always lurking around the corner. Using an antivirus is the only way to scan for potential threats, and to eliminate those threats if you happen to be exposed.
There are hundreds of thousands of webpages that contain hidden malware downloads, and depending on where you happen to surf online – your threat level may increase. For example, websites with lots of pop-ups (such as pirated streaming sites) can infect your device with malvertising and drive-by download exploits.
Some links lead to malicious webpages that are designed to steal your information and infect your device. Thousands of phishing attacks occur every day through emails and direct messages online.
Even adverts on social media can lead to websites filled with malware. Such ads aren't always checked individually by those platforms – which means that even ads on seemingly legitimate platforms like Instagram could actually be a scam. Even eBay and Amazon have suffered adware problems in the past.
The risk of infection increases drastically if you actively download untrusted third-party apps, or torrent software, videos, and other content. Torrenting is one of the most dangerous activities that is known to cause a malware infection because it is easy to stumble on downloads that are primed with dangerous exploits. So, if you torrent, please don't even think about doing so without an antivirus.
If you're using a jailbroken or rooted device, you're also at an increased risk. Downloading and installing apps from unknown sources or third-party app repositories comes with the added danger of much higher exposure to cybercriminals.
Even the most secure air-gapped devices with no internet connection may become infected if a USB dongle or external hard drive is inserted that contains malware. And the range of USB devices that may infect you is growing year on year – even charging a vape pen via USB has been found to cause infection!
With a good antivirus, you can protect your devices and eliminate threats before they actually cause any harm.

What does an antivirus do?
An antivirus scans your computer, mobile device, or tablet for an exhaustive list of previously discovered exploits. This exploit list is constantly updated to add newly discovered threat definitions to the library.
The very best antivirus programs have the ability to successfully detect recently discovered exploits from the last four weeks. This is what causes some antivirus apps to get a better score during independent audits performed by AVTest. The very best antivirus programs also use algorithms to detect new exploits based on their code base and their proximity to known malware.
All antiviruses are able to perform scans to detect and remove exploits such as viruses, malware, worms, rootkits, trojans, spyware, adware, and ransomware. These cans can be set up to happen at predetermined times each day or week. Alternatively, you can run a scan on demand.
However, not all free antiviruses perform active real-time scanning; which is considered a highly important feature for everybody who connects to the internet. This is because to be completely protected against exploits it is much better to have an antivirus that actively engages in prevention rather than just detection and removal.
Should I pay for antivirus software?
This is ultimately a question that only you can answer, and will largely depend on what you want and need from your antivirus program. The free antivirus protection that comes with Windows, called Microsoft Defender, is pretty good at spotting threats. Many people consider that protection to be good enough, particularly if when backed up with a secondary free application such as Malwarebytes or Avast.
The same is true for Apple users. macOS ships with a native security program called XProtect, and that protection is pretty good. However, it is not a proper antivirus and it is definitely worth doubling down with another standalone product (because exploits for macOS are massively on the rise).
If you want advanced protection such as real-time scanning, browsing protection, webcam security, ransomware protection, online payment protection, parental controls, and other advanced features - you will nearly always have to pay for a premium subscription. Free antivirus programs simply don't provide all of these advanced features, instead, they let you perform a basic scan.
In addition, during the latest round of tests performed by the trusted antivirus auditing organization AVTest, the very best antiviruses (that were able to protect against 100% of exploits during the tests) were always paid premium services. Thus, free protection isn't as effective as paid protection.
You truly do get what you pay for in life. And, if you want an antivirus that can catch all exploits in real-time without impacting the performance and usability of your machine - then it is a good idea to pay for a comprehensive solution that has software for all your devices.
What features do I need?
The most important thing is for your antivirus to perform active scans to detect and remove any exploits that are attempting to make their way onto your devices. The basic features you must ensure you have if you are an internet user are:
Active real-time monitoring for incoming threats from the net (available with premium antivirus plans only).
The ability to schedule scans to run automatically.
Scan for exploits whenever you want.
Scans directories, files, and folders for known patterns that indicate the presence of malicious software.
Quarantine and ultimately remove any of the threats that are detected.
Besides these basic requirements, premium antivirus applications provide a number of other useful security features:
Secure browsing protection
Smart firewall
Parental controls
Password manager
Email protection with anti-phishing
Ransomware protection
Online payment and fraud prevention services
VPN
These other features can usually be purchased either as part of a premium security plan, or as standalone services. Most of these services are worth paying for and they can be really useful as part of an integrated security suite. So, if you want to make use of these extra features, it is well worth paying for a premium antivirus plan.
However, when it comes to VPNs, we tend to recommend sticking to a standalone zero-logs VPN service, as this will provide much higher levels of privacy and security.
Conclusion
It's dangerous to use the internet unprotected. Make sure you have an antivirus installed to keep all your devices protected at all times.