If you are constantly being bombarded by advertisers, you may want to know how to stop pop ups on your iPhone or iPad. Luckily, iOS supports adblocker software! There are hundred's of adblocker apps available in the app store, so it can be difficult to know what adblock app iPhone users should download. In this guide we list the best iPhone adblocker apps and show you how to set up adblocker software on iOS.

---
The term "adblocker" is somewhat misleading because while adblocker apps do block ads, their most useful function is to prevent tracking scripts being loaded into your browser which allows companies to track your movements as you browse the web. This is why they are also known as "content blockers."
Another benefit of adblockers is they can speed up page load times, because they prevent the browser loading unnecessary (and potentially harmful) scripts. For the same reason, adblockers reduce bandwidth consumption and so are pretty much essential for those with limited data plans. They also claim to save battery life, although we are entirely convinced this benefit will be noticeable to the average user.
Best Adblockers for iPhone and iPad
Below is a list of the best adblock apps for iPhone and iPad users. Most of the iOS adblockers in this article are free, however, some offer a premium version which is paid. We have also included some browsers that block ads and protect your privacy.
How to stop pop-ups and ads on iPhone
On desktop platforms and Android, the usual approach to blocking ads is to install an adblocker add-on for the Firefox or Chrome browsers. Such as uMatrix, Privacy Badger, and/or uBlock Origin.
iOS being what it is, however, installing an adblocker on an iPhone or iPad is not so simple. For a start, thanks to the App store's strict developer guidelines, neither Firefox nor Chrome support browser add-ons in iOS.
This leaves two main approaches to adblocking. Most content blocker apps only work in Safari, and once installed must be enabled in Safari's settings. To do this, simply
Go to Settings -> Safari -> General -> Content blockers and toggle yours on.
Content blocker apps can conflict with one another, so it's probably a good idea to enable just one at a time. iOS limits adblocker apps to 50,000 rules each, however, so many apps (such as AdGuard shown below) run as multiple processes in order to get around this restriction. In this case, you should probably enable all the processes from a single app.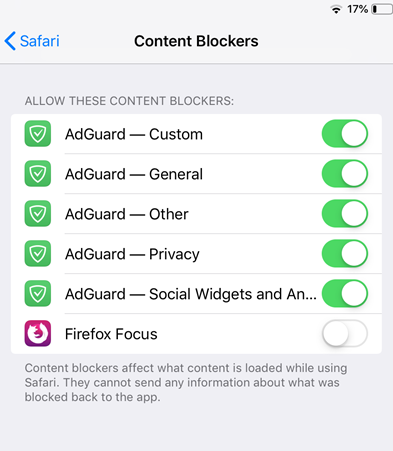 Handy hint: Adblockers can break websites by blocking scripts the sites need to function. Fortunately, Safari for iOS provides a fix for this. Simply long-press the page refresh button to bring up a pop-up dialogue that allows you to refresh the page with without any content blockers enabled.
The other main approach is to use an entire bowser with adblocking capabilities built-in.
In the past, a number of adblocker apps existed which blocked ads system-wide by routing all iPhone connections through a "fake" VPN or proxy connection. DNS filtering could then be performed by a remote DNS server or locally.
It seems, however, that Apple has decided to remove most such apps from the App Store, although this functionality remains available in a more limited number of apps.
Note that if a "fake" VPN or proxy connection is created to perform DNS blocking then it is not possible to also use a regular VPN app.
So which is the best content blocker app for iPhone or iPad? Read on!