Cloud backups are built to make backing up data as painless as possible, avoiding the heart-breaking experience of losing your work by automatically duplicating the most up-to-date version of your files and storing them in a secure online space. Choosing which service to opt for can be just as troublesome, so to make things easier we've outlined the best 5 cloud backup storage services available.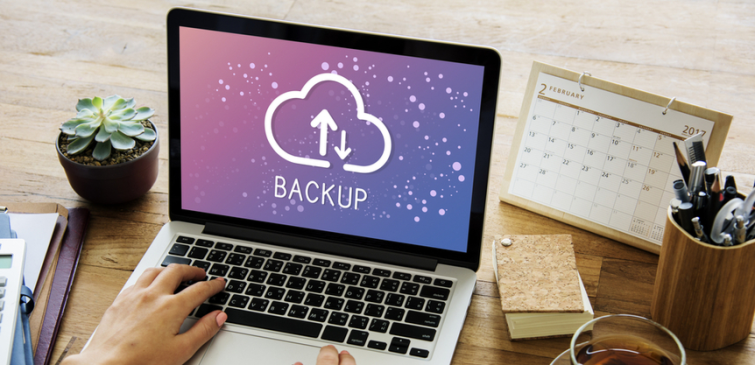 What are the best cloud backup services?
If you are in a hurry, you can see the best cloud backup services below. We chose these services because they offer value for money, excellent data security levels, and reliability. If you need more info to make your choice, simply scroll down for detailed summaries about each provider and the features they provide.
Sync.com - The best cloud backup service overall. It comes with strong end-to-end encryption, 2FA, and a 100% online storage option.
NordLocker - A great all-around cloud backup. A fast and reliable cloud backup tool that is scalable and easy to use on both Mac and Windows.
IDrive - The cheapest cloud backup service on this list. It's super user-friendly and jam-packed with features.
Livedrive - The best value-for-money storage backup. It's easy to use, offers users unlimited backup storage, and has a 14-day free trial!
Tresorit - This is a well known cloud backup service with a zero-knowledge client, 2FA, and Cross-platform support.
How we chose the best cloud backups
There are hundreds of cloud backup services out there, however, not all of them are good. To ensure we are recommending the best cloud backup services to our readers, we make sure that a service reaches the following criteria:
Has strong encryption
Supports popular platforms
Fast backup speeds
Offers users a large amount of storage
It's good value for money
An in-depth look at the 5 Best cloud backup solutions of 2021
This section will give you all the information you need to make an informed choice. The summaries should let you pick the best cloud backup solution for your personal needs. However, if you still need more information, you can read our cloud storage guides and reviews.

1. Sync.com
Editor's Choice | November 2023

Sync.com is the best cloud backup service overall. It offers wonderful cross-platform synchronization and fully-featured mobile apps.
Pricing

5 GB: $0/mth
2TB: $8/mth
6TB: $20/mth
Unlimited (minimum of 2 users): $15/mth

Pros

E2EE
Offers two-factor authentication
365-day file versioning
Excellent option for mobiles
Free tier available

Cons
Sync.com offers fantastic value for money without sacrificing major features. Being based in Canada is sure to make some wary with the country's Five Eyes membership, but the zero-knowledge policy with end-to-end encryption and two-factor authentication across all of its tiers promises to keep data secure.

This includes the free 5GB tier, which might be enough for cloud storage but it's unlikely to suit those wanting a cloud backup service. Fortunately, Sync.com is rather generous with storage space when it comes to its premium packages, beginning at a low price and ranging as high as 10TB per person. Sync.com also offers an Unlimited plan, with unlimited storage, for $15 per month/per user! You'll need a minimum of two users to take advantage of this deal, but it offers users the most storage, and a full raft of features, for their money.

Although applications remain unavailable for Linux, Sync.com supports a wide range of operating systems. It is particularly impressive on mobile, maintaining a clean user interface without stripping features. You can read more about Sync.com in our full review.

NordLocker is a local encryption tool that also provides completely secure cloud backups with 3 GB of free storage.
Pricing

12 month (500GB): $3.99/mth
1 month (500GB): $7.99/mth

Pros

Offers a free version
Seamlessly select files to backup
Excellent E2EE
Use on as many devices as you like
Files can be stored locally or in the cloud

Cons

No Android or iOS apps... yet
Lack two-factor authentication
Comparatively low on features
NordLocker 2.0 is an encryption tool developed by the trusted privacy brand NordVPN. It's a tool primarily developed to allow users to encrypt their data on a local hard drive, and whilst it currently has apps for Windows and Mac, it is about to roll out Android and iOS apps, too, making it an extremely well-rounded service.

Besides encrypting the files stored on your local drive, NordLocker lets you choose files and folders that you want to save in the cloud. This allows you to back up files securely by simply copying them into the 'cloud locker' folder. This works like Dropbox – but with end-to-end encryption. The concept of a Dropbox-style folder that backs up important files with added encryption means that you can back up data without concern that it could be intercepted by the company or accessed via a warrant. With NordLocker, your backed-up data stays completely private and yours.

There's 3 GB of storage available for free users, but you can increase this to 500 GB by paying just $3.99 per month. The great thing about NordLocker is that you can use it on as many Windows and Mac computers as you like with just a single subscription – and it will work on multiple user accounts on a single PC.

Admittedly, this service is not as feature-rich as some of its competitors. It fills a completely different niche, however, by offering encryption and encrypted backups rather than some of the advanced features you get elsewhere (file versioning, full disk imaging, and backups via FTP or from NAS devices, for example). This does make it slightly more limited, but if encryption is what you want, this service is well worth testing.

What's more, you can opt to manually copy the entirety of your hard drive into your cloud locker if you want to. Any time you update your cloud locker folder, those changes will be automatically updated on the cloud. NordLocker also allows you to sync your data from the cloud to multiple devices by simply installing the service and logging in with your credentials. You'll be able to share your files or folders with your contacts if you like, too. All in all, NordLocker is an excellent service for those who want to encrypt their data locally and back it up in a completely private manner.

IDrive is the cheapest cloud backup service. It undercuts a lot of other providers without sacrificing too much - even boasting e2e encryption.
Pricing

Personal - 5TB: $1.65/mth

75% OFF

Personal - 2TB: $4.34/mth
12 month: $17.38/mth

Pros

Intuitive scheduling features
Great mobile apps
Can be used across unlimited devices
Easy to use
Block-level file copying

Cons

No Linux support
Based in US
Lacks unlimited storage
Won't backup files by default

IDrive has a range of features that cement its place, from robust advanced scheduling and restore options to its range of support across Windows, macOS, Android, and iOS. Unfortunately, the service falls short with no Linux app but you can get it working through the web or via scripts. Since it doesn't backup all files by default and places a distinct focus on sync capabilities, some might argue that another cloud backup service should take IDrive's spot on this list.

Despite this, IDrive Personal subscribers can connect to as many devices as they choose under the subscription, paying either $69.50 per year for the 5TB plan or $99.50 per year for 10TB. Backup is intuitive, only using block-level file copying to replace the changed portions of a file rather than uploading the entirety again. True archiving also means that locally deleted files will be held on the cloud until it is manually cleaned up.

Despite all of this, the company is based in the United States, a country known for its intrusive stance on privacy. You can opt for a locally stored private encryption key to keep your information safe from prying eyes, however, this removes IDrive's sharing features and cannot be recovered if forgotten. Once you opt for this option, you cannot change it without resetting everything, including your stored data.
4. Livedrive
Livedrive is the best buy storage backup. It's a superb all-round cloud backup provider that offers users robust security and unlimited backup storage.
Pricing

1 user on 1 desktop: $8/mth
5 users: $25/mth
1 user multiple devices: $16/mth

Pros

Unlimited backup
Easy to use
30 day file versioning
Files encrypted in transit
Apps for Android and iOS

Cons

On the more expensive side
Not compatible with Linux
Lack continuous backup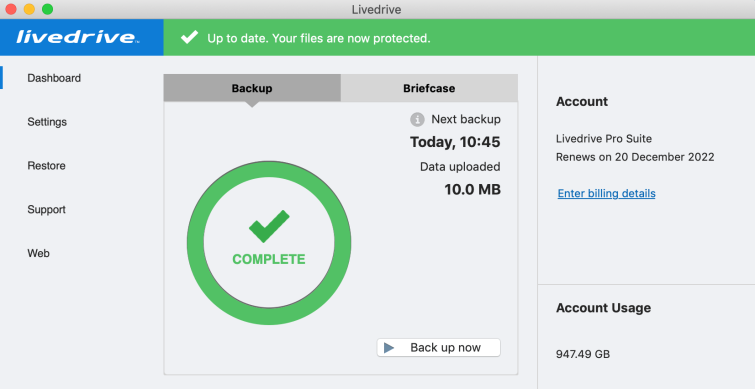 Livedrive is a reliable cloud backup service based in the UK. Alongside a straightforward, uncluttered, and extremely easy-to-use interface, Livedrive offers users unlimited backup storage space and all the features and functionality you would expect from a premium cloud backup service.

The web-based interface is accompanied by standalone apps that are available for Windows, macOS, Android, and iOS devices. File versioning gives you the ability to go back 30 file versions to easily recover previously saved data. Even deleted files are saved for 30 days, which ensures you can get them back if you need to. Folder scans at regular intervals of your choice, photo preview, and automatic photo and video backups are also available. Livedrive also includes a handy music playback feature that lets you play your music files directly from cloud via the user interface.

In terms of security, you can rest assured that Livedrive will keep your files safe and secure, thanks to the fact that your files are encrypted in transit via TLS 1.2 encryption standards in transit, and at rest on its secure servers with AES 256-bit encryption. Livedrive's UK data centers are ISO 27001 certified, protected with 3 layers of physical access security, and include network monitoring on a 24/7/365 basis. What's more, your data is obfuscated and distributed across systems to ensure no individual files can be accessed by any unauthorized entity. Users in the European Union will also appreciate the fact that Livedrive is fully GDPR compliant.

For personal use, Livedrive offers three payment options: Backup, Briefcase, and Pro Suite. The Backup plan is the base plan offered by Livedrive and includes unlimited backup storage for 1 user and the ability to access your files through the mobile app for €7.99 per month. With the Briefcase plan, you get 2TB of cloud storage space to sync across devices along with automatic mobile photo and video backup for €10.00 per month. The Pro Suite plan essentially combines the Backup and Briefcase plans into one, plus you'll get 5TB of cloud storage space to sync across devices and the ability to add 5 individual users to your account for €17.00 per month. For an additional €5.00 per month, you can add NAS backup to your subscription plan. And if you want to try before you buy, you can take advantage of the 14-day free trial for all subscription plans.
5. Tresorit

Tresorit is a great cloud backup service. It's a zero-knowledge cloud provider based in Switzerland - prime territory for privacy and security.
Pricing

Free: $0/mth
Premium (individual): $10.42/mth
Solo (individual): $24/mth
Standard (business): $14.5/mth
Plus (business): $19.17/mth
Enterprise (business): $24/mth

Pros

Two-factor authentication included
Outstanding encryption measures
Secure file sharing with non-Tresorit users
Organized approach to syncing files
14-day free trial

Cons

Pretty pricey
Not beginner friendly
Can occasionally "freeze"

Tresorit has become a household name due to its reliable and feature-rich cloud storage service. Its focus on business packages makes it a standout cloud backup candidate for those who need to back up large amounts of data regularly. With that said, it does also cater to individuals as well as organizations with over 100 people.

We love that Tresorit offers two-factor authentication and a zero-knowledge policy that provides end-to-end encryption without storing a single encryption key on its servers. This is the highest kind of security available for your data and means that no staff member or government authority will ever be able to force Tresorit to provide access to your data.

To test the service and what it can do, Tresorit offers a 14-day trial of its Premium, Solo and Small Business packages, and a 7-day money-back guarantee. In our Tresorit Review, we praised the firm's Swiss origin, which is always praised by privacy enthusiasts. And we are sure that you will be impressed with its feature set, which is definitely more complete than most of its competitors. The drawback? This service is a premium product that you will pay more for.
What is the cloud?
The term "cloud" is often thrown around casually, and it can be confusing when the lines between consumer-facing and business services become blurred. Cloud storage services like Microsoft's OneDrive, Dropbox, and Google Drive are extremely popular and they all allow users to back up and synchronize files from their devices to secure cloud based servers.
Once the data is stored on "the cloud" that data is accessible from anywhere, on any device. This gives the user the ability to share that data or to back it up, even if their device fails and they lose their work or personal data. Online data storage is always the best way to protect yourself against disasters such as device loss, theft, malfunction, or worse - a completely corrupt drive.
Advanced features, such as automatic backups and file versioning, give users even more control by letting them back up often and regain access to older versions of files if accidents happen and newer versions of files have errors or missing data.
The reliance cloud storage services have on browser-based web interfaces often means that encryption is handled server-side, which is considered much weaker in terms of security. The best cloud backup services use client-side end-to-end encryption, ensuring that the data uploaded to the cloud is always encrypted before it is transported there, making it impossible for the cloud service provider to ever actually access that data.
Efficient cloud backup services also constantly monitor for file changes and make automatic backups without user intervention. In addition, they provide status reports to ensure that all files are always intact on their servers. Most even offer a guarantee in case of server malfunction by storing files in multiple locations, which provides assurances for businesses.
3-2-1 is better than one
While cloud backup services add an extra layer of protection, they should never act as a replacement for your local storage. Identical to solely relying on hardware, it would take just one disaster to lose centralized data completely.
Instead, we recommend using the 3-2-1 rule where data is backed up using three different methods. Traditionally, this sees the original copy stored on the primary local device, followed by the first backup on an external hard drive or network-attached storage (NAS) device. Adding an online cloud backup service on top gives the optimal security for your information.
Conclusion
There are plenty of cloud backup services to choose from, and they're a handy way to keep your data from being lost entirely should accidents happen. If you want to keep your data protected, then here's a quick reminder of our top picks for cloud backup services:

From $0.00/month
The best cloud backup service overall. It comes with strong end-to-end encryption, 2FA, and a 100% online storage option.
ProPrivacy TrustScore:

10 out of 10

File versioning

Yes

Mobile photo upload

Yes

Team editing

Yes

From $3.99/month
A great all-around cloud backup. A fast and reliable cloud backup tool that is scalable and easy to use on both Mac and Windows.
ProPrivacy TrustScore:

9.9 out of 10

File versioning

No

Mobile photo upload

No

Team editing

No

From $1.65/month
The cheapest cloud backup service on this list. It's super user-friendly and jam-packed with features.
ProPrivacy TrustScore:

9.8 out of 10

File versioning

Yes

Mobile photo upload

Yes

Team editing

No
From $8.00/month
The best value-for-money storage backup. It's easy to use, offers users unlimited backup storage, and has a 14-day free trial!
ProPrivacy TrustScore:

9.7 out of 10

File versioning

Yes

Mobile photo upload

Yes

Team editing

Yes

From $0.00/month
This is a well known cloud backup service with a zero-knowledge client, 2FA, and Cross-platform support.
ProPrivacy TrustScore:

9.6 out of 10

File versioning

Yes

Mobile photo upload

Yes

Team editing

Yes