Backing up data using FTP (File Transfer Protocol) connections is becoming a rarity. Modern cloud storage services tend to provide remote file access and transfer services via browser-based interfaces or downloadable client software. As a result, FTP backups are becoming outdated.
However, just because FTP backup is getting harder to find, doesn't mean it isn't useful. And for people who already use FTP in their daily endeavours - it is a legitimate backup method that can easily be introduced into their workflow.
Thankfully for those people, there are still some excellent options around that provide for FTP connection to cloud uploads and downloads. In this article we have pinpointed the best 5 services for FTP backup so that you can get on with saving data to the cloud without the hassle of searching for them.
Best Services for FTP Backup
We have listed the five best FTP Backup services below. If you need more information about any of these services, then take a look at our summaries of each service below this section or click through to websites using the links below.
ADrive - The best service for FTP backup. A reliable service with excellent levels of cross compatibility and FTP support.
Livedrive - An easy-to-use backup service that you can use with a variety of FTP devices at a reasonable cost.
Drive HQ - An FTP-friendly service that is ideal for both individuals or businesses in need of backups.
Bakop - A service fully dedicated to FTP backups. It's a reliable service suitable for those who require only FTP backups.
Defend Hosting - An all-around backup service with 24/7 support to help you with backing up or retrieving FTP backups at any time of day.
5 Best FTP Backup services
Below we have summarized everything that makes these services great! If you need more information about any of the services we have listed below, then check out the provider's website.
1. ADrive
Editor's Choice | September 2023

A cloud backup provider with FTP backups that won't break the bank. Offers selection of useful features and affordable plans.
Free option

Yes

Pricing

100 GB: $25/mth
250 GB: $62.5/mth
500 GB: $125/mth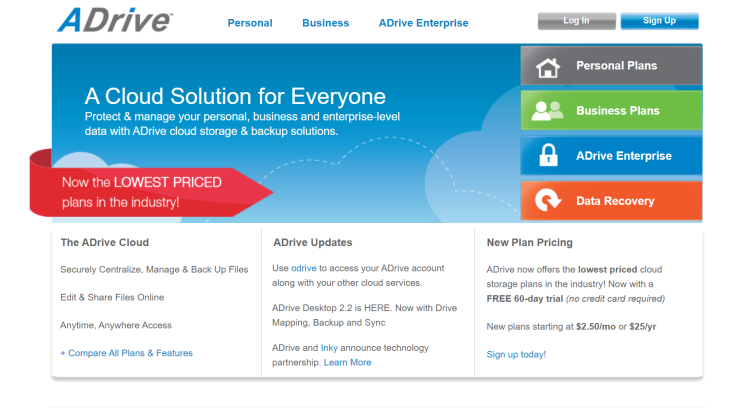 ADrive is a superb option for anybody who is searching for a Cloud provider that supports FTP backup with both uploading and downloading via FTP. Not only is it easy to use, but it has a large selection of useful features including online collaboration, integrated file-sharing, and large file support.

Users can access ADrive files via any FTP client which means you are free to use the software you already have. And ADrive permits the use of AUTH TLS to transfer files securely, as well as the ability to manage SSH keys for secure, automated access. This makes ADrive's FTP backup ideal for anybody who requires secure FTP.

Like Livedrive, however, ADrive restricts FTP support to a select few plans, namely their Personal Premium and Business plans. Thus you will need one of those specific subscription plans for FTP backups.
2. Livedrive
Livedrive is a secure cloud storage platform with FTP backup functionality.
Free option

Yes

Pricing

1 user on 1 desktop: $8/mth
5 users: $25/mth
1 user multiple devices: $16/mth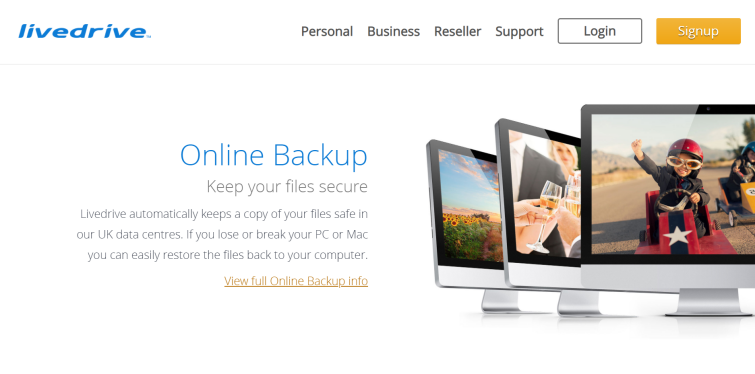 Livedrive is one of the few providers that still provides FTP backups, including support for both file upload and download resume functionality. And, the service provides secure FTPS (also known as FTPES, FTP-SSL and FTP Secure).

Users on both Mac and Windows can use any FTP client software (such as FileZilla, Cyberduck, or Panic Transmit) to connect to their Livedrive storage. In addition to FTP functionality, Livedrive provides a host of other features that businesses will find useful when backing up their systems and websites (as well as those of their clients, if they control them). This includes integrated file-sharing, NAS compatibility, and local storage space.

However, it is worth noting that FTP backup is only offered in Livedrive's Briefcase and Pro Suite plans.
3. Drive HQ

A highly functional cloud backup with superb support for a large number of FTP clients.
Free option

Yes

Pricing

1 user: $1.99/mth
5 users: $14/mth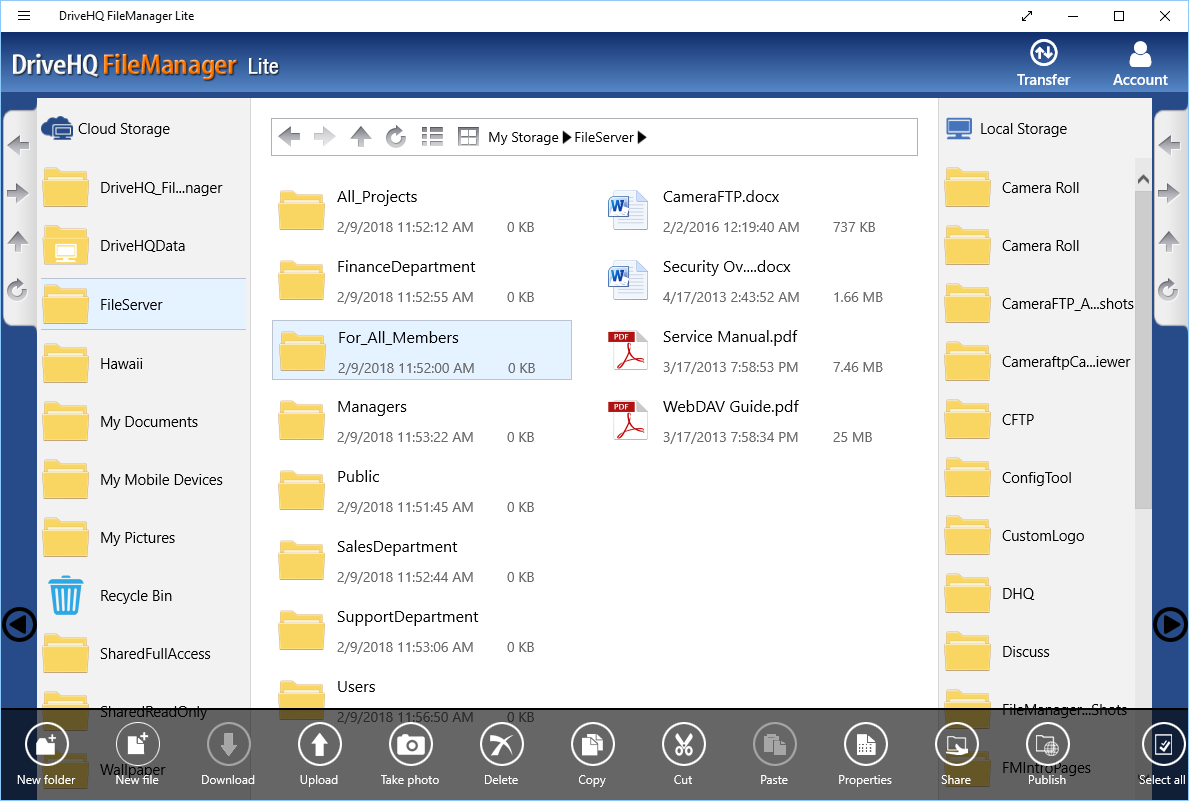 DriveHQ is another service that provides cloud backups via FTP. The backup servers can be used via any FTP client including FileZilla, CuteFTP, WsFTP, SmartFTP, Fetch, CoreFTP, or Cyberduck. DriveHQ Cloud FTP Server is also compatible with all FTP (SFTP/FTPS) client software.

Users can map it as a Cloud Drive, or use DriveHQ's native FileManager software, which it claims is easier than regular FTP. The service is also fast and has a large range of features and backup option in addition to FTP.

Personal and enterprise subscription models are available. And users can fully customize their subscriptions to add more storage space or users if needed. The scope for expansion is large with accounts available for up to 1000 users with huge amounts of storage space.
4. Bakop

A cloud backup service that is dedicated to FTP backups only. It's highly customizable but affordable.
Free option

Yes

Pricing

1 user/500 MB: $0/mth
3 users/10 GB: $4.99/mth
Bakop is another cloud storage service that provides FTP connections for uploading and downloading files. However, Bakop is unique because it is a service that is dedicated to FTP backups.

The Bakop website and servers are extremely easy to set up and use. And, users can select exactly where they want their data to be backed up.

Bakop supports popular FTP software such as Secure Transfer, rsync, and the ever-popular FileZilla. This makes Bakop a good option if you're looking to introduce FTP backups to a workplace and don't want to bog down employees with complicated new software.

One drawback created by its singular focus on FTP, is that it lacks a lot of features provided by many standard Cloud storage services. For this reason, Bakop is ideal for FTP backup, but won't be of use if your business is built on multiple kinds of software with varied needs.
5. Defend Hosting

Defend Hosting is an all-around backup service, which ensures secure FTP transfers for a wide variety of FTP clients - at a reasonable price.

Defend Hosting is a cloud backup service that permits users to back up data on to their cloud servers using any FTP client. This allows you to start backing up data without the need to learn a new interface or software and means that you can use Filezilla, SmartFTP or any other FTP client you prefer.

Defend Hosting also provides secure transfer options including FTPes (FTP over SSL/TLS) and SFTP (SSH File Transfer Protocol). What's more, the service provides 24/7 support to ensure that you are always able to back up files via FTP to its servers.

This provider is said to provide fast speeds, and with prices starting at $5 per month for 20 GB of space increasing to $20 per month for 500 GB the service is not particularly expensive either.
Our Criteria
At ProPrivacy.com, we tend to recommend secure cloud backup services that provide end-to-end encryption. These services ensure that your data is always completely secure. However, when it comes to FTP backups, there are fewer options, which means that you can't be as picky and choosy.
While researching this article we looked for services that not only offer FTP connections to backup servers, but that also have plenty of other features and a good reputation with their users.
The providers in this list were chosen based on their range of features, usability, value for money, and overall performance. We have done our best to highlight both their strengths and weaknesses so that you can make a fully informed choice before signing up.
Unfortunately, the services listed above do not offer a free option, if you are looking for a free service take a look at our free cloud backup list.
However, if your firm requires data to be transmitted and backed up with HIPAA or GDPR compliance, we recommend communicating directly with your preferred service to ensure that it is possible to make FTP backups with compliance with those privacy regulations.
5 Best Services for FTP Backup Conclusion
FTP is becoming rarer and rarer as businesses and individuals move to more secure forms of backup that are compliant with the latest emerging privacy regulations such as GDPR. However, for firms or individuals who still need or require FTP backups, there are still some services on the market that can provide uploading and downloading to cloud servers via the FTP protocol.
Whether you're looking for an FTP-specific Cloud service - or simply a provider that offers FTP backup among its other features - this list will help you to pinpoint some of the best services available in 2023.