Password managers are fantastic privacy tools, but they are even better when they are free! In this article, we list the six best free password managers. As well as being completely free, all the services in this article respect your privacy, offer fantastic security features, and are open source.
If you are tired of remembering passwords for all your online accounts and services, you are probably considering getting a password manager.
The hassle of remembering passwords evaporates with a password manager, allowing you to set tricky, unique passwords for every single account.
However, we understand that not everybody has a lot of money to spend, which is why we have analyzed the market to find the best free and secure password managers out there. Our recommendations will work across all platforms, and because they are known to be robust in terms of privacy and security – you can opt for these free password managers without compromising your safety.
The best free password managers
Below, we have a list of the best free password managers out there. All of these services offer fantastic features, so if you want to find out more about any of the services below, click the links to the provider's website or scroll below this list for a summary of what makes each service great.
Free Password Managers - Summaries
Below we have summarized the features that make the best free password managers. If you need more information about any of these services website.
1. Keepass
Editor's Choice | September 2023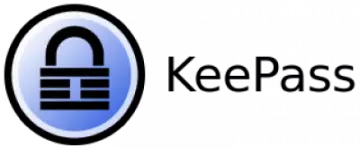 KeePass is an excellent service that we consider the best free password manager.
Pros

Open-source
Highly flexible with add-ons
Strong end-to-end encryption
Tons of awesome features

Cons

Can be fiddly for newcomers
UI could be improved
No password strength indicator
KeePass is an open-source service, which means that the code can be verified by any security professional. And you retain full control over your passwords because it provides end-to-end encryption.

This does mean that passwords are non-recoverable, so you must never forget your master password. However, sacrificing that bit of convenience cements KeePass as the gold standard for password management security.

In addition, KeePass is highly flexible, has a lot of available add-ons, and gives you complete control over your .kbdx databases. Although KeePass only stores passwords locally by default, you can easily share your .kbdx database via a secure online storage platform.

As long as you don't mind learning how to use it, KeePass is a highly featured password manager that allows you to do anything with passwords you can think of. Admittedly, KeePass is a bit trickier to use than our number two recommendation, Bitwarden, meaning it might be preferable to stick to one of the other services if you are a complete technophobe.

KeePass is available for all popular platforms and it can be set up to work with browsers using the KeeForm, the KeePass HTTP-Connector which will allow you to auto-fill passwords in all popular browsers.

Bitwarden is a superb open-source, easy to use password manager!
Pricing

Yearly: $0.83/mth
Free: $0/mth

Pros

Open-source
Variety of browser extensions
Strong end-to-end encryption
Zero-knowledge

Cons

Customer support could be improved
UI feels a little outdated
Some features a bit complicated to use
Bitwarden is available for all popular platforms (Linux, macOS, Windows, Android, and iOS). Being open-source means that the software is freely available online for any security professional to audit. As a result, this password manager can be trusted to do exactly what it claims with your passwords.

One of the most important factors when it comes to password management is whether the passwords are protected with end-to-end-encryption (e2ee). With e2ee, only you hold the master key to your passwords, meaning that they are absolutely secure. Of course, this also means that if you forget your master password, you will be automatically locked out of the client and, therefore, your remaining passwords.

With Bitwarden all passwords are protected with e2ee, which is perfect for security reasons. However, if you are highly concerned about being able to recover access to your account (in the event of password loss), you may want to opt for a different service.

In addition to apps for all platforms, Bitwarden has extensions for Chrome, Firefox, Opera, Microsoft Edge, and Safari. These extensions allow you to add passwords to your database easily as you log in – and will permit you to easily autofill passwords on the fly.

We think this is one of the best open-source password managers available for free, providing everything required to store passwords without concerns.

RoboForm's free tier packs more features than you can shake your fist at - but it's still worth the cheap upgrade
Pricing

3-Year: $1.79/mth
12-Month: $1.99/mth

Pros

Feature-rich
Strong end-to-end encryption
Easy-to-use browser extensions
Secure login sharing

Cons

Closed-source
Password sync & 2FA are locked behind paywall
Live chat only available for paying customers
RoboForm is a free password manager that is impressive. The free version is highly featured, and it is easy to use. RoboForm is available for all popular platforms, and it provides extensions to perform auto-fill on Chrome, Firefox, and Safari. Secure login sharing is available – so if you need to share passwords, you can do so via email.

However, if you require password syncing and the added security of 2FA – you will need to upgrade to the paid plan. It is also worth noting that RoboForm isn't open-source - which may put some people off. But when it comes to features, this free password manager really impresses, and it does have secure end-to-end encryption, which means you can trust it to secure your passwords.

As long as you are primarily in need of password management for one device – this is going to be a free password manager that works for you. However, if syncing is important to you – we recommend sticking to one of the services above.

LastPass is more of a household name than its competition, offering both free and premium services including emergency access, random password generator and breach monitoring.
Pricing

Free: $0/mth
Premium: $3/mth
Families: $4/mth

Pros

Feature-rich
User-friendly
Strong end-to-end encryption
Unlimited password storage on free plan

Cons

Closed-source
History of vulnerabilities, though quickly resolved
Importing from other sources not always a smooth experience
Free version not as good as it once was
This free password manager is a great option for casual internet users looking for a password manager that is both feature-rich and free. For anybody looking for an easy-to-use password manager that has all the trimmings, this password manager is certainly going to tick a lot of boxes. LastPass is available for all platforms and it provides strong end-to-end encryption to ensure that passwords are secure. Sadly, LastPass is not completely open-source, as is the case with the password managers higher in this list.

Despite this slight drawback, which may or may not put you off depending on your personal threat model, LastPass is an excellent password manager that is going to make most consumers who need a free password manager happy. Admittedly, LastPass has suffered some bad press over the years due to some security vulnerabilities being discovered. However, LastPass has been quick to fix any problems that were discovered by security professionals, which has led to a stronger product over time.

The bigger issue is that as of March 2021, the free version has changed so that now users must pick between using it only on a PC or on a mobile device, and passwords cannot be synced between the two, which does rather limit its usefulness. They have also removed support for free users, so they cannot engage LastPass support in case of issues. Other missing features include emergency access, one-to-many password sharing and even support for some forms of biometrics on Windows OS.

Dashlane is a world class password manager that has a fantastic free version.
Pricing

Premium: $4.99/mth
Premium Plus: $9.99/mth
Premium Family: $7.49/mth
Premium Plus Family: $14.99/mth
Free: $0/mth

Pros

Tons of features
Super-secure
Works great on all platforms
Incredibly user-friendly

Cons

Free plan only allows users to store 50 passwords
Closed-source
Browser extensions could work better
Dashlane is quite expensive when you pay for a premium account, however, you do get what you pay for. It is an extremely well-liked service that offers both a free plan and a 30-day money-back guarantee.

The free plan may not suit everybody because it only permits you to store 50 passwords. It can also only be used on 1 device. However, if you are a mobile user (or you only have one laptop, for example) and you don't need more than 50 passwords saving (most people don't) this is a truly amazing free password manager!

The service is available for all popular platforms, and it has one of the richest feature sets we have ever encountered in a password manager. This includes emergency lockout protection, password sharing, dark web monitoring, and much more! It is also considered highly secure, despite being closed-source. Overall, a feature-filled password manager that is well worth trying for free on any platform!
6. Keeper

Keeper offers support for multiple devices and Operating Systems, a clean, easy to use interface and the ability to save images of important documents
Pricing

Personal: $2.91/mth
Personal Plus Bundle: $4.87/mth
Family: $6.24/mth
Family Plus Bundle: $8.62/mth
Business: $3.75/mth

Pros

Strong security
Reasonably priced
Random password generator
Supports folder sharing

Cons

Form filling requires second app
Add-on modules can get expensive
Most features locked behind premium service
Keeper launched in 2009 and is specifically designed to help individuals and businesses keep track of vast quantities of passwords. While the firm is located in Chicago, USA, which is not the best place for a privacy service to be based, the good news is that Keeper provides a fully secure service. Offering end-to-end encryption for passwords, a zero-knowledge pledge, and regularly conducting independent third-party audits means the service is a secure solution that will keep your passwords secure no matter what.

While the premium version is a feature-rich service, the free version is (unsurprisingly) quite limited, and the aim is to encourage people to test the water with the free service in the hopes they'll upgrade to a premium account. Fortunately, they offer a 30-day unlimited free trial for you to take the service for a spin and decide if it's the right choice for you before you commit to the cost.