These are the best free secure email providers
Secure email solutions are growing in popularity as more and more people are choosing to leave insecure email providers such as Outlook, Yahoo, and Gmail. Those services have been shown to scan user's emails for advertising data. And have even been caught providing access to the contents of emails for government snoops at the NSA.
If you are sick of having your privacy invaded, you may be wondering if it is possible to start getting better email security for free. The good news is that there are plenty of secure email providers on the market that provide a simple, single address service for free. In this guide, we'll show you our favourites.
While secure email options don't necessarily get masses of storage space, and all the extra features that come with a Google account, you do get secure encrypted messaging. This means that when you send and receive emails, you know that only you can access the contents of those emails.
The best free secure Email providers: In-depth analysis
Below we have listed the 5 most secure free email providers. All of these services will keep your private emails private and are great alternatives to Gmail, Outlook, and other services that sell your data to the highest bidder. Click through to the email provider's website for more information about their service.
Free secure Email Alternative
Unlimited storage – encrypted messages – Apps for Android and iPhone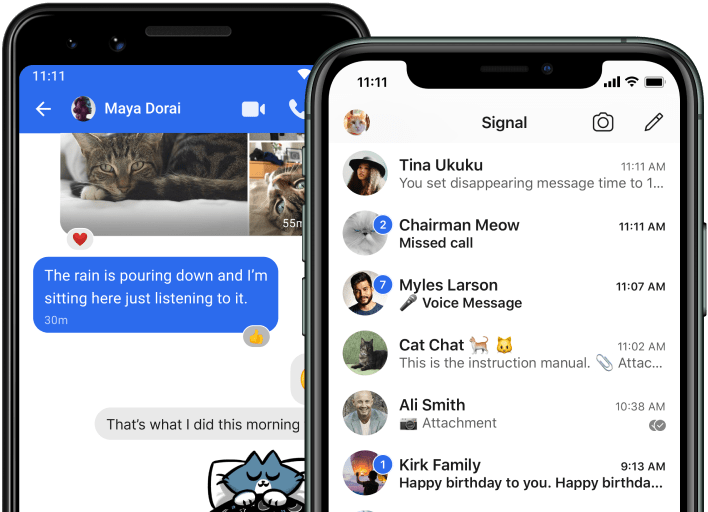 Ok, so we will begin by admitting that this is not actually an email service. However, it is free, and when it comes to sending messages with strong end-to-end encryption there is nothing that really rivals Signal for ease of use and security.
Signal is completely secure, and it is one of the few services that promise never ever to work with government authorities. Singal's developer Open Whisper is on the record as stating that it will never provide backdoors for the authorities, and the Signal protocol is both open source and extremely robust.
The nice thing about Signal is that it is absolutely free. That means anybody, anywhere, can send messages using the service without paying a dime. And, with Signal, you know that nobody will ever see the contents of your messages – other than the intended recipient.
So, while this isn't technically an email service, it does allow you to send encrypted messages over the internet. We think that for many people Signal is a better option for communicating than via an email address with a big tech firm such as Google. And for this reason, we recommend people to look into this free service!
Check out more private instant messaging options.
Conclusion
If you want to start sending secure emails for free, you are going to need an email provider that provides end-to-end encryption for nothing. This is extremely rare because providing strong end-to-end encryption is not easy.
Many free emailing services exist, such as KOLAB Now, and those services are considered better than Gmail because they do not actively break into user's emails to scan them for marketing purposes. However, many of those email providers do not provide encryption for data at rest or end-to-end encryption.
As a result, those free email accounts can not be considered secure. Because, if they are approached with a warrant by the government they will have to (and be able to) provide access to the contents of your emails.
In this guide, we have listed only email services that provide strong encryption that ensures only the senders and recipients of message ever have access to the contents. This is true email security, and these services all provide it for free.