Our free VPN recommendations list
It's not easy to find a reliable free VPN, but these services do exist, as long as you know where to look. The issue is that countless free VPN providers have flooded the market, enticing users in with the promise of a high quality service without paying a cent! But, our research suggests that this is rarely the case.

To help you make a safer more informed decision, ProPrivacy.com's experts have put together this guide on the best free VPNs - and the worst.
The Best Free VPNs: Detailed Comparison
In the list below, our privacy experts analyze each of their favorite free VPN providers in detail and explain why they made it into the top 5.
Hide.Me free offers fast speeds and a generous data allowance
Available on

Android
iOS
Windows
MacOS
Hide.Me is an awesome Malaysian VPN provider has an excellent free service. Although users are limited to just three server locations (Singapore, the Netherlands, and Canada), users get a whopping 2GB per month of free use at up to 80Mbps.

When reviewing hide.me, we found the lack of server locations means it isn't good for unblocking content from all over the world. If you need US or UK servers, please look elsewhere. On the plus side, this VPN has a strong privacy policy and provides robust encryption to keep your data secure.

Windscribe free offers a mammoth 10GBs per month
Available on

Windows
MacOS
Android
Linux
iOS

Works with
Windscribe has always been one of our favorite free VPNs. Compared to some other free services, Windscribe gives more– 10GB data allowance per month! This is pretty amazing because Windscribe is actually trying to encourage people to buy its premium service.

What's more, this VPN has strong encryption and keeps zero logs – making it fantastic for privacy. With unlimited simultaneous connections permitted, this VPN is truly outstanding.

ProtonVPN free offers unlimited usage and decent speeds
Available on

Windows
MacOS
Android
Linux
iOS
ProtonVPN is a superb service by the developers of Proton Mail. It is a secure free VPN that lets people use the service for free on an unlimited basis. However, speeds are capped and get even slower when the free servers are congested (which is often because it is highly popular).

On the other hand, ProtonVPN is a useful service ideal for avoiding censorship and accessing restricted content. Free users get access to servers in the Netherlands, Japan, and the USA. Well worth installing if you need a slowish free VPN.

TunneBear free offers limited usage but a quality service
Available on

Windows
MacOS
Android
iOS
TunnelBear VPN is a free service that constantly impresses people. This VPN is super-secure and even opened up its software to a third-party analysis last year. The outcome? Security researchers found the VPN to be secure and reliable. It also keeps no logs.

Unfortunately, The service is restricted to just 500MB per month. Despite this, it is brilliant for locations with severe censorship and where privacy is essential. It is perfect for securely unblocking news.

Hotspot Shield free offers an extensive server network for free users
Available on

Windows
MacOS
Android
iOS
Linux

Works with
Hotspot Shield is an awesome free VPN that has helped millions of people in their time of need. It was the most used VPN during the Turkey coup and the Arab Spring. Users get free access not only to the VPN but also a Chrome extension.

The free service permits connections to the US only, but the extension permits connections to 14 countries (but not the US). The result is that Hotspot Shield users can unblock content in 15 countries for free! What's more, Hotspot Shield's free plan lets people have 500MB of download use per day. That is a massive usage allowance considering it is free.
Top-tip: Get ExpressVPN for Free!

Did you know you can experience ExpressVPN's fully featured service without restrictions… for free!
If you're finding free VPNs too restrictive, why not test ExpressVPN premium service? Simply purchase a subscription using the button below and take advantage of the absolutely risk-free money-back-guarantee. Enjoy the service for up to 30-days, and when you cancel, you will receive a complete refund!
Why are these the best free VPNs?
The VPNs in the list above were selected by ProPrivacy.com's experts, who carefully reviewed every free VPN they could get their hands on. All of the VPNs we recommend are transparent about how they handle user data. They also provide up-to-date encryption that can be trusted to protect your privacy and hide your internet activity at all times.
During our research, we considered the following attributes:
Encryption availability and implementation
Privacy policy and data handling
Server locations and availability
VPN speeds and performance levels
Reputation and history
Relationships with third parties such as advertising and marketing firms
All the free VPNs that we selected for you offer a plan that is completely free. None of them require you to hand over your credit card details to download and use their service.
For more information, check out our free VPNs explained video:
How Does A Free VPN Work? | TunnelBear, Hotspot Shield & More | ProPri...
Are free VPNs safe?
There is a lot of negative press when it comes to free VPNs. Most comparison sites urge consumers to stay away from them. At ProPrivacy, we also used to primarily dissuade people from using free services (and we still recommend being extremely careful when picking a free VPN). That's because there are a lot of terrible free VPNs out there that take advantage of their users' data for their own gains. About 95% of the free VPNs available on the market are either useless or even dangerous.
Free VPNs that you should avoid
If you use one of ProPrivacy.com's recommended free virtual private networks, you do not need to worry about privacy and online security. But, this is not true of every free provider.
During our research for this page, we scoured the policy terms of all the free providers we could get our hands on - and we we're shocked by some.
Here are some free VPNs that you should avoid at all costs.
| VPN | Why avoid? | Extra info |
| --- | --- | --- |
| Hola | Can sell data to third parties* Shares emails with marketing partners. Sells traffic data to sister firm. Shared anonymized data to third parties. | Fraudulently steals & resells user bandwidth through sister company Luminati. DNS and WebRTC leaks detected. |
| Betternet | Can sell data to third parties.* Allows advertisers to cookie users' browsers. Displays targeted advertising. Parent firm can access all data. | Lets advertisers track and log user data. IP Leak in Chrome browser extension. Contains 14 tracking libraries in total (according to CSIRO report). |
| Psiphon | Can sell data to third parties.* Allows ad partners to track users. Displays targeted advertising. | Shares data with their advertising partners. Shares data with third-party affiliates and partners. Shares all data with parent company. |
| HoxxVPN | Can sell data to third parties.* Isn't a VPN (it's a ShadowScos proxy service). DNS and WebRTC leaks. Tracks user activities and works with authorities. | Keeps logs and sells them to third-party partners. Shares data with third-party affiliates and partners. |
| SuperVPN | Willing to disclose information to authorities. Reports of it being infected with malware. Tracks user activities and works with authorities. | Extensive access to user's sensitive information. Stores session logs in the UK and US. |
| ArchieVPN | Reports of being heavily infested with malware. | Performs real-time analysis (claims this is for troubleshooting only). |
| Onavo Project | Can sell data to third parties.* Uses user info for advertising and marketing. Displays ads to users. | Belongs to Facebook. Shares and sells user data with third parties. |
| HatVPN | Has no available privacy policy. Reports of being heavily infested with malware. Invasive app permissions | Could be doing anything they want with user data. Developed and based in China. |
| VPN by Apalon | Invasive app permissions. Shares data with third parties for marketing purposes. | Displays ads. In-app purchases. |
| Private Pipe VPN | Shares data with affiliate partners. Displays targeted ads on websites. | Confusing privacy policy (claims no logs, but contradicts this claim). |
| Tuxler VPN | Can sell data to third parties*. Uses logs to target ads at users. | Shares user browsing data with advertising firms. |
| GO VPN | Can sell data to third parties*. Admits to using customer data to build out their database. Displays targeted ads through the platform. | Belongs to Chinese firm Talking Data. Willing to sell usage logs to third parties and partners. Extremely invasive app permissions. |
| Hexatech | Can sell data to third parties*. Allows advertisers to track and log user data. Advertisers can access user data whenever they want. | Created by Betternet (belongs to a marketing firm). Displays ads to users. |
| TouchVPN | Can sell data to third parties*. Adds Cookies, Pixel Tags and Web Beacons to user browsers. | Shares anonymous data with third parties. |
| Faceless.me | Doesn't work. The privacy policy is too ambiguous to be taken seriously. | Has no support if you have concerns or questions. |
| FinchVPN | Can sell data to third parties*. Reports of being heavily infested with malware. | N/A |
| Cross VPN | Reports of being heavily infested with malware. | N/A |
| VPN OneClick Free | Reports of being heavily infested with malware. Outdated PPTP encryption on Android. | Based in the UAE. |
| Flash Free VPN | Invasive app permissions. | Uses 11 third-party tracking libraries. |
| Fast Secure Payment VPN | Reports of being heavily infested with malware. | N/A |
| sFly Network Booster | Reports of being heavily infested with malware. | N/A |
| IP-Shield VPN | Contains third-party tracking software. | N/A |
| WiFi Protector VPN | Uses 5 tracking libraries. | N/A |
| TigerVPNs | Fraudulently steals and resells users bandwidth. | N/A |
| Private WiFi | Appears to have poor or no encryption. | N/A |
*according to the privacy policy
How a free VPN works
The free VPN app connects your device (such as a PC, Mac or smartphone) to a server run by the VPN provider. All data that travels between your device and the VPN server is encrypted to ensure that no-one else can see it. The VPN server acts as a gateway to the internet, and all your internet data is routed through it. As a result, your real location is concealed and you can pretend to be elsewhere.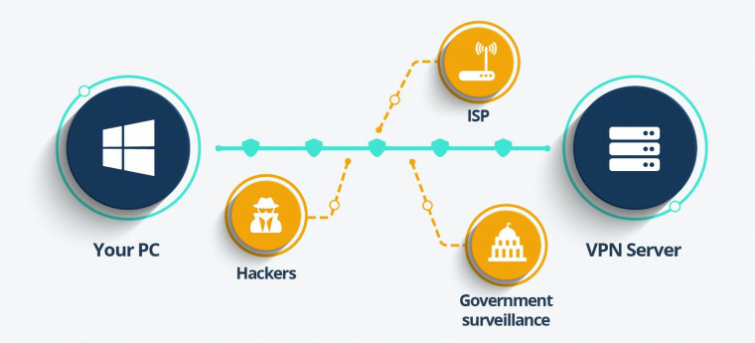 If you're new to VPNs, you can get up to speed quickly with our handy guides for beginners:
Free VPN servers
Some providers advertise connections to free VPN servers. This is to differentiate between the number of servers available on the premium (paid) plans and the free plan. Some VPNs that offer a free plan restrict access to free users to only a smaller selection of free servers. For all intents and purposes, however, a VPN with free servers is exactly the same as a "free VPN".
FAQs