Are you looking for a free VPN to help protect your online privacy? There are a lot of duds on the market, so we've put together this guide to show you the best free VPNs on offer and which you should avoid.
Paid VPN services tend to come with more bells and whistles than their free cousins – but that doesn't mean that free VPNs aren't worth checking out. In fact, trustworthy free services can give your digital privacy a massive boost by encrypting your traffic (and making it more difficult for snoopers to intercept). Free VPNs can also unblock sites, like social media services and news pages, to help you stay in touch with loved ones and world events. Best of all, you won't have to commit to a lengthy, and potentially expensive, contract.
At ProPrivacy, we're committed to testing VPNs – and we test free services in exactly the same way as we test paid ones. Our experts check for leaks and well-implemented encryption, comb through the provider's privacy policy, and test which sites they can unblock. Given our experience as a team, and as individuals (who all use VPNs in our day-to-day lives), we're confident that we've recommended the best VPNs in this guide.
The best free VPN services
Below you'll find the free VPN services we currently recommend. Be sure to keep scrolling if you'd like to learn more about any of these providers!
It's not easy to find a reliable free VPN, but trustworthy services are out there if you know where to look. The issue is that countless free VPN providers have flooded the market, enticing users with the promise of a high-quality service without paying a single cent! However, over the course of our research, we've found that it's very rarely the case that a free VPN is reliable and of acceptable quality. In fact, when testing Android VPNs, we found that 40% of VPNs on the Play Store didn't protect the user's IP address.

To help you make a safer, more informed decision, ProPrivacy.com's experts have put together this guide on the best free VPNs – and the worst.
Before we can recommend a free VPN service, we first make sure that it offers the following features:
Properly implemented encryption
A privacy policy that protects users
A wide selection of servers around the world

Good performance and speeds
A respectable reputation
A secure service without leaks
Only VPNs that meet the criteria listed above are eligible for making our best free VPN list. So, now you know what goes into a good free VPN service, let's take a closer look at our top picks.
The best free VPNs to use in 2023
Here's our hand-picked list of the best free VPN services that actually work. Each of the providers we've mentioned have been tested by our team on numerous occasions – so we can give you a real insight into their ease-of-use and reliability.

www.hotspotshield.com

Hotspot Shield is the best free VPN. Users have access to servers in 15 countries and a 500MB data cap per day.
Pros

Lots of countries to choose from (with the chrome extenstion)
Has a great reputation
Easy to use

Cons

Doesn't give much of a data allowance
App alone only offers one server location

Free data limit

Number of free servers

Available for

Windows
macOS
iOS
Android
Linux

Encryption offered

Website
Hotspot Shield Demo
Hotspot Shield is an exceptional free VPN with a stellar reputation, having helped millions in their time of need during the Turkey coup and the Arab Spring. In addition to the VPN itself, Hotspot Shield users get access to a Chrome extension.

Both the VPN and extension work flawlessly, and during my testing, I found the service's speeds to great, thanks to their proprietary protocol called Catapult Hydra. However, the data caps mean that the free version really isn't suitable for streaming. For that, you'll need to upgrade to the premium version.
Stay in the loop
Hotspot Shield's free app only permits connections to the United States, whilst the browser extension allows for connections to 15 countries – but not the United States. Fortunately, you can combine the app with the browser extension in order to unblock content in 16 countries, and all for free!

Free users only get 500 MB of download use per day – which is by no means a lot, and other free services are more generous.
Privacy
The same privacy policy covers both the free and premium version of the service. Hotspot Shield's free plan is funded by ads, however, the policy outlines that they're entirely generic and not based on personal information, which is great to hear and further corroborates the provider's no-logs claim. It is unfortunate that Hotspot Shield collects some pretty high-risk data, like wireless network, approximate location, and mobile network ID – all of which could be used to identify a user. This might be a deal-breaker for some users, and definitely something you'll need to consider before you place your privacy in the provider's hands.
Does what it says on the tin
I like that Hotspot Shield is compatible with a number of platforms, like Windows, Mac, Android, and iOS, and that there's no time limit hidden in the free plan – you can use Hotspot Shield for as long as you like, without paying a penny, and only upgrade if and when you'd like to.

However, Hotspot Shield's free plan does lack a few features and perks. Premium users won't see ads and benefit from five simultaneous connections, as well as a far larger selection of servers that can handle resource intensive tasks like streaming and gaming. Free users also miss out on 24/7 customer service support.

Hide.me is the fastest free VPN. We got speeds of up to 80Mbps which is impressive. You get a generous 10GB data allowance each month & a choice of 5 free servers.
Pros

Fast speeds
More server locations to choose from than some of its free competitors
Strong encryption and a solid privacy policy mean peace of mind

Cons

Can't unblock Netflix
Limited data allowance
Connection speeds are always capped

Free data limit

Number of free servers

Available for

Windows
macOS
iOS
Android
Linux

Encryption offered

Website
Hide.me Demo
Hide.me is an excellent Malaysian VPN provider that offers a smashing free service. Free users get access to servers in five locations – all of which are extremely useful for unblocking geo-restricted content (USA East, USA West, Singapore, the Netherlands, and Canada). Admittedly, if you require a server in a specific country, you will need to try a different VPN, but if these locations suit your needs – Hide.me is well worth installing.
Support across the board
I have a plethora of devices and gadgets sitting about, and I loved that Hide.me has apps for just about all of them – laptops, phones, smart TVs and routers included. Bear in mind, however, that the free Hide.me free plan only supports one connection. Free users also miss out on a fixed IP address and dynamic port forwarding features.

However, the Hide.me apps look great and work intuitively, and are easy for even VPN newbies to get up and running. The inclusion of a message center is a nice touch, too! From here, users can check out new features or servers that have recently been added, as well as other up-to-date information.
Easy streaming
Unlike ProtonVPN, which gives you unlimited VPN use for free, Hide.me caps you at 10 GB data allowance per month, with connection speeds of up to 80 Mbps. However, this is still very impressive and means that this free VPN can be used for streaming, videoconferencing, and other data-intensive tasks with no issues. Impressively, Hide.me's five server locations all support P2P activity!
Security without the price tag
When I tested the free service, I found it to have a strong privacy policy, robust encryption, and loads of advanced VPN features. AES 256-bit encryption secures your browsing sessions whenever you connect to the service, and users have a selection of top-notch protocols to pick from; OpenVPN, IKEv2, and WireGuard included. In addition, Hide.me has been audited by an independent team of analysts, so you can trust that the service abides by its no-logs policy.

I particularly like that I didn't have to register or sign up to use the Hide.me free VPN (so you can keep your personal details, well, personal), and there were no intrusive ads popping up left and right, either. Customer service is also available 24/7, even for free users, which just isn't something you see from a lot of alternatives! For this reason, I can strongly recommend Hide.me as a quality free VPN.

ProtonVPN is a great all-around VPN that has no data limits. You could say it's a truly free unlimited VPN, with access to three free servers, strong encryption, and no data limitations.
Pros

Totally unlimited!
Uncompromising security
Easy to use

Cons

Only 3 server locations
Won't work with streaming sites
Speeds are capped during peak hours

Free data limit

Number of free servers

Available for

Windows
macOS
iOS
Android
Linux

Encryption offered
Proton Demo
ProtonVPN is highly secure and is the only service on the list that is a truly free and unlimited VPN. However, keep in mind that your speeds are capped during peak hours to ensure that its free servers don't get congested (a necessary measure for a service as popular as ProtonVPN). That said, it does not cap speeds unless it has to, so it is still very fast considering it is free.
Limited locations
Free users get access to servers in the Netherlands, Japan, and the USA. These are extremely useful locations to have access to – and give you plenty of scope for bypassing censorship and geo-restrictions. That said, you should not expect this free VPN to work with Netflix US (you will need to pay for a VPN subscription for this privilege).

Similarly, free ProtonVPN users will not be able to use the service for torrenting.
Don't gamble with security
ProtonVPN is based in Switzerland, which is reassuring from a privacy point of view, seeing as the country is not a member of the Five Eyes surveillance alliance. Users will also be protected by Swiss privacy laws and a no-logs policy.

The VPN also utilizes tough AES 256-bit encryption to ensure that your traffic is unreadable to any snoops who might take a peek – like your ISP, network admin, or government. The Windows client and Linux script make good use of the OpenVPN protocol, whilst Mac, iOS, and Android devices use IKEv2, instead. Both protocols are superb, security-wise, with IKEv2 potentially being faster. Plus, a kill-switch steps in whenever there's a VPN dropout, cutting your internet connection before your original IP address.
Real reliability
You'll only be able to install ProtonVPN on one device with its free plan, rather than the 10 simultaneous devices supported on the paid plan. That said, you could get a different subscription for each device if you want to (by using multiple email addresses). The free version of ProtonVPN is also missing some features from the paid plans namely an ad-blocker, P2P support, and TOR over VPN.

Overall, ProtonVPN is a useful service that is ideal for avoiding censorship and accessing restricted content. While testing it, I enjoyed using the ProtonVPN apps, and found them extremely easy to use! VPN newbies will have no trouble tweaking the settings or connecting to a server, making the free ProtonVPN ideal for someone wanting an introduction to VPNs.
4. AtlasVPN

AtlasVPN is the best free VPN for streaming. It has no data limits and servers in three countries. The free service provides users IKEv2 encryption and it's compatible with Android, iOS, Windows, and Mac.
Pros

Easy to use
Allows torrenting
Offers a kill-switch for extra protection

Cons

No OpenVPN encryption (IKEv2 is still secure)
Slower than the premium plans offered
Limited platform availability

Available for

Windows
macOS
iOS
Android
Linux

Encryption offered
AtlasVPN Demo
AtlasVPN is a US-based provider that markets itself as a lightning-fast service able to handle 4K streaming, which is pretty impressive for a free VPN! AtlasVPN does not provide OpenVPN encryption, however, so you'll need to look elsewhere if this is a deal breaker for you. That said, this VPN can be used on an unlimited basis, and it still provides IKEv2 encryption – which is still a highly secure encryption protocol.
Compatibility on the go
AtlasVPN sets itself apart from our other free recommendations by offering unlimited simultaneous connections and no data limits. During my tests, I found AtlasVPN to be versatile and easy to use across all platforms – Windows, Mac, Android, and iOS included. This makes AtlasVPN a great pick for anyone who'll be relying on public Wi-Fi connections from time to time!

On the other hand, AtlasVPN is lacking clients for routers, TVs, Fire Sticks, and Roku, which means you'll need to stick to using the VPN on your computer or mobile device.
Straight-forward security
Admittedly, AtlasVPN isn't as feature-rich as some of the other free services in our list, and it doesn't have an established reputation as of yet, but it is an impressive VPN that doesn't skimp on privacy, either. However, some users may be concerned about the fact that AtlasVPN is based in the US – home of the NSA and CIA. The no-logs policy enforced by the VPN should allay most of those fears, as there'll be no information to hand over to authorities even if they come knocking!

As mentioned earlier, users won't be able to use the OpenVPN protocol, but IKEv2 is a solid alternative and still very secure, so you won't need to worry about any snoopers keeping tabs on your online activity. I was also pleasantly surprised to find that the AtlasVPN kill-switch is available on Android, iOS, macOS, and Windows.
Not exactly the fastest
It's important to bear in mind that the free AtlasVPN plan is said to be around five times slower than the paid version – so you may need to consider upgrading if you plan on doing a lot of streaming. Similarly, you'll need to pay to access Netflix US (AtlasVPN's premium plan is particularly adept at unblocking the service, in fact!). If torrenting is more your thing, you'll be glad to learn that AtlasVPN free users can use the service for P2P activity.

Even with some of the aforementioned downsides, I found AtlasVPN to be a great no-frills service that's ideal for beginners – thanks to easy-to-use apps and a simple installation process.
5. Windscribe

Windscribe is a secure free VPN. It has free servers in 11 countries and offers users 10GB of data per month. This free VPN has a strong no log policy, an ad and malware blocker, and is great at bypassing censorship.
Pros

Plenty of servers to choose from
Unlimited simultaneous connections
Implements a strong no-logs policy

Cons

Limited support options
Limited data usage
Based in Canada (a FIVE EYES country)

Free data limit

Number of free servers

Available for

Windows
macOS
iOS
Android
Linux

Encryption offered
Windscribe Demo
Windscribe has been one of our favorite free VPNs for a long time, thanks to robust security and an air-tight no-logs policy, as well as plenty of data! Free users get unlimited simultaneous connections and access to a number of features that were previously only available to premium users – although dedicated Netflix servers are still unavailable for free.
A generous offering
Free users get 10 GB of data use per month and access to servers in 11 locations, which is pretty generous for a free service. Even more impressively, Windscribe offers unlimited simultaneous connections and sleek apps for all platforms! So, whether you want to secure all of the devices you own without paying a penny, or want to protect friends and family, you'll be able to do so!

It's particularly cool to see that free users now have (limited) access to Windscribe's ROBERT feature, which combats malware, malicious sites, ads, and trackers. In addition to keeping you safe from some of the nastiest threats on the web, ROBERT's blocking capabilities can also improve your browsing speeds, seeing as there'll be fewer things to load.
No logs, no problem
Prospective users will need to bear in mind that Windscribe is based in Canada, which is very much part of the Five Eyes surveillance alliance and a country with mandatory data retention directives. Windscribe combats this with a strong zero-logs policy, however, which means there'd be nothing to hand over to any authorities even if the company was served with a warrant. Furthermore, Windscribe's encryption is top-notch (with super-secure OpenVPN, IKEv2, and WireGuard protocols to choose from), though I'd like to see the service one day complete a third-party audit.

You can sign up and use Windscribe without handing over an email address, though bear in mind that you'll be limited to 2 GB of data per month in this case. Providing an email address bumps your data allowance up to 10 GB!
Not a streamer's dream
The free Windscribe plan isn't the quickest service out there, but it's still more than capable of unblocking sites that might have previously been restricted by your government or workplace. As such, I'd generally recommend the VPN more for folks looking to keep up with global events (on blogs and news sites). If you're an avid streamer or want to do other data-intensive tasks online, you're likely going to need to look elsewhere or invest in the premium Windscribe plan.

It's also pretty disappointing to see that there's no 24/7 customer service available – even for premium users. For any questions or concerns, you'll need to either wrangle with Windscribe's chatbot or submit an email ticket.
Our methodology for finding the best free VPNs
Finding a reputable VPN provider is no easy task, and it's especially difficult when choosing a trustworthy VPN when it's free. This is because most free VPNs are ad-supported or have minimal features. In addition, free VPN apps are often riddled with malware, collecting your data and selling it to third parties.
To select the best free VPN, we have a set of criteria to ensure you have a secure and efficient experience while using them. Our criteria for finding the best free VPNs include:
We look for VPN providers with robust security protocols, such as AES 256-bit encryption.
Making sure that the VPN providers we select have an extensive server network so you can enjoy fast speeds and stable connections.
We check to see if the VPN providers we recommend are compatible with popular operating systems and devices.
Searching for VPNs that have user-friendly VPN apps with intuitive interfaces.
We ensure the VPN does not collect or share any of your data.
Testing the VPN connection speed to ensure you can stream and download content without any issues.
We look for VPN providers that allow you to connect multiple devices simultaneously.
Where possible, we find providers that offer 24/7 customer support in case you need help with anything.
Check out our testing process to learn more.
The fastest free VPN in 2023
We test VPN speeds on a regular basis to make sure that we're recommending the fastest services to our readers. In this guide, we've selected the fastest free VPNs available in 2023!
| | | | |
| --- | --- | --- | --- |
| | ProtonVPN | Hide.me | AtlasVPN |
| ProPrivacy.com SpeedTest (average) | 53.4 | 35.3 | 30 |
| Speed | 490.4 | 248.5 | |
| Reliability | 6 | 6 | 7 |
| Performance | 6 | 6 | 7 |
All the VPNs here are fast, but with a free service, your results may vary depending on which server you connect to. Free servers can also often be overloaded (due to an abundance of users), which leads to sluggish speeds. If you're having issues with your VPN speeds, try connecting to another server if possible.
Alternatively, you may want to consider taking advantage of a VPN free trial to experience the premium service, without any restrictions.
Top-tip: Get a free premium VPN

Did you know you can experience ExpressVPN's fully featured service without restrictions… for free!
If you're finding free VPNs too restrictive, why not test ExpressVPN premium service? Simply purchase a subscription using the button below and take advantage of the absolutely risk-free money-back-guarantee. Enjoy the service for up to 30 days, and when you cancel, you will receive a complete refund!
Why are these the best free VPNs?
Our experts have thoroughly reviewed every single free VPN that they could get their hands on in order to curate the list above. The services we've recommended in this guide are all fully transparent about how they handle user data and provide the latest encryption standards that can be trusted to protect your privacy and hide your internet activity at all times. This is exactly what you want from a VPN, either free or premium, and why they've landed a place in our shortlist.
Check out the table below to see how our five favorite free VPN services compare with one another based on the attributes we consider when choosing them.
| No Value | Hotspot Shield | Hide.me | ProtonVPN | AtlasVPN | Windscribe |
| --- | --- | --- | --- | --- | --- |
| OpenVPN | | | | | |
| Independently audited? | | | | | |
| Free server locations | 1 | 5 | 3 | | 11 |
| ProPrivacy.com SpeedTest (average) | 48 Mbps | 35.3 Mbps | 53.4 Mbps | 30 Mbps | 17.8 Mbps |
| Credit card required? | | | | | |
| Data limit | | | 1 GB | | |
For more information, check out our video:
How Does A Free VPN Work? 🆓💻What Is The Best Free VPN for Netfli...
Are free VPNs safe?
There is definitely quite a bit of negative press surrounding VPN services. Most comparison sites strongly urge consumers to stay away from them. At ProPrivacy, we also used to discourage people from using free services (and we still recommend being extremely careful when picking a free VPN). That's because there are a lot of terrible free VPNs out there that take advantage of their users' data for their own gains. The reality is that about 95% of the free services available on the market are either completely useless or even dangerous.
Free VPNs that you should avoid
If you're using one of ProPrivacy's recommended free VPNs, you won't need to worry about privacy risks or online security. The same cannot be said for every free VPN provider, unfortunately.
We scoured the privacy policies and terms of all the free providers we could get our hands on. During our research, we were utterly shocked at how some providers completely disregard user privacy and actively put users at significant risk.
To that end, here are some free VPNs that you should avoid at all costs.
| VPN | Why avoid? | Extra info |
| --- | --- | --- |
| Hola | Can sell data to third parties* Shares emails with marketing partners. Sells traffic data to sister firm. Shared anonymized data to third parties. | Fraudulently steals & resells user bandwidth through sister company Luminati. DNS and WebRTC leaks detected. |
| Betternet | Can sell data to third parties.* Allows advertisers to cookie users' browsers. Displays targeted advertising. Parent firm can access all data. | Lets advertisers track and log user data. IP Leak in the Chrome browser extension. Contains 14 tracking libraries in total (according to CSIRO report). |
| Psiphon | Can sell data to third parties.* Allows ad partners to track users. Displays targeted advertising. | Shares data with their advertising partners. Shares data with third-party affiliates and partners. Shares all data with its parent company. |
| HoxxVPN | Can sell data to third parties.* Isn't a VPN (it's a ShadowSocks proxy service). DNS and WebRTC leaks. Tracks user activities and works with authorities. | Keeps logs and sells them to third-party partners. Shares data with third-party affiliates and partners. |
| SuperVPN | Willing to disclose information to authorities. Reports of it being infected with malware. Tracks user activities and works with authorities. | Extensive access to users' sensitive information. Stores session logs in the UK and US. |
| ArchieVPN | Reports of being heavily infested with malware. | Performs real-time analysis (claims this is for troubleshooting only). |
| Onavo Project | Can sell data to third parties.* Uses user info for advertising and marketing. Displays ads to users. | Belongs to Facebook. Shares and sells user data with third parties. |
| HatVPN | Has no available privacy policy. Reports of being heavily infested with malware. Invasive app permissions | Could be doing anything they want with user data. Developed and based in China. |
| VPN by Apalon | Invasive app permissions. Shares data with third parties for marketing purposes. | Displays ads. In-app purchases. |
| Private Pipe VPN | Shares data with affiliate partners. Displays targeted ads on websites. | Confusing privacy policy (claims no logs, but contradicts this claim). |
| Tuxler VPN | Can sell data to third parties*. Uses logs to target ads at users. | Shares user browsing data with advertising firms. |
| GO VPN | Can sell data to third parties*. Admits to using customer data to build out their database. Displays targeted ads through the platform. | Belongs to the Chinese firm Talking Data. Willing to sell usage logs to third parties and partners. Extremely invasive app permissions. |
| Hexatech | Can sell data to third parties*. Allows advertisers to track and log user data. Advertisers can access user data whenever they want. | Created by Betternet (belongs to a marketing firm). Displays ads to users. |
| TouchVPN | Can sell data to third parties*. Adds Cookies, Pixel Tags and Web Beacons to user browsers. | Shares anonymous data with third parties. |
| Faceless.me | Doesn't work. The privacy policy is too ambiguous to be taken seriously. | Has no support if you have concerns or questions. |
| FinchVPN | Can sell data to third parties*. Reports of being heavily infested with malware. | N/A |
| Cross VPN | Reports of being heavily infested with malware. | N/A |
| VPN OneClick Free | Reports of being heavily infested with malware. Outdated PPTP encryption on Android. | Based in the UAE. |
| Flash Free VPN | Invasive app permissions. | Uses 11 third-party tracking libraries. |
| Fast Secure Payment VPN | Reports of being heavily infested with malware. | N/A |
| sFly Network Booster | Reports of being heavily infested with malware. | N/A |
| IP-Shield VPN | Contains third-party tracking software. | N/A |
| WiFi Protector VPN | Uses 5 tracking libraries. | N/A |
| TigerVPNs | Fraudulently steals and resells users bandwidth. | N/A |
| Private WiFi | Appears to have poor or no encryption. | N/A |
*according to the privacy policy
How does a VPN work?
A VPN app will connect your device (such as a PC, Mac, or smartphone) to a server run by the VPN provider. The data that travels between your device and the VPN server is encrypted – meaning nobody else can see it. All your data is routed through the VPN server, which acts as a gateway to the internet, and as a result, your real location is concealed and you can pretend to be elsewhere and browse the web in complete privacy!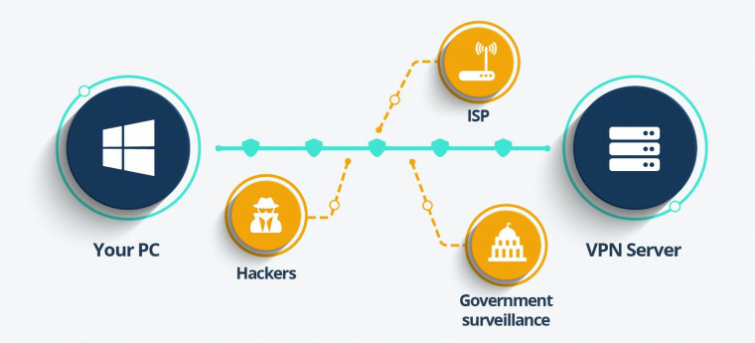 If you're new to VPNs, you can get up to speed quickly with our handy guides for beginners:
What does it mean when a VPN has Free VPN servers?
Some providers advertise connections to free VPN servers. This is to differentiate between the number of servers available on the premium (paid) plans and the free plan. Some VPNs that offer a free plan restrict access to free users to only a smaller selection of free servers. For all intents and purposes, however, a VPN with free servers is exactly the same as a "free VPN".
FAQs
Conclusion
Now that you're armed with all the information you need about free VPNs, let's review our top picks: