Alternative Choices for You
Price
As with other consumer-facing VPNs, AtlasVPN has several subscription periods. These provide a discount to subscribers who are willing to commit for a longer period of time. The good news is that the features themselves don't differ between plans, which means that no matter what you pay you will get full use of the VPN and all of its apps.
The first thing you notice when you head over to AtlasVPN's pricing page is that it is extremely cheap to invest in longer plans. However, a one-month subscription costs $10.99 – which is definitely on the expensive side.

The discounts kick in when you pay for a full year, which lowers the cost of the subscription to just $39.42 per year (the equivalent of $3.29 per month), and the prices get even lower when you commit for three years, reducing the cost to just $1.99 per month.
Payment can be made via PayPal, Google Pay, credit/debit cards and cryptocurrencies, including Bitcoin, Ripple and Ethereum.
As with most other VPN providers, AtlasVPN provides a no-quibble 30-day money-back guarantee. This means you can test the VPN on any of its payment plans and still ask to get your money back within the first month if you decide the service isn't right for you.
What's more, AtlasVPN has a completely free version that is available via both the Google Play and Apple app stores. This is a great way to put the provider to the test, but bear in mind that the free plan gives you access to only three server locations (New York, Los Angeles, and the Netherlands) and limits you to only two simultaneous connections.
Features
AtlasVPN is a service that markets itself as good for streaming due to its fast speeds. Its website makes a big deal of its streaming-friendly features by directly comparing itself to a number of leading VPN brands.

This service certainly has some winning attributes. Of course, what it fails to mention is that there are features that some competing VPNs have – that AtlasVPN does not. That said, we were generally impressed with what is on offer, particularly at the three-year price point (which is extremely cheap).
We've included a full list of its features below:
Apps for all popular platforms (Windows, macOS, iOS, Android)
A free plan (limited)
30-day money-back guarantee
Servers in
Unlimited simultaneous connections
IKEv2 or WireGuard encryption
Servers in 37+ countries
Unblocks Netflix US and BBC iPlayer
Customer support (via email only)
Kill-switch
Safe browse feature (blocks malicious domains)
Ad-blocker
No logs policy
Permits torrenting
While this is a great range of features, you will notice that AtlasVPN does not provide other desirable tools like obfuscated servers, port forwarding, split tunneling, double-hop connections, OpenVPN encryption, 24/7 live chat support, Smart DNS, or a SOCKS5 proxy.
These are features that we have become accustomed to seeing with many of its competitors, and that may make you want to shop elsewhere, depending on your needs. Certainly, for torrenting, the US jurisdiction, and lack of port forwarding may be enough of a reason to look elsewhere.
Can AtlasVPN unblock Netflix US?
Yes. The good news is that, true to its claims, AtlasVPN works to unblock Netflix. We connected to the New York server, and when we went over to our Netflix account, we could find the USA-exclusive title, The Twilight Zone.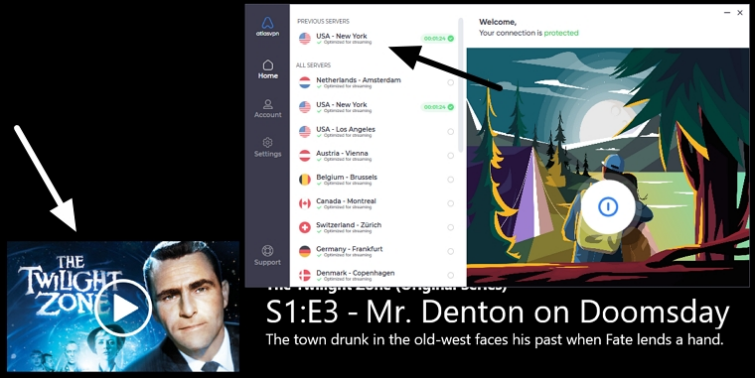 We were also pleased to find that the VPN can stream hulu, Disney+, and Prime Video. However, we tested it with ABC catchup shows (using every US server available) and came up short every time. The CBS website could also tell that we weren't in the USA, meaning that this isn't a completely foolproof VPN for streaming US content (particularly content that is available for free).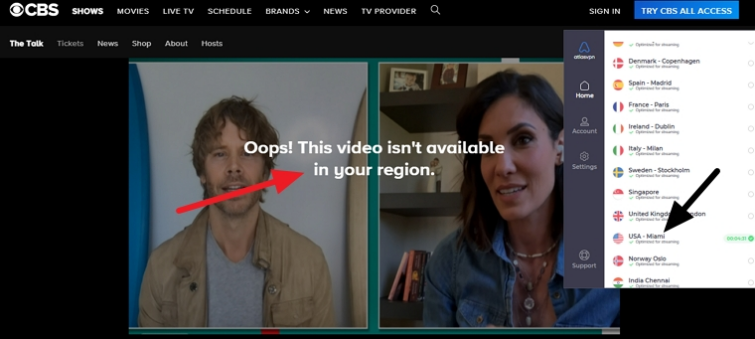 Next, we tested streaming BBC iPlayer on Kodi (iPlayer is geo-restricted to the UK) and found that we could not load any BBC channels with the VPN connected to the London server.
We then went to the iPlayer website to double-check. The good news is that BBC iPlayer worked perfectly in our browser. The same was true of Channel 4 OD. Thus, anybody who wants to stream UK TV will be better off sticking to the web portals.
Overall, this makes AtlasVPN a pretty awesome service for streaming more content online. Those who are used to using Kodi to stream content may want to test the service using the 30-day money-back guarantee because of the issues we experienced with BBC iPlayer.
Speed and performance
At ProPrivacy, we always attempt to test VPNs using the same methods every time to ensure a fair and unbiased comparison. To do this, we use a scientific, server-based speed test system that compares VPNs using the OpenVPN UDP protocol.
Unfortunately, AtlasVPN opts not to provide OpenVPN encryption for its users. Instead, it provides IKEv2 a secure protocol that is known for providing fast speeds. As a result, it is impossible for us to compare AtlasVPN to other services apples for apples.
To give you an idea of how the VPN performs, however, we decided to test it manually using an online speed testing tool. First, we tested our internet connection without the VPN connected, to give you an idea of our baseline speeds.

As you can see, our IPv4 connection performed at just above 50 Mbps. With decent upload speeds of 10 Mbps. And an average Ping of 31 ms.
Next, we connected to the London AtlasVPN server, to see whether a local connection would reduce our speeds.

As you can see our ping improved slightly, probably because the VPN server was closer to the speed test server. However, connection speeds dropped by 13 Mbps, approximately a 20% reduction in download speeds. This is actually pretty good – and means that even with the VPN connected – you will be able to stream 4K videos (as advertised).
Next, we connected to the New York US server to see whether the added distance would cause a larger drop in speeds.

As you can see, our ping increased substantially. This is almost certainly due to the distance between the UK test server and the US VPN server. Download speeds reduced to just 28 Mbps, which represents a 45% reduction in download speeds.
This is not as good as we might have hoped, but should still provide excellent performance for streaming in HD and other data-intensive tasks. Overall, we can conclude that AtlasVPN is fast, which is splendid news. However, it is not actually any faster than many leading VPNs that provide OpenVPN UDP, which is worth remembering if you do prefer to use OpenVPN.
IPv4, DNS, and WebRTC leak test results
To ensure that a VPN is giving you the privacy and security you need, it is vital that its apps do not suffer any data leaks that would threaten your privacy. To check that a VPN is working to provide you with a secure tunnel, we always test both the Windows and Mac clients for IP leaks, DNS leaks, and WebRTC leaks. We perform those important tests using our VPN leak test tool (which you can use yourself if you want to, to check the performance of any VPN installed on your system).
Windows
First, we tested the Windows client on an IPv4 connection. The VPN suffered no IP leaks, DNS leaks, or WebRTC leaks that would cause it to be a danger to your privacy. Due to the pandemic, it is worth noting that we were at home during testing. Thus, we were unable to test the VPN for leaks with an IPv6 connection (our ISPs does not provide IPv6 in this area).
If you have an IPv6 connection, we recommend that you test it yourself using our leak test tool. Failing that, revert to IPv4 manually on your system to ensure that there is no chance of any leaks.
Mac
Next, we tested for leaks on a MacBook. Again we detected no IP leaks, DNS leaks, or WebRTC leaks. This means that the VPN is functioning correctly.
Privacy and security
The big potential issue here is that AtlasVPN is based in the USA, which is a problematic place for a VPN to call home. America is home to the NSA, warrants, and gag orders. As a result, it is possible for any company (including VPNs) to be served a warrant that forces it provides data to the government.
Like most other US-based VPN providers, AtlasVPN has a strong no logs policy. This should mean that even if the VPN is approached by the authorities, it will have no data to hand over.
On the other hand, the VPN could be forced to engage in logging in secret due to gag orders, which may put some users off this (and all other US-based VPNs) depending on their personal threat model.
Privacy policy
To ensure that we check the veracity of a VPN's claims, we always analyze the privacy policy for any language that might raise an eyebrow or cause concerns. AtlasVPN claims to be a no-logs provider, which means that it should not collect any information that could link account use to the subscriber.
Reading the policy reveals that the VPN does not collect your IP address, and it does not store any information that could be used to identify what you browse, view, or do online while using the VPN.
The firm does admit to collecting "basic analytics" to permit it to provide a "great service to all our users." However, it does not clarify whether this includes connection logs such as bandwidth information. The good news is that it does not collect an IP, so even if it does collect this data it will not be exploitable for a time-correlation attack.
On the other hand, the VPN does admit to collecting some device-level information:
Device type, model, brand name (e.g. Samsung, Apple), OS version, device ID, language, time zone, coarse location (city scale). As standard on the internet, we use attribution analytics to track install source and traffic source. We may also use advertising IDs to measure performance of our campaigns.
This is a fair amount of information, and while it is not directly related to VPN usage, it can be considered personally identifiable information. There is still a chance it could be leveraged to engage in some level of tracking – which is far from ideal for a no-logs VPN provider from the USA.
Overall, whether you feel comfortable using the VPN is up to you and will largely revolve around how you feel about US-based VPNs. If you are concerned about the potential for gag orders and warrants, it is probably better to shop elsewhere.
We have no reason to suggest that using this VPN will not provide adequate privacy for the vast majority of regular VPN users. It will still provide privacy on a local network and when using public Wi-Fi, for example.
Technical security
AtlasVPN is unusual because it does not provide OpenVPN encryption, which is one of the most widely used and well-regarded VPN protocols out there. The provider instead offers IKEv2 encryption in all of its clients. This alternative is generally accepted as being secure against eavesdroppers and malicious actors – and should be enough to reassure most users that the service has their privacy in mind.
As is always the case with VPN protocols, the way that the provider implements can affect the security of the platform. We asked AtlasVPN to provide information about how it implements IKEv2 and it told us that it uses the following settings:
EncryptionAlgorithm = AES256, ChaCha20Poly1305
IntegrityAlgorithm = SHA2-256, SHA2-384
DiffieHellmanGroup = 14, 19, 20, 21
This is a strong implementation of the protocol with DHE for forward secrecy, which means that the VPN tunnel is reliable enough to be used for data privacy and security purposes.
The service also provides a kill-switch, which ensures that you can use it for torrenting and other activities that require complete privacy from your ISP or a local network administrator.
Ease of use
Gaining access to the AtlasVPN apps is extremely easy thanks to its website. The apps download quickly and require very little space to install. Thanks to its free plan, you do not need a subscription to install the VPN. And you will be able to use the service to connect to a limited choice of locations without paying whether you install the Mac, Windows, Android, or iOS version.
Those who want better speeds and access to the entire network will need to subscribe. Choosing a subscription on the website is very easy, and paying for the service is made simple thanks to the availability of various payment options.
All that you need to subscribe is a valid email address. Having paid, you will be able to log in to the client using your email address. As soon as you try to log in, you will receive a verification code in your inbox which you can enter into the application. The entire process is extremely easy and secure.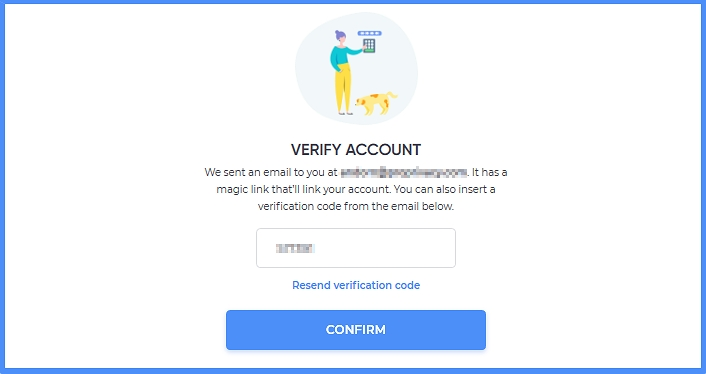 The Windows client
The Windows VPN client for Windows looks about as nice as any competing VPN we have ever reviewed. This is impressive and shows that a fair amount of care and attention went into making the app.
In terms of features, there is very little to set up. This VPN only offers IKEv2 or WireGuard encryption, which means that there is little to change in terms of security. You can alter ports, or turn on split tunneling, or anything advanced of this nature. This makes the VPN simple to use and means that you can get stuck into picking a location.
For those who intend to torrent, a kill-switch is available and enabled by default. This is a per-app kill-switch, which means that it only works when the VPN application is running, and will not cut your internet if the app happens to crash.
The good news is that the reactive kill-switch appears to work without issues. The VPN also suffers no leaks, despite not having any obvious DNS leak protection in the app itself (it might be baked in by default). Either way, we didn't suffer any leaks.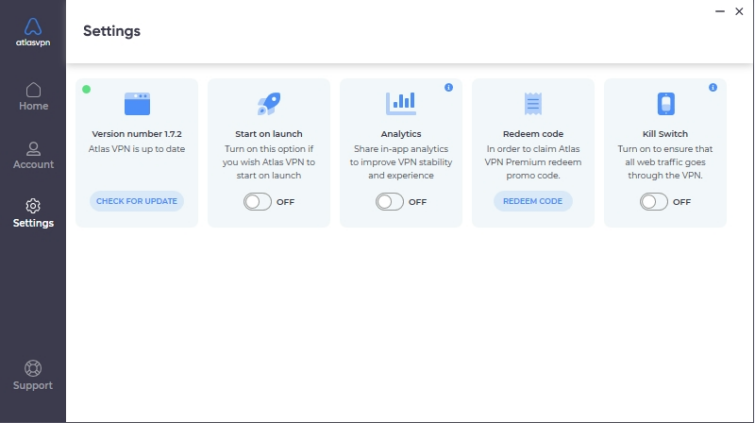 Admittedly, this VPN is pretty short on features and it doesn't give you any additional information about server load. This means that you will just need to pick a server and hope. If a server seems slow, we would recommend trying a different option.
As you can see in the image above, you can opt to start the VPN on launch, which ensures that it connects automatically as soon as the app opens.
The good news is that you can pick not only the country but also from various cities, which allows you to pick a server exactly where you need it. All the servers are marked as "Optimized for streaming", but you don't get servers optimized for anything else – so this largely seems like a marketing ploy, and one can only assume that it means very little.
Overall, we found the VPN to be easy to navigate and easy to use, which means that this cheap VPN is suitable for VPN beginners looking to unblock content and gain privacy without too much faffing about. Of course, those who would prefer port forwarding, obfuscation, OpenVPN, port selection (including things like TCP over port 443), split tunneling, double-hop VPN connections, or any other advanced features will need to look elsewhere.
The Mac client
Installing the Mac VPN client from the website forwards you to the Apple app store, where you can download the app simply by accepting the privacy notice: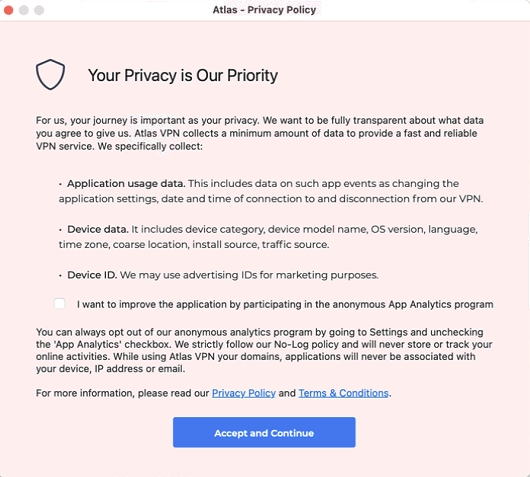 With that done, you can use the VPN for free if you want to, using the three available server locations:
As with the Windows client, the macOS AtlasVPN app offers a simple choice between IKEv2 encryption or WireGuard. This makes setting the VPN up extremely easy. Clicking on settings allows you to turn on the kill-switch and safe browse features.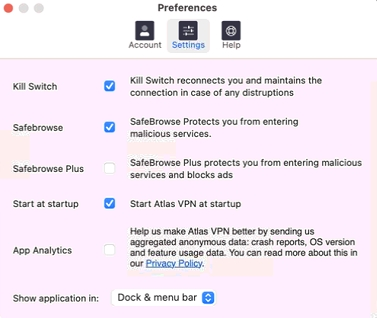 Overall, we found the app to be almost identical across all platforms, and we definitely find it easy enough to use for beginners, due to the fact that it is ready for use right out of the box.
For those who want to log in and start using a paid account, simply click on account, and then enter your email. You will receive a validation code that gives you access to all the server locations once you enter the code from the email.
AtlasVPN for mobiles
As with its desktop counterpart, anybody can access and download the mobile app for this VPN on the Google Play or Apple app stores. The apps have a great reputation with consumers; gaining 4.5 stars on Google Play after 78,000 reviews – and 4.8 stars on the Apple Play store.
The apps themselves are both extremely similar. They both provide IKEv2 and WireGuard encryption, and they allow the user to pick a server location. However, you do not get a built-in kill-switch. As a result, you will need to leverage the built-in kill-switch that comes with Android (if it is available on your device).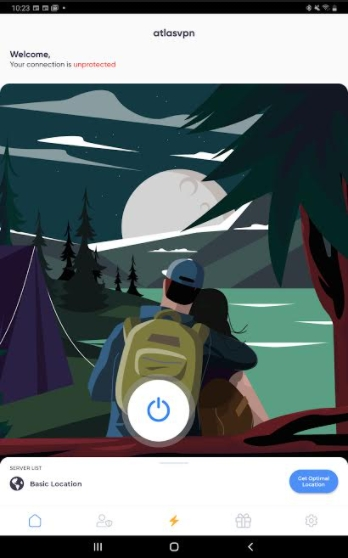 The good news is that the SafeBrowse feature can be toggled on in both of the mobile apps, which will prevent you from accessing malicious domains automatically by leveraging a NAT firewall and an up-to-date database of known nefarious websites.
Users of the free app can invite a friend to the service to gain access to 7 free days of premium. Every time that a friend downloads the app, they will receive three free days of premium too, which sweetens the deal.
Overall, we found the VPN to be extremely good and likely suitable for most people's needs when it comes to unblocking content. The VPN is decently fast and you can use it to unblock Netflix and other international services.
Customer support
To provide support for its users, AtlasVPN has a help center on its website. This includes answers to FAQs and guides for setting up the VPN on various platforms. However, it is worth noting that those resources are somewhat limited in scope. You do not, for example, get information about setting up the VPN on a router.
The website itself is extremely well designed, and it is clear that no expense was spared. It has a Blog that is partitioned into various useful categories, and readers can get information about digital privacy news, guides on how to do various useful things. However, it is worth noting that it is pretty slim on information about the VPN itself.
For those who require support using the VPN, it will probably be necessary to either send an email directly or start a ticket from the help center. you can do this on any article by scrolling down to "Submit a request" at the bottom. After filling in the form, you will receive a ticket informing you that your request is being processed.

We waited less than a day for a response, and the VPN was able to deal with our questions in a professional manner. (Though it did require a bit of going back and forth for certain questions.)
Overall, we found customer care to be okay, but not up to par with the very best VPNs on the market. We would like to see this VPN introduce live chat support, but considering the low cost of a 3-year subscription it is a reasonable tradeoff for most users, and the VPN works extremely well so the chances of needing help are fairly low for 99% of users.
Final thoughts
AtlasVPN is a service that is surprisingly cheap considering the overall package. The VPN has servers located in around 37 countries, which is fewer than many competitors. However, it does have servers in the majority of places that the average consumer needs them in, and this service does successfully unblock popular services like Netflix US and the UK's BBC iPlayer.
Admittedly, this VPN is pretty short on features, so you do get what you pay for. Consumers who prefer OpenVPN encryption will need to shop elsewhere, and this VPN does not have any obfuscation options, so if you need to bypass ISP firewalls or conceal your VPN use, you will need to get a VPN that provides this feature.
That said, IKEv2 is considered perfectly safe, and it is implemented securely here. This makes AtlasVPN ideal for most people's privacy and security needs.
The kill-switch is per app rather than system level. This should be fine for most people's needs, and it does at least have one. This means that you can use the VPN for torrenting if you want to. Though, the fact that it is based in the US might be a reason not to.
Unfortunately, this VPN does not have live chat support. So you will need to communicate via email. This might be a deal-breaker if you are one of those people that often has set up problems, or who wants to be able to directly ask questions about accessing content with your VPN.
We have to say that for $1.99 per month it is a pretty decent VPN. If cheap and cheerful is what you are after, this VPN is certainly worth considering. We would recommend that you do not purchase a single-month subscription to this VPN, because it is overpriced for what you get.
To conclude, AtlasVPN is a cheap service that can provide Wi-Fi privacy and access to Netflix. So, if this is what you need, this VPN is an interesting proposition that is worth a trial run.
0 User Reviews
Leave a Review
Thanks for your review!