Network-attached storage (NAS) is an intelligent storage device that connects directly to your internet router or WiFi network. A home NAS typically has between one and four bays, but small businesses may choose to install a system with eight bays.
NAS is useful because it creates a personal cloud where you can back up data in a safe and accessible place that provides super-fast access to your data. Both individuals and businesses use NAS to back up sensitive files that they can't afford to lose to a disk error.
NAS boxes may also be set up to automatically back up onto the cloud so that you can sync your data to services like Dropbox, Google Drive, and Box. This ensures that your data remains consistent across platforms. For NAS users with no time to spare, we've come up with this handy list of the 5 best NAS backups for 2018.
The list below is primarily concerned with backup providers that have native apps for commercial NAS devices by industry giants QNAP, Synology, and Netgear. However, we have also included info about providers that let you run NAS backups using a more DIY approach.
5 Best NAS backups
Below we have listed the best NAS backups. Scroll below for a summary of each service or click through to the provider website for more information.
Best NAS Backups - Summaries
A cheap cloud backup service with E2EE and NAS backup compatibility
Pricing

/month: $10/mth
/month: $20/mth

Pros

End-to-end encryption
Automatic backups
Great for home or business use

Cons

A bit pricey
Download speeds not the greatest
Desktop app could be improved
ElephantDrive is our top recommendation because it is dedicated to NAS. In addition to providing a full range of backup features including sync and share options, automatic backups, and archiving, ElephantDrive provides everything you need for NAS backups.

ElephantDrive apps are available from QNAP, Netgear, and Synology, but also Western Digital, Drobo, D-Link Vault, Thecus, and Seagate – and ElephantDrive provides support for all of them. This makes ElephantDrive one of the most user-friendly providers for NAS backups. It is ideal for beginners because everything is automated and it has great customer support ready to help you sort out any problems.

It's also compatible with a large range of home devices meaning you can use it to back up from home NAS as well as for business backups. ElephantDrive has subscription plans starting at $10 per month for 1TB of storage, and there's a free trial available for anyone who wants to give it a go risk free.

An easy to use service with a free plan and great NAS compatibility
Pricing

Personal - 5TB: $1.65/mth

75% OFF

Personal - 2TB: $4.34/mth
12 month: $17.38/mth

Pros

Awesome customer support
5GB free plan
Compatible with Synology, QNAP, and Netgear NAS solutions
Back up from unlimited devices

Cons

Limited sharing options
Slow download and upload speeds
No unlimited storage option
IDrive is one of our favorite cloud backup services, and it is actually pretty awesome for NAS users. This fully-featured service allows users to back up from mapped drives, and also provides apps for Synology, QNAP and Netgear ReadyNAS. IDrive has superb customer support that is always ready to help your with NAS related queries, and it also provides guides in its FAQ to help you get everything set up.

IDrive also offers value for money. 1TB of online storage space costs just $3.71 per month (paid on a yearly basis in one go). However, it is worth noting that the price jumps to $4.95 per month when you reach your second year.

Subscribers also get flexible backup and restore options thrown in, in addition to sync and share features, and the ability to back up from an unlimited number of devices. And thanks to its 5GB free account you can give this service a test run to see what it is like.

A reliable service with a guide for setting up NAS backups
Pricing

1 user on 1 desktop: $8/mth
5 users: $25/mth
1 user multiple devices: $16/mth

Pros

Good value for money
NAS setup guides
File versioning

Cons

No end-to-end encryption
No free option
No two-factor authentication
LiveDrive is a super cloud backup service that is compatible across a wide range of platforms and devices, including NAS storage. The service can be used to back up any number of different files, including videos, photos, and documents. To help you with setting it up with your NAS, it has a useful guide on its website.

LiveDrive is suitable for both businesses and individuals, and it provides secure cloud storage for your files with encryption both in transit and at rest. However, it does not include end-to-end- encryption, so if you want sole control over the key to your files (meaning that you won't be able to recover the data if you forget your password) then you will need to look elsewhere.

This service is easy to use, and it provides superb cross-compatibility and sync features. It also allows you to securely share files with your contacts if you want to. And it has file versioning for the previous 30-versions of files so that you can backtrack if you need to. Sadly, it has no free plan, however, with a starting cost of just $10 for a briefcase account that permits NAS backups, we consider this service reasonable value for money.

A cloud backup provider with unlimited storage for some NAS devices
Pricing

Pros

Unlimited storage
Affordable
Highly secure
Great for small businesses

Cons

Not the best option for Windows users
Works well with QNAP but not really with other models
Slow upload speeds
CrashPlan is a superb backup service that provides unlimited storage space and robust security at an extremely affordable price point. However, while it does have good software that is fun to use, its NAS options are a touch shaky (compared to the options higher in this list).

QNAP users will probably get along with it best because it functions well with a dedicated third-party app (that is provided). Mac and Linux should also get along fine because it is possible to easily back up from mounted drives.

Windows users, on the other hand, may want to shop elsewhere. Limitations built into Windows mean that CrashPlan doesn't support backups from mounted drives.

However, it does provide a useful list of unofficial mounting methods for techy users who are willing to learn. And it is one of the most affordable options on the market; it is a good option for those who can be bothered to learn.

An interesting service for those who want to manage third party storage space themselves
Pricing

Desktop Edition: $49.99/mth
Windows Server Edition: $119.99/mth

Pros

Free apps for QNAP and Synology
Cloud-to-cloud backup
256-bit AES encryption

Cons

Reserved more for the techie crowd
UI a bit outdated
No mobile app
CloudBerry is slightly different from the other services in this article because it does not actually provide cloud storage services itself. Instead, it is a service for managing backups onto existing cloud services like Amazon S3, Google Drive, OneDrive, Oracle Cloud, Rackspace, and Microsoft Azure. However, we decided to include it because it is extremely well rounded when it comes not only to NAS but other useful backup features.

CloudBerry comes with free apps for popular NAS providers QNAP and Synology. Those apps permit users to back up data from their NAS storage box to a cloud storage service of their choice. It also permits them to restore NAS files using the CloudBerry desktop client.

In addition, CloudBerry has a mix of useful features including Cloud to Cloud backup, unlimited file versioning, compression, and optional 256-bit AES encryption. This is impressive considering that it starts at just $10.00 per month. Ideal if you already have cloud storage space that you want to sync your NAS to.
Business & Enterprise Users
NAS is a massively popular storage solution for small businesses. As a result, you will find QNAP, Synology, and Netgear offering plenty of apps for NAS backups aimed at popular enterprise storage solutions.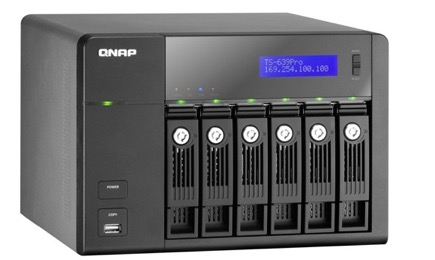 Microsoft Azure, Amazon Glacier, Google Cloud Storage, and Symform are all compatible with NAS providers – making it simple for firms to backup their data safely both locally and online.
Head over to our synology cloud backups page for specific information about using a cloud backup with synology devices. Alternatively, Check out our Synology VPN guide for information about using a VPN with Synology.
DIY NAS Backups
Anybody who wants to create their own NAS rather than paying for a NAS box needs to be aware that they will not have access to apps. However, there are still plenty of methods for storing your data online.
Providers such as SOS, Acronis, JustCloud, BackupGenie, and ZipCloud all let you backup from a NAS device simply by selecting it as a file location. However, some providers may charge you annually for the privilege.
Furthermore, you can also create backups of network drives using SpiderOak, Memopal, and LiveDrive– all of which let you map the drive so that it can be recognized. Fortunately, this process is simple and there are walkthrough guides available with that will help you get them set up.
NAS Backups Conclusion
NAS backups are a superb way to ensure that your data is protected not only on your local cloud but also online. Whether you'd like a dedicated app that does the hard work for you - or you prefer to set up a NAS yourself, there's an online backup provider in this article that is perfect for you.