1Password Review
Category:

Last Updated:

November 19, 2019
Pricing

From $3.99 - $7.99
Keeping our online accounts secure is becoming ever more important these days as cyber threats continue to evolve and exploit weaknesses to get at the mountains of valuable personal data we store online. Most of us know that using weak passwords or reusing the same password for multiple accounts online is not a winning strategy when it comes to properly protecting our digital security. Complex, unique passwords are what can ensure that our digital security is properly maintained online. Sure, using complicated passwords is the best way to keep our online accounts secure and the best defense against having our online data compromised, but how are we supposed to access our accounts when there is no way we can remember each complex and unique password for the dozens of account logins we have?
The solution is to use a password manager, which is basically a program that runs on your computer or mobile device and stores all your account passwords in one place so you don't have to remember them all. The only password you will need to remember is the password that you use to login to the password manager, the program then takes care of all the rest and gives you easy access to all of your online accounts while keeping your logins secure at the same time. This way, you can create unique and complex passwords for all of your online account logins and have an easy way to access those accounts without having to remember each individual password. This also allows you to store your passwords in a secure location instead of writing each password down manually on a sheet of paper, or in an unsecured location on your computer in a Word file for instance.
One of the best password managers we've come across here at ProPrivacy is 1Password. In this article, we'll give you the rundown on what makes 1Password a great password manager and how it can help you securely store all of your online passwords and protect your digital security.
Summary
1Password was formed in 2005 by the web developers behind AgileBits, initially as a Mac-only password management solution. Since then, the company has made 1Password available on all major platforms including mobile devices.
1Password comes right out and boldly tells its users to "Go ahead. Forget your passwords." It's true, with 1Password you can feel free to forget your passwords since this password management tool will securely keep track of all of your online login credentials for you. The only password you will need to remember is the master password you create when you sign up and use to login to the tool.
As we'll see, 1Password is quite simple to use and syncs nicely across your desktop and mobile devices. In addition to storing passwords, 1Password gives you the option to store important documents, as well as credit cards, driver licenses, passports, bank accounts, and more in your vault. On top of that, 1Password has a strong commitment to security and employs top-notch encryption standards to protect your data, and offers other excellent security features aimed at helping you strengthen your overall digital privacy.
One thing to note, however, is that 1Password is a closed-source password management tool, so if that is a deal-breaker for your security needs, you may prefer to go with an open-source solution such as KeePass. That said, 1Password does still go above and beyond to be as transparent as possible about the ways in which it works to secure users' data privacy.
Quick Stats
Pricing
For personal use, 1Password's pricing plans are pretty much in the middle of the pack compared to other top password managers on the market today. The personal plan, which gets you a single account login will run you $2.99 per month when billed annually. That comes out to a very reasonable $35.88 per year. If you want to share a plan with family or friends, then you're looking at $4.99 per month for five logins with the family plan when billed annually, which comes out to $59.88 per year. You can also add additional account logins for a buck apiece if needed.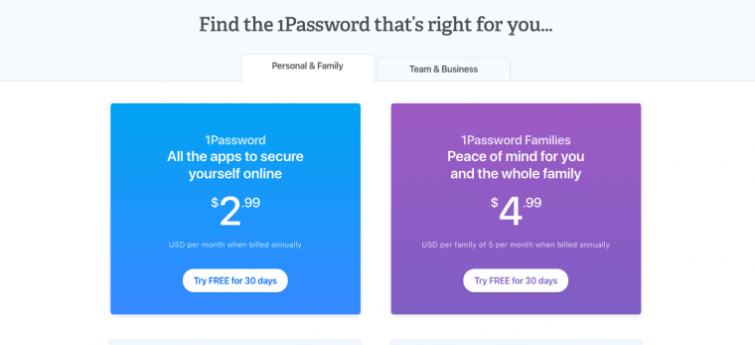 Unlike many of its competitors, however, 1Password does not offer a free plan, which might be a deal-breaker for some users. That being said, 1Password does offer a 30-day free trial, so you can give it a try for a month to see if it's the right solution for you. Just a friendly heads-up, when initiating your free trial, know that supplying payment information is not required. Despite the page's best efforts to get you to enter your credit card details, you can simply click on the small link to "Add card later" at the bottom of the page and activate your free trial without being subject to the vexing process of having to enter payment details for something that's supposed to be free.
Setup
Setting up your 1Password account is fairly simple and straightforward. The first thing you will need to do is enter your name and email address. You will then receive a six-digit verification code via email to verify your account. Next, you will be prompted to add your credit card information. However, as mentioned above, you can add your card later at any time during your 30-day free trial to ensure your service continues uninterrupted should you decide to proceed with the service after the trial.
Once you have proceeded to verify your account, 1Password will automatically generate for you a "Secret Key" which is a locally-generated string of 34 letters and numbers unique to your account which you will need to type in for each new device you add to your account. Don't worry, you won't have to memorize your Secret Key because 1Password creates your own personal "1Password Emergency Kit" which you can download in PDF format and which contains the aforementioned Secret Key, along with the sign-in address, the email address you used to create your account, and a blank space for you to fill in your Master Password. The Emergency Kit also includes a unique QR code you can scan to add additional devices without needing to enter your Secret Key. Needless to say, your Emergency Kit contains extremely sensitive information, so we would recommend encrypting the file, printing the PDF and locking it in a fire-proof safe deposit box, or storing it with a secure cloud storage service.
Your Master Password is the only password that you will have to remember, so make sure it's something you won't forget but strong enough that it can't be cracked. But in the end, that's what your Emergency kit is there for in the first place, so you can fall back on it in case you happen to forget your password. That said, if you do lose access to your Emergency Kit and forget your Master Password then there's, unfortunately, no way to recover it since it is neither stored locally nor on 1Password's servers.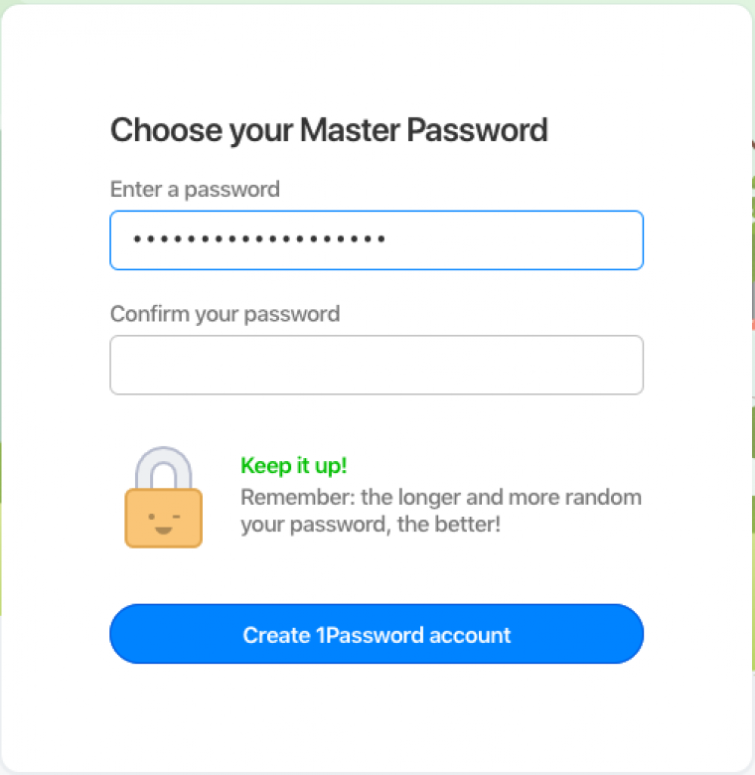 Finally, once you've got your account set up and activated, all you'll need to do is install the software onto your laptop, mobile device, or wherever you'll be using it, and you're good to go.
Features
Password generator

Sync across multiple devices

Auto-fill passwords

"Watchtower" provides you with an alert in case of a password breach or other security issue with your passwords

Securely save and autofill credit card details

Two-factor authentication

Secure document storage

Import data from other password managers (or via CSV file)

Securely share passwords with family and team members (with Business and Family accounts)

Browser extension

Organize saved passwords in your vault according to the categories of your choosing (e.g. "work", "banking", "social", "shopping", etc.)

Form auto-fill

Securely store your driver's license, passport, or other forms of ID

Compatible with all major desktop and mobile operating systems

Temporarily remove certain vaults from your computer or devices when you travel with "Travel Mode"
Ease of Use
You will be able to use 1Password on practically all your devices across all major desktop and mobile operating systems, including macOS, iOS, Android, Windows, Linux, ChromeOS, as well as from your command line.
If you've used a password manager before, then you can import your previously saved passwords into 1Password from Chrome, Dashlane, LastPass, SplashID, or Roboform. From any other password manager, you can import your data into 1Password via a CSV file. Importing your passwords is incredibly simple and can be accomplished in just a few minutes. Even exporting to a CSV file and importing the file to your 1Password account is entirely painless. One very important consideration to keep in mind if you import from a CSV file is that all your passwords will be plainly visible in the unencrypted file. Therefore, it is imperative that you delete the file immediately after you've imported your passwords to your vault. 1Password helpfully alerts you to this fact and urges you to delete the file after the import has successfully completed (which literally takes about a second or two).
We found that the everyday use of 1Password is quite straightforward and consistent across its applications and across supported devices. We were pleased with the entire look, feel and usability of the web app, desktop app, mobile app, and browser extension, which all performed as advertised and made for a truly seamless experience. The dashboard is intuitive and easy to navigate and manage, even for those users who may not have used a password manager before. There certainly isn't much of any learning curve to get started using and getting comfortable with 1Password and its functionality. The company does a great job of onboarding new users and offers step-by-step guides and video tutorials on its website to help you hit the ground running.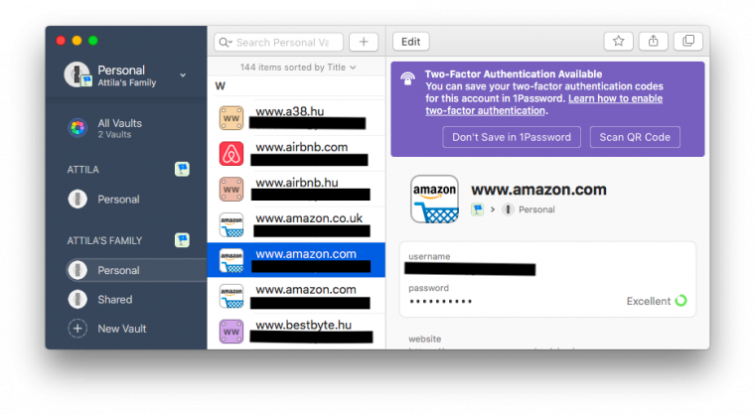 Once you've gotten started and have your usernames and passwords loaded into your dashboard, the browser extension makes it simple to log into your online accounts. When logging into your accounts, you will see a 1Password icon situated within the entry fields for your username and password. Simply click on the 1Password icon and it will give you the option to automatically fill in the username and saved password to quickly login. Note that you will need to be actively logged into the browser extension for this to work. You can also choose to log into certain accounts by searching for the website or service you wish to log into from the search bar in the browser extension, in the app, or from your toolbar. As you begin searching, the window will automatically begin populating with the logins you have already saved in your dashboard. Simply click on the website or service you wish to log into and click the "Go" button, which will take you directly to the website and log you in automatically.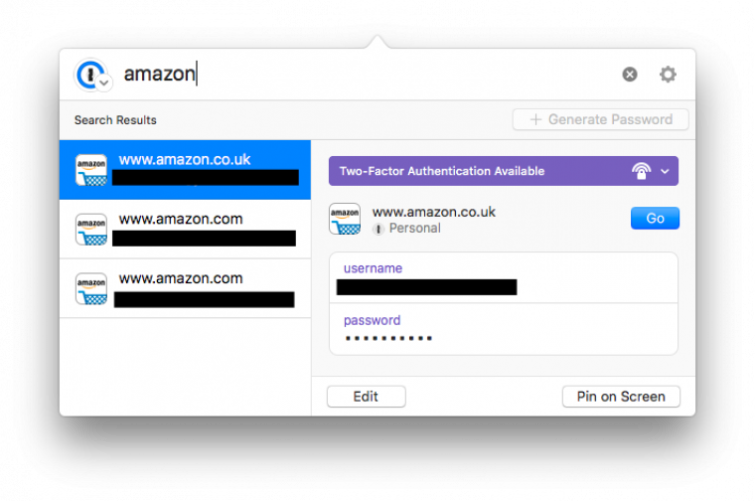 If you are registering a new online account that you haven't yet signed up for and haven't saved in your dashboard, 1Password will offer to generate a strong password for your new login right there at the time of registration. All you'd need to do is click on the 1Password icon in the password field and click the option to use the generated password and save it to your dashboard. You can also choose to enter a password of your own and save it to your dashboard as well. Either way, the process is incredibly simple and straightforward.
Overall, getting started, importing and saving passwords, logging into accounts, and saving credit cards and other documents is extraordinarily simple with 1Password. We found that the functionality across apps is first-rate and the program's general ease of use is superb.
Security and Privacy
1Password declares on its website that "security is not just a feature, it's our foundation", adding that protecting the user's security and privacy is the basis for every design decision the company makes. All of your data with 1Password is fully encrypted end-to-end via military-grade AES 256-bit encryption while at rest, and via TLS while in transit.
The master password you use to sign in to your account is never stored with your 1Password data, nor is it ever sent across the network. On top of that, the secret key generated for you upon setup is also unique to you and never stored on 1Password servers. The secret key is only stored locally on your device. This means that you and only you have access to your master password and your secret key; 1Password never has any access to either. Though this also means that there is no way to recover your master password should you forget it, it does make the service much more secure overall.
Additional features geared toward protecting your privacy and security include 'Watchtower' which alerts you to any data breaches or other security issues with items you have saved in your dashboard, keylogger protection, phishing protection, auto-logout after 10 minutes of inactivity, email alerts after new sign-ins from other devices, and 'Travel Mode' which allows you to mark certain vaults as 'not safe for travel' and temporarily hide those vaults in the app while enabled in case you are selected for inspection while traveling.
Even though -- as mentioned at the outset of our review -- 1Password's system is closed-source, we found the company's transparency about how it secures user data along with the wealth of information on the website dedicated to explaining its security practices in detail quite encouraging. 1Password's zero-knowledge approach also solidifies our confidence in the service's commitment to and capability in properly protecting user data.
Customer Support
The 1Password website features an extensive knowledge base that covers virtually any issue or question about the service that a user may come across. There are videos and step-by-step tutorials on various subject matters to help users get the most out of the service in addition to the multitude of help articles. On top of that, the support forum is a vast trove of user-generated content moderated and supported by the 1Password team that spans essentially anything any user would need to know about using the service. We found the knowledge base and Support Forum extremely useful, conveniently organized by topic, and simple to search through.

You can also contact the support staff via an online email ticketing system or through Twitter. Live chat is available, but oddly only for business accounts. We nonetheless contacted the support team via the live chat function to test it out. We received a response three hours later letting us know that live chat support is only available for business users. When clicking on the "Email 1Password Support" link, we were taken to a second page which listed links to a handful of help articles related to presumably frequently encountered issues that users may have. We then clicked on "I don't see my problem listed" and were taken to yet another page listing a few more links to additional help articles. Finally, once we clicked on "None of these apply" we were taken to the contact form where we were able to enter a name, email address, and a message for the support staff.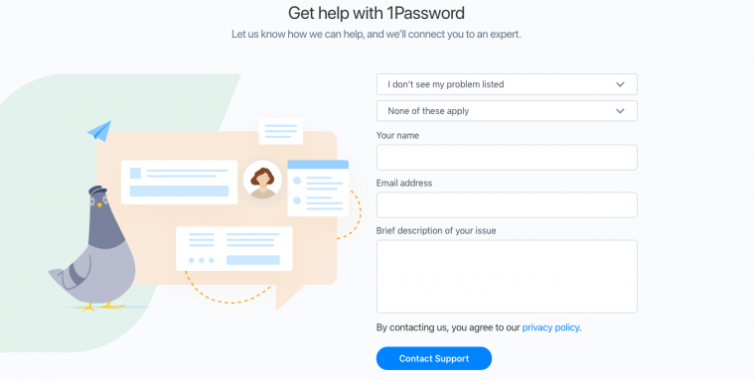 Clearly, 1Password is aiming to limit the number of support tickets that actually make it through to the support staff with this tactic. But to the company's credit, the support knowledge base and forum are indeed extensive and the answers to most issues can certainly be found therein. Additionally, you may very well find it more convenient to get a satisfactory answer to your issue immediately via a help article rather than waiting for an emailed response from a 1Password staff member. Nevertheless, if you can't find the answer to an issue in the knowledge base or support forum, or if you otherwise prefer receiving personal support, you can, with a bit of persistence get in contact with an actual human.
We filled out the contact form and submitted a support ticket during business hours and received a response from the staff approximately nine hours later. The 1Password pricing page proudly boasts "Friendly 24/7 email support" as one of the features available for users. We found that claim to be quite a bit of an exaggeration though in our experience. Sure, you can submit a support ticket at any time day or night, but don't expect to receive true 24/7 support around the clock.
That said, again, the support knowledge base and the support forum will often have all the answers you're looking for, so you may find that personalized support is not always required.
Final Thoughts
In the end, we were quite pleased with the overall 1Password experience. The apps performed as advertised and worked seamlessly across devices, the dashboard was intuitive and easy to get used to, and the wealth of information and helpful resources on the website was impressive.
The security and privacy features, along with 1Password's dedicated commitment to protecting user data left us confident in the quality of the service.
On top of all that, the very reasonable pricing options make 1Password a great value for the functionality and security you're getting when you sign up. What's more, 30-day free trial is a great way to test this fully-featured and highly secure password manager. We'd certainly recommend giving 1Password a shot to see if it's the right solution for you.