Some people want to deactivate their Gmail accounts because of privacy concerns. Nowadays, there are many secure email providers around. Those services encrypt user emails. They also encrypt emails between senders and receivers. With better email options available, many people are deciding to delete Gmail once and for all.
Some people also want to know how to archive emails, how to delete emails, and how to download an archive of their entire Gmail account before making it swim with the fishes. Below, we have provided a step by step guide on how to permanently delete.
How to Permanently Delete Gmail
1. Navigate to your Google account and log in.
2. Enter your email address and password for Gmail.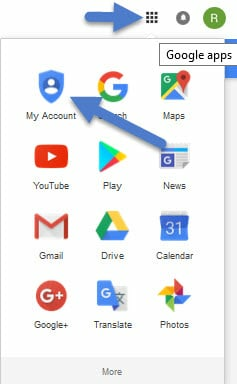 3. Navigate to the 'My Account' page and select Account preferences.
4. On the menu on the left, click on Delete your account or services.

5. Click on Delete products.


6. You will now be prompted to re-enter credentials. Enter them and sign in.
7. to the icon for your Gmail account, click on the dustbin icon.
8. Type in a new primary email address (either an old email account you also plan to scrub or your new encrypted email address). Enter your password again and click on REMOVE GMAIL.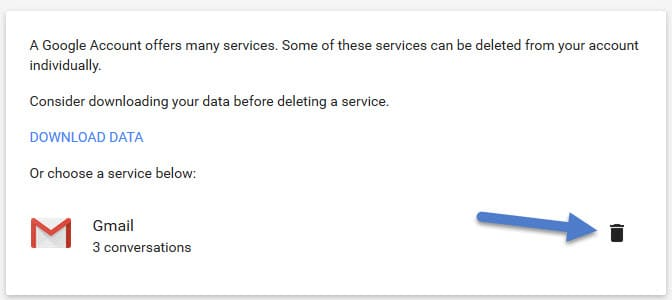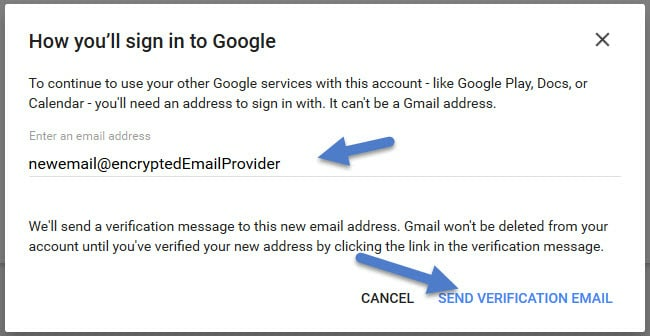 9. Now you will be told to go and check your emails at the new email address that you provided Google with. Select 'Ok, got it.'
10. Open the Gmail Deletion Confirmation message that has been delivered to your new email. Click the confirmation link.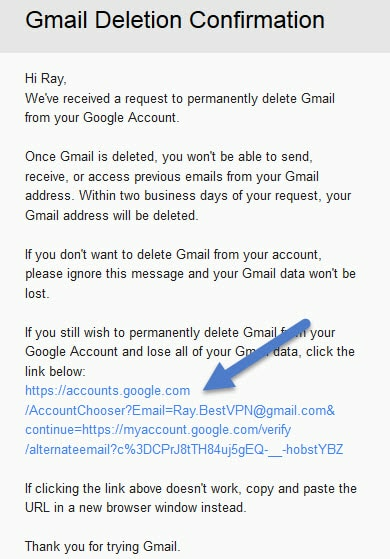 11. Now select Delete and confirm.

As you can see, Google has made deactivating Gmail a multi-tiered operation. That is presumably to prolong, put off, and deter the user from deleting their account.
Congratulations, you have now deleted Gmail from your Google Accounts.

How to Permanently Delete Emails in a Gmail account
To permanently delete emails from Gmail, simply send them to your trash folder and then empty the trash folder. From that point on the email is deleted from your account and from Gmail's servers. Remember, however, that all your mail is stored in the 'all mail' folder.
In reality (even though it may seem like it), there are no other folders but all mail. All other folders are simply a secondary view of the inbox, which is where all mail actually is.

For that reason, in order to delete emails from your Google account, always send them to trash from the inbox. Otherwise, they will still be in there.
Remember: if you don't send a mail to trash from the primary all mail inbox, your email will remain in that folder.
How to Download your Gmail Archive
If you are sure that your Gmail account is a digital funeral, then it's time to consider downloading a full archive of all your emails. To do that, follow the steps below.
1. Navigate to Gmail's Download your data page. Log in to your Gmail account to access it.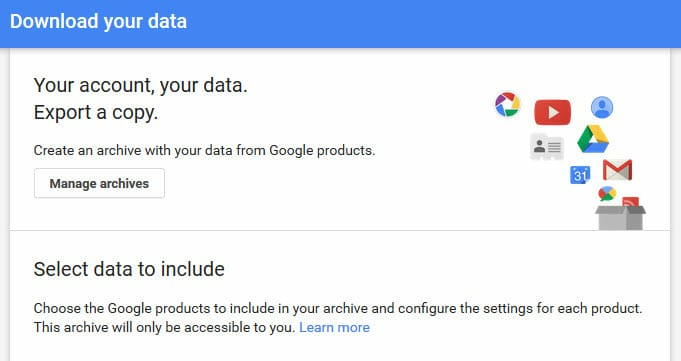 2. Choose what you want Google to provide you your downloadable archive. To see more options for each Google service, select the down arrow.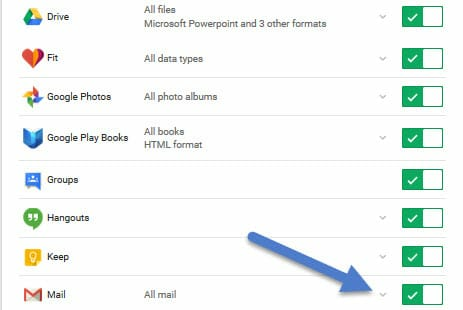 3. Once you have selected the things you want to keep, click Next.
4. Select a file type for your download.
5. Finally, select the way you want your archive delivered.
Remember that your Google Play Music songs can't be included in the requested archive. As such, you will need to go to Google Play Music Managerto download your music manually.

Once you have got your archive from Google, you can proceed to your Gmail account. If you don't want the archive of emails and other personal data, proceed straight to deleting Gmail.
Archiving Vs. Deleting Emails
Some people delete emails as they go along, so as not to have a cluttered inbox. The problem is that Google deletes the messages in your trash folder every 30 days. That means that, eventually, you will probably lose an important email.
Archiving emails is a great way to tidy your inbox without losing emails that you might later need.
Emails can be archived by swiping or using the box with the down arrow in it (in the message's taskbar). You can also select multiple messages in the inbox, then use the box with the down arrow icon.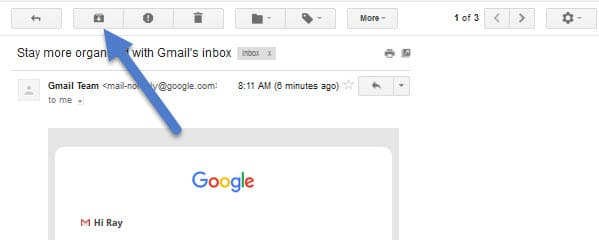 Deactivate Gmail Account: Considerations
There are a number of things that you should consider before you deactivate your Gmail account. Firstly, if you delete Gmail you lose access to it completely - forever. That means if you are subscribed to any other websites or social media using that email address, you will lose the ability to reset your password. This could potentially lock you out of one or more other services.
This can be a serious pain. In order to regain access to your you will need to provide the website with proof that you are the rightful owner. This can be a serious problem for people who use social media sites under a pseudonym or nickname. If you lie about who you are and don't upload any distinguishing photos to those accounts, you may find it incredibly hard to prove the account is yours.
Another common problem is when a bank account is registered to the Gmail account. This leads to the need to contact the bank's customer service team, which may mean a premium-rate call and include lengthy waiting times.
Encrypted Email Provider Options
Once you have deactivated your Gmail account, you are going to need a new email address. With that in mind, you need to figure out to which of the secure email providers you will subscribe.
These days, digital privacy has become something that citizens must seek for themselves if they want to adequately cyber-protect themselves. With , hackers, and governments all going after private internet data, the risks are high.
The result of this realization has been a sharp rise in the uptake of encryption tools and services that help people reduce their digital footprint.
Can you send secure Gmail emails?
There are several ways in which you can send more secure emails via Gmail including using the following:
TLS encryption
Enabling confidential mode
Browser addons
Check out our how to send secure Gmail emails page for more information about how to do this.
VPN Services
VPN services are a central part of the digital privacy revolution. The best VPN service providers allow people to mask their true IP address and unblock censored content. In addition, VPN software uses military-grade encryption to secure all user web traffic. The outcome is far higher levels of online privacy and security for you and your family.
Encrypted Email Providers
People are seeking to leave behind unscrupulous multinational tech giants such as Google. they are opting for independent encrypted email providers that promise to deliver a truly secure email service.
The combination of a VPN and a trustworthy email service provides users with a totally different web experience. This swiftly makes their online activities invisible to unwanted outside forces.
For those of you interested in using these cutting-edge encryption services to avoid being snooped on, we suggest you look at our best VPN services.
To help you in your transition, here are a couple of recommendations for getting an encrypted email account.
Hushmail is a popular provider of encrypted email. With a Hushmail account, your email is stored in encrypted form and decrypted with your password when you log in. In addition, emails sent between Hushmail subscribers are encrypted and decrypted without fail. When emailing a third party email provider (such as Gmail or Yahoo), you can pre-agree a secret question with your contact to decrypt the email.
VaultletMail is similar to Hushmail. It encrypts all emails between VaultletMail users automatically. In addition, users can email other providers securely by making use of its system. It works by letting any recipient create a secure passphrase, which they can then use to decrypt all future emails received from a VaultletMail account. VaultletMail also has a host of extra features like self-destruct times for emails and prevention of copying, quoting, printing and forwarding emails.
Permanently Delete Gmail - Warning
Some people think that they can deactivate their Gmail account, then later join Gmail again with the same username and email address. This is not true.
When you delete Gmail, that email address is off limits to everyone - forever - to stop anybody from being able to impersonate you.
Thus you must update all social media accounts, websites, and service subscriptions that are registered to your Gmail account. You won't be able to get the email address back. So make sure you update your email address with each of those subscriptions one by one - before you delete Gmail.
Gmail Privacy Concerns
Gmail's privacy policy says that emails sent to or from a Gmail account are never read by a human being (other than the sender and recipient). In addition, Google Inc. claims that emails processed by computers are only used to block spam and improve advertisement targeting.
Many people, however, believe the manner in which emails are processed by Gmail goes way beyond acceptable use. Back in 2004, 31 independent privacy advocates and human rights organizations called for Google to suspend its email service due to those privacy concerns. Then in 2013, Microsoft also attacked Google for electronically scanning emails. Microsoft claimed that most consumers are unaware that Google monitors their inboxes to target adverts.
In the same year, Consumer Watchdog found evidence of litigation in which Google claimed that Gmail users are not 'implicitly assured confidentiality of their emails.' Google responded to the allegations by saying that,
"... all users of email must necessarily expect that their emails will be subject to automated processing ... Just as a sender of a letter to a business colleague cannot be surprised that the recipient's assistant opens the letter, people who use web-based email today cannot be surprised if their communications are processed by the recipient's ECS [electronic communications service] provider in the course of delivery."
Delete Gmail: Conclusion
This article has provided a detailed guide for deactivating a Gmail account permanently. In addition, we have explained how to delete individual emails properly and how to archive them. We have also shown how to request your data from Google before deleting it.
For those who want to delete Gmail because they want to start protecting their digital footprint, we have also provided information about VPNs. VPNs are the most vital internet security tool of all. We have recommended a couple of encrypted (for you to join in order to deactivate Gmail).
With all the necessary steps in one place, you have everything you need to start properly securing your data right here. If you have any questions at all, don't hesitate to ask us in the comments section below. Happy deleting!