NordVPN Video Review
Check out our in-depth video review below to see how NordVPN compares to competitors.
NordVPN Review 2021🗻Is it as good as they say?✅
How much is NordVPN?
Like most market-leading providers, NordVPN offers varying subscription lengths, with heavy discounts offered to those willing to sign up annually. We have listed the current prices below:
NordVPN is impressively cheap compared to its competitors. Plus, if you sign up for a longer period, you'll get even more of a discount on your plan. However, it's important to bear in mind that you will have to pay in one lump sum for all plans. NordVPN isn't alone in this – it's a common practice in the VPN industry.
If you sign up for NordVPN, its 30-day money-back guarantee gives you the chance to change your mind (and reclaim your dough) if you're not fully satisfied with the service. This is something that a lot of top providers offer these days, and we think it's a great idea that allows users to put the VPN to the test without risking their wallets.
As well as credit/debit card, NordVPN also accepts payment via Bitcoin, which allows for anonymous payment. We've listed other supported payment methods below.
NordVPN's features
NordVPN offers users a whole host of features for a budget price – which is one of its main selling points. You'll find the key picks below, and we've also taken a closer look at the features we think are more noteworthy.
| | |
| --- | --- |
| Simultaneous connections | 6 |
| Total servers | 5300 |
| Server locations | 60 |
| Routers supported | |
| Split-tunneling | |
| Number of countries | 60 |
Double VPN
This feature offers additional security by routing your traffic through two separate VPN servers as it travels between you and the internet.

NordVPN offers several double VPN combinations.
This sort of chaining can provide security benefits but will, unfortunately, also result in a loss of speed. This is due to the extra hops your data does before it reaches the internet. I think the privacy/security benefits of "double-hop" VPN servers are rather limited – but I understand that this isn't a view shared by everyone. For those who value security over speed, NordVPN is one of only a few providers to offer this functionality.
Tor over VPN
The Tor over VPN (or Onion over VPN as NordVPN terms it) feature allows users to connect to a NordVPN server, and then the Tor network, before finally reaching the internet.

NordVPN achieves this using an OpenVPN configuration file which transparently routes your data from the VPN tunnel to the Tor network. This means that your entire internet connection benefits from Tor over VPN.
This setup does offer some privacy and security advantages, but a similar effect can be achieved simply by using the Tor Browser while connected to the VPN. Crucially, such a setup is much more secure than the method offered by NordVPN.
Tor over VPN (however you choose to set it up) will seriously slow down your internet speeds as you get the combined hit of using both the Tor network (which is very slow) and the VPN.
XOR Obfuscated Servers
An "obfuscated" server is one that's designed to hide the fact you're using a VPN at all. These servers use the XOR encryption algorithm to defeat VPN censorship blocks put into place by authoritarian governments.
NordVPN has obfuscated server locations in several counties, including the USA, Canada, the UK, Germany, Netherlands, Sweden, Hong Kong, Singapore, Turkey, the UAE, and Egypt.
XOR is often used by malware to hide from detection, but it also works just as well for hiding VPN traffic! This means users in places such as China and Egypt should be able to freely access the open internet by connecting to one of NordVPN's obfuscated servers.
Threat Protection
Threat Protection is a new NordVPN feature, superseding their previous CyberSec offering. Threat Protection is designed to protect you against web trackers, malware-riddled websites, files filled with virus, trojans, and even malicious web adverts.
While Threat Protection isn't as fully featured as a dedicated antivirus or malware tool, it's a solid add-on to an already impressive VPN suite – and there's absolutely no reason not to run it on your system.
Auto-connect
With auto-connect, your VPN will automatically establish a connection to a server whenever you join a Wi-Fi network. It can be configured to auto-connect to a NordVPN server when joining both secured and unsecured Wi-Fi networks, and users also have the option to choose a protocol and server for themselves, or let the VPN handle it automatically.
The VPN market is becoming increasingly competitive, with the result that many providers are becoming very generous with the number of devices they allow to connect at once. Permitting up to six simultaneous connections, NordVPN has joined this trend.
If you connect devices to the same server, you must choose different protocols for the VPN connections. OpenVPN TCP and UDP are counted as different protocols, so you can connect one device using TCP and another using UDP. We do not consider this to be a major limitation,
Unlike some providers, this VPN allows torrenting on all its servers, although it does not support port forwarding. It also doesn't support port selection, so you can't specify OpenVPN to run over TCP port 443 in order to bypass VPN censorship. This should not be necessary, however, as NordVPN offers XOR obfuscation instead.
NordVPN's use of mixed bare metal and virtual servers is not a big issue for us, although as with other VPN services, we do wish it clearly labeled which are which so that users can make an informed decision about the servers they connect to.
WireGuard
NordLynx is NordVPN's custom version of the popular WireGuard protocol. WireGuard itself is lightweight, but cryptographically secure, and widely regarded as the future of VPN protocol technology. It should be noted that whatever its merits on paper, OpenVPN has been around for longer and is still regarded as the default choice of VPN protocol out there.
The Linux version of WireGuard recently exited beta and is to be included in all future Linux kernels. This bodes well for the protocol, but on all other platforms, it remains in beta, and should therefore be regarded as experimental. OpenVPN or IKEv2 are still recommended for maximum privacy.
One of the biggest mooted advantages of WireGuard is that it is faster than most other VPN protocols. We put this to a quick-and-dirty test using speedtest.net, connecting to nearby VPN and test servers (showing download results only):
No VPN: 126.48 Mbit/s
OpenVPN: 63.49 Mbit/s
IKEv2: 70.8 Mbit/s
NordLynx: 76.88 Mbit/s
So that's a clear win for WireGuard!
Smart DNS ("Smart Play")
Smart DNS is a technology that enables you to pretend to be elsewhere by resolving DNS requests at a specified location. This makes it an ideal VPN for streaming geo-restricted content.
According to NordVPN, users can access over 150 streaming services using NordVPN Smart Play. These include Hulu, Amazon Prime, ABC Go, Zattoo, Cartoon Network, Shudder, WeTV.com, Telemundo, VH1, Vevo, TNT Drama, Sundance.tv, StarTrek, Spike, PBS, Slacker, NBC Sports, FoodNetwork, DramaFever, Discovery, Crackle, and many more. We tested it with US Netflix from the UK and BBC iPlayer from Hungary and we were able to unblock them.
NordVPN's implementation of Smart DNS is unusual. For a start, it uses an encrypted proxy connection. We are not sure what advantage this brings over an unencrypted connection, as Smart DNS is not really about security or privacy. On the other hand, though, it can't do any harm.
For a second, it requires no additional configuration. It runs inside all NordVPN's apps (we are told), and when you are connected to a VPN server, it detects whether the streaming service requires additional DNS routing. In practice, this meant that we could watch US Netflix even when connected to a non-US server.
One downside of this setup is that you cannot configure NordVPN's Smart DNS to run on devices that cannot run a VPN client: such as your smart TV, games console, or Roku.
Diskless RAM servers
As of October 2020, NordVPN has finished transitioning its entire server pool to diskless RAM servers.

This is a great move from a security and privacy standpoint, as it ensures no user data persists on a server once it has been rebooted. Booting from a read-only disk also helps to prevent security issues from developing and persisting in servers.
Nord Teams – for Businesses
NordVPN has released a business edition of its VPN service that is aimed at teams. The service provides access not only to traditional pass-through VPN servers for spoofing your location, but can also be set up as a VPN intranet to provide access to business LAN and cloud resources. It is a highly versatile and customizable business VPN for teams that can be set up depending on the needs of individual businesses.
Meshnet – connections revolutionized
Meshnet is NordVPN's latest feature that has a huge potential for revolutionizing the way we manage our connections with other (remote) devices.
Same as a VPN, it allows you to access devices via encrypted tunnels and guarantees private connections. Unlike VPN, Meshnet doesn't route your traffic through a server but enables you to connect directly to other devices – regardless of how far they are. For example, even if you travel to a country in Asia, you can still access the computer you left at home in the US. Just imagine having this peace of mind!
This feature is powered by speedy and secure NordLynx (described in more detail above) and it's further enhanced with other privacy solutions so that top-grade security for all your connections is ensured. Best of all – no configuration is required, Meshnet works like magic as soon as you enable it on your and your colleagues'/friends' devices. You can use it to:
Gain access to remote devices – if you always dreamed of traveling light, but it was never possible with all the technology you own and need on your trips, now you can finally do so. With Meshnet, the only device you'll need is your mobile phone through which you'll be able to access all your other interconnected devices.
Enhance your gaming experience – hosting and joining virtual multiplayer parties becomes very easy, thanks to Meshnet. It works as your virtual encrypted LAN, so you can share IP addresses or host a server for your gaming squad, without worrying about the physical distance between you.
Completely reshape your group projects – Meshnet is probably the easiest and safest way to share your files when working on team projects. Project leaders/managers can create their local web server, which others can access securely in a blink of an eye.

Meshnet allows a whopping 60 connections (10 on your devices and 50 on external ones), plus it's super easy to use. All you need to do is enable this feature through your updated NordVPN app on all the devices you're planning to use, and then select your connections whenever and wherever you need them. For external connections, you just need to send an invitation to the other NordVPN users and then use their unique Nord names or IP addresses to connect.
Other stuff
NordVPN is the only VPN service we know of to offer a transparent and public bug bounty program. It is a founding member of the i2Coalition, which aims to improve standards and improve consumer trust across the VPN industry.
The NordVPN desktop apps have a system kill switch. The Windows VPN app also features a per-app kill switch. The iOS app features a kill switch. They all provide IPv4 and IPv6DNS leak protection, plus WebRTC leak protection. As we have seen, in our tests, these features all performed well (IPv6 WebRTC leak on the OSX OpenVPN client excepted).
NordVPN privacy and security
Check out the table below to see how NordVPN compares to its competitors when it comes to privacy and security features.
| | | | |
| --- | --- | --- | --- |
| | NordVPN | ExpressVPN | Private Internet Access |
| Kill-switch | | | |
| Obfuscation (stealth) | | | |
| IPv6 leak protection | | | |
| WebRTC leak protection | | | |
| Bare-metal servers? | | | |
| Self-hosted DNS | | | |
VPN Protocols and Encryption
| | | | |
| --- | --- | --- | --- |
| | NordVPN | ExpressVPN | Private Internet Access |
| PPTP | | | |
| L2TP/IPSec | | | |
| SSTP | | | |
| IKEv2 | | | |
| OpenVPN | | | |
| WireGuard | | | |
| Catapult Hydra | | | |
| Shadowsocks | | | |
NordVPN can be configured using the most common VPN protocols. OpenVPN is used by default in its Windows and older OSX clients, but its iOS and new macOS VPN app use IKEv2 and WireGuard instead.
Both are solid protocols: OpenVPN is much more battle-tested than IKEv2 from a security standpoint, but IKE2 is also considered very secure and is faster than OpenVPN. NordVPN uses the following encryption settings for OpenVPN connections:
Data channel: an AES-256-CBC cipher with HMAC SHA256 hash authentication.

Control channel: an AES-256-CBC cipher with an RSA-2048 handshake and HMAC SHA256 data authentication. Perfect Forward Secrecy (PFS) is provided by a DHE-4096 key exchange.
This is a very strong setup designed to keep you safe.
NordVPN's iOS VPN app uses IKEv2 with an AES-256-GCM cipher and HMAC SHA2-384 data authentication. PFS is provided by a DHE-3072 exchange. The Mac App Store software uses IKEv2 with Cisco's NGE (Next Generation Encryption) protocol.
NordVPN Logging Policy
NordVPN promises to keep no logs at all:
NordVPN does not monitor, store or record logs for any VPN user. We do not store connection time stamps, used bandwidth, traffic logs, IP addresses.
What's more, its logging policy has been verified by two independent audits by a third-party Swiss CyberSec firm. This gives us a lot of confidence in what NordVPN is doing and is one of many reasons why we often recommend them to our readers.
Jurisdiction
NordVPN is based in Panama, which has a completely uncensored internet and zero government surveillance. It is also comfortably outside the direct influence of the NSA and GCHQ. The simple fact that this provider is based in Panama makes it one of the best choices available for privacy fanatics.
There has been a great deal of speculation on the internet of late about NordVPN ties to Lithuanian infrastructure provider, Tesonet.
Independently Audited
Since NordVPN is a closed-source VPN, it's difficult to trust the company when you only have its word that it is doing the things it says. Fortunately, Nord realizes this, which is why it has reached out to third-party cybersecurity firms to audit its applications and its no-logs policy.
In 2018, NordVPN partnered with PricewaterhouseCoopers AG Switzerland for the first evaluation of its no-logs policy. Of course, things can change over the years, which is why Nord has continued this partnership into 2023, allowing PricewaterhouseCoopers to conduct a second analysis of its Standard VPN, Double VPN, Obfuscated (XOR) VPN, and P2P server configurations.
What was true then is true now. We do not, nor will we ever, monitor your internet activity for any reason.
In an effort to prove its trustworthiness, NordVPN even entered into a "strategic cooperation" with VerSprite in 2019. The CyberSec company conducted a comprehensive audit around Nord's various VPN applications, keeping them all up to scratch.
Website tracking
The NordVPN website uses a number of trackers, but these seem fairly benign and non-invasive. Importantly, there are no Google Analytics or Facebook trackers.
Please check our VPN review process overview for a discussion on website tracking.
Payment processors
All card payments are handled by a company called CloudVPN, which is based in the United States. NordVPN explained the situation to us:
Being based in Panama has a downside. It complicates our ability to sign our apps, place them in stores and process our payments. Therefore, we've established a proxy-based in the US, which in a nutshell acts only as our payment processor and has nothing to do with the actual service... It's not a third-party company, it's under our control, and we use it to process our payments. In short – we handle payments ourselves, just through another company.
PayPal payments are handled by another third-party payment processor called Paddle, who is based in the UK.
What streaming services does NordVPN unblock?
NordVPN is a service that works tirelessly to keep providing access to popular streaming services. Unblocking streams is one of its primary selling points, and for this reason, it ensures that users have access to both VPN servers and a Smart DNS feature (called Smart Play) that is there to catch the slack if one of its VPN servers is temporarily blocked by Netflix (or any other stream provider). SmartDNS services are also great for unblocking content on devices like Smart TVs or consoles, as you can't download a VPN directly onto them.
In our tests, we were able to unblock US Netflix, restricted YouTube videos, BBC iPlayer, Amazon Prime, and more without any issues on Windows. Unblocking the same services on Mac proved to be more difficult. There are two Mac clients, which is a little confusing. We were able to unblock Netflix using their older Mac OSX OpenVPN client, however, we couldn't access US Netflix using its new macOS IKEv2 app.
We also had issues when trying to unblock Netflix and iPlayer using NordVPN's Firefox add-on.
How fast is NordVPN?
To test VPN speeds we use our rigorous testing methodology. This involves testing the speed of all market-leading VPNs regularly. We recently updated our speed testing algorithm to account for VPN services like NordVPN – whose software selects the best possible server automatically to provide faster speeds to users. This provides a much fairer comparison between this kind of setup and services that load-balance across a number of servers at a given location.
As you can see from our tests, NordVPN is a remarkably fast service that provides superb burst (max) speeds and outstanding averages. This means that NordVPN is ideal for streaming in 4K and doing other data-intensive tasks like torrenting.
We decided to test the OpenVPN connection a bit more and found the results were definitely location-dependent. We found many European servers to be faster than local UK ones even though they were physically closer to us. This could be because of added congestion on those servers.
We did also have a little trouble connecting to some servers (most notably ones in the Netherlands), but this is likely to have been a temporary issue. As far as reliability is concerned, we had no disconnections during our tests, which is great.
Testing for IP Leaks
We didn't find any IP leaks in NordVPN's Windows client or the new macOS IKE2 client we detected. This means that our location was kept private when visiting websites. The table below shows the results of our tests.
| | |
| --- | --- |
| ProPrivacy.com SpeedTest (average) | 85.9 |
| Performance | 9 |
| Reliability | 8 |
| Speed | 568.0 |
Using the older OSX OpenVPN client, though, we detected an IPv6 WebRTC leak. So, if you are a Mac user with an IPv6 connection, you should use the IKEv2 client, disable IPv6 on your system, or disable WebRTC in your browser (all easy to do).
Ease of use
NordVPN provides custom GUI apps for Windows, macOS, Mac OSX, Linux, iOS, Android, FireStick and has browser extensions for Chrome and Firefox. If you're a Linux user then you should be aware that it only offers a command-line OpenVPN client for Linux. It also provides manual setup guides for all these platforms, plus Blackberry 10, Chromium, and various routers and NAS. These guides look a little on the bare-bones side, but should work well enough.
It is also possible to purchase a pre-configured NordVPN router from .
Here's a quick demo of their service below; this is a screen recording of the OpenVPN Mac app. However, the appearance of the apps for Mac and windows are very similar.
Nord Demo
The NordVPN Windows client
The NordVPN app home screen is shown below.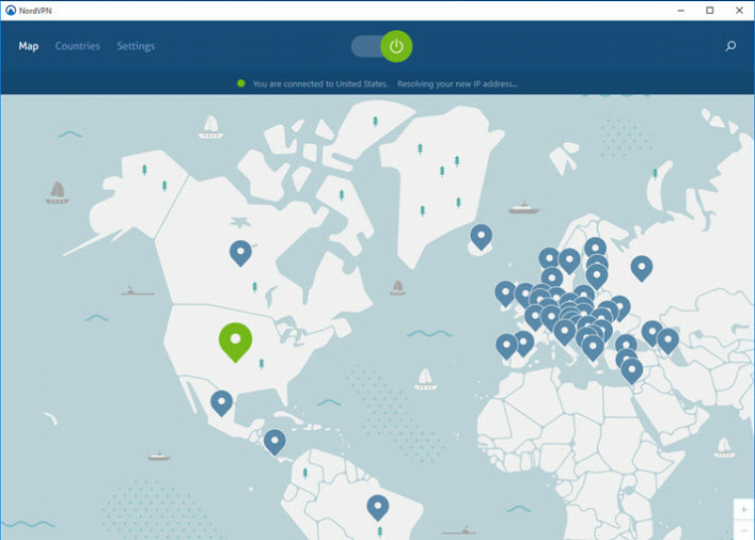 The map makes the service really easy to use and if you're a VPN newbie you might find the Connection Wizard (bottom left) handy.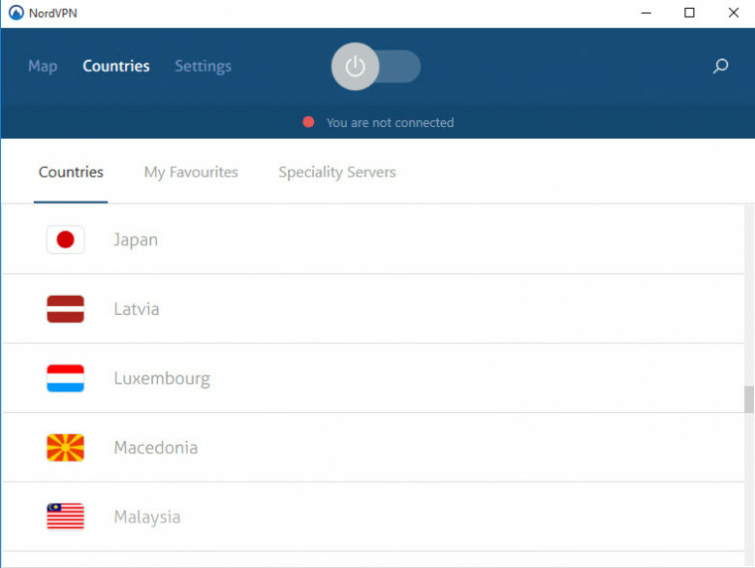 As we have already seen, there are lots of servers to choose from. These include many specialized servers.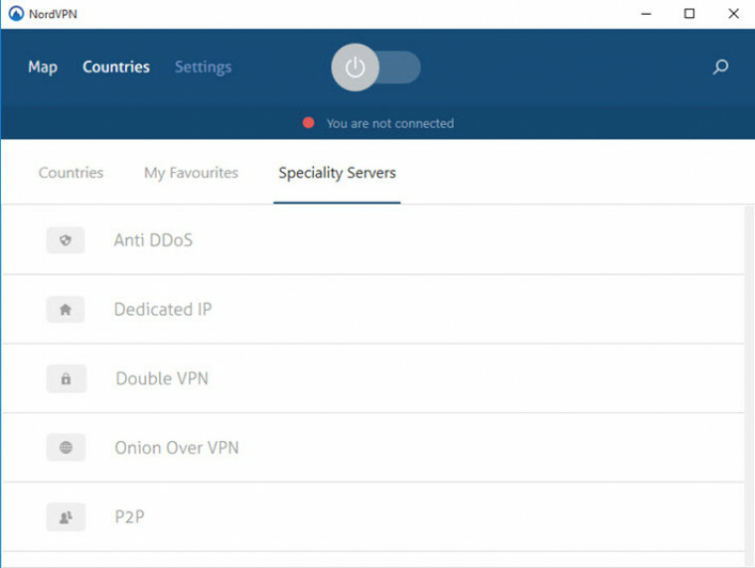 There is a per-app kill-switch. You can choose which apps will be shut down in the event of a VPN disconnection. This is very handy, but note that it is not a firewall-based kill switch. So if the NordVPN client itself crashes, the specified apps will not shut down, and can continue to access the internet.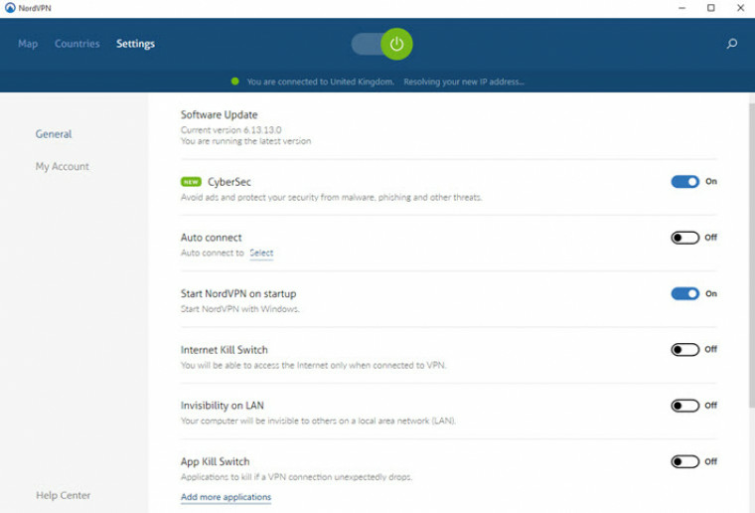 DNS leak protection is enabled by default
The NordVPN Windows client, then, is very fully featured, looks good, and is easy to use.
NordVPN's Mac clients
NordVPN offers two Mac clients: the older OpenVPN client for Mac OSX, and the newer IKEv2 client for macOS. The newer app is available to download from the App Store.
The older client features a kill-switch, which the newer one doesn't, but we detected a WebRTC IPv6 leak in the older app, which we didn't in the newer one. The older app also allows you to switch between OpenVPN UDP and TCP, which can be useful for defeating modest VPN blocks.
Neither app, sadly, offers split-tunneling on Mac, but other than that there's support for all the most crucial features, even NordLynx. It's just a shame Nord expects you to run two different clients to get the full suite of features.
Now compatible with the M1 chip!
With the launch of the latest version of the app, NordVPN now runs natively on M1 Macs. This means you don't have to worry about your VPN becoming a drag on your processor – some VPNs aren't built to work on the M1 chip and they can put significant strain on your Mac if you use them. Fortunately, Nord put the user first when updating the app:
We reworked the NordVPN app to run natively on M1 Macs, which will optimize app performance and user experience for users with newer devices. Additionally, when reworking our app to run natively on different operating systems, we kept in mind the switchover process and maintained the user at the forefront of our minds.
NordVPN's Android and iOS apps
The NordVPN Android and iOS apps are very similar in terms of appearance and the feature offered. The iOS app, however, does not offer OpenVPN encryption as standard. Instead, it has IKEv2 and WireGuard. There are guides on NordVPN's website if you want to configure OpenVPN manually.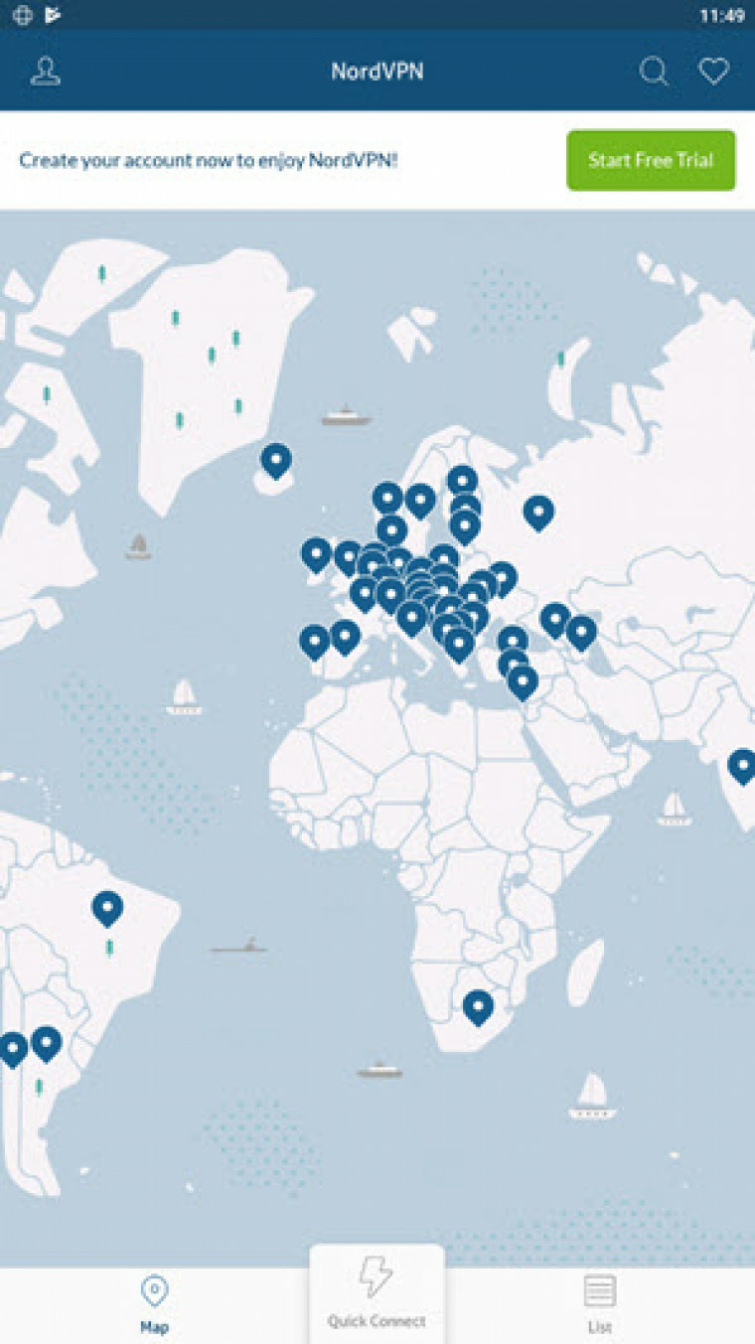 The apps look remarkably similar to the desktop clients, which is a good thing.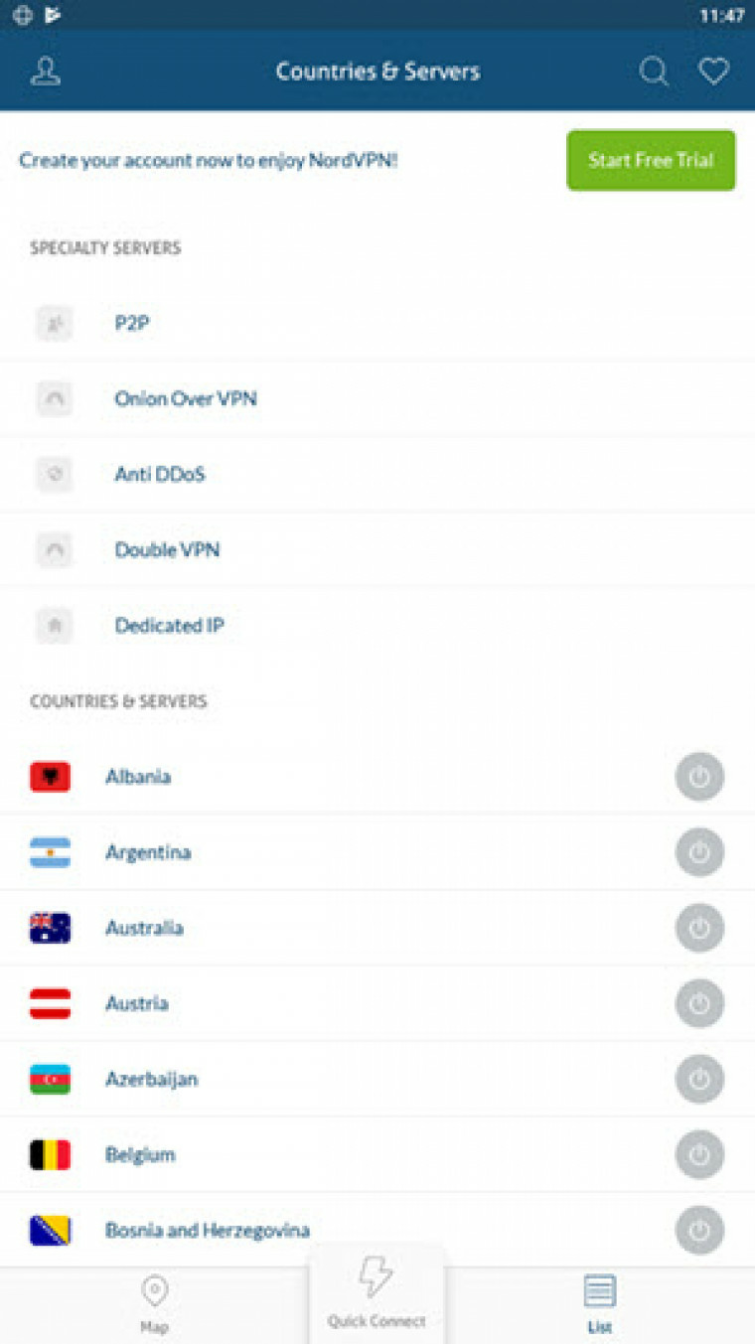 I detected no IPv4 or WebRTC leaks while using either app, but please bear in mind that I can't test for IPv6 leaks on mobile platforms at this time.
NordVPNs browser add-ons
The Chrome and Firefox apps connect to NordVPN's HTTPS proxy servers. They provide many of the benefits of a true VPN but limited to just the browser. These include spoofing your real location and encrypting your internet connection so that you cannot be spied on. Which can be very handy!
You need a full NordVPN account to use its browser add-ons.
NordVPNs customer service
24/7 customer support is provided via a ticket system (webform), Facebook, Twitter, or email. A live chat option is also available. When I contacted support via live chat, I usually received an instant or very quick response.
In the past, I have found the quality of its support to be somewhat uneven, but NordVPN seems to have upped its game of late. When testing their customer service recently, NordVPN customer support team provided fast, detailed, and knowledgeable responses to our questions.
A small knowledge-base plus various setup tutorials are also available on their website. A regularly updated blog discusses internet security issues in general, plus NordVPN-specific topics.
Check out the table below to see how NordVPNs customer support compares to competitors.
| | | | |
| --- | --- | --- | --- |
| | NordVPN | ExpressVPN | Private Internet Access |
| Money-back guarantee | | | |
| 24-hour support | | | |
| Live chat | | | |
| Money-back guarantee length | 30 | 30 | 30 |
| Free trial | | | |
Conclusion
NordVPN offers a fully-featured service. The fact that it is based in Panama and keeps no logs is a big draw for those who care about privacy, and its software looks good and performed very well in our tests.
Speed performance is an issue that has plagued NordVPN since it was launched. However, after implementing our new test algorithm, it did produce better results – with some fairly decent average and max burst speeds. This puts Nord in the top half of the industry and makes it much more competitive than it used to be. Let's hope it keeps this up.
The 30-day money-back guarantee gives you plenty of opportunities to ensure that everything works for you as it should. What you get with NordVPN is a very fully featured, privacy-friendly VPN service with decent speeds and the ability to access restricted content on major streaming platforms such as Netflix.
Overall, we recommend NordVPN! But if you're still not sure, why not compare NordVPN and ExpressVPN side-by-side?
8 User Reviews
Leave a Review
Thanks for your review!