Alternative Choices for You
Price
Like the majority of competing services, Private Internet Access can be purchased in various subscription plan lengths. Each plan offers the same functionality and differs only in that the price becomes cheaper for users who commit for a longer period of time.
What's more, the service has recently lowered its prices a little making it even more competitive than it already was, this is great for both existing customers coming up for renewal and new subscribers looking for the best possible deal available.
At $9.95 for a single month, Private Internet Access is an averagely priced service. This is neither an expensive nor cheap price tag – subsequently, anybody can make use of this VPN on vacation without breaking the bank.
The VPN stands out from the crowd thanks to its yearly subscription plan. Costing $39.96, the plan works out at just $3.33 per month. This is a surprisingly low price considering the caliber of PIA's service.
For those who'd rather subscribe for a 24-month period, a $64.56 yearly plan is available. Currently, Private Internet Access is offering an additional two months free when you subscribe to this tier, which works out at a reasonable $2.69 per month.
PIA now also sells dedicated static IPs. This option allows you to use an IP address that is solely reserved for you. It costs $5 per month when purchased with a two-year contract. As a result, this is an extremely cheap way to get a dedicated IP (particularly when compared to the cost of getting one from an ISP).
Payments
PIA subscriptions can be purchased by credit card, PayPal, and several online payment systems. Subscribers can also opt to pay with a variety of gift cards including Starbucks, Best Buy, and Walmart. This is great for paying with added anonymity (you could also sign up with a burner email). In addition, PIA accepts Bitcoins for those who prefer crypto.
If you like the sound of PIA and want to give it a test run, the firm provides a solid 30-day money-back guarantee period. This allows you to test the VPN risk-free for an entire month. This is a vast improvement on its previous 7-day VPN trial period and is a big thumbs up to the new owner, Kape Technologies.
Overall, we can't stress how cheap PIA is when purchased with a yearly subscription. Considering the improvements PIA has made in terms of unblocking content, the price is definitely a winner. (It is also worth noting that PIA sometimes has seasonal special offers that bring the price down – so it's well worth clicking through to the site to see which discounts are currently available).
Unblock Netflix?
As of September 2021, Private Internet Access unblocks major streaming providers such as Netflix and BBC iPlayer. As well as unblocking the US library (let's face it, that's what most of us are after), the provider also successfully unblocks Netflix UK, Germany, and Japan.
All in all, PIA is considered an outstanding option for anyone looking for a Netflix VPN. And, considering the cost of a PIA subscription, it's a service that's definitely going to win over a lot of customers.
Features
| | |
| --- | --- |
| Simultaneous connections | N/A |
| Total servers | 3386 |
| Server locations | 84 |
| Routers supported | |
| Split-tunneling | |
| Number of countries | 84 |
Private Internet Access is a well-rounded provider that comes with an impressive roster of features.
Users can take advantage of up to 10 simultaneous connections, and Private Internet Access is compatible with all platforms – Windows, macOS, Linux, Android and iOS. There are also browser extensions available for Chrome, Firefox and Opera.
Private Internet Access has recently expanded its server network. Currently, there are 20,000 servers in 74 locations – they're all quick (read on for more details), with unlimited bandwidth, and Private Internet Access offers obfuscation/stealth servers, too.
In fact, the service comes with a generous amount of encryption options inside the app. Private Internet Access is also a no-logs provider, and lists server counts, locations, and bandwidth stats on its website. Users can also select each individual VPN server and do a speed check to see how it is performing.
Other outstanding features include:
P2P Torrenting permitted

OpenVPN encryption by default (apart from on iOS)

Auto-detect fastest server

SOCKS5 proxy

Shadowsocks proxy

Kill-switches on all platforms

Port Forwarding

Split tunneling

Auto-connect feature

PIA Mace feature to block domains that serve ads, trackers, and malware

Dedicated IPs ($5 per month extra)
Speed and Performance
| | | | |
| --- | --- | --- | --- |
| | Private Internet Access | ExpressVPN | NordVPN |
| ProPrivacy.com SpeedTest (average) | 62.2 | 100 | 85.9 |
| Reliability | 8 | 9 | 8 |
| Performance | 8 | 10 | 9 |
| Speed | 254.93 | 100 | 568.0 |
We monitor VPN speeds regularly using our rigorous testing methodology. We check VPN IP addresses in Hong Kong, Australia, the UK, and the US for max speeds and average download speeds. Below, you'll find our test results for the months of July through September 2023.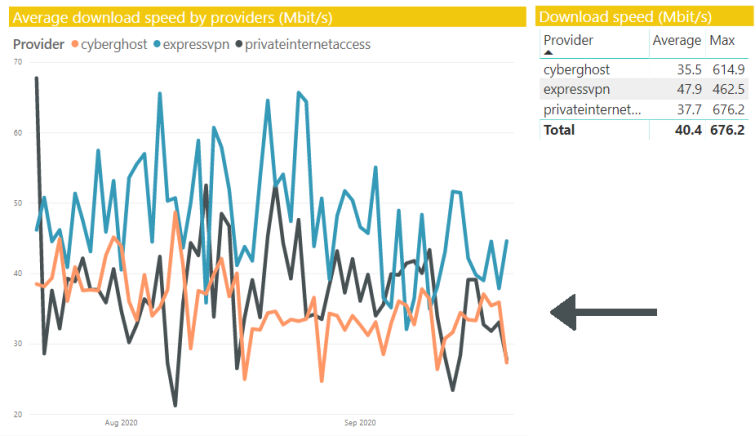 An average download speed of 37.7 Mbps is more than adequate for streaming – so you won't encounter frequent buffering or hiccups on your next Netflix marathon. PIA's max download speed reaches 676.2 Mbps, surpassing even ExpressVPN – a provider known for its lightning-fast speeds.
These download speeds will allow you to stream content in HD and do other data-intensive tasks such as gaming or video conferencing. Thus, PIA is now consistently one of the fastest VPNs available on the market.
Leak tests
| | |
| --- | --- |
| ProPrivacy.com SpeedTest (average) | 62.2 |
| Reliability | 8 |
| Performance | 8 |
| Speed | 254.93 |
We tested PIA for leaks using our industry-standard VPN leak testing tool. Our tests revealed that PIA is a solid VPN that suffers from no IPv4, IPv6, WebRTC, or DNS leaks. These are perfect results.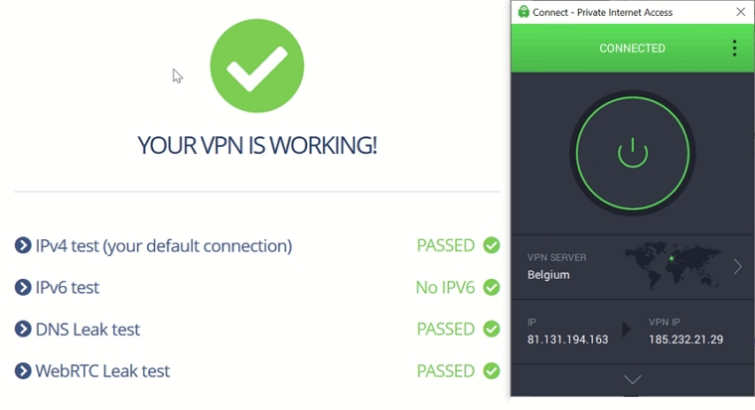 No leaks were discovered on Mac or Windows when testing on an IPv6 connection, and IPv6 was disabled automatically by the VPN software to ensure that there are never any leaks to worry about.
It is also nice to see that PIA VPN has a kill switch on all platforms – making this VPN more than trustworthy enough for people who want to torrent.
Privacy
| | |
| --- | --- |
| Kill-switch | |
| Obfuscation (stealth) | |
| IPv6 leak protection | |
| WebRTC leak protection | |
| Bare-metal servers? | |
| Self-hosted DNS | |
Being based in the US is not ideal for a privacy service. The US government enforces warrants and gag orders that can be used to force US-based companies to provide them with all the data that passes through their servers.
To counteract this, PIA has a zero logs VPN, so it has no records about what its subscribers do when connected to the VPN. This means it has nothing to supply US authorities, even if it is approached.
Admittedly, it is possible that the US authorities could serve PIA with a warrant and gag order to store logs. This might be a concern depending on your personal threat model. However, it is worth noting that PIA is one of the few VPNs that has proven its no logs claim in court; several times. In our opinion, that makes PIA a VPN provider that deserves trust and respect.
In addition, this VPN permits P2P downloading via BitTorrent, which is generally the sign of a VPN provider that is not concerned about having logs sequestered by the authorities.
Encryption
| | |
| --- | --- |
| PPTP | |
| L2TP/IPSec | |
| SSTP | |
| IKEv2 | |
| OpenVPN | |
| Other protocols | Cisco iPsec |
| WireGuard | |
| Catapult Hydra | |
| Shadowsocks | |
PIA is one of the few VPNs that provides a large number of encryption settings in its clients. And we are happy that PIA has completely removed outdated protocols like PPTP from its clients. Instead, users must now stick to OpenVPN or IKEv2 (on iOS).
Subscribers can toggle through many different cipher strengths for OpenVPN, giving them the power to make the security of the VPN tougher or weaker (to get better performance). The VPN provides everything from strong – to very strong OpenVPN implementation (meaning that it really has no weak settings). And a kill-switch is available on all platforms to ensure privacy is maintained even when the VPN connection drops out.
Below we have included the maximum encryption standards for OpenVPN that are available in the clients:
Data channel: AES-256 cipher, with strong SHA256 for authorization and a handshake of RSA 4096.
Control channel: AES-256 cipher with SHA384 authentication. It delivers Perfect Forward Secrecy with a DHE+RSA exchange for RSA handshakes, or ECDHE+ECDSA for ECC handshakes.
This is extremely robust encryption that will provide military-grade privacy and security for the VPN tunnel. Although having a lot of encryption options may be a trifle confusing for beginners, in reality, it is very easy to set this VPN up (because it comes preset to reasonable standards by default). We think having these extra setup options is one highlight of this service.
Customer Service
| | |
| --- | --- |
| Money-back guarantee | |
| 24-hour support | |
| Live chat | |
| Money-back guarantee length | 30 |
| Free trial | |
PIA's customer service once faced sharp criticism but has since come on in leaps and bounds. Now, a live chat support service is available during US business hours. This is a vast improvement for the VPN, and means that users have access to instant support for a large part of the day.
It's also worth mentioning that PIA has always been extremely reliable – and easy to set up. As a result, people will rarely require help. If you have trouble using the service, you can rely on the email ticket or live chat system. We found responses arrived within a few hours of creating a ticket, which is excellent.
PIA also provides outstanding customer support resources. The website has an FAQ section and a blog that provides interesting news articles surrounding privacy tech and legislation from around the world. Users can access several in-depth guides that are well written and easy to follow.
In conclusion, PIA customers can now expect the sort of customer support that comes with a premium VPN – despite PIA still being a budget-friendly provider.
User Experience
| | |
| --- | --- |
| Android | |
| iOS | |
| Windows | |
| macOS | |
| Linux | |
We found the user experience to be fantastic from the get-go with this VPN. the brand new apps and improved website User Experience show that the VPN is actively seeking to regularly improve its service, and stay at the forefront of the industry.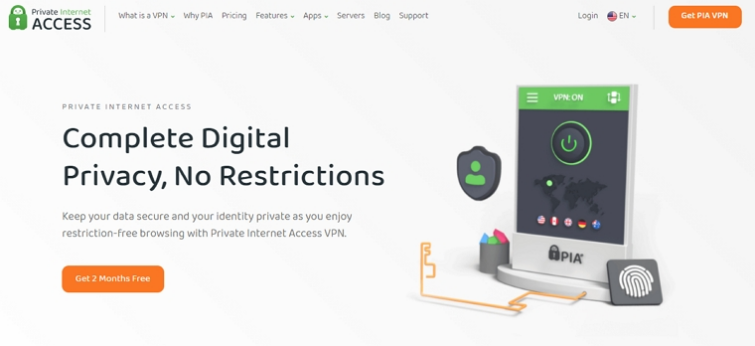 PIA is a provider that actually provides important information about its service on its website; this allows prospective subscribers to get a clear idea of the apps' features and the privacy and security it will provide. This is a breath of fresh air in an industry where important details are often brushed under the carpet.
We are also happy to see that PIA has upgraded its server network infrastructure, which means faster connection times, improved connection reliability, and even better speeds (in a VPN that has consistently had great performance for many years now, this is great to see!)
Where software is concerned, PIA has easy-to-use apps for all popular platforms including Android, Windows, Mac, iOS, and Linux. It also has guides for installing it on a selection of routers (DD-WRT, Tomato, PfSense, LEDE, Merlin, AsusWRT). And, PIA provides setup guides and tutorials for every single platform, which will help beginners to get the VPN set up.
A Shadowsocks proxy can also be configured within the clients to permit users to redirect the VPN connection through an additional location. And a SOCKS5 Proxy can be configured in the member's area of the website and activated in the VPN client. These proxies are great for people living in places like China.
Windows app
The PIA Windows VPN app comes with a Killswitch to stop you leaking data to your ISP should the VPN connection fail. No dedicated obfuscation tech for getting around VPN firewalls is available (Obfsproxy, Stunnel, or XOR for example). However, users can opt to send their TCP traffic over port 443 to disguise it as regular HTTPS traffic. This will allow PIA users to bypass firewalls and/or conceal their VPN use in countries where they are frowned upon.
Newly added to the app this year, users can also find split tunneling and port forwarding, which are useful extras. Split tunneling will let you send some traffic inside the tunnel and some outside of the tunnel. This permits you to use your real IP address for some tasks, while ensuring that the rest of your traffic is safely encrypted in the VPN tunnel at the same time.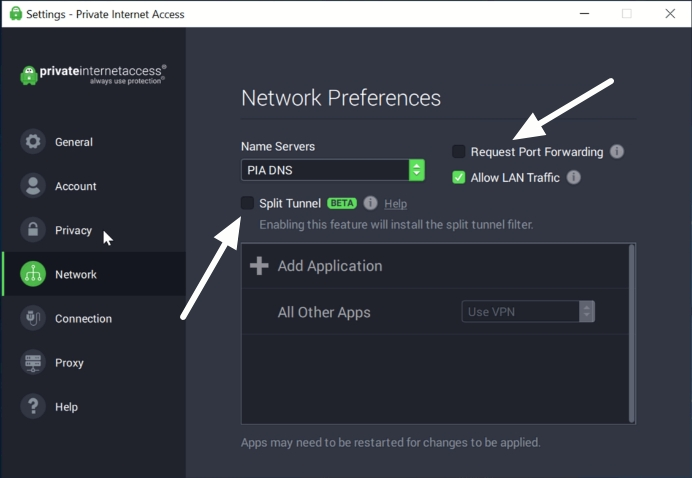 Port forwarding is a fairly rare VPN feature that allows users to improve their torrenting speeds, remote access their PC while away from home, or access personal games or media servers set up on their LAN. The availability of these extra features is excellent considering the cost of this VPN.
Overall we found this VPN client to be stable and reliable. It provides strong OpenVPN encryption, a choice of encryption strengths, and both OpenVPN UDP or TCP. We found speeds to be superb using this client, and it is definitely an ideal VPN for streaming more content, torrenting, or watching US Netflix.
Mac app
We tested the Mac VPN client and found it to suffer no leaks on IPV4 or IPv6. That means that the VPN can provide strong privacy and security straight out of the box. A kill switch is available, and this client provides obfuscation in the same way as its Windows counterpart. This makes the VPN ideal for torrenting, and great for people living in places like China and Iran.
As with the Windows client, the most recent PIA client for macOS provides a lot of customization and gives users access to advanced features such as the SOCKS5 or Shadowsocks proxies, split tunneling, and port forwarding. Port selection is also available to allow users to conceal OpenVPN TCP as regular HTTPS on port 443.
Overall, we found this to be an excellent VPN for Mac that has everything Mac users need to protect themselves both at home and on public WiFi.
Android App
The Android VPN client is very similar to its Windows and Mac counterparts. It comes with all the same privacy features, including the killswitch and a wide choice of encryption options. The auto-connect feature is useful for people who want the VPN to connect every time they use the internet (great for people who move around and use public WiFi a lot, for example).
Users can select between OpenVPN UDP and Open VPN TCP, though we would generally recommend sticking to UDP which provides faster connection speeds. We found the Android app to be stable and speeds did not differ from those experienced in the desktop versions.
We also like that this app has built-in blocking that prevents connections to malicious domains used for ads, trackers, or malware. Other noteworthy features available on Android are:
iOS app
The iOS VPN app provides a choice of either L2TP/IPsec or IKEv2 encryption. Of the two, we generally recommend IKEv2. This is a secure encryption standard that should provide more than adequate protection. For those who prefer OpenVPN, it will be necessary to set up the VPN manually using the third-party OpenVPN connect app for iOS.
PIA for iOS is generally an excellent app that comes with a kill switch to ensure you don't leak unencrypted data to your ISP. It works by blocking any traffic from leaving the iPhone/iPad if the VPN disconnects. Port forwarding is also now available on this platform, which is great.
Overall, we found this to be an excellent VPN client that is easy to use and is good for gaining digital privacy both at home and on public WiFi.
Final thoughts
PIA is a popular VPN service that is often praised by privacy-conscious individuals on Reddit. What's more, it's a quality provider with super clients that can offer robust levels of security.
Unfortunately, being based in the US is not ideal for a privacy service – and PIA's owner, Kape Technologies, has no immediate plans to alter its base. A zero-logs policy, however, should provide enough privacy for 99% of users.
The VPN software is easy to use on all platforms and has the necessary features to protect customer data privacy. PIA also has excellent live chat that is available during US business hours, and it will reply to your emails swiftly if you can't avail of these helpdesk times.
PIA users can expect relatively standard speeds that are ideal for streaming in HD, or other data-intensive tasks. Kape has rolled out a number of improvements since taking over – an impressive feat, seeing as PIA was already a cheap VPN that came highly recommended.
PIA can also unblock Netflix US, BBC iPlayer, Hulu, and a long list of other streaming services. This makes the VPN a great pick for privacy and side-stepping geo-restrictions. In conclusion, PIA is an excellent VPN – and a real bargain considering the quality and quantity of features included in a subscription. We'd certainly recommend taking PIA for a test run by using its 30-day money-back guarantee.
0 User Reviews
Leave a Review
Thanks for your review!