If you want to protect every internet-connected device in your home, then the best option is to use a VPN flashed router. Whether you buy a router pre-flashed with DD-WRT or install it yourself, the open-source firmware lets you access your router's inner settings.
Through DD-WRT, you can protect all web traffic passing through your router, and every device that is connected to it. In this article, we discuss the best pre-flashed DD-WRT routers, and how to install and configure a VPN on your router.
What are the best DD-WRT routers?
Here's a quick look at some of the best DD-WRT routers around. All the routers on this page can be bought pre-flashed from FlashRouters . If you want more information, scroll down for our in-depth analysis.
FlashRouters sell routers with its own customer version of DD-WRT so you can enjoy your new networking capabilities right out of the box. The alternative is to buy from a retailer such as Amazon or directly from the manufacturer, but this will mean you need to flash the router yourself.
A VPN can be pretty taxing on a router, so it's important that you buy a router that will be capable of protecting all of your devices without becoming sluggish and unusable. When considering the best DD-WRT routers, we focused on:
Value for money
Data and processor speeds
WiFi coverage
Privacy
Ease of use
The best DD-WRT router in 2022
Below is a list of the best DD-WRT routers to use in 2022.
What is a DD-WRT router?
A DD-WRT router is a type of VPN router (similar to a Tomato router). Unlike the router you might get from your internet service provider (ISP), which has extremely basic functionality, a DD-WRT router lets you access a whole host of advanced features – including the ability to set up a VPN. Using a VPN with a DD-WRT router provides WiFi that encrypts your internet traffic and protects your devices from snooping ISPs, websites, hackers, and even governments.
However, not every router can be a VPN router. While the DD-WRT firmware itself is not very demanding on a router's CPU, encrypting and decrypting all the traffic passing through it can be. If you don't want to sacrifice internet speed for privacy, then it's worth investing a little extra money in a router that will be able to handle multiple connections without slowing you down.
Why do I need a DD-WRT router?
VPN clients are often installed on individual devices, and this is great for people who like to use public WiFi when they're out and about. However, if you want to protect every internet-connected device in your home, and don't want to have to pay for multiple VPN subscriptions, then installing a VPN on a DD-WRT router can save you both time and money. On top of this, any device connected to it will be automatically protected, meaning even people who visit your home will benefit from the VPN without having to install it on their device(s).
Using a VPN router can have lots of practical uses (aside from providing online privacy and security). With a VPN you can:
Unblock regional content and unblock Netflix libraries from other countries.
Improve your gaming experience by connecting to servers from other regions and avoiding congested and slow servers.
Access restricted content and services that might be unavailable or banned by censoring governments and networks.
Protect internet-connected devices that are not capable of running a VPN (such as smart TVs, gaming consoles and Roku boxes).
Why should I buy from FlashRouters?
We've chosen routers that come pre-flashed for ease of use and faster setup times. Buying a pre-flashed router may cost a little bit more, but can save you from accidentally destroying your router in the flashing process. What's more, FlashRouters even supply dedicated ExpressVPN configured routers, combining a top-shelf VPN with powerful DD-WRT routers. It's great for users who are still quite new to VPNs and want to make sure they're getting the best possible product and service to fit their needs.
On top of this, it offers an outstanding service with massive savings to be made on recertified routers with extended warranties. All of its routers (be it new or recertified) come with a free 1-year warranty, and an optional extended warranty for only a fraction more. We recommend buying a recertified router with the extended warranty to get the best deal. Alternatively, if you already have a compatible router, FlashRouters can do it for you, and its app is compatible with most premium VPNs.
Control everything from one app
When you use a FlashRouter, you can manage your VPN connections and devices from its dedicated Privacy App. It's a simple-to-use interface that gives you full control over your FlashRouter – saving you time and hassle since you no longer have to install your VPN on every device you want to protect. If you want to know more, check out our Flashrouters app review.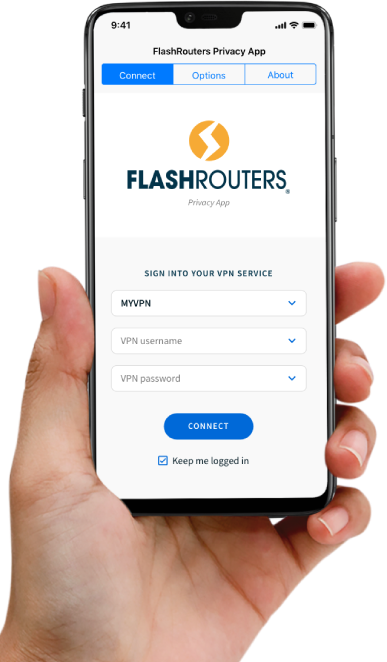 What about a DD-WRT Router For small businesses and workplaces?
Smaller businesses and offices that only have a few internet-connected devices can protect all of them without causing sluggish internet access. It will not only help to secure your employee's web traffic, but will also protect your business from prying eyes. By putting the VPN on the router, you take the onus of privacy out of the employees' hands and can rest assured that your internet traffic is always private and secure.
To get the most out of a small business DD-WRT router, we recommend using the Netgear R9000. It will easily run up to 12 devices at a single time and can provide consistent protection from potential hackers looking to steal company information. If you want to save costs, try buying a recertified router with the extended 2-year warranty. That way you can get the most for your money.
PPTP vs OpenVPN encryption on DD-WRT VPNs
Many DD-WRT routers will use PPTP for their VPN protocol. Unfortunately, this is not as secure as OpenVPN protocol, and (where appropriate) we recommend switching for a more secure VPN. The basic framework for DD-WRT will support OpenVPN, but that does not mean that all routers with DD-WRT are compatible. It's best to check before buying a router, whether it will provide the right support and security for you. If in doubt, head over to FlashRouters, as they're the experts in flashing routers with DD-WRT.
How to install a VPN on a router
Installing a VPN on your router will be different depending on its make and model. However, it should follow this general process:
Download the configuration files (.config) from your VPN provider's website.
Access the control panel for your router through your web browser (for most DD-WRT, the default address is 192.168.1.1).
Go to the VPN client for your router (this will usually be under Services).
Select Enable on the OpenVPN client (this will open the configuration panel).
Add your server and connection details for your chosen VPN. Most providers have guides on how to do this available on their website.
Connect to a VPN server.
After connecting your router to a VPN, any device that uses its local network will be protected by the VPN, and will use that server location. For a more detailed explanation of how to install a VPN on your router, check out our in-depth DD-WRT VPN installation guide.
If manually setting up a VPN on your router sounds too complex, don't worry – FlashRouters has a dedicated app to help you set up your VPN quickly and hassle-free.
DD-WRT VPN: Conclusion
Buying a pre-flashed router is a much easier way of getting a safe and secure WiFi without the hassle. We think that the best router is the one that suits your needs the most for the best deal. That's why we recommend the Netgear R6700 as our top pick for home users. It's fast, powerful, and offers outstanding value for money. If you're looking for something for more than just safe streaming and internet browsing, here's a reminder of our top picks:
FAQs
We've tried to cover as much as we can in this article, but just in case you have any more questions, we've included this section of frequently asked questions: