Using a VPN router is the easiest way to protect all of your internet-connected devices on your home network. With a router-level VPN, you can protect every device on your network without the need to install the VPN on each device individually.
In this article, we discuss the best pre-configured VPN routers and show you how to install and configure a VPN onto a router, if you already have one that's capable.
What are the best VPN routers?
We have listed the best VPN routers below. These routers come pre-configured by FlashRouters, a company that specializes in providing high-quality custom-flashed routers for VPN users. If you would like more detailed information on the routers listed below, please keep scrolling to see our in-depth analysis of each VPN router.
When researching VPN routers we made sure that the routers listed above offer the following features:
Value for money
Privacy
Speed
Wi-Fi coverage
Ease of use
The best VPN routers - In-depth Analysis
We take a closer look at the best VPN routers below. Please take a few moments to read through each summary to see which router will work best for your particular needs.
What is a VPN router?
A VPN router is a router that comes with VPN-ready firmware already installed (also known as flashed). In order to work with a VPN, the router must first be compatible with a specific type of firmware that allows you to encrypt the traffic passing through your wireless router and configured with a VPN on the device (such as DD-WRT). While there are other variants of this technology (such as Tomato), not every router can be a VPN router.
Why do I need a VPN router?
Normally, a VPN client is installed on an individual (internet-connected) device, creating a tunnel around the traffic being sent and received by the device. This increases your online privacy and security by blocking other people from viewing your IP address and internet usage. Doing so hides your online presence from hackers, internet service providers (ISPs), governments, or any other entity looking to steal your data or snoop on what you get up to on the internet. A VPN router can also allow you to unblock regional content on services such as Netflix, Amazon Prime, hulu, and more.
So why put your VPN on your router? Well, installing a VPN onto a router allows you to protect the traffic of any device connected to it, without having to install the VPN on every device separately.
This saves you both time and money, as a VPN router can protect households with lots of internet-connected devices at once. VPN subscriptions usually restrict users to a limited number of simultaneous connections, but a router connection only counts as a single device used, meaning you can protect everything from your smartphone or laptop to internet-connected devices incapable of running VPN software (such as smart TVs, Roku boxes, and gaming consoles).
What to look for in a VPN router
When it comes to using a VPN router, encrypting and decrypting VPN data is extremely processor-intensive (especially if you're using OpenVPN). Most routers would struggle with this task (especially if there are multiple devices connected to it), and this can result in poor internet connection speeds.
Because of this, it is important to look for a router that is powerful enough to handle these connections, without slowing down your internet speed too much. Unfortunately, getting a VPN router that will work to a reasonable standard means you will need to invest extra money in a quality router to get what you need.
Why should I use FlashRouters?
We've opted for routers that come pre-flashed with VPN software as they're much more straightforward to set up and far simpler to use for newer VPN users. FlashRouters offers an excellent variety of options to meet the needs of all users, and its extended warranties and support provide real value for your money. FlashRouters also offers routers configured specifically for ExpressVPN, letting you combine exceptional WiFi with top-of-the-line VPN protection.
When it comes to getting the most value for money with your router, we recommend buying a recertified router with the extended 2-year warranty. This is the same warranty that you can get for a new router, but you can save a lot of money by buying recertified. Alternatively, FlashRouters also offers to flash your router for you.
One app to rule them all
When you purchase a router from FlashRouters, you get a dedicated Privacy App that offers VPN connections and control across all devices instantly. It\'s a great way to save time as it lets you protect your devices without having to install the VPN separately on every individual device you want to protect. If you want to know more about the app, you can also check out our review of it.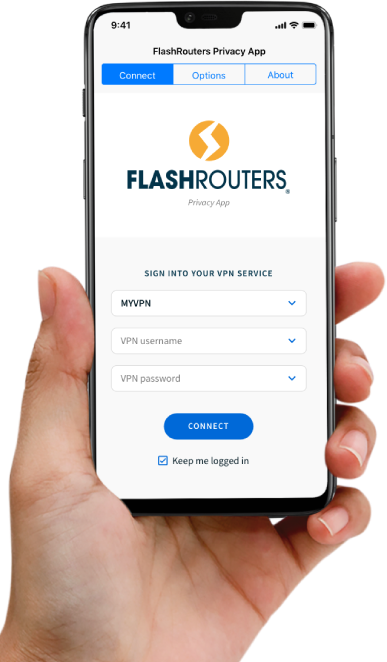 Could I use a free VPN for my router?
We strongly recommend not using a free VPN service for your router for the following reasons:
Free services regularly have data and speed caps, meaning that your WiFi may be slow, and even stop working altogether if your data limit is reached. The speed restrictions may also make using multiple devices impossible.
Encryption from a free service is rarely strong enough to bypass government restrictions and unblock regional content.
Free services regularly sell on user information to generate income. This can be your internet usage, connection data, and even personal information.
Some free services have been known to infect devices with malware.
Free services, such as Hola, turn your device into an exit node, and hijack your bandwidth, meaning your internet speeds may be slower, and someone else could be using your IP address.
If you still want to try a free service, check out our best free VPN guide for a list of recommendations. However, a good VPN service does not have to be expensive, and there are plenty of cheap VPNs that provide router support.
VPN routers for small businesses
If you're running a small business and looking for a VPN router to protect all of your devices and employees at the same time, then we recommend the Netgear R9000 DD-WRT. It has everything you'll need, and its fantastic WiFi coverage can handle up to 12 simultaneous devices without getting sluggish. Opting for a recertified router with an extended warranty will also help you cut costs without sacrificing quality.
How to install a VPN on a router
The process of installing a VPN on your router will differ depending on the make and model. However, the method will usually go as follows:
Download the configuration files (.config). These are available from your VPN provider's website.
Access the control panel for your router through your web browser (for most DD-WRT, the default address is 192.168.1.1).
Go to the VPN client on your router's control panel (this will usually be under the Services tab).
Set the OpenVPN client to Enabled (this will open a configuration panel).
Add your server and connection details for your VPN. Most providers offer guides for this on their website.
Connect to your chosen VPN server.
After you have configured the VPN to your router, any device that is connected to it will use that server location and will be protected by the VPN's encryption. For a more in-depth explanation of how to install a VPN on your router, head over to our out our in-depth DD-WRT VPN installation guide.
Don't forget, FlashRouters has a dedicated app to take the hassle out of installing a VPN on your router, and it comes pre-installed on all of their routers.
Configuring a VPN Router
Some DD-WRT routers that support VPNs will use PPTP protocol. Unfortunately, this is not the most secure protocol, and, for most cases, we recommend switching to OpenVPN protocol. Keep in mind that the basic framework for DD-WRT supports OpenVPN, but that does not mean that all routers with DD-WRT will work with it. If you're ever unsure, it is best to check before buying a router whether it will provide the right support and security for your needs.
Fortunately, many VPN providers supply guides on how to set up your router to use either PPTP or OpenVPN. For the most part, they will follow this general process:
Subscribe to the service that suits you best.
Log in and download the configuration files from your VPN provider's website. Pick your desired geolocation(s) but remember that picking a country far away will result in slower internet speeds. It is best to choose a nearby server for optimal connection speeds whenever possible (depending on what you are using the VPN for).
Downloading the .config files from the provider's website will provide you with a username and password for your router's control panel. Keep it at hand, you'll need it shortly.
In a new tab, access your router by typing in 192.168.0.1 or 192.168.1.1 (if this does not work, have a look on your router's website). You can usually find the password for your router's dashboard on the router itself.
Sign in to your control panel and navigate through VPN > VPN Client > Add Profile.
Select your protocol (in this case OpenVPN) and write a profile description.
Enter your username and password from step 3.
Click on Choose File and add the .config file from step 2.
Upload the file and select OK when it is finished.
Click on Activate next to the profile to connect to that VPN location.
If you want to add multiple locations to your VPN router, simply repeat the process and then activate and deactivate as necessary.
Different Types of VPN Router
There is more than one type of VPN router, but the two most popular are DD-WRT and Tomato. Both have their pros and cons, but to briefly describe them:
DD-WRT
DD-WRT is an open-source, Linux-based firmware project that removes the restrictions placed on routers by their default programming. Flashing your router with DD-WRT gives is a great way to achieve the full functionality of a business-grade router, but without the extra cost. DD-WRT tends to be compatible with more routers and is particularly better for VPN router novices. Check out our DD-WRT routers guide for more details.
Tomato
Tomato is also a Linux-based firmware package for routers. Similar to DD-WRT, it can be used to flash a compatible router and turn it into a VPN gateway (though there are differences between the two). Tomato routers are popular for their real-time network monitoring and fantastic user interface. Check out our Tomato routers VPN page for more information.
Conclusion
If you're looking for a VPN router, it's always best to think about what you need it to do and start from there. Knowing what you need your VPN router to do will make it easier to avoid spending any more money than necessary (and buying recertified can take that one step further). For now, here's a quick reminder of our top picks for VPN routers:
FAQs
While we've tried to cover as much as we can in this article, if something about VPN routers is still confusing you, perhaps this Frequently Asked Questions section can help:
If your question remains unanswered, try our search bar at the top of the page to find more specific articles, or contact your VPN provider/router manufacturer for more information.