Pricing
LiveDrive is a cloud backup service that can be purchased either for personal backup requirements or by businesses for commercial backups. The service offers three different plans for consumers: Backup, Briefcase, and Pro Suite.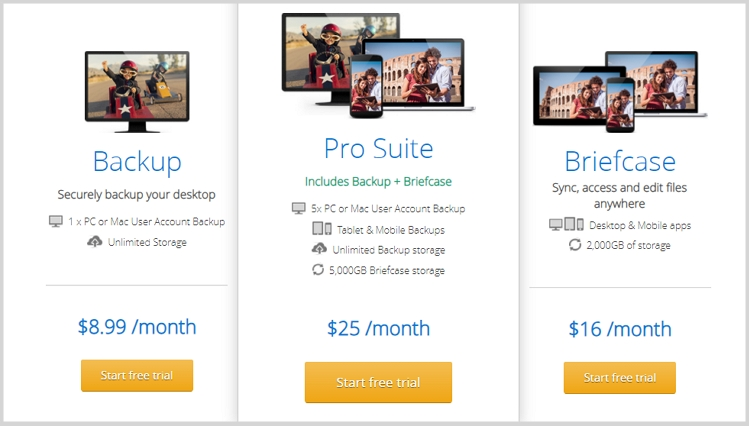 The Backup plan is the most basic of the three options. It costs just $8.99 per month and offers unlimited backup storage for just one Windows or Mac computer.
The Briefcase plan adds the ability to sync between devices and gives you access to the company's full suite of apps. As a result, you can backup and sync across smartphones, tablets, desktop computers, and laptops. It provides 2000 GB of synchronizable Briefcase storage for $16 per month.
The Pro Suite gives you access to both Backup and Briefcase. This makes it the most comprehensive backup solution for those who need to backup from multiple devices and want to be able to sync data using the Briefcase feature. For $25 per month, the user gets access to 5000 GB of storage that can be synced, in addition to unlimited storage for 5 individual machines (including Windows, macOS, Android, and iOS devices).
Business plans
If it is a business solution you are in need of, Livedrive has you covered. The Business Express plan costs $50 per month. It is a suitable cloud backup for a small business in need of backups for 3 users. It can provide 2000 GB of cloud storage for those three users on PCs and mobile devices.
The Business Standard plan increases the number of users to 10 employees and provides 10,000 GB of storage. It costs $160 per month. Those plans are scalable to each individual business' needs, which means that all you need to do is contact Livedrive if you require more storage or users.
Free trial
A 14-day free trial is available for those who want to try the service. However, please bear in mind that you will need to provide your card details in order to access this trial.
You won't be charged until after the 14-day period, and you can cancel without getting charged. However, it is still frustrating to have to provide your payment data simply to trial the service.
We would prefer the company to provide the trial without asking for any data as this would be better for data security and privacy. That said, it is nice to be able to try the service risk-free if you want to.
Features
Apps for iOS, Android, Windows, macOS, and Chrome OS
Web portal to access your Briefcase files
Unlimited backup space (for as many devices as you pay for)
File sharing
File editing from any device (Briefcase)
Briefcase storage with syncing (limited to the space you pay for)
30-day archive of files to restore deleted files or for file versioning
Mobile apps for backing up photos, videos, and other personal data
FTP and NAS backup compatibility
Encryption for data in transit and at rest
Compatible with many file types: documents, spreadsheets, database archives, photos, videos, music, PDFs, zip files, presentations, and websites
Setup
Getting a subscription with Livedrive is easy. Simply head over to its website and pick the subscription plan that you require. After receiving your payment details and information, you will be able to log in to the member's area to download the Livedrive app onto your computer (or mobile device).
Bear in mind that you will be able to use the cloud backup service without being charged for the first 14 days, and if you do not cancel the subscription at the time, you will be charged for the plan that you selected.
We downloaded the Windows version and found it to install quickly and without issues. After launching the app it will ask you for your email address and password, following that you can pick from two different setup types: Advanced or Standard.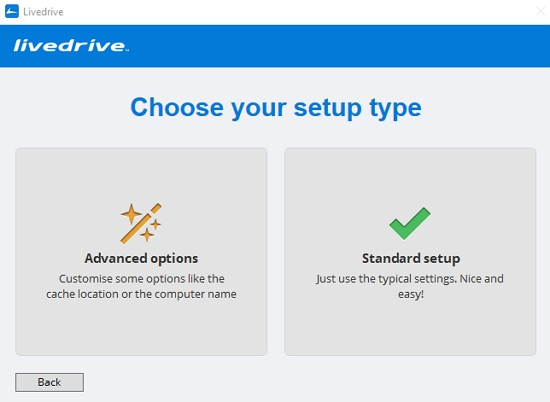 Choosing the standard setup will be fine for most people. However, if you do want to set up your cache location to be different to the default, and you do want to give the computer a name that identifies it in the cloud, then it is worth clicking on advanced.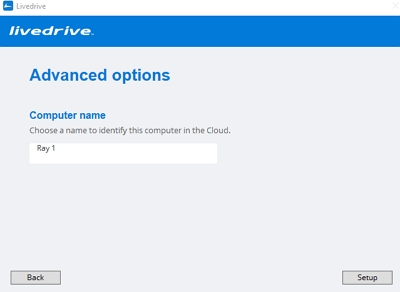 Following that, the application will scan your computer to prepare for you to start your first backup. By default, it will backup user data from your Desktop, Documents, Music, Pictures, and Videos folders.
If you don't want to back up these folders, you can opt to pause the backup and change these settings right away. As a result, you can pick what you prefer only to back up manually.
Ease of Use
Setting up Livedrive to back up your data is easy, and you have granular control over what files are backed up from your system. Most people will want their documents and user files to be backed up, which means that the default backup is a great place to start.
Following that, simply click on Settings and choose Add another folder to back up any other files or folders that are important to you. You can pick from any of the drives inside your computer, as long as you opt to back up file types that are permitted by the platform. To help you out, we have included a list of excluded file types below: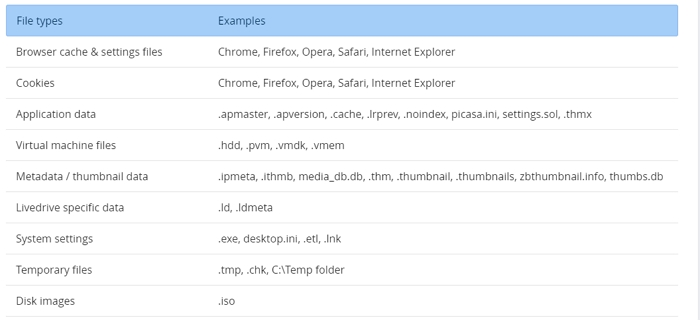 Clicking on Dashboard allows you to keep an eye on any ongoing scan and upload. If you want to pause it for any reason click the button in the bottom right.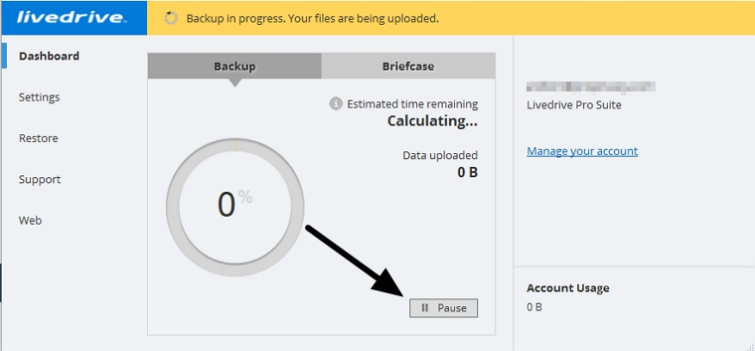 To schedule a scan and backup any files that have changed inside of yoru selected backup folders, all you need to do is to click on Manage Schedule on the backup Settings page. It will let you pick how often you want to scan, whether that be hourly, daily, or anything in between.
To ensure that you are not using the computer when it scans, you can opt to pick a specific time of day for those scans.

To add files to your briefcase, so that you can easily access those files across multiple devices, all you need to do is click on Dashboard > Open Briefcase. This will direct you to the briefcase folder on your device, where you can copy any files or folders that you want to be made accessible via the briefcase feature.
Alternatively, you can find your briefcase by opening Windows Explorer and clicking on This PC. Here you will see your Livedrive Briefcase listed as a drive under Network locations.
The Briefcase is for all intents and purposes identical to a Dropbox folder, so if you know how that works you will understand the Briefcase right away.

For those who want additional security for the contents of their briefcase, the option is there to encrypt it. In addition, the user can as to be prompted for their password each time that they run Livedrive, to prevent anybody without the password from gaining access to the contents of the encrypted briefcase.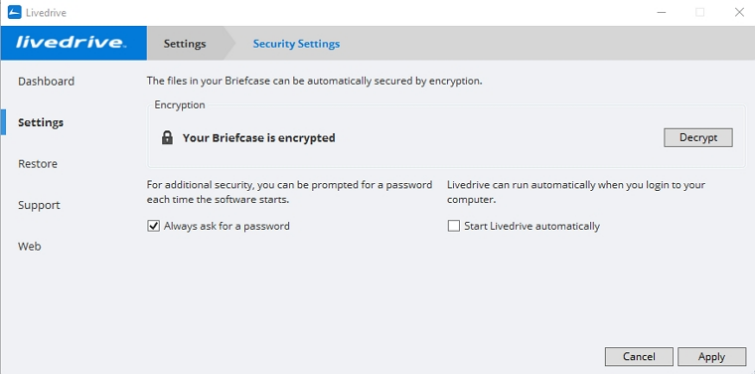 When it comes to restoring your backed-up data, the app makes things extremely easy. Simply click on Restore on the right-hand side and select whether you want to back up from your synced Briefcase or your cloud backup space.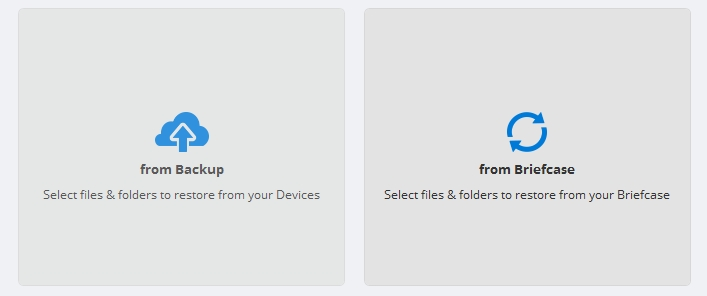 When you come to restore, you can choose to restore a version of a file from a previous day (up to 30 days previously) this allows you to backtrack to a different version of a file if you have accidentally updated or deleted it).
This feature is called file versioning, and it is extremely useful for ensuring you don't overwrite important data or accidentally make a scheduled backup of a version that you have changed by accident.
So, what if anything are the drawbacks? From our experience using Livedrive we have to say that there really is nothing in terms of ease of use that is truly annoying. Admittedly, there is no automatic constant backup option, so you will need to wait for the scheduled hourly backup for the backup to commence.
On the other hand you can easily start a backup manually at any time, so if you have just done some important work and you want the backup to happen now, you can head over to the software to back it up.
Of course if the power goes out in your flat or your computer blows up before a scheduled backup (or manually started backup) you will unfortunately lose your work because there is no option to constantly backup all changes.
Multiple users on a single computer?
It is worth noting that setting up Livedrive on a specific user account on your computer prevents it from being able to back up files belonging to another user.
Thus, if you and your family all have different logins on the family computer, you will only be able to back up everyone's data if they make folders and add their data to a shared user account. According to the company, this is done for privacy reasons.
The option is there to install Livedrive onto another user account on your computer to give each user privacy. However, this will count as another computer on Livedrive's system and will require you to use up one of your five permitted devices (on the ProSuite account).
Advanced settings
The advanced settings page allows you to set up a variety of advanced features. To access it, click Settings followed by Advanced.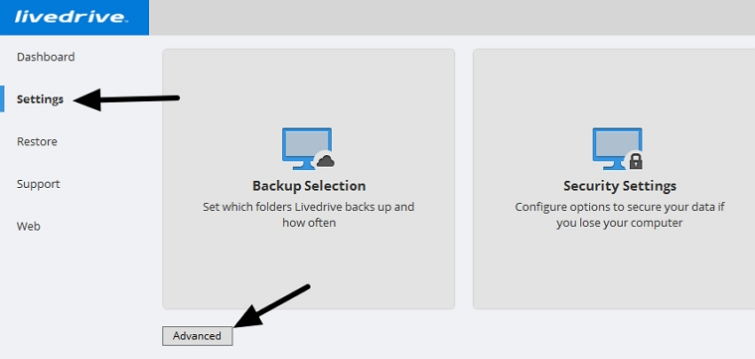 Here, you can alter the priority with which files are uploaded and downloaded from your briefcase. You can set the amount of Bandwidth that is used when uploading and downloading your files, which is useful if you want to save on bandwidth. It is set to unlimited by default so that you get the best speeds possible:

If you don't want certain files or file types to be uploaded to your backup space, you can opt to create manual exclusions. You can manage exclusions either by file type or by folder.
LAN transfers can also be set up in the advanced settings menu. This allows you to automatically sync Briefcase files across computers on a local area network if you want to. Just remember that they will need to have Livedrive installed to perform the sync. You can also exclude specific machines to prevent syncing to them, which is useful.
The proxy setting menu allows you to set up Livedrive to work via a proxy. Users can opt to connect to Livedrive remotely via a SOCKS4, SOCKS5, or Web Proxy. You can choose the port manually and enter the credentials and password for the proxy here.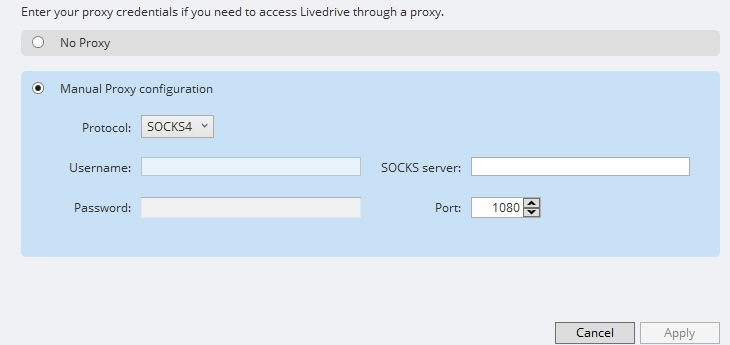 The advanced settings menu also includes an integrity check tool that allows you to compare the files in your backup to the ones on your local drive to ensure that everything is backed up properly.
Finally, you can also turn your Briefcase off here. This will turn off Briefcase on the local machine that you are on, while still leaving your briefcase available online via the web portal.
Livedrive Web portal
The Web portal is available either by logging in on the website or by clicking on Web in the app itself. It allows you to check on the status of your backups and to either restore or sync files (from the briefcase).
Any uploaded photos are placed into a photo gallery, which makes it extremely easy to look through the photos and download the one that you need. This actually makes the backup service a good option for people who often want to share photos with family members or want to send photos to be printed, for example.
It also makes it a pretty good option for professional photographers who want to be able to access their work to share it on social media or to check on their backups on various different machines.
Overall, we found the web portal to be a great addition to the service, it is very easy to navigate and use which makes it great for beginners. We particularly like the shared files tab, which easily allows you to access any files that have been shared with you via Livedrive.
File sharing
To share a file, you will need to go to the Livedrive Briefcase on your computer. Here, right-click the file that you wish to share, click Livedrive and then select websharing. Finally, select Make this item public so that everyone can see it or Share only with people I invite and click next.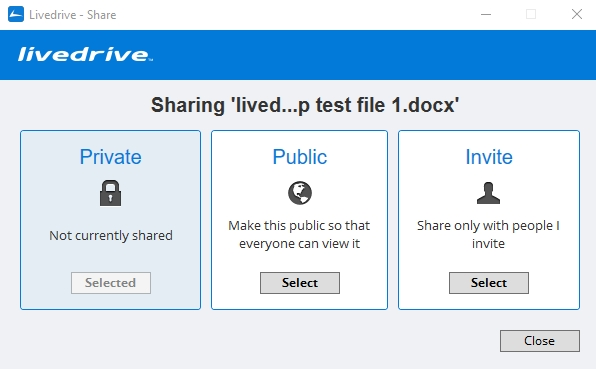 For privacy and security reasons we recommend that you share the file only with people you invite. However, you may want to break this rule depending on what you are sharing and why.
By selecting who to invite the file with, you will be able to add your email address and the email address of the recipient with whom you want to share the file. With the done, simply click Share to send the link invite to that person.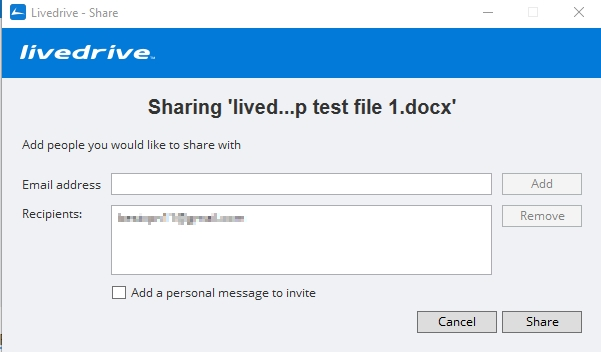 Overall this system works very well. However, please be aware that when we trialed file sharing the invite ended up in our spam folder. So be sure to check there if you don't get the invite in your primary inbox. Following that, simply click the link to be forwarded to the file and download it.
Team folders
We did not actually test a full paid version of the business version of Livedrive. However, you can try the business version for 14 days without actually providing any card details. We thought that was pretty cool, and for this reason we gave it a quick install (and means that any interested SMBs can quickly take the client for a test run).
The stand out features for businesses are the shared team folders. These enable business colleagues to work together, and employers can keep control over which employees get to view and edit files in each team folder (from the control center dashboard).

Android and iOS apps
We installed and tested the Android and iOS apps to make sure that they work in the same manner as the Windows version. We found it to have all the same features and to work the same as its desktop counterpart.
The option is there to exclude backup files, to schedule backups, and to share files. In addition, you can easily restore files via the app and share via the Briefcase from inside the apps.
This makes Livedrive a great option for anybody who wants to perform backups on a mobile device or tablet.
Privacy and Security
Livedrive is based in the UK, which is not an ideal location for a cloud storage service to be located due to the UK's surveillance laws, warrants, and gag orders. This theoretically means that the company could be served a warrant that forces it to provide the government with access to your data.
Admittedly, that would probably only occur if there was reasonable suspicion., so most users should have no real issue with backing up to its UK-based servers. That said, there have been cases of the UK government engaging in mass surveillance for reasons of national security, which inevitably creates some privacy concerns surrounding the British jurisdiction.
Whether you decide to use Livedrive should definitely take this into account, because Livedrive does not provide end-to-end encryption, meaning that it controls access to your vault and all of the data it contains. This means the company always retains the ability to provide the government with access to your data if it is asked to do so.
According to Livedrive's website, its UK data centers are protected 24/7 with physical security and "the latest intrusion prevention technology." This is backed up by the fact that its servers are ISO 27001 compliant, which means that high levels of security are in place that minimizes the potential for threats.
Privacy Policy
We checked the privacy policy to ensure that nothing stands out as concerning. The first thing to note is that the policy mentions GDPR directly, and includes information on the legal basis for data collection and processing. It also provides information for data subjects to enact their consumer data rights. This means that the policy is GDPR compliant, which is a good start.
In terms of data collection and processing, it is worth noting that the service does harvest a reasonable amount of information from you when you use its services.
It also harvests data from third parties and shares data with third parties, including marketing companies for targeted advertising. This is not ideal, however, you can opt-out of some of that sharing for free if you want to (and you should by using the unsubscribe).
Its website will leave cookies on your devices, and it will use those cookies to track you by recording information about your device, your browser, and your preferences and browsing habits.
The firm promises to only keep your data for as long as it needs to, and it claims that it will delete your personal information and identifying data 15 days after you close your account. However, it is worth remembering that this service is based in the UK, and the policy states that:
"We will retain copies of your Personal Data in a form that permits identification only for as long as is necessary in connection with the purposes set out in this Policy, unless applicable law requires a longer retention period"
This could mean that the company will retain data for a longer period if it is compelled to do so via a warrant, for example.
The policy also states that it will share your data in the following ways:
"We may disclose your Personal Data to: legal and regulatory authorities; our external advisors; our Processors; any party as necessary in connection with legal proceedings; any party as necessary for investigating, detecting or preventing criminal offences; any purchaser of our business; and any third-party providers of advertising, plugins or content used on our Sites or our Apps."
As you can see, it will share your data with government agencies and advertising companies if you engage with certain features within its apps and services.
So what data does it hold? The policy reveals that the company will harvest a lot of personal data about its users, this includes personally identifiable information such as names, photos, gender, age, nationality, salutation, job title, and language preferences, address, telephone number, email address, and details of your public social media profile, In addition, it will harvest device level identifiers and location data (IP address).
This is a lot of information that can allow for a large amount of tracking and is definitely on the invasive side.
Technical Security
Livedrive provides encryption for both data at rest and data in transit. For data in transit, it uses secure Transport Layer Security (TLS). We checked the strength of its implementation of TLD using Qualys SSL Labs and found it to score an A. This means that your data is secure against eavesdroppers when it is in transit between your device and the backup servers.
For data stored at rest on its servers, Livedrive implements strong AES encryption in compliance with its ISO 27001 certification. This ensures strong levels of security for data stored on servers. In addition, the company implements obfuscation for all customer file information, which ensures data cannot be linked to a particular account.
That said, it is important to remember that Livedrive does not provide end-to-end encryption for user data. This means that the company retains control of your encryption keys on your behalf, allowing it to access the contents of your data if it needs to (to comply with a legal request or warrant, for example).
The lack of e2ee may be enough to put you off the service depending on your threat model. Certainly, if absolute privacy is important to you, it will be better to subscribe to a service that provides a zero-knowledge framework.
Finally, it is worth noting that Livedrive is a completely closed source platform. This makes it impossible for interested third parties to check the security of its apps for vulnerabilities. That said, we have seen no evidence of Livedrive having been exploited, which is good news.
In addition, Livedrive told us that it does engage in third-party audits to ensure the safety of its apps:
"Across the enterprise, J2 Global has a three-pronged approach toward vulnerability scanning: We employ a third party service to perform internal scanning of our production and corporate networks, surfacing any potential frailty associated with end-of-life software, exposed ports, associated platform and software weaknesses, etc.
"In addition, on a rotating basis, we subject each Business Unit to external penetration testing executed by an independent third party. For both of the preceding, we report any discovered weaknesses to the relevant BU with recommendations for method and timeline for remediation.
"Finally, our Application Security team engages in regular "White Hat" ethical hacking exercises, the results of which are similarly shared with the BU. Recommendations are communicated with the BU to implement rapid remediation of any identified issues."
As you can see, J2 claims to be working hard to detect and repair vulnerabilities. Though, admittedly we have not seen the evidence of these audits so you do have to take it at its word as is generally the case with unpublished audits for closed source platforms.
Customer Support
If you require support with using Livedrive's backup service, you can easily get help by searching through the support guides it has on its website. These can help you with everything from backing up your data – to restoring and sharing files. We found the support resources to be well written and clear, and we can definitely recommend this service to beginners because it is very easy to use.
If you do still have any confusion or are having some kind of technical problem, you can contact the backup service directly. To do so simply open the app and click on Web. This will open the web portal where you can choose the Support tab.
Here, you can visit the FAQs, blogs, and guides. In addition, you can log in to the support portal using your Livedrive username and password. Following that, that click on submit a ticket to ask a question that will be answered via your email address.

Overall, we found the customer support team to be quick and helpful. We asked a few simple questions about the service and received answers within one to two days each time. This is a useful part of the service that increases its viability for people who are less techy and may need help using the service.
We also like that the Cancel my account blog is the very first in the knowledgebase. This ensures that anybody who uses the free trial can easily cancel before they are charged (it is always nice to see a company making cancellation obvious rather than tricky).
Livedrive - Final thoughts
Livedrive is a backup service that provides exceptional ease of use. Apps are available for all platforms, and from our tests of the Android and Windows versions, we were able to ascertain that the apps will easily backup either on the fly or at pre-scheduled intervals .
The lack of backups for executable files and other important file types such as .ios images files and virtual machine files is a bit of a shame, but if it is just user generated content that you wish to back up this service is ideal.
The lack of e2ee may put some users off. However, this service has secure cloud storage that meets high standards for data privacy and security. That said, your data could be accessed using a warrant, and the firm controls the keys to your data.
In terms of costs, we found this service to be pretty reasonable. The plan for a single computer might be a little steep, but any family that wants to back up from various devices will actually find it pretty cost effective.
The lack of a free starter service is a little frustrating because many services provide this nowadays (and a free plan does give you the opportunity to try the service on a limited basis before you buy).
That said, Livedrive lets let you trial any of its plans for 14 days before being charged. So you can take the app for a test run to make sure you are happy with it. An excellent backup service for those who want ease of use, and backups with file sharing, versioning, and a preview gallery for images.
0 User Reviews
Leave a Review
Thanks for your review!