Video Review
In our handy ExpressVPN video review, we take a look at some of their pros and cons.
An In-Depth ExpressVPN Review 2021🚅💰Worth The Price Tag?✅
Alternative Choices for You
For more detail, check out our NordVPN vs ExpressVPN side-by-side comparison or our CyberGhost vs ExpressVPN comparison.
Price
Money-back Guarantee
All of our approved VPNs come with a hassle-free money-back guarantee. Should you purchase one of the recommended VPNs via ProPrivacy.com and struggle to get a refund, contact us and we will do our very best to help you get your money back.
So, how much does ExpressVPN cost?
ExpressVPN has three subscription plans to choose from, which are all listed below. The best value can be found in its 12-month plan, which comes with 3-months free if you follow the link on this page. That yearly subscription works out at $6.67 a month (paid $99.95 in advance). It is worth noting that the contract will automatically renew at a cost of $8.33 per month after the first year (paid in a single installment of $99.95).
ExpressVPN does not offer all users a free trial*. However, it does provide an extremely generous 30-day money-back guarantee. And, it will give you a refund no matter what your reason is for asking; there are no catches. Cancel any time within 30 days and you will get your money back.
*A free trial is available for mobile users – seven days for iOS VPN users and one day for the Android VPN app – as per standard Apple Store and Google Play Store policies.
It is also worth mentioning that ExpressVPN offers quite a nice referral program. Convince a friend to sign up and you both get 30 days free.
ExpressVPN accepts payment via credit/debit card, PayPal, and Bitcoin. It has also partnered with Paymentwall to accept several, more obscure, international payment options.
Speed and Performance
Please see VPN Speed Testing Done Right for an overview of our rigorous testing methodology. At the time of writing, ExpressVPN tops our speed tests with fantastic average download speed performance and solid max burst speed results.
About ProPrivacy's speed tests:
We only test provider speeds using the OpenVPN protocol. Several top providers, including ExpressVPN, now offer their own proprietary protocols, which are faster. However, OpenVPN remains an industry standard and is supported by almost every VPN. By using OpenVPN, our tests remain fair and consistent across all providers. You may find you can achieve significantly faster speeds using ExpressVPN's Lightway protocol.
Our results reveal that ExpressVPN is consistently one of the fastest VPN services in the world when connecting using the secure OpenVPN protocol. Average download speeds over the last three months were faster than most of its close competitors. This certainly makes it a good option for anybody wanting to torrent or stream HD content.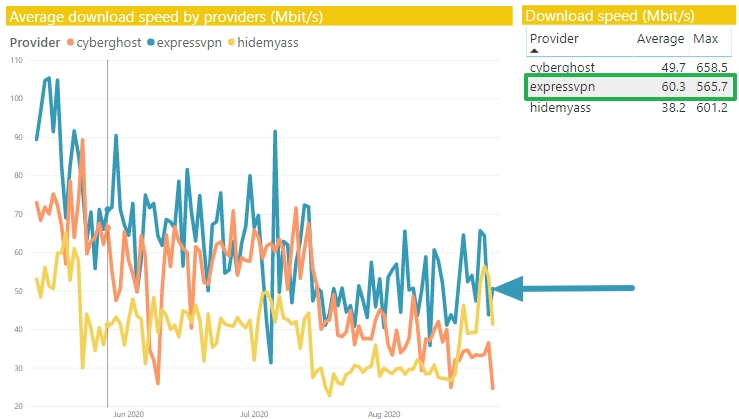 Have you tried Lightway?
In addition, ExpressVPN's proprietary encryption protocol (Lightway) boasts high levels of security and improved speeds for its users – as much as 2.5x the connection speed!
Leak Tests
| | |
| --- | --- |
| Reliability | 9 |
| Performance | 10 |
| Speed | 100 |
| ProPrivacy.com SpeedTest (average) | 100 |
We did not detect regular DNS leaks, but our IPv6 address was leaked via WebRTC in both Windows and macOS. If you are lucky enough to use an ISP that offers IPv6 connectivity then you should either disable IPv6 on your system (see the optional section for each OS listed in How to Change your DNS Settings) or disable WebRTC in your browser. Alternatively, the ExpressVPN browser add-ons for Chrome and Firefox also fix the problem.
Please note that Private Use RFC IPs are local IPs only. They cannot be used to identify an individual, and so do not constitute an IP leak.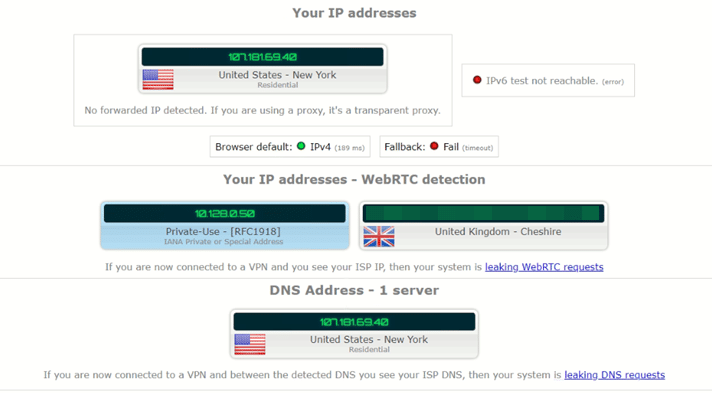 Does ExpressVPN unblock Netflix?
| | |
| --- | --- |
| Netflix | |
| iPlayer | |
| Amazon Prime | |
| Hulu | |
| Disney+ | |
Yes. ExpressVPN is a provider that does everything it can to help its users access streaming services like Netflix US. To ensure constant availability, ExpressVPN throws in a free Smart DNS feature, which ensures that users can unblock streams even if a VPN server is temporarily blocked by the streaming provider.
With that said, for most people, it is always easier to simply turn on the VPN to access foreign streams. And, the good news is that Express VPN successfully unblock all of the most popular streaming platforms simply by connecting using its apps.
This means you can watch US Netflix or watch BBC iPlayer abroad with ease. This VPN will also enable you to unblock YouTube and access any videos that are restricted in your region.
Unblocking streaming services is always a cat-and-mouse game, and readers do occasionally report not being able to access them using ExpressVPN. In this case, the Smart DNS service makes a great fallback, and ExpressVPN always resolves the issue within a day or two at most.
If you do experience issues, please tell us in the comments section below, and contact ExpressVPN's 24/7 live chat support because they will be able to recommend which server is currently working.
Ease of Use
Custom VPN apps are available for Windows, macOS, Android, and iOS. A custom Linux VPN app is also available. This is terminal command-line only, but does include DNS leak protection.
The website features a ton of setup guides for a wide range of devices and platforms. In addition to this, pre-configured ExpressVPN routers are available from FlashRouters. These use custom firmware developed by ExpressVPN, and feature DNS leak protection and split tunneling for connected devices.
New additions to the ExpressVPN app lineup are browser add-ons for Chrome and Firefox (Windows, macOS, and Linux).
Signing Up
Registering with ExpressVPN is easy enough. Other than payment details, the only information you are asked for is a valid email address. There is nothing to prevent you from using a disposable email address. ExpressVPN accepts payment in a variety of methods, including debit cards, Paypal, Bitcoin via BitPay, and local payment methods via Paymentwall. It is possible to increase the anonymity of your registration using Bitcoin or giftcards through Paymentwall. Please remember, though, that however you register and pay, ExpressVPN will know your real IP address.
Once signed up, you will receive a welcome email that includes some useful links for setting up the service.
The ExpressVPN Windows Client
ExpressVPN specializes in making its service easy to use and as layperson-friendly as possible. Once you've downloaded and installed the ExpressVPN app, an onboarding carousel will walk you through the key features. If you haven't already bought a subscription, you can sign up with a handy link from the sign-in page.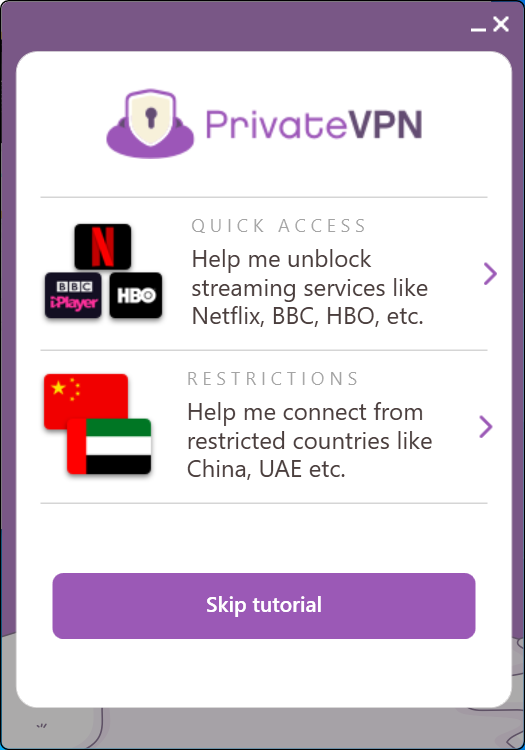 Unlike most other VPNs, ExpressVPN doesn't handle your credentials in the app. You actually have to log in to the ExpressVPN website and copy down a unique activation code, which will then act as your login credentials when you're setting up the ExpressVPN app. This is available via your subscription page on the ExpressVPN website.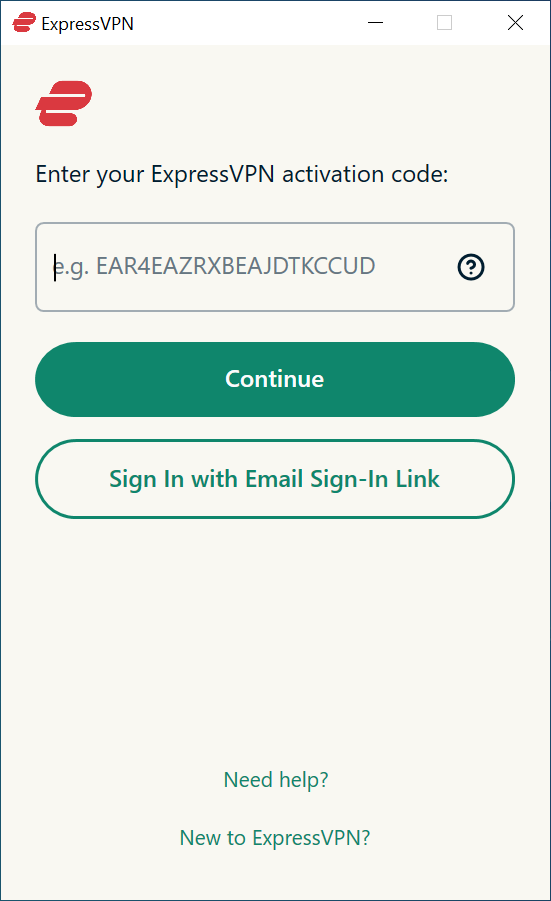 Once you're signed in, getting connected could not be simpler. ExpressVPN will automatically detect the server with the best connection to your location. Then, hit the connect button to secure your browsing sessions!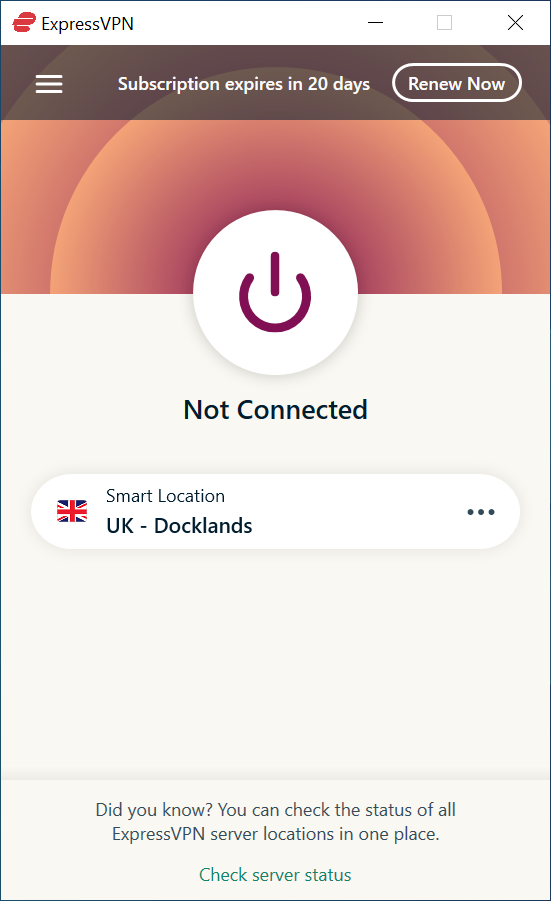 It's extremely easy to find your most relevant servers by checking out ExpressVPN's recommended locations, allowing you to change where you're connecting from at a moment's notice. It would be nice to have some more advanced information, such as server ping, displayed next to the server, but the browsing experience provided by each recommended location was roughly the same – which is to say, they all offered a quick and consistent connection.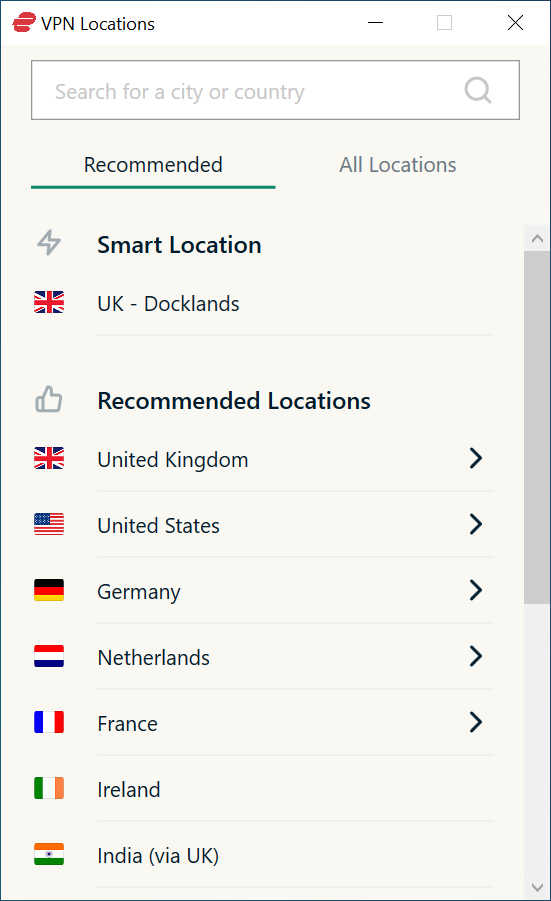 If you find there are a few servers that you often connect to, ExpressVPN makes it easy to access these servers with a Favorites tab, which is populated by clicking the star icon at the right end of a server's tab.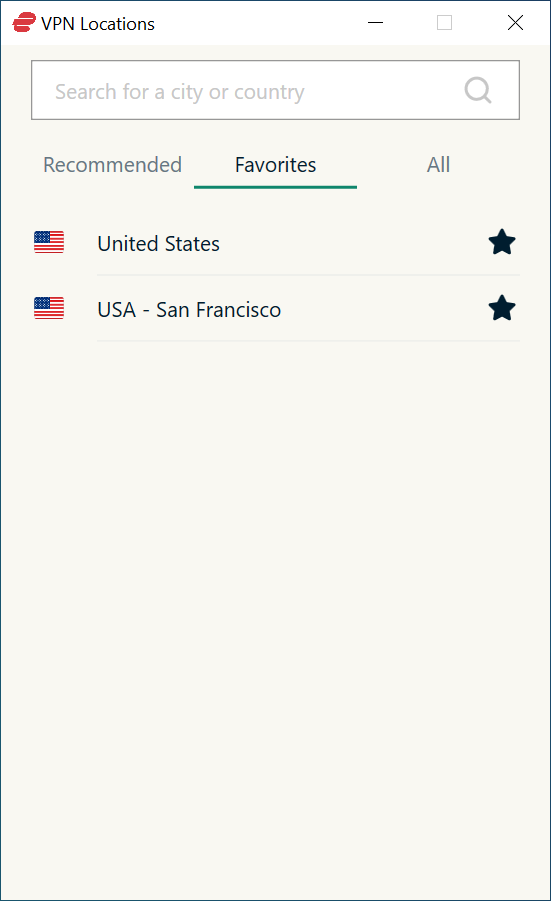 While the simplicity of the app is certainly aesthetically pleasing, it hides some key information at a glance. Having the actual IP address you're connecting from displayed in the app is a nice convenience that is unfortunately absent from the ExpressVPN app, as well as the type of protocol used and connection uptime.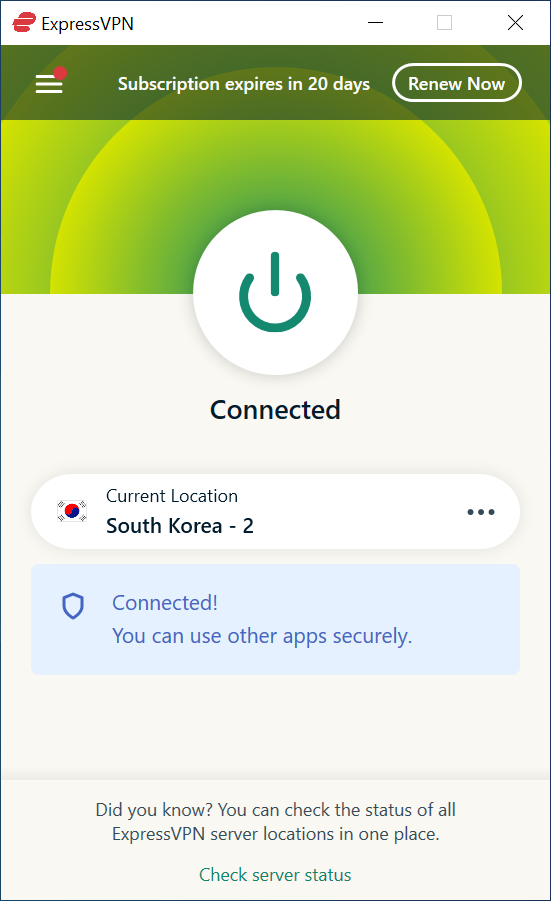 However, if you peel back the top layer, the ExpressVPN client contains some powerful features. This includes a firewall-based kill-switch and DNS leak protection. ExpressVPN provides some handy links in the support menu which take you to their IPv6 and DNS leak testing pages – which is great if you need to confirm your VPN is working as intended. It is worth noting that the basic client does not protect against IPv6 WebRTC leaks, but this is easily fixed by also installing the browser extension (or by disabling IPv6 on your machine which only takes a minute).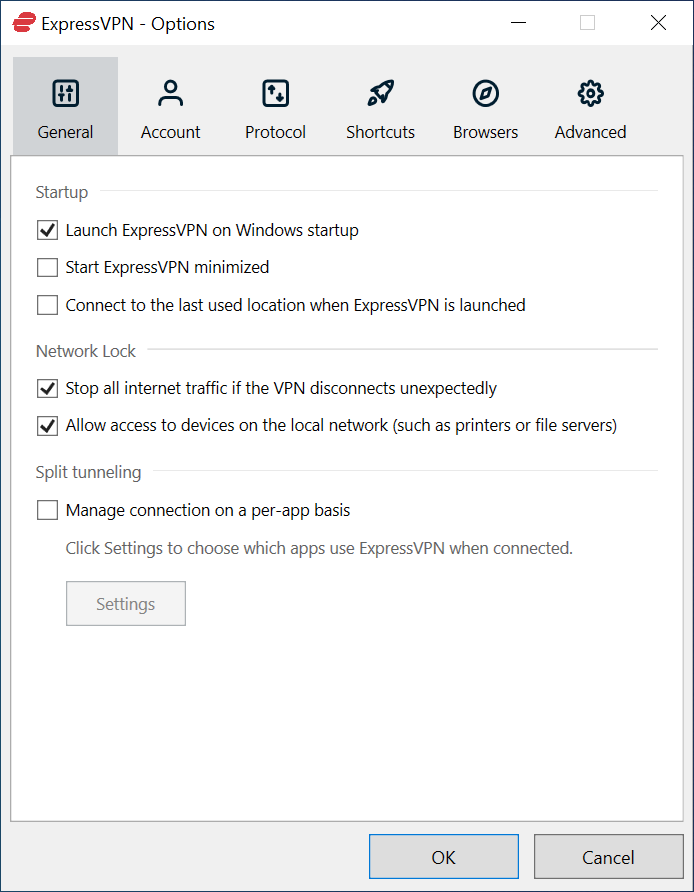 ExpressVPN also lets you decide which programs you want to cover under the VPN connection. Rather than turning your whole connection off every time you decide you want to play an online game or use a banking website, ExpressVPN allows you to whitelist or blacklist apps using the Split Tunneling feature to build a connection profile that suits you.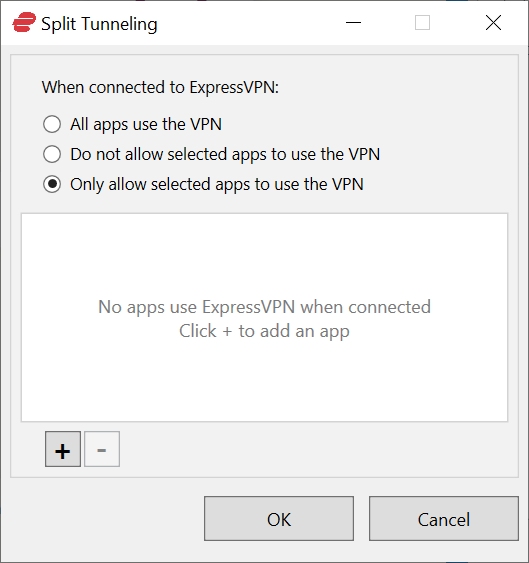 ExpressVPN only offers OpenVPN and Lightway in the newest versions of its apps. We recommend OpenVPN if you're concerned about security and privacy above all else, as it is a time-proven protocol with significant development time behind it. Lightway is ExpressVPN's custom implementation of the WireGuard protocol with additional security fixes and is much faster than OpenVPN, both providing near-instant connection times and significantly better connection speeds.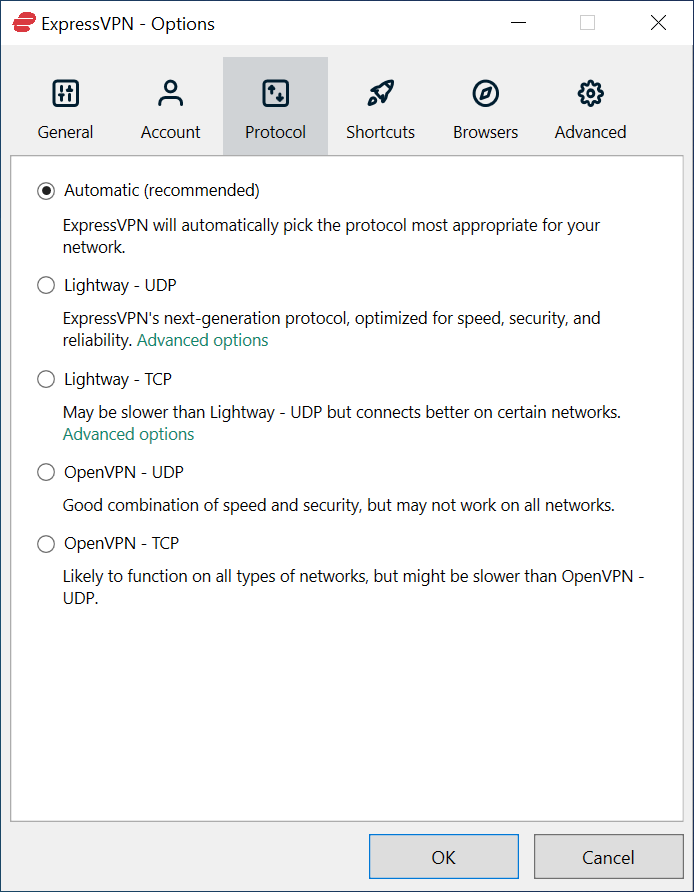 ExpressVPN also offers handy browser integration, which allows you to control the specifics of your connection from either a Chrome or Firefox browser plug-in. In practice, this app doesn't feel terribly different from using the main app, but these plug-ins do afford you extra protection against IPv6 WebRTC leaks!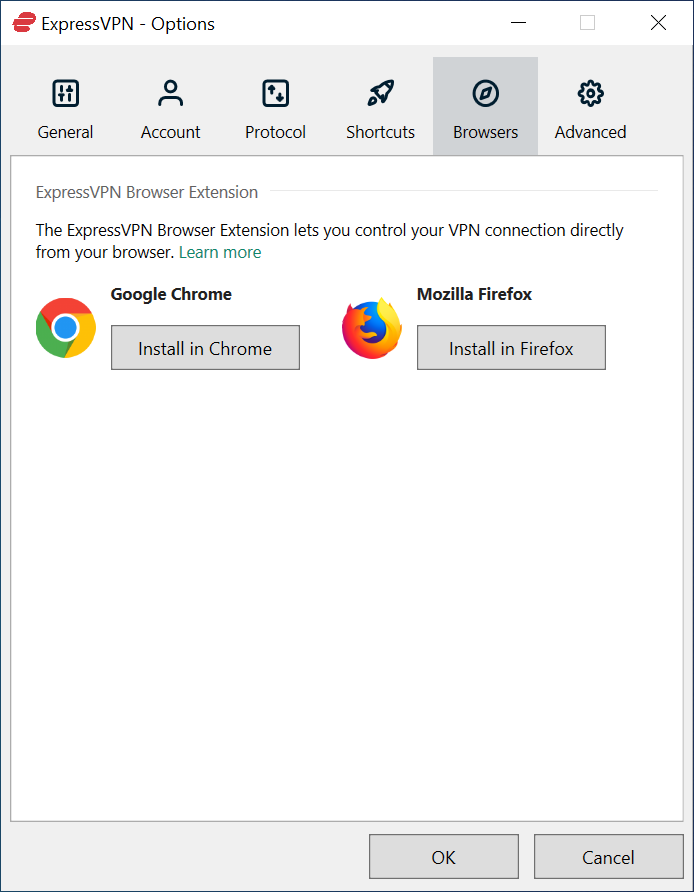 Overall, the Windows VPN client is very easy to use. The interface is extremely streamlined, but is also packed with powerful features that are useful for maintaining your privacy online and keeping yourself secure on an increasingly unsafe internet.
Mac OS X/Mac OS client
The OSX and Windows app are now unified, meaning that the Windows and Mac VPN client match in both looks and feel. No matter which platform you're on, working with ExpressVPN will feel like a familiar experience.
Both clients offer the same functionality, and the Mac client specifically is available in over 17 different languages, including Danish, Dutch, Finnish, French, German, Indonesian, Italian, Japanese, Korean, Norwegian, Polish, Portuguese, Russian, Spanish, Swedish, Thai, Turkish, and, of course, English. Traditionally, Mac OSX support lags behind Windows when it comes to multi-platform VPN support. Thankfully, ExpressVPN takes the time to make sure both camps have access to a professional and easy-to-use GUI.
The Android App
This VPN is available for Android 4.2+, and can be installed from the Google Play store or downloaded directly as an .apk file. This is great news for anti-Google privacy heads.
The app has the same aesthetic as its desktop siblings and is similarly easy to use. We think it looks amazing thanks to ExpressVPN's new look in 2023. Clearly no expense has been spared in making Express not only easy to use and effective –but also a pleasure to look at.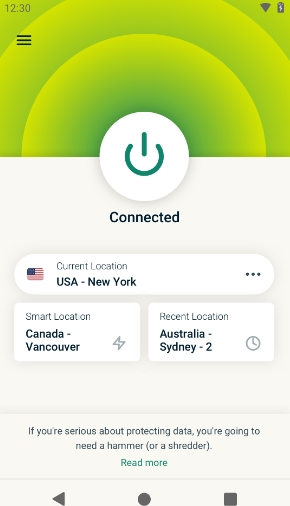 This reviewer does not use iOS, but the app looks to be more or less identical to the Android one. And, unlike many custom iOS VPN apps, OpenVPN is fully supported.
Linux
Unfortunately, ExpressVPN users on Linux will have to make do with a command-line tool to connect and authenticate with ExpressVPN. However, there are browser extensions available for Firefox and Chrome which integrate with the CLI to create a user interface comparable to those found on Windows and Mac OSX.
Browser Extensions
Unlike most such extensions, these are not browser-only proxies. They are instead a front-end to the full desktop software, which must also be installed.
This means that when the VPN is turned on with the browser extension, your entire computer is protected by the VPN. The primary advantages of using the browser extensions over just using the full VPN client are convenience and that they provide full WebRTC protection. To find out more about this topic, check out our VPN browser extensions page.
Customer Service
| | |
| --- | --- |
| Money-back guarantee | |
| 24-hour support | |
| Live chat | |
| Money-back guarantee length | 30 |
| Free trial | |
Support
ExpressVPN is well known because of its incredible attention to detail when it comes to support. Its instant 24/7/365 support is available via live chat or a ticketed email system, and is a feature that has been copied by just about every leading VPN out there.
As is to be expected, front-line staff are not all technical whizz-kids. However, even with more difficult questions they always managed to point me to relevant resources or answer my questions knowledgeably after a quick consultation with other staff members.
This sets ExpressVPN apart from many of its competitors for whom the support staff are just glorified sales representatives there to encourage people to buy a subscription; rather than to deal with problems.
Privacy and Security
| | |
| --- | --- |
| Kill-switch | |
| Obfuscation (stealth) | |
| IPv6 leak protection | |
| WebRTC leak protection | |
| Bare-metal servers? | |
| Self-hosted DNS | |
Jurisdiction
ExpressVPN is based in the British Virgin Islands (BVI), which is a British overseas territory. The BVI regulates its own internal affairs and has no mandatory data retention laws.
However, since it lies under the jurisdiction and sovereignty of the UK government, it seems reasonable to assume that the UK could put pressure on the BVI government and businesses. So (and this is something of a guess, as the legal situation is very murky), being based in the BVI is probably safer than being based in a Fourteen Eyes country, but is not ideal.
Logging Policy
ExpressVPN keeps no usage logs; however, it does keep some (fairly minimal) connection logs:
For the purpose of improving network resource allocation, we record aggregate data-transfer amounts and choice of server location, neither of which are data points that can identify a specific user as part of an investigation. We may collect the following information: dates (not times) when connected to our service, choice of server location, and the total amount of data transferred per day.
Furthermore,
Our software may send diagnostic data to a third-party analytics provider for the purpose of identifying connection errors and possible bugs in our application. The information collected is generic in nature and does not contain personally-identifying information.
This last part is important. ExpressVPN only keeps logs in aggregate form. This means that the minimal amount of information collected for troubleshooting purposes is not associated with the IP addresses of individual customers. For more information about VPN logs, check out our no-logs VPN page.
TrustedServer technology
In a highly innovative move, ExpressVPN's servers run entirely in RAM to ensure that data does not persist on hard drives when a server is rebooted. But, TrustedServer technology is not to be confused with (or reduced to) the RAM-only servers, which a few other VPN providers introduced later on following the ExpressVPN lead.
Same as with other Ram-only servers, this feature prevents potential intruders from persisting on the machine. But that's not all. Aside from removing the risk of hard drives, with each reboot, ExpressVPN servers are
Built from the ground up to ensure no sensitive data is logged, even by accident, and thus not accessible by us or third parties.
So, quite uniquely, each time a TrustedServer is started, and this happens at least weekly, it boots from a read-only hard disk containing a static image of the software used which is loaded as a single block. This mitigates any form of data leak or tampering and ensures consistency across the network as each machine is always running the same software.
Besides, unlike its competition, ExpressVPN takes care of the whole procedure in-house. So not only does the company have its multi-layered servers development processes well secured by its own trusted mechanisms (such as YubiKey which serves for unique physical identification of each engineer), but it also knows precisely what's running on each of its servers. Most other VPNs who describe their VPN servers as "bare-metal" still run them on host operating systems.
This consistency, confirmed by an independent PWC audit, improves security because ExpressVPN can be confident that all of its servers are running the most up-to-date software when powered on, thus minimizing the risk of vulnerabilities or misconfiguration.
Bug Bounty Hunt
Still not convinced that ExpressVPN runs the most secure server network on the market? Well, its bug bounty bonus worth US$100,000 is still up for grabs. A candidate is anyone who believes they can still spot a vulnerability in (or unauthorized access to) ExpressVPN's TrustedServer platform.
Protocols and Encryption
| | |
| --- | --- |
| PPTP | |
| L2TP/IPSec | |
| SSTP | |
| IKEv2 | |
| OpenVPN | |
| WireGuard | |
| Catapult Hydra | |
| Shadowsocks | |
ExpressVPN supports most VPN protocols, including OpenVPN (TCP and UDP), SSTP, L2TP/IPsec, and PPTP. For OpenVPN (our recommended protocol) it uses the following encryption settings:
This is a very strong OpenVPN setup.
Just take a look at this interesting graphic on the ExpressVPN review over at Comparitech.com which explains exactly how long it would take to break their encryption.
Security Features
Both the Windows and MacOS clients feature IPv4 and IPv6 leak protection, although as we have seen, IPv6 users should take additional steps to prevent IPv6 WebRTC leaks. Such as installing ExpessVPN's browser add-ons. DNS requests are handled by ExpressVPN's self-hosted servers for maximum privacy. The desktop clients also include a firewall-based kill switch to ensure your IP address is not exposed in the case of a VPN drop-out.
ExpressVPN offers "stealth-servers" located in Hong Kong. These are specially designed to defeat censorship in mainland China, but should be useful wherever VPNs are blocked. ExpressVPN is understandably cagey about how these servers actually work, but from the reports we receive, they work well. Just remember that nothing can be 100% guaranteed when a powerful government is actively working to counter technologies such as this.
After several major companies have been observed releasing software and hardware infected with malware, ExpressVPN has even taken the time to lock down its development and distribution process – preventing unauthorized third-party intervention. These safeguarding measures have already been put in place and independently verified by CyberSec firm PwC Switzerland.
Log4Shell protection included!
The emergence of the new Log4j/Log4shell vulnerability has caught the entire tech world on the hop. This is partly because it's an example of a "zero-day exploit", which means companies didn't have a fix ready for it and are now rushing to roll out patches and updates to protect their systems and users. The other part is that Log4J is one of the most potentially damaging vulnerabilities in recent years because it's so widespread, with potentially millions of applications and services open to being hacked.
This is because the Log4j framework is commonly used on web servers running Apache, which is the most popular web server in use today. This vulnerability offers hackers the ability to do a number of nasty things, including both stealing and holding data for ransom.
ExpressVPN has now applied a fix for Log4j/Log4shell to all their VPN servers. This means that everyone using ExpressVPN on their devices or router will be protected from this vulnerability. ExpressVPN rolled out the fix on its servers, so users don't need to do anything on their end, just connect through the ExpressVPN client as normal.
Features
In this section, we will look more closely at what you get with ExpressVPN in comparison to other VPNs on the market.

Firstly, customers are now allowed to connect up to five devices at the same time, which should give users more than enough connections; and makes it good for families and households who all need a VPN.
In terms of support, ExpressVPN pioneered the concept of 24/7 live chat using expert agents that know how to solve common issues. This is a feature that has been copied industry-wide, however, ExpressVPN still leads the way due to its extremely capable support agents.
For users who want to download, torrenting is permitted on all of Express' VPN servers, though, admittedly, hardcore downloaders may miss the ability to port forward through the VPN NAT firewall which is not available with this provider – a minor quibble – that is nonetheless worth noting.
As is common with larger providers who offer a great many server locations, ExpressVPN uses a mix of bare metal and virtual servers. For the vast majority of users, virtual servers are a non-issue, and ExpressVPN is now clearly explaining which servers are on its website (but not in the apps). Revealing which servers are virtual in the app would allow customers to make an informed decision about which servers to use, and we would like to see this added in the future.
In addition to supporting a wide range of routers, ExpressVPN offers a range of pre-configured ExpressVPN routers via FlashRouters. These use custom firmware and feature DNS leak protection and split tunneling for connected devices.
In addition to the above standard features, ExpressVPN offers some useful non-standard ones that add great value to its already fully-featured service...
Smart DNS
Smart DNS is a technology used for geo-spoofing your location. This is very useful for accessing streaming services such as US Netflix and BBC iPlayer, which are geo-blocked. It works by resolving your DNS requests at a specified location, and has the following advantages over using a VPN:
It is faster becauses no encryption/decryption is required. This means fewer buffering issues.
It can be used with any internet-capable device, including many that cannot run VPN software. For example, smart TVs, games consoles, and Roku devices.
It is less likely to be blocked by services that try to ban VPN users (although this cannot be guaranteed).
On the flip side, Smart DNS does nothing to improve your privacy or security.
All ExpressVPN customers gain full access to both its VPN and Smart DNS services.
ExpressVPN Smart DNS unblocked Netflix and BBC iPlayer for us when we carried out this review.
Onion Tor Web Address
Sometimes the most difficult thing about defeating censorship with a VPN is getting onto a VPN provider's website so you can sign up for the service and download its software. ExpressVPN has a solution for this!
Just type http://expressobutiolem.onion into the URL bar of the Tor Browser to visit a Tor Hidden Services dark web mirror of the ExpressVPN website. Using a .onion address makes it more or less impossible to censor the website.


| | |
| --- | --- |
| Number of countries | 94 |
| Simultaneous connections | 5 |
| Total servers | 3000 |
| Server locations | 160 |
| Routers supported | |
| Split-tunneling | |
Bundled with HP laptops
As of September 2019, ExpressVPN is very pleased to announce that it has struck a deal with HP to offer new buyers of HP laptops, including the flagship Spectre x360 13, a 30-day free trial of the service.
ExpressVPN is particularly pleased to note that the deal includes "deep product integration", which as far as we can determine means the app is pinned to the Task Bar.
This is undoubtedly a marketing coup for ExpressVPN, and maybe a welcome introduction to the world of VPNs for some new HP customers. Others, however, may not appreciate the need to uninstall another piece of unwanted software.
Lightway protocol
ExpressVPN has recently released a brand new encryption protocol called Lightway. Designed with both privacy and connection speeds in mind, Express has finally released the protocol as open-source, so it can be audited by absolutely anyone, and backed it up with an independent third-party audit report from Cure53!
So what does this mean for the average user? Well... it means that you can trust Lightway to give you watertight security and super-fast speeds. Absolutely anyone can pick apart the protocol and verify its security, and Cure53 has already done that – working alongside ExpressVPN to iron out any small kinks (of which there were very few).
Bundled with Dynabook PCs
A year from unveiling its rebrand from Toshiba Client Solutions, Dynabook has jointly announced a partnership with ExpressVPN in January 2020 – a first for the PC manufacturer.
Dynabook products will now be shipped with a free 30-day trial to the VPN service in hopes of making privacy mainstream, starting with the new Satellite Pro L50 and eventually expanding to all future models.
Much like ExpressVPN's partnership with HP, this is a double-edged sword. While it will introduce the uninitiated to the world of VPNs, it walks the fine line of becoming bloatware for those that aren't interested. Plus, the company already offers a 30-day money-back guarantee, meaning that there is little that makes this offer stand out to those already aware of the service.
Final Thoughts
ExpressVPN offers a fully featured and highly polished service that oozes professionalism. Its superb customer service, easy-to-use software, and generous 30-day money-back guarantee are all reasons to give this service a try.
ExpressVPN's technical security easily matches the professionalism it shows in making the service as user-friendly as possible. Encryption is extremely robust, which makes ExpressVPN's impressive connection speeds all the more remarkable.
The minimal aggregated connection logs kept by ExpressVPN do not affect user privacy and allow the VPN to ensure its service is always running at full steam. This is a credit to the reliability provided by the platform.
Throw in its excellent, free Smart DNS service, anti-censorship stealth servers, and a very generous referral program, and it seems fair to say that ExpressVPN is a market-leading VPN service that is at the very top of its game.

So, is this service worth the slightly higher cost? We think so – yes! If you take your privacy seriously, and you want free access to the world wide web (as it was intended!), we believe that $7 a month is a fair price to pay!
4 User Reviews
Leave a Review
Thanks for your review!
This review is available in: Spanish Dutch Turkish German French Portuguese Hindi Russian English