Alternative Choices for You
Video Review
Goose VPN Review | ProPrivacy
Features
| | |
| --- | --- |
| Routers supported | |
| Server locations | 23 |
| Total servers | 100 |
GOOSE VPN offers some enticing features, including:
25 server locations with 63+ servers
Unlimited simultaneous connections
IKEv2, OpenVPN, PPTP, and L2TP/IPSec protocols
Dedicated servers for P2P & media streaming
User-friendly interface
Multilingual website and app
Customer support in multiple languages
30-day money-back guarantee
No logs
Kill-switch
Remote technical support via TeamViewer
The features provided by GOOSE VPN are definitely top-tier, especially with the OpenVPN and IKEv2 protocols. With 25 server locations that are well placed around the world, you should have little to no difficulty accessing things like blocked websites and certain geo-restricted content.
It's also nice that Goose offers a multilingual website with customer support in a variety of languages. Unlimited simultaneous connections is definitely another plus, although the ban on account sharing sets it back a little.
Speed and performance
When selecting a VPN service, it's important to consider all factors. As such, a very important factor to consider is the performance of the VPN – like server speeds and/or any leaks. Fortunately, performance is also something that we thoroughly investigate at ProPrivacy.com to save you some time. Thus, let's take a peek at GOOSE VPN's speed and leak performance…
In the graph below, we can see how GOOSE VPN's speeds compared to a few other top VPNs on the market. For these tests, we applied our scientific speed testing method wherein we test each VPN service's speeds three times a day on servers based in the US, UK, Hong Kong, and Australia. The results shown below represent the speeds we measured from June 2023 through September 2023. We can see that GOOSE VPN's speeds were squarely in the middle of the pack compared to the others we tested. During this time period, Goose registered a max burst speed of 122.9Mbps and an average of 19.4Mbps. While certainly not mind-blowing by any means, these speeds are certainly fast enough for everyday online browsing as well as for streaming content and for downloading torrents.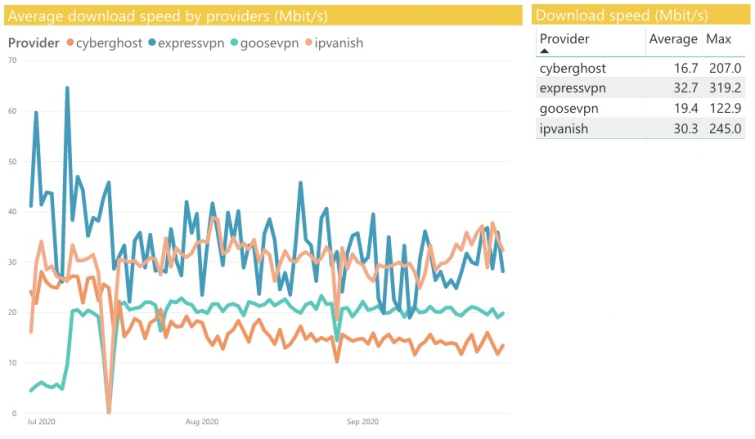 Leak tests
| | |
| --- | --- |
| ProPrivacy.com SpeedTest (average) | 19.4 |
| Speed | 122.9 |
We're happy to report that GOOSE VPN has no leaks! The websites we used – ipleak.net and our own leak testing tool – successfully reported the IP address and DNS servers that corresponded with the VPN server we were using.
Price
GOOSE VPN now offers four different payment packages to choose from depending on how long you'd like to commit to the service. You can choose from a monthly, 1-year, 2-year, or 3-year subscription plan, with your overall savings increasing when you opt for the longer-term plans. The 3-year option is definitely the most affordable choice, on the whole, priced at $99.99 charged every three years, which comes out to just $2.75 per month.
If you're willing to commit to Goose for three years, then it's worth springing for the 3-year plan to save the most cash. The 2-year package is billed $71.76 every two years ($2.99/month), the yearly package is billed $59.88 annually ($4.99/month), and the monthly package is priced at $12.99/month.
Goose does offer a 30-day money-back guarantee, something which is perfect if you're a skeptical user who prefers to test the service without risking your hard-earned cash. If you end up disliking the VPN service for any reason, you can cancel at any time within the first 30 days of purchase and you will get your money back.
You can purchase your GOOSE VPN subscription via credit card or PayPal. Goose offers a few other payment methods, but it's a bit tricky to locate them. In the past, the company supported Bitcoin payments for annual subscriptions. This payment method seems to have been taken out of the options. Your best choice for anonymity, in this case, is MINT. Although it's nowhere near as anonymous as cryptocurrency payments (and even cryptocurrency payments aren't necessarily anonymous).
Accounts are for single use only, but you can get a discount when you invite your friends (and vice versa).
Ease of use
| | |
| --- | --- |
| Android | |
| iOS | |
| Windows | |
| macOS | |
| Linux | |
Website
The GOOSE VPN website is visually attractive and well put together, for the most part. The homepage shares bits of information on the VPN itself, and then, of course, boasts of the everyday things a VPN can be used for (staying safe online, accessing blocked content, etc.) The menu offers links to relevant pages like downloads and prices/plans. The bottom of the page offers more relevant links to things like customer support, community, blog, and the FAQ.
We do have one complaint about the GOOSE VPN website: it would be nice if they offered a page dedicated to the VPN's features. Despite the "Take a Tour" page being a variation of this, it is still too vague for our liking. That being said, the website still offers visitors a great deal of useful information.
Using GOOSE VPN
Setting up GOOSE VPN is simple – you download the client appropriate for your device, follow the installation prompts, and bam! You're ready to use Goose!
Instructions for Windows OS GOOSE VPN clients:
Navigate to the downloads page on the GOOSE VPN website.
Select Download Software (this will take you to a page with instructions).
Follow the instructions to install the VPN (after which the login screen will appear).
Enter your login details (the client interface will appear).
Click on the OFF switch to turn it on (you will connect to a recommended server).
To change your server, select the server drop-down menu.
To change your protocol, select the protocol option in the lower-left corner – we recommend using OpenVPN (where possible).
To change your connection settings, select the Connection tab. This is a good chance to enable your kill-switch, select auto-connect, or disable smart server list.
Other Platforms
The GOOSE VPN client is available for Windows OS, macOS, iOS, Android, and various routers. In addition to the client, you can set up manual configuration on a variety of other platforms like Linux, Synology OS, ChromeOS, and Raspberry Pi 3. It is important to note that the GOOSE VPN for Mac uses IKEV2 rather than OpenVPN. See the provider's website for more details.
Mobile Apps
The iPhone VPN and Android VPN apps are visually and mechanically similar to the Windows OS client. Setting up the VPN is identical, as is choosing a server and accessing other settings.
To get the GOOSE VPN mobile app:
Register with GOOSE VPN
Search for the GOOSE VPN app in your app store
Download and install the software
Select Allow when prompted with VPN configuration
Open the app and connect to a server!
Browser Extensions
The Google Chrome GOOSE VPN browser extension is also visually and mechanically similar to the Windows VPN client (and the mobile apps). All you have to do is go to the Google Chrome store, type in GOOSE VPN, and install the extension.
Streaming with GOOSE VPN
Unfortunately, unblocking streaming content with GOOSE VPN is a bit of a hit-or-miss affair. Streaming services like Netflix and BBC iPlayer work hard to prevent people from using VPNs to unblock their content by routinely banning known VPN IP addresses.
Technically, GOOSE VPN is able to unblock Netflix, BBC iPlayer, Amazon Prime Videos, HBO, Hulu, and the like, but you may often find yourself frustrated and unable to unblock the content that you want. This is because if the bandwidth from a particular IP address exceeds a certain limit, then the streaming service will block that IP address; and if too many users have already used the same IP address to access a particular streaming service, then you may find that the IP address has been blocked.
GOOSE VPN customer support recommends disabling the 'use best server automatically' feature to access the entire list of available servers to increase your chances of hitting on an IP address that hasn't yet been blocked by a streaming service. Unfortunately, this is not a foolproof solution since you could easily click through all the servers in a particular country and still find yourself blocked and unable to access the content.
Then again, you could just as easily get through to your streaming site of choice right away. It really is a spin of the wheel, so to speak. And admittedly, it's not an ideal situation by any stretch of the imagination, but we're told that the tech team is working on a more permanent and viable solution to the issue.
We understand that this could be a deal-breaker for some, and because of this, we would hesitate to whole-heartedly recommend GOOSE VPN for anyone whose primary objective in using a VPN is to unblock streaming content – at least until the tech team is able to resolve the issue.
Customer Service
| | |
| --- | --- |
| Money-back guarantee | |
| 24-hour support | |
| Live chat | |
| Money-back guarantee length | 30 |
| Free trial | |
The customer support offered by GOOSE VPN is excellent. Although the live chat feature has been disabled, the ticket-based support is fast and the representatives are friendly and informative. There is a live chat widget in the bottom corner of the screen, but any message you leave there will be handled through a ticketing system.
Support agents are supposedly available 24/7/365 to answer tickets. Though not instantaneous as live chat would be, we did find that the responses were nonetheless indeed fast. The site claims that agents do their best to respond within three hours, but generally, in our experience, the responses were even quicker than that. If you need an answer to a question immediately, you can always check the FAQ section on the website which offers a decent amount of helpful information.
What we really found to be especially helpful, and what is quite unique in the industry, is that GOOSE VPN offers live technical support via TeamViewer. So if you're really stuck with a technical issue that can't be resolved through the regular ticket-based support, then you can make an appointment to get on a call directly with a developer on TeamViewer to help resolve the issue.
Overall, Goose has excellent customer service that really does go above and beyond for its users. We just wish that the company would bring back the live chat feature.
Privacy and security
| | |
| --- | --- |
| Kill-switch | |
| Obfuscation (stealth) | |
| IPv6 leak protection | |
| WebRTC leak protection | |
GOOSE VPN bills itself as a no-logs VPN service. It does not log IP addresses when you log into your account, but it does register users' IP addresses one time only during sign-up. This means account activity can be traced to an IP address. It also logs bandwidth.
GOOSE VPN's Legal Situation
Goose is based in the Netherlands, which would usually be considered a country with fairly good privacy policies. For example, online censorship is basically nonexistent in the Netherlands. This is thanks to the country's house of representatives, who have continuously spoken against filtering/censoring online materials. That being said, like many other countries, the Netherlands is still struggling with anti-piracy measures.
Despite this, the Netherlands is considered a place that is very good for privacy, which is why a good deal of privacy firms have their central databases there. As such, GOOSE VPN is in a fantastic location. On top of that, you can feel confident that your privacy will be secured thanks to the VPN's strict no-logs policy.
Payment Processor
When asked about Goose's payment processor, a company representative responded with,
"We can't disclose the company name, but we can say it's a payment provider that big-name companies like Uber, Airbnb, and Dropbox use." This lack of transparency is pointless and infuriating, in the world of privacy services transparency is vital. One black mark.
Website Tracking
This nifty little tool called Privacy Badger can help inform you of the trackers present on the websites you visit. This is especially useful for VPN websites, as you probably don't want to choose a VPN that tracks you in a million different ways. Unfortunately, Goose seems to do quite a bit of tracking through Google services – which isn't unusual for a website, but still not ideal.
If you'd like to take measures to prevent websites from tracking you, you can do so easily!
Encryption Protocols
| | |
| --- | --- |
| PPTP | |
| L2TP/IPSec | |
| SSTP | |
| IKEv2 | |
| OpenVPN | |
Goose does provide excellent OpenVPN encryption with an AES-256 cipher and HMAC Sha1 authentication for both control and data channels, RSA-2048 handshake, and DHE-2048 forward secrecy. With the 256-bit key, Goose implements military-grade encryption that is uncrackable – and while RSA-4098-bit keys are preferred for ultimate security, RSA-2048 is also good. A kill-switch is also available to Windows users.
For more information on VPN encryption, visit our VPN Encryption Guide.
Final thoughts
GOOSE VPN is definitely worth trying – and with a free 30-day money-back guarantee, why not? Goose offers excellent encryption, a user-friendly interface, dedicated P2P servers, and a strict no-logs policy. What's more, with GOOSE VPN you can connect literally as many devices as you want! Not many VPNs out their offer unlimited simultaneous connections, but Goose is one of the few.
As for the downsides to GOOSE VPN, the website tracking is easy to prevent and the lack of live chat support is not detrimental if the support agents continue to deliver fast responses via the ticket-based support system.
The only other real downside to Goose is the issues with unblocking streaming services. Consistent and reliable unblocking capabilities would really be ideal for a premium VPN service, but the fact that the techs are actively working on a solution to the issue is encouraging. That said, GOOSE VPN is still well worth looking into, especially with its generous money-back guarantee and affordable pricing. Try out Goose today!
0 User Reviews
Leave a Review
Thanks for your review!