In this review, we will concentrate on the Premium version of Hotspot Shield (the paid version). The free version is a limited version of the same service in which users may only connect to the US server. (We have included a small review of the free plan at the bottom of this review).
Features
With a Hotspot Shield Premium subscription, you get:
Servers in 80+ countries
45-day money-back guarantee
Enhanced transport protocol technology
Kill switch
Internet Protocol version 6 (IPv6) and Web Real-Time Communication (WebRTC) leak protection
WiFi protection (auto connect)
Permission to use five simultaneous connections
Browser extensions for Firefox (very dated) and Chrome (excellent and up-to-date)
Malware detection (Chrome extension only)
Adblocker/tracker blocker/cookie blocker (Chrome extension only)
Split tunneling (Chrome extension only)
App for Windows, Mac OS X, macOS, iOS, and Android
Linux app compatible with Ubuntu, Debian, CentOS, and Fedora
Option to switch languages in the app
No data limits or bandwidth limits
Router compatible
Peer-to-peer (P2P) permitted
Robo Shield - Easily identify and stop spam calls (premium only and available in US- and Canada-only)
1Password - Password manager that comes free with your subscription (premium only and available in US and Canada only)
Identity Guard - Monitor and protects you from identity theft (premium subscription based in the US-only)
With servers in nearly over 80 countries, Hotspot Shield Premium is undoubtedly a great VPN for unblocking content around the globe.
Speed and Performance
At ProPrivacy we usually test VPNs with a server based system using the OpenVPN protocol, but this is impossible because Hotspot Shield doesn't provide OpenVPN. As a result, I had to test this VPN manually. The results of those manual tests were conclusive, Hotspot Shield is a service that is extremely fast.
I tested Hotspot Shield Premium from the UK using a London-based server on beta.speedtest.net. To start, I tested for speeds without the VPN, to get base level results. Then I tested the UK and US servers to see how they performed. I tested the US server using a New York test server on beta.speedtest.net.
I tested both the Netherlands and the UK servers using the UK test server in London. Each time I did the test five times in order to ensure that there were no anomalies. Below you can see the results of these manually performed tests.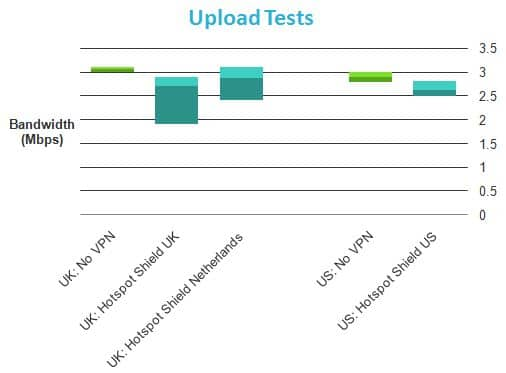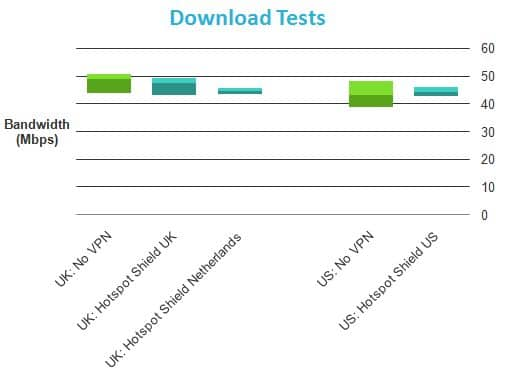 As you can see, Hotspot Shield Premium performed at insanely fast speeds. The speeds were close to indistiguishable from my connection speeds without a VPN. Downloads remained in the mid to high 40 Mbps averages on all the servers I tested, which makes this VPN a great choice for streaming in HD.
Hotspot Shield achieves these cracking speeds by using its own proprietary VPN protocol called 'Catapult Hydra'.
AnchorFree's protocol optimizes data transportation, giving it a large performance advantage in terms of how the payload is delivered inside the secured tunnel from the client to the server.
However, while the speed gains are evident from the results, the closed nature of this proprietary protocol does leave question marks over the level of privacy you get - because it can't be audited in the same way as open source protocols like OpenVPN.
Either way, if you want a super fast VPN for streaming and unblocking content, and are less concerned about the kind of privacy you are getting inside the tunnel, this is probably the right VPN service for you!
Does Hotspot Shield unblock Netflix?
| | | | |
| --- | --- | --- | --- |
| | Hotspot Shield | ExpressVPN | NordVPN |
| Netflix | | | |
| iPlayer | | | |
| Amazon Prime | | | |
| Hulu | | | |
| Disney+ | | | |
Most VPNs fail miserably when it comes to unblocking international streaming services. The good news is that Hotspot Shield is one of those services that knows how to do it well. I used the US VPN server to watch Netflix, and found it to successfully unblock shows that aren't available in the UK.
Next, I tried out the UK server to see if it would unblock BBC iPlayer, and I am happy to report that it worked without issues.
This makes the Premium version of Hotspot Shield a good choice for anyone that wants to access hard-to-get international streams. And, Hotspot Shield is also able to unblock YouTube videos that are restricted in your region.
IP leaks, WebRTC leaks, and DNS leaks
I tested for IP leaks while connected to Hotspot Shield's UK server, using ipleak.net.
I detected no IP leaks, no DNS leaks, and no WebRTC leaks. Unfortunately, I was unable to test for IPv6 because my ISP doesn't provide it. However, due to the fact that it has specific IPv6 protection built into the client, I would assume that this feature does work.
Ease of Use
Hotspot Shield supports all popular devices. They offer a VPN for Windows and a Mac VPN app. They also support mobile users with an iOS VPN app and a VPN for Android users.
Hotspot Shield has a browser extension, which is available for Google Chrome on; Windows, Android, Mac OS X, macOS, and the iOS operating systems. There is also an add-on for the Firefox web browser.
Price
You can only purchase Hotspot Shield Premium in a single plan. As such, no matter how long you decide to subscribe for, you get access to all of the VPN's features. The only difference comes in the form of the cost. The VPN is discounted significantly if you commit for a longer period.
In order to enjoy the discounted monthly price, you need to pay for your whole subscription period upfront. In addition, AnchorFree sets up an automatic re-billing agreement with your bank account. Unless you cancel, it will charge you again when the subscription period ends.
The firm has a 45-day money-back guarantee. In addition, you can trial Hotspot Shield Premium for seven days. This gives you plenty of time to cancel if you aren't happy with the service.
You need to provide your credit card details in order to utilize the Hotspot Shield Premium trial. Hotspot Shield will automatically move you onto the paid plan unless you cancel your subscription during the seven-day period. Bear in mind that if you don't cancel the trial, Hotspot Shield will put you on the monthly tariff when it transfers you to the paid service. This is the most expensive plan.
The best plan available for Hotspot Shield is a 2-year plan that reduces the monthly cost to the equivalent of $2.99 per month. An unlimited plan is also available on the website at a cost of $165. This is a good option for anybody looking for a streaming VPN.
However, allow me to remind you that the ability to unblock Netflix US (for example) is a fluid situation, and it is possible that Hotspot Shield will one day stop having the ability to unblock the service. As such, an unlimited plan should only be purchased on the understanding that the service could change.
Customer service
| | | | |
| --- | --- | --- | --- |
| | Hotspot Shield | ExpressVPN | NordVPN |
| Money-back guarantee | | | |
| 24-hour support | | | |
| Live chat | | | |
| Money-back guarantee length | 45 | 30 | 30 |
| Free trial | | | |
| Free trial length | 7 | | |
Hotspot Shield's customer support isn't one of the service's strong points. Nowadays, Premium VPNs provide 24/7 live chat to help customers to setup and use the VPN, or figure out any issues they are having. Hotspot Shield does now have live chat, which is good, but you must first sign up to Pango - which is obtectionable in terms of privacy.
Hotspot Shield's customer support seems to be under strain due to the massive number of users it has. Considering the cost of the Premium service, this is a disappointment because other services manage fine.
The VPN does have a knowledge base in the Hotspot Shield Help Center. And, this can be used to get some useful information. However, it is quite limited, so you are probably going to have to bite the bullet and join Pango if you want to get live support.
To submit a request for help you'll need to click on the "Support" tab on its home page. Following that, you can scroll down to find the button for the live chat. Alternatively, you can choose to start an email support request using the forms provided. This will create a ticket that is handled via your inbox.
It is worth noting that when I filled out the form to start a support request, I had to answer some rather invasive questions (it wanted to know details such as my operating system). This like the need to sign up to Pango is undesirable. On the whole, it is fair to say that I prefer the support experience with other top of the range VPN providers.
Hotspot Shield Premium Trial
Click on the "Get Hotspot Shield" button to access the download page. The download of the installer will begin automatically.
When you first launch it, you'll be given the option to sign up for a seven-day free trial of the paid version. Enter your credit card details in order to access the trial of Hotspot Shield Premium.
If you decide to go down this road, please remember to cancel before the week is up if you decide the service isn't for you - or you'll be charged for your first month. Note that using the seven-day trial takes away your entitlement to the 45-day money-back guarantee.
Use a valid email address, as you need to verify the address to activate the service.
Privacy and security
CSIRO Study Results
A CSIRO study from earlier in 2017 found that the free version of Hotspot Shield uses tracking to gather information on what users do online. AnchorFree, Hotspot Shield's US-based parent company, runs a marketing business that profits by selling that data on. AnchorFree also places adverts on the sites that users visit without those sites knowing. Hotspot Shield does this by injecting Javascript code into the arriving pages to place adverts (from AnchorFree affiliates) on those sites as they appear on the browser. This doesn't happen in the paid Premium version.
We gave Hotspot Shield an opportunity to answer to CSIRO's claims, this is what the firm told us:
We never redirect our users traffic to any third-party resources instead of the websites they intended to visit. The free version of our Hotspot Shield solution openly and clearly states that it is funded by ads, however, we collect no personally identifiable user data and intercept no traffic with neither the free nor the Premium version of our solutions. We never share any personally identifiable information with any of the advertisers. Our users online privacy has always been our absolute priority.
Encryption
Hotspot Shield uses the same encryption standards on all versions of the VPN. This is how Hotspot shield describes that encryption:
Turning Hotspot Shield on encrypts all of the traffic between your device and our servers using TLS 1.2 with perfect forward secrecy (ECDHE), 128-bit AES data encryption.
This level of security seems OK and would usually be considered secure. Sadly, however, because Hotspot Shield implements a proprietary protocol called "Catapult Hydra," we do not have the exact details about how encryption is being implemented. For this reason, I simply can't say that it is definitively secure.
What we know, is that Hotspot Shield claims that Catapult Hydra has been audited and that it is being used by some major players in the tech sector. Unfortunately, ProPrivacy.com have not seen that audit (or even any proof that it exists). For this reason, we cannot verify that this is actually the case.
As is always the case with VPN security - it is impossible to vouch for technology that is not Open Source - unless there is a publicly available third-party audit that has been carried out by a reputable firm.
The Hotspot Shield Privacy Policy
The Hotspot Shield privacy policy used to come under criticism because user IP addresses were not considered a "personally identifying attribute." The good news is that the firm has taken on board that criticism and has updated its policy in order to improve its service. The policy now states:
Your true IP address is stored only for the duration of your VPN session and is cleared after your session is closed. We do not associate your true IP address with your online activities and we do not store or log your true IP address after the end of your session.
This is good news indeed. It means that users of all versions of Hotspot Shield no longer need to worry that IP addresses are being stored alongside connection logs.
Logging
Hotspot shield states that:
When you launch Hotspot Shield, we also collect device-specific information, such as the hardware model, operating system version, browser type, language, wireless network, and mobile network information. This information does not identify you, and we use it to provide and improve the Services, troubleshoot, and perform analytics on our services.
Despite Hotspot Shield'ss claim that this data does not identify you, we tend to disagree. We feel that wireless network, approximate location, and mobile network id can be used to identify you. For this reason, we believe Hotspot Shield still has invasive data practices. No IPs is a good move (and certainly makes Hotspot Shield better on the desktop version), but the mobile app does tell AnchorFree (and its third party affiliates) a lot of high-risk data.
All in all, there are still a few concerns within the policy. Despite IP addresses not being stored, wireless network, approximate location, mobile network is data that can be used to identify you. As far as we are concerned, this new privacy policy still permits AnchorFree to collect too much data and we still cannot definitively consider this VPN secure for privacy purposes.
Serving Adverts
According to the privacy policy, the Premium version of Hotspot Shield does not serve adverts. This means users do not need to be concerned about data being collected by advertisers. From the policy:
If you use Hotspot Shield Premium, the Premium subscription-based version of our product, we will not serve any ads and thus no information will be collected by our third party ad partners on the Premium product.
On the free plan...
The free version of Hotspot Shield does serve users with adverts. However, the policy clearly states that:
The ads you may see on the free, advertising-supported version of Hotspot Shield are generic and never based on your personal information.
This helps to clarify that Hotspot Shield is not directly collecting information about people's VPN use in order to allow AnchorFree (the company that owns Hotspot Shield) – or any of its third-party affiliates – to perform personalized advert targeting.
In addition, the privacy policy states that:
We never share your personal information with unaffiliated third parties other than service providers that we use for internal technology and business operations (such as website hosting, payment processing, data analysis, information technology, customer service, and email delivery).
This still seems like a rather long list of firms with which data can be shared (especially considering what Hotspot Shield is still collecting from users even on the Premium version).
Hotspot Shield Free Review
The free Hotspot Shield VPN plan is an absolutely awesome resource, despite the fact that it has come under criticism. Privacy advocates feel uncomfortable about the fact that it has been found to be "actively injecting JavaScript codes using iframes for advertising and tracking purposes." These criticisms are understandable and the concerns are far from ideal.
However, considering users get a data allowance of 750 Mb per day, it's still useful for people who are desperate to get around local regional restrictions and censorship. In fact, Hotspot Shield was the main VPN used during the Arab Spring. It was also used heavily in Turkey during website blackouts in and around the time of the military coup.
Final thoughts
Defining IP addresses as personally identifiable has helped to clarify some of the objections that used to exist about Hotspot Shield's privacy policy. However, the new privacy policy still has some stipulations that specify some level of data tracking. For this reason, Hotspot Shield is not comparable to a wateright no logs service in terms of privacy.
With that said, it seems fair to say that Hotspot Shield will ensure that WiFi hotspots aren't privy to what you do online while connected, and it will prevent your ISP from tracking everything you do.
In addition, this VPN is fast and unblocks a lot of international content. If you are looking for a good streaming VPN and you aren't that bothered about it having unverified encryption levels: Hotspot Shield is very good for unblocking streaming content in HD.
As a streaming VPN there are few VPNs that are so quick - so take it for a test run!
As for the free Chrome browser and the free Hotspot Shield (750Mb per day) service? They work well and have been used by literally millions of people in times of desperate need. For this alone, Hotspot Shield deserves a big pat on the back.
0 User Reviews
Leave a Review
Thanks for your review!