Alternative Choices for You
Mullvad is a VPN that is primarily focused on privacy rather than accessibility. It is a service that is massively technically proficient, and it offers a wide range of advanced anti-censorship technologies. This availability is spoiled slightly by a lack of international server locations; which makes it a less desirable option for people living in countries that actually require obfuscation.
With that said, Mullvad's apps are easy to use on all platforms, and are well suited to people who want top-notch privacy. As a result, techy VPN users who need privacy for torrenting or bypassing censorship will be happy with this VPN. For everybody else, the slow support, failure to unblock Netflix regions including the US library as well as other streams, and lack of accessibility will probably mean it is better to shop elsewhere.
Does Mullvad VPN unblock Netflix?
Mullvad VPN is not a service that focuses on providing access to popular streaming services for its users. As a result, it is not able to overcome the VPN blocks carried out by popular streaming platforms.
We connected to Mullvad's Chicago, Los Angeles, New York, and Salt Lake City servers – and each time we found it unable to unblock the larger US Netflix catalog. Next, we tried to unblock Hulu and again found it unable to work. This is a shame and means that customers hoping to unblock popular streaming services will be better off shopping elsewhere.
As is always the case, we also tested Mullvad with the UK's BBC iPlayer. Again we found the service unable to bypass the BBC's VPN blocks – even when we were connected to Mullvad's VPN servers in the UK.
The lack of access to popular streaming services is definitely a downside of this VPN, so if this is a key factor when purchasing a VPN subscription please bear it in mind.
Features
Mullvad offers the following features to all users of its service:
Apps for all popular platforms: Windows, Android, macOS, iOS, and Linux (Ubuntu, Debian, Fedora)
Servers in 36 countries
Five simultaneous connections permitted
Port forwarding
Port selection
Split tunneling
Kill-switches available on all platforms
OpenVPN protocol
WireGuard protocol
P2P torrenting permitted
Obfsproxy and Shadowsocks bridges (anti-censorship technologies)
SOCKS5 proxy connections
Secure Shell (SSH) and Secure Sockets Layer (SSL) (stunnel) tunneling (anti-censorship technologies)
Multi-hop VPN (or Double hop)
Full Internet Protocol version 6 (IPv6) routing
Most servers are in Europe, but Mullvad also has servers in North America, Australia, and the UK. Compared to other, more commercial services, this is somewhat limited, and may restrict Mullvad's usefulness for users in places such as Asia.
On the plus side, all Mullvad's servers are bare-metal servers (not Virtual Private Server instances) under the close control of Mullvad. You can connect up to five devices to Mullvad at once, which is generous.
It is also worth highlighting the fact that Mullvad is the only VPN service I know of to properly route IPv6 connections through the VPN tunnel. Most other good VPN services simply disable IPv6 in order to prevent IP leaks. This is not a major problem at present, but kudos to Mullvad for looking to the future here.
Port Selection and Port Forwarding
It is rare for VPNs to be blocked, but it happens in places such as China and Iran (although this is usually only partially effective). Mullvad allows you to counter such measures by running the VPN over almost any port (a few ports are blocked to address spam and security issues).
The most common use for this is to run OpenVPN traffic over Transmission Control Protocol (TCP) port 443. This is the port used by HTTPS, the encrypted protocol that secures websites. Without HTTPS, no form of online commerce, such as shopping or banking, would be possible. It is therefore very rare for this port to be blocked.
As an added bonus, VPN traffic on TCP port 443 is routed inside the Transport Layer Security (TLS) encryption used by HTTPS. This makes it much harder to spot using deep packet inspection (DPI). TCP port 443 is therefore the favored port for evading VPN blocks.
SSL and SSH Tunneling
If switching to TCP port 443 is not enough to evade censorship or otherwise hide the fact that you are using a VPN, Mullvad offers SSH and SSL (stunnel) tunneling. This wraps your VPN data inside an additional layer of SSH or TLS/SSL encryption.
As DPI techniques are unable to penetrate this "outer" layer of encryption, they are unable to detect the OpenVPN encryption "inside." For more details about this technique, please see my guide on How to Bypass VPN Blocks.
Shadowsocks
Mullvad also supports Shadowsocks. This "is an open-source proxy application, widely used in mainland China to circumvent internet censorship." It is an open-source anti-Great Firewall tool/protocol/server created by a Chinese developer. Basically, it's a special Socket Secure (SOCKS5) proxy.
It is also worth noting that by connecting to one of its bridging servers, Mullvad users can multi-hop their VPN connections. This is primarily useful in complicating traffic analysis attacks.
Again, for more information please see our guide on How to Bypass VPN Blocks.
SOCKS5 proxy
Please see What Is a Proxy Server? for a full discussion on what a SOCKS5 proxy is. They are particularly useful to P2P torrenters, as you can either configure just your BitTorrent client to be protected (rather than using a full VPN connection), or you can use both SOCKS5 and VPN together for "double protection" while torrenting.
Mullvad also uses SOCKS5 to pull off some neat tricks, such as enabling stunnel connections and for split tunneling (setup guide available).
WireGuard encryption
Mullvad is a big fan of the WireGuard VPN protocol, and it was the first VPN provider to begin implementing it in its clients (many have followed suit since). In fact, Mullvad likes to reiterate the performance potential of WireGuard:
WireGuard performs significantly faster than OpenVPN, often 5-20x faster on small consumer routers, and it handles roaming better.
This makes it an extremely interesting protocol that is well worth trying out if you need lightning-fast VPN connections.
As the most recent VPN protocol to arrive on the scene – and due to being a protocol that is praised due to its small size (which makes it easy to audit) and use of secure modern cryptographic primitives – this is an excellent addition to its clients that some techy users will definitely want to make use of.
Warning
It's worth noting that WireGuard is not as "battle-tested" as OpenVPN, which is why we recommend OpenVPN for users who are more focused on reliable privacy over VPN performance.
Speed and Performance
At ProPrivacy.com we pride ourselves on giving you the most sophisticated VPN speed data available on the market. Most VPN reviewers use an online speed test tool to test VPN speeds on a random day of the year. This provides an extremely limited snapshot of how the VPN actually performs.
To give you better information, we use a scientific server-based system that tests all of the world's leading VPNs three times a day. For impartiality, we always test using OpenVPN UDP connections – which means that all providers are compared using the same measuring stick. See our full speed test explanation for more details.
Below, you can see average and burst (maximum speed logged at any time during the last three months) speeds for Mullvad – next to the same results for a few of its most popular competitors.
As you can see, Mullvad provides speeds that are directly comparable to the very fastest VPNs on the market. Average download speeds of 77 Mbps make Mullvad consistently one of the fastest VPNs on the market. This makes it a great option for people who want to perform data-intensive tasks such as downloading torrents and gaming.
Next, we tested its DNS lookup times as this can give the impression of slowness when loading pages. Again, we found the VPN to perform excellently:
As you can see, Mullvad was able to deal with DNS requests using its own servers in super-fast times of under a second. This guarantees that the VPN will not only perform quickly but will also feel extremely nippy. To conclude, as far as speeds are concerned this VPN is very hard to beat, and anybody interested in downloading torrents will be impressed with the performance levels they get.
IP Leaks
Next, we tested the VPN for IP leaks, DNS leaks, and WebRTC leaks and we are happy to report that we found no leaks on Windows or macOS. This means that the VPN is working as advertised on all platforms.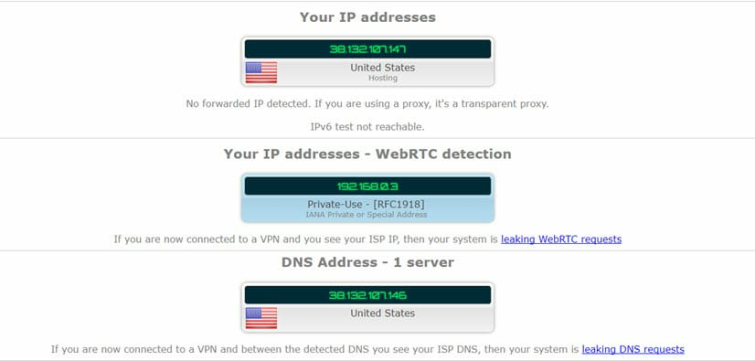 What is also great about this VPN, is that has been developed to handle IPv6 connections. This is a rarity and means that IPv6 users can feel confident that the VPN will perform without any of the IP leaks that many other providers encounter when dealing with IPv6 connections.
All in all, this makes Mullvad a highly reliable VPN that can be trusted to give you the data privacy it claims to provide with its apps.
Price
Mullvad is a provider that has a rather unusual pricing scheme. A Mullvad subscription costs €5 per month (approx. $5.94 USD at the time of writing). No discounts are given for buying a longer subscription plan – as is the case with the vast majority of VPN providers on the market.
The only discount available is for users who pay using Bitcoin or Bitcoin Cash. These customers get 10% off, purportedly, "due to lower fees and less administration."
While $6 per month is not exactly expensive, it is well worth noting that a high number of VPN services can be purchased for less than $3 per month (and as little as $1.99). Although that does mean having to sign up for a year (or more) – this does save you a lot of money in the long run, and this is unfortunately not possible with Mullvad.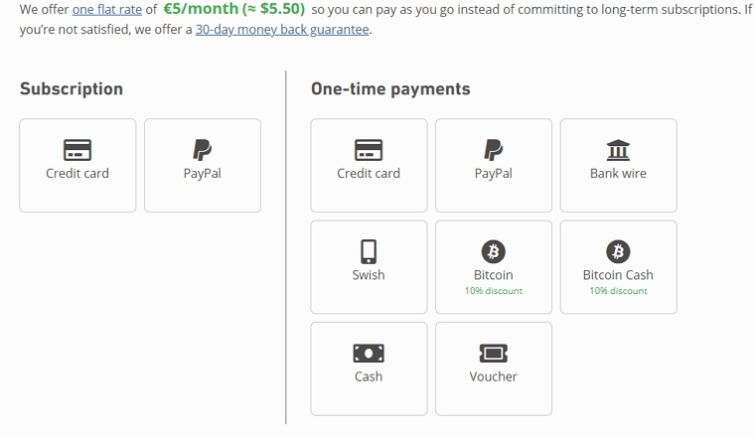 We would like to see Mullvad offer these kinds of discounts to its users, but also understand that, as a smaller provider with a much smaller user-base, it does rely on the extra income created by this particular subscription scheme. And, the one advantage is that you do not need to commit to a lengthy contract and can decide to change providers whenever you want.
Of course, whether you want to pay 5 Euros for Mullvad each and every month will largely boil down to why you want a VPN. If you are a political dissident, a journalist, a human rights activist, or someone who torrents regularly; the fee may seem like a small price to pay for the privacy levels and features you get.
For 99% of the population, however, the desire for privacy and access to popular services like Netflix US, Hulu, YouTube TV, iPlayer – which is attainable for a few dollars less through competing VPN providers – Mullvad may seem a touch expensive. And, we must agree that for most users it probably is.
As you can see in the image above, Mullvad accepts a wide range of payment methods. Mullvad accepts vouchers that can be purchased in person using cash from certain stores, and, Mullvad even accepts cash payments through the post. This means that Mullvad customers can pay without leaving a trail (great for gaining additional privacy).
Ease of use
The Website
I would describe the Mullvad website's aesthetics as functional. The layout is clean and information is presented in a clear, easy-to-access manner. The information itself is informative, well-written, and covers most questions I had about the service.
The various guides, in particular, are very useful. This includes both setup guides and more general guides to things such as setting up split-tunneling, configuring pfSense with the VPN, and how to get the best performance from your BitTorrent client.
Mullvad also publishes interesting blog articles on a monthly basis.
Mullvad Support
Other than the great setup guides, support is limited to an email address. When I contacted Mullvad I had to wait three days for a reply. It must be said that when it eventually came, the reply was excellent.
Many VPN services are extremely vague or are completely unable to answer when pressed for details about the encryption they use. Mullvad, by contrast, provided a very detailed and knowledgeable response to our questions.
Despite this, the lack of live chat support, coupled with the slow response times, is a huge contrast to the vast majority of premium VPNs nowadays, and is one of the areas in which this VPN provider is hugely lacking.
Signing up to Mullvad
The Mullvad signup process is very unusual, in that you do not need to supply either an email address or a password. All you need do is prove that you are human with a CAPTCHA, and you will be issued with an account number.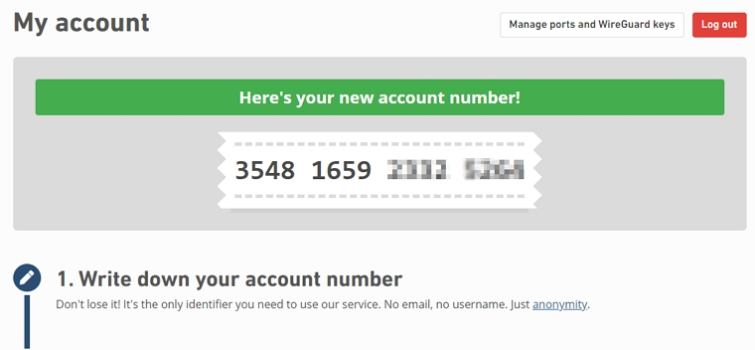 This number is the only way in which Mullvad identifies your account. It is used to sign in to the client, to manage account payments, and so forth.
The Windows Client
Once you have generated an account number, you can download Mullvad's Windows VPN software. As soon as you start to use the software, your three-hour free trial timer starts to tick.
The client has firewall-based DNS leak protection and kill-switch ("Block the internet on connection failure"). You can also tunnel IPv6 connections through the VPN. If this option is not enabled, IPv6 is simply disabled, which helps to prevent leaks.
The nice thing about this VPN, is that if you know what you are doing you can manually tinker with advanced connection settings to your heart's content. And, while the client is fairly stripped-down in terms of design, it works flawlessly and has all the features you need to gain high levels of privacy and security.
Other Platforms
Mullvad has dedicated clients for Windows, macOS, Linux, iOS, and Android. These are all essentially identical (though the mobile clients are still officially in beta).
The Linux VPN client is noteworthy because fully-featured graphical user interface (GUI) Linux clients are still extremely rare. This makes Mullvad a very interesting option for Linux users.
Full setup instructions for the Linux client are available for Ubuntu/Debian, Fedora 23/24, Fedora 25/26, Mint/Debian, and Elementary Freya.
Detailed manual setup guides (mainly OpenVPN) are also provided for Windows, Mac OS, Linux, iOS, Android, Qubes OS, and a selection of routers (including DD-WRT and Tomato).
Privacy and security
Privacy is an area in which Mullvad truly shines. Its no-logging data policy is one of the clearest and most comprehensive documents of its kind that we have ever encountered. Crucially, there is no logging of:
traffic
Domain Name System (DNS) requests
connections, including when one is made, when it disconnects, for how long, or any kind of timestamp
IP addresses
user bandwidth
account activity except for total simultaneous connections and the payment information detailed in the policy
The website also includes no tracking or analytics scripts whatsoever.
Mullvad is based in Sweden. This is not ideal from a privacy standpoint, as Sweden suffers from some government surveillance issues. However, VPN providers in Sweden are not required by law to keep any logs. Add to this the fact the Mullvad has recently endured a full third-party security audit of its apps and infrastructure (by the security firm Cure53), and you have a VPN that is highly trustworthy in terms of the privacy protections it provides.
In addition, Mullvad accepts anonymous payment via Bitcoins or cash sent by post. And Mullvad is the only company we know of that doesn't require an email address to sign up. This speaks a great deal for Mullvad's commitment to privacy.
Another point worth mentioning is that Mullvad is very open about who owns and runs the service. The physical address of its parent company (Amagicom AB) is prominently displayed on the website, as are the real names of its owners and team members.
This level of transparency is very refreshing in an industry where VPN company owners and operators often prefer to hide in the shadows. this, again, helps to inspire a great deal of trust in Mullvad.
Encryption levels
The real test of a VPN provider's technical security is in the details of the OpenVPN encryption it uses. By default Mullvad uses the following settings:
Control channel: an AES-256-GCM cipher with RSA-4096 handshake encryption and HMAC SHA-1 hash authentication. Perfect forward secrecy is provided by a DHE-4096 Diffie Hellman key exchange, which is re-keyed every 60 minutes.
Data channel: an AES-256-GCM cipher. HMAC hash authentication is not required because GCM ensures both confidentiality and integrity. GCM attaches a so-called authentication tag instead of a HMAC hash.
Hash authentication on the control channel can be upgraded to SHA-384 by manually editing the configuration files. Even at default levels, however, this is an extremely secure setup
All custom software is fully open source and is digitally signed, which is great.
Want to know more? Please check out our VPN encryption guide and 5 most secure VPNs for 2023.
Final thoughts
Mullvad is a VPN provider that it is easy to be a fan of. Very few VPN services can match its dedication to privacy. We find it a good option for people who need to evade censorship or perform online tasks without fear of being monitored by an oppressive government.
Even for casual VPN users, Mullvad is a reasonable option. However, if you aren't in need of advanced privacy features we think it is better to shop elsewhere. Mullvad is not an industry leader when it comes to customer support, and this does limit the value for money you get.
Add to this, its lack of server locations when compared to other premium VPN providers – as well as its failure to unblock streaming services from around the world – and the reasons to shop elsewhere definitely start to stack up.
Some of those drawbacks must be considered a huge disappointment considering the fact that it is possible to get a VPN with 24/7 live chat, strong privacy levels, and a global server network – with unlimited access to Netflix US – for up to a third of the cost.
If you can live with the drawbacks, and actually need some of Mullvad's more advanced privacy features (most customers probably don't), then Mullvad is a VPN that is worth considering. Unfortunately, for most people, the added cost can't be justified due to the service's genuine lack of versatility.
1 User Reviews
Leave a Review
Thanks for your review!