What is StartMail?
StartMail is a secure email provider, founded in the Netherlands in 2014, with a mission to both raise awareness of, and protect, user privacy in an age where everything we do online is monitored, tracked and analyzed. Using StartMail ensures that your emails are encrypted, which makes sure that none of your messages are vulnerable to third-party snooping.
Encrypting your email also shields you from mass surveillance, like the "PRISM" program, and protects you from scans that take a peek at your emails for advertising purposes, even when sending messages to individuals who don't use StartMail themselves.
A StartMail subscription comes with 10GB of email storage and no limitations on the number of messages you can send. You can choose any username that's not already taken, and you can even create an unlimited number of temporary, disposable email addresses to use in situations where you'd rather not give out your details.
In this review, we'll be taking an in-depth look at the service and deciding whether you should trust them with your personal information and emails.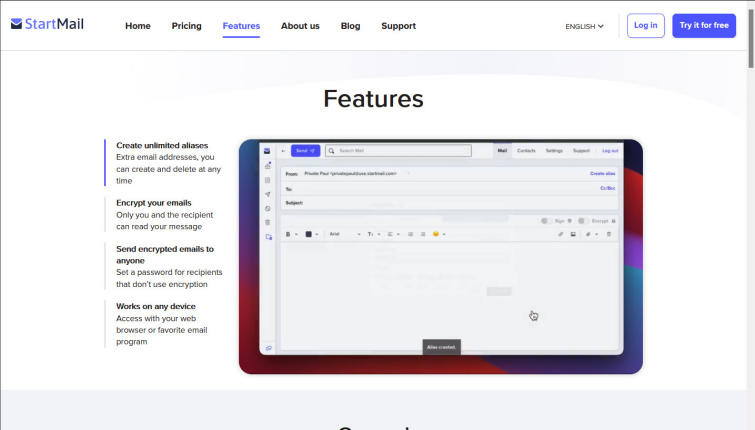 Features
Here are StartMail's top features at a glance.
| | |
| --- | --- |
| Encrypts attachments | |
| Encrypts subject line | |
| Custom domain | |
| No ads | |
| GDPR compliant | |
| Calendar | |
| Encrypted messages to non-users | |
| Self-destruct emails | |
| Strips IPs from emails | |
How to start with StartMail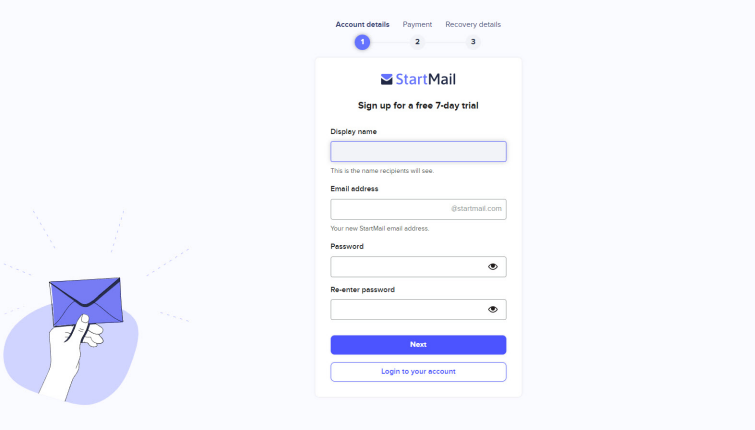 Getting set up is as easy as you could like. Input a display name (it doesn't need to be your real name), pick your email address and a password, and then supply your payment details.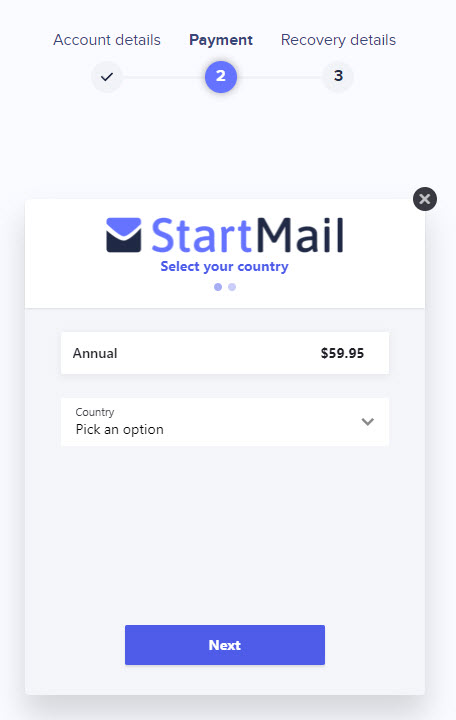 This is one aspect of the service that may be a deal-breaker for some. You must pay for your year's subscription up front and there's no way to opt for monthly payments. StartMail has stated that the requirement to pay up front is to discourage people from abusing their service.
Once you've filled in your payment details, you're presented with a recovery code for the account. Please make sure you write this down! While you can also register a recovery email address once you login, having this code removes the need to do so.
Web portal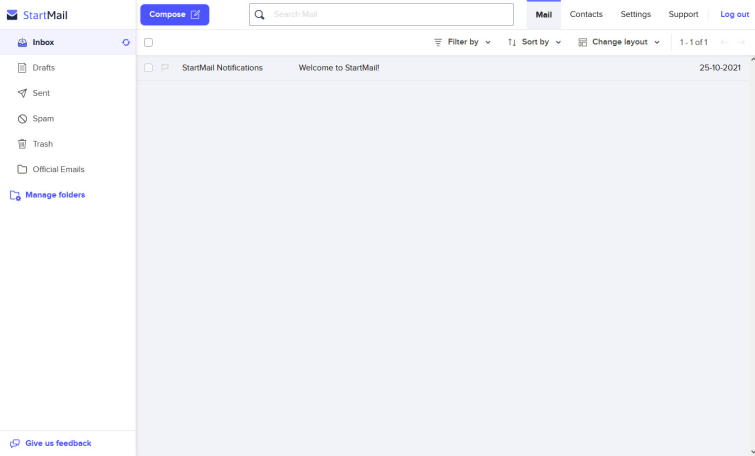 The interface for StartMail is clean, straightforward and likely already very familiar to anyone who has used Gmail, Yahoo or any of the dozens of other webmail portals. There's the inbox, any folders you might want to create (plus the ability to create filters to automatically route mail), and your contacts. The one thing StartMail currently doesn't have is a calendar, but this functionality is currently slated for a release in 2023.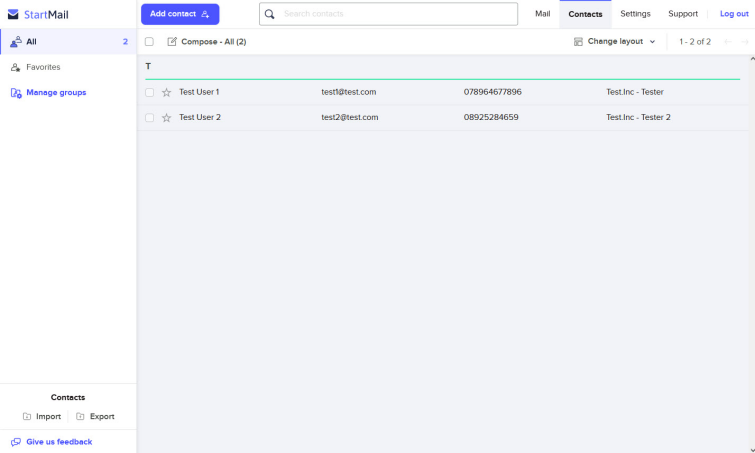 Functionality/performance
It is a little disappointing to see that there are no native StartMail apps for Android or iOS – everything is carried out through the web portal accessed through your browser of choice. StartMail support has confirmed in an email to ProPrivacy that they currently have no plans to introduce native clients, which is a shame, but not the end of the world.
You can configure third party Android mail apps like K-9 or FairEmail to connect to StartMail, and StartMail has provided instructions to help you set them up, but other than that you'll need to log on via your browser of choice.
Officially, StartMail supports the big four browsers – Chrome, Edge, Firefox and Safari. The service should work with other browsers, however, you just won't be supported in case of any problems. During testing, I confirmed that I had no issues logging in or using StartMail through OperaGX, Brave, or even on Samsung's bespoke mobile browser.
Everything on StartMail was smooth and responsive, with no discernable lag or processing delay when switching between inbox/contacts/settings, and no hangs or slow-down when sending emails. All in all, StartMail is a smooth and polished experience.
Privacy and security
The only bugbear we have about StartMail from a security perspective is the way it handles encryption – server-side rather than end-to-end. This means that, in the unlikely event that StartMail's server is ever compromised, there is a chance that someone could do something naughty with your details.
More encouragingly, StartMail has made sending an encrypted email as easy as can be – write your email as normal, pick a password, confirm your PGP details and off it goes!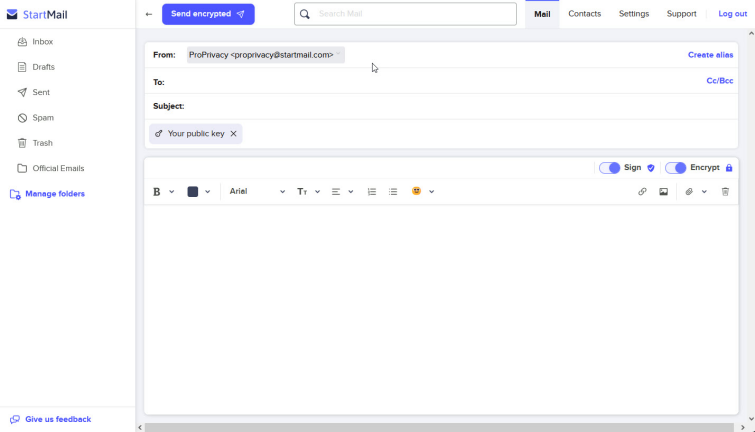 The personal message section allows you to further prove the authenticity of the communication and gives you the chance to remind your recipient about the email's contents. All the recipient sees at the other end is a notification that a message is waiting for them – along with whatever personal message you include.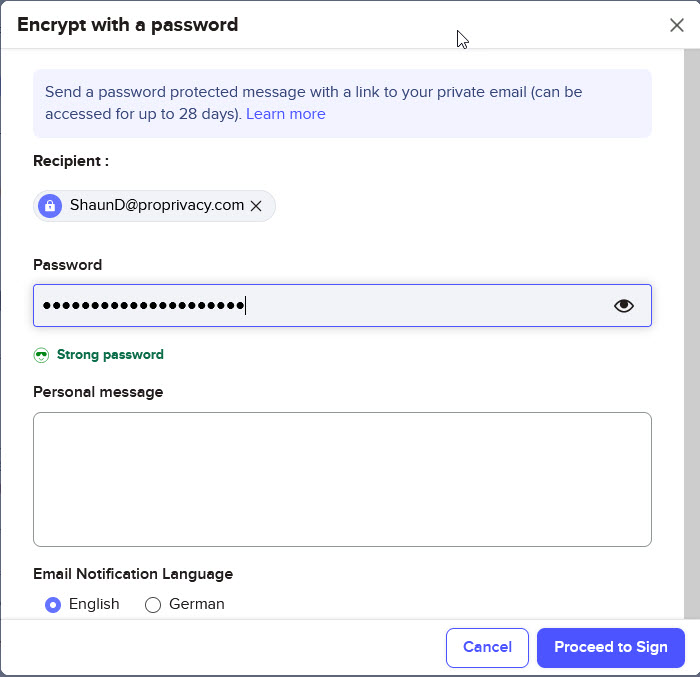 Of course, you don't have to encrypt or sign your emails! Users are free to mix and match. You can encrypt emails with just a password, send them signed with your PGP key, or even uncheck both those options and simply send a normal email instead. One thing to note is that encrypted messages cannot be saved by their recipient, due to the way StartMail handles them (as described above).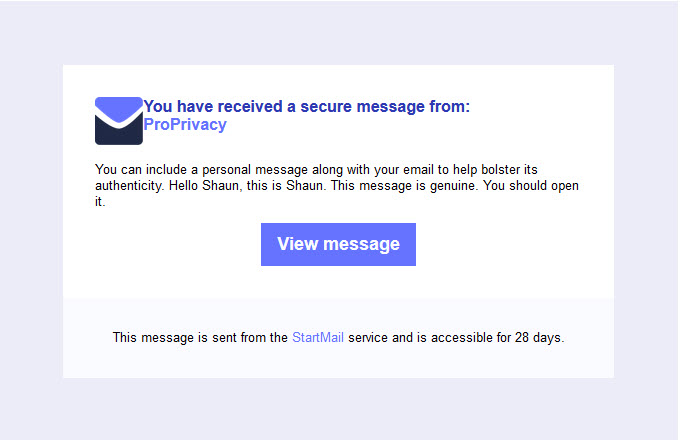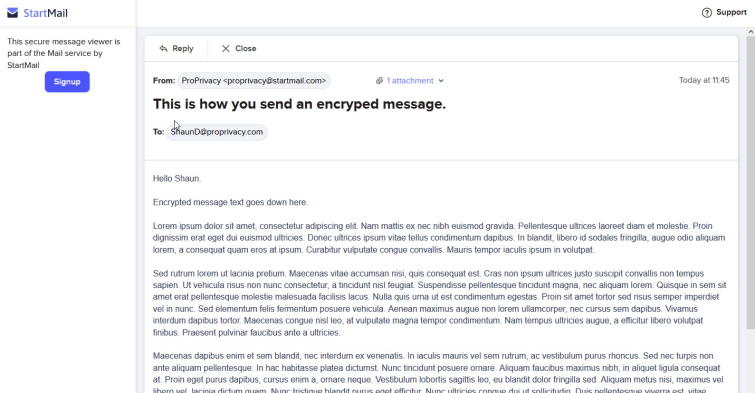 Pricing and plans
StartMail's pricing is about as straightforward as it gets. There's no free tier, though the service does offer a 7-day free trial for you to experiment with. The only option at the time of writing is a subscription priced at $59.95 a year, taken as a single payment when the free trial expires (unless you cancel beforehand).
I have never been a fan of auto-renewing payments, especially when the trial period is so short, so make sure you cancel the trial account before payment is taken if you're not planning to continue using the service.
The main payment options are credit/debit card (Visa, Mastercard, or American Express) or Paypal. Consulting the SmartMail support pages reveals that they do accept cryptocurrency payments, Bitcoin specifically, but customers must contact the support team via email if they wish to pay this way.
StartMail's rationale for requesting payment details, even when signing up for the free trial, is that it prevents their service from being used as a hub for spam.
The future
StartMail is a product in active development, with some useful new features planned for 2023. Already rolled out this year is the ability to switch the site to a "dark mode" for those of us who don't want to be blinded when we're checking our emails last thing at night.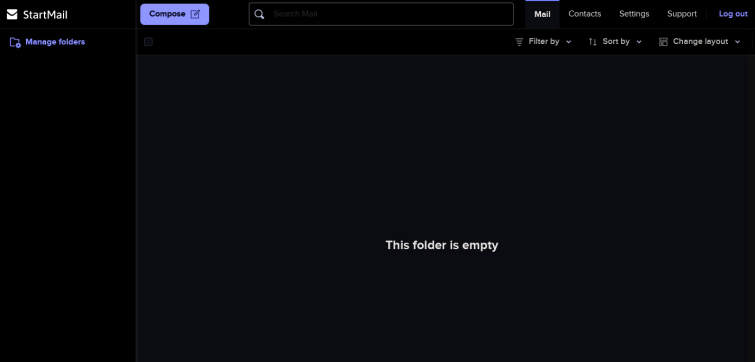 Other planned functionality improvements include product onboarding and email migration – so users can easily switch to StartMail from other email providers. They're also looking to add alias functionality for those accounts using custom domains. It's fair to say that StartMail is a product that's being improved all the time, which is one major benefit of paying for a service – it gives the provider the budget they need to continue adding new features!
In conclusion
There's a lot to like about the way StartMail does business, including the smaller things, like the Terms of Service and Privacy Policy. Both are clear, easy to read, jargon free, and, just as importantly, kept up to date. The StartMail GUI will be immediately familiar to anyone who has used a rival webmail service, too.
It's both easy to set up and use StartMail through the web, and it supports IMAP for those who might want to download their email to an external client such as Thunderbird or Outlook.
StartMail does come with a handful of caveats, but nothing that would keep me from recommending the service. The biggest of these is that users are required to provide payment details up front – and that the free trial only lasts 7 days. Plus, if you don't cancel before the trial runs its course, you'll be billed for the year. It'd be nice to see StartMail offer a monthly payment option, too. There's also some functionality that's still in the pipeline, such as the calendar, but it's been a struggle to find many things of substance to complain about.
StartMail brings a really solid offering to the table, and my only true gripe is the lack of versatile subscription options. The service places a real focus on security and privacy that's easy for novices to get to grips with, unlimited aliases, and a generous amount of storage space. StartMail is a great option for those looking to migrate away from webmail providers like Gmail and start properly securing their email communication.
0 User Reviews
Leave a Review
Thanks for your review!