Overview
Although many websites have already implemented requirements of case sensitivity, adding numbers and sometimes even symbols, human error is littered throughout passwords from their predictability to how many times a single password is used across different accounts. This increases the likelihood of a leak, with sensitive data falling into the wrong hands. After all, if one account is compromised, then many others often are at risk.
Dashlane not only protects accounts but enhances the user experience by acting as a one-stop-shop. Users will only have to remember their one master password, as the software stores current passwords in an encrypted database. These weaker passwords can also be replaced using the Password Generator and, in some cases, the Password Changer to strengthen security.
Pricing
Like its rivals, Dashlane operates as a freemium product, splitting features between free and Premium versions. While free members will get security alerts and be able to autofill sign-up and sign-in screens, they are restricted to 50 passwords on a single device.
Dashlane has increased the price of its Premium subscription from $39.99 per year to a $59.99 annual charge in the United States. This unlocks these limitations, allowing for unlimited passwords across as many devices as you'd like, while also adding Dark Web Monitoring and a VPN service.
If you are in need of a password manager that caters up to 6 people, Dashlane also has a Premium Family plan for $89.99 per year. This subscription has all the benefits of the solo Premium subscription, but adds a Family Dashboard to manage members and billing easily. Each person has a private account that cannot be accessed by the payee, so there's no need to worry about others taking a peek.
Dashlane even offers credit monitoring, identity restoration support, and identity theft insurance if you can afford it, with its individual Premium Plus plan setting you back $119.99 annually and Premium Plus Family costing you $179.99 per year. These plans are currently only available to a limited amount of countries, such as the US.
Please note

The price increase seems to only be in the United States. You can still subscribe to the Premium package for $39.99 per year, or the Premium Family for $59.99 annually by connecting to a VPN server in the United Kingdom.
After signing up, users are immediately granted 30 days of Premium for free. The password manager can still be used once this period runs out, but it will be limited to the free version unless the user inputs card details or links their PayPal to extend their subscription.
If you're not sure on Dashlane, you can see our other favorite password managers in our guide.
Setup
Sitting under 1Mb, Dashlane's executable is incredibly light and can be downloaded directly from the website for Windows, macOS, Android, iOS, and Linux. The product itself installs quickly, allowing users to log-in or create a new account from the main menu.
We recommend that users enter a strong master password during this initial setup as this will be responsible for protecting accounts subsequently attached to Dashlane. Fortunately, there is a checklist that requires everyone to have a minimum of 8 characters, including at least one uppercase letter, one lowercase letter, and one number.
Users on Windows also get the option to activate Windows Hello, further securing their account with system-based passwords and biometric security. Users on mobile will instead be able to use their built-in fingerprint scanner to unlock their account.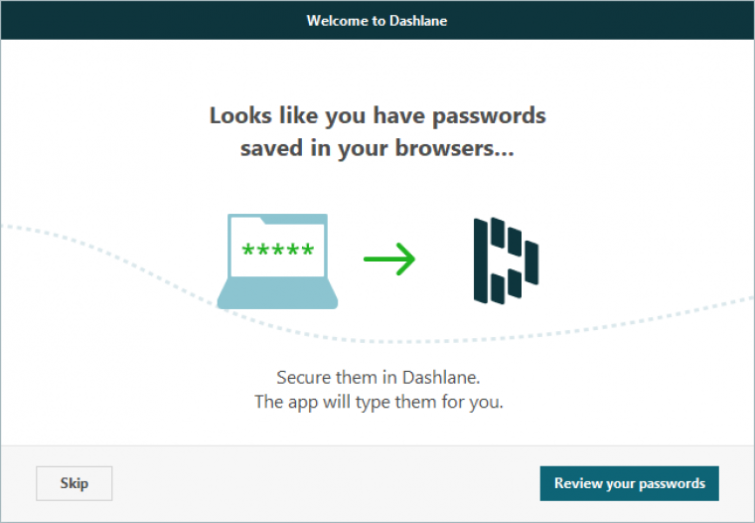 Once this has been filled out, users are welcomed with a series of guides. Although there is an option to skip past these and get straight to the core of the manager, the guides help to explain the full feature set that Dashlane has to offer.
The software automatically detects passwords saved in each browser installed on the system and allows users to import them over to the service, saving time in the long-run. This method is best conducted solely using the current default browser, as old passwords from other browsers can easily muddy accounts with multiple choices.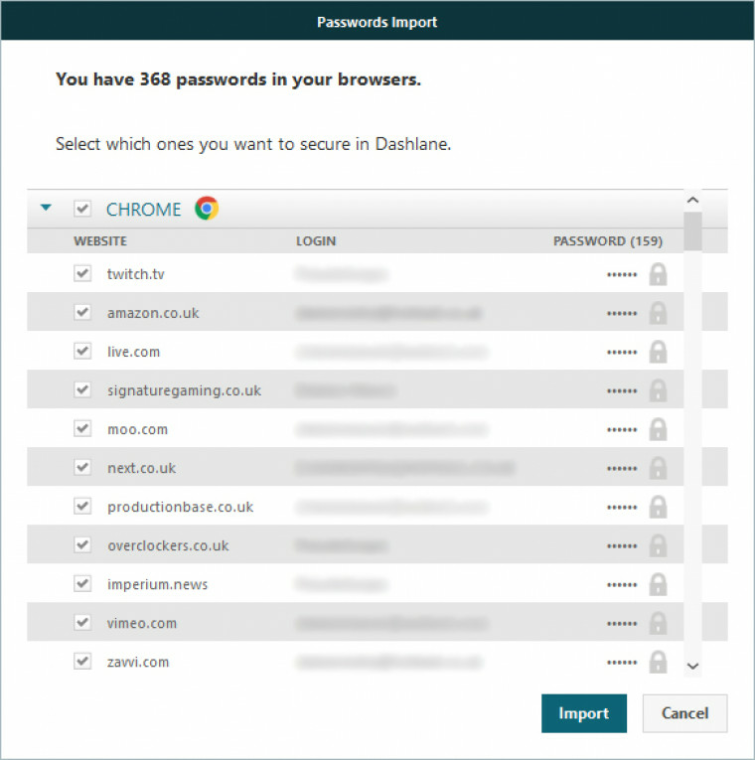 Following this, the user is prompted to add an extension to their default browser, streamlining limited access to the service including the vault of passwords and details about current websites.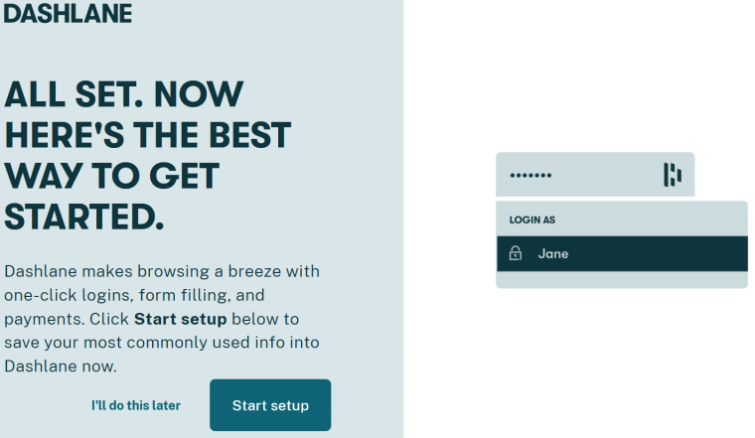 Lastly, users can immediately record their details in the autofill form consisting of the user's name, title, date of birth and phone number. Most of these are optional and anything that has been filled out will become the default input for any website asking for information.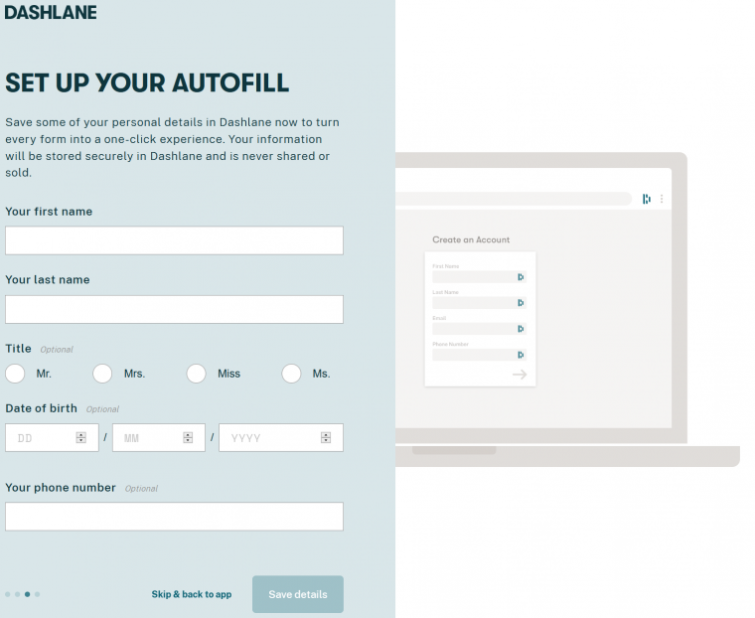 Features
In order to stand out from the crowd and remain competitive, Dashlane has introduced a number of key features to its password manager. These features include:
Compatibility with Windows, macOS, Android, iOS, and Linux
Automatically save details and auto fill log-in forms
Integration and compatibility for6browsers(Chrome, Firefox, Microsoft Edge, Internet Explorer, Opera, and Safari)
Automatic Password Generator
Synchronization of passwords across all devices
AES256 encryption
Two-factor authentication with popular applications (Google Auth, Duo Mobile andAuthy)
Biometric security(Android, iOS, and Windows)
5-minute timer for password auto-lock
Adjustable auto-logout timer
Secure Notes
Payment Tracking
Digital Passport & ID
Secure mobile browser
Password health indicators
Password Changer
Dark web scanning for leaked and stolen data
VPN
Cloud synchronization can be enabled across all the major mobile and desktop platforms, allowing users to autofill details across multiple devices with a single master password. Dashlane uses Advanced Encryption Standard 256 and allows for two-factor authentication, biometric security, and auto-locking, keeping details nice and secure.
Users can keep track of more than just their passwords. Dashlane also allows users to write secure notes, store a digital version of their passport or ID and craft a digital wallet to monitor their credit cards or PayPal account. And as an added bonus, all of this is accessible across all devices.
Password Changer
The Password Changer tool is incredibly handy, doing exactly what it says on the tin. It streamlines the monotonous process of having to re-secure accounts with more robust passwords by logging into the website with the provided credentials and changing things for you. There are a number of caveats with this process, however.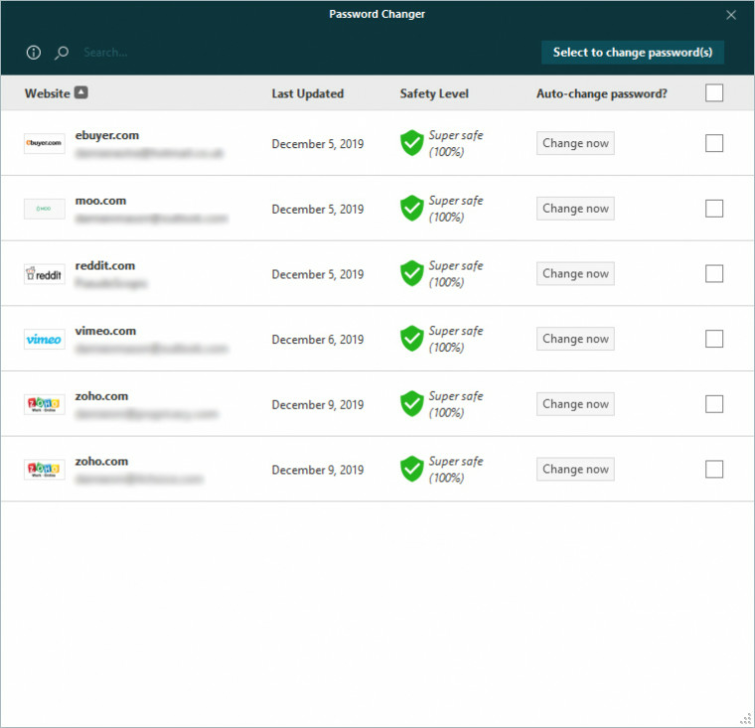 Firstly, the tool is only compatible with participating websites, currently restricted to approximately 552 different domains. This is incredibly limited and means that users will have to comb through incompatible accounts manually with the Password Generator to better strengthen their security.
Secondly, the Password Changer is reliant on the accuracy of the import conducted during the setup phase. While this can be an incredible time saver, some of my stored passwords were outdated and required me to intervene manually with the current passwords in order to make use of the automated process.
Of course, should a user decide that Dashlane isn't for them, there is no tool that easily reverts the changes that have been made. This means that users will either have to have an incredible memory to remember the new, nonsensical passwords, change them before Dashlane is uninstalled or use recovery methods to reset the changes.
Dark Web Scanning
Alongside password health, Dark Web Scanning can be accessed through the Identity Dashboard, allowing users to monitor data for leaks and breaches. This encompasses passwords, logins, emails, credit cards, phone numbers, and addresses, giving a breakdown of what is safe and what is compromised.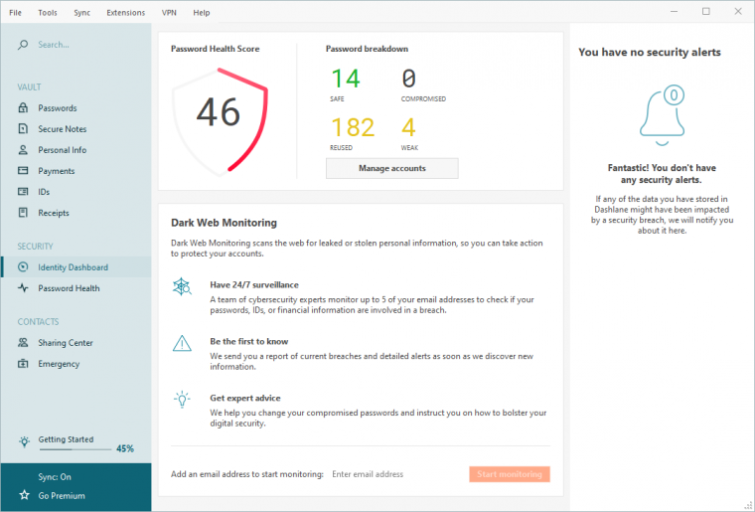 There is no limit to the number of email addresses a user can track, but each one has to be verified before Dashlane begins tracking data. If anything is wrong, security alerts are clearly displayed as a push notification on mobile and pop-up on desktop, helping to notify users of problems demanding immediate attention.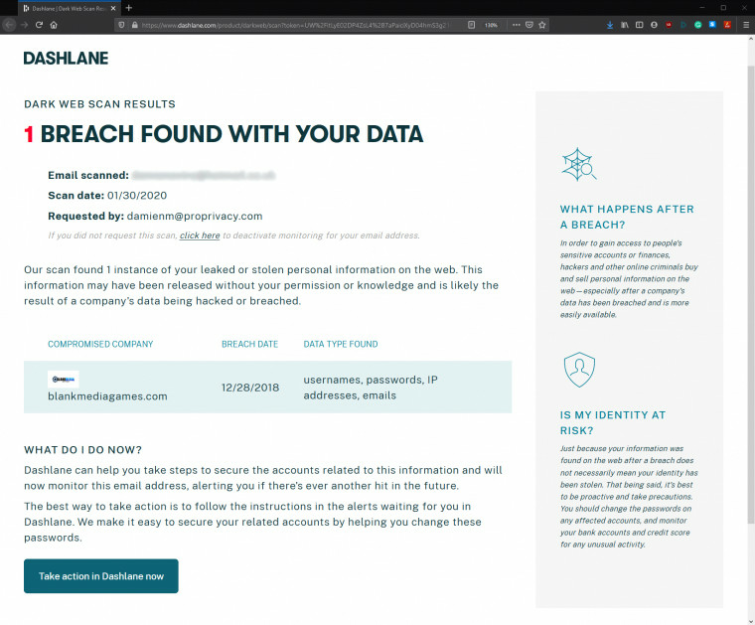 VPN
Dashlane's VPN is the only Premium feature to not be included within the 30-day free trial, instead of requiring users to purchase a subscription. Unlike most services, the company doesn't place any limitations on bandwidth or connected devices, allowing you to protect as many systems as you like.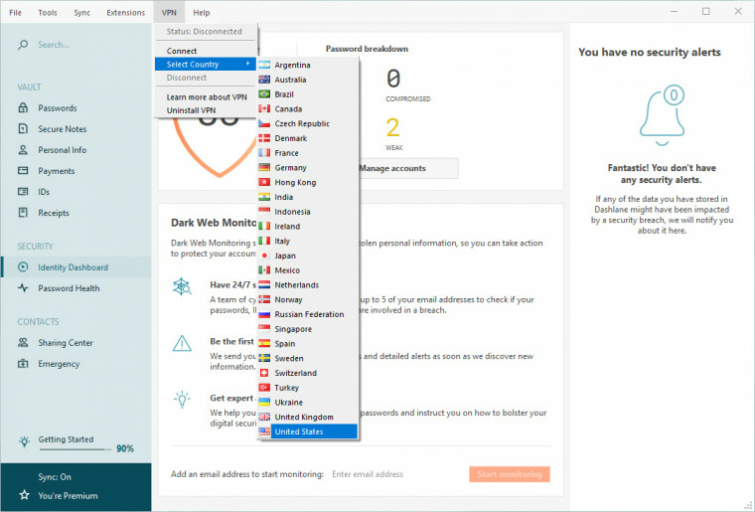 You can connect to any one of 26 different countries at the click of a button, with minimal sacrifice to internet speeds. While this is perfect for keeping your privacy on public connections, Netflix, unfortunately, detects when it is in use, meaning that you can't get access to the streaming giant's various libraries.
Ease of Use
Newcomers are treated to explanations of the features mention above, while veterans of the software can easily skip ahead. The process is streamlined to ensure that users have the choice to import passwords saved within all installed browsers and download an extension to their default.
The service is available across all major platforms, with Windows, macOS, Linux, Android, and iOS all synchronized. Each interface is intuitively designed to be friendly to both first-time and returning users, making Dashlane perfect for those not well versed in technology.
Creating a new account will automatically prompt users to save their details within Dashlane while existing accounts will give the same prompt when passwords are changed. This, combined with the autofill form that users can fill out during the setup, allows Dashlane to fill out the correct details automatically so that users barely have to lift a finger.And if Dashlane doesn't happen to autofill everything for you, simply click on the company logo to the right of the log-in bar.
Unfortunately, Dashlane is limited to websites via browser extensions, which makes the software less-than-ideal for those wishing to secure installed programs and applications.
Mobile
Dashlane's user interface is consistent across all of its platforms. On Android and iOS, the sidebar houses options found in "tools" on the desktop version, preventing unnecessary menu-hopping.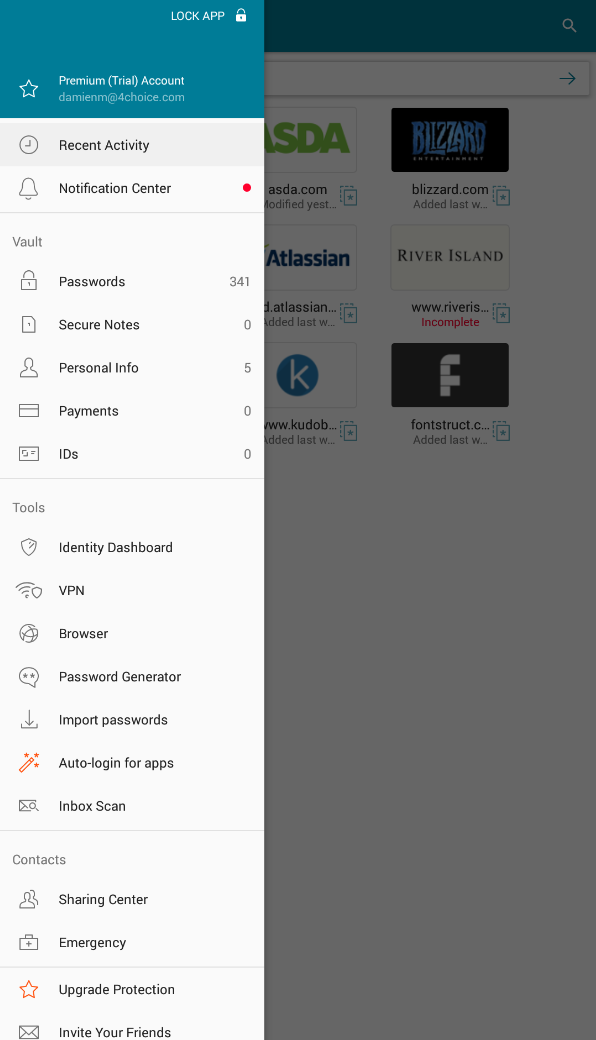 Any browser can utilize Dashlane's autofill capability, but the service also provides its own embedded browser on Android and iOS. The company states that users get the most out of Dashlane by making it the default browser, however, I have yet to see any additional benefit over the many alternatives given the range of support.
Synchronization
Dashlane synchronizes encrypted copies of your data, ensuring that it can be accessed across all supported devices. When activated, synchronization takes place automatically every 5 minutes and whenever data has been changed on any platform. Alternatively, you can manually sync data by tapping the "sync now" button or using shortcuts such as F5 on Windows and⌘+Ron Mac.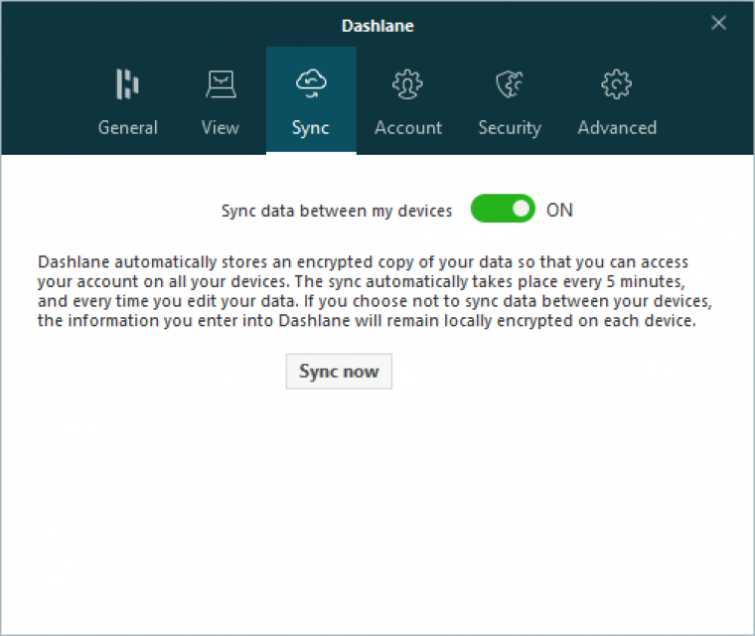 Auto-lock (recommended)
Taking every precaution, Dashlane has implemented a range of automatic locks within its software. By default, users have 5 minutes to edit sensitive settings before having to unlock their device with their master password or biometric security once again. This is a failsafe to make sure that only authorized users are making changes and cannot be altered.
Should you leave your device unattended, Dashlane also allows users to add an automatic log-out for inactivity. This ranges from 15 minutes to a hefty 10 hours, although we would always recommend the minimum amount of time when it concerns security.
Security and Privacy
Dashlane is thoroughly transparent about its security measures, even publishing a blog post that details encryption for beginners. As expected, the service uses military-grade AES-256 encryption to store passwords both locally and on the cloud for synchronization.
The 256-bit key is derived from your master password via PBKDF2 hashing and then scattered with random data known as salt. It is then 'scrambled' several times to improve security and privacy through further randomization. Dashlane's zero-knowledge policy enhances this method, as the company refuses to store the master password on its servers.
Customer Support
Dashlane has a dedicated Help Center to guide people through the installation of the software to any problems that might occur. This is incredibly easy to navigate and includes an interactive guide powered by St only to streamline frequently asked question sand their solutions.
The website is available in English, French, German and Spanish, although email support is only available in the first three languages. English-speakers can make use of the chat support from9:00 a.m. to 6:00 p.m. EST, Monday through Friday, accessed from the bottom-right corner of the website where it says "Help!".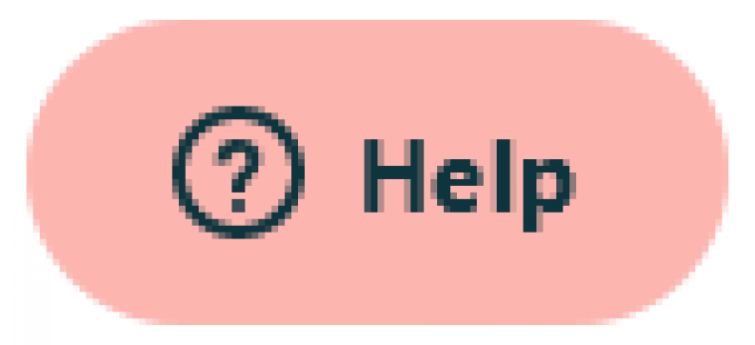 Premium members are given priority over free users, meaning faster response times. It's uncertain whether this also applies to the free 30-day trial or not, but the staff took mere minutes to respond to our query, regardless.
Currently, Dashlane support is not available via telephone, but the team does have a dedicated Twitter page to help social media enthusiasts. Dashlane also keeps users up-to-date with via their blog, so there are plenty of places to get the information you need.
Conclusion
It's easy to see why Dashlane is held in such high regard, with its accessible application, wide range of support and an exceptional load of features. Not only does the platform house your passwords, but it also guides you on strengthening them, and tells when they've been compromised.
We are always wary of suggesting software that only offers yearly subscriptions, but the zero-knowledge policy does make it more secure than other commercial competition. Pairing this with two-factor authentication helps to lock accounts down further, although security-conscious users might want to consider KeePass or Bitwarden if they want to brave the open-source, techie configuration.
At it's original price of $39.99 per year, Dashlane proved fantastic value for money, complete with a built-in VPN. But now that the service costs 1.5 times more without the option to pay monthly, it's a big ask - especially when the VPN fails to unblock Netflix. Dashlane's Premium Family plan is definitely the draw here, especially if you are splitting the cost between 6 people.
I would highly recommend potential subscribers first connect to a VPN server in the UK, as the Premium package remains $39.99 and its Premium Family plan is cheaper at $59.99. Otherwise, individuals are perhaps better off going with cheaper or even free open source alternatives.
Overall, Dashlane is a solid all-in-one software that is perfect for newcomers looking to bolster their security and privacy. The cost is difficult to justify, but the sleek interface and intuitive management system are sure to have people sticking around.
0 User Reviews
Leave a Review
Thanks for your review!