Using a private search engine such as StartPage or DuckDuckGo is becoming ever more important. These usually leverage the big search engines in order to return results, but proxy search requests so that Google or Yahoo or Microsoft do not know who did the search. In other words, these see only that the search query came from the privacy search engine.
These privacy search engines promise not to log your IP address or any searches you make. Does this sound good to you? Good. The next question, then, is which privacy search engine to use…
Best Private Search Engine
Here are the best private search engines that are anonymous and make a great Google alternative.
Keep reading this guide to learn more about each private search engine in-depth.
What Does Google Know About Me?
The problem with most search engines is that they spy on you. This is their business model – to learn as much about you as possible, to deliver highly targeted advertising directly to your browser window.
Google has even recently dropped its moratorium on combining what it learns by scanning your emails with what it learns about you through your searches. All the better to spy on you. Information typically collected and stored each time you make a search includes:
Your IP address
Date and time of query
Query search terms
Cookie ID – this cookie is deposited in your browser's cookie folder, and uniquely identifies your computer. With it, a search engine provider can trace a search request back to your computer.
This information is usually transmitted to the requested web page, and to the owners of any third party advertising banners displayed on that page. As you surf the internet, advertisers build up a (potentially highly embarrassing) profile of you.
Of course, if Google, Microsoft, and Yahoo!, etc., know lots about you, this information can be (and often is) handed over to the police and the NSA. So it's a good time to get a Google alternative.
Indeed, it was only recently that evidence emerged showing Yahoo works with hand in glove with the NSA to betray its users to the intelligence service. Naughty, naughty.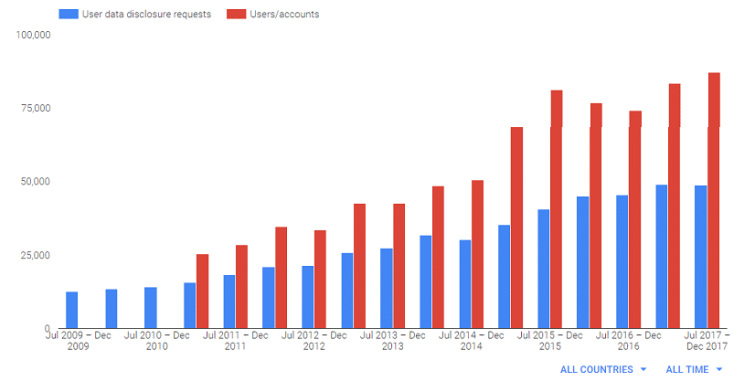 Google Transparency Report on the number of User Data Requests received, and the number (at least partially) acceded to
The filter bubble: what the internet is hiding from you
An added benefit of using a search engine that does not track you is that it avoids the "filter bubble" effect. Most search engines use your past search terms (and things you "Like" on social networks) to profile you. They can then return results they think will interest you.
This can result in only receiving search returns that agree with your point of view, and this locks you into a "filter bubble," where you do not get to see alternative viewpoints and opinions because they have been downgraded in your search results.
Not only does this deny you access to the rich texture and multiplicity of human input, but it can also be hazardous as it can confirm prejudices, and prevent you from seeing the "bigger picture".
The Best Private Search Engines
Privacy Search Engines Conclusion
Using any of these services engines will significantly improve your search privacy. Crucially, your searches will not be recorded to help build a profile that is used to sell you stuff. All the search engines I looked at in this article are easy to use and return good results.
Will these services protect your searches from government surveillance (and the NSA in particular)? In the case of US companies, it is safest to assume not. But unless you are doing something very illegal, this may not concern you (although it should).
Startpage is non-US based, has been independently audited, and allows you to access websites with a great deal of privacy thanks to its proxy feature. It is, therefore, a much better choice for privacy-heads than DuckDuckGo.
Public SearX instances are less likely to be monitored than other higher-profile search engines, but they may be. It is also likely that you will know nothing about their operators. Running your own SearX instance on hardware directly under your control, however, is an extremely secure and private solution. And is therefore only one that I can recommend to serious privacy fanatics.
The fact the SearX has a great interface and returns on-the-button results from all the major search engines is the icing on the cake.