DeleteMe was first launched back in 2010. For customers who pay for DeleteMe, the service provides peace of mind by ensuring that sensitive personal information is not sitting around on servers waiting to be hacked.
Even without hacking to worry about, data aggregators can be a huge pain. Data brokers make a profit by selling your details onto third parties. This means that while they have your data in their database, your information could be disseminated without your knowledge or consent.
What's more, as a result of your data appearing in data aggregating websites - it is probable that some of your personal information may appear in search results online. This can have a negative effect on your privacy, and your personal security can be endangered by providing hackers with some information necessary to perform social engineering attacks (phishing). Under the worst circumstances, your data could even be used to perform fraud or identity theft.
Pricing
Anybody who wants to take advantage of Abine's DeleteMe service can do so via three distinct subscription plans:
A basic plan will permit one internet user to remove their information from data broker websites for one year. This plan costs the equivalent of $10.75 per month ($129 billed annually).
Users who opt to pay $19.08 per month ($229 billed annually) can delete two people's data from data broker databases for a year.
Finally, users can opt to pay for two users to have their data deleted for two years at a cost of $14.99 per month ($349 billed biennially).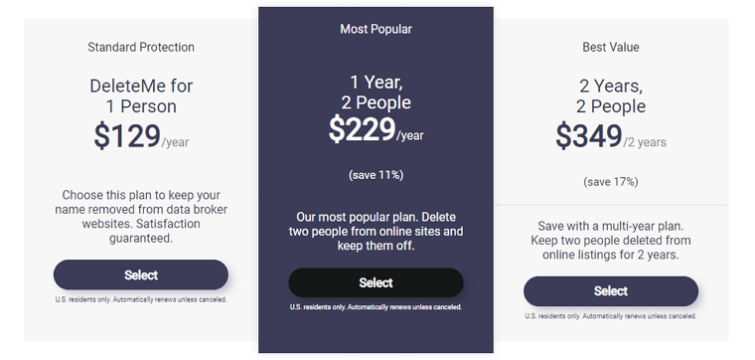 As you can see, DeleteMe is quite pricey. And, because keeping your data off data broker websites is an ongoing process (that requires regular checks to see whether your data has been re-added) DeleteMe is not available as a one-time purchase. Instead, anybody genuinely concerned about having their data removed from appearing on data aggregating websites and search results must pay for the service indefinitely.
This is a pretty large drawback of this kind of service and means that keeping your data off data broker sites is going to be an ongoing expense.
What kind of data do they remove?
Anybody who decides to subscribe to DeleteMe can expect information about themselves to be removed from leading data brokers. This includes the removal of their name, address, age, phone number, email address, photos - and even photos of their home - from databases.
Below is a screenshot of what you can find out about the average person if you search for them online. This is the kind of entry that DeleteMe is designed to get rid of.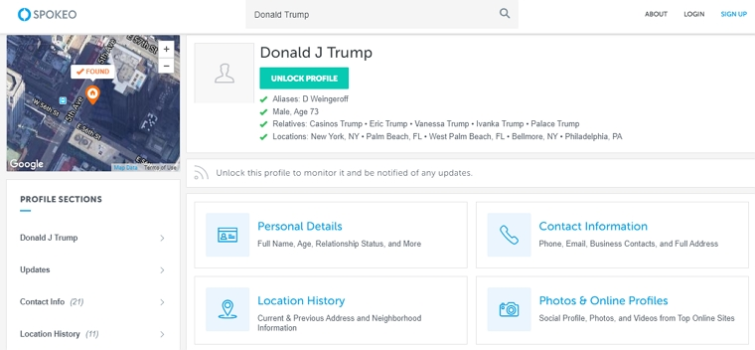 Thus, as a result of using DeleteMe, subscribers' data will not appear in online search results. That is, unless the search results are serving up information that is contained on legitimate website services where that information was provided by the user directly - or when personal information appears on news websites for some reason. For removal requests of this nature, removing search engine results will involve invoking the right to be forgotten (not currently available in the USA - but is available in the EU).
Thus, it is worth noting that DeleteMe is not a magic wand that magically makes you disappear from Google search results. But, rather, is a service that is designed to remove your data from data brokers - which has the secondary effect of making some of your personal data disappear online - in places where the internet user never agreed for that data to be shared.
For subscribers who decide to invest in a DeleteMe subscription, the kinds of services they can expect to have their data removed from are as follows (DeleteMe currently removes users from approximately 38 services in total):
| Company | What It's Used For |
| --- | --- |
| Been Verified | Background Checks |
| PeopleSmart | Public Records |
| Spokeo | People Search Engine |
| PeekYou | People Search Engine |
| Addresses.com | Enterprise and Identity Verification |
| Intelius | Public Records & Phone Numbers |
| PeopleFinders | Public Records |
| Whitepages | Public Records |
| Whitpages Pro | Public Records |
| Advanced People Search | People Search Engine |
| Easy Background Checks | Background checks |
| Yellow Pages | Business & Individual listings |
| ZabaSearch | People Search Engine & Reverse Phone Number Lookup |
| People Lookup | People Search Engine |
| US Search | Background Checks, Reverse Phone lookup & Property Records |
| AnyWho | People Search Engine & Reverse number lookup |
| DexKnows | People Search Engine |
| Email Finder | Email Lookup |
| Private Eye | People Search Engine |
| Public Records.com | Public Records & Background Check |
| Public Record Now | Background Check Phone LookUp |
| The Public Records.com | Public Records |
| Phonesbook | Publick Records & Phone Numbers |
| Free Phone Tracer | Reverse Phone Lookup |
| Neighbors.me | Public Records |
| USA People Search | People Search Engine & Reverse Phone Number Lookup |
As you can see, the data brokers mentioned are primarily US-based. This is because DeleteMe is a US-based service, and you are paying for your data to be removed from Western data aggregation services.
As a result, any data about you that is held by data brokers overseas may not necessarily be successfully removed by this service. This is a slight limitation of DeleteMe's service, which may mean it appeals to US residents more.
On the other hand, it is our understanding that whoever handles your DeleteMe campaign will engage in research to attempt to find your data online, and if a DeleteMe agent is able to find your data on any service where it can be removed - all effort to remove it will be made. It is also worth noting that US websites often hold data about foreign residents, so DeleteMe is still useful even if you are not a US resident.
Ease of Use
Using Abine DeleteMe is extremely easy. Once a user has subscribed they must start by providing all the data about themselves that they want to have removed from aggregator databases. The firm asks users for details such as their name, address, date of birth, phone numbers, and any aliases they have, or names they have previously been known by (maiden name, common misspellings,etc.)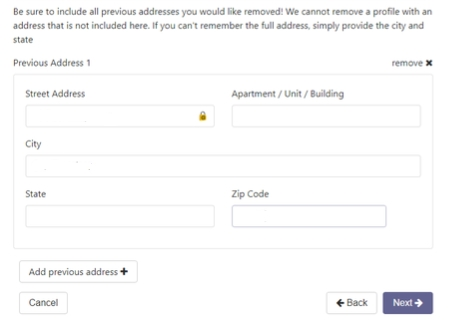 Users can add as many addresses, names, emails and phone numbers relating to themselves as they like, and if they forget any details they can start another campaign once the first is done. Following that, users must upload, email, or fax DeleteMe a picture of their driver's license, passport - or another state-issued ID - in order to verify that they are who they say they are. DeleteMe needs this redacted version of your ID (you can hide the photo and ID number) in order to remove you from some services.

Handing your sensitive personal data to DeleteMe may seem somewhat counterproductive to the final aim of gaining privacy. However, this is the only way that the firm can delete your data it so it seems reasonable to provide DeleteMe with PI if you actually want the service to function.
Once the service has your details, it can begin the process of asking data brokers to remove your data from its database. This is achieved by sending an 'opt-out' request asking for your data to be removed from those services. Admittedly, this is something you could do yourself. So you are paying for convenience, as opposed to a service you can only get with DeleteMe.
The process
Passing your data to DeleteMe starts your first campaign. Subscribers can delete as much data about themselves as they like, and they can add data extra data sets as they go along. This ensures that any previous addresses, or multiple addresses (if they own more than one house for instance) are successfully removed from data broker databases.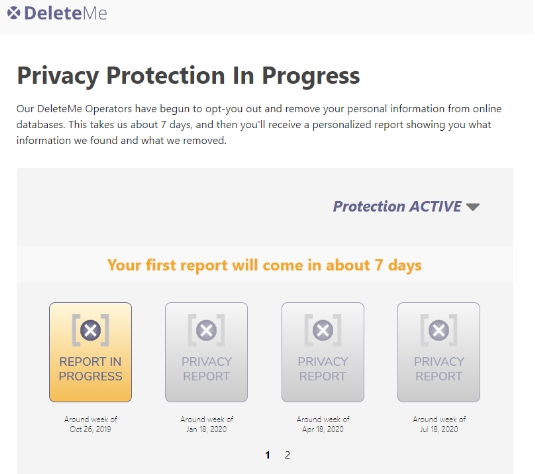 One thing worth bearing in mind is that you do have to wait for DeleteMe to send you a report for an ongoing request before you are able to add extra data to your campaign. The firm told us:
"If you forget to add any information (aliases, past addresses, etc) to your DeleteMe data sheet, you can add those at any time to your data sheet by logging into your account. If you've already received your first DeleteMe report (with some information missing), you can request an "ad-hoc" report from our support team to include the new information in the reporting process. Your new information will then be included in all future reports."
Thus, you cannot update your campaign on day one but instead must wait for the firm to deal with the original request first. For this reason, it is worth ensuring you get it right first time and provide all your addresses, aliases, and other data you want deleting before hitting enter.
Once your data has been successfully removed, the firm will check every three months to see whether data brokers have once again gathered data about you. If they have, the process will be repeated to ensure that your data is again deleted from those databases.
All subscribers get a detailed status report after each removal session, which clearly explains exactly what data has been removed and from what services. Thus, while DeleteMe claims to do the service for a year, what it is actually doing is deleting your data four times. Once when you join, and then after three months, six months, and after nine months have elapsed. Following that, a year will have passed and it will be time for a new subscription to be paid.
It is also worth noting that subscribers can add as many people to their account as they like. While each new individual must be paid for one at a time at a cost of
Privacy and Security
Being based in the US is not considered a good location for a privacy service to be based. The US is home to warrants and gag orders, which allow the government to force firms not only to retain and provide everyone's data to government intelligence agencies - but also to do so in absolute secrecy.
US laws mean that it is potentially possible that DeleteMe has already been served a warrant that forces it to retain all the data you provide it with. If this were the case (and there is no way to know) your data could be in the process of being forwarded to the US government by DeleteMe.
With this privacy concern out of the way, we can turn to its privacy policy to see what guarantees the firm provides for your data. The privacy policy promises not to sell customer data, and states that data will only be used by DeleteMe and its third party contractors for the purposes of providing the service. From the policy:
"Many companies profit off their users by selling their info, but we'll never do that. We only use the data we collect about the way people use our products and our website to build better products. We'll never share any personal data about your online activity or use it to target you individually. If you choose to sign up for our newsletters or receive emailed updates of our privacy blog, we'll occasionally send you emails with coupons, announcements, and Abine news."
The policy also states that:
"Some of our other services (like DeleteMe) may also require some data sharing to provide the service, such as requesting that third party websites (data brokers and information aggregators) remove or suppress your personal information from their websites. To fulfil your opt-out requests, we may have to identify listings held data brokers, which necessarily requires sharing portions of your data with them."
This part of the privacy policy explains that the firm will need to share your data with data broker firms in order to have them delete it. One slight concern is that DeleteMe states that data brokers may "remove or suppress" that data. What seems problematic is that DeleteMe could potentially pass some data to data brokers and information aggregators that they do not currently have.
The privacy policy also appears to imply that some data brokers may "suppress" rather than delete your data. This means that, after a certain period of time, data brokers may start processing your data again (and potentially have some extra snippets of data about you gained from DeleteMe). This is a limitation of the service, because while DeleteMe can do everything in its power to ask data brokers to delete your data, it can't actually guarantee that those data brokers will completely delete all your data. It is possible that data brokers may elect to put your information on ice.
Thus, whether you decide to use DeleteMe revolves around a few important considerations: Whether you can afford it. Whether you trust the US government (and you can abide by the possibility that your data may be intercepted by US authorities). And, whether you trust data broker firms to permanently delete your data rather than to just "suppress" it for a certain period of time.
Customer service
Using DeleteMe is not tricky, and there seems to be no reason why a user would need to contact customer support to get the service working correctly. However, for those who do have problems or can't understand something, it is possible to contact support.
The website has a contact form and help center that is filled with useful FAQs, and during US business hours (Monday through Friday 9am-5pm Eastern Time) users can ask questions via live chat on its website too.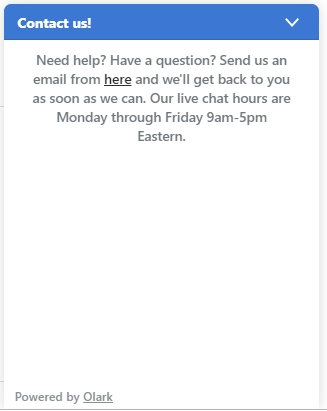 We decided to test out the contact form, and were happy to find that we got responses very quickly. This means you will have no trouble asking questions about using the service, even if the live chat is closed.
Conclusion
Searching for a name and address online usually causes either full or partial results to appear on data aggregator websites. Usually, these kinds of sites will redact some of the information - while still making it obvious that the correct person has been found. Sites like Spokeo then ask interested parties to pay to see the entire file for that person.
With a DeleteMe subscription, performing these kinds of searches should result in no data appearing on any of these data broker websites, meaning that your data is no longer for sale. So, does it work?
Following our initial campaign, we found that our data was indeed much harder to find. All the data broker websites that had been contacted had indeed processed DeleteMe's request, meaning that our digital footprint had been massively improved using the service, meaning it is fair to say that this service does everything it promises.
Admittedly, there are some potential concerns surrounding its US-base. In order for DeleteMe to perform its service, you must directly provide your personal data, which means that the firm is gaining a lot of sensitive information about you that it could potentially pass to the US government.
We would prefer DeleteMe to be based in Switzerland or the Netherlands; countries that have better privacy protections for consumer data and where there is no potential of data being secretly collected by the authorities without consumer's being explicitly informed. However, this is a minor quibble that will only concern people with, particularly elevated threat models.
It is also true that DeleteMe provides a service that it is possible for consumers to do themselves. And, in our opinion, the best way to protect your digital privacy is always to minimise who has your data. Tor this reason, doing it yourself is probably the better option.
Of course, actually going ahead and contacting data brokers to ask them to remove your data can be a lengthy and painstaking process. For this reason, it is understandable if you prefer to pay DeleteMe instead.
For some internet users, paying $10.75 per month is going to provide excellent value for money - especially if you are a US resident whose data is being flagged up with a large number of online data brokers.
0 User Reviews
Leave a Review
Thanks for your review!