Features
IPVanish provides all the advanced VPN features you would expect to get from a top-of-the-range VPN service. These include:
| | |
| --- | --- |
| Simultaneous connections | 1000 |
| Total servers | 2000 |
| Server locations | 75 |
| Routers supported | |
| Split-tunneling | |
| Number of countries | 75 |
As well as:
Unlimited data allowance and no bandwidth limiting
Unlimited simultaneous connections (unmetered VPN use)
A kill-switch
DNS leak protection
Zero-logs policy
Servers in countries all over the world

A pool of more than 40,000 IP addresses across 1000 servers
Torrenting enabled servers
SOCKS5 web proxy
XOR obfuscated servers
30-day money-back guarantee
Split-tunneling
IPVanish has in excess of 1000 servers located in 60 countries around the world. The company is extremely strong in Europe and the US – but also has servers in useful locations like Australia, Brazil, Japan, Asia, and South Africa.
Unfortunately, we found that IPVanish does not have servers in Russia. If you need a VPN to unblock Russian services (to unblock VK in Ukraine, for example) – or if you require Russian servers for privacy – you will need to look elsewhere.
To be fair on IPVanish, many VPNs have decided to stop providing servers in Russia due to new laws that bring into question the privacy levels that can be promised on servers within the nation. So this is a valid omission.
What is a SOCKS5 Proxy?
SOCKS5 is a versatile proxy that works with any kind of traffic. IPVanish is one of the few VPNs that provide a SOCKS5 proxy for free when you sign up to the VPN. IPVanish VPN also provides a number of excellent guides for using SOCKS5 (with Deluge or uTorrent, for example). The benefit of a SOCK5 proxy is fast speeds, but remember that it does not provide encryption like the VPN client.
What can IPVanish Unblock?
IPVanish is a super-fast service that is suitable for watching HD content. With that in mind, we hoped it would be good for unblocking popular streams; and generally speaking, we weren't disappointed.
During my tests, I found IPVanish was able to unblock Netflix US when connected to the Los Angeles, Dallas, Atlanta, and Chicago servers. As a result, I was able to unblock extra US-catalog Netflix content.
IPVanish does officially support other Netflix catalogs, including UK, Japan, and India. You may find in practice that others work, but these are the ones we can guarantee IPVanish support as of the time of this review.
If you're not just looking for Netflix, IPVanish can also unblock US TV channels like CBS, NBC and ABC. You can even get access to difficult to unblock services like Hulu, HBO Max, Amazon Prime, Disney+, and ESPN for the sport fans. There are still some services not supported (some of which we hope to see in the future) and implementation of a SmartDNS service would go a far way towards supporting some of the more obscure streaming services.
One bit of good news is that if you encounter regionally restricted YouTube or Dailymotion videos – IPVanish will bypass those blocks.
For fans of British TV, IPVanish is, fortunately, able to unblock BBC iPlayer. If you're not a fan of the BBC, there's still Netflix UK, as well as the whole range of ITV and Channel 4 on-demand content to choose from no matter where you are in the world.
Streaming Support
We reached out to IPVanish to confirm their current list of streaming services, which they promptly delivered to us. We can report that IPVanish supports the following:
Streaming Service

Country

Web Browsers
Supported

Apple TV
Supported

Roku
Supported

Netflix

USA

Yes

BBC

UK

Yes

Amazon Prime

USA

Yes

Disney+

USA

Yes

Hulu

USA

Yes

HBO Max

USA

Yes

Yes

Yes

Hotstar

India

Yes

ESPN

USA

Yes

Netflix

UK

Yes

Netflix

Japan

Yes

DAZN

Japan

Yes

Hotstar

India

Yes

Netflix

India

Yes

Raiplay / RaiTV

Italy

Yes

ITV, ITV2, ITV3, ITV4, ITVBE

UK

Yes

CTV

UK

Yes

CITV

UK

Yes
| | |
| --- | --- |
| Netflix | |
| iPlayer | |
| Amazon Prime | |
| Hulu | |
| Disney+ | |
Whether you decide that IPVanish is good for streaming really depends on what you want to watch. What we can say is that IPVanish has a much better selection of streaming services available than even a year ago, and are constantly working to unblock more content for you. So check carefully to ensure that it can unblock the specific service you want to stream before subscribing.
Not quite sure? You can test to see that what you want is unblocked with a 30-day money-back guarantee. Alternatively, if you want to watch something not covered here, try one of the following alternatives:
Alternative Choices for You
Does IPVanish allow torrenting?
Yes. Anybody looking for a VPN that can be leveraged to engage in secure torrenting will be extremely happy with this service. It allows P2P connections across its network of servers. What's more, the majority of IPVanish's server network is proprietary – meaning that it is highly secure and well maintained.
This is great for torrenting because it helps to ensure fast speeds by routing your traffic through speedy servers that don't suffer from congestion – both factors we look for in a solid torrenting VPN service.
On the other hand, IPVanish doesn't have port forwarding – a feature that more seasoned torrenters may want from their VPN. However, it offers several other advanced features that can help keep you secure when torrenting, such as a kill-switch and a strong zero-logs policy.
All in all, we can recommend IPVanish for torrenting. It provides strong protection to ensure that your downloads are never tracked. And, if you are in a country where torrent sites are completely censored, IPVanish will open the door for you.
What about the apps?
Windows
To be blunt, Windows support for IPVanish is great. It's clear this is the flagship app for IPVanish and I am very happy with the functionality I observed. I took IPVanish for a spin on Windows 10 and the experience from end to end was seamless.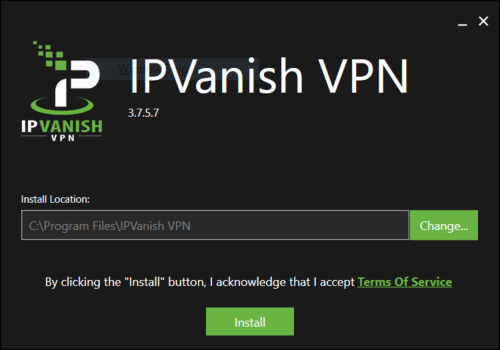 Even their installer comes with a slick "matrix"-style black and green theme. Maybe it's just the computer nerd in me, but I think it's a timeless look. It's easy on the eyes in a low-light setting, too!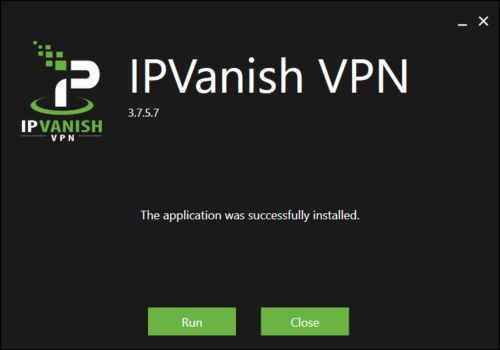 Once installed, IPVanish lets you drop right into it. I found that on a stock Windows 10 install, no further faffing about was necessary to install drivers or adapters. Your experience on a different operating system may vary, as Windows is sometimes a temperamental beast. That said, IPVanish does explicitly support all Windows distributions from Windows 7 SP 1 upwards, so if you're reluctant to upgrade they still have you covered.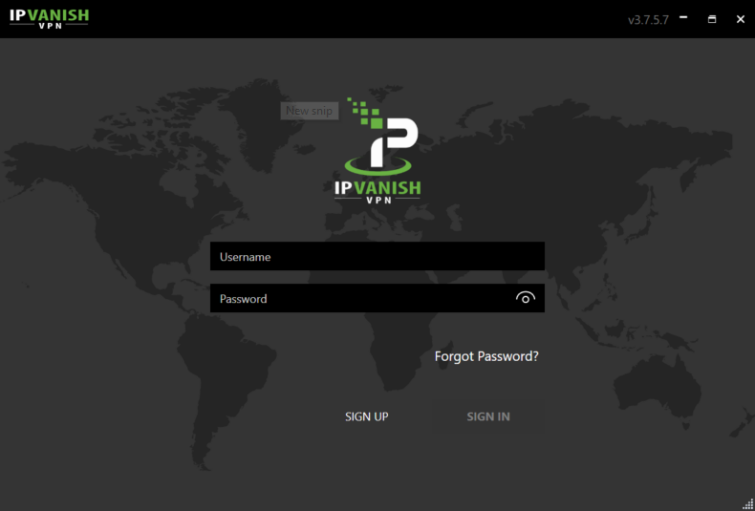 The login process is also relatively smooth, and does feature a "password reveal" toggle in case you're absolutely sure you've been typing in your password right the last ten times and want to verify you're not making a mistake. We recommend a password manager to take care of this for you, but it's nice to have the option.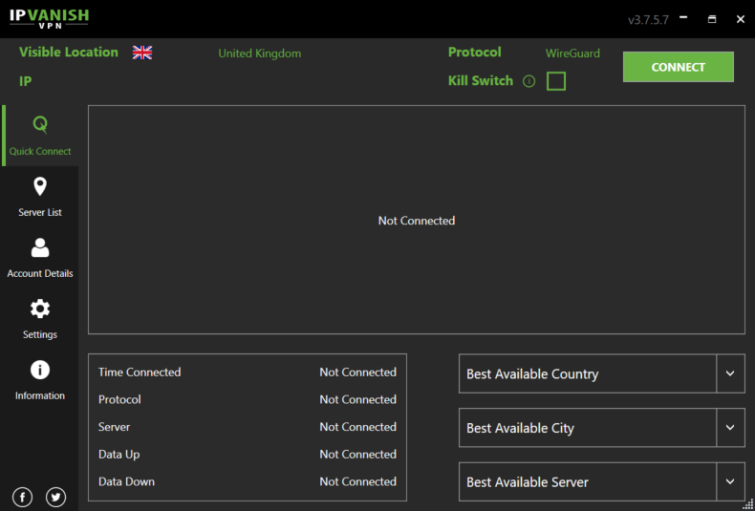 When you log into IPVanish you're immediately presented with a Quick Connect page which allows you to hit connect and get started – no configuration necessary. If you're happy to let IPVanish choose your server for you, hit connect and away you go! Some testing on this function seems to suggest the "best" metric is a combination of ping time and server load, so what's being prioritized here is your connection speed. This is great if you need to boot up IPVanish and get into an application that needs low latency immediately, such as video calls or multiplayer gaming, without playing around with your connection settings.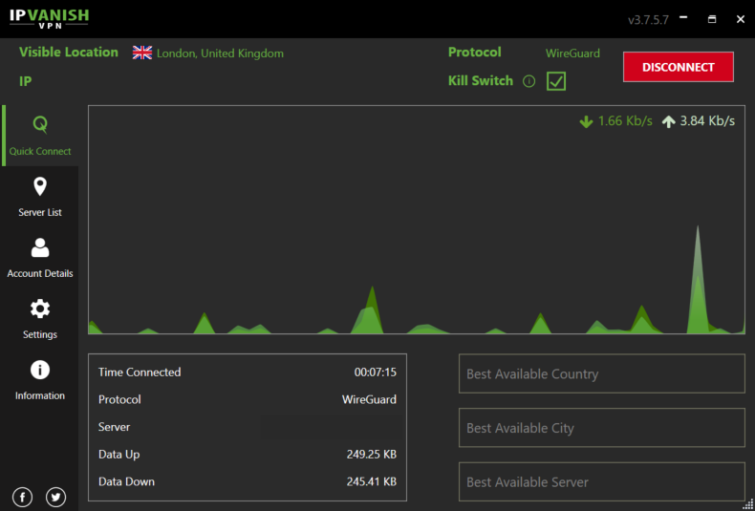 Quick Connect also gives you a graphical readout of the bandwidth running through your VPN, which is great if you need to do some rudimentary troubleshooting on the fly. I've had to censor my IP here, but WireGuard connectivity through IPVanish is super quick to establish and gives you access to IPv6 addresses as well as IPv4. Kill-switch functionality also works well, as during our internal testing we observed no traffic being sent outside the VPN connection while off.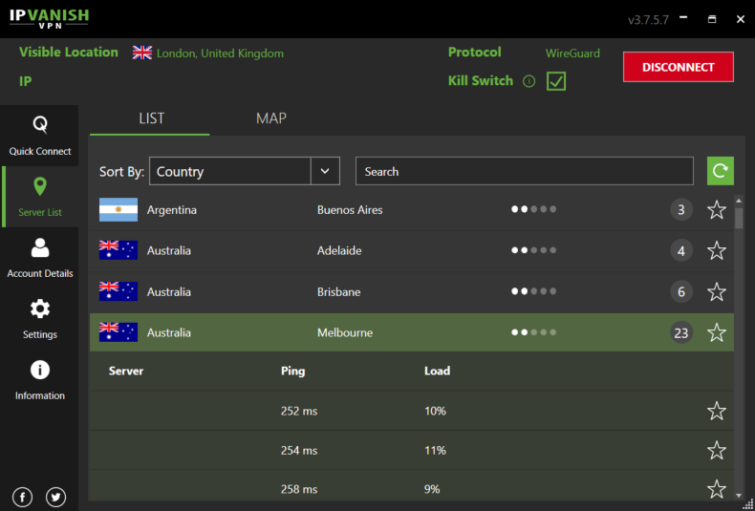 For everyone who wants more fine-grained control over where they're connecting to, IPVanish has you covered. You can filter servers by Country, City, Ping, or just check out your favorites, and IPVanish gives you a handy readout that tells you which servers in which city are ideal for you by displaying Ping and Load. As you can see, if you're really particular about which server you need in Melbourne you have 23 options to pick from. This is a feature we're really happy to see, and ideally, all VPN vendors would give you the level of control IPVanish has baked into the app.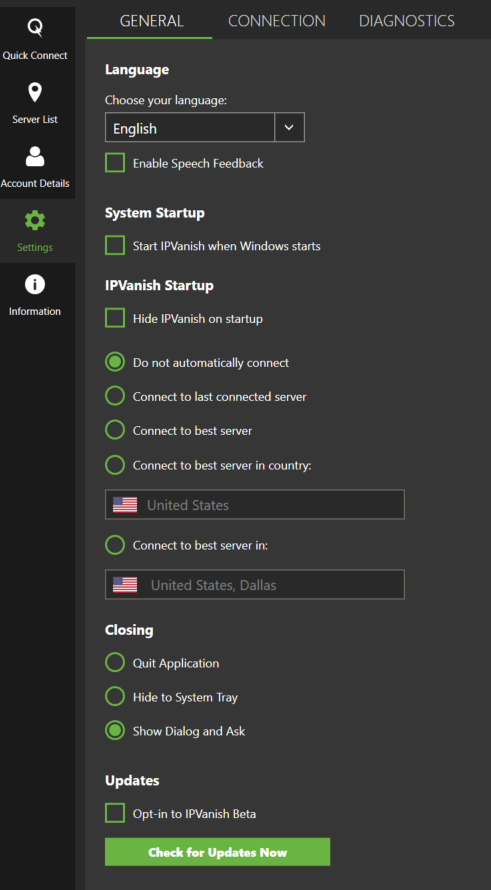 IPVanish also offers all the normal integration with Windows you'd expect, allowing you to set up VPN coverage according to your needs. I noticed the Speech Feedback function also increases the usability of the app for blind or partially visually impaired users, and more accessibility features are always a big plus.
Starting IPVanish on bootup means that if you're extra paranoid, you can keep your network covered 100% of the uptime of your machine. While I didn't notice any leakage during startup, to be absolutely sure I'd recommend you boot your machine with network connectivity disabled and then start the IPVanish app before you connect.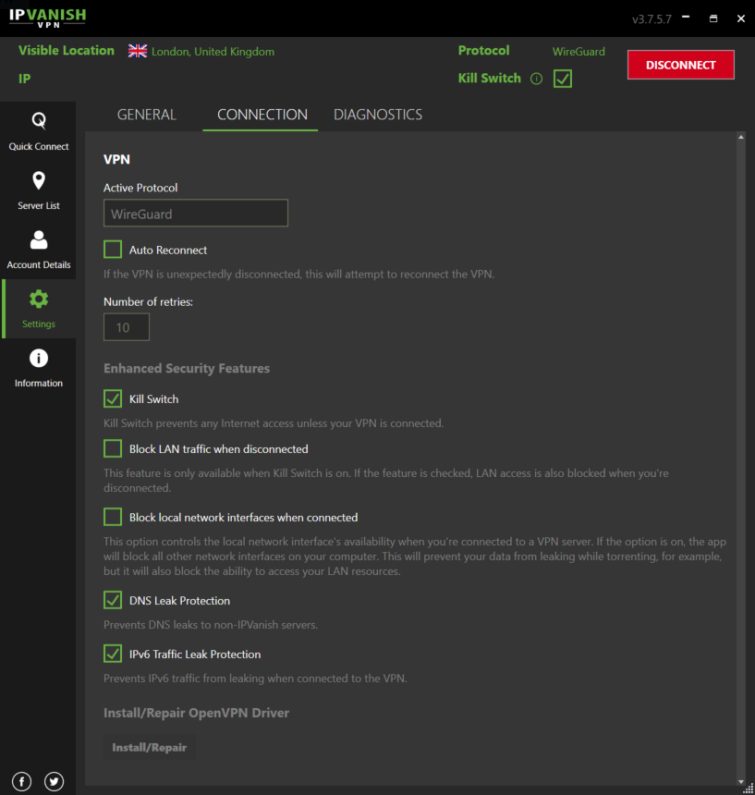 Inside the Windows app, IPVanish supports IKEv2, OpenVPN UDP & TCP, SSTP, L2TP, PPTP, and WireGuard. While testing we did not notice any leaks across any of these implementations, but if you need to convince yourself these implementations are bullet-proof you can always download WireShark and see it for yourself. I am especially pleased with the LAN blocking, ensuring malicious third parties on your network can't monitor your traffic.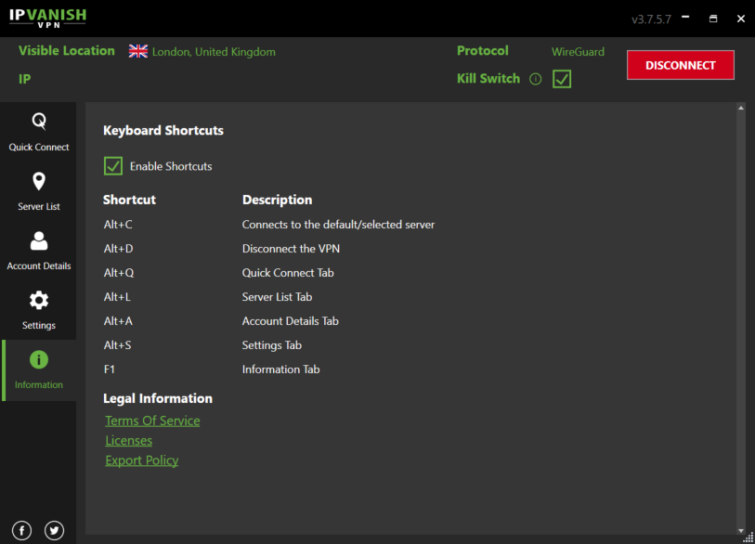 Finally, I'd be remiss to wrap this up without talking about some of IPVanish's usability features. As previously mentioned, I am happy to see the efforts made to make IPVanish as user-friendly as possible: a clear and clean app style, accessibility features, and a quick-connect function for the less technically picky. There's even a geolocation map in the connect bar that allows you to pick your server from where you roughly want to appear, which is a great way to allow users to specify their location – without getting down into the nitty-gritty of the server list.
There's a diagnostics window for doing your own troubleshooting on the network connections if your connectivity isn't quite right. There's also found a handy little shortcut section for power users, just in case you want to be able to navigate the app from your keyboard.
In short, the user experience for IPVanish on Windows is great. It's clear this has been built with both the average user and experienced computer operators in mind, and we feel that it should satisfy most VPN use cases. Unfortunately, there aren't any options for per-app coverage, but we may see these features out of IPVanish in a later update.
MacOSX
I've tested out IPVanish's latest OSX app on our new M1 hardware, and I have to say I'm pretty satisfied. The installation process is practically seamless, only requiring one extra step to enable WireGuard on the system.
Once you're logged in, the app provides a small splash tutorial that walks you through the essential steps to get connected with IPVanish. If you're familiar with VPNs, you can skip straight through this, but it's pretty helpful if you've never seen one of these before.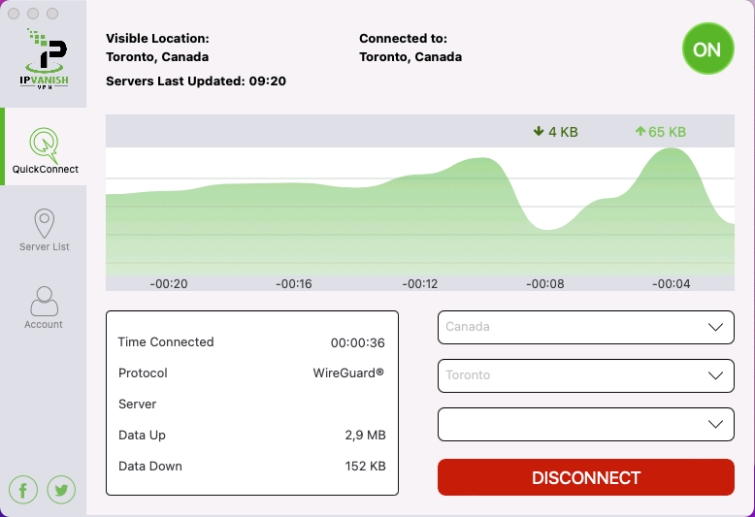 The app itself is really just a server list and a portal for your account details, but it does come with a handy little network graph that shows you your current up/down speeds. This is great if you want to gauge your connectivity or speeds between different servers without installing complex network monitoring software.
What's more, IPVanish offers server-level granularity – meaning you can not only choose your country and region, but even pick individual servers to connect to. Why would you want to do that? Well, IPVanish also includes a readout of which servers are under excessive load, so you can browse at your leisure and pick out the least congested server for your needs. This is a real plus, something I'd absolutely love to see other providers do.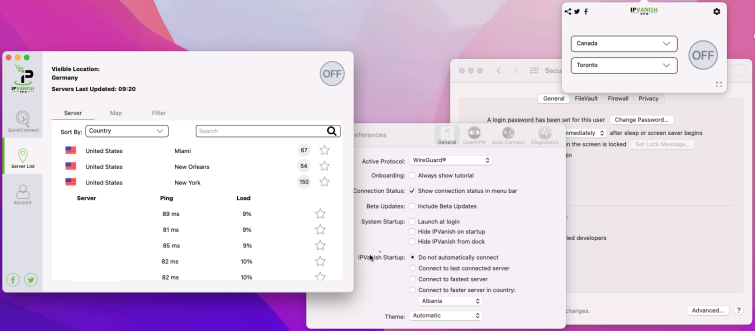 Most of the hardcore settings are seemingly missing at first, with no way to access them from the desktop app. However, preferences are accessed from the taskbar applet instead of the desktop app. In comparison with the clean single-windows interface for the Windows app, this is a little less obvious to access and slightly messier to manage, but this is a minor complaint.
Once you're in, IPVanish offers a range of protocols to choose from. In addition to a WireGuard implementation, you also have access to IKEv2, L2TP/IPSec, and OpenVPN TCP/UDP. I've tested each of these implementations over the OSX app and I'm happy that they're appropriately built to protect your privacy without leaking. IPv6 leak protection and the automatic kill-switch on OpenVPN both work perfectly. You can also set up certain networks to be whitelisted, so IPVanish won't connect automatically when you're on these networks – great if you're moving often between public networks like airport Wi-Fi and enterprise networks, such as your work VPN.
When testing the macOS and iOS versions of the app, I found that they no longer support PPTP, which in reality is good news, because PPTP is out of date and insecure. When I asked IPVanish about this, I was told that they removed the option from release 10 of the apps. So, if you are a Mac user looking for PPTP, you'll have to look elsewhere.
If you're facing problems with your setup, IPVanish offers two automated tools inside the app to reset your OpenVPN DNS Settings, and reinstall OpenVPN or L2TP from scratch. I didn't find a need to use these tools during testing, but your mileage may vary. Furthermore, there's an easy-to-use diagnostics tool built into the app that gives you a breakdown of the app operations with support log export functionality if you need to send your details to IPVanish.
Android
The Android app has been given a total refresh, and I think it's for the best. The new UI/UX is a huge step up from its predecessor, and features the same seamless integration as we've seen on Windows in a stylish hacker-themed package. You can find it on the Google Play app store, as seen below. No need to allow third-party APKs!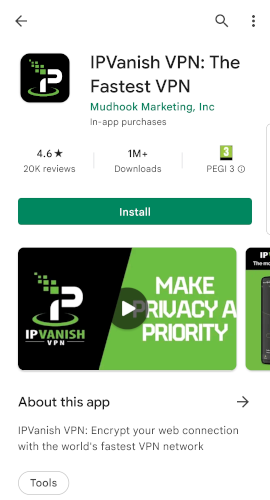 Once installed, the Android app requires you to log in and then runs you through a first-time tutorial to get you used to the basic features of the app. I felt that the UI was mostly self-explanatory, but the tutorial is nice for users who've never seen a VPN on Android before and need that quick walkthrough to point out the key features of the app.
Once you've swiped through the tutorial, the rest of the app is compact but fully featured. You can expect most of the same features as on Windows, including the fine-grained server window which lets you connect to your chosen server at will. I noticed the app wouldn't load server ping times at first, but after a refresh of the app, our server ping times began to populate.
The favorites bar in the Android app is especially handy, allowing you to mark both countries and specific servers as ones you use often, giving you access to them inside a quick-select window.
I was also pleased to discover that IPVanish does have a split-app function in the settings menu for the Android App, allowing you to choose which apps are covered by the VPN and which are not – in case you need to connect from your real IP for certain geo-located apps. You can imagine Tinder wouldn't be quite as useful if you were being connected to people thousands of miles away!
Finally, IPVanish offers the same level of bespoke support in-app as it does on the website, giving you access to a knowledge base, live chat, phone support, and email. If you have any problems with the Android app, help is a swipe away in a variety of forms depending on your issue.
Overall, I'm very impressed by the IPVanish app refresh. Powerful functionality in a slick package that retains all of the usefulness of IPVanish on the desktop without sacrificing usability.
Linux
As far as I can tell, Linux support isn't the best for IPVanish. They do not offer a custom app, instead giving you an OpenVPN tutorial for your distribution of choice and a whole set of OpenVPN configuration files to download and install as you please.
Admittedly, if you are running Linux then you're probably comfortable with installing a third-party OpenVPN configuration manager to swap between config files (and thus, servers) but it is unfortunate there's no app support. If you're looking for a fully-featured VPN with all of the bells and whistles mentioned above, you're probably better off looking elsewhere.
However, if you're comfortable with a no-frills experience and are competent enough to do your own VPN management inside your Linux install, IPVanish still boasts a wide range of both OpenVPN and SOCKS5 Proxies with blazing speeds and a great support desk. We hope that a WireGuard implementation for Linux is just around the corner, but we'll have to wait and see.
Overall, I found the IPVanish app is easy to use on desktop and mobile. What's more, I was pleased to see that it's also available on many other types of devices, like Amazon Fire TV, and can be installed on a router.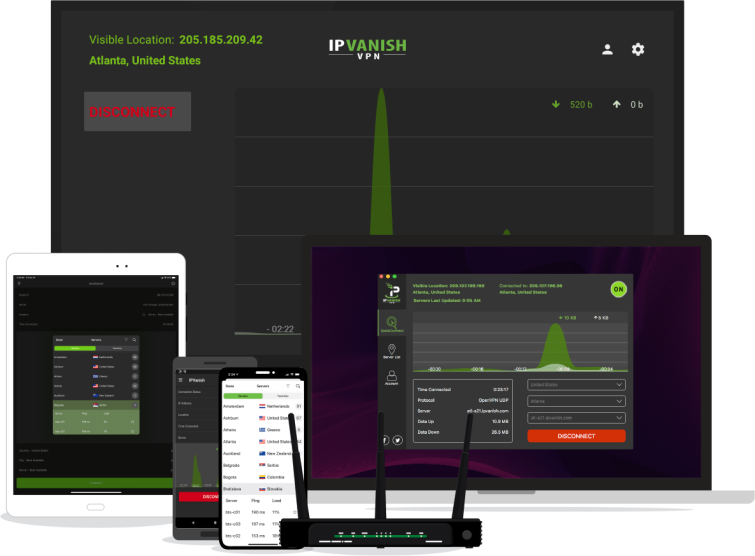 To conclude, the custom IPVanish apps are available on all the major operating systems. They offer VPNs for Mac and Windows users and they also support mobile with VPN apps for Android and iOS.
IPVanish on Fire TV and routers
As a final note, we particularly liked the availability of a custom Amazon Fire TV app – this is a really unique feature that is still a rarity in the VPN industry. You can also install the VPN on flashed routers and set-top boxes, and IPVanish has setup guides to help you.
Speed and Performance
At ProPrivacy.com, we have a scientific, server-based VPN speed test system that we use to test all the market-leading VPNs three times a day. This allows us to provide our readers with the most detailed and up-to-date picture of how VPNs are doing in terms of speeds. If you'd like to know more about our process, please read VPN Speed Testing Done Right.
Below you can see how IPVanish compares to other VPN services in 2023.
How fast is IPVanish?
| | | | |
| --- | --- | --- | --- |
| | IPVanish | ExpressVPN | NordVPN |
| ProPrivacy.com SpeedTest (average) | 51.0 | 100 | 85.9 |
| Speed | 477.5 | 100 | 568.0 |
| Performance | 7 | 10 | 9 |
| Reliability | 7 | 9 | 8 |
The graph above shows the average speed of IPVanish servers taken over the last week. As you can see, IPVanish typically provides speeds of 20-25Mbps. This puts IPVanish towards the bottom of our Top 20 VPNs for speed.
Although these speeds aren't the absolute best, IPVanish is still more than appropriate for HD streaming, torrenting, VoIP calls, video chats, and gaming.
IPVanish used to be sandwiched in amongst some of the best VPNs in the world – all of which have better-than-average connection speeds when compared to the rest of the industry. We hope to see that in the future, IPVanish returns to the top of this list.
A slow DNS lookup time can cause pages to load slowly, which can make the VPN seem slower to the user. The good news is that IPVanish performs extremely well in this area. Average lookup times are right in line with the very best VPNs on the market, which means that IPVanish will load ages in a flash. In fact, the maximum lookup time beats its competitors, meaning that it won't leave you waiting around.
Thanks to WireGuard, connections to the VPN are practically instant, which is great for when you need VPN access quickly. Overall, IPVanish scores reasonably well and and won't keep you waiting around for connection times, as long as you're not streaming super-HD content.
Privacy and Security
IPVanish left me impressed with its level of privacy and security, with each of its apps packed to the brim with advanced features designed to protect you. Some of those features are particularly useful on mobile devices – such as the network block feature, which protects you against connections to unsafe open networks with no password requirements (which are sometimes set up in public places by hackers). And which your device could connect to automatically.
Here's a list of the features:
| | |
| --- | --- |
| Kill-switch | |
| Obfuscation (stealth) | |
| IPv6 leak protection | |
| WebRTC leak protection | |
| Bare-metal servers? | |
| Self-hosted DNS | |
Encryption Protocols
IPVanish provides a range of different kinds of VPN protocols depending on your distribution, as we have previously covered: OpenVPN, L2TP/IPSec, PPTP, IKEv2, and WireGuard. PPTP is an outdated encryption protocol that is no longer considered secure and should never be used for privacy. IPSec has cropped up a few times in the Snowden leaks as a primary target for NSA interference, which is enough to discount our recommendation of it. IKEv2 is also potentially susceptible to offline dictionary attacks, in addition to accusations of NSA backdooring. Out of the available protocols, we recommend that you stick to OpenVPN or WireGuard.
IPVanish implementation of WireGuard conforms with Leviathan Security Group's audit of their no-logging claim, which indicates to us they've managed to keep WireGuard's NAT traversal issues from linking user accounts to content. If you'd like to know more, please check out the privacy section below.
The best way to see how secure a VPN is, is by looking at the level of encryption that they offer, and looking at how well it is implemented. I'm pleased to report that IPVanish offers OpenVPN implemented with AES 256-bit key – one of the strongest ciphers used today.
The weakest part of IPVanish's OpenVPN encryption is the HMAC SHA1 handshake. While the SHA1 protocol is essentially compromised, this is still acceptable because the handshake window is so small. This does meet our recommended standards for privacy. Thus, all of the necessary components of the protocol on both the data and control channels are considered secure. Good news indeed.
Here's a list of the VPN protocols that IPVanish offer:
| | |
| --- | --- |
| PPTP | |
| L2TP/IPSec | |
| SSTP | |
| IKEv2 | |
| OpenVPN | |
| WireGuard | |
| Catapult Hydra | |
| Shadowsocks | |
Leak test results
In order to check that IPVanish implements their encryption properly, I ran it through several VPN leak tests.
To do this, I connected to one of the IPVanish London VPN servers to test for leaks using our VPN leak test tool. I discovered no detectable IP Leaks or DNS leaks.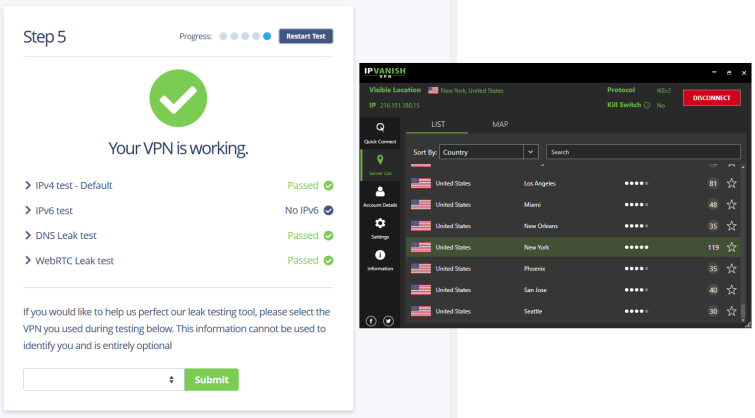 My IP address correctly appeared in London, as did the single DNS address. WebRTC leaks performed in Chrome also came back negative on my system.
Our testing also indicates that IPv6 leaks are handled correctly.
So, to answer the question, is IPVanish secure? Yes. IPVanish is great for data security from an encryption standpoint. It even implements Perfect Forward Secrecy (DHE-2048).
OpenVPN Scramble
IPVanish implements OpenVPN Scramble, which is an obfuscation technology designed to keep snooping third parties from analyzing your encrypted VPN traffic to work out that you're using a VPN. As you can imagine if you're a journalist in a repressive regime, not only do you want to keep your traffic secret, but you also want to appear like you aren't sending encrypted traffic at all – after all, what are you doing that's so secret the government shouldn't know about it?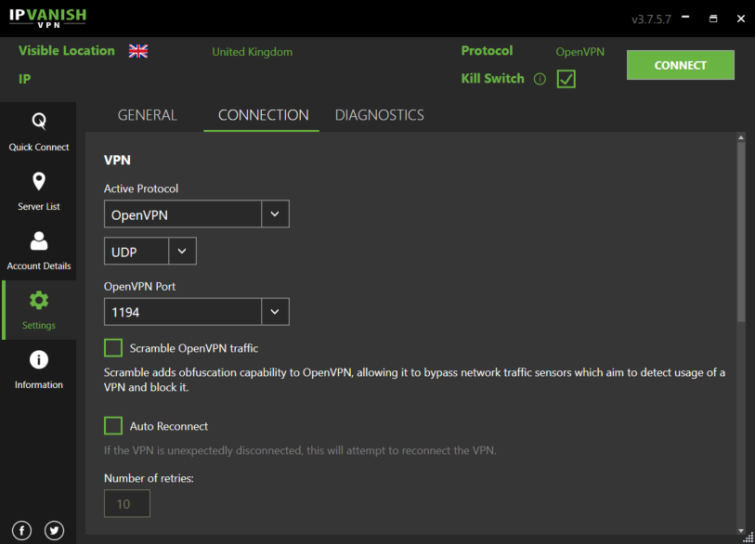 To this end, OpenVPN Scramble disguises your traffic by applying a cipher to it. You can think of this as a mask, which is applied before the traffic goes out, and again at the other end to de-mask it. In between, the traffic looks like scrambled gibberish. Conceptually, this idea is quite good, but in practice the implementation of OpenVPN Scramble has traditionally been quite basic, often only using a single byte for the XOR mask.
If you're trying to keep your VPN traffic disguised from a basic attacker, Scramble will do. Any sufficiently well-funded government will probably be able to unscramble your traffic and recognize it's from a VPN. To be clear, this won't unencrypt your traffic – IPVanish uses some of the most secure encryption protocols in the game. It just means OpenVPN Scramble shouldn't be the sole obfuscation tactic you employ.
Geo-Privacy
I have to admit, IPVanish's US base of operations did raise a red flag for me, due to the country's questionable stance on privacy.
The US is the home of the CIA and the NSA, two authoritarian organizations known for their invasive practices in the name of safeguarding. The nation is also a member of the 5 Eyes surveillance agreement. In the US, firms can be served both warrants and gag orders, which means that they could be asked to hand over data without disclosing it to the public (this is a gag order). Naturally, this is far from ideal for a privacy tool.
To make up for this fact, IPVanish implements an excellent zero-logs policy. This means that even if it was served a warrant, it wouldn't have anything to hand over to the authorities, which does alleviate some of my concerns.
Despite this seemingly watertight solution, the question surrounding gag orders is still significant. Due to the Snowden revelations, we know just how invasive the US is. This makes it a hard nation to trust with citizen's data. However, it is also true that many other nations also have similar gag/secrecy orders in place – so this is not a unique problem to the US.
No-Logs Audit
Recently, IPVanish has published the results of an audit conducted by the Leviathan Security Group which tested their no-logs policy. IPVanish's parent group, VIPRE, makes it clear in their privacy policy that the data relating to the following are logged: username, client IP address, session start time, duration, and traffic volume. While this isn't ideal, we appreciate IPVanish's transparency, which allows you to make an informed decision on whether this is an acceptable level of exposure for you.
On a more positive note, the results of their no-log audit indicate there are no traces of content that would contradict their privacy policy. This means no content logging, no endpoint logging, and no user traffic logging. Don't just take it from us: "None of the distinctive port numbers, IP
addresses, hostnames, or other test data were found to have been logged anywhere on the system". This massively increases our confidence in IPVanish's ability to protect your privacy.
It is my belief that, for most people, IPVanish provides more than adequate levels of protection, so I could recommend it in 99% of cases for privacy. However, anybody who requires higher levels of privacy would probably be better sticking to Tor (not a VPN), or even Tor over VPN for ultimate protection.
Website Trackers
I checked the IPVanish website using our third-party tracking tool (June 3, 2023) to see how much tracking it is doing. It detected 97 potential tracker requests, including: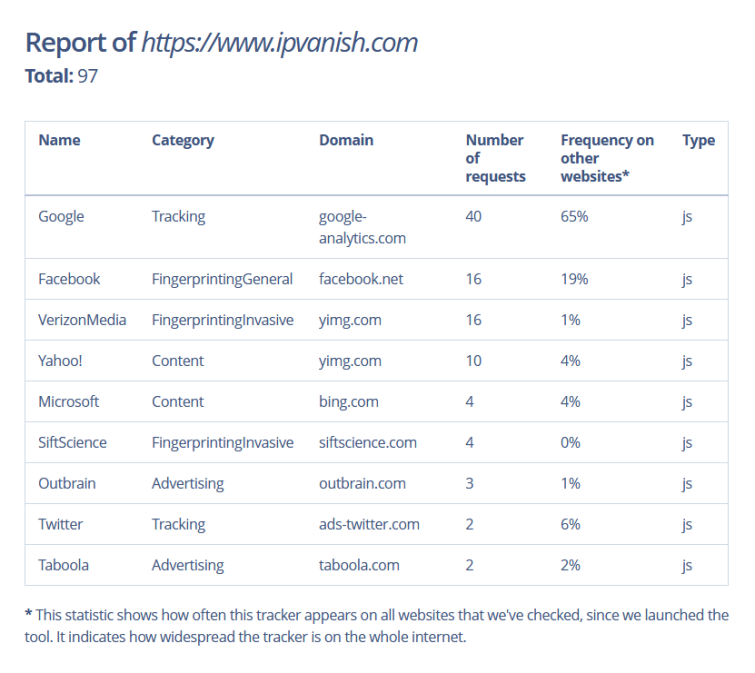 Fortunately, this is nothing out of the ordinary and does not really pose any risks to the VPN service itself.
However, it is worth noting that there are VPNs out there that have as little as one tracker on their website, so we can consider 97 a high amount. All major websites will conduct user analytics to improve their metrics in the Web2.0 era, so if you're concerned about this issue it would be prudent to download an ad-blocker or privacy-preserving software that blocks the trackers you encounter.
Customer Service
The last time we reviewed IPVanish, we found that the support department let down the service a bit. However, this is an area that has vastly improved. This time we were pleased to find that IPVanish provides both members and non-members with the same 24/7 live chat service on its website. That means you can ask the VPN's customer care questions at any time of day!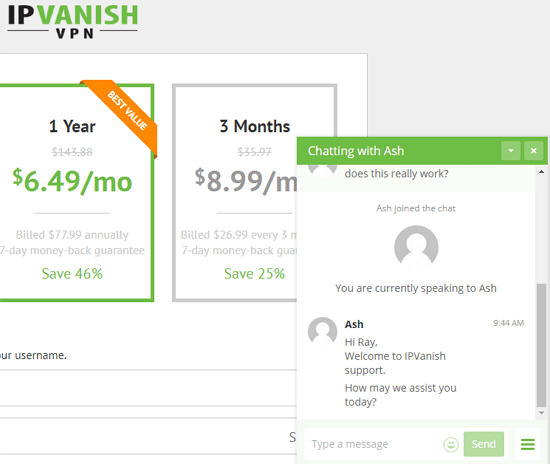 This is a really valuable improvement to the service, which highlights that IPVanish is investing heavily in making its service better and better for its subscribers. During this review, I tested the live chat a number of times and always got a response right away. 10/10.
The site also provides an excellent FAQ page.
The FAQ has a search index you can consult for instructions to solve most problems. This is a great feature, that is useful both as a stand-alone guide and as a resource for live chat support to send subscribers when walking them through the fix to a problem. You can access support categories and useful setup guides, by scrolling down the FAQ page.
You may want to look at the Setup Guides once you have subscribed to the service, especially if you intend to make use of IPVanish' native Amazon Fire TV app. Or if you want to set up your VPN for Kodi. It even has 'set up guides' for OpenELEC, which means you can run it with Kodi on a Raspberry Pi.
If you can't find a solution to a problem in the IPVanish FAQ, you can also fill in a contact form to ask the support team a question. This is accessible through a link on the FAQ page, as well as in the site footer.
You will get a reply to your query via email. In our experience, we have found support replies to this email come pretty quickly. This lines up with what we expect from a 24/7 support help desk. Excellent customer service all round.
Pricing
IPVanish can be purchased in three different subscription lengths: one month, three months, or a yearly subscription. The good news is that all of these plans are identical in terms of features, which means that you do not need to figure out the difference between each plan. This makes subscribing nice and easy.
As with other VPNs, subscribers are rewarded for committing for a longer period of time. The cheapest subscription is the yearly plan, which works out to the equivalent of $5 a month(for the first year). This makes the VPN a strong choice for a service on the cheaper side of things - you won't find quality VPN services for much less than this.
One thing worth bearing in mind is that a subscription to IPVanish is recurring, which means if you don't cancel the VPN at the end of your subscription period you will automatically be billed again. Thus, you must take care to cancel to prevent the yearly plan from rolling onto the full price of $89.99 per year (this works out at $7.5 per month, which is considerably more than the introductory price).
The good news is that subscribers are given a 30-day money-back guarantee to change their minds. This guarantee is even available with a one-month subscription (which is a rarity!) and goes a long way to showing that this provider is confident about its service.
What payment options do IPVanish offer?
Consumers can pay for IPVanish in a large number of different ways, which is awesome.
Credit cards and PayPal are both accepted, as well as some other virtual options, such as Apple Pay for iOS users. However, we were disappointed to find that IPVanish does not currently accept Bitcoin or other cryptocurrencies as a method of payment. So, those looking for a truly anonymous way to pay are out of luck.
For those who are interested, credit card payments are processed on behalf of IPVanish by the third-party payment handler Chase – with WorldPay used for some international payment types. PayPal and Apple will process payments if you choose to purchase through these platforms (but bear in mind that you can still use the Android or iOS apps if you choose to pay directly).
These are all respected and reputable payment handlers, which is good. And, having payments managed by a third party in this manner means that payment and subscription records are kept at arm's length from each other – which theoretically benefits your anonymity.
Final thoughts | Do we recommend IPVanish?
Yes. IPVanish is one of the best VPN services around, even if its prices do push it into the premium VPN bracket. Users get the choice of a massive number of server locations and a lot of advanced security features, such as a kill-switch, DNS leak protection, obfuscation, and network blocking (to name a few).
We found that IPVanish has produced a superb app, which is easy to set up, easy to use, and is available on all major devices without the need for any special technical knowledge to set it up.
IPVanish has also solved one of our major complaints with the service! You can now access a wide range of geo-blocked content, such as BBC iPlayer, Disney+, Amazon, HBO Max, in addition to their previous Netflix offerings. The range of regional Netflix shows you have to choose from is also greatly expanded. We expect to see more coverage out of IPVanish in this area soon, too!
This VPN is one of the few services that lets users install and use the VPN on as many devices as they want. This makes it perfect for families or for people who own a lot of devices.
Overall, this service offers outstanding privacy for P2P downloading, internet telephony apps, online gaming, and access to geo-restricted websites all over the world. And it provides what you need to access censored content in countries where the government blocks things. Definitely worth giving a test run using its 30-day money-back guarantee!
1 User Reviews
Leave a Review
Thanks for your review!