Alternative Choices for You
Features
| | |
| --- | --- |
| Server locations | 47 |
| Simultaneous connections | 5 |
| Routers supported | |
| Total servers | 180 |
ibVPN offers a number of plans at varying price points, but for its most complete offering, you'll want to check out the Ultimate subscription. Users who opt for this plan will enjoy access to servers in 47 countries, as well as proxies in these locations, and servers optimized for obfuscation, streaming, and P2P activity.
It permits 5 simultaneous connections with the Ultimate plan, and Socks5 proxies are included, too. Additionally, there's support for OpenVPN, L2TP, PPTP, SSTOP, SoftEther, and IPsec VPN protocols.
A full Smart DNS service comes with the plan – and we'll take a closer look at this later in the article. The cherry on top of the Ultimate subscription is its DoubleVPN feature, and Tor over VPN compatibility.
Unfortunately, the cheaper plans lack a lot of these stand-out features. You'll only be granted one connection, for example, and have access to fewer server locations (44 with the Standard plan, 9 for the Torrent plan). There's no Smart DNS or proxy servers available with these alternative subscriptions, although those who opt for the Torrent plan can use Socks5 proxies.
P2P is not permitted on the Standard plan, but is allowed on the Torrent plan – as you'd expect!
Double VPN
This handy feature basically lets you "chain" VPN servers, so that it routes your data between two or more VPN servers as it travels between you and the internet.
Your PC/device -> VPN server 1 -> VPN server 2 -> Internet
Such chaining can provide some security benefits, but will always result in a major loss of speed. The privacy/security benefits of "double-hop" VPN are rather limited. We do understand that this view isn't shared by everyone. As we'll see later in the review, a number of Double VPN server options are available.
Tor over VPN
Another new feature is Tor over VPN. In this configuration, you connect first to an ibVPN server, and then to the Tor network, before accessing the internet:
Your computer -> VPN -> Tor -> Internet
ibVPN achieves this by transparently routing your data from the VPN tunnel to the Tor network. This means that your entire internet connection benefits from Tor over VPN.
This setup offers some privacy and security advantages, but a similar effect can be achieved simply by using the Tor Browser while connected to the VPN. Crucially, such a setup is much more secure than the method offered by ibVPN.
Tor over VPN (however you do it) will seriously slow down your internet speeds, as you get the combined hit of using both the Tor network (which is very slow) and the VPN. ibVPN currently offers Tor over VPN servers in the Netherlands, Singapore, and the US.
Speed and performance
| | | | |
| --- | --- | --- | --- |
| | ibVPN | ExpressVPN | NordVPN |
| ProPrivacy.com SpeedTest (average) | 23.7 | 60.3 | 85.9 |
| ProPrivacy.com SpeedTest (max/burst) | 136.8 | 565.7 | 568.0 |
When it comes to speed, ibVPN, unfortunately, is not top of the class. You can check out a representation of its performance over a three-month period in the graph below. We use our rigorous testing methodology to figure out these numbers, testing servers in three global locations and using the super-secure OpenVPN protocol.
For an overview of exactly how we speed test VPNs, be sure to check out our how we conduct speed tests page.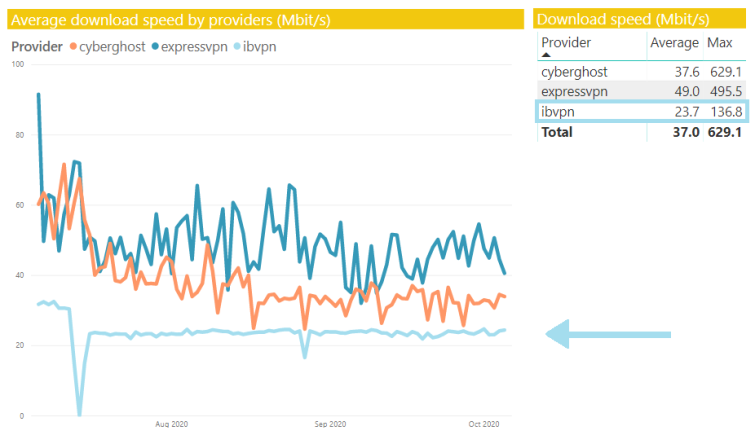 As you can see, ibVPN clocks in with an average download speed of 23.7 Mbps. This doesn't compare all that favorably to other premium providers on the market, but is still a decent speed. Max speeds sat at 136.8 Mbps, which put ibVPN on the lower end of the spectrum. All in all, you'll still be able to stream with ibVPN, though you might encounter some buffering – and it's worth noting that some of the provider's free servers struggled to connect to the internet at all when put to the test.
Leak tests
| | |
| --- | --- |
| ProPrivacy.com SpeedTest (average) | 23.7 |
| ProPrivacy.com SpeedTest (max/burst) | 136.8 |
On a happier note, I detected no IPv4, DNS, or WebRTC leaks (if DNS protection was enabled in the client). This is far more encouraging than ibVPN's speeds!
Price
ibVPN offers three VPN plans, and a Smart DNS-only plan. The Ultimate VPN subscription costs $10.95 per month, or $4.83 per month if an annual subscription is purchased. All other plans clock in at $4.95 per month, or $3.08 if purchased yearly.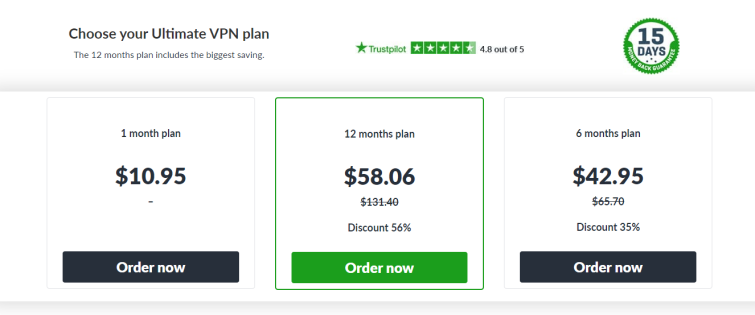 There are also a selection of business plans on offer. Generally, these are the Ultimate VPN plan with more simultaneous connections. Prices start at $13.95 per month ($8.32 if paid annually) for five simultaneous connections, and rise to $44.95 per month ($33.32) for 20 simultaneous connections.
You can put ibVPN to the test yourself with a 24-hour free trial. This trial includes all of the Ultimate plan's features and benefits, and is a great way to take the VPN for a spin before subscribing. If you do choose to commit to a plan, a 15-day money-back guarantee is offered.
The following payment methods are accepted: Avangate (recurring and one-time payments – Alipay, WebMoney, iDeal, and credit card), PayPro (recurring and one-time payments – credit card and PayPal), Payza, WebMoney, AstroPay, Western Union, and Perfect Money.
ibVPN also accepts Bitcoin and other cryptocurrency payments (Litecoin, Blackcoin, Dogecoin, and Ripple), which comes in handy if you'd like an additional layer of privacy.
Does ibVPN unblock Netflix?
Unfortunately, ibVPN struggles to unblock Netflix on the majority of occasions. Unblocking BBC iPlayer and other streaming sites are likewise difficult to access – more often than not, you'll run across an error message or be unable to use the site entirely. ibVPN had far more success accessing geo-restricted content in the past, thanks to its Smart DNS service, but Netflix has gotten an awful lot better at identifying and blocking VPN IPs over the years.
ibVPN has almost 20 servers dotted across the USA, which would typically be ideal for checking out Netflix, but you might need to apply some trial and error in order to find one that works with Netflix. If you'd prefer to check out a VPN that has an easier time accessing the world's most in-demand streaming sites, then head on over to our Netflix VPN article.
Customer service
| | |
| --- | --- |
| Money-back guarantee | |
| 24-hour support | |
| Live chat | |
| Money-back guarantee length | 15 |
| Free trial | |
ibVPN's customer service is stellar – its 24/7 live chat support is knowledgeable and helpful, and ticked email support is available, too. It's also possible to schedule an appointment to receive remote assistance from the support team – which is pretty cool!
If you'd rather troubleshoot issues yourself (or if you just enjoy reading techy articles), you'll be glad to know that ibVPN's website is easy to navigate and packed full of information. ibVPN's extensive "Knowledge Base" has a vast library of guides covering setup and problem-solving for just about every device that's compatible with the VPN, including routers and games consoles.
For quick answers to common questions, the FAQ page tackles topics from pricing to VPN speed and much more. There's also a blog you can paw through, containing more guides and news pieces, as well as ibVPN updates.
All in all, I found these pieces to be well-written and detailed, and it doesn't take a great deal of time to find the guide you need, thanks to ibVPN's sleek site.
Ease of use
| | |
| --- | --- |
| Android | |
| iOS | |
| Windows | |
| macOS | |
| Linux | |
The Website
ibVPN's website is smart, simple, and easy to navigate – it also avoids making some of the more bombastic (and inaccurate) claims found on other providers' pages. Technical details can be a little sparse, but FAQs, forums, and a comprehensive "Knowledge Base" are only a few clicks away.
Additionally, a blog is available, and highlights various features and promotions.
You can also check out ibVPN's server list; it looks good and it's functional to boot! All IPs are shared, but whether you receive a static or dynamic IP depends on which server you connect to.
ibVPN also goes the extra mile to ensure its privacy policy and terms of service are written in plain English.
The IBVPN Windows Client
As well as looking smart, the Windows VPN client is packed with features. I did notice that changing servers too often caused the program to crash, but ibVPN assured me that its updated All-in-One Windows client fixes these stability issues.
Protocol selection is set to "automatic" by default. From the log files, it's clear that this means that the very insecure PPTP protocol is used by default, followed by L2TP/IPsec. I'd recommend swapping over to OpenVPN right away!
Oddly, DNS leak options are disabled by default, so it's a good idea to turn those on immediately, too.
One particularly awesome feature of the ibVPN client is the per-app and per-process kill-switch. This requires a bit of setup, but is far more sophisticated than common whole-system kill-switches.
Note, however, that the kill-switch works by closing the specified programs in the event of VPN failure. This is not as secure as a firewall-based solution, which prevents any connections outside the VPN tunnel.
ibVPN's client is, overall, fully featured. The fact that it defaults to weak VPN protocols and no DNS leak protection is concerning, though. These things can be changed/turned on, but users less familiar with VPNs may not know how to do so.
Other Platforms
ibVPN has custom apps for Windows, Mac, Linux, iOS, and Android. In addition to the standard "all-in-one" app, Mac VPN users can also use a new "quick connect app." This is less fully featured than the all-in-one app, but is very easy to use.
Manual setup instructions are also available for a wide range of platforms and devices. What's more, ibVPN is also compatible with VPN-enabled routers.
The Android App
ibVPN's Android VPN app asked for permission to access my photos/media files, which was strange!
Far more encouraging is the app's use of OpenVPN encryption. Port selection is another nice feature, although a kill-switch is missing, and would round-out the app's functionality nicely. I also detected no IP leaks when using the Android app.
Smart DNS
A Smart DNS service is bundled into ibVPN's Ultimate VPN plan. This won't do anything to improve your security or online privacy, but makes a huge difference when geo-spoofing by resolving your DNS requests at a specific location. As a result, it's a great tool to have in your kit if you're going to be streaming geo-restricted content.
No encryption/decryption is involved, and the DNS translation is pretty much instantaneous. The Smart DNS service suffers from fewer buffering issues than a VPN when it comes to streaming – though distance can still cause problems.
Another advantage of Smart DNS is that it can be configured on any internet-capable device, and not just the ones that can run VPN software. So, you'll be able to use the service on your Smart TV, games console, and Roku.
Browser Extensions
ibVPN customers can also make use of browser extensions for Chrome, Firefox, and Opera. These extensions proxy the browser connection, and I detected no DNS leaks whilst using them. There was, however, a WebRTC leak.
Privacy and security
| | |
| --- | --- |
| Kill-switch | |
| Obfuscation (stealth) | |
| IPv6 leak protection | |
| WebRTC leak protection | |
ibVPN does not collect or log any traffic or use of its Virtual Private Network service. We cannot relate any specific activity with any specific user. If any legal notices are forwarded to our legal department we will comply with that notice. However, we cannot be compelled to hand over information which we do not have.
This is great. ibVPN is based in Romania, which had rejected the EU Data Retention Directive even before it was struck down by the European Court of Justice. Romania is also comfortably outside the direct area of influence of both the NSA and GCHQ.
So on the privacy front, ibVPN does very well.
Encryption Protocols
| | |
| --- | --- |
| PPTP | |
| L2TP/IPSec | |
| SSTP | |
| IKEv2 | |
| OpenVPN | |
| Other protocols | Softether, Stealth VPN |
OpenVPN connections are secured with an AES-256 cipher and HMAC SHA384 hash authentication. Since first publishing this review, ibVPN have updated handshake encryption to RSA-2048 and data channel encryption to AES-256.
This addresses my earlier criticisms. Perfect forward secrecy is provided courtesy of Diffie-Hellman Exchange (DHE) keys. I am pleased to say that ibVPN now uses a very strong encryption suite.
If you plan on using this VPN for iOS and you want to use OpenVPN encryption, you will need to manually configure it using a third party OpenVPN app. See ibVPN's website for a guide on how to do this.
Please see VPN Encryption Terms Explained for more details on the terms used here.
Final thoughts
Overall, ibVPN is a solid provider, and you certainly get a lot for a relatively low price – a no-logs policy, Smart DNS service (with its Ultimate plan), P2P support and Double VPN capability, to name a few. ibVPN's 24/7 customer service is the cherry on top! Whether you get in touch via live chat or email, you can rest assured that your query will be handled by an expert team.
I detected no IP leaks whilst using the service, and although it's not firewall-based, I liked the per-app and per-process kill-switch.
On the other hand, the VPN struggles to access Netflix and BBC iPlayer, so if streaming is your main concern, you may want to look elsewhere for a more stable service.
ibVPN's speed is rather disappointing, too. Most users aren't going to be happy about their internet connections grinding to a halt – and though there are slower VPNs out there, there are also much, much faster ones.
ibVPN is a great pick for anyone looking to secure their day-to-day browsing, however. If data-intensive tasks aren't your thing (or if you don't plan on using a VPN for them), you'll enjoy the provider's robust encryption and Socks5 proxies, as well as great mobile apps that'll keep your device secure when on the go, using public Wi-Fi.
1 User Reviews
Leave a Review
Thanks for your review!