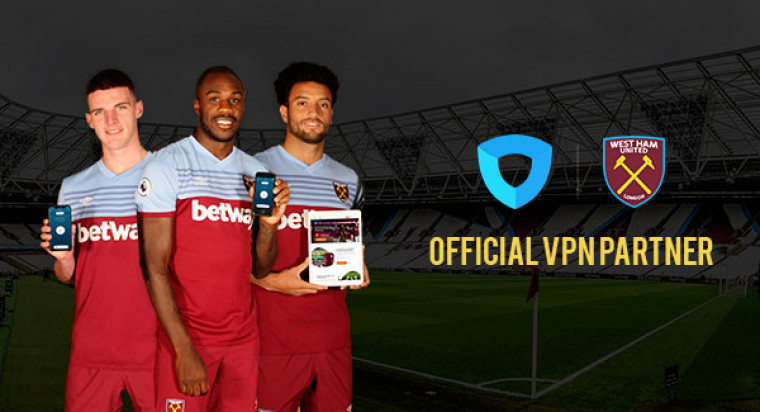 Alternative Choices for You
How Much Does Ivacy Cost?
Ivacy offers a one-month subscription fee is at $9.95/month, which is pretty high. However, the price drops sharply if you opt for a longer subscription plan: with a two-year plan coming in as cheaply as $2.40/month. On top of this, you can trial the service for a week at $0.99 and get a hefty discount on a one-year plan that averages at $3.99/month. It's fair to say that Ivacy is actually a very cheap VN service when you select a long-term package.
Dedicated IPs are not included in the basic plan, and cost an additional $1.99 USD per month per IP. A NAT firewall with port forwarding also costs an additional $1.00 per month.
Payment can be made via card, PayPal, AliPay, Perfect Money, and Paymentwall. You can also pay in Bitcoin via BitPay, and in a variety of cryptocurrencies via CoinPayments.
Most of Ivacy's plans come with a 30-day money-back guarantee, although payment in crypto-currencies is understandably non-refundable. Instead, monthly subscriptions come with a 7-day guarantee.
Ivacy is currently offering a free one-year Sticky Password Premium subscription worth $29.99 with all subscriptions. Sticky Password is a good password manager that offers excellent browser integration, although we prefer free and open-source solutions such as KeePass and Bitwarden.
What Features Does Ivacy Offer?
| | |
| --- | --- |
| Simultaneous connections | 10 |
| Total servers | 5700 |
| Server locations | 100 |
| Routers supported | |
| Split-tunneling | |
| Number of countries | 69 |
Ivacy allows up to ten simultaneous connections per account. This is higher than the industry average and should be more than enough for the vast majority of users.
In addition, users are able to connect to more than 100 server locations in over 50 countries. These servers are a mix of secure bare metal servers and less-secure VPN instances. However, we're pleased to note that unlike many other VPN services, Ivacy was happy to provide a list of which ones are which when we asked. So, if you'd rather stick to bare metal servers, it's entirely possible.
The Smart Purpose Selection feature is a handy tool, and quickly identifies which server you should connect to for optimum results – depending on what you'd like to do online. Purpose Selection can automatically connect you to servers suited for high-speeds, secure downloading, streaming, and unblocking content.
Ivacy also allows P2P torrenting, offering P2P servers that have been optimized for improved filesharing speeds.
It is worth noting here that Ivacy was once a white-label reseller for PureVPN and leveraged the PureVPN server network. The process is not yet complete, but Ivacy has shown us evidence that it is migrating away from using PureVPN servers to servers owned and operated entirely by itself.
Not that we have any problem with Ivacy being a reseller anyway. Especially now that PureVPN has gone 100% no-logs.
Dedicated IPs
This bolt-on feature gives users a static IP address, in one of seven countries, that belongs solely to them. A static IP address is unlikely to be blacklisted by sites like Netflix, and less likely to trigger CAPTCHA verification tests.
Because a dedicated IP is directly linked to a single user, you actually miss out on the security of using an IP that's been shared among many users. There's nothing stopping you from using a dedicated IP when needed, though, and reverting to a regular shared IP when you want privacy online.
NAT firewall + port forwarding
A VPN NAT firewall blocks new incoming connections in order to prevent hackers from exploiting open ports. Many VPN services implement a NAT firewall by default. However, this can create problems for users who need to be able to accept new incoming connections.
This includes P2P downloaders and anyone interested in accessing games and media servers, as well as LAN resources such as printers and hard drives. If a VPN offers port forwarding, it can solve this issue by opening selected ports in the NAT firewall. This will allow new incoming connections.
Ivacy does not offer a NAT firewall by default, but one can be added as a bolt-on extra. If you opt to pay extra for one, Ivacy also allows for port forwarding through the firewall, should it be necessary.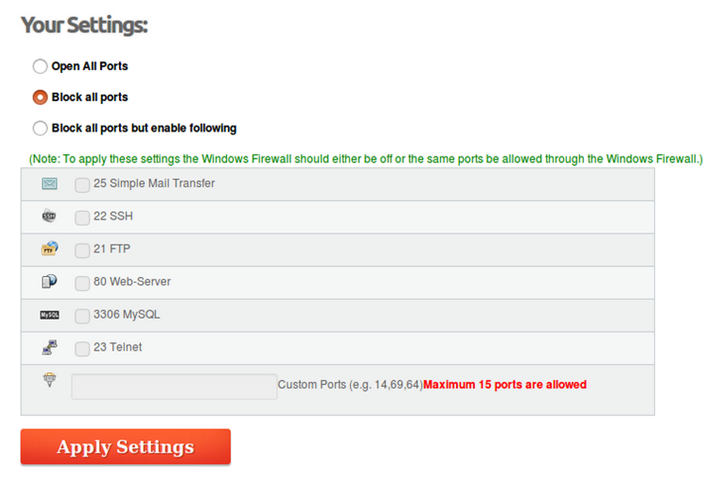 The lack of a NAT firewall by default does not really bother us much, but the risk is hard to quantify. Please see our VPN Port Forwarding Guide for more information on this subject.
Can Ivacy Unblock Netflix and iPlayer?
In our tests, Ivacy unblocked the full US Netflix catalog and BBC iPlayer flawlessly.
| | |
| --- | --- |
| Netflix | |
| iPlayer | |
| Amazon Prime | |
| Hulu | |
| Disney+ | |
Ivacy does also claim to unblock a great many additional services from across the globe, including Hulu. We haven't tested them all, but can confirm that the provider can unblock US Prime Video.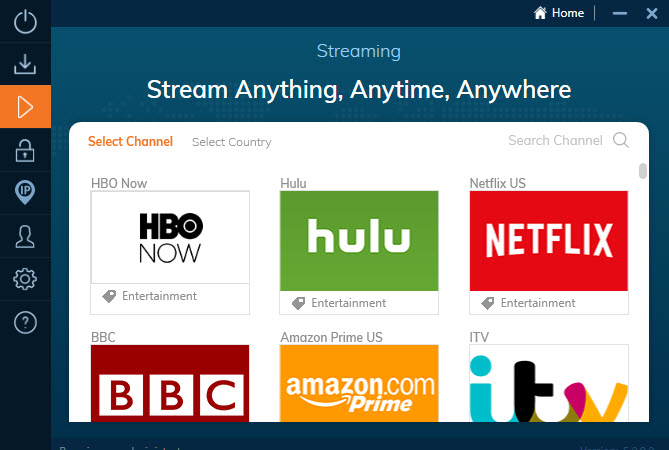 If you do encounter any issues with these streaming services, then Ivacy's dedicated IP feature should be able to provide you with an IP address that hasn't been blacklisted.
How Fast is Ivacy? Does it leak?
Ivacy continues to impress us in our rigorous speed tests – consistently ranking ahead of the competition! Below, you'll find Ivacy's download results for July to September of 2023.
Speeds & leaks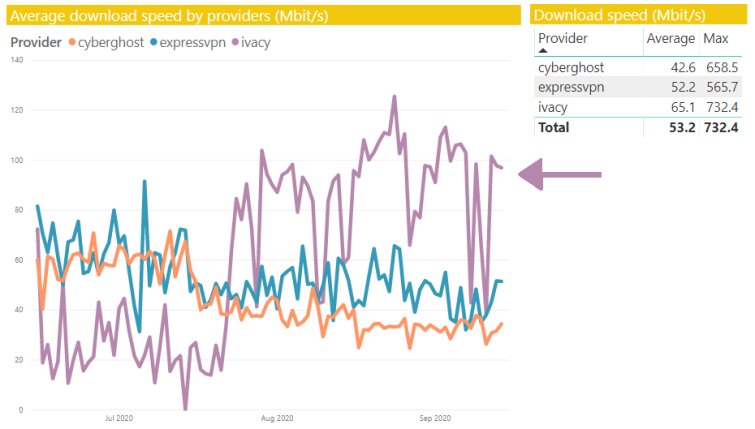 With an average speed of 65.1 Mbit/s, Ivacy roars ahead of a number of other VPN services when it comes to speed. Max download speeds of 732.4 Mbit/s further illustrates this, and makes the provider an ideal choice for data-intensive tasks. With Ivacy, you'll be able to stream in HD and take part in P2P downloads.
| | |
| --- | --- |
| ProPrivacy.com SpeedTest (average) | 73.24 |
| Speed | 254.89 |
| Reliability | 6 |
| Performance | 6 |
IP leaks
We are pleased to say that we detected no IP leaks of any kind in Windows and macOS when using just the Ivacy app. This includes IPv4 and IPv6 DNS leaks, and IPv4 and IPv6 WebRTC leaks. No IP leaks were detected in Android or iOS either, although we can currently only test mobile devices for leaks using an IPv4-only connection.
This is great, although only browser-based solutions can 100% guarantee against WebRTC leaks. It is therefore great that Ivacy offers browser add-ons for Firefox and Chrome which include full WebRTC leak protection.
IP leak tests
We ran DNS and WebRTC leak tests using Ivacy's Windows and macOS clients (we would love to also test for leaks in mobile apps, but for various technical reasons this is not possible at the present time).
Ivacy told us that to ensure IP addresses are not leaked via the WebRTC browser "feature," users should use its Chrome or Firefox browser add-on in addition to its client software.
We would normally criticize Ivacy for not warning users more clearly about this, but in our tests, we detected no leaks anyway. This includes any regular IPv4 and IPv6 DNS leaks, but also WebRTC (tested with IPv6) leaks even when not using a browser add-on.
For more information about the danger posed by IP leaks, please check out A Complete Guide to IP Leaks.
How Easy is Ivacy to Use?
Ivacy has simple-to-use custom apps for Windows, macOS, Linux, Android, and iOS. Browser add-ons are also available for Firefox and Chrome. In theory, Ivacy offers an OpenELEC VPN add-on for Kodi which is pretty cool, but we were unable to connect to the Source URL.
Manual setup guides are provided for various other platforms, including a VPN for Linux (Debian/PPTP and Mint/PPTP and SSTP), Android-based smart TV's (PPTP and L2TP), DD-WRT routers (PPTP) and games consoles (via VPN sharing).
The Windows Client
The Windows VPN app looks the business and has an easy-to-navigate interface. To auto-connect to a nearby server just hit the big "on" button. The client uses IKEv2 by default but also supports OpenVPN (UPD and TCP), and L2TP/IPsec.
Although IKEv2 is not as proven as OpenVPN when it comes to security, it is very secure in theory and usually faster than OpenVPN. We presume OpenVPN TCP uses port 443 in order to provide some limited anticensorship capabilities.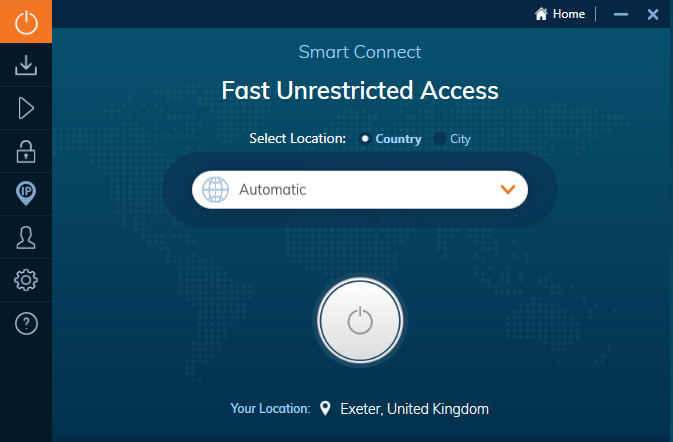 The Windows app offers a number of bonus features that are available on all other platforms. Split tunneling lets you choose which programs and apps use the VPN tunnel, and to exclude the rest. Split tunneling is therefore very useful if you only need the VPN for certain reasons.
Secure downloading is an unusual feature that automatically scans all downloads with "advanced server-level virus and malware protection." The actual effectiveness of this service is anyone's guess – we wouldn't recommend throwing away your current antimalware protection, however, but it certainly can't hurt to have an additional layer of protection.
A kill-switch is included in the Windows VPN app, though it is not enabled by default. This leverages the Windows system firewall to prevent internet connections outside the VPN interface – even when the client itself crashes.
In simulated tests using Wireshark, we could see that at no point was our real IP address exposed when the internet connection was disrupted, or when it was re-established and the VPN client reconnected.
The macOS client
The Mac VPN app is similar to the Windows client in a lot of ways. It only supports IKEv2, however, and does not include split tunneling, a kill-switch, or dedicated IPs. Mac users who have purchased the dedicated IP add-on must instead manually configure their system settings to use it.
In particular, the lack of a kill-switch is disappointing. But the macOS client does support secure downloading and all streaming options.
Ivacy now runs natively on Apple M1 devices!
Android
Like its desktop siblings, the OpenVPN (UDP and TCP) Android app features an attractive and functional user interface. It's also full-featured, with a kill-switch, split tunneling, secure downloading, and streaming channel-select, all present and correct.
The Android app also includes Multiport, a feature that auto-scans ports to find ones that aren't blocked or throttled. This can be useful for overcoming censorship when regular VPN ports are blocked by a firewall.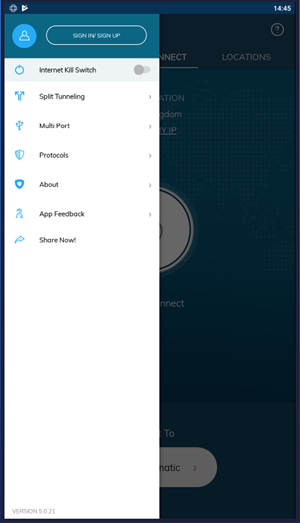 As with the macOS app, though, you will need to manually configure Android in order to use a dedicated IP address.
iOS
The iOS VPN app looks much like the Android app but uses either the IKEv2 or L2TP/IPsec VPN protocols. There is no kill switch, multiport feature, support for split tunneling, or secure downloading. There is, however, in-app support for dedicated IPs.
Other platforms
Although a number of other platforms are supported, we are a little disappointed that setup guides are primarily for the wildly insecure PPTP only.
Good news is that Ivacy also publishes generic OpenVPN configuration files, allowing you to set up Ivacy on any device which can run an OpenVPN app. Many third-party guides are available for doing this on different platforms, including many hosted on this site.
Browser add-ons
In addition to apps for the major platforms, Ivacy offers browser add-ons for Firefox and Chrome. These provide a SOCKS5 proxy connection that is encrypted using HTTPS. It should provide robust privacy and security benefits (within the browser only, of course).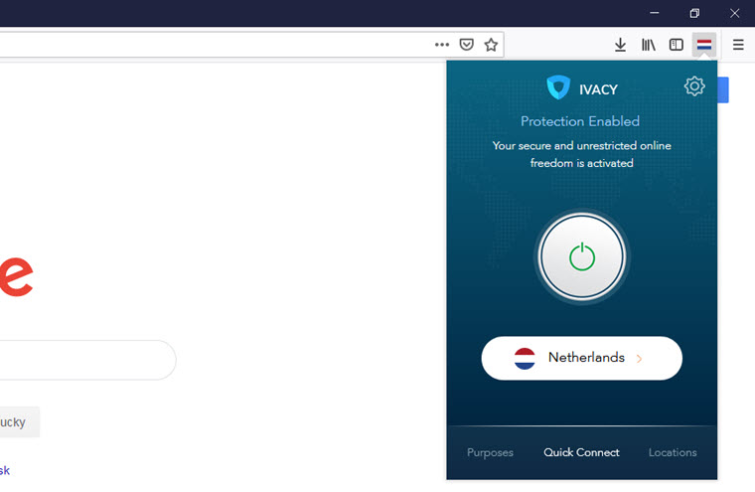 Customer Service
| | |
| --- | --- |
| Money-back guarantee | |
| 24-hour support | |
| Live chat | |
| Money-back guarantee length | 30 |
| Free trial | |
24/7 customer support is offered primarily by live chat. We found responses to be quick and knowledgeable, making it feel rather redundant to contact support via email. We did so anyway, and although responses took a little longer, the quality of replies remained high.
Ivacy also hosts a guide database, which walks users through the process of setting up their VPN, as well as a FAQ section. Video tutorials are also available via YouTube, and privacy news is collected on a dedicated Ivacy blog page. These resources are by no means comprehensive, but do contain lots of useful information – despite many articles referring to outdated versions of Ivacy's software.
Protocols and Encryption
Logging policy
Ivacy claims to keep no logs at all, but it does keep "minimal reports and statistics required for quality customer support and services rendered.
The data collected does not contain any identifiable information or user data DNS requests, traffic details, or IP addresses. The only thing known is the countries where users are originating from. We monitor crash reports and conduct diagnostics to evaluate our software to provide smooth functionality of our extensions, client software, and apps.
Since this minimal level of logging poses no credible threat to its users' privacy, we are happy to label Ivacy a no logs VPN.
Jurisdiction
Ivacy is VPN based in Singapore, which is a fairly popular location for VPN servers. Singapore suffers from a repressive political atmosphere, but ISPs (and presumably VPN providers) are not legally required to log users' internet activity.
Protocols and Encryption
The Windows client uses IKEv2 by default but also supports OpenVPN and L2TP/IPsec. The macOS client uses IKEv2 only, and the Android VPN app OpenVPN. The iOS app uses IKEv2 by default but also supports L2TP/IPsec.
For the full lowdown on VPN protocols please see our Ultimate Guide to VPN Encryption. For the purpose of like-for-like comparison with other VPN services, and because we believe the care service takes over its OpenVPN encryption is indicative of its overall attitude to VPN security, we always take a closer look at the OpenVPN settings used:
Data channel: an AES-256-CBC cipher with HMAC SHA256 hash authentication
Control channel: AES-256-GCM cipher with DH-4096 handshake encryption and HMAC SHA256 hash authentication. Perfect forward secrecy is provided by the Diffie-Hellman handshake encryption.
This is a highly secure setup. Using a Diffie-Hellman key exchange without RSA to secure the TLS handshake can be problematic thanks to its susceptibility to the logjam attack (a result of its re-use of a limited set of prime numbers). The large 4096-bit key size used for this, however, effectively mitigates this issue.
Other privacy and security considerations
Ivacy uses a mix of bare metal and shared virtual server instances, but is happy to provide a list of which ones are which so that customers can make an informed choice about which servers they want to use. All DNS queries are handled in-house by Ivacy's own DNS servers.
Not so rosy is the extensive tracking performed by the Ivacy website (including the use of Google Analytics), although this does not have any effect on the privacy of VPN sessions.
The only obfuscation technology offered by Ivacy is OpenVPN port selection in Windows and Android. We presume the TCP setting uses port 443 to emulate regular HTTPS traffic. This form of obfuscation is quite easily defeated, but can nevertheless be effective in many situations.
As already noted, we discovered no IP leaks whatsoever when using any of Ivacy's software.
Final Thoughts
Ivacy has been around for years, but has only recently managed to break out of PureVPN's shadow. In addition to becoming its own service, Ivacy is now one of the most impressive VPN providers on the market. It's incredibly fast, secure, privacy-friendly, cheap (if you buy an annual subscription or longer), and offers great 24/7 support and a no-quibble 30-day guarantee.
We'd prefer to see less website tracking, but otherwise, Ivacy is an excellent service.
0 User Reviews
Leave a Review
Thanks for your review!