If you've tried to use a VPN with Amazon Prime, then you'll be aware that Amazon is very good at blocking VPN users. But, there are still some VPNs out there that will bypass Amazon Prime's geographical restrictions. In this guide we list the 5 best VPNs for Amazon prime and show you how to access the US version of Amazon instant video.
If you're new to VPNs, we recommend starting with our helpful guides:
5 Best VPNs for Amazon Prime
In a hurry? Take a look at the list of the 5 best VPNs for Amazon Prime below. For more information on any of the providers, keep scrolling.
Best Amazon Prime VPNs: Summaries
We have tested all the VPN recommended below to ensure they unblock the full US catalog of Amazon Prime video titles and audio tracks.
ExpressVPN is a great all-rounder that unblocks Prime
Pricing

From $6.67 - $12.95

Available on

Windows
macOS
iOS
Android
Linux

Unblocks
ExpressVPN is the best VPN for Amazon Prime, they offer one of this slickest and most professional services in the VPN industry. It pioneered the notion of 24/7 live chat manned by a staff which actually knows what it's doing! It was also the first Tier 1 VPN service to offer a full no-questions-asked 30-day money back guarantee.

ExpressVPN does not list any special "Amazon Prime" servers in its software, and most of its US servers are blocked by Amazon. But never fear! Just ask ExpressVPN's legendary 24/7 live chat support staff and you will be told which servers to connect to in order to Access Amazon Prime unimpeded.

ExpressVPN keeps no logs which can compromise its users' privacy, allows up to five devices to connect at once, and has no objection to users torrenting on any of its servers.

CyberGhost is a super easy to use VPN
Pricing

From $2.75 - $12.99

Available on

Windows
macOS
iOS
Android
Linux

Unblocks
CyberGhost VPN is another large VPN service which keeps no logs that threaten its users' privacy. Based in privacy-friendly Romania, CyberGhost allows up to seven devices to connect at once and backs up its 7-day no-card-required free trial with a very generous 45-days money-back guarantee. You can't say fairer than that!

CyberGhost's software allows you to select VPN servers based on the streaming services you wish to unblock. It naturally has a designed Amazon Prime server, which is based in the United States and successfully unblocks US Amazon Prime without difficulty.

ProtonVPN is a great VPN geared towards privacy
Pricing

From $3.29 - $5.00

Available on

Windows
macOS
iOS
Android
Linux

Unblocks
ProtonVPN is made by the people behind the smash hit privacy email service, ProtonMail, the Swiss-based VPN service sure had a lot to live up to! And it has. Its free tier is great, although to unblock Amazon Prime you will pay for Premium plan. You can, however, take advantage of a 7-day free trial when you download its software to check that everything works as it should.

ProtonVPN offers no special Amazon Prime servers, but in our tests any random US server chosen by us successfully unblocked Prime.

ProtonVPN keeps no logs, runs almost 400 servers in 33 countries around the world, and depending on plan allows up to 10 simultaneous connections.

PrivateVPN is a no logs and low price VPN service that is based in Sweden
Pricing

From $1.89 - $10.95

Available on

Windows
macOS
iOS
Android
Linux

Unblocks
PrivateVPN is a no-logs Swedish VPN service has a strong focus on privacy. Which makes the fact that it is one of the best services out there for unblocking streaming content pleasantly surprising.

This is because it will issue you a brand new dedicated IP address which is not known to belong to it, and is therefore not blocked, as necessary. Although a great fallback, we did not find this necessary for unblocking Amazon Prime. In addition to two US servers, the PrivateVPN software features special Amazon Prime servers which can unblock the service in Germany, Italy, Japan, Sweden, and the UK.

PrivateVPN offers friendly and helpful 24/7 customer support, allows up to 6 simultaneous connections, and will give your money back up to 30-days after payment.

A superb VPN that has proven its no logs claims and effectiveness with a full third party audit
Pricing

From $2.50 - $12.95

Available on

Windows
macOS
iOS
Android
Linux

Unblocks
VyprVPN is another great choice for an Amazon Prime VPN. Not only does VyprVPN own and operate all of its own hardware, but there's also optional VyprDNS services. This makes it especially easy to unblock Amazon Prime's geo-restricted content. Furthermore, by owning their own hardware, VyprVPN offers reliability to its users.

The main downsides to VyprVPN are that it is based in the US keeps lots of connection logs. On the other hand, it runs its own CDN network, which results in excellent speed performace ! Try out VyprVPN by clicking the button below!
Why do I need a VPN for Amazon Prime?
Being a member of Amazon Prime brings many benefits, if you subscribe primarily for the free next day delivery, you could even view any extras as freebies!
Annoyingly though, Prime members in some countries enjoy access to much larger catalogs of Prime Video and Prime Music titles than those in other countries - notably the United States.
As with Netflix, this is not really the fault of Amazon which makes of all of its own Amazon Originals content available to all customers at the same time. Third-party content creators often impose regional licensing restrictions on their content in order to better monetize their products in different markets.
Using a VPN can fix this by making it appear that you are accessing Amazon from a different country (the United States for example).
This is possible because a VPN allows you to spoof your location simply by connecting to a VPN server located in the country you wish to pretend to be in.
How to unblock Amazon Prime
As already noted, to unblock Prime catalogs for another country you need both use a VPN and re-register your Amazon account to that country.
It should still be possible to order goods from your local Amazon website and specify your real delivery address, although we don't know if such deliveries will be covered by your Prime benefits. If things don't work out, though, it is easy enough to change your country back again!
Because it is the most popular option, we will register in the US for this tutorial, although the process is identical for all countries. Do please check that your VPN provider can unblock Amazon Prime in your country of choice, however.
If you use an Amazon Fire TV stick (or any other Fire OS device) to access Prime content then your choice of supported counties is limited. Please see How to change country on a Fire TV Stick for more details.
How to access Amazon Prime US
To access the full Amazon Prime US catalog you must first re-register your address with Amazon to a US address.
Sign in to your account on the Amazon web page and visit Manage Your Content and Devices -> Preferences -> Country/Region Settings.
Click on the Preferences tab -> Country/Region Settings -> Change.
You can then change your Country of Residence to the United States. A valid postal address and zip code are required, which you can obtain by simply zooming into a random US location in Google Maps.
You may be asked to update your payment details to a payment method registered in the US. A virtual debit card is your friend.
When done, hit Update.
Use an Amazon VPN
Follow the steps below to setup your VPN for Amazon Prime.
Sign up for a VPN account, install its software and run. We have detailed guides for installing a VPN in Windows, macOS, Linux, Android, and Amazon Fire TV Stick.
Select a US server. Some VPN services offer special Amazon Prime servers which are known not to be blocked. With others, you just use any regular server. If regular servers don't unblock Amazon Prime then contact your VPN provider's support team. ExpressVPN, for example, prefers to not openly publish which of its servers work in case they then get blocked. Support will provide a list of servers that are known to unblock Amazon Prime.
Log in to your Amazon Prime account via the Amazon.com website. You may need to confirm your identity via a code sent to your email address or phone number. Be sure to select your email address.
Navigate to the Amazon Prime Video or Amazon Prime Music web pages, find, and watch the content you want!
Is Amazon Prime blocking VPN users?
Yes. But it only blocks users if their apparent internet address (IP) is known to belong to a VPN or a proxy service. A number of VPN services, such as all the ones listed in this article, offer IP addresses that are not blocked by Amazon.
If you log in to Amazon using just a VPN, however, then Amazon will think you are on holiday. It will allow you to stream titles, but only from a greatly reduced catalog. In order to access the full catalog for the country, you are "spoofing," you will need to re-register your home location with Amazon.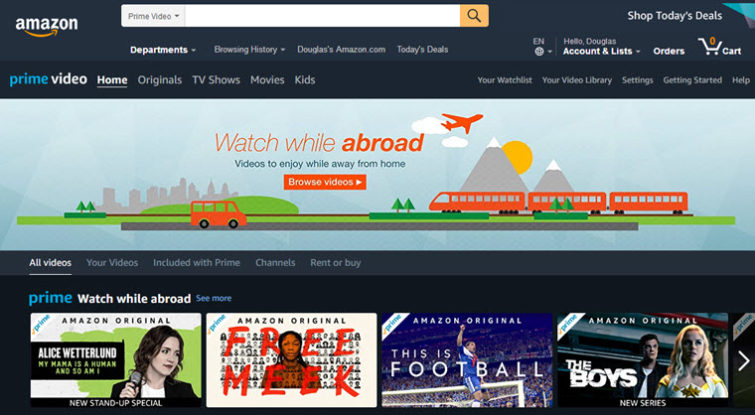 US residents who are already registered in the US, of course, need only use a VPN to access the full Prime US catalog when traveling abroad.
What can you unblock with an Amazon Prime VPN?
As we can see on the table below, Prime customers in the US in particular, but also the UK and Canada, enjoy access to far more titles than users elsewhere in the world.
| | | | |
| --- | --- | --- | --- |
| Country | Number of Titles | Diff. with Amazon US | Price/month |
| United States | 18246 | 0 | $12.99 |
| United Kingdom | 11066 | -7180 | $9.86 |
| Canada | 6130 | -12116 | $6.11 |
| Australia | 4940 | -13306 | $4.96 |
| New Zealand | 4737 | -13509 | $5.99 |
| Ireland | 4591 | -13655 | $7.68 |
| Sweden | 4338 | -13908 | $6.83 |
| Finland | 4338 | -13908 | $6.83 |
| Norway | 4308 | -13938 | $6.83 |
| Denmark | 4301 | -13945 | $6.83 |
| South Africa | 4250 | -13996 | $5.99 |
| Germany | 2992 | -15254 | $9.11 |
| Austria | 29767 | -15270 | $9.11 |
| India | 2351 | -15895 | $1.76 |
| Mexico | 1746 | -16500 | $5.09 |
| Russia | 783 | -17463 | $6.83 |
| Netherlands | 772 | -17474 | $6.83 |
| Latvia | 770 | -17476 | $6.83 |
| Singapore | 713 | -17533 | $6.54 |
We think these numbers speak for themselves about why you need an Amazon VPN!
FAQs