By far the easiest way to set up a VPN on your Android device is by installing a trusted service from the Google Play store. Many, if not most, providers offer custom Android VPN apps.
How to set up a VPN on Android
Follow the steps listed below to set up a VPN on your Android phone:
Follow the link provided by your VPN service, or search the Google Play Store for a reputable VPN app. for a list of services we recommend, see our best VPNs for Android article.
On the app's download page it is always a good idea to read users' reviews in order to check that the app is legitimate. If you are satisfied, then select "Install."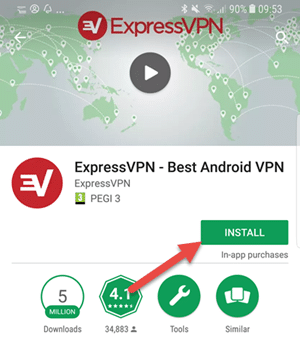 Read through the Permissions the app requires on your device and ensure that you are happy with them. In-app purchases are needed to buy a subscription from within the app, and every VPN app will need access to your WiFi settings. No other permissions should be required. Touch "Accept" when you are ready to proceed.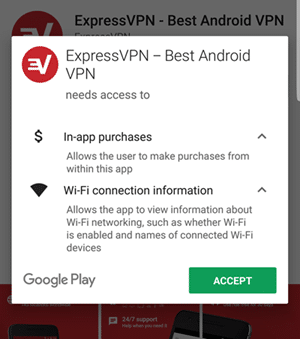 The app will then download and install to your Android device. Once this is completed, launch the app and sign-in if required. Once in the app, simply select a server you wish to connect to, and hit "Connect."
OpenVPN Android setup
OpenVPN is now the industry standard VPN protocol. It is the one that ProPrivacy.com recommends you use under almost all circumstances.
The main third-party OpenVPN apps for Android are OpenVPN Connect and the more fully featured and open source OpenVPN for Android (F-Droid version available). follow the instructions below to configure OpenVPN on Android:
Download the OpenVPN configuration files from your VPN provider's website. Unzip them (if required) and transfer to a folder on your Android device. Alternatively, download them directly to your Android device and unzip them.
Download, install and run OpenVPN for Android (if you haven't already). Touch the + icon to the top right of the screen to Add Profile. Give the profile a suitable name, then hit "Import."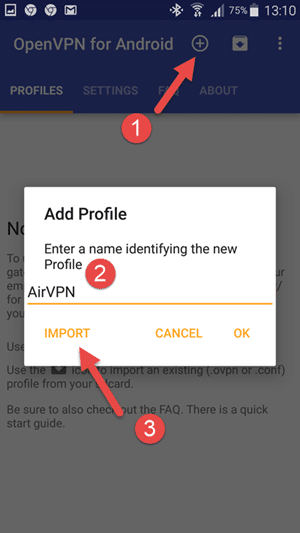 Navigate to the folder where you saved the unzipped OpenVPN config file(s), and choose a server (.ovpn file). Once imported, touch the tick ✔ icon to continue.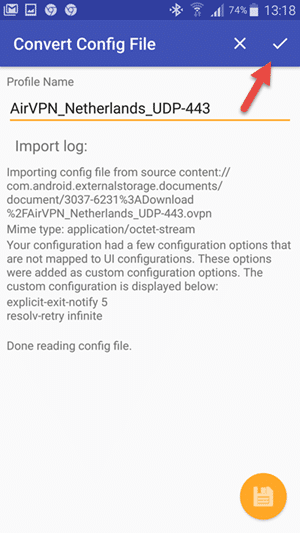 Once done, you'll see the server name under the Profiles tab. To start the VPN, just touch it. You can import .ovpn files for as many servers as you like, and they will show up here.
Many providers include all necessary keys and account information in customized .ovpn files, so no further configuration is needed. Others may require that you enter your account information and other details. Please see your provider's documentation for specific instructions.
Additional OpenVPN for Android settings (Optional but Recommended)
Enable IPv6 Routing
You can prevent IPv6 DNS leaks by configuring OpenVPN on Android to properly route all IPv6 traffic over the VPN. To ensure this is enabled follow the steps listed below:
Edit the specific VPN connection in the "Profiles" tab.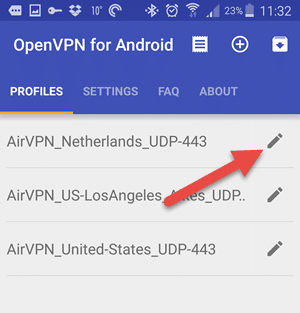 Ensure that IPv6 -> Use default Route is checked. While you are here, also check that IPv4 leak protection is enabled (it should be by default).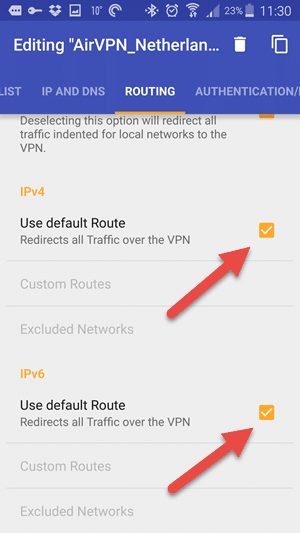 Download the Android .apk file
There are many reasons to de-Google your Android device. If you go down this route, then most VPNs will be provide you with an Android application package (.apk) file of their software that you can sideload to Android.
Note that sideloading files from outside the Play Store presents a security risk. So be sure to obtain the .apk from a reputable source - such a from your provider. It can't hurt to run a malware scan on it either.
Download an Android file manager app.
Download the .apk file to your device. You can download it directly from the web using your web browser, send it to your Android device as an email attachment, transfer it from a desktop computer via USB lead or USB stick, access it from your Dropbox account, or whatever….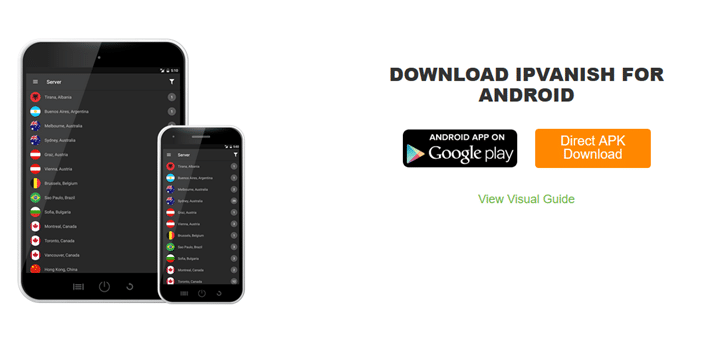 IPVanish allows you to download the .apk direct from its website
Find the downloaded file using a file explorer (or just select it in the drop-down Android notifications shade) and select "Install". Once the app is installed simply open it.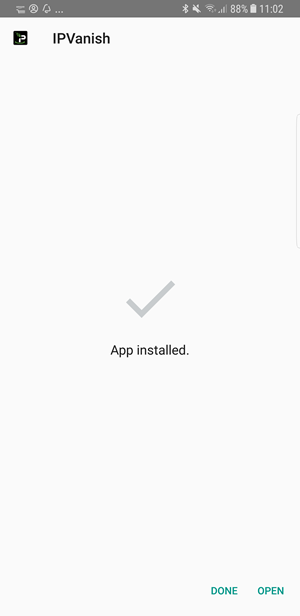 Manually configure PPTP or L2TP/IPsec VPN settings
Android phones comes with a VPN client baked-in which supports the PPTP and L2TP/IPsec protocols. For reasons discussed in detail in VPN Encryption: The Complete Guide, I always recommend using an OpenVPN app instead (via either a custom app or the OpenVPN for apps mentioned above).
Some users, however, like the fact that a PPTP or L2TP/IPsec connection can be without the need to download a third party app. Note that setup details may differ a little from the instructions below depending on what device and version of Android you are using.
Go to your VPN Settings page. On my phone this is can be found at Settings -> Connections -> More connection settings -> VPN. Select "Add VPN."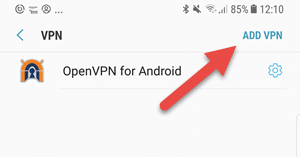 Enter the PPTP or L2TP/IPsec settings given to you by your provider. These settings are usually available on the setup pages of its website, or you can ask support. Touch "Save" when you are done.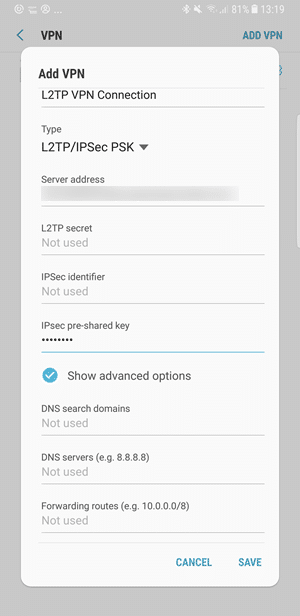 Note that use of pre-shared keys is strongly frowned upon from a security perspective, although this is mitigated somewhat if accounts are secured using a unique username and password.
On the VPN Settings page select the newly created connection.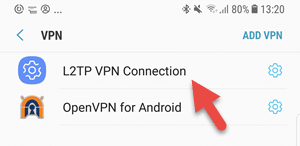 Sign into your VPN account and hit "Connect".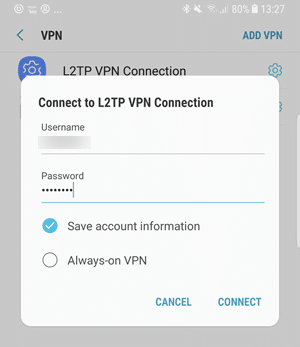 How to test your VPN
No matter what kind of VPN you use, Android will display a small key icon in the notification bar whenever it is connected. This lets you know at-a-glance that you are protected.

For additional confirmation, you can run an IP leak test…
Check for VPN for IP leaks
Android is much less susceptible to DNS and WebRTC leaks than desktop platforms. Once connected, however, you should nevertheless check for IP leaks. Just in case.
Note that Private-Use - [RFCxxxx] IPs are local IPs only. They cannot be used to identify an individual or device, and so do not constitute an IP leak.
Enable a kill switch
Method 1 (Android Nougat 7+)
Newer versions of Android now include a built-in kill switch that works with any VPN. This includes Android's built-in PPTP/L2TP app, OpenVPN for Android, and custom apps. If your device runs Android Nougat 7+, use this method.
1. Ensure the VPN is turned off, then go to your device's settings. On my Samsung Galaxy S8+ these can be found at Settings -> Connections -> More connection settings -> VPN, but this may vary by device.
2 on the gear icon next to the app or connection you want to set a kill switch for.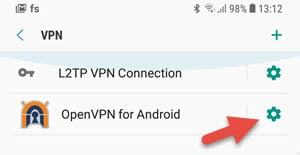 3. Turn on both "Always -on VPN" and Block connections without.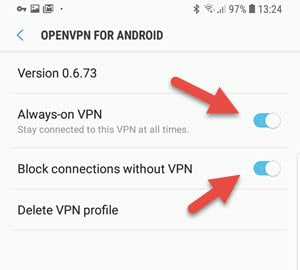 4. Confirm that you want a kill switch for your VPN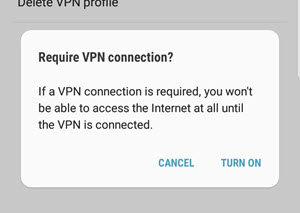 And ta-da! Pretty groovy, eh?
Method 2
If you run an older version of Android, never fear! You can configure OpenVPN for Android to act as a kill switch. This may not be quite as secure as the above method as it will not protect you if the OpenVPN for Android crashes, but it is still pretty effective.
Edit the specific connection in the "Profiles" tab (see above).
Go to the "Advanced" tab and check "Persistent Tun" and set "Connection retries" to Unlimited.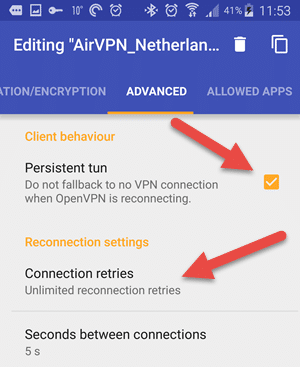 You now have an OpenVPN kill switch for Android.
Conclusion
Using a dedicated VPN app from the Google Play Store is the easiest way to install a VPN on your phone. Other methods, however, are hardly difficult.
Image credit: By .elcic/Shutterstock.