An Android VPN stops you being tracked by your ISP and the government. This means you can do anything online in privacy. A VPN for Android also stops businesses tracking you on public WiFi, and eliminates tracking by your employer at work. You can also access restricted websites at school, at work, or anywhere else. Android VPNs encrypt your data to let you access censored content in secret. And a VPN conceals your real IP address so you can pretend to be in a different country to bypass geo-restricted services such as BBC iPlayer or Netflix US. A VPN for Android also protects you from hackers on public WiFi.
Our experts have carefully analyzed the market to find the 5 best Android VPN apps below.
The best VPN for Android Apps
Want the best VPN for Android? Check out the in-depth list below. We have reviewed hundreds of VPNs in order to find the best service for your needs. If you need more information about any service, check out our VPN reviews.
ExpressVPN is a well-rounded VPN for Android that provides lightning fast speeds and privacy
Pricing

From $6.67 - $12.95

Available on

Android
iOS
Windows
MacOS
Linux

Works with

Netflix
iPlayer
Amazon Prime
Hulu
ExpressVPN is one of the most respected names in the VPN industry. Along with the now industry-standard 30-day money-back guarantee and efficient 24/7 live chat support, ExpressVPN pioneered the idea of "one-click connect" in its mobile apps.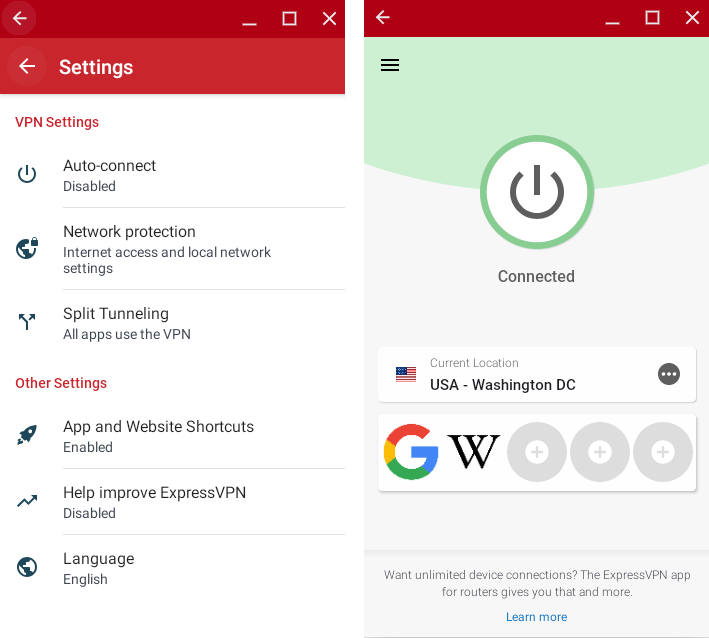 Its Android app has a 4.1 star rating in the Play Store and is compatible with all Android 5.0+ devices. It can be downloaded from either the Play Store, or, for the more Google-phobic out there, as an APK file for sideloading onto your device. ExpressVPN provides L2TP/IPSec setup instructions for users of Android versions 2, 3, and 4.

The app is easy to use and offers split-tunneling, which allows you to decide which of your apps use the VPN tunnel and which don't. It also features a kill switch (called "network protection"), which is something we wish more Android VPN apps would include.

ExpressVPN is a no-logs VPN service with servers in over 90 counties and a strong focus on privacy.

NordVPN has an excellent Android VPN app that is available at a superb price point
Pricing

From $3.49 - $11.95

Available on

Android
iOS
Windows
MacOS

Works with

Netflix
iPlayer
Amazon Prime
Hulu
This no-logs VPN service is based in NSA-free Panama. Its Android app has a very respectable 4.3-star rating on the Google Play Store and is compatible with all Android 5.0+ devices.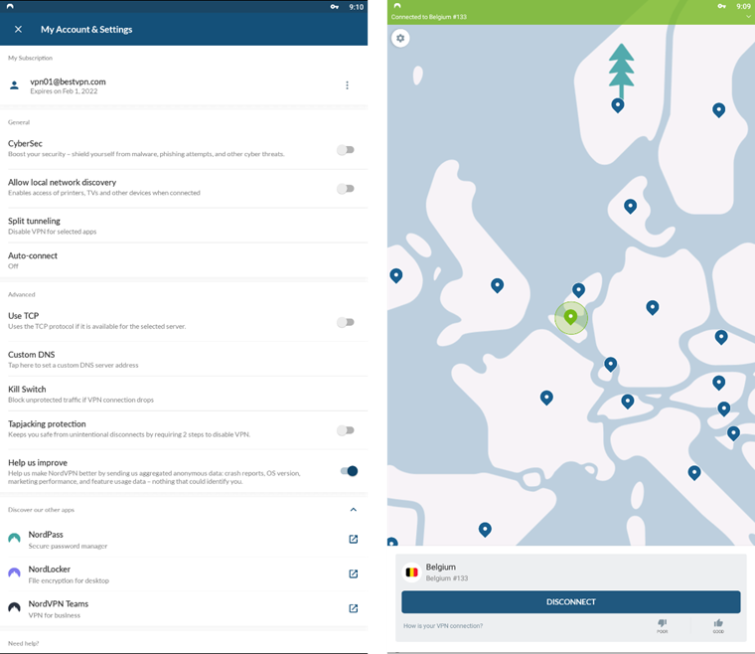 The app is distinctive looking thanks to its dynamic map of server locations. It uses OpenVPN in UDP mode by default, although TCP (presumably using port 443) is an option. In addition to this, the app allows you to connect to NordVPN's special Obfuscated servers, which use XOR encryption to evade VPN blocks.

The app also sports a kill switch and NordVPN's "CyberSec" feature. As with its desktop apps, this uses a DNS blocklist to protect users from malware, help prevent botnet control, and block many intrusive web ads.

As is increasingly common, its APK is also available to download directly from NordVPN website, which will auto-update when new versions become available. This is perfect for those who wish to avoid the Google Services Spyware Framework.

Good speeds, unblocking, and cheap
Pricing

From $1.99 - $11.95

Available on

Android
iOS
Windows
MacOS
Linux

Works with

Netflix
iPlayer
Amazon Prime
Hulu
This no logs VPN service is registered in the British Virgin Islands and offers an Android 5.0 app rated 4.3 stars in the Play Store. We are pleased to see that you can also download the APK direct from the Surfhark website.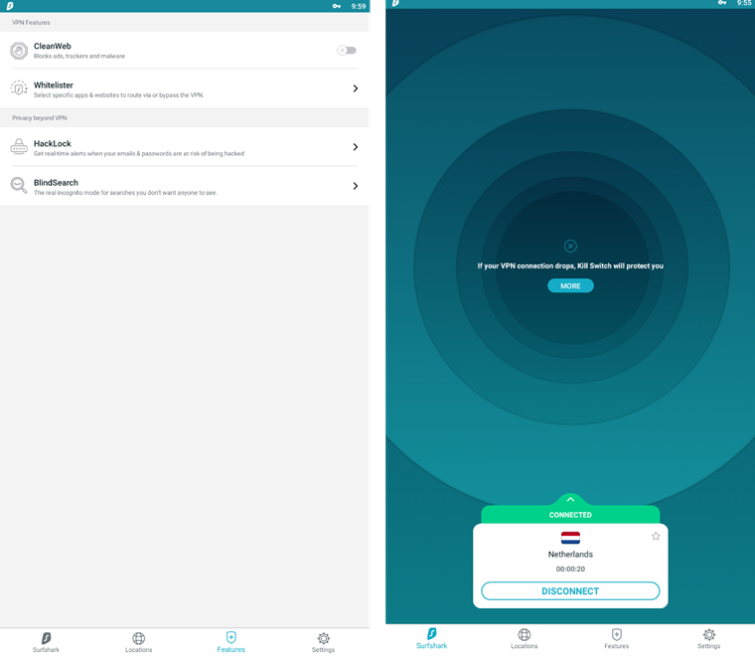 SurfShark has always impressed us with the amount of bang it offers for your buck, and its Android app is no different. It includes a kill switch, split-tunneling ("Whiltlister") for apps that you want to exclude from the VPN, a DNS adblocker, an incognito mode for web searches, and even a GPS override feature that ensures your browsers GPS location matches your VPN location.

The Surfshark Android app uses IKEv2 by default, but also offers OpenVPN (UDP and TCP, although port numbers are not specified). It also offers the Shadowsocks protocol for those who need to evade restrictions on VPN use.

If you want a VPN with servers in over 70 countries this is an excellent Andoid VPN option!
Pricing

From $2.71 - $12.95

Available on

Windows
Android
Linux
iOS
MacOS

Works with

Netflix
iPlayer
Amazon Prime
Hulu
This no-logs VPN service is based in Switzerland and is notable for owning its own CDN and server network. The app supports all versions of Android, although 4.0.3+ is recommended.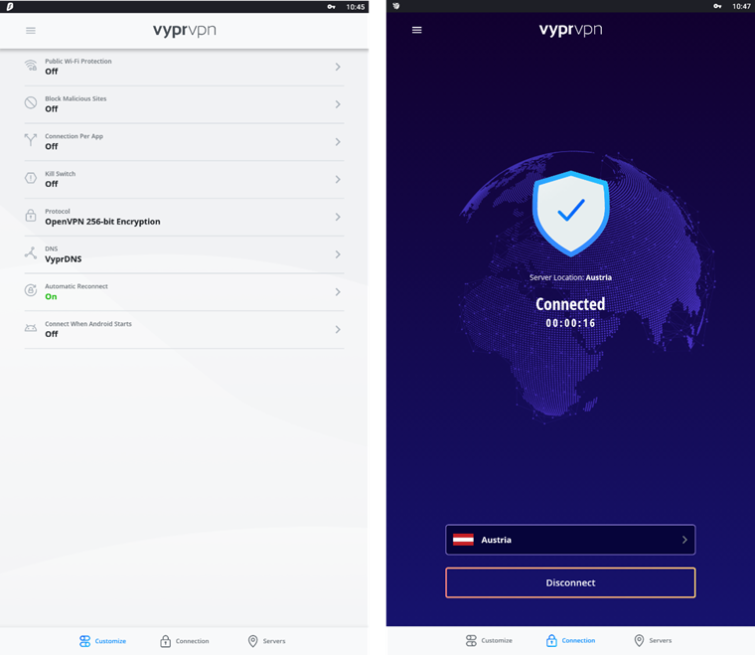 It has a somewhat modest 3.9-star rating in the PlayStore, but has always worked flawlessly for us and is a fully-featured app. Kill switch, DNS ad and malware blocking, and public WiFi protection are all present and correct.

The app uses OpenVPN, and you can configure the port, but not whether it uses UDP or TCP mode. We are pleased to see, however, that the Android App offers VyprVPN's patent Chameleon encryption technology, which is widely reported to be great at defeating VPN censorship.

The app is available as an APK download in addition to being featured in the Play Store.

This US provider provides fast speeds, excellent ease-of-use, and apps for Android that work seamlessly
Pricing

From $6.49 - $10.00

Available on

Android
iOS
Windows
MacOS

Works with
IPVanish is a high-profile no logs US-based VPN service. Its Android 4.0.3+ app rates 3.9 stars in the Play Store, but, again, has always worked well for us and is packed with useful features.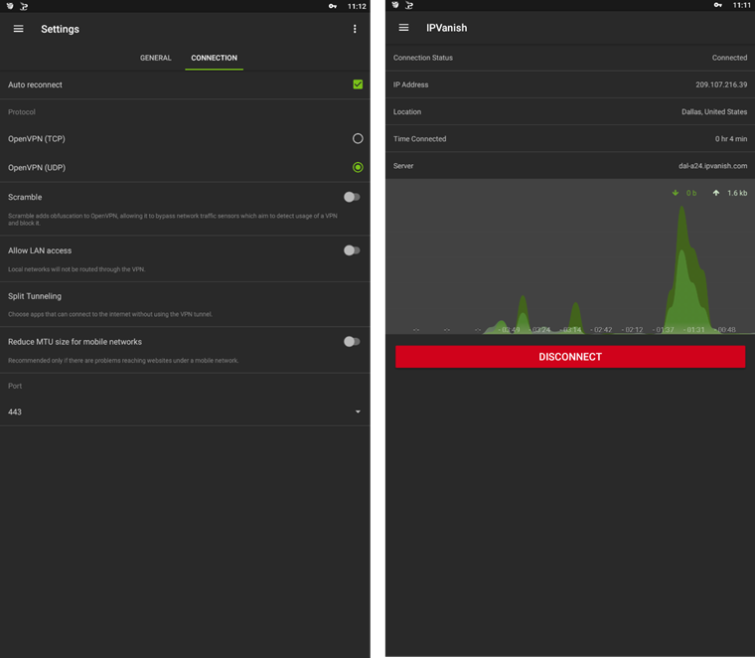 The IPVanish app does not include a built-in kill switch per se., but on Android 8+ devices it provides instructions for enabling Android's new build-in kill switch feature to work with the app.

The app features split tunneling, insecure network notification, and XOR Scramble obfuscation technology. It uses OpenVPN in either UDP or TCP mode, and you can select which ports it uses.

And as with all the Android apps on this list, you can download the APK from IPVanish's website for improved privacy.
Why should I use an Android VPN app?
A VPN app connects your Android device to a VPN server which gives you a different IP address. The connection between your device and the VPN server is securely encrypted, so your Android data is always private and secure both at home and on public WiFi.
You can gain many advantages from using a VPN on Android, including:
Preventing your ISP from knowing what you do on the internet because its "view" is blocked by the VPN server.
Preventing governments from performing blanket mass surveillance on you because governments rely on ISPs to provide them with data. So if your ISP doesn't know what you are doing -neither will your government.
Preventing websites from knowing who you are because instead of seeing your real IP address they just see the IP of the VPN server, meaning you can stop annoying ads.
Preventing public WiFi hotspot hackers from stealing your data, and hotspot operators from selling your browsing history.
Helping to torrent by preventing peers (which can include copyright enforcers) from seeing your real IP address.
Preventing your government or ISP from censoring content, be it on political, social, moral, or copyright grounds. VPN services run servers from countries all over the planet, so just connect to one located somewhere that does not censor internet content!
Allowing you to "spoof" your geographic location in order to watch streaming services such as the US version of Netflix, which has a much larger catalog of titles than paying Netflix customers living elsewhere can access (how fair is that?), or such as BBC iPlayer, which are only available in certain countries.
With all that in mind - and how cheap a VPN for mobile is - we think everyone should use a VPN!
Is a VPN safe for Android?
A VPN for Android works just like a VPN for PC or a VPN for Mac. If you are new to VPNs, it is probably worth checking out our Beginner's Guide to Virtual Private Networks.
One thing worth considering, is that a VPN for Android phone cannot stop data being sent directly to developers from apps. Phones and tablets send a lot of data back to their developers, which is why it is important to monitor the permissions when you install them. A large criticism of Android is that by default Google almost encourages app developers to abuse the permissions system.
Data sent to app developers can include your phone's unique IMEI number, your GPS location data, your contact list, your Google Play/iTunes ID, and more. A VPN cannot stop apps from doing this.
One solution is to access services using your browser (preferably a privacy-friendly browser), rather than via these purpose-built apps. A VPN will fully shield your IP address from the websites you visit in your browser. Though we do also recommend using browser add-ons to prevent other forms of website tracking.
What features are Important for Android VPNs?
In general, what makes a good Android VPN is pretty much the same as what makes a good VPN for any platform.
Features that more specifically affect Android VPN users are:
Custom VPN apps: most providers these days offer custom Android VPN apps that are easy to use because they come pre-configured for that service. It should be said, though, that while it requires more initial configuration than custom VPN apps, the excellent OpenVPN for Android app is more fully featured than most such apps (and can be configured to act as a kill switch).
Kill switch: a kill switch is a very important feature as it prevents your IP address from being exposed when the VPN connection drops and during network switches, the second of which is likely to happen regularly on a mobile device you carry round in your pocket. Some Android VPN apps have a kill switch, but unfortunately, most do not. Good news for owners of newer Android devices, though, is that Android 7+ includes a built-in kill switch that works with any VPN app.
WiFi protection: is a feature we are seeing more and more in Android apps. When your device connects to an unknown WiFi network it auto-engages the VPN in order to protect you from malicious actors on a potentially insecure network.
How to set up a VPN on Android?
We now have an entire guide on how to set up a VPN on Android (although – really – it's not rocket science!). In it, we also discuss things like how to sideload Android VPN APKs, how to enable a kill switch in Android, and more.
Can I use a VPN free on Android?
There are many free VPN apps on the Google Play store. However, a shocking amount of those services track and sell data, contain spyware, and lie about the data privacy (encryption) they provide. Frustratingly, many of those services have been reviewed well by consumers; who don't realize that these things are happening in the background.
If you want a free VPN, follow our link above, which will show you some secure free VPNs you can use without concerns. And remember; no-one is going to run an expensive VPN service completely for free (it's simply not a sustainable business model unless you steal data from users).
There are some decent free apps for Android available, some of which come from established VPN services hoping the free app will tempt you into paying for a premium subscription. Just don't expect a free VPN app for Android to offer an unlimited service. A trustworthy one will be download capped and have various other limitations. (server locations, bandwidth limits).
FAQs
Here are answers to some common questions we get asked.