Virtual Private Networks are a great way to improve your internet privacy and security on your Android phone. In this guide, we list the best VPNs to use on Android phones and tablets in 2022 and explain the pros and cons of using one.
As VPNs have become increasingly popular, the quality of VPN software for Android devices has vastly improved, however, there's still a lot of shoddy services out there.
We tested 200+ VPN services that were present on the Play Store and we found that a large proportion of VPN services on there were overpriced and didn't provide users with the necessary encryption to keep them private and secure online. There are, of course, some fantastic VPN services for Android out there and we have curated a list of the best services in this article.
What are the best Android VPN apps?
Our experts have searched the VPN market to find the best VPNs for Android and have listed them below. They all provide strong encryption and unblock geo-restricted websites.
As avid Android users ourselves, we know how important it is to have apps that are properly optimized for Android devices. As well as a great app, there are several other things that we look for when testing Android VPN services, these are listed below:
Robust privacy policies
Top-grade encryption
Fast servers for streaming and downloading
Key security features, such as kill-switches
A seamless Android app
The best VPNs for Android | In-depth analysis
We recommend that you use one of the VPN services below for your Android phone or tablet.
Compare Android VPN Speeds
When choosing a VPN for your Android phone or tablet, you should opt for a service with fast VPN servers. All VPNs will slow down your internet connection as they encrypt your connection and send it to a server far away from your physical location. However, finding the right service will make sure you don't notice the change in speeds.
Using a VPN with fast servers will allow you to stream in HD and 4K, allow you to make video calls, play online games, and do anything else that requires more data throughput. To help you tell which Android VPN apps are the fastest, we run speed tests regularly on our top picks and display the results in the table below.
| | | | |
| --- | --- | --- | --- |
| | ExpressVPN | NordVPN | CyberGhost VPN |
| ProPrivacy.com SpeedTest (average) | 60.3 | 85.9 | 63.92 |
| ProPrivacy.com SpeedTest (max/burst) | 565.7 | 568.0 | 556.2 |
How to Set up a VPN on Android
Using a VPN on an Android device isn't really much different to using a VPN on any other platform, so if you want to know more about VPNs, in general, then please check out our Beginner's Guide to VPNs for more info on what they are and how they can make your life better.
If you would like help getting set up with your VPN, check out our step-by-step guide on how to install a VPN on Android.
How does a VPN work on your Android device?
When you access the internet all your data passes over a local network before going through an ISP's gateway servers. This path to getting online creates two potential opportunities for your web visits and data to be tracked and potentially harvested and sold on. Once on the local network, and when you pass through your ISPs gateway.
What a VPN does is it encrypts your data before it leaves your Android device, before routing it to a VPN server. This ensures that nobody can see what you are doing online and prevents websites and online services from detecting your actual IP address. Check out the video below for further explanation of how a VPN works.
...
Advantages of using a VPN on your Android device
Below, we look at how a VPN can help you stay secure online from hackers and snoopers, including your ISP and the Government. But, before we get into the benefits, let's start with the basics...
The privacy benefits of a VPN for Android users
A VPN server can block your ISP's "view" of what you get up to online.
Governments can no longer enforce blanket mass surveillance on you, as they rely on data provided to them by ISPs. So, if your ISP has no idea what you're doing, neither will your government.
A VPN will prevent websites from knowing who you are because, instead of seeing your real IP address, the website will just see the IP address of the VPN server – meaning you can stop annoying ads.
Public WiFi hotspot hackers won't be able to steal your data, and hotspot operators won't be able to sell your browsing history since they won't be able to see anything that you're doing online through the VPN tunnel.
A VPN will help you to torrent on Android by preventing peers from seeing your real IP address.
A VPN will prevent your government or ISP from censoring content. VPN services run servers from countries all over the planet, so just connect to one located somewhere that does not censor internet content and you're good to go!
Compare the encryption of the Android VPNs listed on this page
All of the services we have listed in this article provide users with the best encryption, to ensure that the data on your Android device is kept private and secure. OpenVPN encryption is the gold standard, however, some services also offer some great alternative encryption protocols that are both secure and fast.
Some services on our list also offer ad and malware blocking which vastly improves the users online security and privacy. We have detailed what type of encryption each Android app uses and if they have an ad and Malware blocker built-in to the app in the table below:
| VPN Provider | OpenVPN | WireGuard | IKeV2 | Ad & Malware Blocker |
| --- | --- | --- | --- | --- |
| ExpressVPN | Yes | Yes | No | No |
| NordVPN | Yes | Yes | No | Yes |
| CyberGhost | Yes | Yes | No | Yes |
| SurfShark | Yes | Yes | Yes | Yes |
| VyprVPN | Yes | Yes | No | No |
| IPVanish | Yes | No | Yes | No |
| Ivacy VPN | Yes | No | No | No |
| ProtonVPN | Yes | No | No | Yes |
| PrivateVPN | Yes | No | No | No |
| Private Internet Access | Yes | Yes | No | No |
Please note that these features are specific to the provider's Android VPN apps and desktop apps may include some features that aren't available to Android users. For more information about encryption, check out our VPN encryption guide.
Unblock streaming services
With a VPN for Android, you can "spoof" your geographic location in order to watch streaming services such as the US version of Netflix on your phone or tablet, which has a much larger catalog of titles than paying Netflix customers living elsewhere can access. You can also unblock other free services, for example you can watch BBC iPlayer outside the UK, which are only available in certain countries. Check out our iPlayer VPN and Netflix VPN pages for more details about accessing these services.
| No Value | ExpressVPN | NordVPN | CyberGhost VPN | Surfshark | VyprVPN |
| --- | --- | --- | --- | --- | --- |
| Netflix | | | | | |
| iPlayer | | | | | |
| Amazon Prime | | | | | |
| Hulu | | | | | |
| Disney+ | | | | | |
Unblock Android Games blocked in your Google Play Store region
There are benefits for gamers too. Particularly if you live in a country that restricts access to certain gaming titles. With a VPN, you can change your Google Play region with a VPN and unblock apps that were previously unavailable in your region. Or even connect to new servers to play against opponents from other countries.
Can you get a free VPN for Android?
There are plenty of free Android VPNs for Android users lurking in the Google Play Store, but don't be lured in - the vast majority of these providers are known to be risky. Studies have revealed that a lot of free VPNs are a scam, designed to harvest user data. Free VPNs have been found to have dangerous privacy policies, critical leaks, unreliable apps, weak encryption, and even adware or spyware.
The good news is that there are some reputable free VPN services on the market that offer a free plan. Most of the time these plans cap speeds, limit data usage, and limit the number of servers you can use. However, these services don't skimp on privacy or security features in any way, so you will be kept private online.
Remember, if you are not paying for the product, then you are the product! Nobody is offering a "free" service simply out of the goodness of their hearts.
Windscribe is the best free VPN for Android
Windscribe is a no-logs, privacy-friendly, Canadian VPN service that offers users 2GB data allowance per month completely free without having to hand over any personal information or a very generous 10GB in exchange for your email address.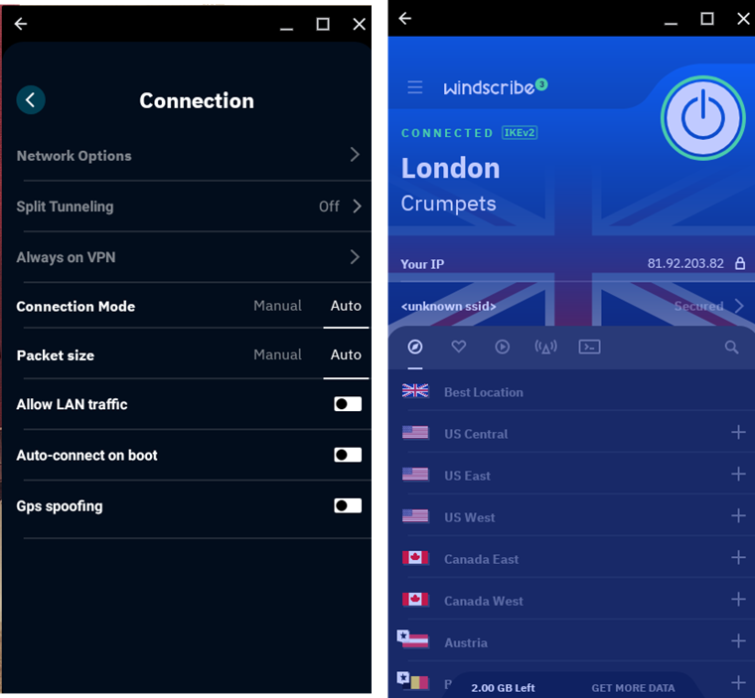 Windscribe's speeds are decent for a free service. We achieved 55 Mbit/s download results using a server in our own country (UK), although this will depend on the speed of your raw broadband or 4G connection.
Free users can connect to servers in ten countries, including the USA, Canada, France, Germany, the Netherlands, Norway, Romania. Switzerland, the UK, and Hong Kong. This is actually quite generous for a free service and gives free users plenty of options for unblocking content. Although, the data limit may cause problems if you want to stream with it.
Make use of Android VPN money-back guarantees
You might be on the fence about VPNs if you've never used one before. And this is totally understandable! After all, you won't know what a VPN can do for you until you try one for yourself. The good news is that you can do just that with all of the VPNs in this guide, thanks to their money-back guarantees.
This allows you to test the VPN out – without actually committing to a contract. We think once you experience the freedom of being able to access blocked content at work or in school, or experience unrestricted access to geo-restricted services around the world – you will decide to keep your VPN.
Don't forget that if you want to, you can try a few different services to see how they each differ. That's the beauty of these refund promises; it allows you to shop around and decide which service you prefer.
| | | |
| --- | --- | --- |
| VPN | Money-back Guarantee? | Duration |
| ExpressVPN | Yes | 30 days |
| NordVPN | Yes | 30 days |
| Surfshark | Yes | 30 days |
| VyprVPN | Yes | 30 days |
| IPVanish | Yes | 7 days |
Android VPNs to avoid
There are literally dozens of bad or dangerous VPNs for Android. Far too many to list here. That is why searching for a VPN on the Play Store is so risky. The best advice is to stick only to our recommended VPNs, as those are known to be reliable and secure.
Paid-for services that also have full desktop VPN support (so are not just otherwise no-name Android apps) are more likely to be trustworthy, but we still recommend hunting down reputable VPN reviews before trusting them with your privacy.
Google One VPN
If you're a Google One user - good news! You'll soon be able to check out a new VPN as part of your subscription, (provided you're paying for one of the higher tiers).
VPN by Google One will be available as part of the $9.99 p/m plan, which also provides an extra 2TB of expanding Drive storage. The VPN is also baked into the 10, 20, and 30TB plans. Keep an eye out for updates over the next few weeks - Google plans to introduce the VPN to Android users in the near future, and it's reported that customers will be able to enable and/or disable the service via their mobile app.
Other ways to improve your privacy on Android
If you're an Android user, you must be aware that, while a VPN app will do its job to secure your sessions when using a mobile browser, it can't stop Android apps from sending personal data back to their developers - as well as Google, via the Play Services Framework.
You should therefore always use a service's web portal rather than its Android app whenever possible when you're using your VPN. It's not always an option, but when it is, it's the best way to maximize your privacy.
FAQs