If you're an expat living abroad, or just a fan of British TV, a VPN will allow you to stream BBC iPlayer from anywhere in the world.
The BBC is great at stopping VPNs from accessing their content, however, so most VPNs lack UK servers that can unblock the service. We've put hundreds of VPNs to the test to determine which ones work with iPlayer – and you'll find them all in this article!
What are the best VPNs that work with iPlayer?
In a hurry? Take a look at the top five VPNs for iPlayer in the list below. We cover each of these services in more detail later in the article, too, so keep scrolling to learn more.
When researching this article, our primary concern was to find services with UK servers that'll allow anyone to stream BBC iPlayer content from outside of the UK. However, several other factors were considered as well.
In order to claim a top spot in our BBC iPlayer rankings, a VPN has to provide the following features:
Speeds that can handle HD streaming
Plenty of UK servers to choose from
Value for money
Lengthy money-back guarantee
The best VPNs for watching BBC iPlayer in 2023
If you want to unblock BBC iPlayer from outside of the United Kingdom, then we recommend that you use one of the VPN services listed below.
Which is the fastest VPN for BBC iPlayer?
An iPlayer VPN needs UK servers that work with the BBC's website – but that's not all. The VPN also needs servers that are fast enough to keep up with iPlayer streams without any buffering. That's why we've suggested reliable VPNs with speedy servers that don't suffer from congestion.
To give you up-to-date information about the speeds you can expect to get with our recommended VPNs, we run regular speed tests and display the results in the table below. Check out which VPN is fastest!
| | | | |
| --- | --- | --- | --- |
| | ExpressVPN | NordVPN | Private Internet Access |
| ProPrivacy.com SpeedTest (average) | 60.3 | 85.9 | 62.2 |
| ProPrivacy.com SpeedTest (max/burst) | 565.7 | 568.0 | 254.93 |
Shopping for a bargain? Check out the exclusive deal below. All you need to do is click the button and claim the deal!
Unblocking & watching BBC iPlayer abroad explained
Unfortunately, you'll find that you cannot access BBC iPlayer if you live outside the UK. You'll almost certainly be met with the following message if you try:
BBC iPlayer only works in the UK. Sorry, it's due to rights issues.
This is where a VPN comes into play.
How does a VPN for BBC iPlayer work?
The video below explains how a VPN unblocks iPlayer from anywhere in the world.
How to Watch BBC iPlayer Live Outside the UK🇬🇧Find the Best iPla...
Put simply, a VPN does two important things to help you unblock iPlayer from outside of Britain:
How does it do this? Well, a VPN conceals your actual location and gives you a temporary UK IP address when you connect to a UK server. The sites you visit whilst connected to this server will assume that you're a UK resident and BBC iPlayer will be readily accessible as a result!
Although this is how a VPN works in theory, it's important to remember that not all VPNs will work to unblock BBC iPlayer. The BBC blocks VPN IP addresses based in the UK, which means that many VPNs won't work.
As a result, while 99% of VPNs can provide you with a UK IP address, the vast majority will struggle to unblock iPlayer. That is why we have curated this article, in which we only recommend VPNs that actually work with BBC iPlayer.
If you're new to VPNs, you can learn the basics with our helpful guides:
What is coming to iPlayer this year?
iPlayer is packed with outstanding content that you may or may not know about. Once you have a VPN, you can stream both live TV and catch-up content. That means that you have plenty of shows to view online!
During sporting events like Wimbledon, you can enjoy the BBC's coverage thanks to your VPN. The same is true of international tournaments like The FA Cup, snooker, rugby, and many other sports:
Bellator MMA
6 Nations rugby
Premier League and FA Cup football
Below, we have included a list of some of the best shows that we know are coming to iPlayer in 2023. This is only a small selection of the content that is available.
Earth II
Killing Eve
New: Top Gear
Doctor Who
His Dark Materials
Gavin and Stacey
Ru Paul's Drag Race UK
As soon as you unblock the BBC's website, you can use iPlayer to stream BBC news, a wealth of content for children on Cbeebies, and tremendous amounts of content across all the BBC's channels.
Whether it's dramas, soaps like Eastenders, comedies, or factual content and documentaries, or cooking shows like MasterChef – the BBC has got something for everyone. And if you're a sports fan, check out our how to watch the Winter Olympics guide to find out how to stream it from outside the UK.
Downloading iPlayer shows to watch offline with a VPN
Like with many other streaming services, it is possible for you to download a show to watch offline on BBC iPlayer and it works through your VPN too!
All you need to do is follow the steps below to unblock iPlayer. Then, when you've found a show you want to download, simply click the link. You'll have 30 days to watch the content before it disappears from your device.
How to watch iPlayer abroad using a VPN
Using a VPN service to watch BBC iPlayer abroad is simple if you choose the right VPN! All you'll need to do is follow along with the instructions below.
Subscribe to one of our recommended VPNs for BBC iPlayer and download the software.
Open the app or VPN client. When the app loads, you will be prompted to sign in to the service.
After you sign in, find the server list, and connect to a server-based in the UK.
Go to the BBC iPlayer website and sign up for an account. You will be asked for a UK postal code, which is basically the same thing as a ZIP code. You can find post codes online easily enough through a simple internet search or random generator.
You will now have access to BBC iPlayer, and can watch all the BBC content you want!
You should now be able to stream BBC content from any country.
VPN does not work with BBC iPlayer?
There could be several issues at play if your VPN isn't working to unblock iPlayer. Some of the most common are:
Your VPN doesn't have servers compatible with iPlayer. Double check that your VPN actually works with iPlayer. If it doesn't, you might want to consider subscribing to one of the services listed above.
Your VPN works with iPlayer, but your current server doesn't. Simply switch to a different UK server a try again. Most top providers will highlight which servers can access iPlayer.
Your VPN's iPlayer server has been temporarily blocked. This does happen from time-to-time. If you find that your VPN used to work and no longer does, it's a good idea to get in touch with your provider. The customer service team can let you know which server to use, or when a potential fix will be released.
If you are still having issues, check out our iPlayer VPN block troubleshooting guide, where we cover additional fixes to all kinds of iPlayer VPN issues.
Will any VPN work with iPlayer?
No. It's tricky and expensive to bypass the BBC's geoblocking, and plenty of VPN providers have simply given up! The BBC continues to get better and better at blocking VPN users with each passing year. As a result, fewer VPNs work to allow you to stream iPlayer. So, you need to be extra careful when choosing a VPN if you want to use it to unblock iPlayer.
Fortunately, the providers that we recommend on our list still go to the effort of ensuring you can watch iPlayer on their servers.
Our recommended VPNs have all found ways to combat the iPlayer VPN block, and they all successfully and reliably bypass the iPlayer proxy error.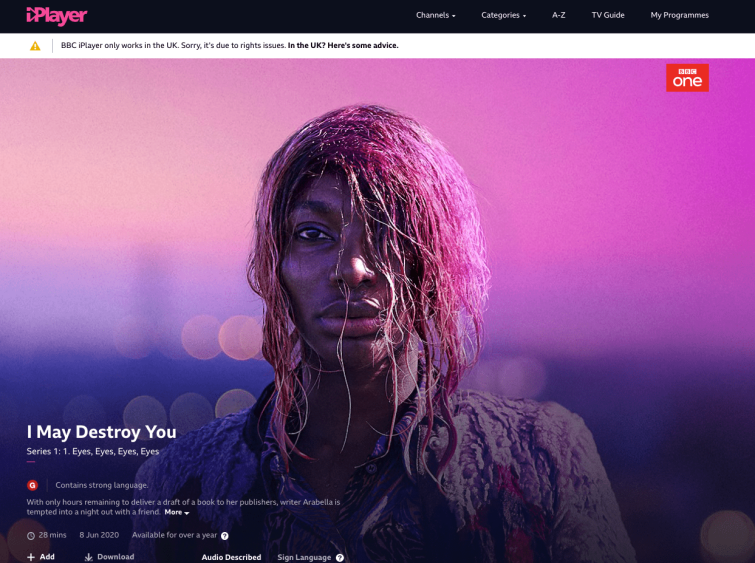 If you're having trouble unblocking iPlayer, check out our iPlayer VPN troubleshooting guide.
Popular VPN services that don't work with iPlayer
The vast majority of VPNs do not unblock iPlayer, and there are literally hundreds of commercial VPNs on the market – meaning that there are a lot of VPN providers you will need to avoid if you want to access iPlayer from abroad. To help you out, we have listed some of the more prevalent VPNs that don't work with iPlayer in 2023. These VPNs should be avoided if you want to stream iPlayer from outside the UK.
Other VPNs that won't work
The VPNs above do not unblock BBC iPlayer, even if you connect to their UK servers. This is because the BBC has already successfully blacklisted these VPNs.
Can I stream BBC iPlayer on Amazon Fire TV Stick outside the UK?
You can, but you'll need to connect to a UK server and create a UK-based Amazon account for your firestick to access the iPlayer app. See our guide on how to change country on a firestick for a step-by-step on how to do this.
Alternatively, you can use Kodi to access iPlayer, click the link for more information.
What came to BBC iPlayer in January 2023?
A ton of great shows are coming to iPlayer in January 2023. We've listed some of our top recommendations below so that you can start using your VPN right away!
Conclusion
Now that you know everything you need to about unblocking BBC iPlayer with a VPN, let's review our top picks:
FAQs