Alternative Choices for You
Features
The features of the company's package are:
Free trial
L2TP/IPSec or PPTP protocols
No activity logs
No data throughput limits
Low cost
No frills service
VPNJack only has servers in the United States.
Speed and Performance
I conducted speed tests of VPNJack from the Dominican Republic. This speed test compares the speeds of of connections with the VPNJack system active against the speeds of connections to the same server without the VPN operating.
In each case, five test runs were performed with testmy.net to a test server in Miami.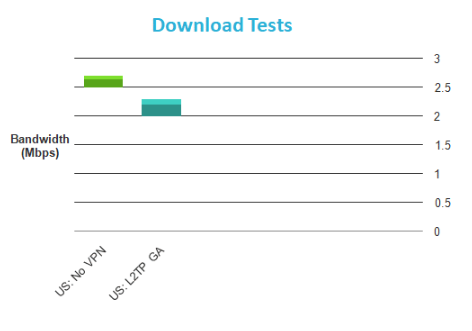 Graphs show the highest, lowest and average speeds for each server and location. See our full speed test explanation for more detail.
You may notice that all of the speeds in these tests are very slow. This is because the location of the tests, the Dominican Republic, where internet service and speed is very unreliable and inconsistent. It does not accurately reflect the true speeds of the VPN service.
Download speeds are generally more important than upload speeds. This is because the request from your browser to a web server for a site's page contains very little data, however, the volume of traffic that the delivery of that page generates is a lot larger.
HBO recommends that you need a throughput speed of 2 Mbps to watch SD video streams and 3 Mbps for HD. HBO only streams in HD. However, Netflix offers an SD streaming package. Most TV station websites stream in SD, so, the performance of VPNJack in these tests would not damage the enjoyment of watching SD video streams.
Upload speeds only gain importance for IP telephony apps and for online gaming and gambling. VPNJack didn't impede the connection when it was operating, so it would work well for you when you use these interactive applications.
I connected to the VPN from a location in Spain. I discovered the true location of the server with IPLocation.net. This site list results from five different location databases. All five databases reported my location in Atlanta, Georgia.
The test sites ipleak.net and our leak test report on the detected IP address of a connection and the DNS servers that the system accessed. IPLeak saw my location as being in Georgia, USA. So, VPNJack had successfully masked my true location in Spain. The test site detected calls to 48 different DNS servers.
These were all located in Georgia and California. If a DNS server in Spain had appeared in the list, that would have raised a red flag for any VPN detection system. However, this event did not occur, so there were no DNS leaks. These results were confirmed by DoILeak.
Pricing and Plans
VPNJack has one service plan, but a lot of price points due to the availability of a lot of different subscription periods. The cheapest plan is free. This gives you a total of one hour's use of the network within a period of 24 hours. Once that free trial expires, you are allowed to take out another one, and then another the next day and so on.
If you need a VPN for more than one hour per day, you will need to pay. A one-day subscription costs 99 cents. The price per day gets cheaper if you take out longer subscriptions -- the one year plan works out at eight cents per day.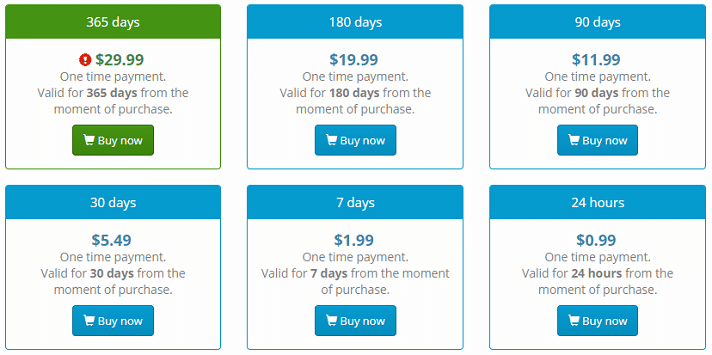 Account sharing is not allowed. In addition, you can only use one device per plan. The company accepts PayPal and Bitcoin. If you want to pay by credit card and don't have a PayPal account, don't worry because PayPal processes credit card payments even from those who do not have a PayPal account.
Privacy and Security
The manual set up of the VPN in the network settings of the operating system doesn't allow for extra security features such as a kill switch or automatic WiFi protection. A kill switch is a feature that many VPN companies build into their custom apps.
If the internet connection on your device gets broken and then reconnects quickly, all of the apps that were working over the internet will retry their last communication. If the VPN has been re-established, those continued connections will reveal your real IP address. The kill switch prevents any communication from your computer until the VPN is fully operational.
VPNJack used to just have a VPN system called PPTP available for its users. However, this proved inadequate when Apple decided to stop supporting PPTP in its operating system. In December 2016, VPNJack introduced an alternative VPN method, which is L2TP over IPSec.
Encryption
PPTP is no longer considered secure, so if you use Windows, or another operating system that could use PPTP, you would be better off setting up your VPN with the L2TP protocol. The setup steps for an L2TP VPN are barely different to those to set up a PPTP VPN.
This L2TP/IPSec implementation uses AES encryption with a 256-bit key. AES is a very good encryption system and is used widely by government and military organizations around the world. The strength of security offered by an encryption cipher is increased with the length of the key. A 256-bit AES key creates encryption that can't be cracked.
One weak spot with the system is that the protection for the distribution of encryption keys for AES is effected with the Internet Key Exchange protocol using a pre-shared key. This is not as strong as the default L2TP session establishment system, which uses security certificates. The pre-shared key is stored in plain text and is easy for hackers to get to. VPNJack makes the life of hackers even easier because it uses the same pre-shared key on all of its connections and anyone can get hold of that key by taking out an anonymous free trial account with the VPN service.
Policy
VPNJack has great anonymity procedures in the set up of its accounts. You don't have to give any personal information at all to get a free account. If you buy an account you can ensure your anonymity by paying with Bitcoin.
The Privacy Policy of the VPN service states that the company does not log any details of each customer's activities, which means that it does not record the sites that each customer visits or the data that is transferred.
However, the company does log the data of each user to help it monitor its usage capacity. The company also bans P2P downloading, so it must engage in some form of traffic monitoring in order to enforce this policy. Users of the free service are limited to just 60 minutes usage in the 24-hour period of the trial, which indicates that the company does keep connection logs.
As you don't need to give any personal details to open an account, the only identifier that the company can use for each user is the IP address. This, together with timestamps of when each session started and ended creates a trail that others can seize with a court order and trace you to your door.
Ease of Use
Much like the VPN service, the VPNJack website is no-nonsense. There is very little information on the site. The company doesn't put much effort into explaining VPN technology or trying to convince site visitors that they need this service. Far from pushing visitors to buy, the website advises potential buyers to try the free service. This is because they do not issue refunds, so you had better make sure you are happy with the service before you pay.
The top strap of the site contains a straightforward menu. This menu is not fixed in the window, so it disappears when you scroll down the screen. The top section of the main panel of the Home page contains a feed of recent articles in the company's blog.
There haven't been any posts in the blog since January 2017 when the company introduced its L2TP service. You can get to a specific blog post by clicking on its link in this list of recent articles, or you can access the blog page through the menu at the top of the homepage.
The company also runs a Facebook profile. However, the main aim of this outlet is to draw public attention to new blog posts, so there hasn't been any activity on the Facebook profile since January 2017.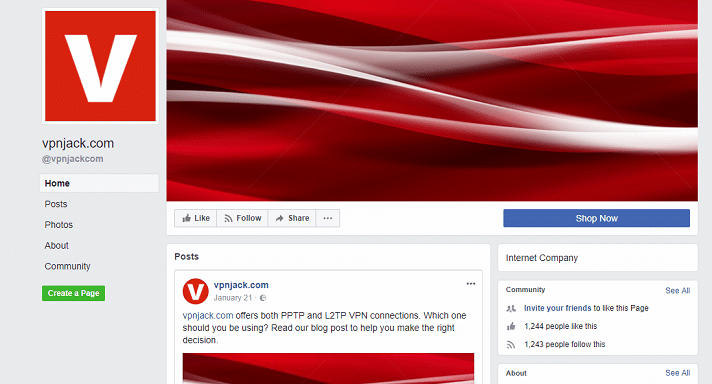 Back on the Home page of the site, most of the space on the page is taken up by the service's price list. This is repeated in the right column of the site. The footer of the site contains little information.
If you sign up for the service you can check your remaining time in the Account page of the website. All this utility will do is tell you the amount of time you have left on your subscription.
Support
As with all other features of VPNJack, the support system is very basic. You have a page of installation instructions.
These instructions don't contain any screenshots. However, each step is described, so you shouldn't have any difficulty setting up the VPN manually by following these instructions.
There is a FAQ page on the site. This is very basic and gives just enough information to answer low-level questions about the service.
There is no support contact form on the site. Instead, you have to send in a support request via email. The email address is given on the Support page, which just lists solutions to four common problems that people encounter with the service.
I got a reply to my support query after two hours. The reply to a follow-up email came much sooner - within 15 minutes.
Free Trial
The company urges you to try the free trial before signing up for the service. Click on the "Free Trial" button at the top of the right column on any page on the site to access this offer.
Clicking on the "Free Trial" button opens up a panel with a little more information. Click on the button in this section to get the free trial.
A new panel will open up immediately. This shows details of your trial account. Note down the details before you go any further. With this information you can set up the VPN in exactly the same way as you would had you just paid for the service.
Signing Up
To subscribe to the service, click on the "Buy Now" button beneath the subscription period that you want to take out. This will either be in the main panel of the Home page on the VPNJack website or in the right column of each page on the site.
You will see a popup window appear. This gives you the choice of paying with PayPal or with Bitcoin. If you don't have either, don't worry because you can pay with a credit card through PayPal even if you don't have a PayPal account.
After your payment clears, your account information will be displayed on the screen. If you paid with PayPal, VPNJack will automatically get your registered PayPal email address and that's where your login credentials will be sent to.
The VPNJack Windows VPN
There is no app for this VPN service. In order to turn the VPN on, click on the network symbol in the system tray of your Desktop. Click on the name of the VPN that you set up.
This will open the VPN settings screen that you accessed in order to set up the VPN. Click on the VPNJack entry in the screen and press the Connect button.
Back at the Network list, you will see the notification that the VPN is connected.
Streaming Services
While connected to the VPN, I tried to watch videos on Netflix, both through my Chrome browser and through Kodi. In both cases, the Netflix system spotted the VPN and blocked access. ABC has very tough location and VPN checks and it saw the VPN, so I couldn't watch videos there. NBC and CBS did let me watch. I was accessing these sites from Spain and would not have been able to watch videos there without the services of the VPN.
Other Platforms
The VPN can be set up manually on any system that allows PPTP and L2TP VPN connections. This means Windows, Macs, iOS and Android mobile devices, routers, smart TVs, and Linux machines. There are a couple of exceptions to this statement.
The VPNJack website doesn't give any installation instructions for Linux systems. However, Linux has native support for PPTP and L2TP, so it should be possible to set up these VPNs. Apple's iOS 10 and up and also macOS Sierra do not have support for PPTP, so on those systems, you can only use L2TP.
Final Thoughts
I liked VPNJack. Even though you have to set up this VPN manually, it is a handy service and this bare, cheap service has a place in the industry.
It is a shame that there are a number of video sites that this service can't get into and that P2P downloading is not allowed. These two shortcomings mean that a lot of people looking for a VPN will find that this service doesn't cater to their needs. However, there are still plenty of applications and features that will appeal to potential users.
0 User Reviews
Leave a Review - Step 1
Leave a Review - Step 2
Please tell us in more detail about this product
Leave a Review - Step 3
Thanks for your review!