The prospect of losing your priceless photographs is an upsetting thing to even imagine. Whether you're a Casual, amateur photographer, or a professional, using a cloud backup service for photos and videos will ensure that your precious memories are kept safe.
In this article, we will take a look at the 5 best cloud backup services for photographers. We consider not only the typical useful features that the best cloud backup solutions provide, but also the vital security features employed to protect the privacy and security of the photos you upload. We also consider affordability as well as the storage space offered, which is of course especially important to photographers.
What are the best Cloud backups for Photos?
We list the best cloud backup for photographers below. If you want more information about any of the services on the list, keep scrolling to an in-depth analysis of each service.
5 Best cloud backup Services for photo and video
We take a deeper look at the 5 best cloud backups for photos. If you still want more information about any of the services we have listed below, check out our detailed VPN reviews.
Livedrive is an easy to use and straightforward cloud backup service that is a favorite amongst amateur and professional photographers alike.
Pricing

1 user on 1 desktop: $8/mth
5 users: $25/mth
1 user multiple devices: $16/mth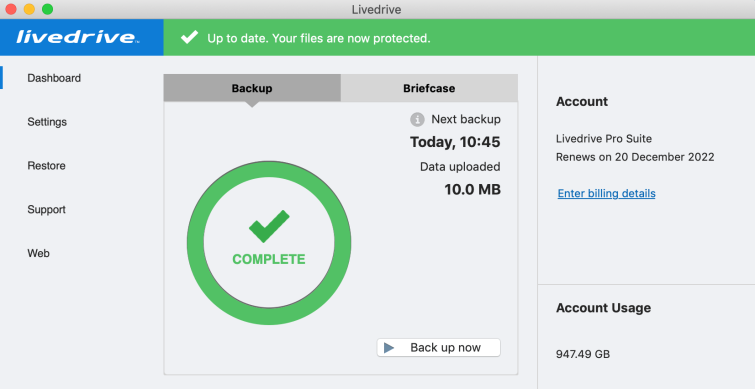 Livedrive is a solid cloud backup service that is based in the UK that is an excellent choice for photographers. The best part is that, with Livedrive, you're getting unlimited backup storage space. This means that regardless of how many photos you have saved on your computer's hard drive, you'll be able to back them all up to Livedrive's secure servers. Overall, we really like how the Livedrive user interface is straightforward, simple, and exceptionally easy to use, while still providing all the features and functionality you'd expect from a top-tier cloud backup service.

Along with a web-based interface, apps are available for Windows, macOS, Android, and iOS devices. With Livedrive's file versioning feature, you'll be able to save the past 30 file versions and recover each with a simple click of a button, which is great if you do a lot of photo editing. You can also set Livedrive to complete folder scans at regular intervals of your choice. Photographers will surely enjoy the photo preview functionality as well as the ability to automatically back up mobile photos and videos in the background.

In terms of security, you can rest assured that Livedrive will keep all your photos safe and secure, thanks to the fact that your files are encrypted in transit via TLS 1.2 encryption standards in transit, and at rest on its secure servers with AES 256-bit encryption. On top of that, Livedrive's UK data centers are ISO 27001 certified, protected with 3 layers of physical access security, and include network monitoring on a 24/7/365 basis. What's more, your data is obfuscated and distributed across systems to ensure no individual files can be accessed by any unauthorized entity. Users in the European Union will also certainly appreciate the fact that Livedrive is fully GDPR compliant.

For personal use, Livedrive offers three payment options: Backup, Briefcase, and Pro Suite. The Backup plan is the base plan offered by Livedrive and includes unlimited backup storage for 1 user and the ability to access your files through the mobile app for €7.99 per month. With the Briefcase plan, you get 2TB of cloud storage space to sync across devices along with automatic mobile photo and video backup for €10.00 per month. The Pro Suite plan essentially combines the Backup and Briefcase plans into one, plus you'll get 5TB of cloud storage space to sync across devices and the ability to add 5 individual users to your account for €17.00 per month. If you're a pro photographer or simply love taking tons of pictures for your own personal enjoyment, you may want to spring for the Pro Suite, which will grant you the most bang for your buck. But if you want to try before you buy, you can always take advantage of the 14-day free trial for all subscription plans.

NordLocker is a service that lets you store personal photographs online in a completely secure manner.
Pricing

12 month (500GB): $3.99/mth
1 month (500GB): $7.99/mth
NordLocker 2.0 is an encryption tool developed by the trusted VPN company NordVPN, and allows users to encrypt files and folders on the local hard drive. Essentially, this enables you. Besides providing local encryption for your data, NordLocker also comes with a 'cloud locker' folder that lets you choose which files and folders you'd like backed up. This means that you can easily load your photography projects into the locker to ensure that they're securely backed up to the cloud.

Users can get 3 GB of storage for free, but pay just $3.99 per month to upgrade to 500 GB. You'll be able to use NordLocker on as many Windows and Mac computers as you like, too, with just one subscription – and the service will work on multiple user accounts on a single PC. The service isn't currently available on Android or iOS, but this is about to change, meaning that you'll soon be able to upload files directly from cloud locker folders on your mobile.

The best thing about NordLocker's 'cloud locker' folder is that in addition to letting you manually choose what files you want to back up, it provides end-to-end encryption. This means that Nord cannot access any of your data or provide access to the authorities, even if it is served a warrant.

It is worth noting that the service does not allow you to do a full disk image, or to backup from a NAS, for example. However, you are free to copy the entirety of your hard drive into your cloud locker if you want to, and it will backup all file types apart from Temp files. This gives NordLocker the edge over several other cloud backup services, which often refuse to back up file types like program files.

While this service does not provide file versioning and other advanced features you get elsewhere, it will let you sync your files across as many devices as you like. It also permits you to share files with your contacts securely. So, NordLocker is a perfect service for people who want a securely encrypted version of a Dropbox-type service, and a safe place for their digital memories.

A reliable and private cloud storage service that can easily backup your photos from any device
Free option

Yes

Pricing

5 GB: $0/mth
2TB: $8/mth
6TB: $20/mth

Sync.com is a Canadian online backup and cross-platform syncing service that is perfect for anybody who needs to back up a lot of photos or videos. The service can be purchased either for teams or by individuals, and it has mobile apps for both iOS and Android – as well as desktop machines. The mobile apps will easily let you backup your important data, including photos, videos, and text files. It even allows you to access those files directly from third-party apps by using the 'Open With' function.

True to its name, the service allows you to sync your photos across various devices, and because it has apps for all platforms you will be able to access your photos from anywhere. For those who engage in large-scale photo editing, file versioning allows you to backtrack to a previous version of a project file, and you can preview the last 365 days' worth of files before downloading them.

To ensure privacy, the service provides secure end-to-end encryption for your data. This means that only you control the key to your data giving you watertight privacy. And, for added security, the service provides Two Factor Authentication. Plus, this service can be used to provide shared folders with clients or to securely share files via a secure link in an email.

We love that users can use Sync.com for free with its 5 GB basic plan. And we consider the costs for both individuals and teams to be excellent value for money with a plan with 2 TB of storage costing just $8 per month. Well worth trialing if you are a photographer in need of secure backup space that you have complete control over.

Backblaze is a fully-featured cloud backup for photographers. It's secure with strong perfect privacy features such as strong SSL encryption and has great Mac, PC, Android, and iOS apps.
Pricing

/month: $7/mth
/year: $70/mth
/2 years: $130/mth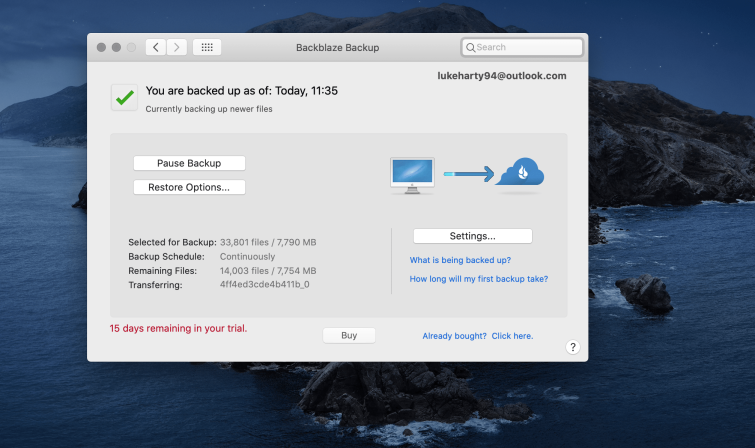 Backblaze is a top-class, fully-featured, and secure cloud backup service that provides exceptional privacy features and outstanding functionality for photographers. Backblaze secures your image like no other, securing files with SSL encryption during transit, using AES encryption at rest on company servers and using code that is native to Mac and PC and doesn't use Java. Backblaze even provides you with a private key when you first sign up, making it impossible for anyone other than you, even Backblaze, to have any access to the photos you upload using the service. You can also set a passphrase to protect and encrypt the private key to add an extra layer of security.

Other security features offered by Backblaze include two-factor authentication, a "Locate My Computer" feature that pinpoints the location of your device with encrypted access point data, the ability to share photos with others directly, schedule backups for convenience and receive notifications of the status of your backups. You can even request Backblaze to send a physical pen drive or external hard drive containing all your backed-up data (within a certain storage limit) and refund the cost of the drive should you send it back within 30 days.

Backblaze is also incredibly affordable and offers unlimited photo storage, unlimited speeds, and unlimited file size uploads for $6 per month, $60 per year, or $110 every two years. That is certainly an amazing deal considering you can back up an unlimited amount of photos. You can even take advantage of the 15-day free trial to see if the service is right for you. We can confidently attest that Backblaze is a cloud backup service that is indeed an excellent option for photographers with its affordable subscription plans, unlimited storage space, awesome features, and airtight security.

A reliable cloud storage platform for photos - Great for professionals looking to share and sell content
Pricing

Basic: $66/mth
Power: $102/mth
Portfolio: $240/mth
Pro: $432/mth
SmugMug is a service based in the US that allows users to both store and share their photos and videos. It is an ideal platform for professionals because the company makes it easy for photographers to sell their content both via digital and printed means. Whether you are an amateur seeking to branch out and start seling your stuff, or a photographer looking for new ways to sell content, this is a pltform well woth looking into.

A monthly subscription starts at just $8.40. With that account you get unlimited uploads, cutomizable galleries, easy drag and drop photo uploading and organization, strong password protection for galleries, and the ability to allow customers to order real prints online.

For power users in need of more, Power, Portfolio, or Pro plans re available that add things like your own domain name, a Turnkey store front, and the ability to fulfill orders with top labs such as Bay Photo, WHCC, EZPrints, and Loxley Colour. An incredible integrated service that is perfect for both established photographers and those just starting out uploading and selling their content. Well worth testing using its 14-day free trial.
Why use a cloud backup for photos?
Errors and faults can strike technology at any given time, and while programs can be re-downloaded, personal and work documents, photographs, and videos are irreplaceable.
Data restoration services can be a lifesaver, but at the same time can get extremely expensive, especially if you have large quantities of photos you need to restore. The worst part is that there is never any guarantee that your restoration efforts will work at all. That is why it is absolutely imperative that you have properly backed up your photos and videos in multiple locations.
Our suggested cloud backup services ensure that all your important files have a second, or even third home away from your primary device. Should anything go wrong, you will be safe to re-download them and get back to business as usual.
Best cloud backup for photographers - Final Thoughts
There is no reason for you to risk losing your photographs. The memories you capture through the lens of your camera are indispensable and priceless. At a time when most people do not print out the vast majority of their images, backing up those memories is no longer an option, but a necessity.
Luckily, there are some amazing and affordable online cloud backup services that can help you preserve your photos and ensure they never get lost. Each provider listed in this article is more than capable of getting the job done for you in an affordable, user-friendly, and secure manner. Do not delay even for another minute, back up your precious memories today using one of the outstanding providers we've suggested: