Think of all the files you own, the years' worth of pictures and music you've collected, and everything you've collaborated on at work or with friends. If the thought of losing it is too much to bear, you'll want to get a Cloud Storage service for your Windows PC. With one subscription, you'll be able to keep all of your most important files up-to-date and accessible in a secure secondary home in the Cloud.
There're hundreds of Windows Cloud Storage services out there! To make things easier, we've looked at five of the best Cloud Storage solutions for Windows, examining everything from storage space to encryption – so keep reading!
What are the 5 Cloud Storage for Windows
We have listed the best top Cloud Storage services for Windows users below. Each service is fully compatible with Windows devices, boasts a generous amount of storage space, and all the necessary security features you'd expect from a premium provider. We've covered each of our hand-picked Cloud Storage services in more detail later in the article.
Sync.com - The best Cloud Storage for Windows. It allows you to restore versions and recover files from up to a full year ago!
NordLocker - An easy to use Cloud storage for PC. It goes the extra mile to secure your data with idle Lockout and file name encryption.
IDrive - A great Cloud Storage service for Windows. iDive makes it easy to store and search through files using their app or web browser.
Livedrive - A secure Cloud Storage service for PC. It assures peace of mind with AES-256 encryption and has secure data centers in the UK.
ADrive - A great all-round PC Cloud Storage service. It offers SSL encryption during upload and download.
To make it into our top five, a Cloud Storage solution for Windows users has to meet the following criteria:
Storage – this one's obvious, but important! A good service will be able to accommodate all of the data you choose to backup, and then some!
Security – when you entrust sensitive files to any third party, you'll want reassurance that nobody is going to be taking an unauthorized peak. The best Cloud Storage services make use of E2E encryption, too.
Accessibility – after all, the files still belong to you! Make sure you can access your pictures, music, and videos at any time of the day, on any device.
The best Cloud Storage for Windows | In-depth Analysis
Here, we take an up-close-and-personal look at each of our Cloud Storage services for Windows users. Keep reading to find out more, or head on over to our comprehensive Cloud Storage reviews.
Sync.com is the best Cloud Storage for Windows. It is packed with features, full end-to-end encryption, and compatible with Windows devices – an all-star storage solution.
Free option

Yes

Pricing

5 GB: $0/mth
2TB: $8/mth
6TB: $20/mth
Unlimited (minimum of 2 users): $15/mth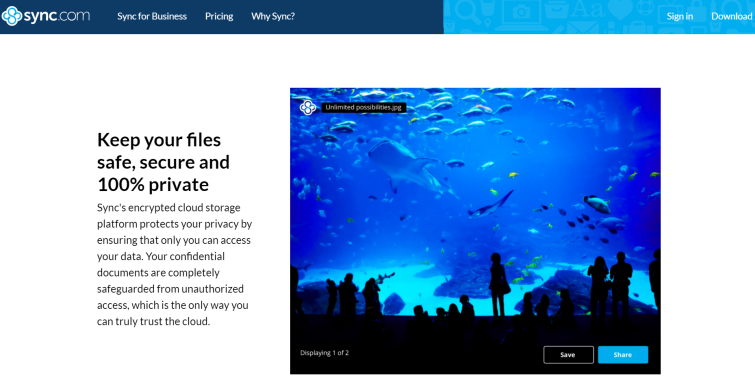 Sync is a fantastic all-rounder, available on Windows devices as well as Mac, Android, and iOS platforms. With Sync, you'll be able to back up your most valuable digital goods in real-time and access them on any synced device. 365-day file versioning makes it possible to restore accidentally deleted files and previous versions, and users can also apply expiry dates, permissions, and password protection when sharing files.

We're particularly impressed by Sync's end-to-end encryption, which covers a number of data center locations. Sync is also fully compliant with GDPR, HIPAA, and PIPEDA. What's more, users can take security into their own hands by making use of two-factor authentication.

Being based in Canada may raise a few brows, given the country's Five Eyes membership, but Sync's E2EE, 2FA, and zero-knowledge policy work hard to keep your data secure.

A free Sync account grants users 5GB of storage, though up to 25GB can be earned through referrals. No credit card information is necessary to create a free account, and you'll still benefit from E2EE without paying a penny. For those interested in a premium account, $12 p/m bags you 3TB of storage, as well as 24/7 expert support.

Currently, Sync accepts credit and debit card payments, as well as PayPal and Bitcoin transactions.

NordLocker is an easy to use Cloud Storage for PC. It also comes at a low price, but is a premium-feeling service that offers 500GB of storage and end-to-end encryption – perfect for keeping sensitive files secure.
Free option

Yes

Pricing

12 month (500GB): $3.99/mth
1 month (500GB): $7.99/mth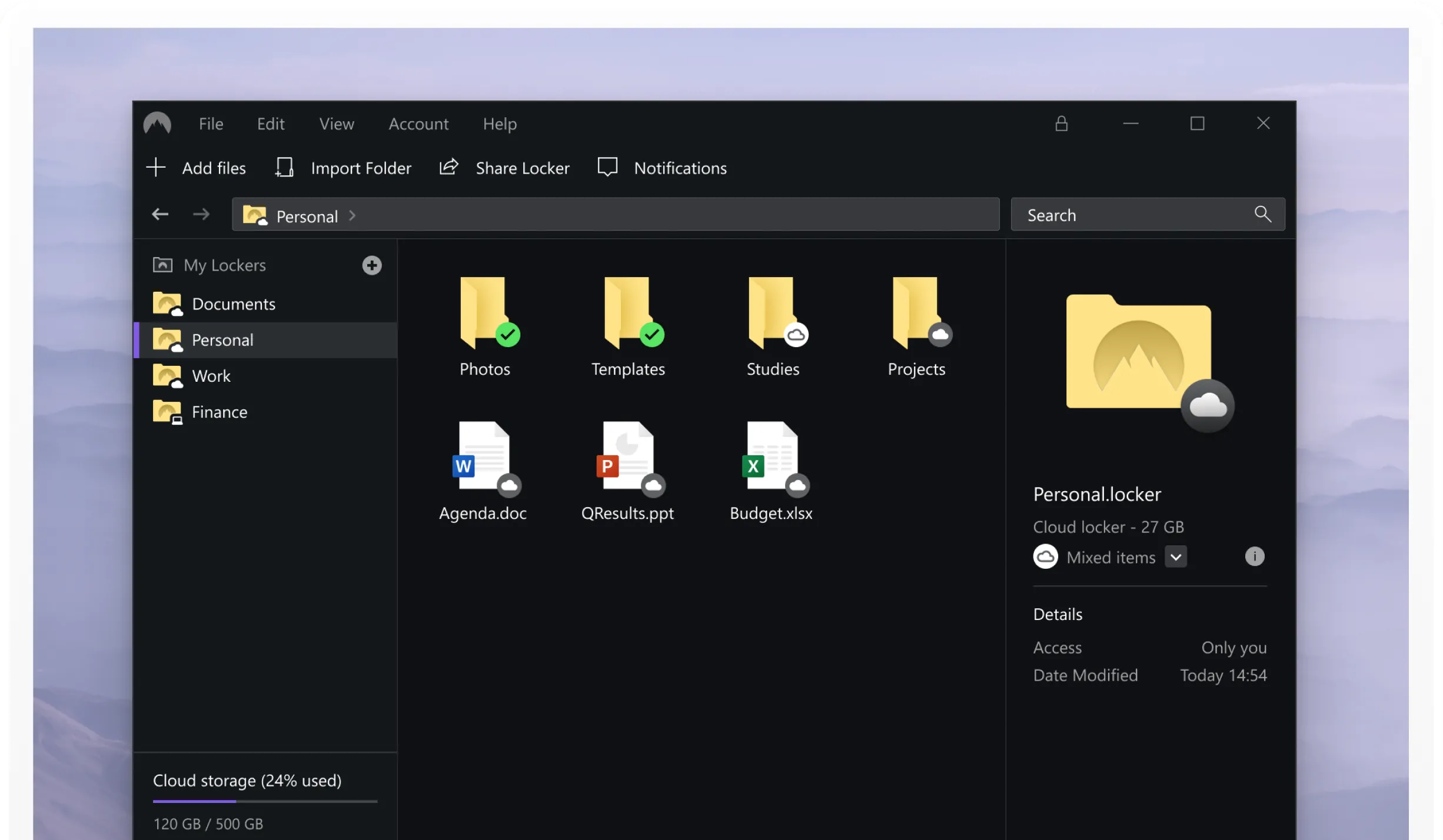 NordLocker can be installed on Windows in a few clicks, and you simply drag and drop files into the app to back them up instantly. Thanks to automatic local encryption, it's technically possible to encrypt an entire hard drive! NordLocker also makes it easy to navigate through your folders, with a fresh interface free of clutter. Any changes you make to files secured in NordLocker are automatically saved in the encrypted document, too.

NordLocker impressed us with client-side end-to-end encryption, meaning only you can see your files, and only you can control who to share them with. If you share a computer and have concerns about who might be peeking at your data, NordLocker has you covered with a unique encryption key for each user. If you are in a generous mood, however, you can share your locker with other NordLocker users via email.

Because NordLocker is based in Panama, there are no invasive surveillance policies to be worried about. What's more, NordLocker's Lockout feature automatically locks the app when it's idle.

Users can create a free NordLocker account with 3GB of cloud storage, or pay $3.99 p/m for 500GB – as well as unlimited encryption and file name encryption! A 30-day money-back guarantee is also provided, and users can pay with a credit card, cryptocurrency, or direct debit.

IDrive is an excellent Cloud Storage for Windows. It has flexible versioning and scheduling tools make it a robust service, ideal for working at home or keeping memories safe.
Free option

Yes

Pricing

Personal - 5TB: $1.65/mth

75% OFF

Personal - 2TB: $4.34/mth
12 month: $17.38/mth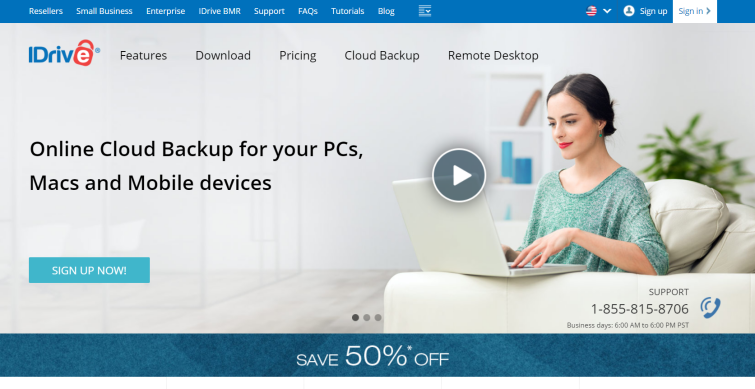 IDrive is another top-notch choice for Windows users, and can also be installed on just about any other device you might have. In fact, IDrive backs up data from all your devices into one account and can handle files from external hard drives, too.

IDrive takes an intuitive approach to its backup and uses block-level file copying to replace only the parts of the file that have been modified, rather than the whole thing. Users can request all sorts of reports (activity, backup status, and share reports), and put IDrive's advanced scheduling features to good use. Additionally, IDrive offers file versioning, and is able to restore deleted files within 30 days, and retain 30 previous file versions.

It is worth noting that IDrive currently lacks E2EE. Instead, files are secured in transit and at rest with 256-bit AES encryption. IDrive is also based in the US - which is not a country with the best stance on privacy. However, users can opt for locally stored private encryption keys, but doing so will prevent the use of any sharing features, and these keys are not recoverable if lost.

IDrive's free account offers 5GB of storage and doesn't necessitate any credit card details. Premium users receive 5TB of storage for a $69.50 payment each year. With a premium account, 24/7 customer service is just a click or a call away, and users can share files and folders, making secure collaboration that much easier.

Livedrive looks good, is packed with features, and it doesn't cost a fortune – an ideal first storage solution for Cloud newcomers. It has secure data centres in the UK so GDPR compliance is a given!
Free option

Yes

Pricing

1 user on 1 desktop: $8/mth
5 users: $25/mth
1 user multiple devices: $16/mth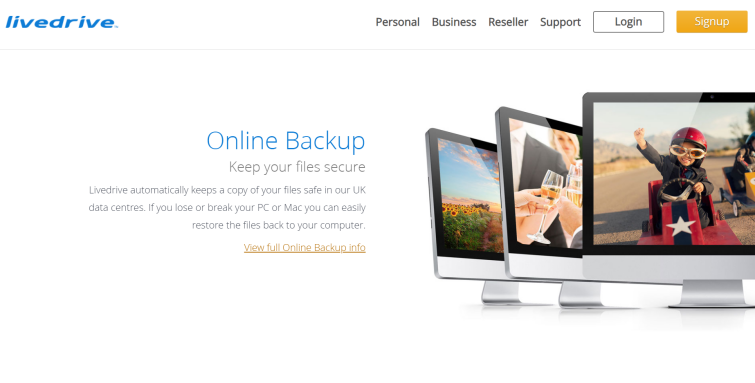 Livedrive offers 5 concurrent user accounts and full compatibility with Windows devices. We enjoyed how easy Livedrive is to use, as well as its clean interface and intuitive features.

Livedrive users receive unlimited backup storage space and instant access to any files kept therein. As a result, it only takes a few clicks to view pictures, stream videos, or listen to music on the go.

Files are kept secure in transit thanks to TLS 1.2 encryption and are equally safe at rest thanks to AES 256-bit encryption. Unfortunately, end-to-end encryption is not supported at this point in time. However, Livedrive is still a fantastic option for anyone looking to backup non-sensitive data in case of an emergency, and file information is masked within the Livedrive servers, preventing it from being traced back to an individual account.

Folder scans can be scheduled at regular intervals, and users have the option to enable two-factor authentication to prevent unauthorized access. And, all Livedrive centers are monitored around the clock by experts, and ISO 27001 is certified with 3 layers of physical access security. Having UK data centers also means that Livedrive is fully compliant with GDPR!

A 14-day free trial is available, and Livedrive's Pro Suite plan comes with unlimited backup storage, file versioning of up to 30 layers, Backup and Briefcase features, and 5 PC or Mac accounts - all for a modest £15 p/m.

Adrive is a stellar option for folks working from home or friends looking to collaborate, with baked-in Zoho functionality and frequent file versioning.
Free option

Yes

Pricing

100 GB: $25/mth
250 GB: $62.5/mth
500 GB: $125/mth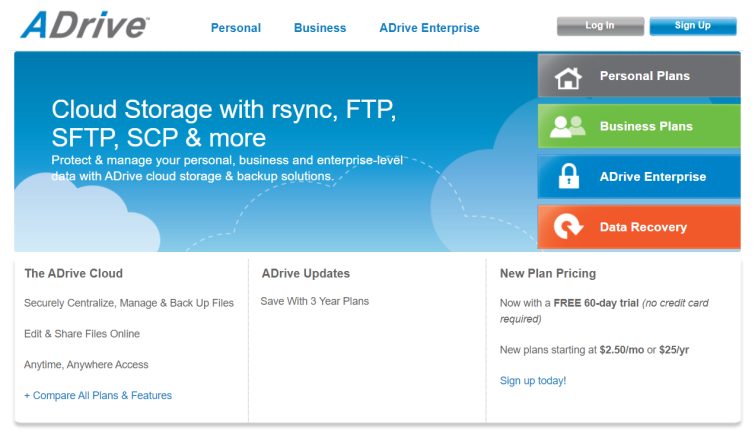 As well as Windows devices, Adrive is also fully compatible with Mac, Linux, Android and iOS platforms, and allows users to access their protected files wherever they are and whatever the time. If you plan to share files, you can set an expiration date in advance, or password protect them to prevent unwanted snooping.

Adrive utilizes Zoho technology to allow for collaborative editing on word processing documents, as well as spreadsheets and presentations. With one ADrive account, you can open and edit your files, and save your updates, too.

In terms of security, Adrive does lack E2EE, but makes good use of TLS and SSL to keep files secure at rest and when in transit. Files can also be transferred via SCP, SFTP, and Rsync over SSH.

If you ever accidentally delete a file, or save over an original version, Adrive can pretty much turn back the clock – weekly snapshots of your files allow you to revert back to previous versions, and Adrive also performs a nightly backup of all files, with these versions available for 2 days.

You can check Adrive out for free with a 60-day trial (no credit card information required), or opt for its Personal premium plan, with prices starting from $2.50 p/m. Users get access to 100GB of cloud storage space, and 10 user accounts which can be used concurrently on various devices. What's more, an expert team is on hand 24/7 to field any questions.
What is the Cloud?
The Cloud is usually an off-site server where you can store your valuable files and data – rather than keeping them solely on your primary device. These handy servers usually exist as part of a data center that's owned and maintained by the service provider, so no, no actual clouds are involved.
But backing up files from your PC to the Cloud is exceptionally useful. It's a means of not only securing data, but freeing up space on your primary device, and providing a secure way of collaborating, for individuals and businesses.
Once you've uploaded files to the Cloud, they can be accessed anywhere and on any device – so long as you have the correct apps and the right permissions! A Cloud Storage service usually creates a synced folder in your Windows Explore. Any files placed in this folder will be synced from your PC to your account, and accessible on any other device where you can log in to that same account.
It all sounds pretty handy, right? Well, chances are you've been using the Cloud on Windows for a long time without even knowing it! The following sites and services all make good use of the Cloud:
Email providers – it's thanks to the Cloud that services like Gmail, Hotmail, and Yahoo can load your emails on different devices – and that includes all those unread ones, too.
Video and streams – the videos you check out on YouTube, as well as the shows on Netflix, are all streamed directly from the Cloud – this is a lot quicker, and a lot less resource-intensive, than downloading them.
Social media – the Cloud is the reason why you can log out of Instagram or Facebook on your PC, log back in on your phone, and find all your pictures, posts, and videos right where you left them – all that data is kept secured and synced in the Cloud!
How are files kept secure in the Cloud?
If a Cloud Storage service isn't doing its best to keep your files secure, it's not worth using – and you'll want data to be as secure in transit as it is when at rest in the Cloud. Fortunately, all of the services we've selected for this guide go the extra mile, and use a combination of the following security measures to prevent snoopers, accidents, and malicious attacks:
Authorization
Cloud Storage services use levels of authorization to determine which staff members have access to user files; frontline staff will have limited access when compared to a human resources manager, for example.
Encryption
Storage services use complicated algorithms to encrypt your data when it passes into its care. It is possible to crack this encryption, but it'd take such an enormous amount of time and computing power that it's incredibly unlikely to happen.
Firewalls
Just like the firewall your PC uses, a Cloud Storage firewall takes a look at the data packets traveling back and forth from the server, checking out content integrity and any potential threats.
A note on encryption…
You'll find that a lot of Cloud Storage services rely on browser-based interfaces, with encryption handled server-side – but this isn't deemed to be very secure by today's standards. Instead, it's much better if a Cloud Storage service makes use of client-side end-to-end-encryption. This means your data is encrypted even before it reaches the Cloud, preventing any would-be snoopers, and the storage provider itself, from sneaking a peek.
The best Cloud Storage services take a proactive approach to file security. They're constantly monitoring for changes within files, can schedule automatic backups, and deliver reports upon request. These services may also store data in numerous locations as a way to safeguard against server malfunctions.
The physical data centers where Cloud servers live are just as secure in the real world! They're well protected by fire and smoke detectors, flame suppression systems, and stocked with backup power generators. Armed personnel are tasked with monitoring the facility, too, and guard the perimeter day and night. Inside, measures like fingerprint locks ensure that only authorized staff members have access to the servers.
Why do you need Cloud Storage for Windows?
Nowadays, most of us have amassed a treasure trove of photos, videos, music, emails, and more – and it's a collection that continually grows as we rely more often on digital documents and less on paper.
And whether it's work documents, medical records, or personal mementos, losing any of this data is devastating.
Of course, that's exactly why Cloud Storage services exist! With one subscription, you'll be able to mitigate data loss by uploading files to a secondary location. If the worst happens and your device crashes, is wiped accidentally, or targeted by a cybercriminal, you'll be able to retrieve your data with a few clicks and redownload it to another device.
Cloud Storage is more than just a safe place to keep sensitive files, however. Most of the video content and music we enjoy each day is actually being streamed, and a lot of storage services come with intuitive collaboration features that allow for secure remote work and file sharing.
In fact, Cloud Storage has made working remotely, or on the go, so much easier – you'll be able to edit work documents even if you're not at your desk, so long as you have the right apps installed on your mobile device or laptop! You can store any type of file in the Cloud, too, and set password restrictions or expiration dates on the things you do choose to send.
Can I use free Cloud Storage for Windows?
Of course you can! There are plenty of Cloud Storage services that offer free accounts for Windows users – though it's worth keeping in mind that they're often more limited than their premium counterparts. A free account might only grant you around 2GB of storage, but that's more than enough to handle a few important files, work-in-progress projects or your most critical personal data.
Accounts vs trials
We'd recommend opting for a free account rather than a free trial if you're interested in Cloud Storage. With a free account, you'll be able to put the service through its paces in your own time, with your own criteria, and all without a looming cut-off date.
Check out our cloud backup free trials or free cloud backups for more information.
Dropbox and Google Drive
So, you might be wondering why we haven't vouched for Dropbox and Google Drive – they're free, after all, and incredibly popular. They also come with some significant privacy concerns, however. If you value your security, it's worth thinking twice about entrusting sensitive data to these services. Both Dropbox and Google Drive lack the end-to-end encryption found in some of our top picks, meaning you're placing your trust entirely in the service itself to keep your data secure. Additionally, because both services are based in the US, there's always a possibility of the government utilizing a gag order to rifle through account data.
It is possible to mitigate these concerns by using third-party software, like VeraCrypt, to encrypt files yourself before uploading them to Dropbox or Google Drive. It's an awful lot of work, though, and there are plenty of alternative storage services that are more than happy to do it for you!
Final thoughts
We've hopefully made choosing your perfect Cloud Storage service a bit easier. Each of our picks is compatible with Windows, and instantly backup your data to prevent disaster should your primary device be wiped or stolen.
Think about how much we rely on digital data – and how much of it we create, too! It's never been more important to take steps to keep it all safe. Cloud Storage is an ideal solution, with no physical hardware to worry about keeping track of, and all sorts of useful features – like secure collaboration tools, scalable storage, and granular access measures.
So, if you need a final reminder of our top recommendations for Windows users, here they are:
Sync.com - The best Cloud Storage for Windows. It allows you to restore versions and recover files from up to a full year ago!
NordLocker - An easy to use Cloud storage for PC. It goes the extra mile to secure your data with idle Lockout and file name encryption.
IDrive - A great Cloud Storage service for Windows. iDive makes it easy to store and search through files using their app or web browser.
Livedrive - A secure Cloud Storage service for PC. It assures peace of mind with AES-256 encryption and has secure data centers in the UK.
ADrive - A great all-round PC Cloud Storage service. It offers SSL encryption during upload and download.