If you are a small business suddenly faced with employees working from home, you may be looking for secure cloud backups for your staff to store and access work and business data.
Cloud storage is a useful way to regularly back up your business' data – so that work done by your employees is safe even if they make an error or encounter a problem with their device. Cloud backups can also protect your business against cyberattacks by allowing you to recover company data if it is stolen or locked up by ransomware.
There are dozens of online storage services to pick from, but finding the best cloud backup for your staff can be confusing and time-consuming. In this article, we have done the hard work for you by pinpointing services best cloud back up services suited to businesses in need of regular backups.
What is the best Cloud Backup for Businesses?
Below you can take a quick look at the 5 best cloud backups for businesses. If you want more details about each service, scroll on down for our in-depth summaries.
Sync.com - The best cloud backup for small business. A secure and private cloud storage platform with robust end-to-end encryption.
IDrive - A cheap cloud backup for small businesses. It allows you to add unlimited users, and has strong AES-256 encryption.
ADrive - This a low-cost cloud backup for SMEs. It has a good privacy policy, it is a simple platform, and has 24 hour customer support.
Backblaze - A secure cloud backup for business. It offers secure end-to-end encryption, excellent data recovery, and a zero-knowledge framework.
Livedrive - The best buy cloud backup for businesses. It offers unlimited storage, a 14-day free trial, easy-to-use apps on all platforms.
The services we have picked are secure, easy to manage, and suitable for small and medium-sized businesses in need of backups and data recovery.
These services will make saving important business data and work to the cloud easy – thanks to automated backups. In addition, they all provide exceptional value for money.
Cloud backup services for small businesses | In-depth summaries
We take an in-depth look at the best Cloud Backup for Businesses below. These summaries explain how each service differs to help you pick the right cloud backup for your business.
1. Sync.com
Editor's Choice | September 2023

Sync.com is the best cloud Backup for small businesses. A reliable cloud backup for businesses that can be used by employees on across all popular platforms.
Free option

Yes

Pricing

5 GB: $0/mth
2TB: $8/mth
6TB: $20/mth
Unlimited (minimum of 2 users): $15/mth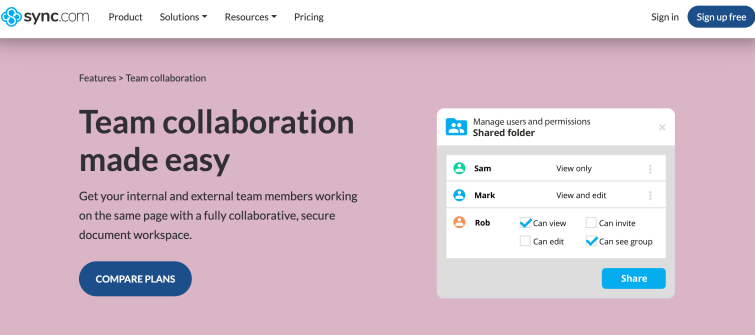 Sync.com is a Canadian online backup and cross-platform syncing service with a strong focus on privacy. The service can be purchased for teams and it has useful apps for all platforms that make it ideal for use across many different employee business devices. The service can easily allow you to back up important data, including photos, videos, and a variety of text files and documents. And, it has excellent team features for password-protected file and folder sharing.

To ensure that your employees can backtrack if they need to, the service allows for file versioning for 365 days, and you can preview those files before restoring them. True to its name, the service allows you to not only backup your data but also sync it across various devices, and because it has apps for all platforms, you get superb cross-compatibility. Also, granular level controls allow you to set permissions across all files and folders, to ensure access privileges can be set up to provide added data security.

To ensure watertight data privacy and security, the service provides secure end-to-end encryption for your data. It is also GDPR, HIPAA, and PIPEDA compliant. As a result, it can be trusted to back up your data without the risk of third-party access or data tracking. And this service allows all business users to upload and download to the storage space without restrictions.

When it comes to costs, a business account starts at $5 per user per month, for a total of 1 TB of storage per user. This can be purchased for between two and 100 users, which makes it suitable for smaller businesses. Any business that has more than 100 employees will need to upgrade to the advanced plan, which costs $15 per month per user but allows up to 1,000 employees to store up to 10 TB each. And, if you're looking for real value for money, Sync.com offers an Unlimited plan with unlimited storage for $15 per month per person – though you'll need at least two users on board.

IDrive is a cheap cloud backup for business. It's a reliable cloud storage service that can be used by an unlimited number of staff. Compatible with Windows, Mac, Android, and iOS.
Free option

Yes

Pricing

Personal - 5TB: $1.65/mth

75% OFF

Personal - 2TB: $4.34/mth
12 month: $17.38/mth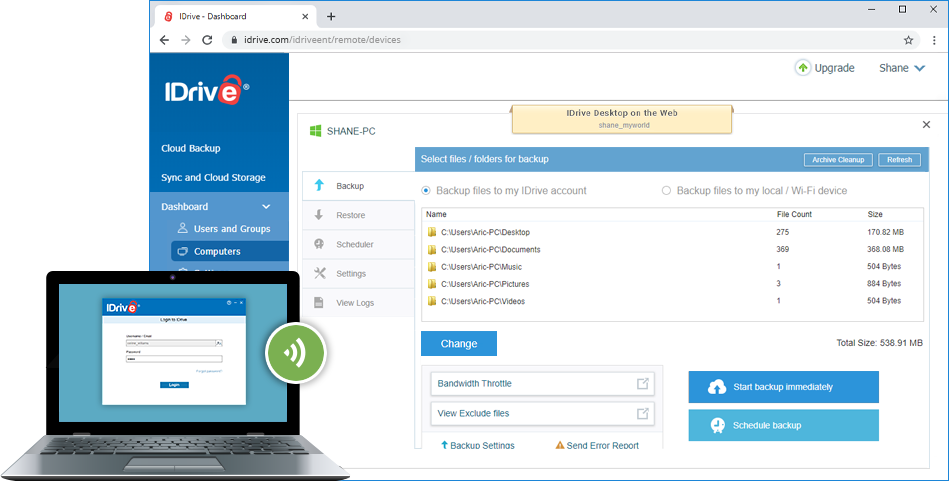 IDrive is a US-based cloud storage company that is ideal for small businesses. It is a fully-featured cloud storage solution with full system disk image backup, true archiving, and the option for end-to-end encryption. The service is available across all popular platforms (Windows, macOS, Android, and iOS) and the apps are super easy to use.

With IDrive, any business can easily backup data from computers, servers, and mobile devices. This ensures that if you lose your data, you can easily restore those files. File versioning ensures that you have 30 previous versions of a file at your disposal – in case a member of staff makes an error or changes something present in an earlier version.

A centralized web console gives you access to data backups to restore files from anywhere. And, you can create multiple accounts within your storage space and monitor all backups from inside the administrator console. Backups can be retrieved either online or via a physical drive if necessary. Plus, files can easily be synced across various devices and staff members for collaboration.

As with Livedrive, this cloud storage service provides strong encryption for data during transit and at rest (AES 256). However, please bear in mind that data is secured server-side (if you don't enable Private Encryption Keys) - and they could compel the firm to share access to your data via a government warrant. Thus, you should set up E2EE (it does provide it) if you want to ensure no server-side access to your business' data.

In addition, this service will ensure that your data is stored on RAID-protected storage devices in multiple locations to ensure it is always recoverable. And IDrive Business can be used by unlimited members of staff on an unlimited number of computers and servers, which makes it superb value for money. It starts at $75 per year for 250 GB of storage and increases depending on how much storage space you want.

ADrive is a budget-friendly and easy-to-use cloud storage platform for that suits small to medium businesses. It has a strong privacy policy, supports FTP, SSH etc. and has 24-hour customer service.
Free option

Yes

Pricing

100 GB: $25/mth
250 GB: $62.5/mth
500 GB: $125/mth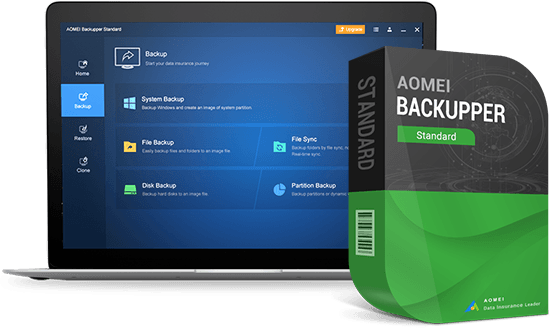 ADrive is a cloud storage provider that has an excellent Business plan that starts at $70 per year for 200 GB of storage and goes up depending on how much space you require. It is an excellent choice for any business that requires easy-to-use cloud storage to back up data – but doesn't have highly sensitive consumer data or valuable intellectual property that they need to backup.

The service includes multi-user accounts, which makes it superb for businesses. And, the range of features available is highly impressive – including apps for all platforms, online file sharing for collaboration between teams, drive mapping and syncing, 24-hour support, oDrive compatibility for ease of access, and SSL encryption for data in transit. It also stores your data in multiple locations to ensure recoverability.

A Drive also supports FTP with TLS, which makes it a great option for any business that is already using an FTP client. It is compatible with any FTP client for both uploading and downloading and it permits the use of AUTH TLS to transfer files securely, as well as the ability to manage SSH keys for secure, automated access. It also supports WebDAV, Rsync, SCP, and SFTP, which makes it convenient for numerous users.

However, please bear in mind that this service does not provide e2ee, which means that your data could theoretically be accessed by members of staff or the government if it is served a warrant. With that said, the privacy policy does clearly state that ADrive will never "view, investigate, manipulate, alter, process, sell, offer for sale, or make independent determination or inquiry into the contents of files stored" unless it is required to by a government subpoena.

Perhaps the biggest downside of this service is its lack of encryption at rest and the fact that it only has 2 days' worth of recoverable history that is stored once per day. Thus, if you are constantly editing folders and require file versioning, you will need to look elsewhere.

Backblaze is a super-secure cloud storage service for small businesses. It offers end-to-end encryption, a zero-knowledge framework, and all PEK passwords are stored securely.
Free option

Yes

Pricing

/month: $7/mth
/year: $70/mth
/2 years: $130/mth
BackBlaze is a cloud storage company based in California in the US. It is a service that is scalable and has a superb plan for businesses. It supports backups for servers, Veeam, NAS, and regular computer backups. It also supports file versioning for up to a year's worth of files, which makes it great for businesses that want to be able to retrace their steps for a lengthy period of time.

The main drawback is that the cost of $60 per year is per user/machine, so this service will probably only be affordable for smaller businesses with fewer members of staff – as you will require an account each. On the plus side, it permits an unlimited amount of storage.

On the plus side, the service is extremely easy to use and is highly efficient at performing automated cloud backups for your business' data. It can easily allow you to protect your business data via a centrally managed admin panel. Two-factor authentication is available for all users and data is secured both at rest (AES-128) and in transit (TLS).

It also allows you to maintain usage and access monitoring on all accounts, can provide E2EE for your data, and ensures that all PEK passwords are stored securely (salted and hashed). This ensures that you can use the service within a zero-knowledge framework if you want to.
5. Livedrive
Livedrive is the best buy cloud backup for businesses. It's easy to use, offers users unlimited backup storage, and has a 14-day free trial!
Free option

Yes

Pricing

1 user on 1 desktop: $8/mth
5 users: $25/mth
1 user multiple devices: $16/mth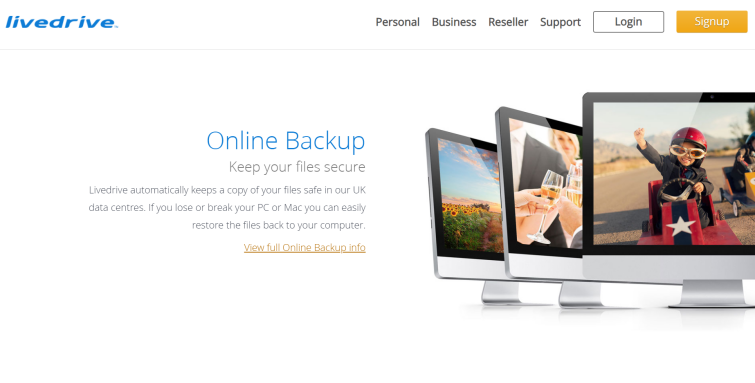 Livedrive is a reliable cloud backup and sync storage service owned by j2 Global. It is an easy-to-use service that can provide scalable backup storage and all the functionality needed for managing small business backups.

Livedrive has both a web-based interface and standalone apps that are available for Windows, macOS, Android, and iOS devices. File versioning gives you the ability to go back 30 file versions, which makes it perfect for businesses with multiple members of staff collaborating on documents and projects. It also saves deleted files for 30 days, which means you can get them back if a member of staff makes a mistake. Plus, it has team folders to enable colleagues to work together – or to allow management to send important files to all members of staff in one go.

Local folders and files can be scanned and updated at regular intervals to ensure your staff back up as often as your business requires it. Those backups are secured both in transit (with TLS 1.2 encryption) and at rest (using AES 256-bit encryption). Plus, Livedrive's data centers are ISO 27001 certified, SOC2 self-certified, SOX compliant, and protected with 3 layers of physical access security. In addition, Livedrive is fully GDPR compliant. However, please bear in mind that your data is secured server-side, and the company could theoretically provide the authorities with access to your data if they compel it to do so using a government warrant.

The Business Express plan costs just $50 per month and it will provide 2,000 GB of Cloud storage for up to three members of staff. This will allow for backups for those employees across various different devices including PC and Mac backups, and tablet and mobile backups. More members of staff can be added on a flexible basis, with additional costs as you scale up. However, the Business standard plan will allow any company with 10 members of staff to back up 10,000GB of data – which works out at just $16 per person, per month. Overall, we find this to be an extremely effective cloud backup and data recovery service that is priced extremely competitively and is ideally suited to most small business' needs.
What features must a cloud backup have?
For a cloud backup to be useful to your business, it must be able to protect your data adequately. It must also have certain features that allow you to exert some level of executive control over your staff's data.
Below we have included a list of the features our experts looked for when picking the best cloud backups for businesses:
Scalable service with plenty of storage space.
Continuous accessibility to your data at any time of day.
Customizable and automated backup settings with scheduling and frequency options.
Multiple backups (vendor disaster security) to ensure your business' data is safe even if the storage company itself suffers an issue (backups of backups).
Collaboration tools and administrator accounts/privileges.
File versioning for recovering previous files when staff accidentally update or alter something incorrectly.
Transport Layer Security to ensure your data is safe while in transit over the internet.
Robust security for data stored at rest (potentially using end-to-end encryption if you require it).
A strong privacy policy that complies with data protection regulations such as the EU's GDPR.
Reliable tech support to aid in recovery and setting up the cloud backup service for your business.
Can I use Google Drive or Dropbox?
Although these are cloud backup services and can be considered an option for small businesses, it is important to remember that they are primarily designed for storing and sharing files – either for personal use – or across very small groups of people working together.
These services are extremely limited when it comes to data security and privacy, and they do not have the features you need to exert administrative control over your business's data and the way files and folders can be accessed and collaborated on.
Limited functionality aside, there is nothing to stop you from using Dropbox or Google Drive for sharing and working on projects collaboratively online.
However, they will not provide the kind of automated cloud backups and data recovery needed by most companies, and they will not provide the file versioning required by businesses in order to ensure that work is being protected constantly against human error. See our how secure is dropbox, iCloud, Google Drive, and OneDrive page for a further discussion on this.
Can I use a free cloud back up
Check out our best free cloud storage page for a list of secure services. However, it's important to note that they aren't suitable for most businesses.
Do I need end-to-end encryption?
When you store data on the cloud, it can potentially be accessed by the service provider if they control the encryption keys to your account on your behalf (server-side encryption). Depending on the kind of data that your business controls, you may want to ensure that it is never uploaded without first being encrypted by you.
The important thing is to consider all the data that your company works with (data mapping). Understanding the different kinds of data that your company controls, and any data protection regulations it must abide by can help to determine what data can be stored without E2EE encryption, and what must be stored with higher levels of security.
It is also important to ensure that company data is only accessible to members of staff who actually require it. This can be achieved by setting up hierarchical privileges and by purposefully segregating access to data and cloud storage folders. So be sure to get a service that has the administrative features you need for your business.
Conclusion
Now you know what sets apart the good from the bad in cloud storage, here's a quick reminder of our top picks for the best cloud backups for small businesses:

From $0.00/month
The best cloud backup for small business. A secure and private cloud storage platform with robust end-to-end encryption.
ProPrivacy TrustScore:

10 out of 10

File versioning

Yes

Mobile photo upload

Yes

Team editing

Yes

From $1.65/month
A cheap cloud backup for small businesses. It allows you to add unlimited users, and has strong AES-256 encryption.
ProPrivacy TrustScore:

9.9 out of 10

File versioning

Yes

Mobile photo upload

Yes

Team editing

No

From $25.00/month
This a low-cost cloud backup for SMEs. It has a good privacy policy, it is a simple platform, and has 24 hour customer support.
ProPrivacy TrustScore:

9.8 out of 10

File versioning

Yes

Mobile photo upload

Yes

Team editing

Yes

From $7.00/month
A secure cloud backup for business. It offers secure end-to-end encryption, excellent data recovery, and a zero-knowledge framework.
ProPrivacy TrustScore:

9.7 out of 10

File versioning

Yes

Mobile photo upload

No

Team editing

No
From $8.00/month
The best buy cloud backup for businesses. It offers unlimited storage, a 14-day free trial, easy-to-use apps on all platforms.
ProPrivacy TrustScore:

9.6 out of 10

File versioning

Yes

Mobile photo upload

Yes

Team editing

Yes