The qBittorrent client interface
qBittorrent uses a very "classic" BitTorrent interface. This means that anyone familiar with mainstream torrent clients such as Vuze or uTorrent (especially Windows users) will feel instantly at home with it.
The interface may look rather old-fashioned and clunky, though, to Mac and Linux users used to the svelte aesthetics of Transmission.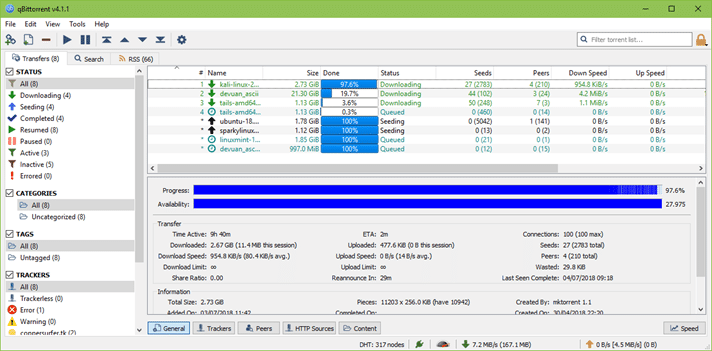 As usual with BitTorrent clients, you can keep track of things like trackers, peers (other people downloading the same files) and HTTP sources.
The above screenshot, which shows the IP address of all peers, illustrates perfectly why you need a VPN to protect your privacy when torrenting!
BitTorrent allows you to select individual files from within a torrent or Magnet Link to download. Although a common feature among torrent clients, it is not universal.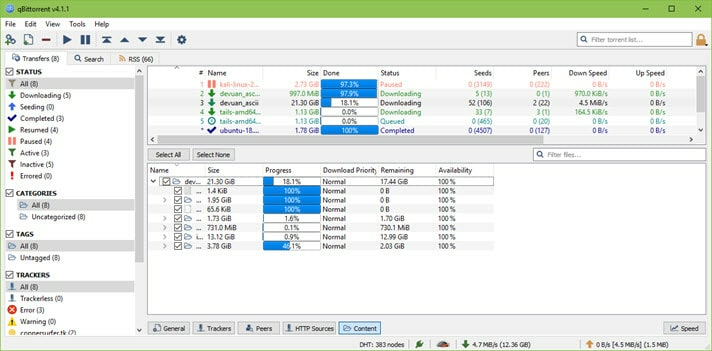 The Options menus are easy to use and provide access to all the settings most downloaders could ever hope for.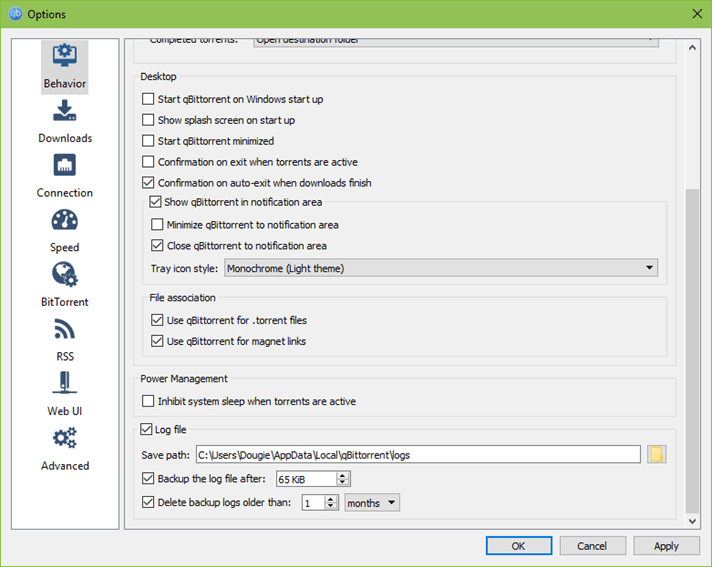 And the Advanced options menu lets serious torrent-heads fiddle with all manner of arcane parameters!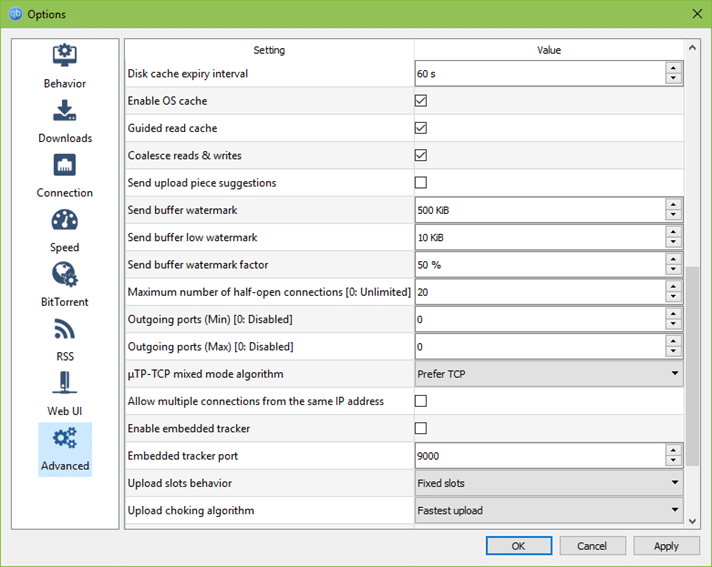 qBittorrent is easy to use even for torrent newbies and presents all information in a clear and accessible manner. It won't win any UX design awards, but when you just want to get the job done that may be no bad thing.
Key features in detail
Lightweight
The 64-bit Windows download weighs in at just 21.98 MB, the Mac download at 18.57 MB, and Linux at 7.1 MB. In 64-bit Windows, qBittorrent has a total install size of 133MB.
Below is a comparison between the 64-bit Windows 10 system resources used BitTorrent and Vuze when downloading the same file.


Note that resource use fluctuates somewhat, so this is not a scientific test. It does fairly accurately reflect, however, the kinds of figures we observed.
Torrent search engine
You can search for torrents directly from within the qBittorrent client by installing search engine plugins. Plugins for over 30 public torrent sites are available, including popular sites such as 1337x and Demonoid.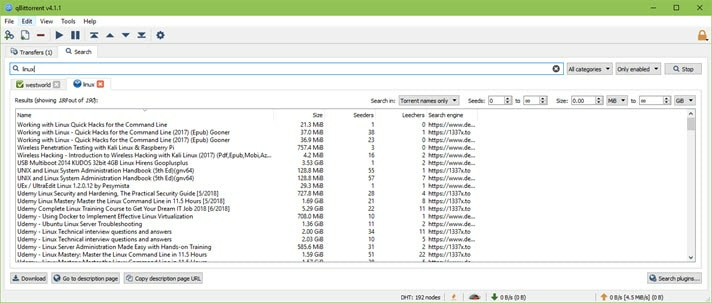 Of course, searching from within qBittorrent means that you miss out on the comments and user ratings found if you visit many websites directly. It is also worth noting that the search engine feature requires installing Python. This is not a major hardship, but may put some people off.
RSS feed support
Instead of regularly checking your favorite torrent site to see if the latest episodes of your must-watch TV shows are available yet, you can subscribe to them via RSS. qBittorrent will then automatically download them for you when they become available.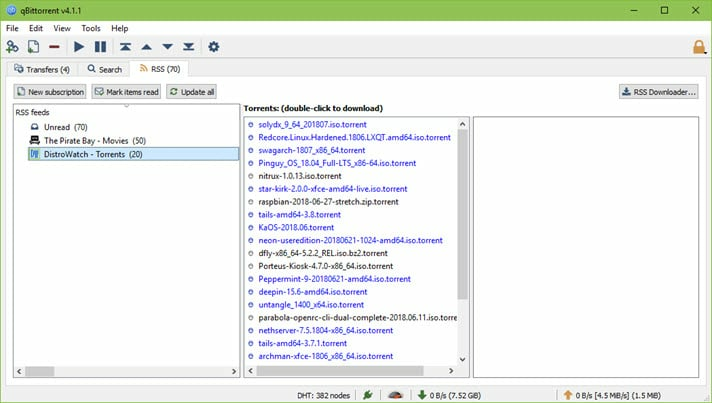 qBittorrent allows you to fine-tune your RSS feeds using a selection of user-defined rules.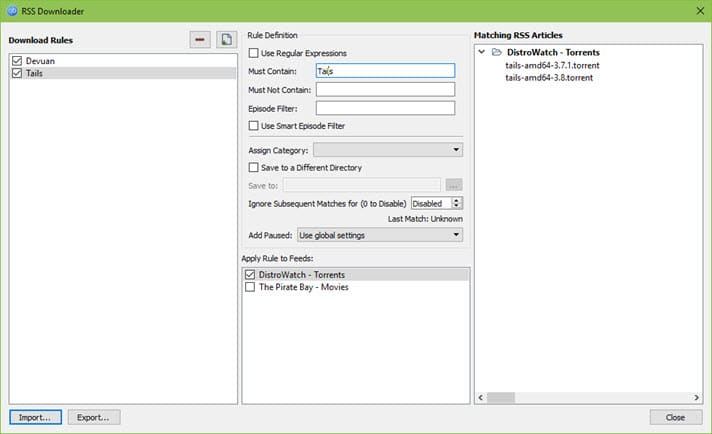 BitTorrent Extensions
Magnet links, DHT and PEX replace traditional torrent trackers and remove the need to download .torrent files. Championed by The Pirate Bay, these technologies are becoming increasingly common, so it is good that they are supported by qBittorrent. A good explanation of what they are how they work together is available here.
The private torrents feature allows you to share files only among selected friends, while BitTorrent protocol encryption attempts to make traffic harder to identify by ISPs. Unfortunately, deep packet inspection techniques can be used to identify the obfuscated protocol with over 96% accuracy. If you don't use a VPN it is probably better than nothing. But really... just use a VPN.
Remote control through web user interface
You can control and manage your qBittorrent downloads remotely via a web interface or via the qBittorrent Controller and qBittorrent Controller Pro apps for Android.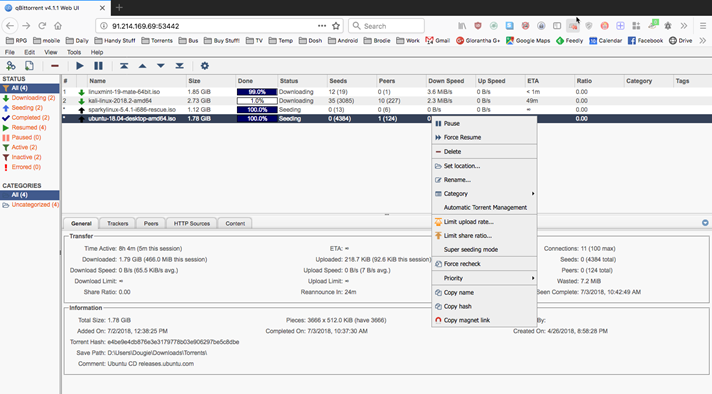 The web interface looks very similar to that of the software client, and allows you to do pretty much everything you can in the client. Just remember that files are downloaded to the location of your qBittorrent client, not the device you are running the web interface (or Controller app) on.
If using a VPN to protect yourself while downloading (as you should!), you will need to setup port forwarding on the client device in order to access the qBittorrent client from the internet.
Sequential downloading
qBitTorrent usually downloads torrent pieces in random order. This is the most efficient way to download torrents, as pieces are downloaded in whichever order they become available. The problem with this is that you cannot watch video files until the entire file has finished downloading.
Sequential downloading forces the client to download the pieces in… umm... sequential order. This allows you to start watching a video file while it is still downloading.
Although this is very cool, there are strong arguments that sequential downloading is not good for the BitTorrent ecosystem. It is, therefore, good netiquette to only use sequential downloading for video files, and only when you actually plan to watch them immediately.
qBittorrent helps enforce this by requiring you to manually enable the feature for each file (right-click torrent -> Download in sequential order).
Bandwidth scheduler
Torrenting uses up bandwidth, which slows down the internet not just on the device you are torrenting on, but all devices using the same internet connection. Upload rates, in particular, can have a big impact for many users because ISPs provide much lower upload bandwidth than download bandwidth.
As with most torrent clients, qBittorrent allows you to set upload and download bandwidth limits. A neat trick, however, is that you can set alternative limits for a scheduled time.

This means you can, for example, torrent at full speed while everyone in your house is asleep but limit qBittorrent's bandwidth use during the day so it does not affect their internet speeds when awake.
IP Filtering
This feature is most often used to block IP addresses known to belong to copyright enforcement bodies and similar. You can add IP's manually, but most people download pre-compiled blocklists such as these ones.
This does effectively the same thing as using the popular PeerGuardian program. It does provide some protection against infringement organizations, but can only be effective against IPs known to belong to such bodies. Using a VPN provides much greater protection and makes this feature redundant.
UPnP / NAT-PMP port forwarding support
These technologies aim to automate port forwarding through a router's NAT firewall, and work seamlessly with most modern routers.
They are not useful for port forwarding through a VPN server's NAT firewall, however, and should be disabled when doing so. This is because, if enabled, they may try to route connections through your router rather through the VPN interface. This may result in your real IP address being exposed, even when using a VPN.
Torrent creation tool
qBitTorrent allows you to create and seed your own torrents. Once a .torrent file is created it can be seeded to the wider BitTorrent network via DHT, or can be privately shared with friends only.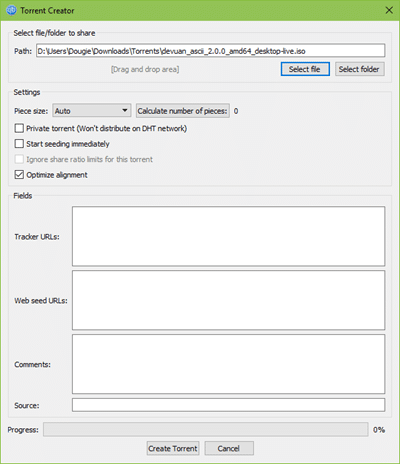 Bind qBittorrent to a VPN interface
One of the best features of qBittorrent is that you can you can bind it to your VPN interface. This prevents qBittorrent from downloading or uploading anything outside your VPN connection. This means that if your VPN connection drops (or you forget to turn it on), you will stay safe.
The instructions below are for Windows, but the process is very similar for MacOS and Linux. They also assume that you are using OpenVPN because… well… why wouldn't you?
Ensure your VPN is running, then click Start and type cmd. Select Command Prompt and at the command prompt type: ipconfig/all. Look through the list of your internet adaptors until you see one that says "TAP-Windows Adapter." Make a note of the adapter name this appears under. In the example below, it is "Ethernet."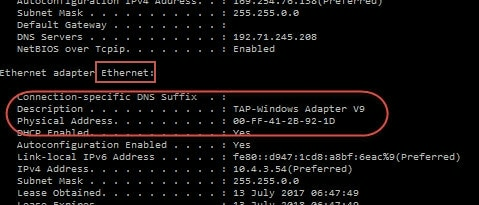 Start qBittorrent and go to Tools -> Options -> Advanced. Under "Network Interface" select the name of the adapter you made a note of in Step 1. Restart qBittorrent.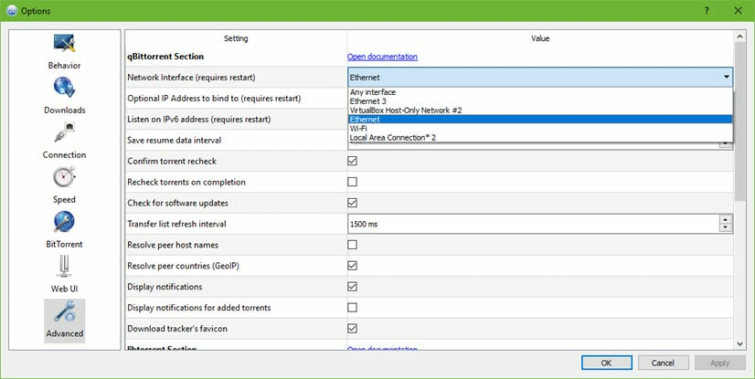 Torrents will now only download and upload when the VPN is running.
Other platforms
qBitTorrent is available for Windows, Linux, macOS, FreeBSD, OS/2. Minor UI differences aside, it is identical on all platforms.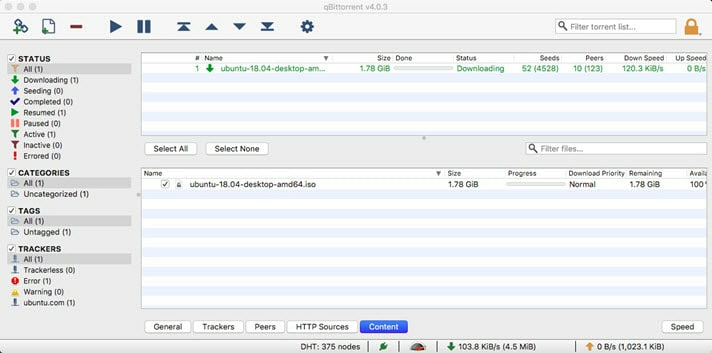 qBittorrent for macOS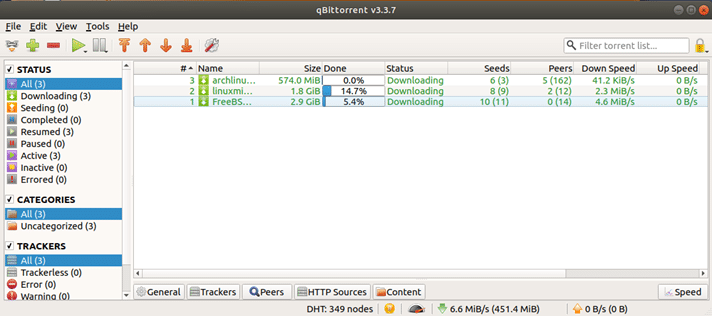 qBittorrent for Linux running on Ubuntu).
There are no mobile qBittorrent mobile client apps, although, as already mentioned, there is a qBittorrent Controller app for Android which comes in both Free and Pro (USD $2.49) versions. And, of course, you can remote control the client from any web interface.
Support
qBittorrent is a non-commercial project developed by volunteers. As such, you won't find any 24/7 live chat support desks! There is, however, an extensive FAQ, and a Wiki that provides documentation on all of qBittorrent's features.
While this appears to be quite comprehensive, it does little in the way of hand-holding. The information is there, but it helps to understand how the BitTorrent protocol works to make full use of it. On the plus side, though, the documentation is available in whopping 70+ languages making it accessible to people everywhere.
There are also official forums where you can ask questions and seek assistance. These are fairly active, although not every question posted receives a reply.
Newbies to torrenting may therefore still find themselves a bit lost getting to grips with everything, but fortunately, there are many qBittorent setup guides on YouTube to take up the slack.
Criticisms
It must be said that there is not an awful lot negative to say about qBittorrent . We did experience some torrents not automatically starting when first added to the Windows client, but this may have been an issue with our setup.
We did not experience this problem in macOS or Linux, and the latest Windows version update appears to have resolved the issue anyway.
It is possible to find reports on the internet of stability problems with qBittorrent. These include reports of torrents freezing indefinitely, and timestamp and file corruptions occurring when large numbers of torrents are added (between 300 and 1000).
Many such reports are quite old, however, and we have never experienced any problems in this regard (this reviewer has used qBittorrent as his personal torrent client for over a year now, although has never tried adding 300+ torrents at once!).
The user interface is definitely "classic," which may be an issue for some. But then again, if it isn't broken, then why fix it? Using a classic BitTorrent interface also makes it much easier to migrate to and from other clients.
Conclusion
We liked
100% free and open source (FOSS)
Lightweight
But still very fully featured
Can bind to the VPN interface
Remote control through web user interface or Android app
Sequential downloading (allows you to stream video files)
Documentation is 70+ languages
We weren't so sure about
Occasional reports of instability and other bugs (which may have been fixed by now)
Support options could be more newbie friendly
We hated
Hate is a strong word for anything this good and... this free, isn't it?
qBittorrent looks much like every other classic BitTorrent client and does nothing that is truly unique. It does, however, do everything you might realistically want a BitTorrent client to do in a lightweight and easy-to-use FOSS package.
For our money (or not, as its 100% free!), qBittorrent is one of the (if not the) best BitTorrent clients out there.
0 User Reviews
Leave a Review
Thanks for your review!