Using a VPN for Netflix, you can unlock the full potential of your subscription. Netflix has thousands of TV shows and movies available - probably far more than you have access to with your current subscription. This is because it doesn't make all of its titles available to all of its users around the world. Subscribers in France or Germany, for example, only get access to a fraction of the titles available in the US, the UK or Japan.
But there is a catch. Netflix actively blocks VPNs and dedicates significant resources to making sure they cannot be used for accessing other libraries. As a result, only a handful of VPNs work consistently. At ProPrivacy we test VPNs on a daily basis to check if they work with Netflix. We use a set of automated tests and then our in-house team of researchers manually verify the results.
Last updated July 2020
Since the last update, Netflix no longer blocks users connected to a VPN, allowing everyone to maintain their digital hygiene during the pandemic. Instead, if it detects you using a VPN, it will simply display titles available in all regions. So, how do you tell if you're Netflix VPN is working? Scroll down to find out.
Which are the best VPNs that work with Netflix?
Based on our results, here's a quick look at the VPNs that currently work with Netflix. If you want more information on any of these services, keep scrolling.
Before recommending a VPN we check its ability to work with Netflix libraries - particularly in key locations, like the US. But it doesn't stop there. Here's a rundown of the criteria a VPN must meet for us to recommend using it with Netflix:
It unblocks key Netflix catalogs
It is fast enough to stream in HD
Device compatibility
Good customer support
Now that you know what we're looking for, let's take in-depth look at our picks.
What are the Best VPNs for Netflix? (Working July 2020)
These are the VPNs we found to work the best with Netflix this month:
Best VPN for Netflix: ExpressVPN is our #1 pick. This reliable VPN provides excellent stability & connection speeds across all of its Netflix-ready servers. The ultimate VPN for unblocking.
Pricing

From $6.67 - $12.95

Available on

Windows
macOS
iOS
Android
Linux

Unblocks
ExpressVPN remains one of the best-known names in the industry and always seems to stay one step ahead of Netflix.

One of the standout features that makes ExpressVPN a great choice for Netflix users is the built-in speed testing tool.

The ExpressVPN apps for Windows and Mac allow you to run tests on server locations to check the latency and download speed of each VPN server. The software then ranks them by Speed Index. The higher the number, the better the performance.

This is incredibly useful for Netflix streaming. All you need to do is run the Speed Test and choose the US server location with the highest Speed Index.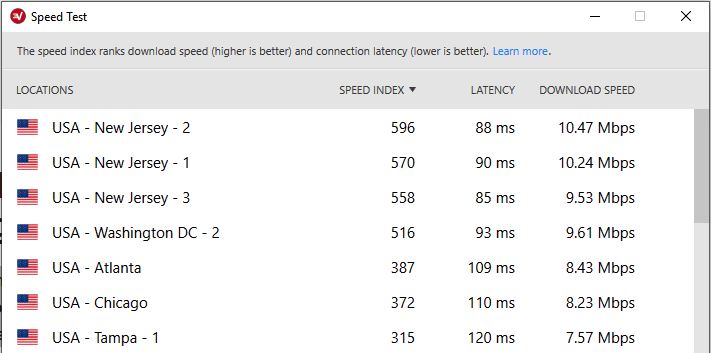 Most people simply want access to the largest content library, which is Netflix USA, but ExpressVPN also does a great job at unlocking regional libraries like Netflix UK, Canada, France and Japan. This is useful if you are traveling and want to continue watching content in your home country or simply want to your fix of anime.

PIA is a Netflix VPN for the privacy conscious. PIA has high standards when it comes to privacy. It provides excellent features & encryption. But this doesn't get in the way of speed.
Pricing

From $2.69 - $11.95

Available on

Windows
macOS
iOS
Android
Linux

Unblocks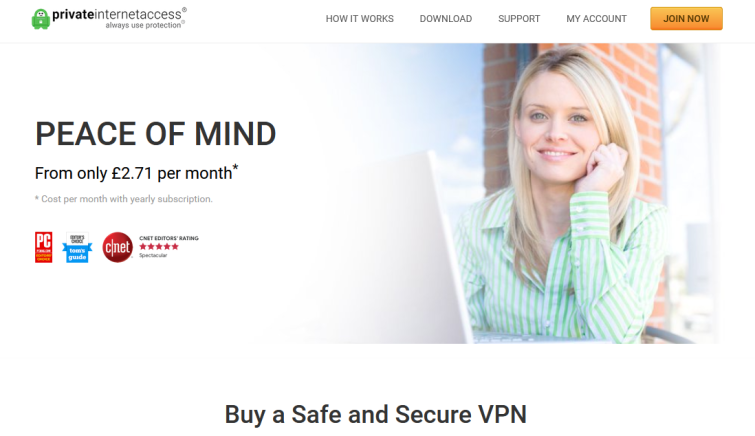 Private Internet Access is a VPN provider that is often praised by Reddit users. The VPN is not only strong on privacy and security but also exceptional when it comes to unblocking regional content. With PIA you get servers in 48 countries, and all those servers provide lightning-fast speeds for streaming content. The US servers will let you access US Netflix, as well as services like HBO Go and hulu. Plus, PIA will allow you to unblock BBC iPlayer too.

PIA has excellent apps for all platforms that are very easy to use. And, despite having a low learning curve, the VPN has plenty of advanced security features including OpenVPN encryption, a kill switch, DNS leak protection, and obfuscated servers. We like this VPN's customizability, and the fact that it has live chat support. You can test it thanks to its 30-day money-back guarantee. It's a cheap way to watch more Netflix.

CyberGhost is the Netflix VPN for you if you want ease of use. Competitively priced, this VPN can unblock US Netflix on Windows, Mac, Android & iOS. Plus, all of its apps are a dream to use.
Pricing

From $2.75 - $12.99

Available on

Windows
macOS
iOS
Android
Linux

Unblocks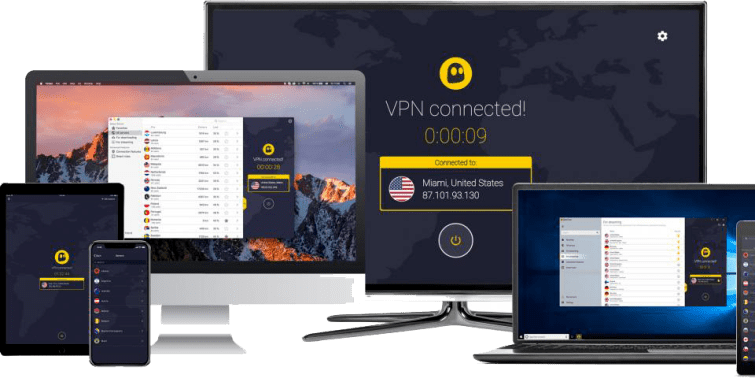 CyberGhost VPN is unique because it guarantees access to Netflix US when connected to one of its 'streaming optimized servers'. We haven't tested this guarantee out, but that's because it always seems to work.

Unlike some other providers on the list, CyberGhost VPN doesn't offer access to all the regional libraries. At the moment, it officially supports the United States, Germany, France and the United Kingdom.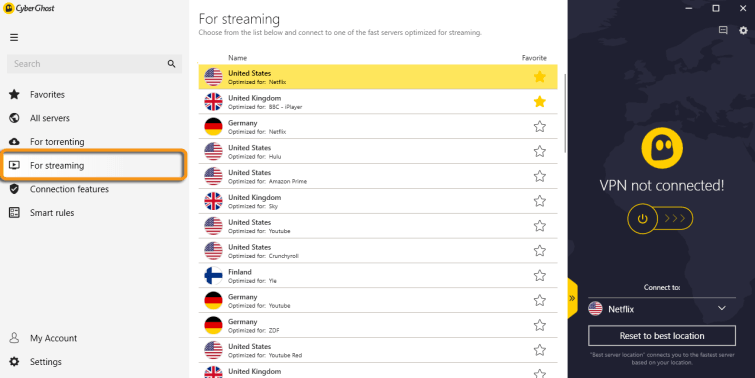 All you need to do is connect to the US streaming server for Netflix and this easy-to-use service automatically connects you to one of 40+ servers specially reserved for Netflix. This stops you from connecting to a server that is congested. CyberGhost's Netflix servers average at 30 Mbps; which is good enough to stream in 4K. You can even try this service for 45 whole days - thanks to CyberGhost's industry-leading money-back guarantee.

Surfshark is the cheapest VPN for Netflix on our list. They have a winning formula that balances cost, unblocking and performance perfectly.
Pricing

From $1.94 - $11.95

Available on

Windows
macOS
iOS
Android
Linux

Unblocks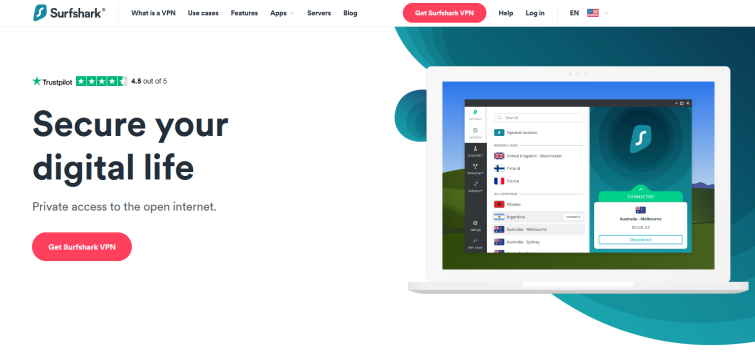 Surfshark is new on the VPN scene, but it has hit the ground running. Based in the British Virgin Islands, Surfshark is a no-logs VPN service with great technical security and superb 24/7 support. At our recent ProPrivacy.com Awards - which have quickly become the industry gold standard for recognizing achievement in the VPN industry - Surfshark won the Best Newcomer award.

Surfshark unblocks a wide selection of streaming services, including Netflix in 16 different countries, which is quite some achievement. In our tests, it unblocked US Netflix and BBC iPlayer as advertised.

VyprVPN is the Netflix VPN for you if you want value. This well rounded service unblocks the key US and UK Netflix libraries & at a competitive price point.
Pricing

From $2.50 - $12.95

Available on

Windows
macOS
iOS
Android
Linux

Unblocks

VyprVPN officially provides support for the US Netflix catalog. And the good news is that you can access Netflix using any of VyprVPN's US or UK server locations. This means you have the choice of both East and West coast servers for hooking up faster speeds depending on where you live.

The VPN software is easy to use and is available for all platforms, and privacy with this service is superb; so you won't need to worry about anyone finding out. When we tested VyprVPN's US server speeds, it averaged at around 45 Mbps. That is really fast for streaming in HD.

This VPN has a competitive price point if purchased annually, which is ideal if Netflix US or UK is your main desire. Finally, the VPN has a generous 30-day money-back guarantee to test the service risk-free.
Which is the Fastest VPN for Netflix?
If you're looking for a fast VPN for Netflix, we have you covered. We understand how frustrating it can be to have a video buffer when it gets to the good bit. So, to help you understand what sorts of speeds you can expect from our recommended Netflix VPNs, we run daily speed tests on them and display the results in the graph below.
Will a VPN improve my speeds for streaming?
No, unfortunately this is a common misconception about VPNs. If your broadband speeds are already struggling to stream Netflix without buffering, a VPN will not help the situation. In fact, a VPN will reduce your current speeds ever so slightly. Fortunately, the picks we recommend are all fast enough to minimize this impact on speed to the point where it's not even noticeable.
ISP throttling
This is not commonplace, but on occasion certain ISPs may slow down your speeds when streaming Netflix to prioritize other traffic sources on their network. If this is happening to you, a VPN may help. The reason a VPN can speed up your connection in this instance is because your ISP doesn't know that the source of your internet traffic is Netflix and as a result can't throttle your connection.
Other VPNs that work with Netflix
Below is a list of other VPNs that we have confirmed work with Netflix but didn't quite make our top 5 list:
Why don't all VPNs work with Netflix?
Aside from our top picks on the alternatives above, there are some other VPNs on the market that access Netflix from time to time. However, Netflix is getting more sophisticated at identifying VPN traffic and, in turn, blocking it. As a result, you may see the following Netflix error message:
Whoops, something went wrong. Streaming error. You seem to be using an unblocker or proxy. Please turn off any of these services and try again.
If you see this when logging into Netflix, it means that they are aware you are connected to a VPN and have blocked you access to their service until you disconnect from the VPN server.
The key is consistency when choosing a VPN for Netflix, so we recommend sticking with our top picks to avoid frustration.
If your VPN is not working with Netflix, check out our Netflix VPN Troubleshooting guide for some handy tricks to get it working again.
VPNs to avoid if you stream Netflix
Many well-known services (Avast Secureline, Kaspersky Secure Connection, Private Internet Access, IPVanish, Buffered, and TunnelBear - to name a few) don't even try to bypass Netflix restrictions.
Below are some of the providers you can write off immediately.
| Provider | Reason |
| --- | --- |
| Buffered | Stopped working September 2017 |
| Blockless | Stopped working July 2016 |
| CactusVPN | Stopped working July 2016 |
| GetFlix | Despite their name, they only worked for a few months |
| HideIPVPN | Stopped working July 2016 |
| Hola | An untrustworthy service |
| IronSocket | Stopped working July 2016 |
| IPVanish | Stopped working January 2017 |
| Overplay | Stopped working July 2016 |
| Tunnelbear | Never worked with Netflix |
| Unotelly | Stopped working July 2016 |
How to Unblock Netflix with a VPN
Using a VPN with Netflix to get more content is actually extremely easy. All you need is a compatible VPN and then follow the steps below:
Sign up for one of the Netflix VPNs listed in this guide.

When choosing who to sign up to, it's important to remember that very few VPNs actually work with Netflix anymore, so your choice is limited. All the providers we cover in this guide have been thoroughly tested and are confirmed to work.

Download the VPN software.

This step is fairly self-explanatory. Once you have signed up to your chosen VPN service, they will provide you with a link where you can download their VPN client.

Install the VPN client and log in.

Installation may differ slightly depending on the VPN you are using. But once you have downloaded the client, you should be able to simply follow the installation wizard to get it running.

Once installation has finished, run the software and log in using the credentials you created when signing up.

Need help? If you require further help with installation, we offer a number of platform specific installation guides if you get stuck, including: Windows, Mac, Linux, iOS, Android and Smart TV.

Connect to a VPN server.

In your VPN client, click on the server you would like to connect to. For example, if you wanted to unblock US Netflix, choose a US one.

Some providers, but not all, list speciality servers that must be used for specific tasks, like unblocking Netflix. If you're unsure which server to connect to, you can ask your VPN provider through live chat on their website.

Did you know? Although international catalogs like the UK and Canada have surpassed the number of titles in the United States, US Netflix is still the most desired option as quantity doesn't always equal quality.

Log in and start streaming.

Once you're connected to a compatible server, all you need to do is log in with your credentials and start streaming.

Please note: There is no need to create a new account to unblock Netflix in other territories.
How to tell your Netflix VPN is working
It used to be easy to tell if your Netflix VPN wasn't working, because you would see a clear message requesting that you disconnect from your proxy or VPN before accessing Netflix. Now, however, Netflix is simply showing users who are connected to a VPN titles that are available globally - often Netflix Originals. This can be confusing, leading you to believe that your VPN is unblocked a larger Netflix catalog, when in fact you are viewing a more restricted Netflix library without any regional titles.
To tell if your Netflix VPN is working, we recommend following the steps listed above to connect to Netflix through your VPN and then search for titles unique to the region you are unblocking.
To help, we have listed some regionally exclusive titles that you can search for:
Provided you are able to stream these titles when connected to your region of choice, your VPN is working with Netflix.
If you would like to connect to a Netflix region that isn't listed above, we recommend using a tool like flixwatch.co to help confirm that your VPN is working.
FAQs
Conclusion
Now that we have covered which VPNs work with Netflix and which don't, let's review our top picks: