Before you unblock Netflix it can help to understand where you stand legally. This guide takes a look at using Netflix VPNs to access additional content both in the eyes of Netflix and the law.
Will I get in trouble if use a VPN with Netflix?
Legally, no. People commonly mistake using a VPN with Netflix as a form of piracy, but accessing the provider's international catalogs is quite different from torrenting copyrighted material. It is not illegal in any way, shape or form, and will not currently result in a criminal or civil lawsuit anywhere in the world.
Technically, it is against the platform's terms of service and Netflix does retain the right to cut access at any point, but it has not once enforced these rules.
Let's look at the Terms of Use
The relevant sections of Netflix's Terms of Use are:
You may view Netflix content primarily within the country in which you have established your account and only in geographic locations where we offer our service and have licensed such content. The content that may be available to watch will vary by geographic location and will change from time to time.
You also agree not to circumvent, remove, alter, deactivate, degrade or thwart any of the content protections in the Netflix service; use any robot, spider, scraper or other automated means to access the Netflix service... We may terminate or restrict your use of our service if you violate these Terms of Use or are engaged in illegal or fraudulent use of the service.
This means that, technically, Netflix can terminate your contract for using a VPN to circumvent its geographic restrictions on content. But it has never done this and has shown no interest whatsoever in doing so.
The following tidbit from Netflix's help section may also be of interest:
Do you use a VPN or proxy for other reasons, such as for work or for privacy? Because there is no reliable way for us to determine if a VPN or proxy is being used for legitimate purposes, any VPN or proxy use will prevent you from streaming Netflix. Please disable any VPN or proxy and try Netflix again.
What happens if I get caught?
If you are "caught" using a VPN, Netflix will show a streaming error message and refuse to play titles. But if you simply disconnect the VPN, the error message will disappear and you will regain full access to your regular Netflix library.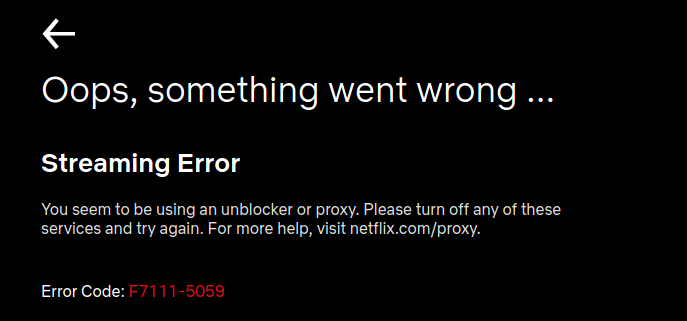 If you are seeing this message we offer some tips on resolving the issue in our Netflix VPN not working guide.
In other words, Netflix does not punish you in any way for trying to watch its content using a VPN. It certainly won't suspend your account or anything like that!
If Netflix was serious about preventing people from using a VPN to access its regional catalogs, then it would do what services such as Hulu, Amazon, HBO Now, and most others do - lock access to where your account is registered and /or use geolocation from your device to determine if you are where your IP address says you are. But it doesn't.
Why does Netflix ban subscribers from using a VPN?
In short, Netflix doesn't own all the content on its platform. As such, it is beholden to certain stipulations put in place by the owners of the shows that it licenses and often this will include geo-graphical restrictions.
Think of it like this, Netflix content can be divided into two types:
Netflix original content

This is Netflix's own intellectual property (IP) that the company has complete control over and can do what it likes with. Nowadays, Netflix Originals are made available to all customers at the same time, no matter where they are, meaning a VPN is not needed to watch them.

There are a few exceptions with earlier Netflix Originals, however, which were released before Netflix was available in as many countries as it currently is. Rights to shows like Orange is the New Black were sold to third party networks in Tanzania, Indonesia, and other countries, making them unavailable to Netflix users in those territories without a VPN.

Netflix has zero interest in enforcing restrictions based on the geographic location of its customers. If it was just up to Netflix, it would be a global platform that transcends license agreements with no need to use a VPN. Unfortunately, it is not.
Licensed content

Most content on the Netflix platform is licensed from third party creators who maintain ownership over their intellectual property.

These content creators typically strike lucrative deals with regional broadcasters and streaming services around the world, who tend to insist on the exclusive right to broadcast that content in their country.

If a US production company sells the BBC exclusive rights to broadcast its TV show in the UK, then part of the deal will be that no other UK broadcaster can make that show available in the UK. Including Netflix.

It is up to third party distributors how and when they license their product, not Netflix, as the streaming service is simply another one of their customers.

As part of its contractual obligations to the third party creators it licenses content from, Netflix has agreed to take measures preventing people using from VPNs to watch content on its platform that it is not licensed to show in their country.
A reluctant policeman
It should be noted that Netflix has always been notoriously unenthusiastic about enforcing regional restrictions. As it said in January 2016:
We are making progress in licensing content across the world and, as of last week..., but we have a ways to go before we can offer people the same films and TV series everywhere. Over time, we anticipate being able to do so... We look forward to offering all of our content everywhere and to consumers being able to enjoy all of Netflix without using a proxy. That's the goal we will keep pushing towards.
As a result, it was relatively late in the game, and it was only under considerable pressure from its licensed content creators that it started blocking VPN users in 2016:
For now, given the historic practice of licensing content by geographic territories, the TV shows and movies we offer differ, to varying degrees, by territory. In the meantime, we will continue to respect and enforce content licensing by geographic location. Some members use proxies or "unblockers" to access titles available outside their territory. To address this, we employ the same or similar measures other firms do... That means in the coming weeks, those using proxies and unblockers will only be able to access the service in the country where they currently are.
How does Netflix detect VPNs?
Netflix maintains a blocklist of IP addresses that are known to belong to VPN providers. If the IP address of the VPN server you are using to access Netflix is on that list, then Netflix will allow you to sign in to your account but will block content from actually playing (you will see the dreaded "Streaming Error" warning instead).
If your VPN servers' IP address is not on that list, then Netflix will take your apparent IP address at face value and stream content based on the location of your VPN server.
It does not use the country your account was registered in or your device information, such as Device ID or geolocation data, to verify your real location.

The one exception to this rule that we have found is when Chromecasting videos to a large screen TV. If the VPN's IP address is not blocked, then Netflix will happily play the content on your casting device, and will even cast Netflix Originals content your TV. If you try Casting content that is restricted in your country, then the Chromecast will return a streaming error message on your TV screen.
Netflix does not divulge where it obtains the VPN IPs for its blocklist, but it probably purchases them from companies that specialize in this area.
These may use multiple sources to identify VPN server IP address, but the simplest way is just to sign up for a bunch of VPN services, and then log IP addresses used by their servers.
How do VPNs evade the ban?
Not all do. Many VPN services have decided that the cat-and-mouse game they need to play in order to stay one step ahead of the Netflix ban is simply not worth the effort. So, if you plan to use a VPN to watch Netflix, then please do make sure your chosen service promises it can unblock Netflix before you sign up for it.
Many VPN services, however, make a profit from reliably unblocking Netflix. Most concentrate on unblocking the US version of Netflix, since this offers the largest regional catalog of titles by far, and is, therefore, the location in greatest demand by customers. But some also unblock other regional catalogs.
So how do they do this? VPN providers can be understandably cagey about the tactics they use, but tried-and-true methods include:
Refreshing their IP pools
If a VPN service's IP addresses are blocked by Netflix, then it can simply lease out new IP addresses, whether it's from the data centers that host its servers, or from the internet service providers (ISPs) and backbone providers that issue said data centers with their IP addresses.
Many VPN services now offer special "Netflix servers," so that only the IPs for those servers need to be refreshed on a routine basis.
Offering dedicated IPs
Another option is to offer customers unique dedicated IP addresses, which are purely for their own use.
All the better if these are true residential IPs - real IPs issued by ISPs, instead of by data centers whose entire IP ranges may be known and blacklisted. Such dedicated IPs haven't been used by anyone else and are unlikely to be on Netflix's blocklist.
Final Thoughts
The bottom line is that Netflix may block you when using a VPN, but you will not get into any trouble for trying, you will not get your Netflix account canceled, and it is most certainly not in any way illegal!
A lot of VPN services fail to unblock Netflix, so it's important to choose the right service. We recommend the following services because they offer fast services, great features, and they're reliable.
If you want to know more about each of these providers, click the button the below to go directly to our in-depth comparison of the best VPNs for Netflix.