Netflix is not readily available in China. Unlike many online services, this is not because it is officially blocked by the Chinese government per se. But regulatory barriers mean that China joins Syria and North Korea as the only counties in the world where Netflix is not present.
Fortunately, despite ongoing efforts to block the use of VPNs for evading the Great Firewall of China (GFW) online censorship system, you can watch Netflix in China using a VPN.
Is Netflix available in China?
The official answer is no, Netflix does not work in China. Technically, Netflix is not "banned" in China, but tight restrictions on what foreign companies can and cannot publish online, plus strict data storage regulations, have prevented Netflix from securing the licensing deals necessary to launch its service in China. However, there are workarounds available, which we discuss later on in this guide.
The Chinese government just closed down the Disney movie service. And they closed down Apple's movie service. Those are two pretty sophisticated, relative to China, companies. It looks like the government just doesn't want foreign content distribution. Maybe someday in the future, there'll be an opportunity for us in China, it's possible.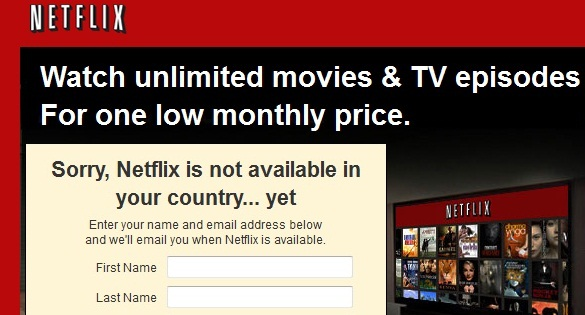 Will Netflix ever be available in China?
Netflix has stated that it has no immediate plans to open in China. In 2017, it did strike a licensing deal with Chinese video streaming giant iQiyi to release original content in China, but this is a long way from the standard Netflix experience and is all but useless to non-Mandarin-speaking visitors to, and residents in, China.
How does Netflix block access in China?
Netflix restricts access to its content based on the licensing deals it has in each country. In order to enforce these deals, it automatically redirects visitors to a local version of its website, the location of which is determined by your unique internet address (IP address).
So, while the Chinese government has no interest in blocking Netflix.com, Netflix itself will refuse to play content if you access it from a Chinese IP address. Yet despite this, lots of people in China watch Netflix each month! So how do they do this?
Is there a way to access Netflix in China?
Yes, you can access Netflix in China using a VPN. Doing so is easy if you can overcome two key obstacles:
China's ban on websites that feature VPN services
Netflix's block on VPN users (based on a list of IP addresses that it knows belong to VPN services).
Despite these obstacles, there are a few VPN services that work in China and will unblock Netflix.
How to watch Netflix in China
Once you have a VPN, follow the three simple steps below.
Obtain a Netflix account

Already have a Netflix account? You can skip this step! Netflix doesn't restrict access to any of its regional websites based on where your Netflix account is registered.

Already in China and don't have a Netflix account? You can sign-up for an account from anywhere. Simply use a VPN to spoof your location (explained below), visit Netflix.com, and sign-up for an account.

How do I pay? Netflix doesn't ask for a physical address and will accept payment using any internationally recognized credit or debit card (such as VISA or Mastercard). Or, if you don't have access to an internationally recognized card then Netflix gift cards are readily available on the internet.

Install VPN software and connect to a server

Once you have signed up to a VPN that works in China and unblocks Netflix, you should enable any obfuscation technology used by your VPN service to evade the GFW censorship.

For example, NordVPN runs XOR encrypted servers in a number of countries, which should be effective at defeating the GFW.

Obfuscated servers are enabled by going to: Settings -> Advanced -> Obfuscated Servers.

Obfuscated servers will then show up on the main server list. Those in Hong Kong, Japan, Singapore, and the United States are particularly useful for subscribers in China.

Please note: Obfuscation tech is never enabled by default and differs per provider, so please search for your provider in our VPN provider reviews for more information on the obfuscation offered by your chosen VPN and how to enable it.

For device specific setup information, we offer detailed VPN setup guides for:

Visit Netflix.com or fire up your Netflix app

Sign-in and you will see the regional catalog of titles available wherever you're connected to via the VPN. All being well, just click on a title to start watching a Netflix show.

Having trouble? If you see a "Streaming error" warning (boo!) then you should start by taking a look at our Netflix VPN troubleshooting guide. If none of these common fixes work, contact your provider, they can often provide a solution. If all else fails, then ask for your money back and try another service.
How does a VPN access Netflix in China?
In theory: VPN software connects your device to a server located somewhere else in the world. This changes your IP address, which is used by Netflix to determine which shows to serve you. So, if you want the American Netflix catalog, simple connect to a US server.
In practice: China tries hard to block VPNs through the GFW, and Netflix will block VPN users if it "catches" them. This is why the most important step when you want to watch Netflix in China is picking the right VPN for the job.
Will I get banned from Netflix for using a VPN?
No. If Netflix detects that you are using a VPN it simply blocks you from watching its content while you are using that VPN server's IP address. Getting "caught" has no further consequences, and will not get you "banned" from Netflix. Trust us - we test VPNs against Netflix all the time!
Conclusion
To summarize, the most important VPN considerations when using netflix in China are:
It is not blocked the Great Firewall of China

Most are, and the ones which aren't use some form of obfuscation tech to hide from China's automated censorship system. Even these are unlikely to work unless you activate their obfuscation/stealth features. For more information, chec out our best VPNs for China guide.

It is not blocked by Netflix

Click the link to see the VPNs we recommended for US Netflix. If you encounter problems, follow our netflix vpn troubleshooting guide, or contact their support staff who may be able to recommend particular servers which are known to work with Netflix.

Distance from China

The higher your network speeds, the higher the definition Netflix can stream in (based on your Netflix plan). Low connection speeds can result in hugely annoying buffering issues.

The greater the distance between you and a VPN server, the slower your connection speeds will be. So for the best Netflix streaming performance, you should connect to a server located as geographically close to you as possible.

For this reason, servers located in places such as Hong Kong and Japan are often recommended for users in China.