Do you want to access more content through your Amazon Fire TV Stick? A VPN can open up a whole new world of geo-restricted content. In this guide, we list the best VPNs for Fire Stick and show you how to set up a VPN service.
The Best VPN for Fire Stick at a glance
If you are in a hurry, you can see the five best VPNs for Fire Stick below. for more information scroll down for detailed summaries about each provider.
ExpressVPN - The best VPN for Fire Stick and Fire TV. It has fast speeds and unblocks almost anything, with a 30-day money-back guarantee.
NordVPN - The best value VPN for Fire Stick. Easy to use for VPN newbies and packed with features, and with over 60 locations to choose from!
Surfshark - The cheapest VPN for Fire Stick users on our list. Its Android app is packed with features to help with unblocking and streaming.
Private Internet Access - A secure VPN option for Fire Stick. It offers great privacy and security features on all of its apps – including Android.
CyberGhost VPN - An easy to use VPN app for Fire Stick & Fire TV. Servers are labelled for streaming so you can get set up in minutes.
Get ExpressVPN our #1 pick for Fire TV
Using a VPN for Fire Stick will improve your online privacy and security, but best of all it will allow you to unblock loads more content online. A VPN changes your IP address, which means that when you visit websites and streaming services, you appear to be in a country of your choice. This allows you to access TV shows and movies that are currently blocked in your region.
There are hundreds of VPNs on the market, and we have narrowed it down to the best 5. That means are safe to pick any of our recommendations. We picked the best VPNs for Fire Stick by considering:
Dedicated Fire Stick VPN apps
Strong speed performance
Strong security & privacy while online
Fire Stick VPN apps are a must, but if you are paying for your VPN, you will also want to use it on your laptop, smartphone, tablets, and desktop PCs. Our recommendations all permit a minimum of 5 simultaneous connections, and some even permit unlimited use of the VPN across as many devices as you like! In addition, our recommendations have advanced privacy and security features to give you digital privacy both at home and on public WiFi.
Now we have covered what we're looking for, let's take a closer look at our Fire TV VPN recommendations.
Best 5 VPNs for Fire Stick and Fire TV | In-depth analysis
We take a closer look at the best VPNs for Fire Stick below. If you still want to know more about these services, check out our detailed VPN reviews.
Can I get a free VPN for Fire Stick?
Fire Stick runs on Android, so just about every free Android service can be sideloaded onto your Fire Stick. Some services also offer users a dedicated Fire Stick app.
Despite this general availability, however, it is important to very carefully consider your options before using a free VPN. Numerous studies have revealed that most free VPNs harvest and sell their users' data, provide outdated (or no) encryption, suffer from critical leaks that make them insecure, and they have been found to contain tracking libraries and spyware. Using a VPN like this is a massive threat to your digital footprint, so please avoid them at all costs.
Take a look at our Free VPN page for a discussion on free VPNs and a list of free providers that are actually safe to use!
How to set up a VPN for Fire Stick
The quickest and easiest way to set up a VPN on Fire Stick is to download the app on the Fire TV app store. All the VPNs we recommend have apps on there.
Firstly, navigate to the Fire TV app store.


Search for the VPN that you have or are planning on buying.


Once the app has downloaded to your Fire Stick, click open to launch it.
When the app opens, you will be prompted to sign in. Simply log in to your VPN using the username and password that you chose for your account when you signed up.
Once you're in, select a server that is based in the same country as the content that you want to unblock.
Click the home button on your remote and the VPN app will run in the background.
Start streaming whatever you want.
If you are unclear about any of the steps we have listed above, please check out our more in-depth guide on Setting a VPN on Fire Stick.
Why do you need a VPN for Fire Stick?
There are plenty of reasons to use a VPN with your Fire Stick – here are some of the best: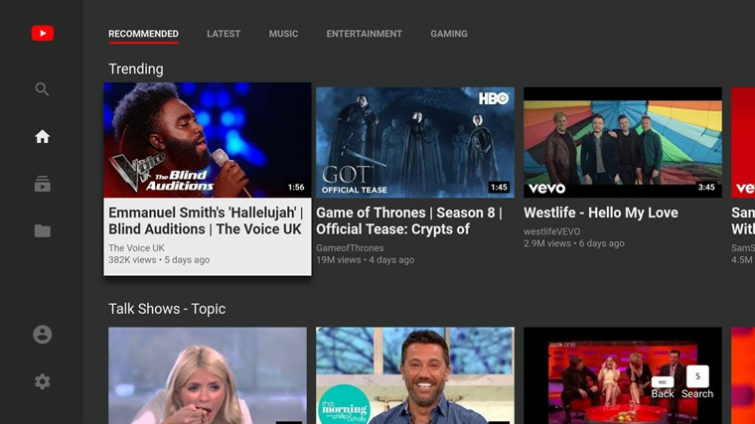 What can I unblock with a VPN for Fire Stick?
A VPN lets you pretend to be in a different location so you can unblock internationally restricted content and services on your Fire Stick. Even within the USA, you can use a VPN to spoof across state lines and access blackout games or regional TV content.
With a VPN you can unblock an almost limitless amount of extra content simply by altering your IP address to a different location. This allows you to unblock geo-restricted content that isn't currently available in your area. Some of the things you'll be able to access include:
More Netflix content
BBC iPlayer
YouTube TV
hulu
More Amazon Prime Video content
Crunchyroll
To enjoy foreign content, simply connect to a server in that country. However, please be aware that not every VPN provider was created equally – and not every service can actually unblock Netflix catalogs and other sought after international services. That is why you must stick to premium VPNs like the ones recommended in this article!
All the services listed within this article will unblock streaming sites like Netflix and more.
If your chosen VPN service is blocked by streaming services app, then try to watch the service via its web portal instead, as apps can be too generous with the information they share about you to their developers.
Note that while services such BBC iPlayer can be watched for free (it is paid for by UK license holders), most streaming services require that you have a subscription. The good news though is that services such as Netflix don't care about where your subscription is based if you can get around its IP-blocks.
A VPN will also allow you to access Kodi resources and content that may be restricted by your ISP. Please see our comparison on the best VPNs for Kodi for more information and a guide on how to install Kodi on Fire Stick. It will also allow you to torrent securely – so be sure to visit our Torrenting VPN guide for all the details.
What features make the best VPN for Fire Stick?
VPNs that offer a dedicated Fire Stick app via the Amazon Fire TV Store make using a VPN on your Fire Stick very easy, and the list of these is growing longer by the day.
It is entirely possible, however, to use any VPN service that offers a regular Android VPN app with your Fire Stick by sideloading that app. We will take you through this process below. Indeed, by sideloading the Android TV version of the OpenVPN for Android app, you can use any VPN service which supports regular OpenVPN configuration files (which is pretty much all of them).
Dedicated Fire Stick or Android TV apps are somewhat easier to use on your Fire Stick because they have been optimized for use on a big screen and are designed to be controlled via a remote rather than a touchscreen.
It is worth noting that Fire TV apps are identical to ordinary Android TV apps, with the only difference being that they are available through the Amazon Fire TV store (via your Fire Stick's search function).
The Fire Stick uses a very heavily customized version of Android TV, but Amazon has removed all trace of Google from its custom OS, including the Google Play Store.
In theory, the only way to install apps onto a Fire Stick is via the Amazon App Store. And the Fire Stick will only show "Amazon Fire TV apps" when you perform a search for them on your device. These "Amazon Fire TV apps," though, are regular Android TV apps that Amazon has authorized to feature in its Store.
The other major features to look out for in a Fire Stick VPN are whether it unblocks the services you want unblocked (please see links above), and how fast it is. A slow VPN connection will cause buffering problems – especially when watching content at a higher quality.
Check out our VPN speed test page to see how various providers do in this department, but please be aware that distance is a big issue. The closer you are to a VPN server, the faster your connection is likely to be.
It is important that a VPN service runs servers in locations whose services you want to watch. Popular locations include the United States, the United Kingdom, and Canada, although VPNs are also useful for accessing "own language" regional programming.
The privacy and technical security chops of a VPN service are unlikely to be a major concern as far as using it on your Fire Stick are concerned, but you will probably also be using it on other devices where these things matter much more.
Indeed, more generally, when choosing a VPN for your Fire Stick you should also consider what other devices you plan to use it on. Most VPN services allow up to at least 5 simultaneous connections these days.
So, to summarize, a good Fire Stick VPN:
Has a Fire TV app. This is not essential but does make life easy. Fire TV and Android TV apps are also easier to use on the Fire Stick than regular Android apps that have not been optimized for the big screen (not that this is a major problem in our experience).
Can unblock the geo-restricted services you want it to unblock.
Has servers in good locations (such as the US, UK, and Canada).
Is fast enough to prevent buffering issues when streaming.
Allows lots of simultaneous connections for your other devices.
Features all the usual VPN stuff you want for your other devices – including good privacy and security (Please see Best VPN Service Providers for a wider discussion on features to look out for).
FAQs
The following are answers to some common questions asked about VPNs and the Fire Stick, as sourced from Reddit and a number of other platforms.