A VPN for Kodi is becoming an essential tool, as life for Kodi users has become increasingly hard in recent years. Kodi Box sales are banned on many platforms, add-ons and servers have shut down, IP addresses have been blocked, and users have been chased by copyright holders. But, with a VPN, Kodi remains a viable streaming option. Read on to find out more.
What are the Best VPNs for Kodi services?
If you're just after a quick answer, you can find our expert's favorite VPNs to use with Kodi below.
For more information on any of these VPNs, keep scrolling.
5 best VPNs for Kodi 2020: In-depth analysis
With VPNs for Kodi the devil is in the detail. All of which you can find in the list below:
ExpressVPN is very secure, super fast and has great customer service to ensure you get the best Kodi experience
Pricing

From $6.67 - $12.95

Available on

Windows
macOS
iOS
Android
Linux

Unblocks
ExpressVPN is the best VPN for Kodi. It keeps no logs which can compromise your privacy, offers knowledgeable 24/7 live chat support, and provides peace of mind with a rock-solid 30-day money back guarantee.

In addition to a regular Android app, ExpressVPN offers an Android TV app which is also available on the Fire Stick via the built-in Amazon app store. This makes it easy for it's uses to access it's service on any device. To make their service even more accessible ExpressVPN allows users to connect up to five devices at once using a single account!

ExpressVPN does not encourage people to torrent using its service, but has no objection to them doing so. This means it is also perfectly happy for people to steam IPTV content using Kodi.

ExpressVPN is very fast, which is great for streaming without buffering issues. It also uses excellent encryption, although we recommend disabling IPv6 for best security if your connection supports it.

Lots of bang for your buck
Pricing

From $1.94 - $11.95

Available on

Windows
macOS
iOS
Android
Linux

Unblocks
Surfshark provides an all-singing-all-dancing VPN service at a very low price point. It has servers in over 60 countries around the world and allows you to connect an unlimited number of devices at once.

Kodi users are particularly likely to appreciate the split tunneling feature available in the Windows and Android apps, which allows you to protect just the Kodi app (and any others you want to protect) without getting in the way of your other stuff.

If you like to run Kodi on your Amazon Firestick then the fact that you download the app's APK direct from the Surfshark website for easy sideloading is a clear bonus. Surfshark has no problem with people torrenting on any of its servers, so will have no issue with people streaming with Kodi on them.
Pricing

From $2.85 - $11.95

Available on

Windows
macOS
iOS
Android
Linux

Unblocks
As a privacy-friendly VPN service that has had its logs claimed tested in court, this highly-respected US-based VPN service is off to a flying start. It also offers great technical security with strong encryption and no IP leaks on any platform.

PIA allows torrenting (and therefore Kodi) on all its servers, lets you connect up to 10 devices at once, and has a useful SOCKS5 proxy that, much like split tunneling, can be used to protect only your Kodi connections.

IPVanish own and run their own server network for silky smooth streaming on Kodi
Pricing

From $3.70 - $10.00

Available on

Windows
macOS
iOS
Android

Unblocks
IPVanish is a no-logs VPN service based in the USA. They own and operate their entire CDN server network, which results in silky-smooth streaming performance when using Kodi. IPVanish allows it's users to torrent on their servers as well as accessing Kodi in over 60 countries.

Additional features IPVanish offers are:
SOCKS5 proxy - This is secure proxy service is great if for use on devices that you.

XOR obfuscation - This helps users bypass censorship and is a must if you are to use it in heavily censorsored countries.

Split-tunnelling - This is great if you just want your Kodi app to benefit from the protection a VPN affords.
IPVanish is also good at unblocking popular streaming services such as BBC iPlayer and US Netflix inm addition to Kodi IPTV services.

Since it runs its own bare metal server network technical security is good, although Windows users are advised to disable WebRTC in their browsers. IPVanish provides 24/7 live chat support, allows a whopping 10 simultaneous connections, and offers a somewhat more modest 7-day money-back guarantee.

A robust VPN that has servers globally and watertight privacy features to keep your data secure
Pricing

From $2.50 - $12.95

Available on

Windows
macOS
iOS
Android
Linux

Unblocks
Our VyprVPN review shows it's another excellent choice if you need a VPN for Kodi. It boasts strong encryption and has all the best VPN security features for privacy. These include military grade encryption that will ensure a snoop-free Kodi experience. VPN servers are all on Vypr's custom network and are lightning fast and spread out over 70 countries.

The software is easy to use, and available for all popular platforms, making it perfect for watching Kodi streams on a number of devices. Customer service is adequate, although the live chat isn't serviced 24/7. Bottom line, VyprVPN is a reliable and trustworthy VPN for Kodi, especially with a three-day free trial!
Best Kodi VPNs: Speed analysis
A VPN for Kodi not only needs to be secure but also fast. Bad VPNs can become bottle necks for your internet traffic, which can lead to buffering when streaming content. The tests in the graph above are conducted in lab conditions using a dedicated gigabit line. You shouldn't expect similar speeds but it provides a strong indication of which VPNs are performing well.
Will a VPN improve my internet speeds?
No. A VPN will not improve your internet speeds, this is a common misconception.
For more information on what impact a VPN will have on your current internet speeds, check out our guide to VPN speed tests.
Why are these the best VPNs for Kodi?
The key features Kodi users need from a VPN are:
Privacy – So you can watch content without looking over your shoulder all the time. For more information, see our no logs VPN guide.
Speed – So you encounter minimal buffering issues. For more information, see our fastest VPNs list.
Allows P2P - It is important to use a VPN which allows P2P traffic.
For more information on any of the topics discussed in our guide, check out:
A Kodi VPN hides what you get are doing on the internet
It does this in two ways:
It encrypts all internet traffic between your Kodi device and the VPN server so your ISP can't see it. Want to know more? Take a look at our VPN encryption guide.
It hides which websites you visit and which content services you stream from it because the VPN server acts as a middleman between you and the internet. Your ISP might know that you have connected to a VPN server, but all connections after that are hidden from it.
This means that when you stream content using Kodi, your ISP can't know anything about it.
Most Kodi streaming add-ons, on the other hand, source their content from unofficial IPTV servers (although it is also possible to run Popcorn Time on Kodi).
This makes it much harder for copyright holders to monitor who watches their stuff, but not impossible. There is no way to know if the IPTV server is monitoring users' IPs, and if it is, then it can be legally forced to hand the logs over.
It is also not outside the bounds of possibility that a "pirate" IPTV service is actually a honeypot run by copyright holders in order to catch infringers!
So using a Kodi VPN to hide your real IP address from streaming services is still a very good idea!
A VPN will unblock Kodi streaming sources
It is becoming increasingly common for ISPs to block the IPTV portals used by most Kodi streaming add-ons. Using a VPN solves this problem – just connect to a VPN server located somewhere that does not block IPTV streams, and you're good to go! Most VPN services run servers in many locations around the world.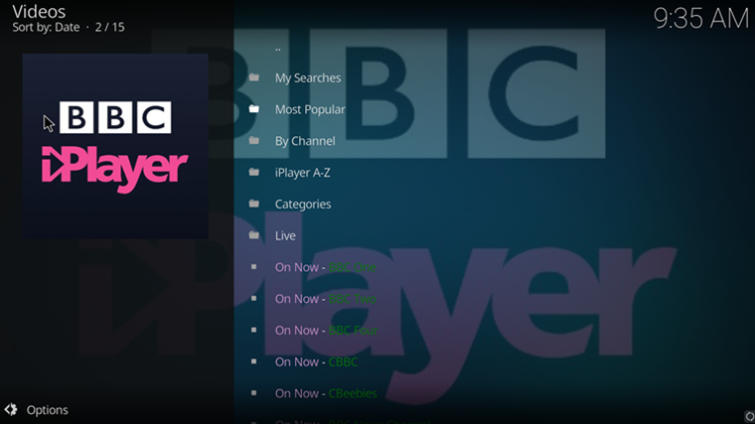 Is your ISP blocking Kodi?
If you open your favorite Kodi add-on and find a blank page of content, then your ISP has almost certainly blacklisted all server IPs used by that add-on.
Kodi itself is completely legal, but the reason it is so popular is because of its thriving unofficial add-on scene. Kodi add-ons add all sorts of functionality to the core program, but many of the most popular ones allow users to watch content which is not legal and many ISPs block Kodi content because of this. They often block access to both download pages for the dubious add-ons, and the central servers used by the add-ons to host and stream the content.
You still want to use a VPN with Kodi because server operators are not always to be trusted, servers (and their logs) can be seized, or server operators may be subpoenaed or otherwise be legally forced to hand their user-logs over. But this is still safer than P2P (if a VPN is not used).
How to install a Kodi VPN on an Android Box
Check out the guides below to find out how to install a VPN on Android box, Firestick, and Raspberry Pi.
An Android Box is a computer with runs the Android TV operating system. These devices are usually cheap and physically small but are popular because they are powerful enough to serve as flexible media centers.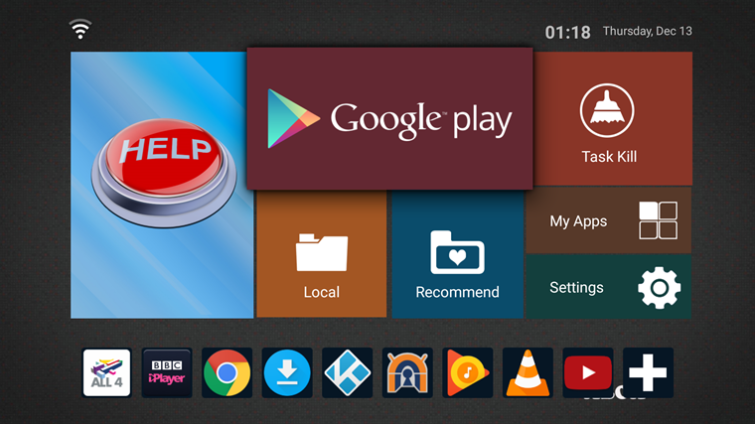 Android TV is simply a version of regular Android that has been optimized to work on large screens and controlled using a remote control rather than using a touchscreen. Android TV can run any regular Android app, but these can be awkward to use if optimized for your phone!
That said, OpenVPN for Android works well on Android TV, even though it has not been optimized for the platform, as does the Kodi app itself.

Android TV can also run the growing library of Android TV apps that have been optimized for the platform. Many VPN apps have Android TV versions. The easiest way to access these is via the Play Store app on your Android TV device.
Getting setup is simple:
Visit Google Play Store and search for your VPN provider. Or just search for "VPN" to browse supported providers.
Install and run your chosen VPN app.
Run Kodi.
How to install a VPN for Kodi on a Fire Stick
If you want to install a VPN on a Fire TV stick, there are a number of different ways that you can do this, depending on the VPN provider that you're using. For more information, we recommend checking out our how to install a VPN on Fire TV stick guide.
FAQs
If you haven't found the answer you need yet, take a look the FAQs below.