A VPN for Kodi is becoming an essential tool, as life for Kodi users has become increasingly hard in recent years. Kodi Box sales are banned on many platforms, add-ons and servers have shut down, and IP addresses have been blocked. But, with a VPN, Kodi remains a viable streaming option. Read on to find out more.
What are the Best VPNs for Kodi services?
If you're just after a quick answer, you can find a sneak peek of our experts' favorite VPNs to use with Kodi below. If you would like more information on any of the services listed, scroll on down, or check out our full reviews for an in-depth analysis of each provider.
The key features Kodi users need from a VPN are:
Security & privacy
Fast speeds
Allows P2P
Easy to set up
Based on the criteria above, our experts have reviewed over 150 different VPNs and have chosen the top 5 to use with Kodi. Let's take a closer look at the best VPNs for Kodi.
5 best Kodi VPNs in 2023 | In-depth analysis
With any VPN for Kodi, the devil is in the detail. All of which you can find in the detailed list below:
Which is the fastest VPN for Kodi?
In order to be suitable for streaming, your VPN will need to provide fast connection speeds. A slow VPN will cause constant buffering issues and will ruin your streaming experience.
The graph below provides you with the most recent data from our automated speed tests. We test VPNs regularly using an accurate server-based system. This allows us to see exactly which VPNs are fastest on any given day. You can see exactly how the VPNs are currently performing compared to each other below.
A Kodi VPN hides what you are doing on the internet
Is your ISP blocking Kodi?
If you open your favorite Kodi add-on and find a blank page of content, then your ISP has almost certainly blacklisted all server IPs used by that add-on because it suspects it was serving up illegal content.
ISPs often block access to the download pages for dubious add-ons
Kodi software itself is completely legal. And there is plenty of content that you can watch on Kodi using legitimate add-ons. Watching this kind of content does not require a VPN, because it is legal.
How to install a Kodi VPN on an Android Box
Check out the guides below to find out how to install a VPN on Android box, Firestick, and Raspberry Pi.
An Android Box is a computer with runs on the Android TV operating system. These devices are usually cheap and physically small but are popular because they are powerful enough to serve as flexible media centers.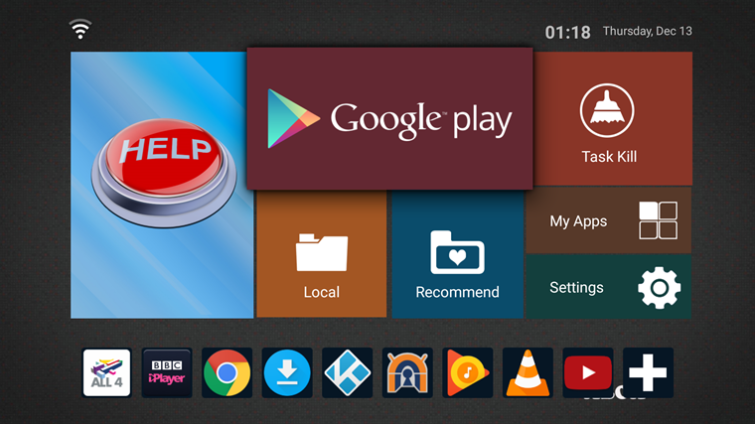 Android TV is a version of regular Android that has been optimized to work on large screens and controlled using a remote control rather than using a touchscreen. Android TV can, therefore, run any regular Android app, but know that these can sometimes be awkward to use if they are optimized for your phone!
That said, OpenVPN for Android works well on Android TV, even though it has not been optimized for the platform, as does the Kodi app itself.

Android TV can also run the growing library of Android TV apps that have been optimized for the platform. Many VPN apps have Android TV versions. The easiest way to access these is via the Play Store app on your Android TV device.
Getting setup is simple:
How to install a VPN for Kodi on a Fire Stick
If you want to install a VPN on a Fire TV stick, there are a number of different ways that you can do this, depending on the VPN provider that you're using. For more information, we recommend checking out our how to install a VPN on Fire TV stick guide.
Conclusion
A VPN helps you to get the most out of Kodi without putting yourself at risk. Now that you know how to make it work for you, here's a quick reminder of our top VPNs for Kodi:
FAQs
If you haven't found the answer you need yet, take a look at the FAQs below.