A VPN for Kodi is becoming an essential tool, as life for Kodi users has become increasingly hard in recent years. Kodi Box sales are banned on many platforms, add-ons and servers have shut down, IP addresses have been blocked, and users have been chased by copyright holders. But, with a VPN, Kodi remains a viable streaming option. Read on to find out more.
What are the Best VPNs for Kodi services?
If you're just after a quick answer, you can find our expert's favorite VPNs to use with Kodi below.
For more information on any of these VPNs, keep scrolling.
5 best VPNs for Kodi 2020: In-depth analysis
With VPNs for Kodi the devil is in the detail. All of which you can find in the list below:
ExpressVPN is very secure, super fast and has great customer service to ensure you get the best Kodi experience
Pricing

From $6.67 / month

Available on

Android
iOS
Windows
MacOS
Linux

Works with

Netflix
iPlayer
Amazon Prime
Hulu
ExpressVPN is the best VPN for Kodi. It keeps no logs which can compromise your privacy, offers knowledgeable 24/7 live chat support, and provides peace of mind with a rock-solid 30-day money back guarantee.

In addition to a regular Android app, ExpressVPN offers an Android TV app which is also available on the Fire Stick via the built-in Amazon app store. This makes it easy for it's uses to access it's service on any device. To make their service even more accessible ExpressVPN allows users to connect up to five devices at once using a single account!

ExpressVPN does not encourage people to torrent using its service, but has no objection to them doing so. This means it is also perfectly happy for people to steam IPTV content using Kodi.

ExpressVPN is very fast, which is great for streaming without buffering issues. It also uses excellent encryption, although we recommend disabling IPv6 for best security if your connection supports it.

NordVPN is a cheap service that offers fantastic features, and it can unblock most streaming sites including Kodi
Pricing

From $3.49 / month

Available on

MacOS
Android
iOS
Windows

Works with

Netflix
iPlayer
Amazon Prime
Hulu
NordVPN is a no logs VPN service, based in Panama. This is a good location for a VPN service to be based as it is outside the direct area of influence of the NSA and its Five-Eyes spying partners. In addition to keeping no logs, NordVPN offers a shedload of bells and whistles that should keep any VPN user happy.

NodVPN's main security features are listed below:
XOR obfuscation - This is especially useful if you plan on using a VPN in countries with high levels of censorship.
Double hop VPN - Giving you two layers of encryption by encrypting your data twice.
Tor over VPN - You can use this VPN with Tor browser.
CyberSec - Which uses DNS blocklists to protect you from unwanted ads, malware, and more.
On the Kodi front, NordVPN allows IPTV streaming on its servers, and has apps for both all major platforms including Android TV / Fire TV. Speed performance is fine for streaming. All its apps are secure, although users of the older but more fully featured OpenVPN Mac OSX app (as opposed to the newer IKEv2 macOS app) should disable WebRTC in their browsers.

NordVPN allows up to six devices to connect simultaneously, offers 24/7 live chat support, and gives you a full refund up to 30 days after purchase. It is also shocking cheap if you buy a longer-term subscription.

PrivateVPN is the cheapest VPN in this list, but it still works great with Kodi
Pricing

From $1.89 / month

Available on

Android
iOS
Windows
MacOS
Linux

Works with

Netflix
iPlayer
Amazon Prime
Hulu
PrivateVPN is a Swedish based service. Sweden is not without privacy issues, but VPN providers are not required to keep logs. PrivateVPN takes full advantage of this to offer a highly professional and, as it's name suggests, privacy-focused VPN service.

It offers great technical security, with first-rate encryption and no IP leaks of any kind. Apps are available for all major platforms, including Android TV / Amazon Fire Stick. And if you want a break from watching content on Kodi, PrivateVPN is superb at unblocking hundreds of popular streaming services thanks to its tactic of issuing new dedicated IP addresses as required.

PrivateVPN offers fantastic customer support, that is accesbile 24/7 as well as a 30-day money-back guarantee in case you aren't fully satisfied with their service. Finally, PrivateVPN offers up to 6 connections at once so you can be sure that all of your devices are kept secure.

CyberGhost is packed full of features, not logs. This is the prefect choice for the security conscious
Pricing

From $2.75 / month

Available on

Android
iOS
Windows
MacOS
Linux

Works with
CyberGhost VPN offers a fully-featured no-logs VPN service notable for its low price, generous 45-day money back guarantee, and 7-day free trial for which no credit card is required.

CyberGhost VPN's client can use blocklists to provide tracking and malware protection, and to prevent you seeing unwanted ads.

Technical security is also great, although macOS users should disable WebRTC in their browsers. There are faster services out there, but CyberGhost can easily handle streaming over Kodi without buffering issues.

CyberGhost offers apps for all major platforms, including Android TV / Fire TV. It even has a CLI app for Linux! You can connect up to seven devices at the same time.

IPVanish own and run their own server network for silky smooth streaming on Kodi
Pricing

From $3.99 / month

Available on

Android
iOS
Windows
MacOS

Works with
IPVanish is a no-logs VPN service based in the USA. They own and operate their entire CDN server network, which results in silky-smooth streaming performance when using Kodi. IPVanish allows it's users to torrent on their servers as well as accessing Kodi in over 60 countries.

Additional features IPVanish offers are:
SOCKS5 proxy - This is secure proxy service is great if for use on devices that you.

XOR obfuscation - This helps users bypass censorship and is a must if you are to use it in heavily censorsored countries.

Split-tunnelling - This is great if you just want your Kodi app to benefit from the protection a VPN affords.
IPVanish is also good at unblocking popular streaming services such as BBC iPlayer and US Netflix inm addition to Kodi IPTV services.

Since it runs its own bare metal server network technical security is good, although Windows users are advised to disable WebRTC in their browsers. IPVanish provides 24/7 live chat support, allows a whopping 10 simultaneous connections, and offers a somewhat more modest 7-day money-back guarantee.
Best Kodi VPNs: Speed analysis
A VPN for Kodi not only needs to be secure but also fast. Bad VPNs can become bottle necks for your internet traffic, which can lead to buffering when streaming content. The tests in the graph above are conducted in lab conditions using a dedicated gigabit line. You shouldn't expect similar speeds but it provides a strong indication of which VPNs are performing well.
Will a VPN improve my internet speeds?
No. A VPN will not improve your internet speeds, this is a common misconception.
For more information on what impact a VPN will have on your current internet speeds, check out our guide to VPN speed tests.
Why are these the best VPNs for Kodi?
The key features Kodi users need from a VPN are:
Privacy – So you can watch content without looking over your shoulder all the time. For more information, see our no logs VPN guide.
Speed – So you encounter minimal buffering issues. For more information, see our fastest VPNs list.
Allows P2P - It is important to use a VPN which allows P2P traffic.
For more information on any of the topics discussed in our guide, check out:
A Kodi VPN hides what you get are doing on the internet
It does this in two ways:
It encrypts all internet traffic between your Kodi device and the VPN server so your ISP can't see it. Want to know more? Take a look at our VPN encryption guide.
It hides which websites you visit and which content services you stream from it because the VPN server acts as a middleman between you and the internet. Your ISP might know that you have connected to a VPN server, but all connections after that are hidden from it.
This means that when you stream content using Kodi, your ISP can't know anything about it.
Most Kodi streaming add-ons, on the other hand, source their content from unofficial IPTV servers (although it is also possible to run Popcorn Time on Kodi).
This makes it much harder for copyright holders to monitor who watches their stuff, but not impossible. There is no way to know if the IPTV server is monitoring users' IPs, and if it is, then it can be legally forced to hand the logs over.
It is also not outside the bounds of possibility that a "pirate" IPTV service is actually a honeypot run by copyright holders in order to catch infringers!
So using a Kodi VPN to hide your real IP address from streaming services is still a very good idea!
A VPN will unblock Kodi streaming sources
It is becoming increasingly common for ISPs to block the IPTV portals used by most Kodi streaming add-ons. Using a VPN solves this problem – just connect to a VPN server located somewhere that does not block IPTV streams, and you're good to go! Most VPN services run servers in many locations around the world.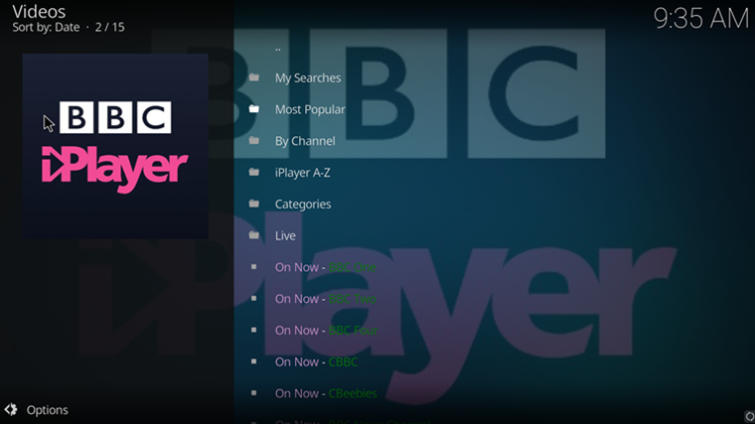 Is your ISP blocking Kodi?
If you open your favorite Kodi add-on and find a blank page of content, then your ISP has almost certainly blacklisted all server IPs used by that add-on.
Kodi itself is completely legal, but the reason it is so popular is because of its thriving unofficial add-on scene. Kodi add-ons add all sorts of functionality to the core program, but many of the most popular ones allow users to watch content which is not legal and many ISPs block Kodi content because of this. They often block access to both download pages for the dubious add-ons, and the central servers used by the add-ons to host and stream the content.
You still want to use a VPN with Kodi because server operators are not always to be trusted, servers (and their logs) can be seized, or server operators may be subpoenaed or otherwise be legally forced to hand their user-logs over. But this is still safer than P2P (if a VPN is not used).
Guides to installing a VPN for Kodi on your device
Check out the guides below to find out how to install a VPN on Android box, Firestick, and Raspberry Pi.
How to install a Kodi VPN on an Android Box
An Android Box is a computer with runs the Android TV operating system. These devices are usually cheap and physically small but are popular because they are powerful enough to serve as flexible media centers.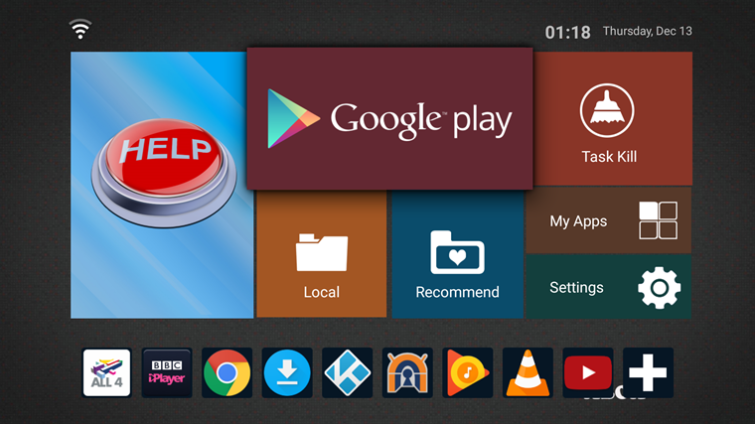 Android TV is simply a version of regular Android that has been optimized to work on large screens and controlled using a remote control rather than using a touchscreen. Android TV can run any regular Android app, but these can be awkward to use if optimized for your phone!
That said, OpenVPN for Android works well on Android TV, even though it has not been optimized for the platform, as does the Kodi app itself.

Android TV can also run the growing library of Android TV apps that have been optimized for the platform. Many VPN apps have Android TV versions. The easiest way to access these is via the Play Store app on your Android TV device.
Getting setup is simple:
Visit Google Play Store and search for your VPN provider. Or just search for "VPN" to browse supported providers.
Install and run your chosen VPN app.
Run Kodi.
How to install a VPN for Kodi on a Fire Stick
The Amazon TV Fire Stick (and related devices) uses a very heavily customized version of Android TV. Most importantly, Amazon has removed all trace of Google from its custom OS, including the Google Play Store.
In theory, the only way to install apps onto a Fire Stick is via the Amazon App Store. And the Fire Stick will only show "Amazon Fire TV apps" when you perform a search on it. These "Amazon Fire TV apps," though, are simply regular Android TV apps that Amazon has authorized to feature in its store.
Most VPN providers who have developed Android TV apps also feature these in the Amazon Fire TV Store. These can be installed in the regular way.
Search for your VPN provider, or just search for "VPN" to browse supported providers



Install and run the app
Connect to a VPN server
Press the home button on your remote to exit the VPN app while it is still running
Because the Fire TV Stick OS is based on Android, you can also side load regular Android apps onto it. There are a number of ways to do this, which we discuss in Best VPN for Fire Stick. It is worth noting that the Kodi app itself must be sideloaded onto the Fire Stick, as it is not supported by the Amazon App Store.
How to install a Kodi VPN on Raspberry PI
The two most popular ways to run Kodi on a Raspberry PI are as a regular desktop app in Raspbian, or as a standalone operating system (OpenELEC or LibreELEC).
Raspbian is a Debian-based Linux distro, so please see How to install a VPN in Linux for a full guide on how to set up a VPN in Raspbian. Note that Raspbian does not come with NetworkManager pre-installed, so to you will need to install it if you want to take that route.
To use the VPN with Kodi, simply connect to a VPN server before opening the Kodi app.
If you have turned your Raspberry Pi into an OpenELEC / LibreELEC media server, then things get a little more complicated. To use a VPN you must install the VPN Manager add-on, which should be able to run any standard OpenVPN configuration files.
Install the Zomboided repository from its zip file (full instructions here).
In Kodi go to Home -> Add-ons -> and click on the Package MangerIcon.



Select Install from repository -> Zomboided add-on repository -> Services -> VPN Manager for OpenVPN –> Install.
Run the OpenVPN Manager Wizard. You can select from a wide range of pre-configures services or can define your own.



The details you need to provide vary by provider, but the Wizard will guide you through the process. If you have problems connecting to servers using the preconfigured settings, you can try importing your providers' OpenVPN files into LibreELEC and creating a user-defined VPN.
You can then run VPN Manager from Kodi's Program add-ons folder.
If you are running Kodi in a regular OS, be sure to check out our articles on Best VPNs for Windows, Best VPNs for Mac, and Best VPNs on Android.
FAQs
If you haven't found the answer you need yet, take a look the FAQs below.