By switching from Windows or macOS to Ubuntu you have taken a major step towards improving your digital privacy. The next step is to improve your online security with a VPN for Ubuntu. Ubuntu and a VPN is a winning combination, however, custom Linux VPN software can be difficult to find, as most services only support Windows, Mac, iPhone, and Android. In this guide, we list the five best VPNs for Ubuntu all of which have compatible ubuntu clients.
VPNs are great privacy tools, they encrypt all the traffic going to and from your computer, therefore keeping your data secure at all times. A VPN will also let you unblock streaming services from all over the world.
Not all VPNs support Ubuntu users. Along with Mint (which is forked from Ubuntu anyway), Ubuntu is widely regarded as the most newbie-friendly Linux distro available. It is also very popular as most Linux developers and Linux guides assume Ubuntu as the "default", so Ubuntu users enjoy unparalleled levels of support (for the Linux world!).
A lot of VPN services offer manual setup guides for Ubuntu, but it can still be difficult to find a VPN service that offers customer Ubuntu VPN client. All the VPNs we recommend below, offer their own custom Ubuntu software, some of which have GUI clients for Ubuntu.
Want to learn more about VPNs?
If you want more information about VPNs, how they work, and how to protect your online privacy take a look at the guides listed below.
5 Best Ubuntu VPNs
Below we list the best VPNs for Ubuntu all of which offer dedicated Ubuntu-compatible clients. Some of these include a VPN GUI client for Ubuntu and all are easy to set up. Scroll below this list for more information about Ubuntu VPN services or click the link to see information on the provider's website.
Best VPN for Ubuntu: Summary
All the custom Ubuntu VPN clients discussed below use OpenVPN, which is our recommended VPN protocol. We go into a lot more detail about their features in the summaries below, see the VPN reviews for more information about any of the service below.
How to set up a VPN on Ubuntu?
For a detailed look at how to set up an Ubuntu VPN using OpenVPN, IKEv2, L2TP/IPsec, and PPTP, please see How to install a VPN in Linux. Like most such guides, ours focuses on how to install a VPN in Ubuntu.
Using a VPN for Ubuntu
Using a VPN for Ubuntu is pretty much the same as using a VPN for any other operating system. Mainly because Ubuntu is less popular, and therefore less supported than its commercial rivals, however, there are one or two quirks you should be aware of.
Why do I need a VPN for Ubuntu?
You need a VPN for Ubuntu for exactly the same reasons you need a VPN on any computer. If you don't know what a VPN is or how one can help you, then please check out our Beginner's Guide to Virtual Private Networks. As a quick refresher, though:
A VPN prevents websites you visit from seeing your real IP address, which also helps to prevent them from tracking you across the internet
A VPN prevents your internet provider (ISP) from knowing what you do on the internet because all it knows is that you have connected to a VPN server
A VPN also prevents your ISP from seeing your data because the data is encrypted between your Ubuntu PC and the VPN server
And what your ISP doesn't know, your government won't either (unless it's targeting you very specifically, of course)
The encryption used to connect to a VPN server protects you when a public WiFi hotspot
A VPN lets you watch shows on services such as BBC iPlayer and US Netflix which would normally be blocked to you
And a VPN allows you to torrent to your heart's content without the need to look over your shoulder
So as a privacy tool, a VPN makes a perfect companion to Ubuntu!
Custom GUI software is very rare on the ground
In fact, only AirVPN and Mullvad offer fully-featured custom GUI clients for Ubuntu. Some VPN services now offer custom Command Line (CLI) clients, but other than coming pre-configured to connect to their own servers, these don't usually offer anything over and above configuring OpenVPN manually.
Most VPN services offer Ubuntu support via manual CLI and/or Network manager setup guides. These are fine as far as they go, but…
No DNS leak protection
Basic manual VPN setup in Ubuntu and most custom CLI clients does not push DNS requests to the VPN provider's DNS servers. DNS leaks can be resolved, however, by modifying resolvconf to push DNS to your VPN's DNS servers.
Alternatively, you can manually configure the iptables firewall to ensure all traffic (including DNS requests) must go via the VPN server. IVPN has written a superb guide on how to do this.
No kill switch
Again, neither manual VPN setup nor any Ubuntu CLI client we know of offers a kill switch designed to prevent your IP address leaking in the event of a VPN dropout or while the VPN is reconnecting. Configuring iptables as above, however, also works as a kill switch.
It should be noted that the GUI Ubuntu clients from AirVPN and Mullvad both include full IPv4 and IPv6 DNS leak protection and kill switches. They also feature all the other bells and whistles available to their Windows and macOS customers.
Ubuntu 18.04 LTS and Ubuntu 19.04 GNOME privacy issues
With the release of Ubuntu 17.10, Canonical dropped its homegrown Unity desktop as the default shell for GNOME 3. Thankfully, privacy controversies such as sending search queries entered into unified Unity's Dash search bar to Amazon are now but a distant memory.
The Amazon button
Some may not like, however, at the fact that Ubuntu 18.04 LTS GNOME and Ubuntu 19.04 GNOME (the latest stable distros when this article was written) continue to feature a special Amazon button in the quick-launch bar. Clicking on it opens a new browser tab with a referral code which ensures that Canonical receives a small fee for each purchase you make.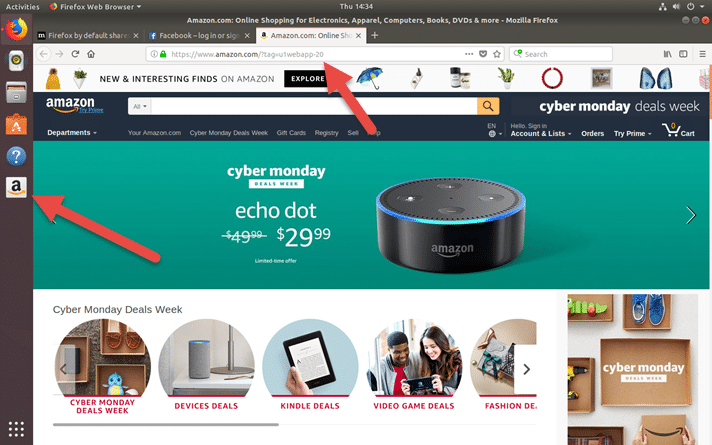 You can, of course, simply opt not to click on this button if it bothers you. But if it does, then you can get rid of it. To simply hide it, right-click on the icon -> Remove from Favorites. To remove it entirely from your computer, open Terminal and enter:
sudo apt purge ubuntu-web-launchers
Voila! No more Amazon button!
Error reporting
Ubuntu Unity came with some quite scary third-party privacy policies that amounted to you sharing a great deal of personal information with the likes of Facebook, the BBC, eBay, Google (via YouTube), and more.
Again, the switch to GMOME seems to address this as at heart Ubuntu GNOME is a fairly stock version of GMOME 3. Which does not share personal information with anybody. It does, however, send anonymized error reports to Canonical.
If you like, you can disable this by going to Show Applications (the grid icon at the bottom left of the screen) -> Settings -> Privacy -> Problem Reporting -> Send error reports to Canonical -> Off.
Ubuntu VPNs: Final thoughts
Ubuntu's recent seismic shift away from the Unity desktop to GNOME has fixed most of the privacy issues which have plagued Canonicals' popular Linux distro for years. Most VPN providers' support, however, remains firmly focused on Unity.
Linux is Linux however, so all apps will continue to work just fine in Ubuntu GNOME. And thanks to Canonicals' heavy skinning of the GNOME 3 interface to give it a very Unity-like feel, most VPN setup guides will still be close enough to follow.
It is also worth noting that almost any app designed for Ubuntu (including those from all providers listed in this article) will work just as well in other Debian/Ubuntu-based distros, such as Debian itself, Mint, Kali, and more. Most, indeed, can be re-compiled to work in any flavor of Linux you choose!