Overwhelmed by the sheer number of VPNs available for your iPhone on the app store? You're not alone! We'll take a look at the best providers to use on iPhone and iOS in this guide, so you can keep your devices secure at home and on the go.
Find the best iOS VPN for you
In a rush? Take our brief questionnaire and we'll recommend an iOS VPN that suits your needs.
What iOS device will you be primarily using your VPN on?
iPad
iPhone
The questionnaire above is short and sweet – simply select your response to each question, and we'll pair you up with a superb service. We'd also recommend running through the questionnaire multiple times. The questions you see might differ slightly each time, depending on your answers, and ultimately give you a more well-rounded and informed result. If you're trying to decide between two providers, or simply want more details, scroll down to check out our in-depth insights into each VPN service.
There are plenty of reasons to invest in a VPN for your iOS device – and plenty of VPNs now have intuitive apps tailored to iPhone and iPad! So, whether you use your iOS device to chat with friends and family via VoIP calls, shop online, browse social media, or catch up on international news, a VPN can help you out – and secure your digital privacy.
Here are our top reasons why you need an iOS VPN:
Security – iPhones and iPads may not be prone to viruses, but your identifiable information (like your IP address and internet traffic) can still be read by third-party snoopers. A VPN puts a stop to this by assigning you a new IP address, however.
Content – Streaming sites (like Netflix) often hide content behind geo-restrictions, which can put a premature end to your movie night plans. With a VPN, you'll be able to connect to a server in a location where the content you want to watch is readily available, and stream it with ease.
Public Wi-Fi protection – Public Wi-Fi hotspots are notoriously unsecure, with hackers just waiting to steal your data or trick you into joining a bogus connection. Sometimes we have to rely on these hotspots, though, and a VPN makes it a much safer experience thanks to superb encryption which secures all of your internet traffic.
Bypass blocks – Time-wasting sites, like social media platforms, are often blocked at workplaces and schools. A VPN can tunnel through the firewalls imposed by these institutions, however, and grant you access – though you'll want to make sure that you do some work!
Save money – Certain online shopfronts (and especially those selling tickets) can ramp up their prices whenever you hit refresh, pushing you to buy. Again, a VPN puts a stop to this by concealing your IP address, so that the shopfront can't gather your details and target you.
At ProPrivacy, we've put dozens of iOS apps through their paces to figure out which services work best with iPhones and iPads. We take an objective, scientific approach to our research, comparing the providers' speed, security, and unblocking power, before whittling them down to a top ten – which you can check out a little later in the article.
Apple is often praised for preventing government snooping on iOS devices. Despite this, a Virtual Private Network (VPN) remains the only way for iPad and iPhone users to gain real online privacy.
An iOS VPN app safeguards your digital privacy by preventing authorities and ISPs from tracking your activity across the web. A VPN will also improve your security when relying on public Wi-Fi hotspots, and can help you access websites and services that are blocked in your location (like Netflix).
To learn more about our recommended services, see the list below.
What is the best VPN for iPhone?
Below, we've shortlisted ten of the best iOS VPNs on the market. All of our hand-picked recommendations come with robust encryption, speeds that can handle data-intensive tasks, and easy-to-use apps. And, of course, they're all compatible with iOS and iPhone!
ExpressVPN - The best VPN for iOS. Offers lightning-fast speeds, slick apps, and a 30-day money-back guarantee.
NordVPN - The best value iOS VPN. It's reliable, works with most streaming platforms, and its apps are easy to use!
Surfshark - The best multi-device iOS VPN. Offers unlimited simultaneous connections, tons of features, and WireGuard encryption!
Private Internet Access - The best secure iOS VPN. Super secure, zero-logs, and with a full suite of customizable tools.
PrivateVPN - The best user-friendly iOS VPN. Works with lots of streaming sites and is consistently fast, offering servers worldwide.
Before any VPN makes it onto our list, however, we ensure that it offers the following key features:
Battle-tested encryption
A zero-logs policy
Speedy servers across the globe
Easy-to-use apps for iOS
A money-back guarantee
The best VPNs for iPhone and iPad – In-depth analysis
We recommend these VPN services for iPhone and iPad users in 2023.
Methodology: how we select the best VPNs for iPhone
Selecting the perfect VPN to secure your iPhone browsing, stream your favorite content from abroad, and protect your device on public Wi-Fi may seem simple, but there are lots to consider during our research.
We have several criteria that help us with our selection process, and you can see some of what we looked for when selecting the best VPNs for iPhone below:
We only consider VPN providers that use the best possible encryption standards, such as AES-256.
Since you'll likely be using your VPN for streaming and browsing on your iPhone, we only consider providers that offer fast speeds.
The VPN you select should have apps for all the devices you use, including your iPhone.
We look for VPNs that are easy to set up and use on your iPhone.
If you run into any issues using your VPN on your iPhone, it's essential to have customer support that can help – ideally 24/7.
The more servers a VPN provider has, the more likely you are to find a server that's fast and close to your location.
We only consider VPN providers that offer good value for money.
These are just some of the criteria we look at when selecting the best VPN for iPhone. If you're looking for a VPN to use on your iPhone, keep these factors in mind, and you can also check out our complete testing process to understand more.
Which is the fastest VPN for iPhone and iOS?
An important factor to consider when comparing VPNs is always going to be speed – especially if you want to game, torrent, or stream videos online. We run regular speed tests on our recommended iOS VPN apps, so you can check out just how quick they are yourself, and the most recent results are in the table below.
| | | | |
| --- | --- | --- | --- |
| | ExpressVPN | NordVPN | Private Internet Access |
| ProPrivacy.com SpeedTest (average) | 60.3 | 85.9 | 62.2 |
| ProPrivacy.com SpeedTest (max/burst) | 565.7 | 568.0 | 254.93 |
How do we decide on the best VPNs if you're using iOS?
There are a lot of consumer-facing VPNs on the market in 2023 – and that can make picking out your perfect match a daunting task. Plus, all of these services claim to be the cream of the crop. The truth is that they all differ massively, and you can't trust you'll get the same level of security and privacy with every VPN.
Plenty of VPNs have lax privacy policies that allow them to collect your data and sell it on to third parties, some will serve you disruptive ads, and some even lack basic encryption. These VPNs aren't fit for purpose, and I'd recommend avoiding them entirely.
Then, there are the VPNs with terrible apps and overreaching permissions, and they're often suspicious... or downright dangerous.
And, to make matters worse, very few secure VPNs are compatible with iPhone and iPad. Apple's iOS is severely under-represented when it comes to VPN apps – so finding a reliable service can be a real headache. This is why we check for the following important factors when weighing up which VPNs deserve a spot in our top 10:
A strong no-logs policy – This one is vital, seeing as a no-logs provider can ensure that your identifiable data stays private.
Security features – All VPNs should have your security in mind, and offer tools like a kill-switch and leak protection, and robust encryption.
Connection speeds – To stream HD content and hop into VoIP calls, you'll need a fast VPN that can keep up with data-intensive tasks.
Server locations – Stable servers in key locations across the globe are essential for regaining access to content (you've already paid for) when traveling overseas.
Ease-of-use – A VPN with unintuitive apps, or one that's downright difficult to use, just isn't worth your money!
Compatibility – You'll need a VPN that works with iPhone and iPad, as well as any other devices you plan to protect.
Simultaneous connections – Another key factor, which allows you to protect all the devices in the home, or even share your account.
Money-back guarantee – A handy advantage that allows you to test the service before fully committing, without risking a single penny.
All of the VPNs in this guide were tested by the ProPrivacy team, and subject to a thorough review process – which you can read more about by clicking here! These are also the services we use in our day-to-day lives, so you can rest assured that our recommendations are based on first-hand experience as well as industry insight.
| No Value | ExpressVPN | NordVPN | Surfshark | Private Internet Access | PrivateVPN |
| --- | --- | --- | --- | --- | --- |
| Logs IP address | | | | | |
| ProPrivacy.com SpeedTest (average) | 60.3 Mbps | 85.9 Mbps | 41.0 Mbps | 62.2 Mbps | 55.5 Mbps |
| Server locations | 160 | 60 | 100 | 84 | 200 |
| OpenVPN | | | | | |
| Android | | | | | |
| iOS | | | | | |
| Windows | | | | | |
| macOS | | | | | |
| Linux | | | | | |
| Free trial length | | | 7 days | | |
| Simultaneous connections | 5 | 6 | 1000 | N/A | 10 |
How does a VPN for iOS work?
VPN stands for Virtual Private Network. A VPN is an online service that encrypts your data and conceals your location and, as a nifty byproduct, will also allow you to pretend to be in a different geographical location!

With a VPN, you'll have unlimited online freedom whilst using your iPhone or iPad. For instance, you'll be able to access websites that would otherwise be blocked by your ISP, restricted by the government, or locked away by your employer or school.
You can also access content that is supposed to be geo-restricted where you live. This comes in handy if you want a larger variety of shows and movies to browse through on Netflix, or access TV stations from overseas (such as the UK's BBC iPlayer).
Using a VPN to pretend to be in a different country is super fun, and useful! It can let you access internet banking while on holiday, or log into your cable TV subscription even though you are traveling on business.
A VPN also keeps your data secure from hackers and government snoopers so that you can browse with peace of mind. This prevents coffee shops, hotels, and airports from knowing what you're getting up to online, and protecting your privacy. A VPN can also prevent you from falling victim to fake Wi-Fi hotspots setup by opportunistic criminals.
This is only a brief overview of what a VPN is and can do. To learn more, be sure to check out our in-depth what is a VPN? guide.
What can you do with a VPN for iPad and iPhone?
By using a VPN, iPhone and iPad users can:
For more information, check out our guide to streaming US Netflix on your iPhone. Alternatively, head over to our VPN for Netflix guide for a list of the best services and information about unblocking the service on other devices.
Still not convinced? We recommend checking out our Do I need an iPhone VPN? guide to find other ways that you could benefit.
Will an iPhone VPN work for streaming?
Yes. When you connect to a VPN on your iPhone, you will get a valid IP address in the location you select. As a result, you can use the VPN to access your favorite streaming services on vacation. You can also connect to a VPN server abroad to access foreign services.
For example, you could connect to a server in the US to watch US TV channels like ABC, NBC, and ESPN. Or connect to a server in the UK to watch BBC iPlayer, ITV Hub, and Channel 4.
The same is true of any other country. So, if you want to access TV in Germany, Australia, Italy, Spain, or anywhere else, simply connect to a VPN server in that location.
Can I use a VPN on iPhone to bypass blocks at work?
Some employers block certain websites and services. This includes blocking streaming sites such as YouTube and Netflix, gaming sites, social media sites, and anything else that they believe might distract employees.
The good news is that you can use a VPN to bypass these blocks. When you connect to a VPN server in your iPhone while connected to the work's wifi, you appear to be outside of that network. As a result, you can sidestep any blocks enforced by your employer.
Best of all, a VPN also provides encryption for your connection. This means that your employer will not be able to detect that you are bypassing the blocks placed on the wifi. As a result, you can access anything you want on your iPhone in complete privacy.
That said, remember that a VPN cannot stop your boss from walking up behind you while you are watching TV or accessing another restricted website. Thus, you should still try to follow the rules whenever possible and only access restricted sites during your downtime and on your own devices to avoid getting in trouble.
Compare the encryption protocols offered by the best VPNs for iOS
VPN services are first and foremost a privacy tool. VPNs allow users to access websites and services without being tracked and let users log onto public Wi-Fi securely, without fear of hackers getting their hands on their personal data. VPNs protect users by using encryption, and there are several encryption protocols that each provider uses in their iOS apps. Some encryption protocols are more secure than others, however, and we always recommend OpenVPN, as the protocol has proven to be the most secure encryption option around. The encryption protocols offered by the apps in our list above are:
OpenVPN - The gold standard of VPN encryption.
IKEv2 - A good alternative to OpenVPN that is often used on iOS VPN apps, and usually paired with IPsec.
WireGuard - A new protocol that gives users the ability to quickly connect to a server.
In the table below, we compare what encryption protocols are used by the iOS VPN apps we recommend. These encryption standards are offered on both the iPhone and iPad apps.
| VPN Provider | OpenVPN | WireGuard | IKeV2 |
| --- | --- | --- | --- |
| ExpressVPN | Yes | No | Yes |
| NordVPN | Yes | Yes | Yes |
| CyberGhost | Yes | Yes | Yes |
| Private Internet Access | Yes | Yes | Yes |
| SurfShark | No | Yes | Yes |
| VyprVPN | No | Yes | Yes |
| IPVanish | No | No | Yes |
| PrivateVPN | Yes | No | Yes |
| IvacyVPN | No | No | Yes |
| ProtonVPN | Yes | No | Yes |
iOS 14 privacy enhancements
Apple's newly released mobile operating system for iPhone and iPad – iOS 14 – is jam-packed with superb security enhancements that'll work hand-in-hand with your VPN, further optimizing your privacy.
Clipboard privacy
There's one new feature in particular that created waves after Apple released iOS 14's developer beta: it notifies the user if an app or widget accesses any content a user copies to their clipboard. Whilst testing the beta, researchers found that TikTok (and plenty of other apps) had no business accessing clipboard data, but had been doing so, anyway. This new iOS feature provides much-needed transparency into what apps are secretly doing while you're using your phone.
Approximate and precise location data
Another useful feature introduced in iOS 14 allows users to decide whether to provide apps for their precise location or instead, their approximate, general location. Of course, users can still disable location services entirely for any app they choose, but the option to provide only an approximate location can be very helpful in certain use cases. It's obviously beneficial to provide your precise location to your maps app so that you can receive accurate directions, but for your weather app, for example, it's not absolutely necessary to provide your precise location. An approximate location will be more than enough for a weather app to show you the weather around where you are located.
Private addresses for Wi-Fi
When it comes to protecting your privacy, the new option to use a private address when connecting to Wi-Fi is especially beneficial. If you enable this setting, it'll prevent network administrators – and others – from monitoring what you do on your iPhone. This is particularly advantageous if you plan to use public Wi-Fi, and pairs excellently with your VPN's ability to protect your privacy on public Wi-Fi networks.
Other helpful features
Another outstanding security feature has been bundled into the iOS 14, giving users the option to only share specific photos with apps, and an indicator when an app is using the camera or microphone.
iOS 14 does a stellar job of providing privacy improvements, and security-minded users are bound to be impressed. These enhancements offer an excellent complement to your iOS VPN when it comes to ensuring your privacy and security as you use the device – wherever you use the device.
Can you get a free VPN for iPhone?
There are a number of free iOS VPNs that you can trust, but it's important to be aware of their limitations. It's just as important to understand why it's better to stay away from many of the free VPN options for iPhone and iPad, seeing as the majority will put your privacy at risk.
Most of the free VPNs on the app store are slow and impose strict monthly data limitations – which makes anything outside of the most basic day-to-day browsing activities a laggy, frustrating struggle. Worse still, some services will actively collect your data to sell to third-parties. This is the exact opposite of what a VPN service should do, and should stand for, of course!
There are some free VPNs you can trust, you can find a list of them on our free VPN page.
Still want a free iOS VPN? We recommend Windscribe (free option)
If you're looking to protect your wallet, then Windscribe is a great free VPN service. Not only does it offer the same solid security measures that you'd get on its paid plan, but it also gives users a 10GB data allowance each month. This might not go far if you're streaming HD content, but it's more than enough for your usual day-to-day browsing.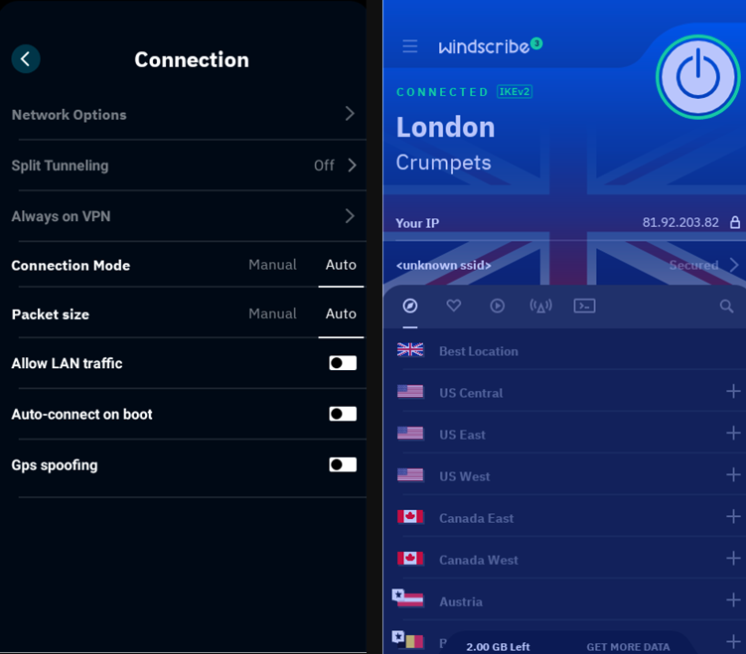 Want more choice? Visit our free VPNs for iOS guide for some other solid recommendations.
Top-tip: Get ExpressVPN for Free!

compatibility, not a full VPN service. This means that it is possible to configure a third-party VPN provider's configuration files to use on your iOS device if the provider doesn't offer a full-on iOS app. The VPN providers we list in this guide, however, all offer fully-functional iOS apps that complete the setup for you automatically so you don't have to configure the files manually on your iPhone.
Conclusion
Now that you have all the information you need about VPN apps on iOS, let's review our top picks:
ExpressVPN - The best VPN for iOS. Offers lightning-fast speeds, slick apps, and a 30-day money-back guarantee.
NordVPN - The best value iOS VPN. It's reliable, works with most streaming platforms, and its apps are easy to use!
Surfshark - The best multi-device iOS VPN. Offers unlimited simultaneous connections, tons of features, and WireGuard encryption!
Private Internet Access - The best secure iOS VPN. Super secure, zero-logs, and with a full suite of customizable tools.
PrivateVPN - The best user-friendly iOS VPN. Works with lots of streaming sites and is consistently fast, offering servers worldwide.