With a Virtual Private Network, your PS4 can tap into massive amounts of restricted content like the US Netflix catalog, save you money on games, and let you play games blocked in your location. In this guide, we show you how to set up a VPN on PS4 and list the five best VPNs for PS4.
With a VPN for PlayStation 4, you can play more games and access titles before they're officially released in your country. However, gaming VPN services must have certain features in order to be effective, some of these are as follows:
Fast servers - VPNs will slow down your internet connection, so a fast VPN will limit the damage and ensure you are still able to stream in HD and game without lag.
A large server network - If you want to connect to your favorite streaming sites or buy games you will need servers in the countries you wish to connect to.
Must offer a range of Encryption Protocols - Some VPN encryption protocols are faster than others, therefore, it is beneficial to have several options to choose from. OpenVPN is the most secure VPN encryption protocol, however, it is not the fastest.
Strong encryption - VPNs are fantastic privacy tools and so it is important that your VPN implements encryption protocols to a high standard.
Set up a VPN on PS4
If you already have a VPN service or you want to know how you will set one up on your PlayStation, check out how to set up a VPN on PS4.
Best PS4 VPN services
Take a look at the table to see what our experts rated as the best VPN for PlayStation. For more information about the VPN services in our list scroll below for a summary of each VPN service, or click the links to the provider's website.
The Best Playstation 4 VPNs - Summaries
Check out the summaries below for an in-depth look at the best VPN for PlayStation in 2020. If you need more information about any of the services in this list, then check out our detailed VPN reviews.
ExpressVPN is a fantastic all round VPN with lightening fast servers
Pricing

From $6.67 - $12.95

Available on

Android
iOS
Windows
MacOS
Linux

Works with

Netflix
iPlayer
Amazon Prime
Hulu
Our review of ExpressVPN shows that it's hands down the best VPN for PlayStation 4. It offers the necessary combination of fast servers, strong encryption, and solid customer support, all backed up by a 30-day money-back guarantee. There are servers in 94 different countries, which is great news for gamers who need servers in different regions.

ExpressVPN is also unique for selling its own preinstalled VPN routers. Here at BestVPN.com, we've had a chance to review one of these routers, and we weren't disappointed. The router is a breeze to set up, while VPN speeds and general network performance are also excellent. Try out ExpressVPN for yourself and I promise you won't be disappointed!

NordVPN is the best VPN for PlayStation due to its low price, great security features, and fast servers
Pricing

From $3.49 - $11.95

Available on

Android
iOS
Windows
MacOS

Works with

Netflix
iPlayer
Amazon Prime
Hulu
NordVPN is considered a fantastic VPN for PlayStation because it has servers located in over 60 counties. That means you can connect to gaming servers anywhere that you choose. It also means you can make savings by shopping around various online PlayStation store from around the world. When it comes to privacy NordVPN is strong. It is based in Panama and enforces a zero logs policy. In addition, it implements strong OpenVPN encryption. That means you can use NordVPN to do anything online - including purchasing or playing restricted games - and you will never get found out. Of course, the most important thing when it comes to gaming are connection speeds. The good news is that NordVPN is a super-fast VPN at the top end of the VPN market; which makes it ideal for gaming and streaming in HD. Why not give them a try yourself thanks to the 30-day money back guarantee?

CyberGhost VPN is a cheap service with an easy to use app
Pricing

From $2.75 - $12.99

Available on

Android
iOS
Windows
MacOS
Linux

Works with
CyberGhost is veteran VPN provider that has been steadily improving its service. For starters, there are over 1000 servers in 61 countries with excellent speeds for gaming and streaming Netflix on your PS4. Customer support is also excellent, with a proven track record that rivals even the best VPN services out there.

The great speeds plus strong encryption, easy to use clients, and a 30-day money-back guarantee are all reasons why CyberGhost might be the right fit for your PS4. Click on the link below to try it out!
Pricing

From $3.33 - $11.95

Available on

Windows
MacOS
Android
Linux
iOS

Works with
Our PrivateInternetAccess (PIA) review might have placed it last on this list of best VPNs for PlayStation, but that shouldn't take away from a well-rounded service that ticks all the right boxes. Over 3,000 servers in 25 countries, an allowance of five simultaneous connections, and the ability to pay with anonymous gift cards are just some of the reasons PIA ranks as a great overall service.

It is worth pointing out that PIA is a US company, but PS4 gamers not overly concerned with online privacy aren't too affected. Try out PrivateInternetAccess for yourself with a seven-day money-back guarantee!

Strong presence, no-logs policy
Pricing

From $1.99 - $11.95

Available on

Android
iOS
Windows
MacOS
Linux

Works with

Netflix
iPlayer
Amazon Prime
Hulu
Based in the British Virgin Islands, Surfshark is a no-logs VPN service with great technical security, a bunch of useful features, and superb 24/7 support.
What is a Playstation VPN?
A Virtual Private Network is a service that permits people to pretend to be in a different country. Using a VPN in conjunction with a PlayStation lets anybody, anywhere unblock geo-restricted streams. Many TV station streams and online service must be blocked in certain regions due to copyright restrictions. Even services that can be purchased in your country - like Netflix, Hulu, or Amazon Prime TV - have vastly reduced catalogs in most countries. A PlayStation VPN lets you access all that content.
By connecting to a VPN server in a specific country, you appear to actually live there. This lets you play live games against players on foreign servers. This is great for people who want to play against people who speak specific languages (modern language students studying overseas, for example, who want to play against people in their own country).
By pretending to be in a different country using a Playstation VPN, users can also access more titles and also purchase game titles before they are officially released in their own country.
What Can I Unblock with a VPN for PS4?
The great thing about PS3 and PS4 systems is that it has inbuilt media player functionality. It also lets you install and use apps and services such as Netflix. It is for this reason, that a VPN is such a windfall. Not only can you access more apps for your Sony PlayStation, but you can also access more content on the apps you already have.
Here are just some of the apps that you could access more content on if you subscribe to one of our recommended Playstation VPNs:
PlayStation Vue
PlayStation Now
Netflix
Spotify
Hulu
Amazon Instant Video
YouTube
Twitch
Plex Pass
IGN
WWE Network
Vevo
HBO Go
Crunchyroll
As you can see from the app list above, with a VPN you can access services such as PlayStation Now and HBO Go (which are both US only). Even free services such as YouTube and Vevo will massively improve thanks to a VPN. You will need a fast VPN service to unblock Youtube, Vevo, and other streaming services as a VPN can slow down your internet connection. This is because you will never have to worry about being served a "This video is not available in your country" notice. No matter which apps you like to use, a VPN will let you access more content than ever before.
Unblock Netflix on PlayStation
With a Playstation VPN, you can connect to a server almost anywhere in the world, and watch shows that aren't available in your country. The US Netflix library is the largest in the world, and by connecting to a VPN server based in the US, you can unblock all of these shows. For some people that can mean an 85 percent increase in the number of movies and TV shows that are available! See our VPN for Netflix page for more information about this.
Unblock Amazon Prime Instant Video on PlayStation
Amazon Prime Instant Video is another service that cannot show everything, everywhere, due to license restrictions. With a VPN for PlayStation, you can pretend to be in a different country to access large amounts of extra content on Amazon. See our Amazon prime guide for information about using a VPN with prime and to find out what the best VPN for amazon prime is.
Unblock Spotify on PlayStation
Many people around the world love Spotify. Sadly, however, Spotify is only available in 59 countries. That means that millions of people are unable to access the popular music streaming service. What's more, for licensing restriction some music is not available in those 59 countries. In addition, some places cannot access Apple Music.
With a VPN for PS4, you can pretend to be in the US to access the entire Spotify catalog (including Apple music) to listen to vast amounts of music on your PlayStation.
Get early access to PlayStation Games
When new games are released, sometimes certain countries get them first. This can be frustrating, especially if it is a game you are desperate to play. A great example is Japanese and Korean RPGs, which are released months later around the world.
The good news is that by using a VPN, you can pretend to be in any other country to get early access to games. That way you can play any game first - just like the lucky gamers living there!
Play More Games PS4 games with a VPN
In addition, some PS4 games are banned entirely in some places. Did you know Battlefield 4 is banned in China? How about Vietnam outlawing Mega Man 5 for having an "offensive game boss?"
Sadly, these types of bans are common. However, with a VPN you can overcome regional restrictions and enjoy the full PlayStation game library. Simply connect to a VPN server where the game isn't banned, and you can start playing right away! For more information about unblocking content in China, take a look at our best VPNs for China guide.
Protect your PS4 from hackers with a VPN
The encryption that a VPN provides doesn't just stop ISPs from tracking what you do online, it also conceals your real IP address (digital location). This stops hackers and cybercriminals from hacking your PS4 and the PlayStation Network account you have on it.
Sadly, there have been a growing amount of cases involving PS4 users being hacked. A case in 2016 even cost a PS4 user several hundred dollars. If you don't want to lose money a VPN is the perfect solution.
A VPN can stop malevolent gamers from launching DDoS attacks at you - to ruin your chances of winning a game.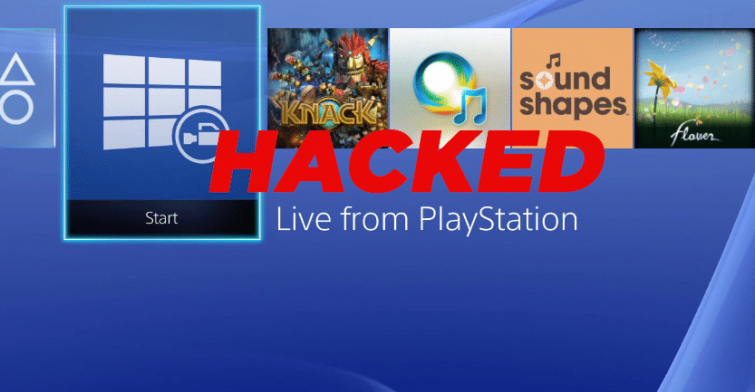 Reduce lagging on your PS4 with a VPN
Another advantage of using a Playstation VPN can be reduced lagging. When you connect to a server to play online gaming - distance can cause bad "ping" rates. This can result, for example, in the effect where you shoot someone first (for example) but despite this their bullet kills you first. This phenomenon is extremely infuriating, and a VPN can help in some circumstances.
By connecting to a server close to where the gaming server is, or located between you and the server you can reduce ping rates or even rout your internet in a slightly faster way. Please be aware that this won't always work for everyone, everywhere. So if you do suffer from lagging we recommend using a VPN trial (or money-back guarantee) to see if it helps you. If it doesn't work out, you can always cancel and get your full refund.
Playstation VPNs - Conclusion
In this article, we have described everything you need to know about getting a VPN for PlayStation 4. To use a VPN with a Playstation you will need a lightning-fast VPN, so please be sure to stick to one of our recommended VPNs if you don't want to be seriously disappointed by an unsuitable service.
Finally, although you don't necessarily need a VPN to enjoy your PS4 system, there can be no doubt that using one will massively enhance your PS4 experience. This is especially true if you live in a country where particular games or streaming services are unavailable.
What's more, because the fast VPNs for PlayStation we recommend in this article all have trial periods and money-back guarantees - you can see what all the fuss is about by testing the VPNs yourself without risking any of your cash. Simply subscribe to one of the VPNs (or test out a few) and ask for your money back. You can always decide on your favorite VPN later on!