With a Virtual Private Network (VPN), your PS4 can tap into massive amounts of restricted content like the US Netflix catalog.
It can also help you save you money on games and unblock games banned in your location, by connecting to a VPN server elsewhere in the world.
In this guide, we show you the best VPNs to use on PS4 and why. If you'd like help getting your VPN working on PS4, check out our dedicated PS4 VPN installation guide for step-by-step instructions.
What are the best VPNs for PS4?
If you're eager to start gaming on your PS4 with a VPN as soon as possible, we have summarized our top VPN picks for Play Station users in the list below. If you would like more information, keep scrolling for our in-depth analysis.
Before recommending a VPN to use on a Playstation 4, we first check that they offer particular features, such as:
Fast VPN servers
A large server network
A range of encryption protocols
Strong encryption
Good value for money
Only VPNs that can offer all the above are eligible for being recommended in our guide. Now you know what to look for, let's take a closer look at our top picks.
The Best PS4 VPN Services | In-depth Analysis
We recommend that you use one of the following VPN services if you want to unblock content on Playstation 4.
Can I use a free VPN for PS4?
Unfortunately, no. Even the best free VPNs come with restrictions on what you can and cannot do with them, and the good ones are free trials of bigger services with the functionality stripped back. For example, not all VPNs offer router support, and since the best way to use a VPN with PS4 is through a VPN router, a free VPN may not even work. Add to this the fact that most free VPN services have limited speed and data restrictions, this can make your game unplayable through lag and sluggish internet, and can even stop your gaming altogether!
Free VPN services are rarely as secure as paid-for VPNs, often lacking robust enough security to unblock regional content. On top of this, the majority of free VPN services will monitor and sell on your information and internet usage to third parties (making the VPN effectively redundant). As the saying goes, "if the product is free, then you are the product". A free VPN service will never be as good as a paid-for service, and a good VPN doesn't need to be expensive. If cost is an issue, check out our comparison for the best cheap VPNs.
Which is the fastest VPN for PlayStation?
Obviously when gaming online, speed is everything. So, when picking a VPN to use with your PS4, the speeds it offers is going to be at the top of your priorities. To help you understand what sorts of speeds you can expect when using our recommended VPNs, we run regular speed tests on them using a gigabit line and display the results in the table below.
| | | | |
| --- | --- | --- | --- |
| | ExpressVPN | NordVPN | Private Internet Access |
| Reliability | 9 | 8 | 8 |
| Performance | 10 | 9 | 8 |
| Speed | 100 | 568.0 | 254.93 |
| ProPrivacy.com SpeedTest (average) | 100 | 85.9 | 62.2 |
Will a VPN improve my speeds when gaming?
No, this is a common misconception. Only in rare circumstances can a VPN improve your connection speeds when gaming. In fact, you can typically expect a very slight reduction in your speeds when using a VPN due to the encryption and additional distance that your packets need to travel. If you want more information about this, check out Hannah's guide on what is the best VPN protocol for gaming.
However, the services we recommend all provide top of the line servers, so the impact on your speed will not be noticeable.
What is a Playstation VPN?
A Virtual Private Network is a service that lets you pretend to be in a different country. Using a VPN with a PlayStation lets anybody, anywhere, unblock geo-restricted streams, websites, gaming servers, and other online content.
Many TV station streams and online services are blocked in particular regions because of copyright restrictions. Even services that can be purchased locally, like Netflix, Hulu, or Amazon Prime TV, have massively reduced catalogs in certain places. A PlayStation VPN lets you access that extra content.
By connecting to a VPN server in a specific country, you appear to live there. This lets you play online games against players on foreign servers. This is great for people who want to play against people who speak different languages (ex-pats or modern language students, for example).
By pretending to be in a different country using a Playstation VPN, users can potentially access more titles or purchase games before they are officially released in their own country.
What Can I Unblock with a VPN for PS4?
The great thing about PS3 and PS4 systems is that they have an inbuilt media player. It also lets you install and use apps and services like Netflix, access more apps for your Sony PlayStation, and can access more content on the services you already have.
Here are just some of the apps that you could access more content on if you subscribe to one of our recommended Playstation VPNs:
PlayStation Vue
PlayStation Now
Netflix
Spotify
Hulu
Amazon Instant Video
YouTube
Twitch
Plex Pass
IGN
WWE Network
Vevo
HBO Go
Crunchyroll
As you can see, a VPN will let you unblock services such as PlayStation Now and HBO Go - which are both US only. Even free services such as YouTube and Vevo are better with a VPN.
However, please bear in mind that you will need a fast VPN service to unblock YouTube, Vevo, and other streaming services. Our recommended services are ideal, and will ensure that you never need to worry about being served a "This video is not available in your country" notice.
Unblock Netflix on PlayStation
Using a Playstation VPN, you can connect to a server almost anywhere in the world to watch shows that aren't available in your country. The US Netflix library is the largest in the world, and by connecting to a VPN server in the US, you can unblock all these shows. In some places, a VPN can result in an 85% increase in the number of movies and TV shows that are available! See our VPN for Netflix page for more information.
Unblock Amazon Prime Instant Video on PlayStation
Amazon Prime Instant Video is another service that cannot show everything, everywhere, due to license restrictions. With a VPN for PlayStation, you can pretend to be in a different country to access large amounts of extra content on Amazon. See our Amazon prime guide for information about using a VPN with prime and to find out what the best VPN for amazon prime is.
Unblock Spotify on PlayStation
Spotify is awesome if you love to listen to music. Unfortunately, however, Spotify is only available in 59 countries. As a result, millions of people are missing out on this popular music streaming service. Even people that can access Spotify may be missing out on some songs, because of licensing restrictions. There might not even be an alternative for people either as, in other places, consumers cannot access Apple Music or SoundCloud.
With a VPN for PS4, you can pretend to be in the US to access the entire Spotify catalog (or Apple Music and SoundCloud) to listen to vast amounts of music on your PlayStation.
Get early access to PlayStation Games
When new games are released, certain countries may get them first. This can be annoying, particularly if it is a game you have been waiting a long time to play. A great example is Japanese and Korean RPGs, which are sometimes released months later around the world.
The good news? With a VPN, you can pretend to be in a different country to get early access to games. As a result, you can play any game as soon as it is released - just like the lucky gamers living there!
Play More Games PS4 games with a VPN
In addition, some PS4 games are banned entirely in some places. Did you know Battlefield 4 is banned in China? How about Vietnam outlawing Mega Man 5 for having an "offensive game boss?"
Sadly, these types of bans are common. However, with a VPN you can overcome regional restrictions and enjoy the full PlayStation game library. Simply connect to a VPN server where the game isn't banned, and you can start playing right away! For more information about unblocking content in China, take a look at our best VPNs for China guide.
Protect your PS4 from hackers with a VPN
The encryption that a VPN provides doesn't just stop ISPs from tracking what you do online, it also conceals your real IP address (digital location). This stops hackers and cybercriminals from hacking your PS4 and the PlayStation Network account you have on it.
Sadly, there have been a growing amount of cases involving PS4 users being hacked. A case in 2016 even cost a PS4 user several hundred dollars. If you don't want to lose money a VPN is the perfect solution.
A VPN can stop malevolent gamers from launching DDoS attacks at you - to ruin your chances of winning a game.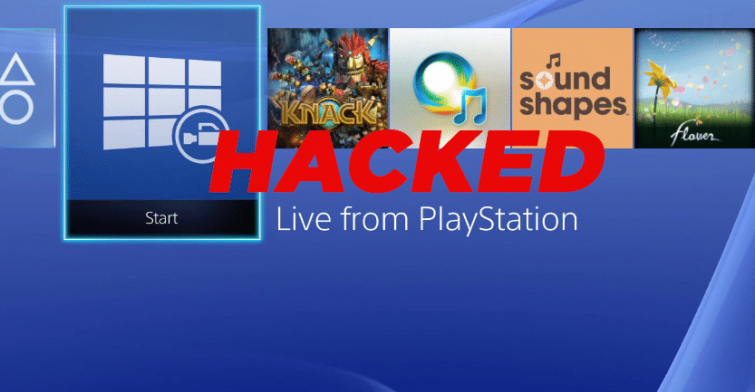 Reduce lagging on your PS4 with a VPN
One of the best things about using a Playstation VPN is that it can reduce lagging. When you connect to an online server to play a game, the distances involved can cause bad "ping" rates. This can result in problems (such as when you shoot someone first but somehow they still kill you). This phenomenon is extremely infuriating, and a VPN can sometimes resolve it.
By connecting to a server closer to where the game server is, or a server located between you and the game server, you can potentially reduce your ping. However, please be aware that this won't always work for everyone. If you do suffer from lagging, we recommend trying a VPN trial (or money-back guarantee) to see if it improves your performance. If it doesn't work out, you can always cancel and get a full refund.
Conclusion
In this article, we have described everything you need to know about getting a VPN for PlayStation 4. To use a VPN with a Playstation you will need a lightning-fast VPN, so please stick to one of our recommended VPNs if you don't want to be seriously disappointed by a slow, unsuitable service.
Finally, although you don't necessarily need a VPN to enjoy your PS4 system, there can be no doubt that using one will massively enhance your PS4 experience. This is especially true if you live in a country where particular games or streaming services are unavailable.
What's more, because the fast VPNs for PlayStation we recommend in this article all have money-back guarantees - you can see what all the fuss is about by testing the VPNs yourself without risking any of your cash. Simply subscribe to one of the VPNs (or test out a few) and ask for your money back. You can always decide on your favorite VPN later on! Here's a quick reminder of our top picks for the best VPNs for PS4:

From $6.67/month
The best VPN for PS4. A great all around VPN with consistently fast speeds and compatibility with a wide range of routers, and a 30-day money-back guarantee.
ProPrivacy TrustScore:

10 out of 10

Simultaneous connections

5

Server locations

160

Free trial

No

From $3.69/month
The best mid-range VPN for PS4. A service that doesn't cost the earth, offers great speeds for gaming (or streaming in HD), and a 30-day money-back guarantee.
ProPrivacy TrustScore:

9.9 out of 10

Simultaneous connections

6

Server locations

60

Free trial

No

From $2.30/month
The best value VPN for PS4. A service that doesn't cost the earth, offers great speeds for gaming, and a 30-day money-back guarantee.
ProPrivacy TrustScore:

9.8 out of 10

Simultaneous connections

Unlimited

Server locations

100

Free trial

Yes

From $2.03/month
The best secure PS4 VPN. It has a proven reputation of protecting users' privacy and can effortlessly unblock services like Netflix, and offers a 30-day money-back guarantee.
ProPrivacy TrustScore:

9.7 out of 10

Simultaneous connections

Unlimited

Server locations

84

Free trial

No

From $2.11/month
The best easy-to-use VPN for PS4. The service is compatible with most routers and has stylish and uncluttered apps for desktops and mobiles. Also offers a 45-day money-back guarantee.
ProPrivacy TrustScore:

9.6 out of 10

Simultaneous connections

7

Server locations

117

Free trial

Yes