Sick of dealing with lag when you're gaming online? Or being kicked from a lobby when things are going well? Using a gaming VPN could be the answer – and we'll take a look at seven of the industry's best services in this guide?
Find the best gaming VPN for you
There are hundreds of VPNs on the market, and so if you're short on time, don't worry – you can run through our brief questionnaire below to get matched up with your ideal gaming VPN service. So, whether you need a VPN for console gaming, or whether you're exclusively a PC gamer, we've got you covered.
How important is it that your VPN is speedy?
I prioritize speed over security
Security over speed, any day
I'd like a combination
The best VPNs for gaming at a glance
Below you'll find our top gaming VPN picks – each service has been hand-picked and tested by our team of researchers, who also use these VPNs in their day-to-day lives. If you need more help deciding on a provider, scroll down to check out our in-depth analysis, or scroll up to take our questionnaire for a personalized VPN recommendation in seconds.
Gaming is a favorite lunchtime activity here at the ProPrivacy offices, and we've seen the benefit of a gaming VPN first-hand. From saving you money to improving your connection and overall online experience, VPNs have a wide range of applications for gamers.
Combining a VPN with your gaming setup allows you to prevent DDoS attacks, avoid ISP throttling, and optimize the path your packets take. On top of this, they can also improve your digital freedom by allowing you to play games that are blocked in your region or purchase games earlier, or for cheaper, by geo-spoofing to a different country.
In this guide, we'll show you the best VPNs to use while you game, how you can use them to save yourself some money, and how to set them up on the PC or console of your choice.
Try ExpressVPN our best gaming VPN pick
Hands down, the two most important features that make a VPN good to use when gaming are speed and server locations. However, privacy is also important for some leading game distributors – such as Steam. When selecting our favorite VPNs for gaming, we considered:
Performance on desktop (various operating systems).
Compatibility with popular consoles & mobile devices.
If the VPN is fast enough for gaming.
The number of servers & locations.
So, now that you know what you're looking for, let's get into it!
The Best VPNs for Gaming online in 2023
This is a full list of the VPNs that we can recommend for gaming in 2023:
The fastest VPNs for Gaming in 2023
In this article, we've carefully pinpointed the quickest, most stable VPNs on the market – and we test these VPNs with Tier-1 server networks at length to ensure that they provide lightning-fast connections. To help you pick out the fastest VPN, we test VPN speeds regularly and automatically update the graph below, which you can use to see which services are currently impressing us the most.
| | | | |
| --- | --- | --- | --- |
| | ExpressVPN | NordVPN | Private Internet Access |
| Reliability | 9 | 8 | 8 |
| Performance | 10 | 9 | 8 |
| Speed | 100 | 568.0 | 254.93 |
| ProPrivacy.com SpeedTest (average) | 100 | 85.9 | 62.2 |
Get 49% off ExpressVPN + 3 extra months

ExpressVPN
Discount Coupon
Get 3 extra months for free
when signing up for 1-year
An overall saving of 49%
Will a VPN help improve my speeds?
Unfortunately, no. A VPN is more likely to slow down your internet speeds. Why? Well, when you connect to a VPN, it has to encrypt your traffic and route it via the VPN server, and that takes time – which is why you need a fast VPN with blistering servers. Picking a VPN that runs on an inferior network will only slow your traffic even further, and that's not going to improve your gaming performance.
Even the fastest VPNs in the world (which we've recommended in this guide) must still route your traffic via the VPN server to provide their service, and this process incurs added latency. So, you should only expect a VPN to improve your stability if the VPN server is in close proximity to the gaming server. Plenty of gamers use VPNs for this exact reason, however, and it's a good idea to test a service to see if it can improve your stability and ping. Oh, and visit our guide to ping if you're looking for more information.
The very best VPNs for gaming have super-fast gigabit connections and Tier-1 servers capable of a massive amount of throughput. This means that your internet speeds will remain constant even whilst connected to the VPN. As a result, you'll be able to hop into online games and enjoy a speedy internet connection – as well as all the benefits of a VPN.
How can VPNs make my internet faster?
On some occasions, ISPs engage in traffic shaping. To do this, they throttle their subscribers' bandwidth, which limits their connection speeds. ISPs do this to prevent network congestion and to prevent data hogs (like gamers) from using up all their bandwidth.
If you're suffering from bandwidth throttling when you're gaming, it's possible that connecting to a VPN will improve your internet speeds. A VPN prevents your ISP from knowing what you get up to online, after all, which can stop them from tracking your activity and throttling your bandwidth. As a result, you'll finally enjoy unrestricted internet speeds!
Gamers will require internet speeds of at least 10 Mbps – and you should always check your internet connection speeds without a VPN first to figure out if a VPN will be a suitable solution. The higher your benchmark speeds without a VPN, the more confident you can feel about using a gaming VPN.
Will a VPN improve my ping?
This is not an exact science and (unlike many websites) we don't like to make any promises regarding ping times and VPN use.
The fact is, many gamers swear by VPNs to improve their ping, and connecting to a VPN server that is close to the gaming server (or between you and the gaming server geographically) can lead to improved ping. If you are having ping issues, we recommend trialing a VPN by using its money-back guarantee.
This is the only way to find out if a VPN works with your specific circumstances, with the games you play, and all without risking any of your money.
Tips for reducing VPN ping
In this section, we'll take a look at a few helpful tips that may help to reduce your ping when using a VPN.
Encryption protocols
Some VPN encryption protocols are faster than others. When gaming, it's a good idea to use a protocol that provides the best speeds possible – as well as robust security.
If you're a privacy-conscious gamer who doesn't want to compromise on speed, we'd recommend OpenVPN UDP. Alternatively, you can try IKEv2, which is a secure protocol that's known to be incredibly fast. Many VPNs are now introducing WireGuard, too, which is building a reputation for blistering speeds!
At the end of the day, it is a good idea to test each of the VPN protocols available with your VPN to see which performs best. So go ahead and play around with the settings to see what works for you.
Connect to a VPN server that is closer
By connecting to a VPN server that is closer to you or closer to the gaming server, you can improve your connection speeds and ping. If you need a server in the US, consider whether an East or West coast server is closer to your home country. Every second counts, so always choose a server that is closer to you. You should also try testing a few different servers to see if one works out better for you.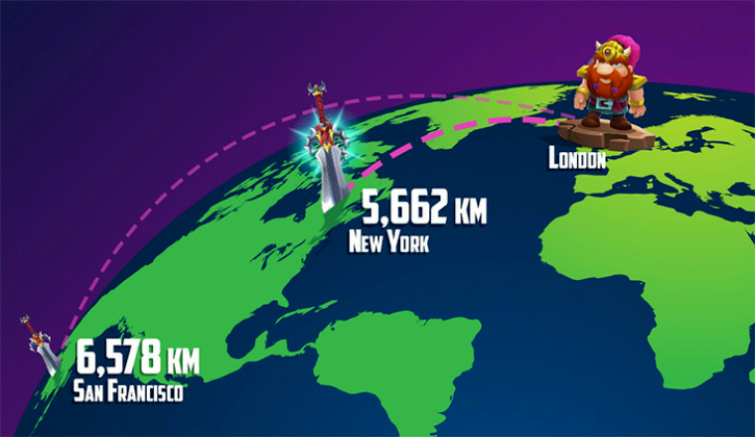 How to unblock games with a VPN
If you're unable to play games in school or at work, it's probably because the local network administrator has blocked them. Employers and schools often block games like Fortnite, Minecraft, PUBG, and many others. They do this to keep people productive, and to prevent them from spending their time gaming when they should be concentrating on their studies or work.
A VPN encrypts your data and tunnels it through the local network without allowing it to be analyzed. This prevents the local network administrator from knowing what you're doing online. VPNs also temporarily change your IP address, which fools the sites you visit into thinking that you're located elsewhere, like where there are no network restrictions! As a result, your VPN will allow you to access any websites, games, and online services that might otherwise be blocked.
The great thing about a VPN is that its encryption prevents anybody from knowing that you're bypassing the blocks – so you can play games without your boss or teacher ever finding out.
VPNs can also be used to bypass country-based restrictions so you can play games that are unable within your region.
To use a VPN to bypass network blocks, all you need to do is purchase a subscription, install the VPN, and connect to a VPN server in your own country. As soon as you do, you will be able to access the game as if you were at home.
How to save money on games with a VPN
Games will cost a different amount depending on where you live. Economies all over the world differ, and game companies charge whatever they feel that people can afford in those locations. In addition, local exchange rates and sales taxes can affect the price of a game.
With a VPN, you can pretend to be in a different country. You'll then be able to take advantage of international game prices. To do so, connect to a VPN server in a different country and browse online game markets to see the differing costs of brand new AAA releases or older games that may be on sale.
Where can I find cheaper games online?
Alongside Steam and the Epic Store, individual publishers have established their own platforms on PC, with EA's Origin, Ubisoft's Ubisoft Connect, and Blizzard Activision's Battle.net. In fact, it's become more common for game developers like Taleworlds, Mojang, and Cloud Imperium to self-publish, releasing games directly on their website. And let's not forget console powerhouses like PlayStation 4, Xbox One, and Nintendo Switch.
Besides these online marketplaces, you can also save money on games by checking out the following online game retailers:
With so many options available, we recommend shopping around and testing a few different countries with your VPN. That way you have a much better chance of getting the best possible price.
What games can I get a discount on?
If you're wondering about the kinds of deals you can scoop with a VPN, we've included a few examples below. Your best bet is to look for each specific title you're interested in by spoofing your location to similar countries to the ones in our example (or anywhere else where you believe games could be cheaper). You will find cheaper prices with any of the major platforms listed above by pretending to be in a different place.
Please Note
Regional pricing fluctuates based on differing economies, the internal workings of the video game industry, and sales. For this reason, you might find some price discrepancies. The prices shown below were true at the time of writing but may have changed since.
Game
Store
UK Price (£ – $)
US Price ($)
European Price (€ – $)
Cheapest option
Death Stranding
PlayStation Store
$71.76
$59.99
$77.51
$59.78 (Hong Kong)
The Outer Worlds
Microsoft Store
$65.24
$59.99
$66.43
$59.90 (Hong Kong)
Fire Emblem: Three Houses
Nintendo eShop
$65.24
$59.99
$66.43
$54.80 (Hong Kong)
Untitled Goose Game
Epic Games Store
$20.87
$19.99
$17.71
$4.99 (Argentina)
Rainbow Six Siege
Steam
$22.15
$19.99
$22.14
$11.68
(Argentina)
Middle-earth: Shadow of War
Steam
$45.66
$49.99
$44.28
$10.85 (Argentina)
Injustice 2
Steam
$52.19
$49.99
$55.36
$14.48 (Argentina)
Spyro Reignited
Steam
$45.66
$39.99
$44.28
$16.68 (Argentina)
Lethal League Blaze
Steam
$23.48
$19.99
$22.14
$3.76 (Argentina)
RimWorld
Steam
$36.27
$34.99
$33.21
$6.51 (Argentina)
Call of Cthulhu
Steam
$45.66
$39.99
$44.28
$21.70 (Argentina)
Red Dead Redemption (PS4/PS5)
PlayStation Store
$78.29
$59.99
$77.51
$59.78 (Hong Kong)
Red Dead Redemption (Xbox One)
Microsoft Store
$78.29
$59.99
$77.51
$25 (Argentina)
Madden 19
PlayStation Store
$58.71
$39.99
$55.36
$17.16 (Indonesia)
Battlefield V
Microsoft Store
$58.71
$39.99
$55.36
$38.36 (Argentina)
Overwatch Legendary Edition
Microsoft Store
$76.33
$59.99
$66.43
$38.73 (Turkey)
Fifa 20 (PS4/PS5)
PlayStation Store
$78.56
$59.99
$66.63
$53.92 (Hong Kong)
Fifa 20 (Xbox One)
Microsoft Store
$78.56
$59.99
$66.63
$55.70 (India)
Fallout 76 (Xbox One)
Microsoft Store
$45.66
$39.99
$44.29
$15.45 (Argentina)
Spider-Man
PlayStation Store
$45.66
$39.99
$44.28
$39.34 (Hong Kong)
Devil May Cry 5
Steam
$58.71
$59.99
$66.43
$27.43 (Argentina)
Metro Exodus
PlayStation Store
$71.76
$59.99
$77.51
$52.01 (Hong Kong)
Resident Evil 2 Remake
Steam
$58.71
$59.99
66.43
$20.52 (Argentina)
Far Cry New Dawn
Steam
$49.58
$39.99
$49.82
$33.34 (Argentina)
Kingdom Hearts 3 (PS4/5)
PlayStation Store
$71.76
$59.99
$77.51
$59.78 (Hong Kong)
Kingdom of Hearts 3 (Xbox One)
Microsoft Store
$71.76
$59.99
$77.51
$24.35 (Argentina)
How much can I save?
In the table above, you can see that it's possible to save as much as $57 on some games with a VPN! A VPN is an excellent way to save hundreds of dollars all year round – particularly if you buy a lot of games.
You can compare game prices for various PS4 and PS5 game stores around the globe – by clicking here! To compare Xbox stores from around the world – check this link.
Buying games at cheaper rates is easy and convenient with a VPN! All you need to do is connect to a VPN server in a foreign country. If a valid local payment method is required, you can get one by following our guide for virtual card services.

CyberGhost VPN
Discount Coupon
85%
Off Today
Get 3 months for free, and a 45-day money-back guarantee
How to install and use a VPN for gaming on console and PC
Installing your VPN depends on whether you game on a PC, PS4, PS5, Xbox One, or Nintendo Switch. By far the easiest to set up is a VPN for gaming on PC. But, setting up a VPN on a console isn't too taxing and only takes around 15-minutes of initial setup.
Setting up a VPN for gaming on a PC
This is as simple as:
Pick the best VPN for gaming from our recommendations above
Subscribe to the service using the links we've provided
Install the software on your PC
Pick a server and connect
That's it! You're connected and can start using your VPN with your favorite games and gaming marketplaces.
Setting up a VPN for gaming on a console
This is where things get a little more tricky, but it's certainly possible. When setting up a VPN to use with a gaming console, you have two options:
Connect your console to the internet via a desktop computer or laptop that is running your chosen VPN. You can achieve this by connecting an Ethernet cable from your console to the PC.
Install a VPN on your router (or buy a flashed router) so that every device in your home (including your games consoles) is automatically connected to the VPN server of your choice.
Fortunately, we can show you how to get up and running on any console, step-by-step. Simply check out the guides linked below.
Which option do we recommend?
For console users, a VPN router is always the best solution for playing games through a VPN. But, a VPN router can also benefit PC gamers by eliminating the need to install and run a VPN on your PC. This, in turn, reduces some strain on your CPU – which will leave more power for rendering graphics.
What is a VPN router?
A VPN router is a router that has a VPN installed directly onto it. This means that every device on your network will automatically be protected by the VPN. This comes in especially handy for connecting devices like games consoles to a VPN server, as well as other gadgets that aren't directly compatible with VPN apps. To find out more, check out our VPN routers guide.

Private Internet Access
Discount Coupon
Get 84%
Off With our PIA Discount
With a 30-day money-back guarantee
Can I get a free VPN for gaming?
No, unfortunately, reliable free VPN services are typically limited in what they can offer users. When it comes to gaming, particularly online, good connection speeds are essential to a lag-free experience. It's highly unlikely that any free VPN service will have the resources available to invest in a robust enough server network to support the speeds needed for gaming online. Those that do primarily use their free offering as more of a limited demo, with reduced speeds and server choice, to try and entice you into upgrading to a premium subscription.
Can I get a VPN for gaming on mobile?
Absolutely! Whether you want to access specific games on the Google Play Store or Apple Store that aren't available in your country, want to play on foreign game servers by appearing to live in a different location, or simply want to purchase a game a cheaper price – a gaming VPN can help. For example, some players use a VPN to access a different Mobile Legends server IP address. Check out our Android VPN and iPhone VPN guides for more details about using a VPN on your mobile.
FAQs
We've done our best to explain everything you need to know about gaming with a VPN in the article above. If you still have questions, don't worry! We've put together a FAQ section to tie up those loose ends.
Conclusion
Now that you're fully armed with all the information you need to know about gaming VPNs, let's review our top picks: