A VPNs ability to provide users with a secure connection is fundamental, but some services do a much better job of this than others. However, because the VPN is so overcrowded, it can be difficult to find a secure VPN service that offers you all the features you need. In this guide we list the five most secure VPN services, so you can be sure your provider takes your privacy as seriously as you do. We also give you some helpful tips on staying secure online with a VPN.
The mark of a secure VPN is that it uses strong technical security to keep you safe on the internet, for a VPN service to do this we think it should have the following features:
strong encryption
No leaks
Provides a kill switch
We will look into each aspect of a secure VPN service in more detail further into this article, but, firstly we look at the five most secure VPN services.
Other Useful Guides
If you are new to VPN services and you want to learn more about how they can ensure your privacy and security online, check out the following guides:
No log VPNs - A no-logs policy is vital for your privacy, find out the five services that do not log users' data why in this in-depth article.
VPN encryption - In this guide, we look into everything you need to know about VPN encryption.
AES Encryption - This is an in-depth guide to AES encryption, an symmetric key encryption cipher that many of the services listed in this article use.
The most secure VPN comparison
Below we have listed the five most secure VPN services below. All the services in this list provide excellent security features and implement encryption protocols to an extremely high standard. If you want to find out more information about the services listed below, scroll down to read a summary of each provider or click through to the provider's website.
Most secure VPN Services - Summaries
Below we have summarized what makes each of the services listed below the most secure VPN services on the market. If you want to find out more information about any of the services listed below, check out the provider's website or our detailed VPN reviews.
Encryption and VPN protocols
In order to connect securely, VPN software on your device negotiates an encrypted connection with the VPN server. The mechanism used to do this is called the VPN protocol, which uses a series of authentication and encryption algorithms to ensure the connection is secure. The only VPN protocols you are likely to encounter are:
How we assess encryption
When assessing the encryption used by VPN providers we focus on OpenVPN encryption. This is because:
OpenVPN is the only VPN protocol we know to be fully secure. IKEv2 is also considered secure, but this is largely theoretical.
Just about every VPN service offers OpenVPN. This allows us to compare like for like across VPNs.
The care a provider takes over the details of its OpenVPN encryption is a strong indicator of the care it takes over security in general. And with OpenVPN, the devil is in the detail!
There are several elements that make up OpenVPN protocol. But with OpenVPN the devil is in the detail. It's all about how well each aspect of OpenVPN has been implemented. If OpenVPN is implemented badly, then it is no better than any other protocol. Below we list the component parts of OpenVPN protocol:
Cipher AES-256-CGM
Control hash auth HMAC SHA-1
Handshake RSA-4096
Forward security DHE-4096
Connection logs
Traffic logs
We recognize that implementing encryption protocols like OpenVPN to a high stand is one of the main aspects of a secure VPN. This is one of the main aspects we considered when choosing our five most secure VPN services, if a VPN can't implement encryption protocols to a high standard, we don't recommend them.
IP leaks
The second key element to a VPN's technical security is to have IP leak protection. An IP leak is when your VPN leaks your real IP address to a website or service that you visit. This is, of course, very dangerous if you need a VPN to keep your identity private online. When using a VPN, no website you visit should be able to see your real IP address, or one belonging to your ISP that can be traced back to you. We have tested all the services in the list above to ensure that they do not leak your real IP Address.
How to test for IP Leaks yourself
When you first sign-up for a VPN service we recommend that you visit ipleak.net before and after connecting to the VPN. You should also do this every now and again when using the service.
If you see any of the same IP addresses before and after then you have an IP leak (you can ignore Private Use RFC IPs, as these are local IPs only. They cannot be used to identify an individual, and so do not constitute an IP leak).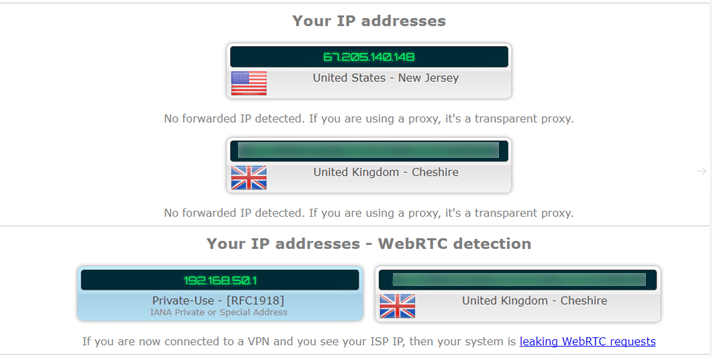 The example above shows a bad case of IPv6 leaks. The IPv4 DNS result correctly shows that I am connected to a VPN server in the US, but the website can see my real UK IPv6 address via both a regular DNS leak and WebRTC. Fail!
Kill switches
For various reasons, VPN connections sometimes drop, and this can happen to even the best VPN. A secure VPN provider, however, ensures that if and when this happens you will not continue connecting to the internet and exposing your real IP address for all the world to see.
Kill switches shut down your internet connection when your VPN is not connected in order to protect your privacy.
Killswitches can be either reactive or firewall-based. Reactive kill switches detect that the connection to the VPN server has dropped, then shut down your internet connection to prevent leaks.
There is a danger, however, that an IP leak could occur during the micro-seconds it takes to detect the VPN dropout and to shut down your internet connection.
Firewall-based kill switches solve this problem by simply routing all internet connections through the VPN interface. If the VPN is not running then no traffic can enter or leave your device. Firewall-based kill-switches are therefore better than reactive ones, but any kill switch is better than none!
Now… firewall-based kill switches themselves come in two types. The first kind is implemented in the client, and will therefore not work if the client crashes. The second kind modifies the Windows or macOS firewall rules so that even if the VPN software crashes, traffic will not be able to enter or exit your device.
The only problem with method this is that it could, at least in theory, cause conflicts if you use a third-party firewall.
Has your data been compromised?
Check if your data has been compromised by using our tool below. It will tell your email has ever been exposed in a data breach. Simply enter your email address above to find out.