Looking for a VPN that'll take your digital privacy as seriously as you do? After some tips on how to stay secure online when using a VPN? Either way, you're in the right place! We'll take a look at five of the most secure VPN services on the market in this guide – and explain how they can prevent third-party snooping.
Most modern websites implement robust encryption, but browsing the web without a VPN leaves you vulnerable to snooping at the hands of your ISP or other third parties, as well as exposing information about your location to website operators and other users on P2P networks. That's where a VPN comes in handy.
A VPN creates an encrypted tunnel between your computer and the VPN operator's servers, this protects all the traffic that travels between these two points. Any network interactions between your computer and the internet will, as a result, look like they're originating from the VPN's IP, hiding your whereabouts and allowing you to access geo-restricted content.
Picking a VPN can be confusing and it's important to choose a provider that's secure, trustworthy, and packed with features. Even a small mistake in setting up the cryptography could lead to your IP being exposed, which is why we carefully compare each service.
What are the most secure VPNs in 2023?
Below, you'll find our list of the most secure VPNs. The ProPrivacy team has been putting VPNs to the test since 2013, and all of our recommendations are grounded in first-hand experience and industry familiarity. All the services mentioned in this article have battle-tested encryption, advanced security features, and apps for all platforms, so you can enjoy round-the-clock protection. You can scroll down for a more in-depth look at our top picks.
ExpressVPN - The best secure VPN. A superb service packing OpenVPN encryption and a robust suite of tools, plus a 30-day money-back guarantee.
NordVPN - The best value secure VPN. With well-implemented encryption, plenty of worldwide servers, and an array of security features.
Private Internet Access - The best privacy-oriented VPN. Not only is it packed with security features, but it has proven its no-logs policy in court!
PrivateVPN - The cheapest secure VPN on our list. An incredibly affordable no-logs service with strong encryption and reliable speeds.
Surfshark - The best multi-device secure VPN. Featuring unlimited simultaneous connections and OpenVPN encryption, for a budget price.
See the full list & in-depth analysis
All VPNs should provide users with a secure connection. That much is fundamental, but some services do a much better job than others. Because the VPN market is so overcrowded, it can be difficult to find a secure VPN with all the features you need to adequately safeguard your digital privacy.
The true mark of a secure VPN lies in its technical security. To accomplish this, a VPN service must offer the following features:
We recommend that you keep an eye out for these key features when picking out a security-oriented VPN service – and we've made sure that our top ten picks tick all these boxes.
In addition, where possible we try to recommend VPNs that have completed a full third-party audit of their service, and that run on diskless servers for added protection.
10 most secure VPN services in 2023 | In-depth analysis
Let's take a closer look at our shortlist of the most secure VPN services available today.
How we research the most secure VPNs – VPN testing methodology
Finding a VPN that offers high-end security is one of the top priorities for most users. However, with so many options on the market, it can be challenging to choose the right one. While military-grade 256-bit encryption is the standard level of protection for most premium VPNs, some offer more advanced features that go to extra lengths to protect your privacy.
To help you understand our process, we've put together this short list of how we find the most secure VPNs.
What level of security does it provide? At the minimum, we expect a VPN to offer AES-256 encryption with 2048-bit key lengths. This is the standard for most premium VPNs on the market. Anything less than this should be avoided.
Does it include extra privacy features? In addition to robust encryption, a secure VPN may offer other security features such as a kill-switch and DNS leak protection. A kill-switch prevents your IP address from being exposed if the VPN connection drops, while DNS leak protection ensures that your web traffic is always routed through the VPN server and not your ISP.
Does a third party audit it? An independent security audit is one of the best ways to gauge how seriously a VPN takes its security. If a VPN has undergone an external security audit, it's a good sign that the company is committed to protecting its users' data.
What is its logging policy? A no-logging policy is essential for a VPN to protect your privacy truly. This means that the VPN doesn't keep any records of your online activity, making it impossible for anyone to identify you or your web usage habits.
Considering all of these factors, we can be confident we're finding the most secure VPNs on the market. This ensures that our users can browse the web confidently, knowing that their data is always safe and sound. You can find more about our selection criteria in our testing process.
How fast are our recommended secure VPNs?
All of our recommended secure VPNs are fast enough to handle even the most data-intensive tasks, such as online gaming, VoIP calls, and streaming in full HD. To help you better understand what speeds you can expect from our top secure VPN picks, we run speed tests on them regularly and display the most recent results in the table below. This way, you know which VPNs are the fastest right now.
| | | | |
| --- | --- | --- | --- |
| | ExpressVPN | NordVPN | Private Internet Access |
| ProPrivacy.com SpeedTest (average) | 60.3 | 85.9 | 62.2 |
| ProPrivacy.com SpeedTest (max/burst) | 565.7 | 568.0 | 254.93 |

ExpressVPN
Discount Coupon
Get 49%
off now
Comes with an additional 3 months
What are the different VPN encryption protocols?
In order to establish a secure connection, the VPN software on your device negotiates an encrypted connection with the VPN server. The mechanism used to do this is called the VPN protocol, which uses a series of authentication and encryption algorithms to ensure the connection is secure.
The main VPN protocols you are likely to encounter are:
PPTP – Not Secure
A widely supported VPN protocol that is no longer considered secure. There is very little reason to use it these days, and it should, therefore, be avoided.
L2TP – Will Not Secure Your Data From Surveillance
A widely supported protocol. It's not secure against the NSA, unfortunately, but is still suitable for general use. That said, we'd suggest sticking to IKEv2 and OpenVPN!
IKEv2 – Secure and ideal for Android & iOS
IKEv2 stands for Internet Key Exchange Version 2. The protocol is often referred to as IKEv2/IPSec because IKEv2 is never implemented without the IPSec encryption.
It is generally considered more lightweight and stable than OpenVPN, but it is only available over UDP, which is blocked by some firewalls.
OpenVPN – The most secure VPN protocol
An open-source protocol that is widely regarded as the most secure and versatile VPN protocol available. We generally always recommend using OpenVPN whenever possible (although IKEv2 is also a good option).
WireGuard – Revolutionizing the way VPN protocols are implemented
WireGuard is a promising competitor to OpenVPN that focuses on being a quick, lightweight alternative, only implementing the most important VPN features and a few cryptographic protocols that have been hand-picked to guarantee the highest level of security.
WireGuard does have some problems with recording user IPs internally for Network Address Translation (NAT). To address this, many VPN providers use WireGuard as a base for their own protocol – like NordVPN's NordLynx and ExpressVPN's Lightway protocols.
How do we assess VPN encryption?
Encryption is what keeps a VPN secure, so we spend a lot of time testing and researching how encryption is implemented by VPN services. We primarily focus on the OpenVPN and IKEv2 protocols, and this is because:
OpenVPN and IKEv2 are the only VPN protocols we know to be fully secure – which is why we recommend you stick to them.
Just about every VPN service offers OpenVPN. This allows us to compare like for like across services.
The care a provider takes over the details of its OpenVPN encryption is a strong indicator of the care it takes over security in general.
OpenVPN is made up of several elements – but the devil is in the detail.
The security of OpenVPN comes from how well it has been implemented. Meaning that if OpenVPN has been implemented poorly by a VPN service, then it's no better than the other (lesser) protocols we mentioned above.
Below is a list of the component parts of the OpenVPN protocol:
Cipher AES-256-CGM
Control hash auth HMAC SHA-1
Handshake RSA-4096
Forward security DHE-4096
Connection logs
Traffic logs
We recognize that implementing encryption protocols like OpenVPN to a high standard is a key feature of a secure VPN – so, we made it one of our main considerations when putting together our list of the ten most secure VPN services. Simply put, if we find that a particular VPN service can't implement encryption protocols to a high standard, we don't recommend the service.
We do not accept standard implementations of WireGuard as acceptable for a VPN. While the default WireGuard protocol is highly secure, it has not been designed with privacy in mind.
We prefer to see each VPN provider implement an extended version of WireGuard that mitigates the NAT logging issue. Some providers will solve this problem by periodically wiping their NAT tables or regenerating the keys associated with a certain IP, although this only minimizes the risk, and does not eliminate it. We will evaluate how each provider solves NAT IP logging in WireGuard on a case-by-case basis.
The importance of logging policies
In our opinion, a VPN cannot be considered secure if it keeps logs of your connection and traffic. A VPN that does keep logs is liable to hand that data over to the authorities at a moment's notice. This definitely isn't something you want your VPN provider doing!
Because of this, all of the secure VPN providers we recommend in this guide have strict no-logs policies to ensure that none of your online activity is ever logged while connected to their network. A secure, no-logs VPN will have no data relating to what you get up to when connected to its servers – and therefore won't have anything to hand over to the authorities, even if served with a warrant. A no-logs policy ensures that your online privacy is fully protected.
What is IP leak protection and why is it important?
The second key element to a VPN's technical security is to have IP leak protection.
An IP leak happens when your VPN leaks your real IP address to the website or service you're visiting online. This is hugely dangerous, particularly if you're using a VPN to conceal your identity.
When using a VPN, no website you visit should be able to see your real IP address, or one belonging to your ISP that can be traced back to you. We have tested all the services in the list above to ensure that they do not leak your real IP Address.
How to test for IP Leaks yourself
We recommend testing your VPN service for leaks when you first sign-up for it. You can do this by using ProPrivacy's leak testing tool – and don't worry, we've made the process incredibly easy! All you need to do is follow the on-screen instructions:
Make sure you are disconnected from the VPN and visit our VPN leak testing tool.
Read the instructions and click Continue twice.
Select your country or give the browser permission to access your location. Please note, ProPrivacy does not keep your location or any other information about you on record.
Connect to a VPN server in a different country. This is important because connecting to a server in the same country can cause the results to be less accurate.
Click "I've connected to a VPN" and let the automated process begin.
Once completed, your results will be displayed in a digestible format so you will know for certain whether you have a leak or not.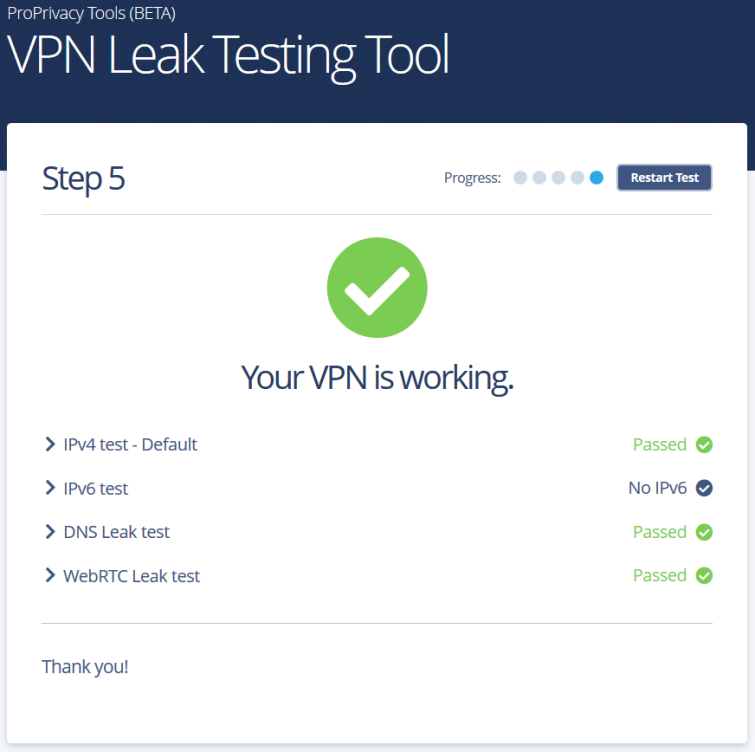 All tests were passed in the example image above, as indicated by the check marks to the right. You can find out more information by clicking on the drop-down boxes. If you instead see a red cross next to IPv4, IPv6, DNS, or WebRTC, then you have experienced a leak. In this case, you can troubleshoot by turning IPv6 off manually and disabling WebRTC, but it might be easier to just switch providers at that point if you detect a leak of any kind.
Check out our guide on how to fix the WebRTC bug if you are experiencing any WebRTC-related issues.
What are Kill-switches?
VPN connections do sometimes drop – for various reasons – and this is something that happens to even the best services. A secure provider will be prepared for this eventuality, however, and ensure your data remains private with the help of a kill-switch.
Kill-switches cut your internet connection the moment they detect a VPN dropout. This prevents your real IP address being exposed for the world to see! Kill-switches typically tend to be either reactive or firewall-based, and you can check out our kill-switch guide for more information about how these handy tools work.
Reactive kill-switches
Reactive kill-switches detect that the connection to the VPN server has dropped, then shut down your internet connection to prevent leaks.
There is a danger, however, that an IP leak could occur during the micro-seconds it takes to detect the VPN dropout and cut your internet connection.
Firewall kill-switches
Firewall-based kill-switches solve the IP leak problem by simply routing all internet connections through the VPN interface. If the VPN is not running, then no traffic can enter or leave your device. Firewall-based kill-switches are therefore better than reactive ones, but any kill-switch is better than none!
Firewall-based kill-switches come in two types. The first kind is implemented in the client, and will therefore not work if the client crashes. The second kind modifies the Windows or macOS firewall rules so that even if the VPN software crashes, traffic cannot enter or exit your device.
The only problem with the second method is that it could, at least in theory, cause conflicts if you use a third-party firewall.
Is a VPN secure enough to bypass government censorship?
If you live in a country where the government imposes widespread restrictions online, you can use a VPN to bypass those blocks. Many people use VPNs in countries like the UAE, to regain access to VoIP apps and make free calls. The same is true in China, where many Western websites are restricted and it is necessary to use a VPN to access Facebook, YouTube, and many other popular sites.
The encryption and location spoofing provided by a VPN can allow you to bypass these restrictions, however, in order to bypass government blocks safely it is imperative that the VPN is secure.
Unfortunately, many VPNs have weak encryption, lapse privacy policies, and dangerous leaks that would allow ISPs to detect the websites you are visiting. These VPNs could pose a danger if you try to access websites or services that have been blocked by the government. This is why it is essential to use a reliable VPN with high levels of security.
The VPNs recommended in this guide all have strong AES encryption, a kill switch that cuts your internet if the VPN connection drops out, and a no-logs policy. Some of our recommendations also have added obfuscation to conceal your VPN traffic as regular HTTPS.
If you are located in a country that has strict online censorship, we strongly recommend that you choose a secure VPN that has all of these features, as this will help to give you the best protection possible and allow your o bypass any VPN blocks imposed using a firewall in those countries.
Can I bypass internet blocks at work with a secure VPN?
Yes. A truly secure VPN will allow you to bypass blocks on any WiFi network. This means that you can use the internet as if you were back at home. The best thing about a secure VPN is that you can not only regain access to any websites or internet services that have been blocked by your employer but also do so with complete privacy. As a result, you can watch YouTube videos, play games, access social media accounts, or do anything else while connected to the work's wifi.
Are there free secure VPNs?
Yes, you can get a reliable free VPN without spending any money – and there are high-quality free services out there that are secure enough to meet our exacting VPN standards. However, it's important to keep in mind that free VPN services typically come with limitations – like bandwidth limits, data caps, fewer server locations, and a minimum of features.
Genuine, privacy-oriented free VPN services are exceedingly rare. So, if you do opt to go with a free VPN, be sure that it does its part to protect your privacy and secure your traffic. The vast majority of free VPNs are either completely useless and provide little to no online security, or they make their money by selling your data to the highest bidder. Some free options can even be outright dangerous to use since they can be crawling with malware.
If you don't mind dropping a few bucks a month for one of the premium services listed in this guide, then you'd really be better off securing your connection with one of our recommended secure VPNs.
Can you get a secure mobile VPN app?
If protecting your online privacy while you're out and about is your main concern, you'll be happy to know that all our VPN recommendations also apply to the Android and iPhone apps as well. A quality, secure VPN provider will keep you secure on smartphones and tablets since it will offer the same privacy protections it offers on other platforms.
In fact, using a VPN on a mobile is the best way to protect your privacy on the go, especially if you're connecting your mobile device to a public Wi-Fi hotspot. Check out our iOS VPN or Android VPN pages for more information about using one on your mobile.
Check if your data has been compromised
Ever wondered whether your data has been compromised? Well, we've got a tool for that! It'll tell you if your email has ever been exposed in a data breach – simply input your email below to find out.
FAQs
Final thoughts
However, a VPN's primary function is shoring up your digital privacy. Connecting to a VPN ensures that nobody will be able to keep tabs on your online activity – including your ISP, government, and nosey cybercriminals.
Now that we've covered what makes a VPN such a must-have tool, let's take a look at our top security-oriented picks:

From $6.67/month
The best secure VPN. A superb service packing OpenVPN encryption and a robust suite of tools, plus a 30-day money-back guarantee.
ProPrivacy TrustScore:

10 out of 10

Simultaneous connections

5

Free trial

No

Server locations

160

From $3.69/month
The best value secure VPN. With well-implemented encryption, plenty of worldwide servers, and an array of security features.
ProPrivacy TrustScore:

9.9 out of 10

Free trial

No

Simultaneous connections

6

Server locations

60

From $2.19/month
The best privacy-oriented VPN. Not only is it packed with security features, but it has proven its no-logs policy in court!
ProPrivacy TrustScore:

9.8 out of 10

Server locations

84

Free trial

No

Simultaneous connections

Unlimited

From $2.00/month
The cheapest secure VPN on our list. An incredibly affordable no-logs service with strong encryption and reliable speeds.
ProPrivacy TrustScore:

9.7 out of 10

Simultaneous connections

10

Server locations

200

Free trial

No

From $2.30/month
The best multi-device secure VPN. Featuring unlimited simultaneous connections and OpenVPN encryption, for a budget price.
ProPrivacy TrustScore:

9.6 out of 10

Server locations

100

Simultaneous connections

Unlimited

Free trial

Yes