Whether you're on a budget, interested in comparing services, or just want to get your money's worth, there are plenty of reasons to check out cloud storage free trials. Virtual folders are the new filing cabinets, and it's devastating to accidentally delete the documents you've been storing – or lose them in a hard-drive wipe or malware attack.
Cloud storage providers work off of a subscription model, with various tiers available, but the most user-friendly services also offer a free trial. So, let's take a look at what some of the best cloud backup free trials have to offer!
Cloud storage free trials at a glance
We've listed 5 of the best cloud storage free trials. The providers come with trials that offer a taste of their premium plans, and you'll be able to check out all the storage features and collaboration features without annoying limitations – and without paying a penny. We'll take a closer look at each service, later on, so keep reading!
In order to claim a place in our top 5, a cloud storage service has to offer a legitimate free trial – not just a free, limited plan – but there are other important deciding factors:
Strong security features
Compatible with all devices
Length of the cloud backups free trial
A word on cloud backup money-back guarantees
Most folks are aware of the money-back guarantees offered by cloud storage services, and they work well as a way to try-before-you-by – but it's not an ideal solution. Firstly, you still have to pay for the service, and secondly, it's easy to forget to cancel your subscription and miss your window to request a refund. Luckily, more and more cloud storage services are offering free trials that don't have either of these issues.
Best cloud backup free trials | In-depth analysis
We take a closer look at the best cloud backup free trials below. We'll take a look at what's available when you sign up for a trial, the encryption provided, storage capabilities, and plenty of other handy features. Check out our detailed cloud backup review pages if you want to learn more.
Livedrive is the best cloud backup free trials. It is a Pro Suite plan for 14 days without paying a penny, and enjoy 5,000GB storage.
Pricing

1 user on 1 desktop: $8/mth
5 users: $25/mth
1 user multiple devices: $16/mth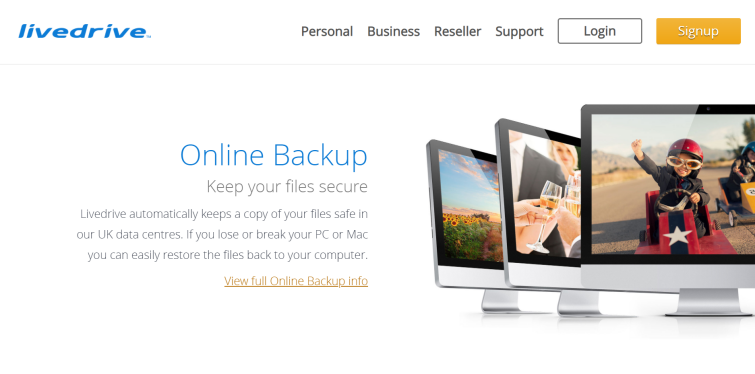 Livedrive offers a 14 day free trial of its Pro Suite subscription, which bags users 5,000GB of cloud storage, instant file synchronization, as well as the ability to backup 5 computers and share files with friends.

User files are automatically backed up to Livedrive's UK-based data centers, and photos and videos from mobile devices can be stored, too. Then, you can easily check out your important documents via the desktop app at home, or your phone when on the go.

And Livedrive doesn't skimp when it comes to security, either. Its servers are secured with AES 256-bit encryption, and files benefit from TLS and FTP support. Furthermore, files can't be linked back to individual users thanks to information masking. The Livedrive data centers are monitored 24 hours a day and ISO 27001 certified, and users can employ two factor authentication for that extra layer of protection. As a final cherry on top, Livedrive is fully compliant with GDPR.

File versioning of up to 30 versions is supported, and it's also possible to recover deleted files within 30 days. Additionally, Livedrive can be scheduled to scan your folders. We particularly enjoy how simply Livedrive is to use, thanks to an intuitive interface, and if you decide to stick with the service once your trial is over, there are three plans to pick from: Back, Briefcase, and Pro Suite.

NordLocker is a useful local encryption and cloud backup tool that's great for gaining data privacy and security.
Pricing

12 month (500GB): $3.99/mth
1 month (500GB): $7.99/mth
NordLocker is an encryption tool developed by the highly respected VPN company NordVPN. The service allows users to encrypt the data stored on their Mac or Windows PC and prevents that data from being accessed in the event of a theft. NordLocker also offers a cloud locker folder in addition to local encryption, where users can back up any data online. This locker works similarly to Dropbox, but with robust end-to-end encryption.

The nice thing about NordLocker is that anybody can use this encryption and backup service for free, and store up to 3 GB of data. Upgrading to 500 GB of storage will only cost you $3.99 per month, too. Once your data has been uploaded to the cloud, you can opt to sync it across your devices, making it accessible wherever you need it. You can also securely share files with your contacts if you like.

During my tests, I found NordLocker to be extremely easy to use, and I particularly liked that it lets you encrypt both your local hard drive and encrypted backups to the internet, meaning all your important data is recoverable. This makes it a versatile tool ideal for shoring up your privacy and securing your data online, and well worth checking out for free.

Adrive is an excellent cloud backup free trial. It offers an impressive 60-day free trial, file recovery features, and support for just about every device.
Pricing

100 GB: $25/mth
250 GB: $62.5/mth
500 GB: $125/mth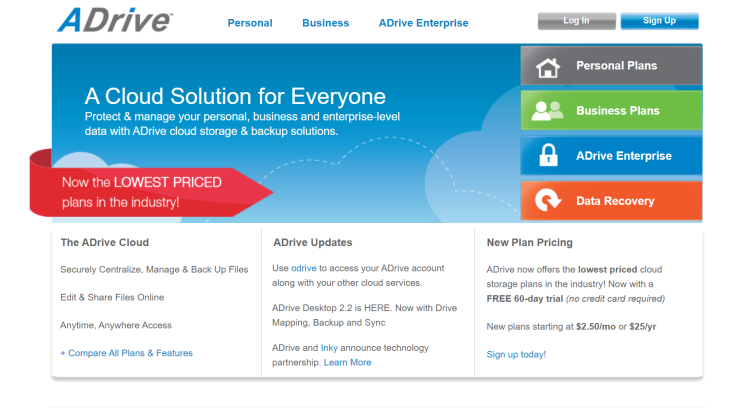 A whopping 60-day free trial is available with Adrive, and you'll be able to check out its Premium plan, with 100 GB of storage space, without handing over any credit card information.

Adrive is one of the more budget-friendly options in our top 5, and incredibly user friendly, too. Users can access their files from at any time, and edit work documents with a handy Zoho tool. What's more, Adrive is fully compatible with Windows, Mac, Android and iOS devices – though user reviews suggest mobile support could be better.

Even so, Adrive has an impressive privacy policy and allows users to password protect files. The service supports FTP and WebDAV, uses TLS to enable secure transfer, and SSL encryption to keep sensitive information safe when at rest. Files can also be transferred using SCP, SFTP, or Rsync over SSH. It is worth noting, however, that Adrive does not provide E2EE. As such, Adrive could potentially grant staff or the government access to your data if served with a warrant.

We enjoyed the fact that Adrive allows users to set file expiration dates, has increased its file size limitations from 2GB to 16GB, and backs up your data weekly in addition to taking a nightly snapshot. 7 days of file versioning are also available in case of emergency – or mishaps – and an expert team of support staff is a click away, 24/7.

ElephantDrive is a fantastic option if you're looking for end-to-end encryption for all your most important work documents and personal files, and it has a 30-day free trial!
Pricing

/month: $10/mth
/month: $20/mth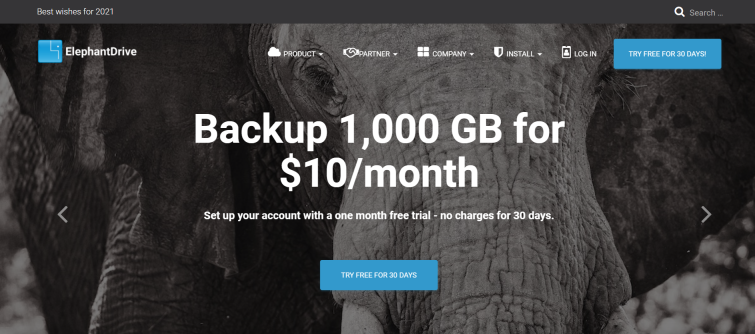 ElephantDrive's 30-day free trial means you'll have access to 1,000GB of storage space, and be able to upgrade, downgrade, or cancel your trial whenever you like. What's more, you'll be able to connect 3 sub accounts and 10 devices!

ElephantDrive makes it easy to schedule automatic backups, and users can even secure data from external disks and directly from mobile devices. Then, when you want to check out your files, you can simply sync and browse through them on any device. It's also incredibly easy to share documents with friends or work colleagues, thanks to password protection supplied by email, text, or URL. And, if you need to recover a previous file version, ElephantDrive supports point-in-time recovery up to 30 days - and deleted files are kept for 30 days, too!

Before your data even reaches the ElephantDrive cloud servers it's protected with AES 256-bit encryption, and 128-bit SSL secured channels are also used during transfer. We were also impressed with ElephantDrive's end-to-end encryption. Users can, if they want to, generate E2EE keys.

AOMEI offers an impressive 30-day free trial, as well as a 90-day money-back guarantee for anyone who commits to a paid subscription.
Whilst AOMEI's free trial might only be available for Windows devices, it does offer a rather generous 30-day grace period. With it, you'll be able to backup and sync files, and be spoiled for choice when it comes to choosing backup storage, with external drives, NAS, cloud storage and network share all supported.

AOMEI can automatically backup all your important files, and its Scheme feature keeps things up to date whilst removing old, unused backups. Additionally, AOMEI can facilitate system migration to SSD as well as data transfers between various drives, which takes the fuss out of organizing your data. In terms of security, AOMEI opts for 256-bit SSL secure ordering.

More than 30 million people have purchased an AOMEI plan, and the service has an easy-to-use interface, 24/7 customer support, and an incredible 90-day money-back guarantee should you decide to purchase a premium subscription.
How to pick the perfect cloud backup free trial
There are hundreds of cloud storage services out there all claiming to be the best – but picking the perfect provider is a rather subjective affair. Whether you're comparing free trials, or looking at what the premium plans have to offer, there are a few key features to keep an eye out for:
Free trial length
Price of premium subscriptions
Scalability
Storage space
24/7 access to your files
Automated backup and scheduling options
File versioning
Apps for mobile, and possible desktop
TLS, to ensure files are kept safe during transit
Security for files at rest in data centres – preferably E2E
GDPR compliance
24/7 Customer support
A note on security:
We'd recommend taking a look at the type of encryption used by the cloud storage service of your choice. It's pretty common to see server-side encryption, because so many services rely on a browser-based interface, but it's not particularly secure. Client-side end-to-end encryption is considered the gold standard when it comes to keeping your data safe and sound. In a nutshell, it encrypts files before they even reach the cloud, making it impossible for the cloud service provider itself to take a peek at. For more information and a list of the most secure services, check out our encrypted cloud backup page.
Why are cloud storage free trials useful?
Mistakes and setbacks happen to the best of us, and it's all too easy to misplace external storage or accidentally delete files. Hard drive wipes happen, too, and cybercriminals can even target files and make off with them. All in all, it's a good idea to invest in some cloud storage! By doing so, you'll ensure that your important files have a second (or even third) home away from your primary device, where you'll be able to re-download them in a snap should the worst happen.
Free trials are a way for cloud storage services to show you what they can do! By signing up, you'll be able to put the service to the test in your own time and get an idea of whether you'd like to continue using the service once the trial expires. With unfettered access to a premium plan, you can try out the service's features and judge them by your own criteria – is there enough storage for your needs, does it feel secure, can you collaborate with your team seamlessly, etc.
You could feasibly "trial" a service by purchasing a subscription and making use of its money-back guarantee, but there are some setbacks. You'll be paying for the trial – it won't be free – and if you end up being disappointed in the service, it can feel like wasted time and money. It's also not ideal to have to fork over personal information if you're not committed to the service.
Free trials and credit cards
Sometimes, a cloud storage service will ask you for your payment details before you can access the free trial. If this happens, you'll need to contact the provider to cancel the trial before you receive a charge for a full subscription on your credit card.
Conclusion
Free trials make services like cloud storage so much more accessible. Anybody can check out any service if it offers a trial, without having to hand over any money or sign up to a lengthy contract. What's more, a free trial gives you the real, premium experience – it's not like a "free plan" where you might only get a measly amount of storage space and a handful of features. Unfortunately, there aren't a ton of cloud storage services offering free trials. The ones that do, however, are generally pretty impressive, and we think they're an awesome way to gauge whether it's worth subscribing in the future.
Need a quick reminder about which providers made it into our top 5? We've got you covered – check them out below!
Cloud Backups for all the family
If you are looking for a cloud backup service that allows the whole family to use it on their devices, then check out our best family cloud backup services page. All of these backups allow you to use their service on all devices in your home.
FAQs