Likes
Monthly & discounted annual prices
Subaccounts
User-friendly
Cross-platform support
File versioning
Sub-accounts
Dislikes
Lack of zero-knowledge policy
Closed-source
Based in the US
No 2-factor authentication on the web
Nothing to view or edit documents with
Pricing & Availability
ElephantDrive is split into four packages, each targeting a different market. You can dip a toe in with a free account set at 2GB of storage and 100MB upload limits, or extend these limitations with a free 30-day trial period of any subsequent tiers where you can upgrade, downgrade and cancel whenever you choose.
The Home package is suited for individuals and families, costing $10 per month for 1 TB of storage. There is a level of flexibility to suit the customer, with additional storage available at $10 per month for each 1 TB added, up to 15 TB maximum. It's worth noting that uploads are capped at 2GB per file and that anything larger will be rejected. Home accounts are available across 10 devices simultaneously and can cater to 3 separate sub-accounts.
Small businesses are better off with the $20 per month Business package, with 1 TB of base storage. It costs $20 per 1 TB added this time around, up to a staggering 50 TB, and single uploads can range up to 15 GB per file. ElephantDrive for Business can be installed on 25 different devices and allows up to 20 different sub-accounts.
The Enterprise option is top of the food chain, designed for larger businesses with 100+ devices and 100+ sub-accounts. Once again, base storage starts at 1 TB with further terabytes added at $30 each. There is no cap on how much a company can add this time around and max individual file sizes can be up to a whopping 200 GB each.
Note
As an incentive to pre-purchase an entire year, ElephantDrive shaves two months off its yearly packages. Simply multiply any of the prices above by 10 to figure out the proposed bulk cost.
Features
File versioning & recovery
File sharing support
Cross-platform synchronization
Operating System integration
Sub-Accounts
Offline access
File versioning & recovery
While ElephantDrive offers no way to view or edit your files, it does keep track of the version history of everything that's uploaded to the server. This is especially handy if viruses compromise your data or a shared project is edited a little too heavily, as you can revert to one of the many previous versions logged.
Provided that your Backup folder is syncing, which did initially cause me some trouble, you can customize how your files are backed up from the Backup Settings. From here, you can schedule a backup, set exclusions to the rule, adjust archiving and even modify how many file versions are kept and for how long.
There is no hard limit on how long you can store previous iterations for, but it's imperative to test that file versioning works before knuckling down as you might find that older versions are not being saved as expected otherwise. Even after telling ElephantDrive to store file versions indefinitely, they continued to disappear after one day without explanation.
File versioning appears on all platforms, allowing you to right-click files in the browser, Windows Explorer and Mac's Finder or by clicking on the information symbol (i) on mobile applications. You can even create share links to specific versions on desktop and restore entire folders that have been changed or deleted.
File sharing support
ElephantDrive makes short work of sharing files, placing the option in the right-click menu on desktop and information menu on mobile applications. You'll be met with a lengthy link that you can test with the "Open Link" button and restrict access by adding a password. Unfortunately, there is no immediate way to set a timer on how long the link is available.
Expiration is seemingly set at two months by default, but this can be manually adjusted in the Shared Link Management list, located within the Links sub-header. Navigating to "Actions," you will be presented with the option to set your own date or revoke access entirely. These options not being present when making the link is a minor inconvenience and something I would like to see updated in the future, but the inherent customization options are nothing to turn your nose up at.
Cross-platform
You can access any file stored on ElephantDrive through the browser, but the company has officially released applications on Windows, macOS, iOS 9.2 or later, Android 2.3 or later and various Linux distros and Network Attached Storage (NAS) devices. ElephantDrive automatically creates an "Everywhere" folder during setup that links all connected devices and promises to synchronize files immediately.
OS Integration
ElephantDrive prevents its users from uploading files via browser due to inherent security concerns, making applications mandatory to get the most out of the service. Thankfully, they each embed into their respective operating system to streamline the process.
Dedicated folders appear within Windows Explorer and Mac Finder on desktop, automatically uploading files that are dragged and dropped. The user is also granted a swath of right-click options that make sharing files and reverting to older versions much easier.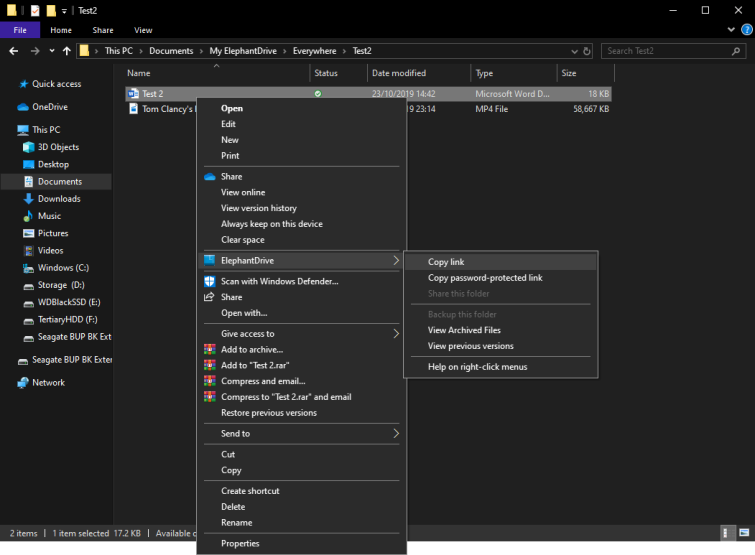 While the cloud continuously synchronizes in the background, ElephantDrive's notification center sits in the system tray next to your clock. This seems much more stable on Mac than it does Windows, as I experienced a handful of visual glitches and errors in my time with the software.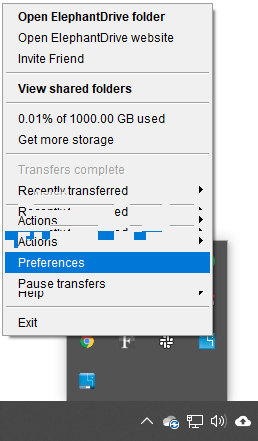 Mobile users don't get as many features to play with, but operating system integration is present. You don't need to boot the application to send a file directly to the cloud, instead just clicking "share" and swiping until you find the ElephantDrive option.
Sub-Accounts
Users are automatically provided with 3 Sub-Accounts when purchasing the Home package and 20 Sub-Accounts with the Business tier, alongside the standard parent account. These allow you to share your storage space with other trusted users without having to part with sensitive information, instead giving them access through their own email address and password.
There are two different types of Sub-Accounts depending on how you want to share ElephantDrive. Workgroup Sub-Accounts have the same access as the parent account, sharing the full storage space with individual passwords. Independent Sub-Accounts carve a space out of your storage for others to use, preventing them from accessing the folders and files of others unless it is deliberately shared with them.
Creating a Sub-Account requires a degree of communication between parties, as it must be done by the owner and passed onto the recipient. No confirmation email address is sent out, but invitees can change their allocated password after their first login. Please note that changing passwords can interfere with the accessibility of previously uploaded files if the user chose to encrypt files personally, as keys are linked to the original password. Check the Technical Security section under Privacy and Security for more information.
Privacy and security
Jurisdiction
Situated in the United States and compliant with the EU-US Privacy Shield Framework, ElephantDrive is subject to investigations by the FTC and other government bodies. This isn't ideal, given that the US has repeatedly been called out for its penchant for surveillance and questionable stance on privacy. You particularly don't want to hand sensitive information over to a company that takes no precaution of it falling into the hands of the National Security Agency (NSA).
Zero-knowledge
These woes are somewhat alleviated with an opt-in zero-knowledge policy. While ElephantDrive is transparent about collecting minimal amounts of Personal Identifiable Information (PII) such as email addresses, names and the payment details needed to run the service, it gives you the choice whether you want your encryption keys handled by the company or personally by using your own password.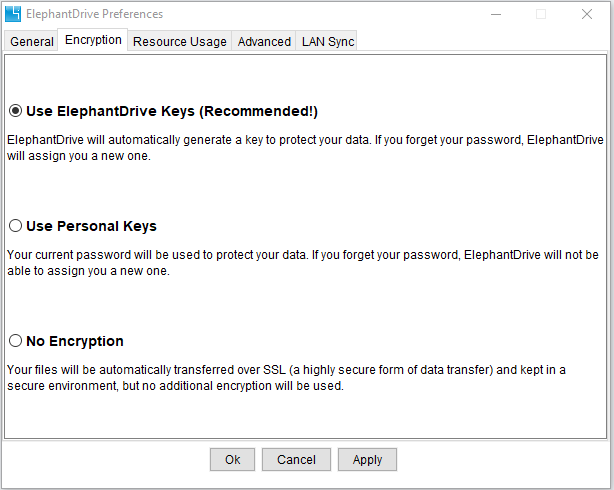 The service explicitly states that the team handling the storage of your files is separate from those handling your keys so that everything remains "completely unreadable by the bad guys," however this doesn't stop the same government intervention and surveillance that the US is known for.
Personally encrypting your files will give you peace of mind from government warrants with end-to-end encryption, but ElephantDrive washes its hands of storing your password as it is used to protect your data. This places extra responsibility on you, as you will not be able to recover your password and changing your password becomes significantly harder with the potential of files becoming unreadable. Fortunately, we have listed the best password managers to help you come up with a stronger password.
You can choose the third option of no encryption at all, but this is something we strongly advise against as it will leave all your uploads vulnerable.
Technical security
No matter what method of encryption you choose, all files are protected client-side with military-grade AES-256 encryption before they leave the system. Transferred over a solid 128-bit SSL channel, your data is safeguarded against man-in-the-middle attacks until it reaches ElephantDrive's secure servers, where it continues to use at-rest encryption.
The company uses an "Open Design" approach to its systems, allowing authorized independent security experts to review ElephantDrive's practices and feedback on potential flaws and vulnerabilities, whether they are theoretical or already existing. As of yet, ElephantDrive does not support two-factor authentication.
Issues
Browser Cryptography
ElephantDrive automatically redirects uploaders from the browser version to the platform's respective programs, stating that its applications are much more secure. It's likely that the company recognizes that Javascript-based languages aren't the best for security and has prevented browser uploads as a sign of trust to its user base, but this is an assumption that remains unconfirmed for the time being.
To elaborate, updating an application requires acknowledgment from the user in order to proceed, with accompanying patch notes for transparency. Browser cryptography, on the other hand, accepts any code pushed by the publisher and requires users to implicitly trust the company's intentions. Fortunately, this doesn't seem to be a problem here, even if downloading and redirecting to the application removes a little convenience from the process.
Closed-source
Despite unprecedented transparency about its systems, ElephantDrive keeps its architecture closed-source. This is a completely standard practice that helps the service remain competitive in the cloud market but without the ability to tell what's going on underneath for ourselves, we simply have to take the company at their word that everything is as they say it is.
Support
ElephanDrive's support is quite lacking compared to the competition, relying heavily on its Help Center and a blog that's updated a handful of times per year. It does accept requests via email, but response time varies depending on the time of the submission and topic. There's no telling whether there's a tiered priority system for paying members, but it's clear that the current system is lacking for a service that costs $10+ per month.
Ease of Use
Desktop
Since applications are a requirement to make full use of ElephantDrive, there is a lot of emphasis on how they perform. Integration spans across Windows Explorer and Mac Finder, making it incredibly easy to access your files whether you pay attention to the initial tutorial or not.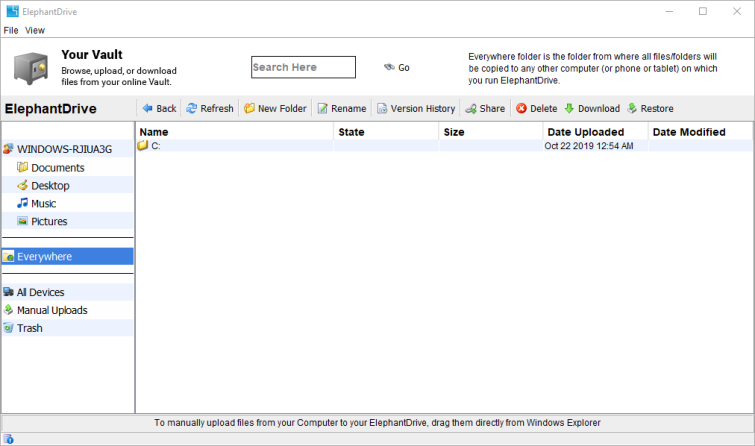 Sadly, system tray options are much more fragmented, with Preferences, Backups and accessing your files split up rather than interlinked through subheaders. This makes it mildly inconvenient to make changes and incredibly frustrating when the user interface inexplicably fails. I also question the reliability of synchronization, as the parameters that I set on the desktop application rarely transferred over to the other versions.
The presentation is a little dated, given that the company spans back to 2006 and can be slow, but all the features you'd expect are present and accounted for. Still, there's a lot to be desired with the desktop applications that ElephantDrive will hopefully revisit in the future.
Mobile
Downloading ElephantDrive on Android is already made a little more complicated with two different applications on the Play Store. One is clearly labeled ElephantDrive Legacy, which is no longer supported by the company, while the option titled ElephantDrive is the current application you should download.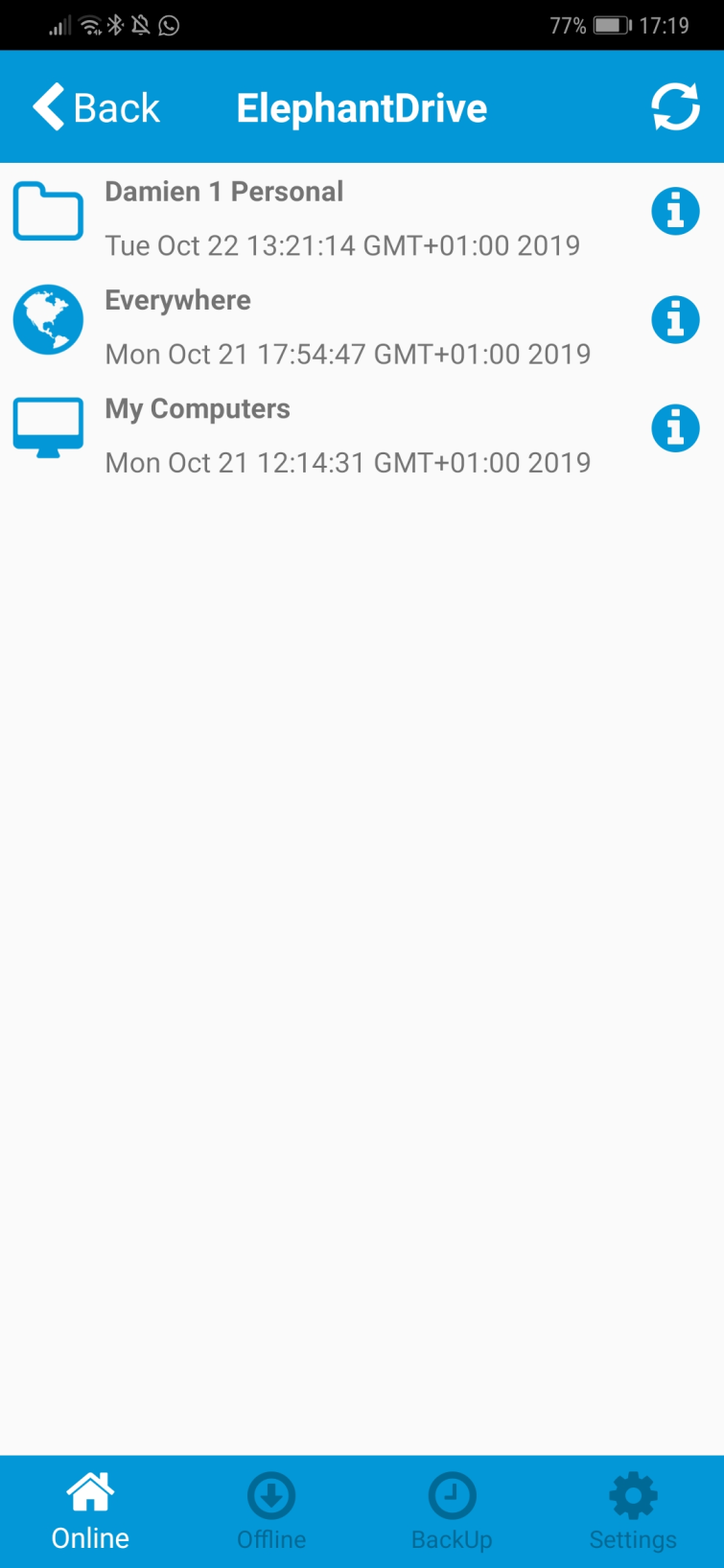 The experience is already more pleasing than its desktop counterpart, with cleaner visuals and options ready at the click of a button. It's easy to back up contacts, photos and videos on your mobile device with just a few taps, you can limit the handset to Wi-Fi-only if your data conscious and sharing files is almost effortless.
It's worth noting that the mobile application is missing a few features, such as the ability to change encryption types and add Sub-Accounts, but it remains the more satisfying version of ElephantDrive by far. I did notice a few hiccups during my time with the service, but all of these were solved with a restart of the smartphone.
Browser
No download is required for the browser versions, although it does come with limitations that ElephantDrive itself does its best to highlight. The interface is modern and enjoyable to navigate, allowing you to access and download all of your files but preventing you from uploading. We discussed why this might be in the Browser Cryptography section under Issues, but this is a critical feature that makes the browser version unusable without being paired with an application.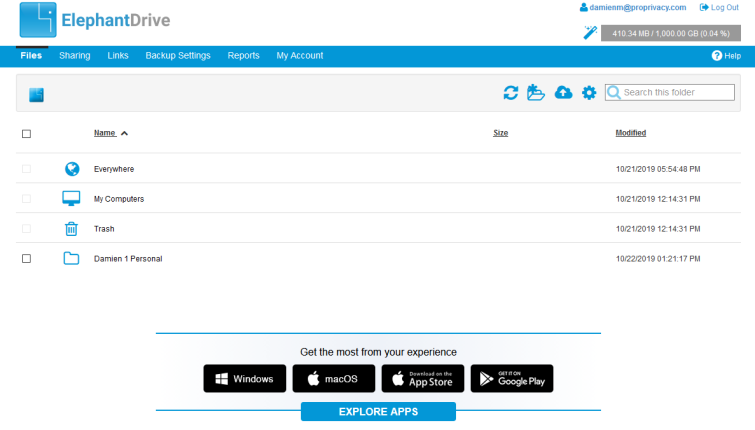 Still, ElephantDrive's browser version remains the most important hub, acting as the de facto place to make changes to your account and add Sub-Accounts.
Final Thoughts
ElephantDrive's goal is clear, targeting the increasing need for backup storage. This is something it does particularly well in the NAS market, but perhaps not as well for consumer counterparts. Pricing plans are versatile, catering to most customer needs with the ability to add storage on a whim for an extra fee, but these costs are a little high when it doesn't manage to match the standards we've come to expect when double-figures on a monthly basis.
The company continues to impress me with its forthcoming attitude towards transparency and implementation of options, allowing users to choose how they want to encrypt their own data. This is a unique approach that its competitors often lack, but it doesn't distract from the inherent lack of support for a premium service and missing two-factor authentication is unforgivable for a security-centric platform.
I have faith that ElephantDrive has the vision to become a top contender in the market but until the disparity in applications is resolved or the pricing is adjusted, it's difficult to recommend ElephantDrive as it currently stands when there are better alternatives.
0 User Reviews
Leave a Review
Thanks for your review!